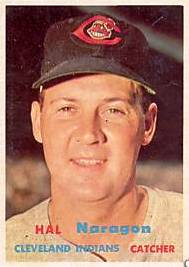 Hal Naragon gave up two years of his professional baseball career when he was drafted into the Marines in 1951. Like many players of his era, he was proud to serve his country. His story is not unique in that respect. Yet, unlike many players, Hal thought that he was lucky. With his atypical unselfish and positive personality Hal said that his time in the Marines was "a good thing." Still, luck is nothing without talent and hard work. In fact, Naragon's story is one Horatio Alger could have written. Like Alger's characters, Naragon experienced success through hard work, courage, determination, and concern for others. Yet, don't tell him this. He would say it was all luck. But it's a story any American would dream about: A young boy grows up in small-town Ohio, dreams of playing professional baseball, marries his high school sweetheart, and plays in a World Series. It is exactly this quietly effective personality that served him well not only as a player but also later as a respected bullpen coach for the Minnesota Twins and the 1968 world champion Detroit Tigers.

Harold Richard Naragon was born October 1, 1928, the third of four children, to Dwight and Dorothy Naragon in Zanesville, Ohio. When he was in the seventh grade, his parents moved to Barberton, Ohio, outside of Akron, "because there were more jobs there during the war," he said. Hal essentially never left Barberton again. He is exceptionally proud of his hometown. He is quick to recite the city's proud sporting history, which includes figures such as Glenn "Bo" Schembechler, the famous University of Michigan football coach, who began his own sporting career on the Barberton High School baseball team as a teammate of Naragon's, and Bob Addis, the first Barberton High School graduate to sign a contract with a major league baseball team (Boston Braves, 1950). Hal's hometown pride rubbed off on his only child, Pam Naragon Bradley, author of the "Barberton Facts and History" section of the Barberton website [barbertonmagics.com].

While Hal was in high school, the Barberton Magics were not always successful. According to the 1944 Barberton High School yearbook, "The 1944 season was unsuccessful in wins and losses, but a green team gained valuable experience for another season." Naragon, a right-handed-throwing, left-handed-hitting freshman catcher, nonetheless earned his varsity letter. The 1946–1947 school year proved to be a good one for "Haddie" Naragon, as he was referred to in the yearbook. To begin with, Hal spent summer 1946 playing on a Class A baseball team in Akron that fielded former major league players as well as college players. One day a friend on the team told Hal that a group of guys were driving up to Cleveland to try out for "Mr. Veeck," the new owner of the Cleveland Indians. Bill Veeck had decided to conduct open tryouts throughout Ohio to increase interest in the team. Hal played well at the tryouts, earning a contract. But, as he tells the story, "I was not supposed to be there. I wasn't going to graduate until next year and couldn't sign the contract until I graduated. I asked Mr. Veeck if I could let him know my decision tomorrow. My dad was going to kill me if he knew I was in Cleveland trying out for the Indians. So, I came home and explained what happened to my dad, and he drove up to Cleveland with me the next day. Mr. Veeck explained his interest in me to my dad and my dad told him I had not yet graduated from high school, and so Mr. Veeck asked if I would give the Indians the opportunity to sign him the following spring. My dad asked, 'Will a handshake do?' Mr. Veeck said yes. The two men shook hands and that was that."

Back in Barberton, 1947 was declared the year of sports champions. In the winter Hal was on the basketball team and helped the Magics get their first Ohio State Athletic Association trophy for winning the district championships. The Magics lost to Ashtabula in the regional tournament. Then there was the baseball season. The 1947 team, described in A Bicentennial Remembrance: Barberton Ohio the Magic City, as "the greatest group of athletes ever to play together on a single team in the City," won all of their games during the regular season with three shutouts and one no-hitter. They were district and regional champions and lost the state championship game in extra innings. "The team's slugger was Hal Naragon, who could be counted on to hit one 'out of the park' every third game. People still speak of those 'Naragon shots.'" Even at the beginning of that "magical" season the Barberton Herald published an article, "B.H.S. Baseball Team Captures Three Contests," referring to Naragon as "a fixture behind the plate" and "a good sticker as well as receiver." Naragon posted a .444 batting average in his senior year and batted over .400 for his high school career.

Naragon was ready to begin his career with the Indians. He signed in the spring of 1947 and in July headed off for Pittsfield (Massachusetts) Electrics of the Class C Canadian-American League. It was his first time away from home, but "with a strong arm and good defensive catching skills" Hal was ready to be a professional baseball player, the only career he said he ever wanted. By April 1948 he was the first-string catcher for Harrisburg of the Class B Interstate League where, according to his hometown Herald: "Down in Harrisburg Naragon has been credited with having one of the best throwing arms ever seen in those parts working from behind the plate." In midseason he was sent down to Watertown, New York, of the Class C Border League to work on his hitting, but went back up to Harrisburg when it began to improve. That year was important for Naragon in at least two ways. First, Fred Gerkin, manager of the Watertown team, helped him improve his hitting, and second, in what Hal says was the most important and best decision he ever made, on October 10, 1948, he married his high school sweetheart, Joanne Schake, in Barberton.

Naragon ended the 1948 season with a .295 average and was back in Harrisburg for 1949. Muddy Ruel, the Indians' assistant farm director, sang Naragon's praises, saying, "If anyone in this camp has a chance to become a solid major leaguer it's Hal Naragon. He has a very fine chance to become a good catcher. He has the physique and the natural aptitude of a catcher, and he has a sure pair of hands when he comes to catching foul flies," and was "willing to learn." That willingness to learn helped him immensely as he worked his way up to playing for Oklahoma City in the Texas League in 1950 and by 1951 he was in spring training with the Indians. After spring training he was sent to San Diego of the Pacific Coast League, and earned a call-up to the Indians at the end of the season. He singled as a pinch-hitter in his first game, against Detroit, then played in two more games before the season ended—enough to keep his name in the minds of his coaches as the Korean War then intervened.

After the season, Naragon was drafted into the Marines and was stationed at Quantico, Virginia. He was discharged in December 1953. Asked if he felt his career suffered during those years, Hal responded, "I didn't miss a thing. In fact, I got stronger physically during those years. I always thought everything I have done has been a positive experience. Frankly, when all those other guys weren't coming back I thought I was lucky." After his discharge, former Tigers great Hank Greenberg, then the Indians' general manager, sent him to Panama to play winter ball.

Naragon started 1954 season with the Indians and was part of the winningest team in American League history to that point (111 victories). He became friends with all-star outfielder Dale Mitchell, who he says was the person who helped him the most in his baseball career: "He helped me a lot with my hitting." The left-handed-batting Naragon says his best moment as a player occurred during the season. "We were playing the Philadelphia A's and it was the top of the tenth inning and the bases were loaded. I hit a trip a triple off of a left-handed pitcher!" Most remarkably for him, during that season he caught four future Hall of Fame pitchers—Bob Feller, Early Wynn, Hal Newhouser, and Bob Lemon. The Indians would have won the World Series had it started in Cleveland, Naragon maintains. They were instead swept by the New York Giants. Playing backup to Jim Hegan, Naragon finished the season with a .238 batting average perfect 1.000 fielding percentage in 45 games, He returned to Panama to play winter ball after the 1954 season, and in 1955 played 57 games with a batting average of .323. In 1956 and 1957, still in a backup role, he hit .287 and .256, playing in about 50 games each season, and he was sent back to San Diego for 1958, coming back to the Indians for only nine plate appearances.

On May 25, 1959, Naragon was traded by Cleveland with pitcher Hal Woodeshick to the Washington Senators for catcher Ed Fitz Gerald. Of the team's lackluster record in Washington Hal said, with his characteristic tact, "We had some good players there, but maybe we didn't all belong together on the same team." Hal moved in 1961 to Minnesota when Calvin Griffith relocated his franchise from Washington to become the Minnesota Twins. In his first year with the Twins when they returned Washington to play the expansion Senators, he hit the last sacrifice bunt in Griffith Stadium September 21, 1961, in the seventh inning. That first year in Minnesota was one of Naragon's better years hitting (.302 in 57 games as a backup to Earl Battey), but it was no roster guarantee. In 1962, he had only 35 at-bats, and played his last game August 5 of that season. He was released by the Twins on October 19, 1962, having played his entire 10-year career in the American League. (Asked what he thought of not playing in the National League, he chuckled and replied, "I was glad to be playing in any league.")

During an era in baseball history when players spent their off-seasons working, Naragon was no exception, spending his winters working at the rubber factory in Barberton. However, when his playing career was over, Hal was not quite ready to return to the factory. The Twins named Naragon their bullpen coach. As a coach, Naragon found another calling. In 1965, the Twins won the American League pennant in 1965 only to lose the World Series in Game 7 against the Los Angeles Dodgers' unhittable Sandy Koufax. From 1965 to 1969, when he left baseball, Hal was in tandem with pitching coach Johnny Sain, moving with Sain to Detroit after both were released by the Twins after the 1966 season.

According to Naragon, "There were some disagreements—we had a great time at Minnesota—but some people thought that John only got along with the pitchers, which was not true. John, in his career, he always seemed to have a run-in with the managers or different ideas than the managers." What it came down to was that Sain and manager Sam Mele could not work together any longer and, "because Naragon supported Sain strongly," Mele also asked for Naragon's release. Sports Illustrated quoted Twins pitcher Jim Kaat, who won 25 games for the Twins in 1965, as calling the firing of Sain and Naragon "the Great Mistake." Kaat added, "This is the worst thing that could happen to our club at this time. Every move John Sain and Hal Naragon made was in the best interest of the Minnesota Twins. . . . Hal Naragon was the last instrument of communication between Mr. Mele and the players. Now there is complete division."

The combination of Sain and Naragon proved just as effective in Detroit as in Minnesota. When they arrived for the 1967 season the Tigers had just finished in third place, but the 1967 season found them climbing. They finished second, only one game behind the Boston Red Sox. With pitchers like Denny McLain and Mickey Lolich, first baseman Norm Cash and Hall of Fame outfielder Al Kaline, the Tigers would not be denied in 1968. McLain won 31 games that season, and, in the World Series against the St. Louis Cardinals, Mickey Lolich pitched three complete-game victories, allowing only five earned runs in 27 innings. Toward the end of that memorable 1968 season Watson Spoelstra, longtime Detroit sportswriter, wrote, "There's no question that Sain and his close friend and associate, coach Hal Naragon, know about as much as anyone on pitching. They are dedicated baseball men with a low-key selling job." Spoelstra reported that during the 1968 off-season Naragon was given a vote of confidence by the Tigers when they signed him for the 1969 season. Spoelstra quoted Lolich as saying, "Sain and Naragon are my boys. They know how to get a guy straightened out." The Tigers were not as successful in 1969; Naragon finished the season with them and retired from professional baseball. Writers had always said that "Naragon goes where Sain goes," but when Sain landed with the Chicago White Sox in 1971, Naragon decided to try something different. "Could I make a living outside of baseball was always at the back of my mind and when John went to Chicago I decided it was time to answer that question for myself," he says.

Naragon returned to Barberton, to live with his wife and daughter. He did indeed make a living outside of baseball. "I am proud to say that I owned the largest and best sporting goods store in Barberton, Ohio. Of course, it was also the only sporting goods store in Barberton." According to Barberton historian Phyllis Taylor, Naragon bought the local sporting goods store in 1974. He sold the business and retired in 1990. He is active in charitable fundraising events through an association of major league alumni. He also enjoys playing golf with his two grandsons and his wife, a team they affectionately call "the family foursome," and watching the Barberton Magics play baseball on Naragon Field, built in 2000 and named in his honor in April 2006. When asked what he thought his best attributes were as a coach, he laughed and said, "I had trouble with that question. I asked my wife and she said I was a good listener. I guess I was a positive thinker. I learned in pro ball that folks started off negatively because they were so used to hearing criticism, but I thought the power of positive suggestion was much stronger. At a 1965 Twins reunion in 2005 Jerry Kindall said I was very even-tempered and it was always a new day with me. John [Sain] was a very positive person too and we were a good team." Watson Spoelstra, in a June 22, 1968, article for The Sporting News, called Naragon "the quiet man who ran the bullpen." Naragon's quiet effectiveness, love of baseball, and good-natured positive attitude is evident not only in reports of interviews with players during his career, but it is also clear in the tone of his voice. "I have met some wonderful people playing baseball," Naragon said. "I don't think anything else I could have done would have put me in contact with as many good people." Such people include Naragon himself, by all accounts a truly good man among baseball's alumni.
An updated version of this biography is included in the book "Pitching to the Pennant: The 1954 Cleveland Indians" (University of Nebraska Press, 2014), edited by Joseph Wancho. It originally appeared in "Sock It To 'Em Tigers: The Incredible Story of the 1968 Detroit Tigers" (Maple Street Press, 2008), edited by Mark Pattison and David Raglin.
Acknowledgements

The author would also like to thank Lynn O'Neil and the Barberton Public Library Local History Room for assistance with finding yearbooks and other early material regarding Hal Naragon.
Sources

A Bicentennial Remembrance: Barberton Ohio, the Magic City. Akron: Beaumarc Publications. 1975.

Taylor, Phyllis. 100 Years of Magic: The Story of Barberton, Ohio, 1891–1991. Akron: Summit County Historical Press. 1991.

Thielman, Jim. Cool of the Evening: The 1965 Minnesota Twins. Minneapolis: Kirkhouse Publishers. 2005.

Articles

"B.H.S. Baseball Team Captures Three Contests." Barberton Herald, April 18, 1947.

"Barberton High Wins District Baseball Title." Barberton Herald, May 23, 1947.

"Barberton Wins First Tournament Game in Baseball." Barberton Herald, May 16, 1947.

"Baseball 1944." Barberton High School Yearbook. Barberton, Ohio,.1945.

"Baseball 1947." Barberton High School Yearbook. Barberton, Ohio. 1948.

Bradley, Pam Naragon. "Barberton Facts and History." 2004. http://www.barbertonmagics.com/history.htm. Accessed May 31, 2007.

"Hal Naragon." Baseball-Reference. May 30, 2007. http://www.baseball-reference.com/n/naraga01.shtml. Accessed May 31, 2007.

"Harold Naragon Begins New Baseball Season at Harrisburg." Barberton Herald, April 29, 1949.

"Hat Naragon Booked as Harrisburg Catcher." Barberton Herald, April 30, 1948.

"Johnny Sain, RIP." The Southpaw, November 8, 2006. http://108mag.typepad.com/the_southpaw/2006/11/index.html. Accessed May 15, 2007.

"Kaat's Meow." Sports Illustrated October 17, 1966, pp. 24–25.

"Magics Play in State Baseball Tournament This Weekend." Barberton Herald, May 30, 1947.

"Naragon May Play in Indians Minors Game." Barberton Herald, September 23,. 1949.

Nichols, Max. "Dropped by Twins, Sain and Naragon Join Tigers." The Sporting News, October 15, 1966.

Spoelstra, Watson. "Price Is Right as No.2 Backstop, Bengals Learn." The Sporting News, June 22, 1968.

—-. "Sain's Advice Huge Plus for Tiger Hurlers." The Sporting News. September 7, 1968. p. 9.

—-. "Sain, Naragon Give Tigers Early Line on '69." The Sporting News. November 2, 1968. p. 29.

Stann, Francis. "How Grant Takes Washington." Baseball Digest, September 1960: pp.18–19 and 45–46.

"The Big Defeat." Barberton High School Yearbook. Barberton, Ohio, 1947.

All quotations from Hal Naragon comes from several interviews the author had with him in June and July 2007.

Photo Credit

The Topps Company