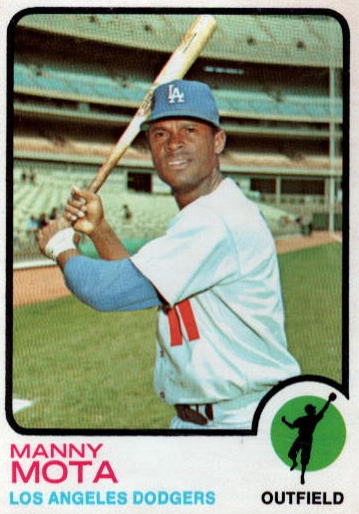 Manny Mota never seemed to age. "He's scary," said Steve Garvey, his teammate with the Los Angeles Dodgers. "I wish just one spring he would show up with one gray hair."[1] That was in June 1979, a couple of months before the Dominican set the career record for pinch hits. Mota wound up with 150 of them, a mark that stood until Lenny Harris surpassed it in 2001. Manny was a superb contact hitter with a .304 lifetime average. Writers and announcers loved to come up with analogies about how he could deliver at any time under any conditions. The pithiest might have been from Jim Murray of the Los Angeles Times: "He could get wood on a bullet."[2]

The outfielder also played 20 seasons in the Dominican Winter League, tied for the most in the league's history -- it would have been more except for political turmoil in his homeland. He is the all-time leader there in batting average at .333. He was also a successful manager at home. If Tom Lasorda hadn't been so entrenched with the Dodgers, and if Manny weren't such a loyal organization man, it would have been interesting to see what this quiet, humble, and remarkably gracious man could have done as a big-league skipper.

Manuel Rafael Mota Gerónimo was the sixth of eight children in a blended family. His mother, Fredesvinda Gerónimo, had four children with her first husband, a man named Pena. Manny's half-brothers and half-sisters were named Darío, Odilia, Luisa, and Adriana. Fredesvinda then had four children with Andrés Mota: another boy named Andrés, then two more girls after Manny named Bárbara and Josefina.

Andrés Mota, a soldier in the Dominican Army, died when Manny was between six and seven years old, before the lad could establish any lasting memories of his father. However, Andrés bestowed a nickname upon his son by which people still know him at home, though not in the U.S. -- El Chory. It means something like Shorty or Pee Wee; as Manny explained in 2011, "I used to play with older guys, taller and bigger than me."

After Andrés died, Fredesvinda opened a grocery store to support her children. "She try to raise me the right way," Manny said in 1969. "And I go to play ball at the Catholic school three blocks from our house and I listen to the priests."[3] That school was Escuela Salesiana de Artes y Oficios, now known as Colegio Don Bosco. The Salesian Society's primary mission is the Christian education of the young, especially of the poorer classes. This cause resonated with Mota, whose abiding religious faith and empathy toward poor children inspired him to do many good works.

"I didn't have any particular heroes when I was growing up," Manny told American Chronicle in 2006, "but my baseball idol was always Jackie Robinson." Although an underprivileged youth, Mota liked to play baseball whenever he could and "just have a good time with it."[4]

As of 1956, Mota was playing for the Dominican Air Force team, which is where he believes scouts first noticed him.[5] The club was sponsored by Ramfis Trujillo, son of Dominican dictator Rafael Trujillo. Several other future big-leaguers were also on the roster, including Juan Marichal and Mateo Rojas (known in the U.S. as Matty Alou), who would be Manny's teammates in San Francisco.[6] Mota said in 2011 that the other main benefit he derived from playing with Aviación Militar was military discipline.

On February 21, 1957, the New York Giants signed Mota, who had turned 19 three days before. The Giants were early to recognize the wealth of talent in Latin America, starting in Puerto Rico and then branching out into the Dominican Republic. One of their scouts was Alex Pómpez, who had owned the New York Cubans of the Negro Leagues. Horacio Martínez, who had played shortstop for Pómpez, was a coach with the Escogido Leones in the Dominican League. In 1956, Escogido club president Paco Martínez Alba -- Rafael Trujillo's brother-in-law -- formed a working agreement with the Giants. Thereafter, several men from the Giants chain -- Red Davis, Frank Genovese, and Salty Parker -- managed Escogido.[7]

In the minors, Manny played first base and second base in addition to the outfield. His first pro season, with Michigan City, Indiana of the Midwest League (then Class D), was strong: a .314 average with 7 homers and 91 RBIs. Mota's first experience in the Dominican League came in the winter of 1957-58. He joined Escogido, one of the two teams still boasting the greatest local tradition. The other is the Licey Tigres. Escogido wears red and Licey wears blue, and though this rivalry is not deadly like Bloods vs. Crips, it has always been intense. As it turned out, though, most of Manny's Dominican career came with Licey.

In 1958, Mota had another good year with Danville (Virginia) in the Class B Carolina League (.301-8-55), despite the hurt feelings he endured facing segregation in the South. He later told author Bruce Adelson, "At least in '57 you could ride the bus as a human, everybody together, no matter the color of your skin. You couldn't do that in Danville." But that passage opened, "My goal was to play baseball; I wasn't going to let anything stop me from playing in the major leagues."[8]

Manny jumped to Triple-A Phoenix to start the 1959 season. That proved to be too much too soon, and so in late May he was optioned to Springfield in the Class A Eastern League (.314-3-28). A normal progression resumed after that: Double A in 1960 (.307-4-79 for Rio Grande Valley in the Texas League) and Triple A in 1961 (.289-3-43 for Tacoma in the Pacific Coast League).

In 1959-60, he won his first of three batting titles at home, with a mark of .344 for Licey. However, following the assassination of Trujillo on May 30, 1961, the atmosphere in the country remained extremely tense. A nationwide strike and street fighting crippled attendance, and the Dominican League halted the 1961-62 season after the games of December 3.[9] Although various Dominican players continued their season in other leagues, such as in Puerto Rico, Mota stayed at home for the rest of that winter.

By the end of the 2010 season, over 500 men from the Dominican Republic had played in the major leagues. The tenth of them was Mota, who made the Giants roster after a good showing in spring training 1962. As UPI noted, likely unaware that his Dominican season had been truncated, the "slight 160-pound outfielder. . .may be far ahead of the others because he played winter ball."[10] His big-league debut did not come until the season's seventh game; his first hit came in his first start, at old Crosley Field in Cincinnati. It was a grounder off Jim Brosnan that just trickled through the right side of the infield.[11]

Mota endured the indignity of being called "Mickey" at times in the U.S. newspapers early that season. He appeared in 47 games with San Francisco through the end of July, starting 12 times and going just 13 for 74 (.176). There was little playing time for the outfield reserves, as Willie Mays played in all 162 games that year, fellow Dominican Felipe Alou played 154, and Harvey Kuenn played 130. Manny was a utilityman, appearing on occasion at third base and second base. The Giants sent him back down to Double A, where he hit .349 in 30 games for El Paso. He was not around for the World Series as the Giants lost in seven games to the Yankees.

On November 30, 1962, San Francisco traded Mota and Dick LeMay to the Houston Colt .45s for Joey Amalfitano. Near the end of the year, The Sporting News described Mota as "an outstanding speedster who has shown exceptional ability in spring training but has never been able to crack the Giant outfield, understandable when [considering] his competition."[12] That group also included Matty and Jesús Alou, plus Willie McCovey, who played a good bit of outfield in those years.

Dominican League play remained suspended altogether in 1962-63. Thanks to the connections of Licey executive Ernesto "Monchín" Pichardo, Mota went to Venezuela that winter, batting .308 in 120 at-bats in 31 games. When his club, Oriente, folded in January, he signed with San Juan of the Puerto Rican League.[13] On a personal note, Manny also married Margarita Matos on February 16, 1963, shortly after the winter season ended.

After his return to the U.S., the Colts sent him to the Pittsburgh Pirates not long before the 1963 season started (receiving Howie Goss and $50,000 in cash in return). Manny spent the first half of the 1963 season with Triple-A Columbus, batting .293-5-20 in 75 games. In mid-July, the Pirates called him up, and he never played again in the minors.

On October 12, 1963, Manny participated in the one and only Latin American players' game, the last baseball game ever held at the Polo Grounds. He drove in two runs as the National League's Hispanic stars won 5-2. He then went on to win another Dominican batting title (.379).

Back in Pittsburgh in 1964, Mota really benefited from the support of the great Roberto Clemente. As David Maraniss wrote in his biography of Clemente, the star right fielder "identified with the struggle and became Mota's closest friend and adviser on the Pirates. At the stadium every day before games, they could be seen working on hitting, bunting, fielding, and throwing. 'He's always been a good hitter,' Clemente said of Mota at midseason, pushing his cause to skeptical Pirates beat writers. 'He can hit big league pitching if given the chance.'"[14]

Manager Danny Murtaugh used Mota in 115 games and gave him 271 at-bats that summer (.277-5-32). He even pressed Manny into service as a catcher on July 13 at Forbes Field. After doubling to open the eighth inning, starter Jim Pagliaroni left for pinch-runner Orlando Macfarlane, the backup catcher. Third-stringer Smoky Burgess -- whose career-pinch-hitting mark Manny would later break -- then struck out batting for Roy Face. But when Macfarlane had to leave the game with a minor injury in the 10th inning, Mota moved from left field to behind the plate. It was a rough experience, as he committed two passed balls, the second of which helped the Cardinals to score the winning run in the 12th.

After the 1964 season, Danny Murtaugh stepped down for health reasons and Harry Walker became Pittsburgh's new manager. Although the way Walker taught hitting wasn't for everyone, Mota was just the kind of slashing hitter that "The Hat" loved. "I paid attention to Harry and I learned," Manny said in 1969. "He convinced me that if you hit the ball in the air, it will usually be caught. I now hit the ball down and to all fields. He taught this old dog new tricks."[15]

Mota won his third Dominican batting crown (.364) in the winter of 1964-65. Even so, he played just a little more for the Pirates in 1965 than he did in '64, with an almost identical batting line (.279-4-29). He had to recover from an icy 5-for-54 start; he had been worrying about his family's safety because the Dominican political situation had flared up again. Pittsburgh's general manager, Joe L. Brown, got the Peace Corps' director of Latin American programs to see that Mota's family was okay and to bring them Stateside.[16] Months later, things weren't fully back to normal, as the winter league proper did not operate in 1965-66. Instead, there was a three-team circuit formed by the Federation of Dominican Players. The teams represented colors rather than cities: the Blues, Yellows, and Reds. Manny was with the Blues.[17]

In 1966, Mota batted .332 for the Pirates while platooning with Matty Alou, another Harry Walker-type hitter. In a feature article about the pair that June, Pittsburgh beat writer Les Biederman said, "Mota is a standout every time he plays. Apparently he's destined to be one of those super-subs you read about in baseball and he could play regularly on many teams in the majors right now. There are few things Mota can't do. He can run, he can hit the ball, he seldom strikes out, he's a Grade A base-runner and he can go get 'em in the outfield. Mota is one of the best bunters in the game. He loves to bunt with two strikes, too."[18]

It's interesting to note that Biederman added, "Since Alou starts most of the games, Mota comes in handy as a pinch-hitter. The first eight times he was sent up, he came through with five hits."[19] While he was with the Pirates, Manny also had his own superstition; if he got a base hit, he would take a bath at exactly 3 P.M. the next day and also eat at the same time. "Clemente thought I was crazy," he said in 1974.[20] In 2011, though, Mota underscored the importance of a regular routine, calling it the main reason why he remained so fit during his playing career and beyond. "You have to discipline yourself and your body," he said. "You have to eat properly, work out, and rest as much as you can."

Mota continued to get 300 or so at-bats for the Bucs in 1967 and 1968, batting .321 and .281. In between those two seasons, he got his first experience as a manager, posting a 13-14 record with Licey after taking over in midseason for Hal Smith.[21] There was still tension in the Dominican, as soldiers were posted at Santo Domingo's Estadio Quisqueya to frisk people for weapons.[22]

Les Biederman focused on Mota in several more features during the rest of his time in Pittsburgh. The headlines called Manny "A Mighty Handy Guy with Bat in His Hands" and "The Guy the Bucs Couldn't Do Without." Yet ultimately, the Pirates decided that he was expendable. For one thing, "they put his name on the 'Ghoul Pool' sheet, a list of players available to restock a major league team which, God forbid, gets wiped out in an airplane crash."[23] Then Pittsburgh made Mota available in the expansion draft in October 1968, and the Montreal Expos made him their second pick. He spent less than half a season there, though, as the Expos traded him to Los Angeles on June 11, 1969. Maury Wills also returned to the Dodgers in the deal, while Ron Fairly and Paul Popovich went to Montreal. Except for winter ball, Mota has remained in Dodger blue ever since.

Manny pointed to July 7-8, 1969, as his hottest burst in the majors. In three games against Atlanta, he peppered the Braves pitchers with ten singles and a double in 14 at-bats. In 2006, he recalled, "I was really confident and focused. I was in a groove, swinging the bat and putting the ball in play. You have to know your strengths and abilities. I was not a long ball hitter."[24]

In the winter of 1969-70, again playing with Licey, Manny took over for Fred Hatfield as manager for the Dominican playoffs. The Tigres won the championship and thus joined in the revival of the Caribbean Series, which returned in February 1970 after a hiatus of nine years. The Dominicans finished behind Puerto Rico and Venezuela with a 1-7 record.

The Dodgers gave Mota a chance to play more against righties in 1970, and he hit .305 in a career-high 417 at-bats. A sad note to the season came on May 17, when a line drive off Manny's bat struck a 14-year-old fan named Alan Fish in the head. The youth died five days later. In 2008, Manny -- known for his great love of children -- said, "It's very difficult. . . It brings up bad memories. I felt guilty because I hit the foul ball. And a young boy lost his life."[25]

That winter, however, the Dominicans went 6-0 in the Caribbean Series under player-manager Mota, who had again taken over for Fred Hatfield late in the season. Manny went 11 for 19 (.579) and was named MVP of the series. In 2011, however, he remained remarkably humble about this accomplishment, deflecting the credit to others. "I was in the right place at the right time," he said. "I did my part and tried to help the team. I could not have done it without my family, teammates, and the fans, our tenth man. I had the Lord's blessing." Nonetheless, he still took clear pride in having helped to bring this title to his homeland.

Mota was the Dodgers' fourth outfielder in 1971, as rookie Bill Buckner played his first full season in the majors. Even though Frank Robinson arrived in L.A. in 1972, Manny was once again the primary left fielder on the strength of his .323 average. One moment that showed his style was a steal of home against Scipio Spinks of St. Louis. The daring sixth-inning play broke a scoreless tie, and the Dodgers went on to win 2-1. After the game, Mota said, "If you don't try it, you'll never make it."[26]

In 1973, despite being a reserve once again, Mota made the All-Star team for the only time in his career. Manager Sparky Anderson of Cincinnati named him to the NL squad, saying, "We can do a lot of things with the guys on this team. Manny Mota is the best right-handed pinch-hitter in baseball."[27] At Royals Stadium in Kansas City, Manny grounded into a force play as a pinch-hitter in the eighth inning and then played the bottom of the eighth in left.

From 1974 onward, Mota was almost exclusively a pinch-hitter -- a luxury unheard of today in an era of 12- and 13-man pitching staffs. He appeared in the field in just 17 games from 1974 through 1979. When manager Walter Alston informed him of his role in the spring of 1974, Manny "took the news calmly. 'We have so much young talent and these young players have to play. This club is very deep. The manager thinks I can contribute to this club and so do I. I like my job. I like to do things that help my team win games.'"[28]

During these six seasons, Mota was 76 for 243 (.313) as a pinch-hitter, with one homer and 51 RBIs. As early as March 1976, the L.A. press recognized that he was taking aim at Smoky Burgess' career mark of 144. That June, when Manny was on the verge of getting his 100th pinch hit, Jim Murray wrote a vivid feature story about him. Among the key points: Manny's success stemmed from his mental approach and powers of concentration, as well as his conditioning.[29] Whereas Burgess was described as "a walking laundry bag" or "a beachball with arms," Mota's weight scarcely varied throughout his career. Manager Tom Lasorda joked in 1978 that Manny was "a waiter at the Last Supper" and "older than dirt." He added, "Mota should be made a saint. He might hit until he's 60." Said Manny, "I just try to concentrate on what I can do to help the team."[30]

In this period, the Dodgers won three pennants: 1974, 1977, and 1978. Mota was 3 for 5 with two doubles in the National League playoffs. One of those doubles came in Game Three of the 1977 NLCS, which Manny called in 2006 "the game I'll never forget."[31] With the Dodgers down 5-3 in the top of the ninth at Veterans Stadium in Philadelphia, 41-year-old Vic Davalillo beat out a drag bunt. Mota, with two strikes, then doubled to left. The ball went over the head and off the glove of Greg "The Bull" Luzinski, never a nimble flychaser (he normally came out for defensive replacement Jerry Martin in such situations). The Dodgers went on to win 6-5, advancing to the World Series. Davey Lopes, who was in the on-deck circle when Manny delivered, said, "When he turned around and smiled the way he did, I knew he was going to hit one for us."[32]

Unfortunately, Manny did not make a mark in World Series competition. He did not appear in 1974, was 0 for 3 in 1977, and drew a walk the only time he came to the plate in '78.

Yet for Mota, one of his biggest thrills came not in the postseason but in exhibition play. On March 19-20, 1977, the Dodgers played two games against the New York Mets in the Dominican Republic. In the second, before 10,000 delighted fans at Estadio Quisqueya and an international TV audience, Manny connected for a two-run homer off Mets ace Tom Seaver to cap a 4-0 victory. In 1991, he said, "I'll never forget that because it was one of the greatest feelings I ever had as a pinch hitter, coming in front of my home people. The fans went wild and I can't describe just how I felt to come through in front of the fans all over Latin America, the Dominican Republic, and back in L.A."[33]

In October 1979, President Jimmy Carter invited Manny to the White House to congratulate him on setting the career mark for pinch hits (#145 had come at Dodger Stadium on September 2 off Lynn McGlothen of the Cubs). Manny gave the grinning chief executive various souvenirs, including a Dodgers jacket with PRESIDENT CARTER on the back. He also asked for the U.S. to buy more Dominican sugar.[34]

Mota announced his retirement after the '79 season, but he was reactivated in both 1980 and 1982. During the 1980 pennant race, he went 3 for 7 as a pinch-hitter. His last base hit came on October 5 -- the last game of the regular season -- off Houston's Joe Sambito. It was an RBI single in the seventh inning, bringing the Dodgers within a run at 3-2 in a game that they would eventually win 4-3. That game left L.A. and Houston tied for the lead in the NL West at 92-70. However, the Astros won the one-game playoff the following day.

Mota's final action as a player in the Dominican league came in the winter of 1980-81. However, at the age of 44 on September 1, 1982, he came to the plate one final time in the majors. It was just his kind of situation: in the bottom of the 13th inning at Dodger Stadium, with L.A. behind 6-5, Steve Garvey was on second with one out. However, Jim Kaat -- who was then 43 years old himself -- got Manny to ground out to second.

Mota's 149 pinch hits came in 497 at-bats, for an even .300 average. By comparison, Lenny Harris got his 212 pinch hits in 804 at-bats (.264). The man who ranked second as of 2011, Mark Sweeney, was 175 for 679 (.258). At that time, 17 players had 100 or more career base hits in this role. Only two others were even over .280: Steve Braun (.283) and Burgess (.282).[35]

The 2011 season marks Mota's 32nd as a coach, the longest tenure in Dodgers history. Only Nick Altrock (42 consecutive seasons from 1912 to 1953 with the Washington Senators) had a longer run with one club. Old Number 11 still looked almost as fit as ever in uniform.

Manny has served in various capacities, notably as hitting coach from 1980 through 1989. Starting in 1999, he assisted and communicated with the Dodgers' Latin American players while also coordinating all aspects of opponent charting. He also worked on Spanish-language pregame and postgame broadcasts. In 2007, Major League Baseball cracked down on the number of coaches that a club could have on the bench. This meant that for a while (until there was a change in the coaching staff) Manny could not go on the road with the team.

Mota managed for all or part of 16 seasons in winter ball, 12 in the Dominican Republic. He won back-to-back championships with Licey in 1982-83 and 1983-84. In the subsequent Caribbean Series, the Dominicans finished third (at 3-3) and last (1-4), respectively. Those were his only two full seasons running the Tigres; the following year, he moved on to Caimanes del Sur. He was Manager of the Year, and then became skipper of Escogido, with which the Dodgers had formed a working agreement. Considering the deep ties Manny had helped establish between Licey and L.A., this was akin to a coup d'état. He served with the Leones until partway through the 1987-88 season, when he took a front-office position and gave way to Phil Regan in the dugout.

In 1992, Mota returned to managing with Mexicali in the Mexican Pacific League, where he spent three winter seasons and part of a fourth. The Aguilas had actually approached him the year before, but since the Dodgers were in a tight playoff race with Atlanta, he declined. In 1993, speaking with La Opinión, a Spanish-language newspaper in L.A., Manny did admit that someday in the not-too-distant future he hoped to get an opportunity as a big-league manager, as countryman Felipe Alou had.[36] Probably the closest he came was in 1996 -- from July 29 onward, after Tommy Lasorda retired for health reasons, Mota was Bill Russell's bench coach. However, Mike Scioscia replaced him in that role starting in 1997. The Dodgers did interview Manny for the managing job after Davey Johnson was fired in 2000. That winter also featured his last duties as skipper to date, as he returned to Licey and replaced Grady Little in midseason.

Manny and Margarita Mota had six sons: José, Andrés, Domingo, Manuel Jr., Rafael, and Antonio. Andrés, known as Andy in the U.S., and José became major-leaguers in the 1990s; Manuel Jr. (aka Gary), Domingo, and Tony were pro ballplayers too. After he quit playing, José went into a successful career broadcasting the game. The Motas also had two daughters (Cecilia and María de Lourdes, or Lulu).[37]

Their love of children inspired Manny and Margarita to form the Manny Mota Foundation. It all started in 1967 with just a large cooking pot for rice to feed hungry children in their native land. Starting in 1992, their humanitarian support extended to the greater Los Angeles area. Baseball clinics are just one of many of the Foundation's programs. Perhaps the most ambitious undertaking, though, is the multi-function Campo de Sueños (Field of Dreams) complex, for which the Dominican government donated 15 acres in 1995. Campo de Sueños is also the name of the foundation's annual dinner and auction in Los Angeles. On the foundation's website, there is a message from Manny and Margarita, which opens, "Helping the disadvantaged improve their lives is an extremely rewarding experience. For the past three decades we have been blessed with the opportunity to help others in many different ways."

Manny Mota's message as a human remained remarkably consistent. In 2011, he said, "I am very grateful to the people of my country and of the United States for giving me this chance. My wife and family have inspired me. I am blessed." He echoed closely what he said in 1979. "I like to live a friendly life. I like to be friendly to everybody because I think that's the way human beings can get to know each other better. To me it doesn't make any difference in the race of people or if he's a kid or an adult. I try to respect all people because I would like all people to respect me. That's the way I grew up and that's the way I'm going to die."[38]

Grateful acknowledgment to Manny Mota for his memories (telephone interview, February 11, 2011) and to José Mota for the introduction. Special thanks in turn to Jennifer Hoyer (Media Relations, Los Angeles Angels of Anaheim) for the introduction to José Mota.

February 2011

Manny Mota on the Art of Pinch Hitting

"Pinch hitting is more mental than physical. You have to put all the preparation and positive thinking into one at-bat."

"I loved the pressure, hitting in the clutch with a man in scoring position and the game on the line. I had confidence in that situation."[39]

"When you're a pinch hitter, the first thing to keep in mind is that you're up there to swing the bat. Go down swinging if you have to, but remember the worst thing that can happen to a pinch hitter is to get called out on strikes. Nobody can fault you as a pinch hitter if you're aggressive, if you bear down, swing the bat, and make good contact."[40]

"Concentration is the key. . .You have to swing at good pitches and you have to know the pitchers."[41]

March 15, 2011

Sources

www.baseball-reference.com

www.retrosheet.org

www.mannymotafoundation.org

www.licey.com

www.purapelota.com (Venezuelan statistics)

Bjarkman, Peter C. Diamonds Around the Globe: The Encyclopedia of International Baseball. Westport, Connecticut: Greenwood Press, 2005.

Bjarkman, Peter C. Baseball with a Latin Beat. Jefferson, North Carolina: McFarland & Co., 1994.

---