SABR Convention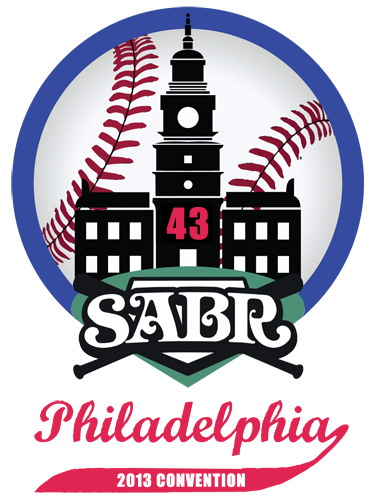 SABR 43
July 31-August 4, 2013
Philadelphia Marriott Downtown
1201 Market Street
Philadelphia, PA 19107


Hotel: SABR has secured an exclusive group rate of $139/night (plus tax) for SABR 43. This is a very low rate for a major hotel in downtown Philadelphia during that time of year. The Philadelphia Marriott Downtown is at 1201 Market Street, Philadelphia, PA 19107, just blocks from City Hall, Independence Hall and many other Philadelphia landmarks. Click here to book your room online or call (877) 212-5752. The hotel's website is www.marriott.com/hotels/travel/phldt-philadelphia-marriott-downtown. Please note that our block of rooms is only available for the nights of July 30 to August 4, 2013. Book your room today; our room block usually goes quickly!
Ballgame: Braves at Phillies, Friday, August 2. Click here to register for SABR 43. Please note that our block of tickets are first-come, first-serve, so be sure to sign up today.
Registration: SABR members: $219 (all-inclusive); $169 (regular). Non-members: $269 (all-inclusive); $222 (regular). Click here to register for SABR 43.

Please note that the special all-inclusive rate and our block of Phillies ballgame tickets will expire at 12:00 a.m. MST on Saturday, June 15

.
Scholarships: Scholarship applications are no longer being accepted for SABR 43. Click here to learn more about the Yoseloff Scholarship to attend future SABR conferences.
Schedule: TBA. Stay tuned for more details!
Speakers: Phillies President/CEO David Montgomery highlights our list of featured speakers at SABR 43; click here for more details.
Research/poster presentations: SABR invites all members to present their research findings to their colleagues attending SABR 43. The schedule of research/poster presentations will be posted here soon.
Transportation tips: Click here for more details on getting to Philadelphia and getting around when you're in town.
Vendors Room: Click here to visit our SABR 43 digital vendors room; come visit our supporters in Philadelphia, too.
Host chapter: Learn more about the Philadelphia/Connie Mack Chapter here or click here to "like" the chapter page on Facebook.
Contact: For more information on SABR 43, contact Seamus Kearney or Dick Rosen.
---
The SABR 43 Planning Committee began meeting in September 2011. We recruited members from the Connie Mack Chapter and assessed our skills to see how best we could organize this momentous happening for the City of Brotherly Love. Fortunately, several in our crew have had experience in organizing conventions, including the 2002 Boston Convention.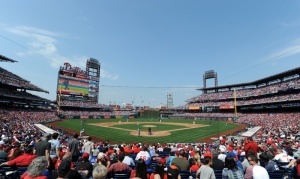 The convention will be held at the Marriott Downtown in Center City Philadelphia, a quick light rail ride from Philadelphia Airport and Amtrak. Center City is the hub of Philly's cultural, business and social life. It is a veritable trove of attractions served by an excellent mass transit system.
In addition to the usual fun of ballgames, research presentations and great panels with baseball executives, former players and media personnel, we intend to have special events that will include:
a Historical Philadelphia Walking Tour
a bus tour of historical ballpark and other baseball sites
a vintage 1860s-style base ball game near the home of the old Philadelphia Pythians and 19th-century Athletics (also near Pat's and Geno's!)
a panel of Phillies greats from different eras, along with many other great speakers (click here to see the list of speakers!)
SABRites will also have the opportunity to:
Walk the same cobblestones that Ben Franklin trod
Sit in President Washington's pew
Observe the Liberty Bell up close
Visit the home of Connie Mack
See the final resting place of Harry Wright (with the headstone "The Father of Baseball")
See the field where Ed Bolden's Philadelphia Stars played
Visit spots where the fields of 1830s baseball were located
When SABR last visited Philadelphia in 1974, the Phils played at the no-specific-purpose Veterans Stadium. In 2013, we will take you to cozy Citizens Bank Park, one of the more attractive baseball stadiums in the country. Despite the Philllies' longest consecutive-game-sellout streak in baseball history, we are confident that given our good relationship with the Phils, we will obtain game tickets in several sections of the park.
The SABR 43 Planning Committee eagerly awaits the crowds of SABR's baseball experts, historians, statisticians, general fans and their families who will visit our "olde countrie towne". And we fully expect to declare Philadelphia as the "Baseball Capital of the World" when SABR 43 convenes here in 2013.
Click here to register for SABR 43. We hope you'll join us!
— Seamus Kearney and Dick Rosen
Philadelphia/Connie Mack Chapter
SABR 43 chairs
For more information on SABR conferences throughout the year, visit SABR.org/events.
---
Past coverage: