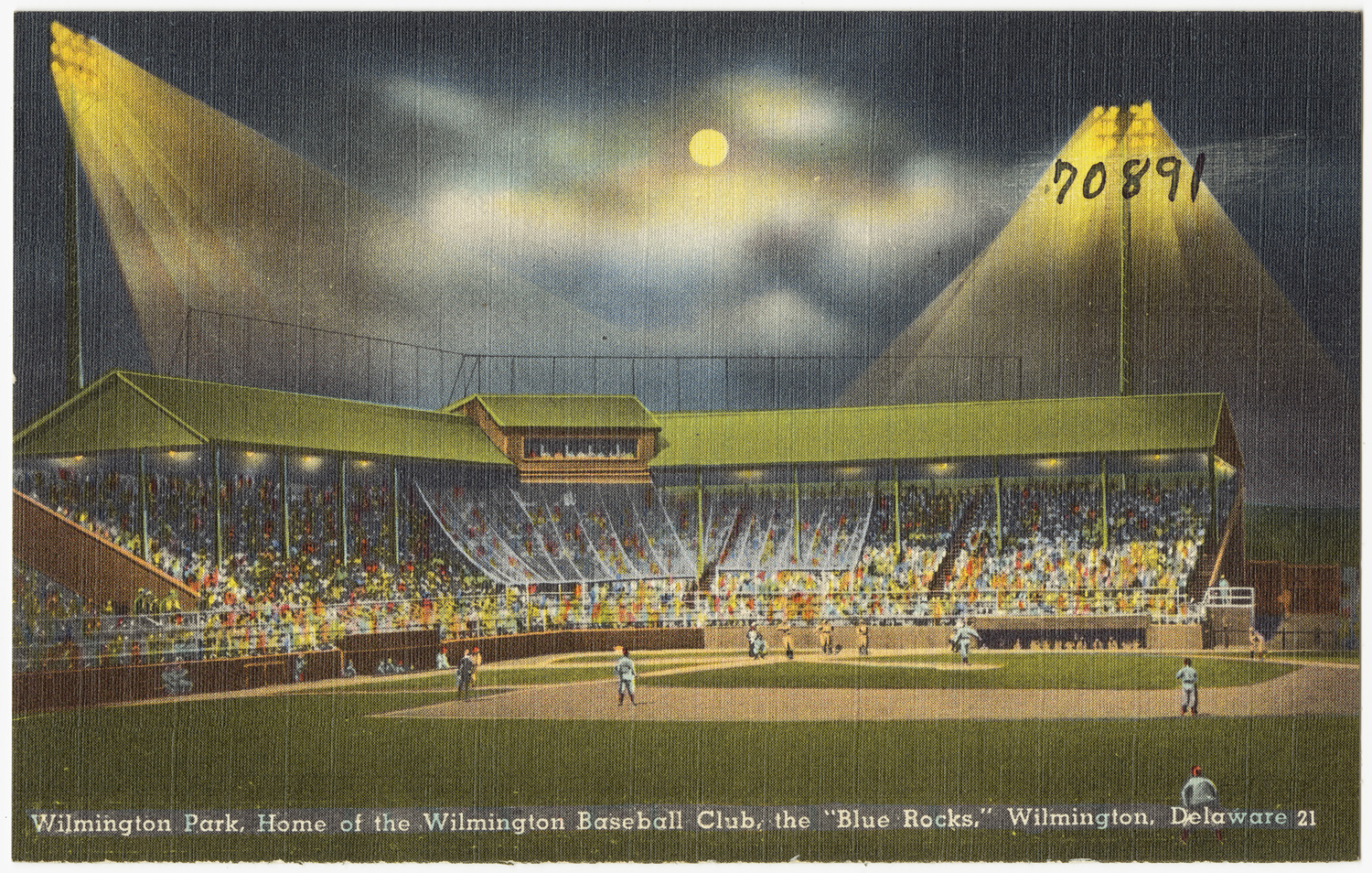 Wilmington Park (Delaware)
This article was written by Charlie Weatherby
---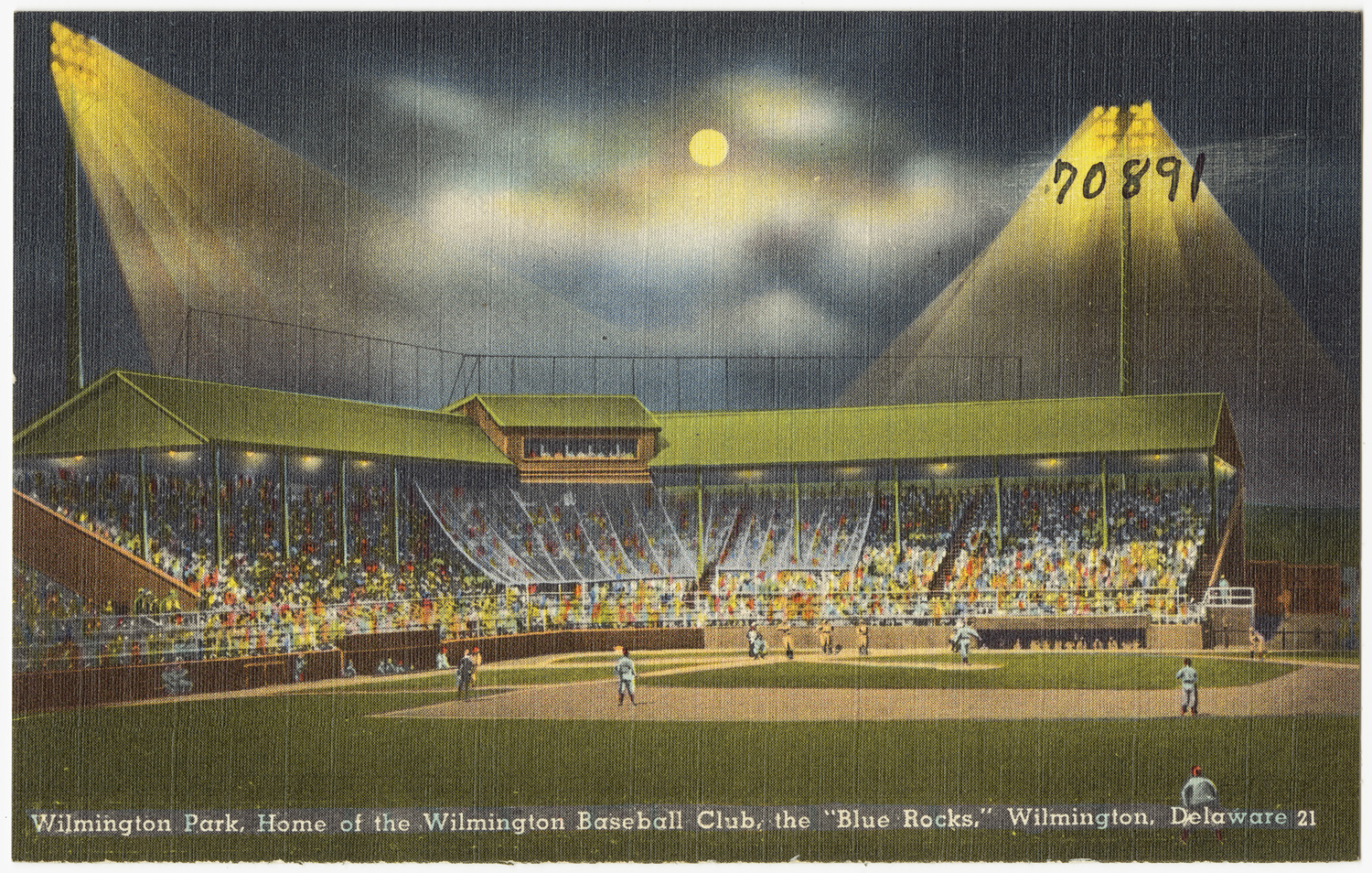 Wilmington, Delaware's earliest professional baseball team, the 1884 Quicksteps (50-12) of the disbanded Eastern League and "major league" Union Association (2-16, .111), played at "Wilmington Ball Grounds" on the southwest corner of Front and Union Streets, a semi-rural area on the southern edge of town. The 1913 Wilmington Chicks of the Tri-State League were the last professional team to play there.
Professional baseball returned to Wilmington in 1940 thanks to the efforts of DuPont business executive R. R. M. Carpenter, who collaborated with Connie Mack, owner of the Philadelphia Athletics, to establish a Class B Interstate League team in the city. Carpenter appointed his son, R. R. M. Carpenter, Jr. a former Tower Hill and Duke University athlete, as president of the Wilmington Baseball Club. Connie Mack was vice-president and Roy Mack was treasurer. Hall of Fame member "Chief" Bender, a former Athletics' pitching star, was appointed manager. Bender quit in mid-season and was replaced by former A's catcher Charlie Berry. A contest to select a nickname drew over 5,000 responses, and "Blue Rocks" was the winning entry. According to The Sporting News, "Blue Rock is the stratum of blue tinted granite on which most of Wilmington and a large part of the surrounding area is built. Wilmington fans have long been known as "Blue Rockers."1
With the league season less than three months away, the directors of Wilmington Baseball Park, Inc. solicited bids for the construction of a park and playing field on a vacant sixteen acre site at East 30th Street and the recently opened Governor Printz Boulevard in the city's northeast corner. Contracts for construction were awarded in early February to Robert F. Engler, general contractor, and Earl E. Downing, who was responsible for readying the diamond. Work on the facility began shortly thereafter. Inclement weather often hampered construction, but additional workers were added as needed in order to finish by the May 1 opener at a cost of $185,000. Built of concrete, steel, and wood, the structure seated 4,454 in the covered grandstand, 546 in the boxes, and 1,850 in the bleachers. Another 4,500 could be seated outside the grandstand. The facility also featured fireproof dressing rooms built of concrete beneath the grandstand, and an office, umpires' room, press room, electrical control room, and press box. One of the nation's most spacious playing fields, it was 355 feet down the left field line, 420 to dead center, and 370 to right. Home plate was relocated in 1944, but it didn't help hitters much. According to author Elbert Chance, "In ten seasons and more than 700 games, only four Interstate League players had cleared the right field wall."2 The park's lighting system underwent a major upgrade in 1946 when illumination was increased to 400,000 watts.
Wilmington opened the season at home on May 1, posting a 3-1 win over Trenton in front of an enthusiastic crowd of 6,108. Pitcher Sam Lowry got the win, holding the Packers to just six hits while striking out nine. Blue Rocks first baseman Aubrey Sanders scored the park's first run in the bottom of the sixth inning. Nine games into the season The Sunday Morning Star said, "All visiting managers and players are pleased with Wilmington Park. The York players were especially enthusiastic."3 Wilmington's first six games drew over 17,000 customers. By the end of the season Wilmington had drawn 145,643 for the regular season and three exhibition games against Major League clubs. The Park was also the site of the league's first All-Star game on August 19.
Wilmington (68-52) finished second in 1940, four games behind pennant-winning Reading. They lost a first round playoff series to eventual champion Lancaster, four games to one. Wilmington's Most Valuable Player, left fielder Elmer Valo, was the Interstate League batting champion with a .364 average. He later spent 20 years in the majors, 15 with the Philadelphia/Kansas City Athletics (1,806 games, .282, 58 homers, 601 RBI). Valo's teammate, outfielder Billy Southworth, Jr., son of the Cardinals' manager, played his last season with the Blue Rocks before entering the Army Air Force; he was killed in a plane crash in 1945.
Wilmington first tasted post-season glory in 1942 when it won the Governor's Cup playoffs. A year later, the franchise became the property of the Philadelphia Phillies when the Carpenter family bought out Connie Mack's interest. The Blue Rocks won their first Interstate League pennant in 1946 and added additional titles in 1948 and 1950. Other Governor's Cup playoff championships occurred in 1947, 1950, and 1951. Of the eleven cities that fielded teams during the 13 Interstate seasons, ending in 1952, Wilmington posted the most wins, 1,003, an average of 77 per season. The Blue Rocks' single game attendance record was set on June 20, 1947, when 7,062 fans witnessed pitcher Curt Simmons' Wilmington debut. Fellow pitcher, "bonus-baby," and future Hall of Fame member Robin Roberts made his professional debut with the Blue Rocks in 1948, posting a 9-1 record in 11 starts before being called up by the Phillies.
Other notable Blue Rock players include Neil Johnston and Ed Sudol. Johnston, who played for the NBA Philadelphia Warriors 1951-1959, is in the professional basketball Hall of Fame and won scoring championship in 1952-53, 1953-54, and 1954-55. He pitched 22 games for the 1951 Blue Rocks (3-9, 5.40 ERA). Sudol was a National League umpire in 3,247 games and three World Series from 1957 to 1977. He was behind the plate when Philadelphia's Jim Bunning pitched a perfect game in 1964. He played 23 games at first base for the 1942 Blue Rocks and hit .227.
In order to reduce travel during World War II and comply with Commissioner Landis' order to hold spring training in the north, Wilmington Park was the training site for the 1943 Athletics and 1944-45 Phillies. Spring exhibition games were regularly scheduled during the history of the park, including a Yankees-Dodgers game in April 1941 and yearly match-ups between the Athletics and Phillies. Other exhibition games included the Jackie Robinson All-Stars, featuring Larry Doby, Sam Jethroe, and Minnie Minoso, vs. the Robin Roberts All-Stars on October 12, 1951. The Negro League Philadelphia Stars played the Newark Eagles in Wilmington on Memorial Day, 1945.
The University of Delaware Blue Hens played 39 home football games at Wilmington Park from 1941 to 1952. The first contest, on November 9, 1940, was a 14-7 victory over Pennsylvania Military College. The team's best season was 1946 when the 10-0 Hens were named AP Small College National Champions and finished 16th in the overall AP poll. Delaware had a 19 game winning streak at Wilmington Park from November 1940 until October 2, 1948, when the University of Maryland prevailed, 21-0. The Blue Hens compiled a 33-6 (.846) record there. The last game was on November 22, 1952, a 13-0 win over Bucknell.
Wilmington Park was also the home of the Wilmington Clippers minor league professional football team from 1939 to 1941 and 1946 to 1949. The team won the American Association championship in 1942 with a 21-13 win over Long Island.
Boxing matches were also popular. In late June 1949, Rocky Graziano punished Bobby Claus. Other bouts featured Lee Savold, Joey Maxim, Lew Jenkins, and Sugar Ray Robinson. Carnivals, the Shrine circus, and drill teams also appeared at the park. In the mid-to late 1940s, Salesianum High School played home football games there. In 1946, in an effort to stimulate interest in high school baseball, 21 high school games per year were scheduled at Wilmington Park. On August 23, 1953, the Harlem Globetrotters played the U. S. Stars there. In June 1953, there was a three male and one female wrestling match. A year later, female tag-team wrestling and men's wrestling bouts were featured.
By the early 1950s, suburbanization, urban decay, and baseball on television were blamed for the demise of the minor leagues, and, in Wilmington's case, access to major league teams in Philadelphia and Baltimore. The Blue Rocks drew 26,242 fans during their last season in 1952, an average of only 477 for 55 home games. In its later years, Wilmington Park was used for Little League games and tryouts. One of the last major league exhibition games was played on April 8, 1955, between the Phillies and Yankees, an 8-6 Philadelphia win. During the Yankee's eighth inning, Mickey Mantle hit a long drive to left center, causing a violent collision between left fielder Del Ennis and center fielder Richie Ashburn, resulting in broken leg for Ennis and sprained left knee for Ashburn. Both players missed several early season games, and the injury ended Ashburn's streak of 731 consecutive games. The last two exhibition games, with the Athletics prevailing over the Phillies, 9-6 and 10-2, were on April 9 and 10, 1955.
After a decade of neglect, Wilmington Park was demolished in 1963. The Blue Rock Shopping Center, a Delaware Technical and Community College building, and the office of the Wilmington Department of Public Welfare occupied the site for several years. The site is now vacant.
Sources
Chance, Elbert, The Blue Rocks Past and Present: Wilmington's Baseball Team 1940-1999. Wilmington, Delaware: Cedar Tree Books, 2000
Pahegian, Josh, The Ultimate Minor League Baseball Road Trip: A Fan's Guide to AAA, AA, A and Independent League Stadiums. Guilford, CT: The Lyons Press, 2007.
The Sporting News
The Sunday Morning Star, Wilmington Delaware
"Delaware's Baseball History" by John H. Duffy. http://www.russpickett.com/history/baseball.htm
Notes
1 "Blue Rocks to Be Nickname of Wilmington Inter-State Club, The Sporting News, February 29, 1940, 12.
2 Chance, Elbert, The Blue Rocks Past and Present: Wilmington's Baseball Team 1940-1999. Wilmington, Delaware: Cedar Tree Books, 2000, 243.
3 Flashes From Wilmington Park, The Sunday Morning Star, May 12, 1940, 24.
https://sabr.org/sites/default/files/Wilmington%20Park%20Image.jpg
600
800
admin
/wp-content/uploads/2020/02/sabr_logo.png
admin
2015-06-17 18:40:37
2021-03-10 00:47:04
Wilmington Park (Delaware)