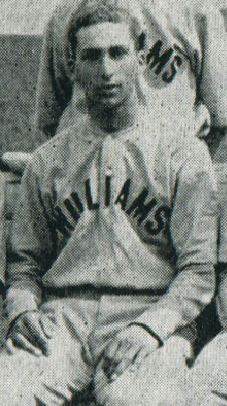 Paul Franklin Otis appeared in a mere four games for the New York Highlanders in 1912 -- but more than three-quarters of a century later, he made national news as the oldest living major leaguer. When he turned 100 on Christmas Eve, 1989, the Williams College graduate became just the third centenarian among former big-leaguers.[1] One of the well-wishers who telephoned as Otis reached the century mark was the Commissioner of Baseball, fellow Williams alumnus Fay Vincent.[2] In addition, Yankees owner George Steinbrenner, another famous Williams alum, sent a telegram.[3]

Not bad for a man who went just 1 for 17 (.059) with three walks in the majors -- and whose nickname was something of a misnomer. When interviewed for his 100th birthday, Otis said, "I don't know why they called me Bill. I had a brother, Bill. Maybe they thought I was 'Wild Bill' Donovan."[4] But also right around the same time, he claimed that he acquired the nickname at Williams.[5]

Otis was born in Scituate, Massachusetts, on the seacoast midway between Boston and Plymouth. His family's name had been prominent in the town since the 1660s. Paul was the third of four sons born to George and Carrie Otis. His older brothers George and Miller arrived four and two years before, and his younger brother Edwin came two years later. The 1900 census listed the elder George Otis's occupation as provision dealer. Carrie came from Maine.

When Paul Otis went to Williams, which is located in the very northwestern corner of Massachusetts, he was a scholar-athlete in the school's tradition of liberal arts. Among other things, he was elected assistant manager of the Williams Literary Monthly, having won a competition for the place.[6]

However, he joined the baseball team at its zenith in terms of producing major-league players. Infielder Jack Mills, Class of 1911, played 13 games for the Cleveland Naps in the two months after he graduated. Pitcher George "Iron" Davis, Class of 1913, made his debut with the Highlanders 12 days after Otis. For a couple of weeks or so, they were teammates in New York. Another pitcher, Tom Burr, joined the Highlanders in 1914. He played one inning in center field that April.


So there, in a span of four years, were four of the nine Williams Ephmen (Ephs, for short) who made The Show (the last two played in 1934).[7] One important reason was trainer Charles "Doc" Barrett, who served double duty with both Williams and New York, scouting for the big-league club from 1907 to 1914 and joining it as trainer in 1910. Another was Andy Coakley, a former major-league pitcher who coached the Williams nine from 1911 through 1913. Coakley, who would later coach Lou Gehrig at Columbia, played his last two games in the majors for the Highlanders in June 1911.

Otis attracted the Highlanders' attention during a strong senior season. In 1989, he recalled, "I hit over .400 and had a triple and home run one day against Harvard, and they approached me. I was 22 and I was flattered." He added, "We made a deal that I would be paid $350 a month. I graduated from Williams, and went right to the big leagues. Made my debut as a left fielder on July 4, 1912."[8]

Actually, the box score shows that Otis played center field and batted second that day, and the next two -- which accounted for his entire big-league game experience. Independence Day 1912 featured a doubleheader at Griffith Stadium in Washington. The next day, the Senators came up to the Polo Grounds in New York. The New York Times noted, "Otis, who comes from Williams College, made a rather difficult catch which saved trouble in the sixth inning." However, the Highlanders lost in 16 innings.

Otis also got his only hit in the majors on July 5. It came off Hall of Famer Walter Johnson, who had entered the game in relief in the fourth inning and pitched the last 122/3 frames for the Senators. "I remember it very distinctly," said Otis in 1989. "It was a drive over second base, a clean single to center field. Johnson could throw the ball right by you, he was so fast. But maybe he threw me an easy one, I don't know." Although Paul's memory was a little fuzzy about the stadium and the position he played, that was forgivable after the passage of 77 years.

Otis recalled, "The Yankees were in the process of rebuilding when I was there. The manager was a man named Harry Wolverton. They weren't even called the Yankees. They were the Highlanders." It is noteworthy, though, that while the team's name officially changed in 1913, the New York Times (to name the most prominent newspaper among several) had been calling them the Yankees for several years.

Otis continued, "Hal Chase was the first baseman and their star player."[9] Among other memories, he relished being invited to eat oysters with "Prince Hal."[10] Author Martin Donell Kohout (Williams Class of 1981), who began to write his biography of the notorious Chase after the Pete Rose gambling scandal broke in 1989, had the good fortune to consult with Paul Otis. The only other Highlander who was still alive at that time was Chet Hoff, who succeeded Otis as the oldest living major-leaguer -- Otis had thought Hoff was dead.

In its issue of July 13, 1912 (the same one that showed the box scores of all four games Otis played for New York), Sporting Life wrote, "If [Otis] can now show sufficient ability [he] may be signed and farmed out for development." Three weeks later, the same paper reported that Otis had been sent to Wilkes-Barre in the New York State League. He got into at least a couple of games in late July. While playing there, though, Otis broke an ankle on a slide, the same ankle he had broken while playing at Williams.

In March 1913, Sporting Life noted that Otis was a candidate for the Barons outfield, calling him "an unknown quantity."[11] However, the outfielder never reported. "The Wilkes-Barre club asked me to come back after my ankle healed, but I wasn't inclined to," he said in 1989.[12] In May, Sporting Life mentioned briefly that the National Board of Arbitration of the National Association of Professional Baseball Leagues had disallowed an unspecified claim by Otis against the team.[13]

Otis went home to Scituate for a little while; then that fall he moved to Duluth, Minnesota. His wife, Margaret, came from Minnesota (although the 1920 census noted that she did not know her exact place of birth). Paul took a job as credit manager for the Duluth News-Tribune, and then joined the Manley-McLennan insurance agency in that city. During World War I, Otis served as a private and later a corporal in the Minnesota State Guard.[14] His draft registration shows that he was able to remain on the home front because his wife was a dependent.

After his service ended, he returned to the insurance business. In addition to his work with Manley-McLennan, -- which eventually became part of insurance giant Marsh & McLennan -- Paul served as vice president of the Insurance Federation of Minnesota.[15] In 1958, he started his own agency, retiring in 1967. Altogether, Otis worked in insurance for nearly 50 years. He and Margaret had just one child, a son named Paul Jr. (born 1918), who went into the same business as his father.

In 1983, Jim Ogle of the New York Yankees Alumni Association invited Otis to Yankee Stadium for the annual Old-Timers' Game. "I don't know how they found me," said Paul, "but they invited me to come to New York and I went."[16] Although film footage exists of the salute to Joe DiMaggio at Yankee Stadium that July 16, Otis is not identifiable among the lineup of vets on the field. In his remarks, DiMaggio remembered, "When I first played here, they still had the wooden bleachers in right field." One wonders if The Yankee Clipper was aware that someone was on hand whose career predated The House that Ruth Built.

As of 1989, Otis was confined to a wheelchair most of the time at his place of residence, the Chris Jensen Nursing Home in Duluth. "I don't feel sick, but I can't stand up without holding onto something," he said. "I use a walker four or five times each day to exercise my legs, hoping they'll come back -- but maybe they won't." A mild stroke in the summer of 1988 had affected his speech slightly, as well as the dexterity in his right hand. He was still able to sign autographs, though, and he frequently received requests in the mail, which tickled him. "I don't ever recall being asked for my autograph when I played ball," he said.[17]

At his 100th birthday party, in addition to Paul Jr., were a granddaughter, three great-grandchildren, and six great-great-grandchildren, plus a few close friends and neighbors from the nursing home. [18] His birthday cake was inscribed "Happy 100th Birthday to the Oldest Yankee." And the telegram from George Steinbrenner said, "Happy Birthday Paul. My warmest wishes for a happy and healthy new year. Hope you will follow the Yankees this year."[19] Fay Vincent reportedly was also going to follow up with a letter, and there is sound reason to believe that he probably did. In 1990, the Commissioner wrote to another big-leaguer who went to Williams, Mark Filley, celebrating their common bonds.

Paul Otis died nine days short of his 101st birthday. He was laid to rest in Duluth's Forest Hill Cemetery. Though this man's career was a far cry from the Baseball Hall of Fame, earlier that year, a memento of his made it to Cooperstown: the little Highlanders cap ("small enough for a young boy. . .the look is more beanie") that he wore back in 1912.[20]

Continued thanks to Eric Costello for additional research.

April 21, 2011

Sources

www.la84foundation.org (Sporting Life online)

www.ancestry.com (census and draft registration information)

The Baseball Necrology (www.thebbnlive.com)

Notes
---