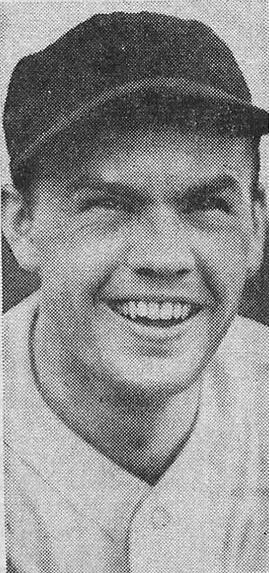 He faced just three batters in his entire big-league career, but baseball was not the true calling of the Honorable Marcus Lucius Filley. Like his fellow Williams College alumnus Henry Clarke (nine games in 1897-98), Filley was a strong college pitcher who had a whirl in the majors before entering the law and public service. He remained on the bench for 16 years as Family Court Judge in his hometown of Troy, New York.

Again like Clarke, Mark Filley came from a family of successful merchants. [1] His great-grandfather, also named Marcus Lucius Filley, moved to the village of Lansingburgh, New York (now part of Troy) in the 1830s. The Filleys were closely involved with an industry that was almost synonymous with Troy in the 19th century: stove manufacturing.

There were two more generations of M.L. Filleys before the future Washington Senator was born in Lansingburgh on February 28, 1912. Mark's grandfather was named Mark Lester Filley, and his uncle was also Mark L. Filley. This could well have influenced the spelling of the fourth Mark's nickname -- he himself used a "k" rather than the "c" from Marcus. Unlike later baseball reference books, newspapers throughout his life all used a "k." But sometimes, as Filley's daughter Leith Colen observed, "it was a crapshoot -- no rhyme or reason."

Mark was the second of five surviving children born to Frederick Child Filley and Jeanette "Jennie" Derrick Filley. His big sister, also named Jeanette, was two years older. After another two years came a sister called Freda (after a brother Frederick who died young). Following an eight-year gap, another sister named Helen arrived. Last was little brother Derrick, 12 years Mark's junior. Their father was a prominent Troy lawyer who served as District Attorney for Rensselaer County and also as a member of the New York State Assembly.

Young Mark attended schools in the Lansingburgh School District, graduating from Lansingburgh High. He then spent a postgraduate year at the Albany Academy for Boys. In 1930, he started college life, traveling roughly 30 miles east to Williamstown, Massachusetts. His course of studies was heavy on the classics, including Latin. Filley lettered in basketball but was not a first-string player -- his best sport was clearly baseball.

After winning all three of his decisions for the freshman team, Filley was 20-6 in his three seasons on the varsity. "The Berkshire team's ace always has his sharp curve ready for emergencies," noted one story; another observed, "he pitches many knee balls that are close to the dirt." Filley was regarded as one of the top college pitchers in the Northeast and even in the entire nation, which was surprising for Williams, a small liberal arts school. He capped his college career in June 1933 with a commanding seven-hit shutout over arch-rival Amherst, posting 11 strikeouts. The 6-0 win gave the Ephs the Little Three crown over Amherst and Wesleyan for the second year in a row.

During the summers, Filley pitched for local teams in New York's capital district, including the Troy Emeralds, Cohoes Haskells, and the Albany Knights of Columbus squad. Among other opponents, in 1932 he faced the Mohawk Giants, a strong African-American semi-pro team managed by former Negro Leaguer William "Buck" Ewing, who had settled in Schenectady. That summer, he went 15-2 on the central New York circuit.

Filley's exploits on the mound attracted the attention of the St. Louis Cardinals and Philadelphia Athletics. But the presence of a top-level minor-league club close to home made a difference. After graduating from Williams in 1933, Filley was signed by Bill McCorry, manager of the Albany Senators -- who told the young man it was not to his advantage to tie himself up with a big-league team. McCorry's letter signing Mark on June 24, 1933, contained the provision that the pitcher would receive 30% of any sale or draft price.

Despite their name, the Albany Senators were not officially affiliated with the major-league Senators in Washington. However, the International League club was owned by Joe Cambria, the Sicilian-born baseball man who was friendly with Washington owner Clark Griffith. Cambria, who ran a laundry business in Baltimore, became best known as a top scout for Griffith, signing many Cuban players in particular. In Albany, he eked out a slender profit through promotions -- Mark Filley Day in Troy also featured a tennis match between women's stars Helen Wills Moody and Helen Jacobs -- and continuous dealing. Albany had a revolving door in 1933, fielding some 53 players. The roster included numerous other future big-leaguers, including Stan Hack, Mike Kreevich, Babe Phelps, Ray Prim, Vito Tamulis, Gus Dugas, and Tommy Thompson.

When Cambria inquired about the prospect on Griffith's behalf, Bill McCorry said, "I'll find out just how good Filley is myself." Despite some hazing, the college boy held his own. Filley won 7 and lost 4 for a team that went 80-84 overall. His 3.31 ERA drew praise in the papers. He was impressive enough to remain as one of just four holdovers on the team's roster for the 1934 season.

In the winter of 1933-34, Filley was on the faculty of Burr and Burton Seminary in Vermont. He coached baseball and basketball while also teaching Latin, geometry, and algebra. But when spring training came around, Washington invited him to join the squad in Biloxi, Mississippi. They viewed him as "not so fast, perhaps, but one knowing what to do with the ball." Filley performed well, capped by five shutout innings against the Boston Braves on April 10. Player-manager Joe Cronin decided to keep the 22-year-old on his staff. [2] Washington paid Albany $5,000; Filley used his $1,500 share to buy an engagement ring for his girlfriend, Dorothy Leith McCracken of Schenectady, and a refrigerator for his mother.

The Sporting News commented on Filley's impressive spring: "This youthful righthander has displayed so much promise and poise that he was given the preference over Ed Chapman, the costly purchase from Rochester." [3] That article went on to state, however, that "Filley makes the tenth boxman on a squad that ultimately will number only nine, so Cronin has until May 15 to decide whether he, or some other member of the curving corps, is lopped off." The club made that decision on May 14:

"Catcher Elmer Klumpp and pitcher Mark Filley will be sent away and infielder Johnny Kerr will be transferred to a coaching role in order that the Nats may get down to a 23-player limit, which is necessary by midnight tomorrow. Klumpp will be returned to Chattanooga, but on 24-hour option, while Filley goes to Albany, Clark Griffith, Nat owner, stated last night." [4]

Just four days earlier, The Sporting News had observed that the Senators were overusing relievers Jack Russell and Bobby Burke, but also noted that "management is evidently dubious of the ability of youngsters such as Ed Linke and Mark Filley to do rescue chores." [5] 
Filley's sole taste of big-league action came on April 19, 1934, against the Red Sox at Fenway Park. It was the second game of a doubleheader, and as Boston completed its sweep by winning 7-3, Filley gave up two hits and threw a wild pitch while retiring one batter. One run scored against him, leaving his lifetime ERA at 27.00. Filley and Charlie Perkins, who pitched for the Brooklyn Dodgers in April and May that year, remain the last two Williams Ephmen to appear in the majors.

Another side note from Filley's one game was that his batterymate, Moe Berg, went to Princeton with Williams baseball coach Charles Caldwell, Mark's mentor and close friend. Thus Berg apparently also had a hand in bringing the young pitcher to Washington's attention. For a month, the brilliant, eccentric catcher had perhaps his one teammate who could approach him in intellect -- not to mention converse in Latin.

Years later, Filley recalled that he almost had one more chance to appear with Washington. Either on April 28 or April 29, against Philadelphia, Joe Cronin waved him in to face slugger Jimmie Foxx with the bases loaded and nobody out. But the manager decided against it, and waved his rookie back.

As it transpired, the Senators had wanted Filley to report to Chattanooga after the cutdown -- but he refused. It was Class A ball rather than Double-A, and he said he would quit Organized Baseball rather than accept the demotion. Moreover, he was going to enter law school in Albany that October.

Following his return to Albany, Filley didn't see action for a couple of weeks and was then used in relief. He got more chances to start again, though, and finished at 4-3, 4.23. After the season, and before starting his law studies, he helped out a team engaged in a series to decide the semi-pro championship of Troy. [6] "He was a local hero," his daughter Leith noted. "The kids all used to gather on the doorstep."

Filley also returned to Williams in March 1935 to work out with the team while Charlie Caldwell was temporarily absent. He rejoined the Albany Senators in '35 and saw limited action (2-3, 4.91). One of his baseball thrills came on April 22 as Babe Ruth and the Boston Braves came to Albany's Hawkins Stadium for an exhibition game (which Ruth had done as a Yankee in 1931 and '34, and would do again as a Dodgers coach in 1938 and '39). The Babe's contract called for him to play just five innings, and Filley came on in relief in the top of the sixth. He said in later life, "Jokingly, I always claimed he was afraid to face me."

"He got a beautiful autographed ball from the Babe, right on the sweet spot," said Leith Colen. "Several years ago my sister and I looked at it and saw the ink had gotten faded, so we wrote over it! When we had it appraised, they could tell straight away. But it doesn't matter to us."

An injury that year reportedly cost Filley a chance to play for the New York Yankees -- or at least for the Newark Bears. In 1961, he told the Albany Times-Union that he got a call from George Weiss, who then ran the Yankees' farm system. They were looking for pitching and had made a deal for him, but Weiss wanted to know what he was doing at home in Troy. Filley replied:

"Well, George, you'll find out sooner or later. I fielded a ground ball, threw underhand while off balance, and my elbow has been bothering me a bit, but I'll be ready to pitch in a couple of weeks." The next day he got a one-word telegram: "Sorry."

"But that was my father," said Leith. "He was the most honest individual I have ever known. There was not a fiber in him that would do things otherwise."

On November 25, 1935, Albany parted ways with Filley. Joe Cambria wrote, "Dear Mark -- we have made a deal with Galveston of the Texas League, and you are now the property of that ball club. Your release notice is enclosed." From that cold-blooded beginning, Cambria sought to sell the young law student on the opportunity, but Mark was having none of it. Again he refused to report.

The Buccaneers had received four other players plus cash while giving up just one catcher in return. But they really wanted Filley. The Galveston papers noted that the Bucs made several efforts to coax the pitcher out of his voluntary retirement over the 1936 and 1937 seasons. He got one letter that appealed to him to help his teammates make the Dixie Series. Yet while he remained dedicated to the pursuit of his law degree, Filley did find time to coach the Albany Academy team, a position to which he was named in April 1936. [7] 
 
Filley never did return to pro ball after 1935. In 1937, a new incarnation of the Albany Senators (managed again by Bill McCorry, but in the Class A NY-Penn League) "tried to make a deal for him but did not succeed, and Filley continued to twirl for semi-pro teams in Troy and Poughkeepsie." [8] That same article, which focused on Mark's September 11 wedding to Dorothy McCracken, noted reports that he might join Galveston the following year. The franchise, which was bought out by Shreveport interests in 1938, sent him an offer for a paltry $150 a month that spring (down from $250 in prior years). The Sports finally gave up and released him in August 1938.

Filley had earned his LLB and passed the New York State bar exam in December 1937. He then entered practice in Troy, while still enjoying baseball on the side. As late as 1939, he won 25 semi-pro games, but his arm started to give out the following year.

"Even with Washington, he knew he wasn't cut out to be a full-time major-leaguer," his daughter Leith stated. "He was a rather slender build [5'11-11½", 172 pounds] and it would have been tough for him to hold up physically. His brother Derrick said he didn't have the killer instinct. But he just loved his time in baseball -- oh my God, he loved to talk about it. He told so many wonderful stories."

Alongside his law career, Filley served Troy as chairman of local government committees in the 1940s. After World War II ended, he became a fan of the Brooklyn Dodgers. "He adored Jackie Robinson and was so happy that he got his chance," Leith observed.

In 1954, he won election for the first time as Judge of the Children's Court (later renamed Family Court) in Rensselaer County. "He was one of the greatest speakers around," said Leith. "People loved hearing his baseball stories."

After being elected president of the Family Court Judge's Association of New York State, Mark Filley left the bench in 1971. "It took a toll on him," Leith remembered. "He'd have to throw fathers in jail on Friday night so they wouldn't drink up their paychecks. He carried a gun at times -- there were threats on his life."

Filley then returned to his law practice, from which he retired in 1989. By that time, he had been a member of the New York State Bar Association for more than 50 years. Among other accomplishments, he served on the Board of Directors of the Troy Public Housing Authority and was active in the Knickerbocker Playground Association, the Troy YMCA and the Lansingburgh Boys Club. Mark was also a hearing officer for the New York State Retirement System from 1980 until his retirement.

Dorothy Filley boasted her own success. As a young woman, she was president of the Junior League of Troy, chairwoman of Volunteer Services of the Rensselaer County Red Cross program, and a founding member of the Rensselaer County Junior Museum. In her fifties, "Dot" earned a masters degree, and she went on to a new career with the arts, museums, and local history in central New York. She wrote a book about a distinctive slice of local history, entitled Recapturing Wisdom's Valley: The Watervliet Shaker Heritage, 1775-1975.

In 1989, the couple moved to Yarmouth, Maine, where Filley passed away at the age of 82 on January 20, 1995. "He had been diagnosed with Parkinson's disease in his early seventies but had been able to hold it at bay with medication for several years," said Leith Colen. "But then he broke his hip, and that was the beginning of the end. He lived for his last five years in the Brentwood Rehabilitation Center in Yarmouth. He still loved baseball, though. He hated that it had gotten to be a big business, but he would listen to two or three games at once."

In 1990, thanks to his daughter, Filley received a letter from Fay Vincent, then Commissioner of Major League Baseball. Said Vincent, who responded within days of the request:

"Each of us went to Williams; each of us is a lawyer; but most importantly, each of us loves baseball. You, however, could play the game. I salute you as a fellow Eph."

Mark Filley is buried in Oakwood Cemetery, Troy. He was survived by his wife (until 1998) and his two daughters Leith and Linda. But perhaps the best way to remember him came from Leith. "When I read [Vincent's predecessor] Bart Giamatti's book, it was like listening to my father speak. They were gentlemen, scholars, classicists -- my father could practically speak Latin -- and they loved the game of baseball."


Thanks to Leith Filley Colen, daughter of Mark Filley, for her contributions -- including a viewing of the scrapbook she assembled in her father's memory.


Notes

[1] Donald G. Southerton, The Filleys: 350 Years of American Entrepreneurial Spirit (Lincoln, Nebraska: iUniverse, Inc., 2005).

[2] "Mark Filley Clinches Place With Senators," North Adams Transcript, April 12, 1934, p. 12.

[3] Denman Thompson, "Griff Hurlers Slow in Displaying Form," The Sporting News, April 19, 1934, p. 5.

[4] Washington Post, May 14, 1934.

[5] Denman Thompson, "Senators Ready to Bid for That Second Term," The Sporting News, May 10, 1934, p. 3.

[6] The Sporting News, October 25, 1934, p. 6.

[7] The Sporting News, April 16, 1936, p. 9.

[8] The Sporting News, September 16, 1937, p. 14.


Sources

Obituaries for Mark and Dorothy Filley, Portland Press Herald, January 23, 1995, and December 5, 1998.

Professional Baseball Players Database V6.0.

www.retrosheet.org

www.ancestry.com

www.davidpietrusza.com


Photo Credit

Leith Filley Colen Collection