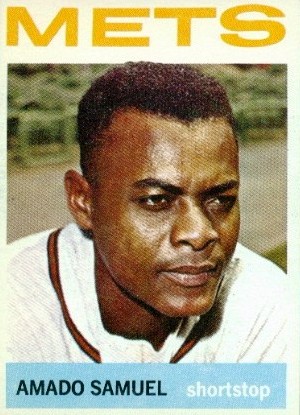 ---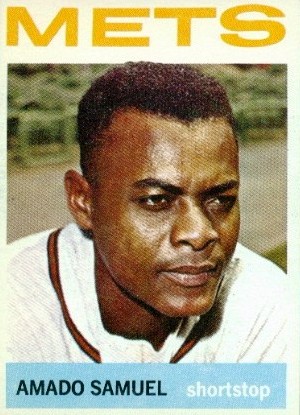 The Dominican Republic has often been called "The Land of Shortstops," and not without reason. On September 24, 2005, for example, 14 different Dominicans played the position in the major leagues. Many of those players come from a particular city in the southeastern part of the country, San Pedro de Macoris, which also sent a pair of MVPs in George Bell and Sammy Sosa, two-time 20-game winner Joaquin Andujar, batting champion Rico Carty and All-Stars like Alfonso Soriano, Robinson Cano, and Pedro Guerrero to the big leagues. In 1962, the first Dominican major leaguer to primarily play shortstop, as well as the first big leaguer from San Pedro, arrived in the person of Amado Samuel.
Born Amado Ruperto Samuel on December 6, 1938, he grew up playing lots of baseball like most of his peers in Santa Fe, one of the sugar mill towns in San Pedro. "In those days, everybody was interested in baseball," Samuel recalled. "That's all they do in Santo Domingo. They still do it, play baseball."
Surrounded by cane fields, Santa Fe is within walking distance of San Pedro proper and features a huge, 19th century cast iron grinding wheel in front of the mill where most of the town's men labored, including Samuel's father Rupert. "He was a cricket player," Samuel recalled. "He was an Englishman from St. Kitts."
Though more than 475 Dominicans have played major league baseball through 2008, the first did not debut until 10 weeks before Samuel's 18th birthday, when Ozzie Virgil started at third base for the New York Giants. The big leagues were a far-off dream as a result, but that began to change after the 1955 World Series, when the Dominican League joined the National Association and switched from a summer to winter schedule. American players were drawn by the chance to gain experience and extra money by playing year round and, naturally, plenty of scouts followed them there.
Samuel impressed well enough playing for Santa Fe's estate team that Rico Carty's uncle, Luis, handpicked him to augment the regional champion squad in 1957 that went on to win the Dominican amateur title. Shortly afterwards, Samuel saw a sign advertising a major league tryout camp.
Former National League umpire Ted McGrew was a distinguished 78-year-old scout when he arrived in the Dominican Republic on behalf of the Milwaukee Braves following their World Series triumph over the New York Yankees in 1957. He had a particularly good eye for shortstops. In 1939, the Brooklyn Dodgers signed Hall of Famer Pee Wee Reese on McGrew's recommendation, and he discovered three-time All-Star Alvin Dark for the then-Boston Braves in 1946. At the three-day tryout camp he operated in San Pedro, McGrew spotted another future big league shortstop, as he recalled in The Sporting News three years later:
"This Samuel got off his bike and asked if he could get in the game," said McGrew. "He had a mustache, by the way. He said he worked in a sugar mill. Well, I got him in for three innings, and the first time up he drove the ball to the centerfield fence. It was like a bullet. I asked him how much he wanted to sign."
Samuel said he didn't know, but hopped back on his bike seeking his parents' permission after McGrew offered him a $300 bonus, plus $300 a month. "When you go home," McGrew told him, "shave off that mustache." Samuel returned, clean shaven and ready to play professional baseball in the United States, absolutely believing he would reach the major leagues.
"When you sign a pro contract," Samuel explained, "you always think you're going to make it."
He started 1958 with a brief stint with the Class C Eau Claire Braves of the Northern League. Coincidentally, one of his teammates was outfielder Manny Jimenez, who became the second major leaguer from San Pedro the day after Samuel's debut (following a 1961 trade to the Kansas City Athletics).
"I remember hitting a home run in my first professional at bat with Eau Claire," Samuel told Sports Illustrated in 1987. "Didn't hit too many after that." Samuel batted a solid .273 in 38 games, but also committed a whopping 22 errors and got shipped east to the Class D Wellsville Braves of the New York-Pennsylvania League. There he made another 25 miscues and hit .246. Things improved drastically when he returned to Wellsville in 1959. Samuel cut his errors in half and hit .316 with 10 homers, 23 steals and 85 walks as the Braves finished first for a league-record fourth straight time and beat Elmira for the Governor's Cup. That winter, Samuel made the native All-Star team in that Dominican League, and the Braves signed his brother Manuel.
The Braves jumped him all the way up to Triple A in 1960, and he played a key role for a Louisville Colonels club that won the American Association playoffs in an upset en route to the Junior World Series Championship. Samuel batted just .215, but fielding alternately described as "fantastic" or "fabulous" earned him runner-up honors to future American League Most Valuable Player Zoilo Versalles as the league's top shortstop.
A clerical error almost left Samuel exposed to the minor league draft that winter by mistake, but the Braves front office corrected it in time. It was a good thing, too. With the middle infield that carried them to consecutive National League pennants in 1957-58 aging, Milwaukee general manager John Mullen opined that the strong-armed, sure- handed Samuel was "going to be a life saver".
"All he needs is ten more pounds and a better bat," added McGrew. "He weighs 168 now, and when he puts on a little, look out."
Samuel helped Louisville repeat as American Association champs in 1961 with a professional high of 15 home runs, while increasing his batting average to .250. He also married a local girl, the former Aldetha Stockton. His glove work remained top notch, and the Braves 1962 yearbook proclaimed him "definitely one of the finest major league prospects in all of baseball".
The Dominican League season was cut short that winter due to political instability after President Rafael Trujillo's assassination earlier in the year. Samuel reported to Bradenton, Florida, early to get a head start on spring training in the Florida Instructional Program with a big league job in his sights.
The Braves had former Gold Glove winners Roy McMillan and Frank Bolling at shortstop and second base, respectively, but manager Birdie Tebbetts had an opening on his roster for a backup infielder. Samuel, listed at 6'1" and 175 pounds, had only played second base once in his life, but he got comfortable there during spring training and made the club.
Samuel understood English better than he spoke it, and had few problems getting adjusted. McMillan, always tried to help him out, and Samuel shared a house with a handful of teammates in which all the fellow ballplayers looked out for each other. Not surprisingly, nearly everybody called him "Sammy."
"Maybe they had trouble saying Amado," he said.
His major league debut came on Opening Day—April 10, 1962—at Candlestick Park in San Francisco. Samuel handled his only chance at shortstop after entering the game in the seventh inning, and made the last out of the Braves' shutout loss in his only at-bat with a fly ball to left off the "Dominican Dandy," his countryman Juan Marichal. Samuel's first start came two days later.
On April 26, he singled to left off Ed Keegan of the Phillies for his first big league hit. The Braves believed Samuel would be a special player even if he only hit .250, but that base hit was the only one he managed in his first 28 at-bats.
His first real opportunity came in mid-May when Bolling contracted pneumonia, and Samuel notched his first double, run batted in and multi-hit game while filling in. He took Bob Buhl of the Cubs deep with two aboard at Wrigley Field for his first major league homer on May 29, helping the Braves win an 11-9 slugfest despite a trio of long balls by Chicago's Ernie Banks.
The disappointing Braves were struggling, though, and Samuel saw very little action in June. He reached a milestone of sorts on Friday the 13th of July, when he got his batting average over .200 for the first time in unlikely fashion. Hard-throwing Bob Gibson of the St. Louis Cardinals shut out the Braves on three hits that night at County Stadium, but Samuel hit a double and a single to account for two of them.
The Braves were not a factor in the pennant race, which prompted Tebbetts to play Samuel more in the second half. He started 55 games—29 at short, 23 at second and 3 at third—by season's end, appearing in 76 contests overall as the Braves came on strong to finish 86-76.
Samuel was Hall of Famer Hank Aaron's roommate at the time, and they got in some minor trouble along with Hank's brother Tommie Aaron late in the year. The Braves were about to embark on a road trip, and the car carrying Samuel and the Aarons ran over a nail on the way to the airport. With a flat tire and no telephone handy, all three got fined for showing up late for the flight.
When Samuel played, he usually batted eighth, but his speed prompted Tebbetts to employ him in the leadoff spot seventeen times. Samuel's .248 on-base percentage prevented his legs from making a major impact, however, and overall he batted .206 with 10 doubles and three home runs in 209 at-bats. Nevertheless, he was a big leaguer, and a father to boot, as his wife gave birth to a son. With the Dominican League still shut down, he went to Ponce, Puerto Rico to hone his skills over the winter under his ex-Louisville skipper Bill Adair.
Fiery Bobby Bragan replaced Tebbetts prior to 1963, becoming Milwaukee's fourth manager in five seasons, but Bragan was not the reason Samuel found playing time harder to come by. Denis Menke, the richest bonus baby in the history of the franchise, was also a shortstop that could fill in at second or third. Samuel insists that he was treated fairly, but the sheer size of the Braves financial commitment to Menke ensured that the Iowa native would have to fall flat on his face to lose the job. Instead, Menke hit so well in early chances when McMillan and Bolling missed time that Samuel became the odd man out. After appearing in just 15 games, five of them as a pinch runner, Samuel got farmed out to the Triple-A Toronto Maple Leafs in the first week of June.
The Braves wanted Samuel to try switch-hitting, and he batted .242 in 96 minor league games. A couple weeks after the season, the New York Mets acquired Samuel for a $5,000 down payment in a provisional sale that would net the Braves an additional $35,000 if he made the Mets roster.
Samuel spent the early part of the winter in Louisville with his expectant wife, anticipating the birth of their daughter. He rejoined his hometown Estrellas Orientales with the Dominican League back in action late in their season, and again showed up early for spring training to get a leg up on a major league job.
Mets skipper Casey Stengel had his baseball school in St. Petersburg prior to the Grapefruit League schedule, and Samuel dazzled the "Old Perfessor" with his shortstop play. Stengel told a reporter that the Mets really needed a third baseman, but proceeded to start Samuel at second base on opening day. Samuel played there again the next night, then never again. Stengel would use five second basemen, five shortstops and ten third basemen before the 1964 season was through.
Samuel started at shortstop in the home opener, the first-ever game at Shea Stadium, and provided the home team its only lead of the day with a two-run double off Pittsburgh's Bob Friend. The Mets were on their way to a third consecutive season with at least 109 losses, though, and didn't make it stand up.
Samuel started nine of the first 11 games, but by the last day of May, he was batting only .127 and hadn't had a hit in over a month. He tried everything, including wearing glasses, to get his bat going. Meanwhile in Milwaukee, Menke seized control of the Braves' everyday shortstop gig, so the expendable McMillan got traded to the Mets. After shifting 732 miles from Milwaukee to get more chances to play, Samuel was stuck on the bench again behind the same former All-Star.
McMillan got hurt on a play at the plate in mid-June, though, and Samuel got his best opportunity in the big leagues, 23 straight starts at third base and short. He batted .303 over that span to raise his season average to .232, capped by a hit off Sandy Koufax in Los Angeles on July 5. Samuel didn't know it at the time, but it would be his last hit in the major leagues. He finished his career with a .215 batting average, and 3 home runs, in 144 games. With McMillan back, Samuel played one more inning at the tail end of a blowout before the Mets sent him down to Triple-A Buffalo.
There, he hit .314 in 46 games, including streaks of seven and six consecutive hits shortly after his demotion. Unfortunately, his luck ran out in the base paths, where he bruised his elbow breaking up a double play and hurt his shoulder on a headfirst slide. Finally, another headfirst slide went wrong when he tripped and tore up his knee.
He tried to keep playing over the winter for Estrellas, but realized he needed knee surgery and returned to the United States. In his own words, he was never the same.
Playing mostly third base, Samuel batted .236 in 120 games back at Buffalo in 1965, but the Mets shipped him to the Richmond Braves just before the 1966 season to make room for young Bud Harrelson. Samuel spent eight games in Richmond, joined the Dallas-Fort Worth Spurs of the Texas League in June, and finished the season in the Eastern League with the Williamsport Crosscutters and York White Roses. All told, Samuel played a total of 89 games for four teams in 1966, combining for a .206 batting average and two home runs. He professional baseball career came to an end after a .230 average in 61 games for York in 1967. He got a job repairing refrigerators at the General Electric plant in Louisville in 1968 and remained there until he retired.
"I don't even think about baseball no more," Samuel reports. "I watch it sometimes."
Nonetheless, he's very well aware of the success enjoyed by shortstops from the Dominican Republic. By 2007, more than 100 of Samuel's countrymen had played the position in the big leagues, many with great distinction. Miguel Tejada won an MVP, while Tony Fernandez, Alfredo Griffin and Neifi Perez earned at least one Gold Glove. Other All-Stars include Hanley Ramirez, Jose Reyes and Rafael Furcal.
"Those boys are doing good," Samuel notes. "I am proud of being the majors' first Dominican shortstop. I guess there are a lot of them now. You know, one reason there might be so many is the ground they play on. You've got to have very good hands to play on those fields."
One former All-Star from San Pedro de Macoris, Juan Samuel, has erroneously been called Amado Samuel's son in several published reports, but that's absolutely not true. "I don't even know him," the first major leaguer from San Pedro says to clear matters up.
Samuel still lives in Louisville with his wife, and he prefers not to live in the past. To those who recall his brief major league career, he says "I'm fine. I'm glad somebody's thinking about me."
Sources
Author interviews with Amado Samuel on May 24, 2006, May 27, 2006 & July 2, 2009.
E-mails from SABR members Bob Buege, Burr Oxley & Andy Smith.
Kremenko, Barney. "Mets Buy Now, Pay Later If Samuel Delivers Goods," The Sporting News, October 26, 1963.
Kritzer, Cy. "Bisons Warm Up For Stretch Run," The Sporting News, August 8, 1964.
Wolf, Bob. "Defensive Dandy Samuel Ticketed For Braves Post," The Sporting News, November 30, 1960.
Wolf, Bob. "Kids' Progress 'Far Beyond Expectations'," The Sporting News, August 17, 1960.
Wulf, Steve. "Standing Tall At Short," Sports Illustrated, February 9, 1987.
Ruck, Rob. The Tropic of Baseball. Carroll & Graf Publishers, 1993.
www.retrosheet.org
Born
December 6, 1938 at San Pedro de Macoris, San Pedro de Macoris (D.R.)
If you can help us improve this player's biography, contact us.
http://bioproj.sabr.org/bp_ftp/images3/SamuelAmado.jpg
600
800
admin
/wp-content/uploads/2020/02/sabr_logo.png
admin
2012-01-04 20:40:14
2012-01-04 20:40:14
Amado Samuel