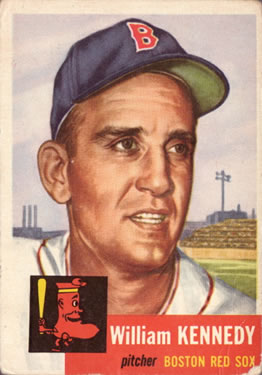 ---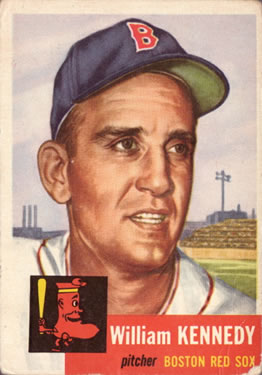 Any pitcher who strikes out more than 450 batters in a single season is going to attract attention. Left-hander Bill Kennedy is credited as having struck out 456 in 280 innings of work for the Rocky Mount Rocks in 1946.1 Yes, it was Class-D baseball, but it was still quite an accomplishment.
He was the second lefty named Bill Kennedy to make it to the major leagues. The first was William Gorman Kennedy, who pitched for the Washington Senators in 1942 and then again in 1946 and 1947, with a career record of 1-3, 6.79.
William Aulton Kennedy began his major-league career the very next year, in 1948 with the Cleveland Indians. He played in eight big-league seasons – for the Indians, Browns, White Sox, Red Sox, and the Cincinnati Redlegs. His career was 15-28, 4.73. His final year in the majors was 1957.
W.A. Kennedy was born in Carnesville, Georgia, on March 14, 1921, to Julian and Lavonia Kennedy. At the time of the 1920 census, Julian Kennedy worked as a rural mail carrier for the post office. Bill was the third of five children. The family moved to Akron, Ohio, and young Bill graduated from Akron's South High School. He played one year of high-school baseball and a half-season of amateur and semipro ball.2 Indeed, in 1939, his Heilbroner card3 shows him playing for Norfolk, Nebraska. He is also shown pitching briefly for Easton (Eastern Shore League), Butler (Penn State League), and Amsterdam (Can-Am League). He'd been in the New York Yankees system in 1939, but acknowledged that his "temperament" led to his release.4
In 1940 Kennedy began pitching for Akron (Middle Atlantic League), but for fewer than 45 innings. He spent most of his time with the Ashland (Kentucky) Colonels in the Class-D Mountain States League, where he worked 158 innings in 32 games, with a record of 7-11 and a 3.47earned-run average.
He began 1941 with Amsterdam again (2-4 in Class-C ball), but then moved to Rocky Mount, North Carolina, where he was 10-6 (2.23 ERA) in Class-C ball with the Rocky Mount Leafs. He made his home in Rocky Mount for a number of years, and married Eleanor Lorraine Johnson on May 30, 1942. It was a good year for him in baseball, too, with a record of 13-8, though his ERA had climbed to 4.02.
At the end of the season, Kennedy enlisted in the US Army Air Force and was in military service, working as a control-tower operator, from September 16, 1942, until February 17, 1946.
In 1946 Kennedy made his mark. He was signed by the St. Louis Cardinals and farmed out to Columbus but soon "was released – he says he doesn't know just why – and he signed with Rocky Mount."5
Kennedy's 456 strikeouts in 1946 is second highest in history for pitchers working from 60 feet 6 inches. (There were some pitchers in the nineteenth century who recorded more K's from a shorter distance.) For some time, it was thought that Kennedy held the record for Organized Baseball, but more recent research by SABR members has indicated that the record set in 1907 of 465 strikeouts by Grover Lowdermilk stands today. Lowdermilk struck out 458 for the Mattoon Giants in the Class-D Eastern Illinois League (he also won 33 games, with an ERA of 0.93) as well as seven more that year for the Decatur Commodores in the Class-B Three-I League.6 But Lowdermilk worked 397 innings, for a rate of 10.5 per nine innings, while Kennedy's K rate, in 280 innings, works out to 14.7 per nine. The most Kennedy struck out in a game was 24 batters, against Goldsboro in June.7
Surpassing 400 as well was Virgil Trucks for Andalusia, Alabama, in 1938; Trucks struck out 418 batters.
Rocky Mount won the Coastal Plain League pennant and the playoffs. Kennedy led the league not only in strikeouts but also in wins (28-3), win percentage (.903), and earned-run average (1.03). Boston Red Sox scout Bunn Hearn didn't wait until the season was over. On August 2, it was reported that he had signed Kennedy, who would report to Louisville after the Coastal Plain League season was over.8 The price was said to be "high up in five figures."9 Kennedy's final game of the season was on September 1, on "Bill Kennedy Day" in Rocky Mount. He threw a five-hitter with 15 K's and won the game with a tie-breaking home run in the sixth inning.10
In 1947 the Red Sox assigned Kennedy to the Scranton Red Sox in the Class-A Eastern League. He didn't work as many games –23 – but he put up numbers good enough to lead the league again in ERA (2.62) and winning percentage (he was 15-2.) He was part of a left-handed tandem with 18-year-old Maury McDermott (12-4, 2.86 ERA), working under manager Eddie Popowski. The sportswriters named him most valuable pitcher in the Eastern League.11 The Scrantonian said he was "supposedly temperamental" at Rocky Mount, but was deemed "pleasant, if not amiable" at Scranton.12 Though the stats and sportswriters ranked Kennedy tops, Eastern League managers reportedly ranked McDermott higher and, indeed, it was McDermott who was brought up to the big leagues.13
Kennedy stood 6-feet-2 and is listed at 195 pounds. The August 2, 1946, newspaper story had described him as "easy-going"; despite acknowledging his earlier temperament issues, he said "he has that whipped now and takes things as they come."14 But there must have been some reasons the Yankees released him, and then the Cardinals, and then the Red Sox let him go in the Rule 5 draft. They had placed Kennedy on Louisville's roster, but the Cleveland Indians selected him in the November 10 draft, paying the prescribed $10,000 fee. The Red Sox selected Babe Martin and Johnny Ostrowski. Bill Veeck's opinion? The Cleveland executive thought that Boston was trying to protect him by moving him to Louisville: "I believe they were trying to protect him from the draft. … They thought he would be safe."15
Kennedy spent the 1948 season in the major leagues. The Indians had a team with two 20-game winners in Bob Lemon and Gene Bearden; Bob Feller won 19. Kennedy debuted on April 26 at Comiskey Park, coming into a game against the White Sox tied 8-8 in the fourth inning. He allowed an inherited runner to score, giving Chicago the lead. In the bottom of the fifth he walked the first batter, struck out the second, but then surrendered a double and a single, was tagged for two runs, and was pulled. On May 1 he pitched a scoreless 1⅓ innings against Detroit. Manager Lou Boudreau gave him a start on May 16 in the second game of a doubleheader against the visiting White Sox. He pitched seven shutout innings, but weakened in the top of the eighth. He was charged with two runs, but the Indians prevailed, 9-2, and Kennedy had his first big-league win.
The 1948 season ended with the Boston Red Sox and the Cleveland Indians forced to play a single-game playoff for the pennant. The Indians won and went to the World Series, but wouldn't have made it had they had one less win. Kennedy (1-0) could claim a contribution to the ultimate victory, but he was long gone by October. After six appearances, he did have that 1-0 record but he had an ERA of 11.12. On June 15 the Indians traded him to the St. Louis Browns to get another left-hander, Sam Zoldak; it took Kennedy and $100,000 to pry loose Zoldak. Zoldak won nine games with a 2.81 ERA. (The night before the trade, Kennedy had lost an exhibition game against the Brooklyn Dodgers.)
Burt Whitman of the Boston Herald reported that Boudreau had said Kennedy's "control wasn't quite good enough for relief roles and that his stuff wasn't quite up to snuff for a starting pitcher."16
With the Browns, Kennedy lost his first four decisions (the first two saw the Browns shut out). Then he won four in a row. He finished the season 7-8 for the Browns, with a 4.70 ERA. He started 20 games and relieved in five others. He struck out 77 in 132 innings. He took part in a triple play – a line drive caroming off him – on July 24 against the Senators; he was the only American League pitcher to participate in a triple play in 1948. The Browns finished sixth.
Kennedy had an almost identical ERA in 1949 – 4.69 instead of 4.70, but in wins and losses he lost his first five decisions and finished the season at 4-11.
During spring training in 1950, psychologist Dr. David Tracy visited the Browns training camp in Burbank, hired to help the players relax and "believe in themselves" more, in order to help them win. Newspapers in various parts of the country ran a photograph of Tracy with Kennedy (Kennedy with eyes closed.)17
Though not necessarily thanks to Dr. Tracy, by mid-March, manager Zack Taylor was hopeful regarding his pitching staff. He said, "Bill Kennedy might win fifteen or eighteen games for us."18
He didn't win any. Kennedy appeared in only one major-league game in 1950, pitching two innings of relief on April 22 without an earned run. He spent the rest of the season in Triple A, playing on option for the Browns' team in the International League, the Baltimore Orioles, in hopes that a year's work in the high minors would prove beneficial. He was 16-9 (3.73). He recorded five shutouts.
Kennedy pitched for the Orioles in the Junior World Series against Columbus, losing both the first game, 5-1, and the fourth game (despite giving up only five hits), 5-2.
Before the 1951 season, Zack Taylor said he believed that Kennedy was now ready. As in 1950, the pitcher opened the season with St. Louis. This time he stuck until mid-July. He was 1-5 (pitching mostly in relief) with a 5.79 ERA. On July 19 new Browns owner Bill Veeck optioned Kennedy to Louisville. There Kennedy was 6-2 (2.73).
He was recalled after the 1951 season, and then sold to the Chicago White Sox in the first part of March 1952 for "considerably more than the waiver price."19 He spent the entire season with the White Sox, working in a league-leading 47 games, exclusively in relief save for one start, which he lost, on August 6.) He worked 70⅔ innings, closing 24 games, and recorded a strong 2.80 ERA, with a 2-2 record.
The White Sox acquired reliever Harry Dorish in December and felt free to use Kennedy as part of a deal (Hal Brown and Marv Grissom were in the package as well) to send three pitchers to the Red Sox for infielder Vern Stephens. Stephens was a three-time league leader in RBIs (1944, 1949, and 1950) but his better days proved to be behind him. Kennedy pitched in 16 games for Boston, a total of 24⅓ innings in relief, with a 3.70 ERA. He was without a decision, though he had two saves, when he was sent to Louisville on June 10. There he was 9-5 (3.05) for the year, starting in 17 of his 20 games.
On January 5, 1954, the Red Sox gave up on Kennedy, cutting ties and assigning him outright to the Louisville Colonels. Kennedy remained with the Colonels for the full 1954 season, starting 16 games and relieving in eight. His year-end record was 9-6, but his ERA was a mediocre 4.08.
Sometime before the 1955 season, the Seattle Rainiers (Pacific Coast League) purchased Kennedy's contract from Louisville. He worked in 52 games for Seattle, all but one in relief, and recorded a 1.92 ERA. He ascribed his success to the development of a screwball.20
The Cincinnati Redlegs forged a working agreement with Seattle, and thus Kennedy became part of the Cincinnati system.21 He began the season with the big-league club but, as in 1950, it was another of those one-major-league game years. He threw two innings on April 20 against the Cubs, and gave up four runs. The rest of his season was back in Seattle. In 43 games, he was 2-5, despite a good 2.55 ERA.
The scenario somewhat repeated itself in 1957, though Kennedy started the season in Seattle and was purchased by Cincinnati on August 29. He had earned the promotion; he was 9-3 with a 1.16 ERA. (He'd been 8-0 before dropping back-to-back games in San Diego on August 10 and 11.) He said, "I'm throwing the same stuff I did 10 years ago" but that he was "maybe concentrating more" as he wanted the opportunity to redeem himself in the majors.22
With the Redlegs, however, Kennedy was 0-2 (6.39) in eight appearances. They were his last games in the majors. On November 19 his contract was sold outright back to Seattle.
In 1958 he was 7-8 (4.50) for the Rainiers, but in 1959 he had another good year, with an ERA of 2.32 and a record of 8-3.
Kennedy's final year in baseball was 1960. A holdout before spring training, he came to terms and joined Seattle at their Palm Springs (California) camp on March 21. On May 27 he was given his unconditional release. He wasn't happy about it. "I don't want to sound like sour grapes," he said, "but I hate to be released in this manner. I pitched in only 11 innings, so how can anybody tell whether I'm finished. But if I am, I want to express my appreciation to the wonderful Seattle fans. They are the best anywhere. Regardless of what happens, I probably will make my home here."23
Kennedy wasn't idle long, signing with the Portland Beavers on June 4. He'd been 0-0, 4.09, with Seattle in those 11 innings. With Portland, he worked 54 innings and was 2-4 (for a last-place team), with a 3.17 ERA.24
Already working "dispensing hangover ingredients in a downtown liquorium" as 1960 came to a close, he wanted to work one more year, but was not accorded the opportunity.25
Kennedy worked for many years as a bartender at Ballard Eagle's Lodge in downtown Seattle. He died of lung cancer on April 9, 1983, in Seattle, and is buried in the city's Evergreen-Washelli Cemetery.
Acknowledgments
This biography was reviewed by Len Levin and fact-checked by Kevin Larkin and Warren Corbett.
Sources
In addition to the sources noted in this biography, the author also accessed Kennedy's player file and player questionnaire from the National Baseball Hall of Fame, the Encyclopedia of Minor League Baseball, Retrosheet.org, Baseball-Reference.com, Rod Nelson of SABR's Scouts Committee, and the SABR Minor Leagues Database, accessed online at Baseball-Reference.com.
Notes
Born
March 14, 1921 at Carnesville, GA (USA)
Died
April 9, 1983 at Seattle, WA (USA)
If you can help us improve this player's biography, contact us.
https://sabr.org/sites/default/files/KennedyBill.jpg
600
800
admin
/wp-content/uploads/2020/02/sabr_logo.png
admin
2017-05-01 14:12:41
2017-05-01 14:12:41
Bill Kennedy