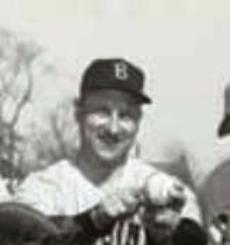 ---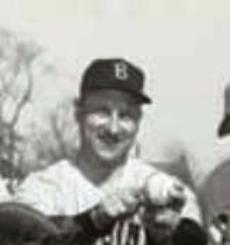 How many pitchers hit a home run their first time up in the major leagues, in their only at-bat of their debut year, and without ever having played in the minor leagues?
Wilfrid Henry "Lefty" Lefebvre's home run came in the bottom of the eighth inning of a game the Red Sox were losing, 13-1. Lefebvre pitched the last four innings of the game, was touched up for eight hits and six earned runs, including a pair of home runs. The game was pretty much a lost cause and Lefebvre was doing mop-up duty, so he was allowed to bat in the eighth, facing Monty Stratton of the White Sox. How does he describe his first at-bat? "Bang-o!"
Home run! It was Lefebvre's first and final major league game and only major league at-bat in 1938. He's in the record books with a 1.000 batting average and a 4.000 slugging average. Given one at-bat, you couldn't do much better, but the Red Sox lost the game, 15-2. Stratton hit a grand slam in the second inning, and was 3-for-5f at the plate.
On November 11, 1915, Lefebvre was born in Natick, Rhode Island, a community in Warwick, about 10 miles southwest of Providence. The family later moved to Pawtucket. He first recalls becoming seriously interested in baseball around the age of 12 when he met a young man from the area named Pat Noonan. Noonan had traveled to try out with the Red Sox during spring training. He didn't make it but he talked about the experience after he came back and that kicked off Bill Lefebvre's interest in the game.
Bill played ball on the Pawtucket High School team, pitching and playing first base and in the outfield. He played on a good team. "We won the state championship two out of three years. The other time, we lost it in the finals," he recalled. Lefebvre's catcher was Hank Soar, who later played pro football for the New York Giants of the NFL for ten years before taking up a career as an umpire. Soar was an umpire in the American League for nearly 30 years, from 1950 through 1978.
Lefebvre played during the summer in the Cape Cod League, and that led to his first contact with the Boston Red Sox, following his freshman year at Holy Cross. "I played in the Cape Cod League in '35. Hughie Duffy had come down. He was a coach with the Red Sox at the time. He came down because he wasn't feeling well and they sent him down the Cape for a couple of weeks to recuperate. He more or less scouted the Cape Cod League, and at the end of the season he took about 25 of us, you know like four guys from each team, to go work out at Fenway Park after Labor Day. Eddie Collins was the general manager."
"After being there 10 days, Eddie Collins called me in the office and he asked me if I wanted to play pro ball. I said, yes, but I want to finish school. He said, 'What kind of a deal is Barry giving you over there?'" Jack Barry, the former major-league infielder, was the Crusaders' baseball coach. "When I went to Holy Cross, they gave me a half a scholarship. I said, 'I gotta pay half, four hundred bucks a year.' Going to college in those days cost $800. (Collins) said, 'If you'll sign with us after you graduate, we'll pay the four hundred.' The next three years, you know. I says, 'Ok, yeah, but I owe the first year.' He said, 'How much do you owe?' I said, 'Five hundred dollars.' So he gave me the five hundred dollars. I had never seen one hundred dollars before.
"Every year, they'd give me $400 to pay for my tuition. That's how I came to sign with the Red Sox."
Lefty's father was a loomfixer who worked in the textile mills in the area. "My father was born in Canada, outside of Montreal. I'm a Frenchy. My mother, Philomene, was born up in Nova Scotia. She was French and couldn't speak a word of English. Peddlers would come around the house in the summertime – or in the wintertime – to sell something. My mother, the first thing she did when they'd knock on the door, she'd open the door and she'd say, "Can you speak-a the French?" If they said 'No,' Christ, bang! The screen shut. She slammed the door. My mother never worked. I had four sisters and they also worked in the mills doing some kind of work. I had a brother. He was older than I was. He never played baseball."
Lefty's parents encouraged him to play ball. He remembers a "bunch of kids about my age. We had an informal little league type of team, but it wasn't like it is today."
At Holy Cross in the spring of 1938, Lefebvre played left field against Brown, pitched against Fordham (2-for-4, with three runs scored on offense), threw a three-hit shutout against Providence College on May 21, and beat Colgate 14-1 on seven hits (2-for-5, with three runs scored) on May 26. The latter game was Lefebvre's seventh consecutive victory. On May 30, he held Boston College to three runs, but the Eagles shut out the Crusaders. A little over a week later, Lefebvre graduated – and the next day he was in uniform at Fenway Park. The day after that, he saw action in his first major-league game. "I graduated June the ninth of 1938 from Holy Cross, and the next day I went to Fenway Park and signed a major-league contract. Six hundred bucks a month."
He got in the lost cause of a ballgame, and pitched. "Then it came my turn to bat and Joe Cronin said, 'Go up and hit, kid! Go up and hit!' So I went up and hit, and the first ball Monty Stratton threw to me, I hit it over the left-field fence. I was a left-hand hitter; I swung a little late. In those days, they didn't have the screen (on top of the wall). They had horns to advertise. They used to announce the lineups and so forth. Loudspeakers. And it hit in the loudspeaker, which was an automatic home run. But I don't know that. And the ball came back on the field. Mike Kreevich is playing center field, and he's taking his time. When I hit the ball, I figured I'd hit the wall and I'd make a double anyway. When I got to second base — he knew it was a home run, but I didn't — and I said to myself, 'Christ, he's not hustling,' and I went sliding into third base. Bill McGowan was the umpire and he hollered, 'Come on, kid. Come on in, you hit a home run.' I didn't even know it was a home run."
It was but a brief stay in the bigs. Lefebvre threw the four innings, hit the one homer, and was headed to Minneapolis to play for the American Association Millers under Donie Bush. "I only stayed with the Red Sox for a few days, and then they sent me to Minneapolis and I played with Ted Williams when he was 19 years old." When the Red Sox visited Chicago just over a week after Lefebvre's debut, Joe Cronin called him in and explained that Bush needed a left-handed pitcher. He told Bill, "I think you'd be better off going over there, you'd be pitching regular, you know." So instead of sitting on the bench in Boston, he joined the Millers and became teammates with Ted Williams, Stan Spence, and Jim Tabor. Lefebvre's best pitch was the fastball, and he had a slider and a palmball in his repertoire, too.
"I had a good year. I won eight and lost eight, which was pretty good for a rookie." Lefebvre got in 127 innings and had a 4.25 ERA, striking out 45 while walking 35. Ted Williams won the American Association's Triple Crown that year, and after the season Lefebvre, Williams, Walter Tauscher, and Stan Spence did some barnstorming across the upper Midwest with their second baseman, Andy Cohen. Bill remembers falling asleep in the back seat, with Ted riding shotgun – literally. Every so often, a huge bang would wake him up; Ted had fired his shotgun at a jackrabbit or something. "Well, in about fifteen days, he emptied that whole [shotgun shell] case. By the end of the trip I think he was shooting at cats and dogs. He probably killed a couple of cows, I don't know. It's a wonder we never got pinched."
The following year, 1939, it was a choice between Bill and Jake Wade as to who'd be the final left-hander taken to Boston, and Cronin chose the veteran Wade. The Red Sox had meanwhile bought the Louisville ballclub, and so sent Lefebvre to Louisville. He appeared in 30 games, throwing 116 innings, and ran up a record of 6-10 with a 5.51 ERA, walking one more than he struck out, 43-42. Despite the less than impressive showing, he got another call-up to Boston and worked 26 innings in five games, winning one and losing one.
His first start came on August 19 and he threw six innings against the Senators, in Washington, leaving the game, down 3-1, for pinch-hitter Lou Finney. Finney doubled and scored, but the runs that made the most difference in the 8-6 Red Sox win came in the ninth inning when Ted Williams hit his first career grand slam off former Red Sox pitcher Pete Appleton.
The win came in Cleveland on August 29. Lefty started the game and it was scoreless after four innings, when the Red Sox scored a couple of runs and then Ted Williams broke the game open with another grand slam, off Harry Eisenstat, for a 6-0 lead. Lefty pitched through seven innings, got in a little trouble in the eighth, and was then relieved by Joe Heving. He recorded his first major-league win – and his only one for the Red Sox. He was 2-for-3 at the plate.
The loss came on September 4 in the second game of a doubleheader at Fenway Park. The Washington Senators beat the Red Sox, 7-6, in the first game, with Jake Wade getting knocked out in the second inning. Lefebvre started the second game and was staked to a 2-0 lead after three innings, but surrendered three runs in the top of the fourth and was knocked out himself during the seventh as the Senators scored three more runs on their way to a 6-4 win.
The day before, on September 3, Lefebvre had won another game, but with his bat, not his glove. The Yankees were at Fenway. It was the bottom of the eighth, with the score tied, 11-11, and the bases loaded. Elden Auker was due up, the third pitcher of the game for the Red Sox. Joe Cronin, remembering he had a good left-handed bat on the bench in Lefebvre, sent him up and Lefty singled in the one run that proved the game-winner.
Bill Lefebvre spent the next three years toiling in the minors. In January 1940, he was sent on option to the San Francisco Seals of the Pacific Coast League in exchange for Dom DiMaggio. Lefebvre was just 1-4 with the Seals before being returned to the Red Sox, who assigned him to Little Rock in the Southern Association. He spent most of the season in Little Rock, appearing in 26 games and posting a 6-13 record, despite a good 3.62 ERA. At season's end, he joined Scranton, appearing in seven games as a pitcher but also playing one game in center field and another in which he transitioned from pitching relief to fielding at first base. The whole of 1941 was at Louisville once more (12-7, 3.51 ERA) – again walking one more batter than he struck out (52-51). Minneapolis purchased his contract at the very end of 1941 and he played the '42 season for the Millers once more (9-11, 4.11 ERA), striking out one more batter than he walked (64-63).
In 1943, Lefty Lefebvre made it to the majors again. He spent most of the year with Minneapolis, compiling a 12-8 mark and an excellent 2.22 ERA. On the strength of that season, he was brought up to the Washington Senators in mid-August. He pitched 32 innings, finishing 2-0 (his first start was a complete game win over Cleveland) with a 4.45 ERA. In 1944, Lefebvre was with Washington all year long (2-4, 4.52 in 69 2/3 innings of work.) Lefebvre led the league with 10 pinch hits in 1944. He ended his major-league years with five wins, five losses, and a lifetime batting average of .276.
Military service prevented him from playing at all in 1945. He served in an Army unit sent to Japan after the war ended and worked clearing minefields. It was in the Army that he suffered a strain that spoiled his prospects for future play – due not to an injury on a minefield, but to excessive work on a ball field. "We had a ball team. There were several camps around where we were. We won the championship – they called it the championship. I think the Army really ruined me. We had a guy that was a fanatic and he wanted to win the championship, in that league. I pitched Monday, Wednesday, and Friday. That was too much. I hurt my arm. I couldn't pitch any more. That's what ruined me. When I came back, I was washed up."
After the war, he gave it a try, though. Lefty pitched a full season for Minneapolis (167 innings, 11-12, but with a poor 6.41 ERA.) His final year of pitching was with Providence and Pawtucket in the New England League in 1947 (3-3, 7.47 ERA.)
At that point, he just quit, and went into teaching in Pawtucket. He stayed at it for 25 years, mostly fifth- and sixth-grade physical education instruction. Lefebvre coached soccer, basketball, baseball, track, and swimming. While teaching, he also scouted for the Red Sox. Lefebvre is credited with signing John LaRose, Mark Bomback, and Allen Ripley, and he contributed to the evaluations of Carlton Fisk and a number of other players. He saw his old Minneapolis teammate Ted Williams almost every year at spring training. Eventually Bill and his wife moved to Florida.
The couple had two boys. Bill Junior was signed by the Cardinals, and seemed slated to become their next catcher, starting at Class A and working his way right up to the top, but he was stricken with cancer and died before he was 26 years old. Their other son was Michael. "He's a Down syndrome boy. He's in a group home over here in Florida, but he's home right now," Bill said in early 2006. "He's with me right now. Michael. Great kid. We had taken him to Children's Hospital in Boston and at that time they said the Down syndrome kids don't live too long, maybe between 15 and 20 years old. My son is sitting right next to me right now. He's 51 years old."
Summing it all up at age 90, Lefty Lefebvre concluded, "I wasn't a great pitcher, you know. I was just an average guy." Reminded of his .276 batting average, he said, "That's right. I should have played first base."
Bill Lefebvre died in Largo, Florida, on January 19, 2007, at the age of 91.
Sources
Interviews with Wilfrid Lefebvre by Bill Nowlin on June 19, 1997 and January 29, 2006.
Lefty Lefebvre player file at the National Baseball Hall of Fame.
Born
November 11, 1915 at Natick, RI (USA)
Died
January 19, 2007 at Largo, FL (USA)
If you can help us improve this player's biography, contact us.
http://bioproj.sabr.org/bp_ftp/images4/LefebvreLefty.jpg
600
800
admin
/wp-content/uploads/2020/02/sabr_logo.png
admin
2012-01-04 20:08:56
2012-01-04 20:08:56
Bill LeFebvre