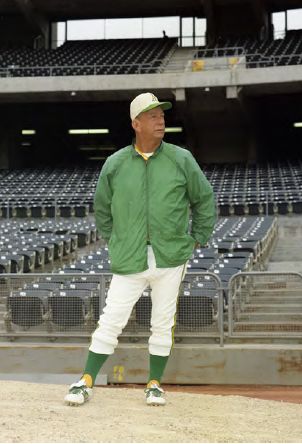 ---
Most commonly remembered as the pitching coach-guru who helped develop the dominating staffs for the Oakland A's championship teams of 1972-1974, Bill Posedel had a career in Organized Baseball spanning six decades, from the late 1920s to the 1970s. He debuted in the big leagues with the Brooklyn Dodgers in 1938 as a hard-throwing 31-year-old right-handed pitcher after more than eight grueling years in the minors. He was the top winner for manager Casey Stengel and the Boston Bees in 1939 and 1940, but suffered an arm injury in 1941 and never regained his form. After four years in the US Navy and a return to Boston in 1946, Posedel established his legacy as an insightful scout, coach, and expert evaluator of talent.
A lifelong career in baseball was far from foretold when Bill Posedel was born on August 2, 1906, in San Francisco, less than four months after the great earthquake and resulting fires destroyed about 80 percent of the city. His parents, Joseph and Johanna Posedel, German-speaking immigrants from Austro-Hungary, arrived in the United States in 1901 and had settled in San Francisco by 1904. Bill, the third of the couple's six children, is listed as Wilhelm Johann on US census reports from 1910 and 1920. In light of World War I and its aftermath, many German-American families Americanized their names and quickly assimilated. Wilhelm Johann became William John. The Posedels lived in Candlestick Cove, an industrialized section in the southern part of the city (near where Candlestick Park was later built), but during the war moved to Vallejo, a small town 30 miles north on the San Pablo Bay, where Joseph worked as a riveter in the burgeoning Navy shipyard. By all accounts an athletic youngster, the right-handed Posedel recalled in an interview with The Sporting News that he played baseball year-round in the temperate climate of Northern California and pitched in local sandlot leagues. "[I was torn between two ambitions," Posedel recollected upon graduation from St. Vincent High School.1 He wanted to play baseball, but the ships he saw daily in the harbor unleashed a more alluring passion for traveling the world and escaping his prosaic surroundings.
Posedel enlisted in the Navy, but never strayed far from baseball. Traveling throughout the Pacific, he pitched for various fleet teams and achieved his greatest success when he led the USS Saratoga to the championship of Pacific Fleet B Division.2 According to Posedel, upon his discharge in 1929, after four years of service, he had a stroke of luck. He met Tony Rego, catcher for the Portland Beavers of the Pacific Coast League, while the team was in Los Angeles. Accepting Rego's invitation to work out for the team at Wrigley Field, Posedel impressed manager Bill Rodgers and club president Tom Turner, who offered the 23-year-old pitcher a contract in August.3 Posedel debuted in the final weeks of the season and posted a 2.65 ERA in 17 innings.
Posedel returned to the Beavers in 1930, but struggled, surrendering almost two baserunners per nine innings in 26⅔ innings. "I was green as grass," said Posedel. "I soon found out that I didn't even know how to stand on the mound."4 He was dispatched to the Pueblo (Colorado) Braves of the Class A Western League, where he logged 95 innings and posted a 5.12 ERA.
Success did not come as easily in professional baseball as it had in the Navy for Posedel, who acquired the sobriquets Sailor Bill, Barnacle Bill, and Ole Porthole from sportswriters (teammates often called him Posey). At one point during his minor-league career, he even contemplated quitting baseball to work full-time as a shipbuilder in Vallejo, but he persevered.5 With a "high fast one with a wicked break," the 5-foot-11, 175-pound Posedel tried to blow past the hitters, but veteran PCL batters, many with big-league experience, waited for his heater.6  After Posedel posted a 7-6 record but an unsightly 5.12 ERA in 131 innings in 1931, the Beavers traded him to the Wichita Aviators of the Class A Western League for 25-game winner Art Jacobs, and he was subsequently transferred to the Tulsa Oilers of the same league.
Posedel pitched for Tulsa from 1932 through early 1935 and helped lead the Oilers to the league championship in 1932 by posting a 16-10 record. "[In 1932 and 1933 I was still a Navy pitcher trying to pitch ball in the better minor leagues," said Posedel years later about his maturation process as a pitcher and his breakout season as a workhorse in 1934 (15 wins, 45 appearances, and 270 innings). "Art Griggs was president-manager of the club and a great baseball man. He was patient with me and finally made a pitcher out of me."7 Notwithstanding his 1-7 record, Posedel was traded back to Portland in June 1935 for outfielder George Blackerby.8
Posedel experienced his biggest professional pitching success for the Beavers from 1935 through 1937. A 12-7 record after his trade suggested even greater heights in 1936, but Posedel got off to a slow start, winning just three of his first ten decisions. He then caught fire, winning 17 of his final 20 starts to finish with 20 victories (sixth-most in the league). Before the season ended the Cincinnati Reds purchased his contract on a contingent basis.9 Posedel won three more games in the Beavers' march to the league title. The Sporting News reported that Posedel was "not a pitcher of the sensational type … [but has lots of stuff] and improves under fire."10
The 30-year-old Posedel arrived at his first big-league training camp where he battled young, hard-throwing phenom Johnny Vander Meer and fellow PCL standout Dick Barrett for the chance to break into the rotation. After a good start, Posedel came down with arm problems. Dejected and suffering from homesickness, he requested to be returned to Portland, where he thought he could recover better. Cincinnati acquiesced, and Posedel responded with another outstanding campaign, setting career highs in wins (21) and innings (300), and once again attracted big-league scouts. On the recommendation of scout Ted McGrew, the Brooklyn Dodgers purchased Posedel's contract for an estimated $10,000 and sent outfielder Eddie Wilson and catcher Elmer Klumpp to complete the deal.11
Posedel joined a second-division club whose most obvious glaring weakness was starting pitching. Dodgers beat writers optimistically predicted that Posedel and a fellow rookie, Tot Pressnell, would match the success of the Boston Bees rookie duo of the previous year, 20-game winners Lou Fette and Jim Turner. Posedel made his major-league debut on April 23 by replacing Fred Frankhouse in the third inning against the New York Giants at Ebbets Field. Yielding just three hits over 5⅓ innings but collared with the loss, Sailor Bill fell victim to shoddy defense, which surrendered three unearned runs. Posedel earned his first win four weeks later when he tossed an eight-hit complete game to defeat the St. Louis Cardinals, 8-4, at Sportsman's Park. Used as a spot starter through June, Posedel made seven consecutive starts in July, won four of them, including his first shutout, a seven-hitter against the Philadelphia Phillies. But his success was fleeting. A horrendous August (1-5 with a 7.31 ERA) led to his demotion to the bullpen in September. His 8-9 record in 140 innings was tempered by the league's highest ERA (5.66) for pitchers with at least 100 innings. To make matters worse, Posedel broke his jaw on the last day of the season while warming up in the bullpen.
As a rookie Posedel clashed with Dodger veteran Leo Durocher, who wanted Sailor Bill to ease off the ball when he threw batting practice. Posedel refused, arguing that grooving the ball would throw off his timing in games.12 When Durocher was named skipper of the team in 1939, tensions between the two were palpable. In a move generally described as a surprise by the press, Posedel was traded to the Boston Bees for catcher Al Todd, on March 31, 1939. Boston, coming off its second consecutive winning season, was led by a pitching staff that ranked second in team ERA the previous season, but was also the second oldest staff in the league. Casey Stengel, in his second year piloting the club, viewed 32-year-old Posedel as a cagey veteran despite his relative lack of big-league experience. Essentially a two-pitch pitcher (fastball and hard curve) with a high leg kick and a three-quarters to overhand motion, Posedel worked on developing a change-of-pace (and later slow curve) and the results were immediate.13 On Opening Day, Posedel pitched three hitless innings of relief to earn the win in a dramatic 7-6 victory over Philadelphia in 12 innings.
Having earned the confidence of Stengel, Posedel entered the starting rotation on May 1 and proved to be one of the NL's biggest surprises over the next four months, completing 16 of 24 starts and winning 14 games for the underachieving Bees. During his most productive stretch as a big leaguer, he tossed five shutouts, including the best game of his career, a one-hitter against the Pittsburgh Pirates in which he surrendered only a fifth-inning single to Pep Young. "Casey taught me plays I never knew were in the book," Posedel said of his success, and he credited his skipper and especially catcher Al Lopez for giving him confidence in his pitches and helping him relax.14 Posedel seemingly tired at the end of the season, losing his last four decisions to finish at 15-13, but still led the seventh-place Bees in almost every pitching category, including wins, innings (220⅔), starts (29), and complete games (18). His five shutouts tied for second most in the league, behind teammate Lou Fette's six.  Posedel's season was a study in contrasts: In his 15 wins he pitched brilliantly with a sparkling 1.75 ERA; however, he was equally dismal in his other 18 appearances posting a 6.68 ERA.
The Bees duplicated their seventh-place finish in 1940 and Barnacle Bill once again led the team in wins (12, tied with Dick Errickson), starts (32), and complete games (18), and was second in innings (233). A veritable Jekyll and Hyde on the mound, Posedel was commanding in his 12 wins (a stellar 1.73 ERA), but posted an alarming 6.08 ERA in his 17 losses. He struck out a career-best 11 in a six-hit win over the Pirates on June 17, but indicative of his season-long inconsistency, allowed 24 hits and 15 runs (included a career-worst ten against Brooklyn) in his next two starts. Unlike the previous season, Posedel finished the campaign in strong fashion, winning six of his last ten decisions, including a career-best ten-inning complete-game victory against Philadelphia at Shibe Park, 3-2, on September 7.
The elder statesman of the staff in 1941, Posedel arrived at spring training in San Antonio refreshed from a monthlong stay at the thermal spas in Hot Springs, Arkansas. Held out of the rotation the first two weeks of the season to spare him from pitching in the cold weather of the Northeast, Posedel responded by tossing complete-game victories in his first two starts of the year. The success proved to be illusory. After his next start he came down with a sore arm, then developed leg problems trying to overcompensate, and never fully recovered. He logged just 57⅓ innings and won four of eight decisions for the Braves, who finished in seventh place for the third consecutive year.
Given his arm and leg injuries, the 35-year-old Posedel was at a crossroads in his career when the Japanese bombed Pearl Harbor on December 7, 1941, striking fear in Americans and initiating a profound patriotic response. He was also a bachelor once again as his marriage to Erma Pyke, a Vallejo woman whom he married in 1933, had ended in divorce by 1940. Consequently, his military classification changed from 3-A to 1-A, making him eligible for the draft. On January 31, 1942, Posedel re-enlisted in the navy and was stationed at the naval bases Mare Island in Vallejo and Treasure Island in San Francisco, but spent most of the war as a chief of gun crews on merchant ships throughout the Pacific Theater. After almost four years of service, he was discharged on August 30, 1945.
Posedel was unsure if he would attempt a big-league comeback after his discharge. But Denny Carroll, nationally renowned trainer for the Detroit Tigers, whom Posedel knew from their days together in San Francisco, encouraged him to give it one shot.15 Boston general managers Bob Quinn and his son John Quinn, who succeeded Bob following his retirement after the 1945 season, also felt a sense of duty to Posedel, and invited the 39-year-old pitcher to spring training in 1946. The team had undergone a drastic transformation in Barnacle Bill's four-year absence. First-year skipper Billy Southworth led a club deep in pitching (Johnny Sain, Warren Spahn, and Mort Cooper) and poised to challenge for the NL pennant. Southworth recognized Posedel as a student of the game who had also begun umpiring in the Navy, and gave him his first informal coaching job. In spring training Posedel served as first-base coach for intrasquad and split-squad games. Though Sailor Bill's productive pitching days were behind him (he made 19 relief appearances and posted a 6.99 ERA in 28⅓ innings), he served as a mentor to young pitchers.
Posedel planned on retiring at the conclusion of the 1946 season to embark on an umpiring career, but changed his mind when he was sold to the Seattle Rainiers in the PCL with the extra duties as serving as pitching coach.16 Pitching beyond his 41st birthday, Posedel won 12 of 20 decisions and logged 131 innings for the Rainiers before retiring as a player at the end of the season. He finished with a 41-43 record and 4.56 ERA in 679⅓ innings in his five-year big-league career and also won 119 games in his minor-league career.
Posedel embarked on a career spanning four decades as an acclaimed scout, coach, and pitching instructor when the Pittsburgh Pirates named him a scout for the Rocky Mountain area in 1948. As with most big-league coaches at the time, Posedel was poorly paid and his professional life was in constant fluctuation; coaching staffs turned over as managers came and went. During the first half of his post-playing career, Posedel served on the staffs of the Pirates (1949-1953), St. Louis Cardinals (1954-1956), Philadelphia Phillies (1958), and San Francisco Giants (1959-1960), and scouted for the Cleveland Indians (1961). Along the way he built a reputation as a tireless and dedicated pitching instructor capable of helping young hurlers like Bob Friend and Vern Law of the Pirates develop into aces, and helping veterans like Sam Jones of the Giants resurrect their careers. Posedel's big-league coaching career was interrupted for one year when he took over the helm of his former team, the Portland Beavers, in 1957 after their manager, Bill Sweeney, died six games into the season.
Posedel is often seen as one of the architects of the dominant Oakland A's pitching staffs of their World Series years (1972-1974). His association with the team began in 1962 when the club was still in Kansas City. The long-suffering franchise hired Posedel as a scout, pitching supervisor, and organizational pitching coach. During his five years in that capacity (1962-1967), he helped develop such prospects as Catfish Hunter, Blue Moon Odom, Chuck Dobson, Lew Krausse, and Jim Nash. That quintet led the A's in their inaugural year in Oakland (1968) to their first season over .500 since 1952 (when the team was still owned by legendary Connie Mack and located in Philadelphia) by starting a combined 157 games, winning 64, and pitching in excess of 1,100 innings. Coincidence or not, 1968 also marked the first of five consecutive years that Posedel served as the team's pitching coach. The A's posted winning seasons in all five of those campaigns, and continued the streak for four more years after Posedel retired.
Posedel was universally praised by his players as a player's coach who led by example and not wrath. "He's got great patience," said Dobson.17 He was amiable, good-natured, and approachable, and called everyone "Chief." In turn, his players affectionately called him Chief. "Sometimes I feel more or less like a father," Posedel said of his relationship to his pitchers. "They're all pretty good kids and I'm always pulling for them to get ahead."18
"He's gets the best out of the pitchers," said former A's manager Bob Kennedy of Posedel's ability to coax maximum effort from his charges.19 Posedel was an expert in noticing slight flaws in delivery and follow-through; Odom and Hunter credited him for helping their windup and delivery. When the pitching mound was lowered to ten inches in 1969 to stimulate more offense, Posedel taught his pitchers to bend their left knee for a more effective delivery. He encouraged his pitchers to bring their arms high above their heads in order to generate more power. Along with manager Dick Williams, Posedel is credited with helping convert the notoriously nervous Rollie Fingers from a mediocre reliever and spot starter into the era's foremost fireman and backbone of the A's relief corps during their five consecutive AL West crowns (1971-1975). Hunter paid Posedel an especially insightful tribute, stating that the coach endeared himself to players by letting them learn from their mistakes. "Posedel offer[ed] suggestions on mechanics, not lectures," said Catfish.20   Barnacle Bill stressed physical fitness, made his pitchers run, and pitched batting practice well into his 60s.
Prior to Oakland's tension-filled march to their first championship, in 1972, Posedel announced his intention to retire from baseball. At the age of 66, he finally reached the pinnacle of team success when the A's defeated the Cincinnati Reds, 3-2, in Game Seven of the World Series. In the offseason, he was feted in Oakland by current and former players who paid tribute to his contribution to their success. Posedel's retirement was temporary; he agreed to serve as the team's minor-league pitching instructor for one more season.
Posedel was lured out of retirement again in 1974 when close friend John McNamara, who had piloted the A's in 1970, was named manager of the San Diego Padres. Posedel was on the staff for just one season, but maintained his association with the Padres, serving as pitching coach emeritus and instructing regularly at the team's spring training through the late 1970s.
A lifelong resident of the Bay area in California, Posedel retired to San Leandro with his second wife, Della Irene (Locker), with whom he one daughter. Confined to a wheelchair in the last few years of his life, Posedel died in Livermore, California, on November 28, 1989, at the age of 83 after a long battle with colon cancer.21 He was cremated and his ashes were scattered at sea. In 2006 he was inducted into the Vallejo Sports Hall of Fame.22
Sources
Bill Posedel player file, National Baseball Hall of Fame, Cooperstown, New York
The Sporting News
Ancestry.com
BaseballLibrary.com
Baseball-Reference.com
Retrosheet.org
Notes
1 The Sporting News, August 31, 1939, 3.
2 Harold Seymour, Baseball: The People's Game. Volume 3 (New York and Oxford: Oxford University Press, 1991), 354.
3 The Sporting News, August 31, 1939, 3.
5 Tommy Holmes, "Rookie Reds Discarded Viewed as Young Man Of Great Possibilities," The Eagle (Brooklyn, New York), 1938. [no date . [Player's Hall of Fame file .
6 The Sporting News, August 20, 1931, 3.
7 The Sporting News, August 31, 1939, 3.
8 The Sporting News, August 1, 1935, 1.
9 The Sporting News, September 17, 1936, 1.
10 The Sporting News, November 12, 1936, 2.
11 The Sporting News, September 9, 1937, 13.
12 Dan Daniel, "Daniel's Dope," New York World-Telegram, August 25, 1939 [no page number . [Player's Hall of Fame file .
13 The Sporting News, March 16, 1939, 6.
14 The Sporting News, August 31, 1939, 3.
15 From the personal correspondence of Hy Hurwitz, sports reporter for the Boston Globe, April 25, 1945 [Player's Hall of Fame file .
16 The Sporting News, December 11, 1946, 12.
17 The Sporting News, September 28, 1968, 18.
18 Michael Hagerty, "Posedel Begins 42nd Year in Baseball," Oakland A's News Release, 1971 [Player's Hall of Fame file .
20 Paul Hensler, The American League in Transition, 1965-1975. How Competition Thrived When the Yankees Didn't (Jefferson, North Carolina: McFarland, 2012), 166.
21 Bill Lee, The Baseball Necrology (Jefferson, North Carolina: McFarland, 2003), 322.
22 Ken Hart, "Vallejo's pioneering pitcher," Times-Herald Sports (Vallejo, California), March 19, 2006.  timesheraldonline.com/sports/ci_3619210.
Born
August 2, 1906 at San Francisco, CA (USA)
Died
November 28, 1989 at Livermore, CA (USA)
If you can help us improve this player's biography, contact us.
http://sabr.org/sites/default/files/BillPosedel.JPG
600
800
admin
/wp-content/uploads/2020/02/sabr_logo.png
admin
2015-09-18 00:00:01
2020-12-07 04:04:29
Bill Posedel