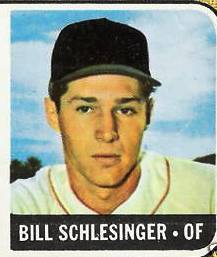 ---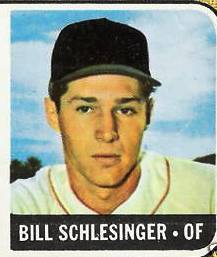 In the only major league box score in which he'll ever appear, Bill Schlesinger can't even find his whole name. It was shortened to Schles'ger. The space taken by the apostrophe replaced the "n" — leaving his name actually shortened only by the width of the typset letter "i." Tony Conigliaro got his full name in the same box score, though Carl Yastrzemski had to settle for "Y'trz'ski." The box score in question appeared in the New York Times. Since the May 4, 1965, game took place on the West Coast, there was no box score in the Boston Globe — nor did they run one the following day. The Los Angeles Times ran his name as Sc'les'ger and the Chicago Tribune as Sch'inger. The Washington Post box score omitted him entirely. And the record books show Bill's name as "Rudy Schlesinger" not Bill.
He explained about the nickname in a 2003 interview. "Rudy? That's a slang word. When I was playing, when somebody would get mad, when he was always upset about striking out, breaking up water coolers, breaking up bats and all that — they would always say that you're a red-ass. When you go into a slump, some hitters can handle it but I just couldn't. I would get mad and I was real moody, and I wouldn't talk to anybody. They just called me Rudy Redass."
May 4, 1965, was first baseman Bill Schlesinger's major league debut. It was also his last appearance. Dave Morehead started the Tuesday night game in Los Angeles's Chavez Ravine and only allowed two hits before the fifth, when he surrendered a grand slam home run to California Angel Costen Shockley, hitting just .150 at the time. It was Shockley's first American League home run, hit into the right field bleachers. (Shockley had hit one home run the year before for the Phillies, had one later in 1965 for the Angels, and then his career was over.) The final score was 7-1 so Morehead bore the loss. Later in the game, Dennis Bennett threw a couple of innings for the Red Sox. He had one rough inning, giving up four hits and two walks and was lucky to escape only having yielded two runs. He escaped by fielding a pop bunt which he turned into a double play. It was Bennett's first appearance for Boston. He had come over from Philadelphia in a trade for Dick Stuart. The winning pitcher was Marcelino Lopez, a Cuban refugee southpaw. The lone tally for Boston was a solo home run by Lenny Green. Schlesinger pinch-hit for Morehead in the sixth. One at-bat.
He'd had about as unorthodox an entry into baseball as one can get. He didn't play Little League. He went out for his high school team, but couldn't make the team. He tried again with the University of Cincinnati, but got cut there, too.
Baseball had long been in his life, though. Bill was born in Cincinnati on November 5, 1941. He had one sister, 10 years older. His mother and father got him a glove when he was three or four years old and he started playing hardball. Baseball was so popular in the area that he remembers playing ball all day long, seven days a week – when they could get on a field. Sometimes he'd have to wait hours and hours before his friends could get a field.
Alvin Schlesinger owned and operated Pleasant Ridge Hardware Store, located about 20 minutes from Cincinnati's Crosley Field. He was active in the Shriners and headed up Shriners Night each year at the Reds ballpark, and befriended a number of ballplayers. Most of the players needed offseason jobs to get by, and Bill's father employed men like Ted Kluszewski, Roy McMillan, Johnny Temple, and Gus Bell. Bill got to know many of them. "When I was seven or eight years old, I always came in the hardware store after school, and he had guys working in the store during the winter. I couldn't wait to get out of school to come up and see these guys. That was a big thrill. I brought my friends in. It was a good time." But he wasn't good enough to make any of his school ballclubs.
Yankees scout Pat Patterson was a frequent lunchtime companion of Bill and his father. Bill was about 20 at the time. "We would go to Ted Kluszewski's restaurant, which was a few miles from my dad's hardware store. We would go to lunch almost every day and we would talk about baseball." One day, after a couple of years, Bill offhandedly said he'd like to play pro ball. It seemed a bit of a ludicrous notion. The Yankees didn't even want to give him a look, but Patterson suggested he take a month and go to Florida to one of the baseball schools there. "Those schools are kind of like a racket," Schlesinger realized. "They just want your money. I think it cost like three or four hundred dollars to go down there. I did it with a friend of mine. There were hundreds of guys down there. Most of them weren't really good. We had a good time for a month and then I came home, and started playing in a Sunday beer league."
Patterson was friendly with Denny Galehouse, a scout for the Red Sox. (At the time of this 2003 interview, Schlesinger had not known that it was Galehouse who had started and lost Boston's fateful 1948 playoff game to the Indians.) Bill readily admitted, "I really wasn't that good. I had a lot of power and speed but that's about it. Power and speed together is kind of unusual." Galehouse came to visit the hardware store in August of 1963 and offered Bill's father a $1,000 bonus to sign with the Red Sox.
"Now, to me, in 1963, a thousand dollars was like a million," Bill says. "I'd never seen a thousand dollars in my life. And my dad says, 'Well, you know what? There's some other teams interested in my son'. Which was the biggest lie he ever told. And he said, 'We have to think this over.' Denny Galehouse knew that he was the only one but he played along with my dad. He didn't want to embarrass him or anything." He suggested that this was a big decision and that the family should think it over for a couple of weeks. Bill was fearful that his father had blown his big chance, and embarrassed himself striking out three times a game each of the next two Sundays, fumbling the ball at first base as well. Two weeks later, Galehouse returned and Bill signed.
Never having played organized baseball, Schlesinger signed a contract with the Boston Red Sox. A right-handed hitter, he was 6'2" and weighed 175 pounds. He went to Ocala for spring training in 1964. "I had people coming in the hardware store telling me that I was going to go down there for a month's vacation and then I'd be right back home because I had no chance."
He was trying to play first base, and even though he could hit the ball, he couldn't seem to field at all, so was moved to the outfield.  Schlesinger made the cut, and was told he had a choice between Waterloo, Iowa and Wellsville, New York. "I really don't care as long as I get to play," he said, and was assigned to the New York/Penn League, playing for the Wellsville Red Sox – "the smallest town in organized baseball at the time." He led the league with 37 homers and 129 runs scored, batted .341 (with a slugging percentage of .624), had 117 RBIs, and stole 18 bases. He was named an outfielder on the league's All-Star team. His astonishing debut earned him an invitation to Scottsdale to train with the Boston ballclub in the spring of 1965, and he broke camp with the big leaguers, heading north out of spring training. He was one of the last two players on the bubble, and recalls that it was Jerry Moses who was the last one cut, then added that in a certain sense, he'd lost out: "It's really a good thing to be sent down, if you're not ready. They want you to play. You have to play. They knew that I wasn't going to play in the major leagues. They thought more of Moses, really. They didn't want Moses sitting on the bench and not playing too much. That's one of the reasons that they kept me, I think – because they wanted Moses to play." On the other hand, had he not gotten the nod he may never have seen major-league action.
As it happened, he spent his time with the Red Sox just sitting on the bench, to the point that he even got out of the habit of bringing a bat to the dugout. On May 4, the team was playing the Angels in California and Bill was down at the end of the dugout bench eating a candy bar before the top of the sixth when Red Sox manager Billy Herman approached him: "I'm sorry to interrupt here, but I want you to pinch-hit."
Schlesinger scrambled, while the clubby Don Fitzpatrick ran to the clubhouse to get Bill's bat, bringing it up with a donut on it. "The first thing I did," Schlesinger remembers, "there's three steps going up out of the dugout. Well, I tripped there and I fell on the third step and skinned up my knee. So now it's time for me to go up and hit. I'm walking up to the plate with this donut and I keep pounding that bat on the ground, trying to get that donut to come off, and it wouldn't come off. I'm getting closer and closer to home plate and this umpire's looking at me and he says, 'Come on, come on! It's 5 to nothing here and I've got a dinner date one hour from now.' He says, 'Do you need help with that donut, getting it offa that bat?' I said, 'Yeah, kinda….' So the umpire takes the bat and gets the donut off the bat. And all these guys over on the Red Sox bench, and I guess the Angels bench, too, they were all laughing and screaming at me. So I finally get up to home plate and this catcher [Buck Rodgers] says, 'You're a fastball hitter, aren't you?' I said, 'Yeah,' and he says, 'Well, it's gonna be all fastballs.'
"So the first pitch was a curveball. And I looked at the catcher and I said, 'What's going on here?' He says, 'Well, so I lied. So what?' He started throwing me fastballs. So I grounded out to the pitcher. That's what I did. It just went off home plate, and it went up real high and he got me by about a half a step at first base. And then that was it." After the game, Herman was just getting on my case, having a lot of fun with me: "I couldn't pinch-hit you until we got out on the coast. In the sixth inning, it's 9 o'clock here, which means it's after midnight on the East Coast. I really didn't want to put you in a game until it was after midnight in Boston, in case you screwed up and embarrassed the organization.' They started calling me the 'midnight hitter.'"
But not for long. Three days later, when the Sox were back in Boston, Schlesinger was placed on waivers and taken by Kansas City, who assigned him to their Single-A farm club in Lewiston, Idaho.
He played just nine games for the Lewiston Broncs in the Northwest League and he only hit safely three times in 22 at-bats. He spent most of the season in Iowa with the Burlington Bees (another Single-A Kansas City club), playing for Gus Niarhos in the Midwest League. There he hit 17 homers (.262) but also committed 12 errors in the outfield, for a .919 fielding percentage. In 1966, Kansas City started him in Mobile (Double A, Southern Association), but after a nine-game stint in which he was fined three time for not hustling, he was told, "Double-A's too hard for you. We want to send you to Lodi, California." He declared he was going to quit, but things were worked such that he was sent back to the Red Sox and played the rest of the year in Single A at Winston-Salem. He hit .233 in 301 at-bats, his 16 homers still showing he had some power.
While the Red Sox were having their Impossible Dream season in 1967, Bill was playing just a couple of hours west in Massachusetts for the Pittsfield Red Sox (Double A) and had a decent season, hitting .281 and banging out 21 home runs. At the end of November, he was sent to the Chicago Cubs for pitcher Ray Culp. Schlesinger played for the San Antonio Missions in 1968 but he only hit .227, and he was worse in Triple-A with Tacoma in the Pacific Coast League. There Bill hit .150.  He was sold to the Red Sox in June, joining their system for a third time, and played most of 1968 back with Pittsfield (.274).
Bill soldiered on, starting 1969 with Boston again, in Louisville – hitting .200 in 13 games, before being traded to the Phillies for Don Lock. The swap occurred on May 4, the fourth anniversary of Bill's big-league debut. He was sent to the PCL again, to play for the Eugene Emeralds in the Phillies system; there he hit .254 in 98 games but in mid-August manager Frank Lucchesi called him and Larry Bowa and Denny Doyle into his office and said they were all going to get called up to the Phillies. They might not play much, but they'd be called up.
They went out and celebrated. The next day, August 20 in Tucson, Schlesinger was hit hard in the face with a Larry Sherry pitch. He lost his vision entirely for two or three days, and was in the hospital for two weeks. He recovered to the point he had 60% of his vision, but he'd permanently lost 40%. He still wasn't ready to retire. After the winter, he went back to Eugene. "I couldn't see the ball. I just couldn't see it. The first part of the '70 season, I tried to play and I just couldn't. The second part of the '70 season, the Phillies just had me do scouting and I would drive all over around Cincinnati watching high school games. I just hated that but that's what I did." He had managed to get into 29 games, hitting .190, but those were his last minor league at-bats.
In the spring of 1971, the only organization willing to pay his way to spring training was the Pirates. "They didn't give me a contract, but they let me train with the big club. We got in shape for the first week and then we started playing games. The first two games I was 0-for-8 with seven strikeouts. My third game – I think it was in Bradenton – [Pirates owner] Joe Brown's sitting right behind the dugout…He knew the whole situation, that I was hurt and all that. It was like the third inning and this guy threw a pitch to me. It was up and in and I didn't see it. It just grazed the bill of my helmet." He hadn't seen the pitch. Brown knew what was up and vaulted over the railing, intercepting him and instructing both the manager and the umpire that Schlesinger was being removed from the game, even before he got to first base. That was it. Brown told him he'd been lucky, and gave him a plane ticket to go back home.
Bill went to work in the family hardware store. His father died the very next year. Bill also played slow-pitch softball for the next 25 years, right up to 1996, and is in the Greater Cincinnati Softball Hall of Fame.
Well into the 21st century, Bill worked at Pleasant Ridge Hardware in Cincinnati, inherited from his father in 1972. The team that he followed as a fan was always the Red Sox. When he first signed, Pat Patterson told him, "You've signed with one of the best organizations in baseball" and Bill believed that to be true. His expressed hope that the Red Sox would win a World Series in his lifetime came true in 2004.  
Sources
Interview with Bill Schlesinger on July 23 and August 12, 2003. Bill Schlesinger's oral history appeared in NINE magazine's Spring 2007 issue. The complete version is available from SABR's Oral History Committee. Thanks to Bob Anderson for the introduction to Bill.
Photo Credit
The Topps Company
Full Name
William Cordes Schlesinger
Born
November 5, 1941 at Cincinnati, OH (USA)
If you can help us improve this player's biography, contact us.
http://bioproj.sabr.org/bp_ftp/images4/SchlesingerBill.jpg
600
800
admin
/wp-content/uploads/2020/02/sabr_logo.png
admin
2012-01-04 20:37:16
2021-10-06 19:56:45
Bill Schlesinger