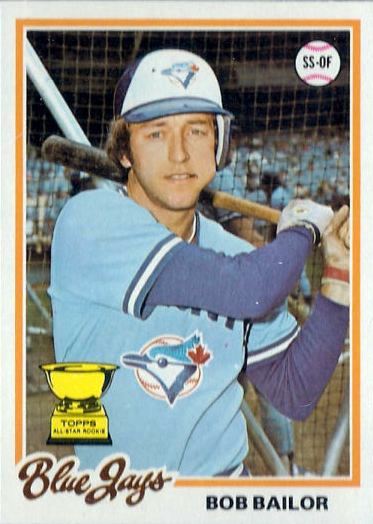 ---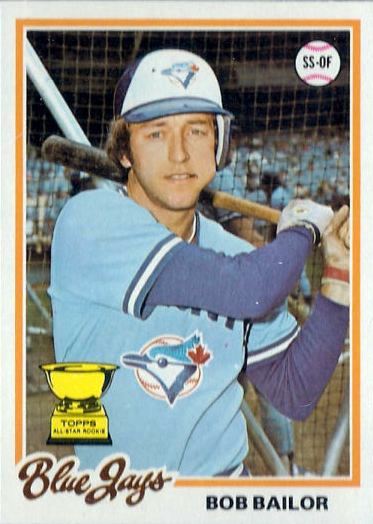 A shortstop by trade, Bob Bailor could also play the outfield quite well. In fact, he played every position but first base and catcher during his 11 big-league seasons. Bob Murphy, the late New York Mets radio announcer, said, "He's not a heavy hitter, but he is a tough competitor." Like Rex Hudler and Joe McEwing in more recent years, Bailor was a throwback type, a gritty, hustling blue-collar player. He chewed tobacco and loved hunting and fishing. His all-out style led to a number of injuries – but it endeared him to several managers. "I had to work to be average," he said in 1988. "I don't think I was overly talented. I worked hard, and it's probably why I hung on as long as I did. The ability to play all those positions helped too."[1]
At bat, Bailor choked up and held his hands slightly apart like Ty Cobb. He hit just nine home runs in 954 games, but his career average was .264 and he was a tough man to strike out, fanning in only 5% of his plate appearances in the majors. He liked to swing at the first pitch, though, so he also walked just 6% of the time. This and a suspect shoulder (not to mention the team's tremendous depth) were among the reasons the Baltimore Orioles left him exposed in the 1976 expansion draft.[2] The first original Blue Jay was a fan favorite in Toronto, managed in their minor-league system, and became first-base coach on the back-to-back World Series champions of 1992-93.
Robert Michael Bailor was born on July 10, 1951, in Connellsville, Pennsylvania. This small town is in Fayette County, amid the Appalachian Mountains, a little less than 60 miles southeast of Pittsburgh. At one time, in the early 20th century, Connellsville boasted wealth from coal and coke, but after the boom ended it wasn't easy to make ends meet there. In 1977 Canadian columnist Earl McRae wrote a vivid feature about Bailor and his roots. Bob's father, Robert Joseph Bailor, made his living as an engineer for the Chesapeake & Ohio Railroad, hauling coal, iron ore, and limestone. He was a third-generation railroad man whose grandfather had come from Poland; the family name was originally Bialkowski. McRae wrote, "It's a fact and a proud one that most of the men in town, like Bob Bailor's father, wear blue shirts and carry lunch pails. Most of their women, like Bob Bailor's mother Agnes, wear aprons and carry pots and pans." Bob was the oldest of four children; he had two brothers, James and David, plus a sister named Mary Beth. [3]
"There were plenty of opportunities to fish and hunt around Connellsville," Bailor told Jim Kaplan of Sports Illustrated in 1978. "I started doing both when I was five. The legal hunting age is 12 in Pennsylvania, but I cut it a few years."[4] Yet he started playing baseball even earlier. As his father told Earl McRae, "When Bob was hardly able to walk, he wanted me to go out in the snow and play catch with him."[5]
As one might expect, Bailor (whose childhood nickname was "Buzz") was a Pittsburgh Pirates fan as a boy. His favorite player was Roberto Clemente. In August 1963, Connellsville won the Pennsylvania state Little League title. In the final game against Levittown, Bob scored the game's only run.[6] "After we won the state championship, we played in the Eastern Regionals in New York," he said in 2010. "We went on a plane, and we saw a Pirate game at the Polo Grounds." He recalled correctly that it was the last season for the old stadium, and that the home team was one of his future clubs, the Mets.[7]
Oddly enough, Bailor did not play high school baseball. In part because of the area's chilly spring weather, Connellsville High did not have a team, and neither did the school he wound up attending, Geibel Catholic High (also in Connellsville). Like his father, Bob was short and wiry. Nonetheless, he played halfback on a town football team and was a good basketball player, too. He still holds Geibel's school record for most points in a game (47).[8]
Tom Sankovich, who started the Connellsville High baseball program in 1971, said, "There was so much talent, probably the most talent that Connellsville had in baseball was between 1960 and 1970 and none of those kids played high school baseball because Connellsville didn't field a high school team." He added, "There was a great baseball tradition in Connellsville because of the American Legion team and Little League baseball. The Little League had a bunch of old-time guys coaching that had no kids playing and they coached the kids to play the right way. They were teaching them fundamentals and they had great discipline."[9]
"The American Legion competition was real good," said Bailor in 2010. "That was the only baseball going at that time in that area. A couple of years we went to the Legion state championship and got close, but could never get over the hump."[10] One of his teammates was Bob Galasso, who pitched in the majors in 1977, 1979, and 1981. Another was a slugging first baseman named Jim Braxton, who became best known as O.J. Simpson's blocking back with the Buffalo Bills in the NFL.
After graduating, Bailor considered going to Gannon College in Erie, Pennsylvania, as a basketball player.[11] He wound up enrolling in California State College – not any of the campuses in the Golden State's system, but rather the school in California, Pennsylvania, near Pittsburgh. One reason he went to college was to escape going to Vietnam, since he had a low draft number.[12]
In August 1969, however, the Baltimore Orioles signed Bailor as a free agent. "I think I probably only weighed 140 pounds back then," he explained. "I never got drafted – there were a couple of other guys on our Legion team that got drafted. Herman Welsh was the Legion coach and he probably played a big role in me getting signed. A scout for the Orioles, Jocko Collins, offered me a contract."[13] Collins, who also signed Bob Galasso for the Orioles that year, was able to get Bailor a modest $1,500 bonus. The teenager bought himself a 1964 Plymouth Valiant.[14]
In the summer of 1970, Bailor reported to his first minor-league club: Bluefield, West Virginia in the Appalachian Rookie League. It was about 250 miles straight down Interstate 79 from Connellsville. In 46 games he batted .273 with no homers and 8 RBIs. He also pitched in one game, allowing eight earned runs in just one inning.
From 1971 through 1973, Bailor made steady progress through the lower levels of Baltimore's chain. In 1971 he won the batting title in the Class A Northern League, hitting .340 with 2 homers and 50 RBIs in just 68 games for the Aberdeen Pheasants. In 1972, he was a California League All-Star with Lodi (.290-2-34 and a league-leading 63 steals in 129 games). In 1973, moving up to Double-A Asheville, he was a Southern League All-Star. He hit .293-0-29 in 115 games and was chosen as the league's best hustler.[15] He made it up to Triple-A Rochester for 17 games at the end of that season. In November 1973, the Baltimore Sun highlighted him as one of the organization's 12 standout prospects.[16]
When that story came out, Bailor was getting his first experience of baseball overseas, as he went to play with Magallanes of the Venezuelan Winter League. It was a successful time, as he batted .318 in 54 games. On a sad note, though, Bailor watched on New Year's Day 1974 as his roommate, pitcher Mark Weems, went for a swim but was swept out to sea and drowned. For three days, Bob, pitcher Don Hood, and Ray Miller (then a player-coach for Rochester) searched for the body so they could send it back to the Weems family for burial. "It made me realize how fragile life really is," Bailor told Earl McRae.[17]
Bailor's progress stalled at Rochester in 1974. He played in just 96 games and batted only .230-1-25. "Due to injuries and the play of [Tim] Nordbrook, Bailor was installed in center field upon his return."[18] He returned to Magallanes that winter, batting .267-0-12 in 60 games. In spring training 1975, he battled for a roster spot in Baltimore with Doug DeCinces. DeCinces stayed, playing all four infield positions that year, while Bailor went back to Rochester. Baltimore skipper Earl Weaver said, "His ticket to the major leagues is his wheels."
"We were kind of backed up when I started progressing through the farm system," Bailor said in 2010. "I played the infield—all the infield positions—but they had Brooks Robinson and Mark Belanger and Bobby Grich, so Earl Weaver asked me to go out in the outfield and they had Don Buford, Paul Blair and all these Gold Glove outfielders, so it was tough. But you just had to keep grinding and try to make a name for yourself."[19] In addition to Belanger, a perennial Gold Glover, and Nordbrook, the Orioles had another major-league shortstop in their very deep system then, Kiko Garcia.
Bailor added that the veteran O's "were all real good with the young guys. There was none of that looking over your shoulder – they went out of their way to help you. To this day Brooks Robinson is probably the best guy I ever played with as far as personality and helping and doing all the right things."[20]
At Rochester in 1975, Bailor hit .293-5-39 in 129 games, although he missed some time with a leg that became infected after a severe bruise.[21] He was an International League All-Star, leading the circuit in hits (147), triples (6), and stolen bases (21). The Orioles called him up in September. He got into five games and went 1-for-7.
That winter, he was enjoying the hunting at home when he got a call on New Year's Day 1976 to replace Yankees second baseman Willie Randolph with Magallanes. Bailor played in just six games, as he developed a sore shoulder from playing second, an unfamiliar position, after rushing back into action. Despite his inflamed rotator cuff, he made Baltimore's Opening Day roster, but he got into only one game in April. "[He was] unable to play the field. . .Frustrated by doctors' inability to fix his throwing arm, Bailor requested to come down to Rochester, where he could at least DH. He joined the club in early June, but had to wait for a roster spot to open."[22]
Once he finally returned to action, Bailor hit .311-1-12 in 36 games for the Red Wings. The Orioles recalled him in September, and after pinch-running seven times, he went 2-for-6 as the DH in the last game of the season. A little over a month later, on November 5, the Toronto Blue Jays made him their first pick in the 1976 expansion draft. Toronto general manager Peter Bavasi called him, "the best shortstop available" and added, "We've checked him out thoroughly and the shoulder's fine."
"It was a big break," Bailor recalled in 2010. "When the expansion draft came, it worked out perfect for me—granted we didn't have good teams in Toronto early, but it gave me some exposure as far as other ball teams."[23] He also liked all the opportunities to fish and hunt in Ontario and elsewhere in Canada.
Bailor's 1977 rookie season was his best in the majors. He played 122 games, mainly at shortstop and in center field, although he missed a month with torn knee ligaments. The injury came as he stole third base at Anaheim Stadium on August 21; he was carried off on a stretcher. In 1988, Bob recalled that the doctors told him he could continue his career until the knee gave out. He said, "I'm surprised it lasted as long as it did."[24]
Bailor finished the season hitting .310, best among all big-league rookies that year and still a record for expansion teams. That July, he said, "When I was leading the league for a while earlier in the season, I cut the averages out of the paper because I figured I'd never be ahead of Rod Carew again."[25] His five homers accounted for more than half his career total in the majors. The first of them came on April 16 at old Comiskey Park off Steve Stone of the Chicago White Sox. He struck out just 26 times (while drawing only 17 walks). Dennis Leonard of the Kansas City Royals said, "I struck him out five times on really tough pitches, sliders that were low and away. He rarely goes after a bad pitch. He's an intelligent hitter, a good, scrappy player."[26] The Toronto baseball writers named him the Blue Jays' player of the year.
In 1978 Bailor posted a .264-1-52 batting line in a career-high 154 games and 676 plate appearances. He was playing primarily right field, as Toronto installed Luis Gómez at short, but also saw much action at third base and in center. The next year, however, still playing mainly right field, he slumped to .229-1-38 in 130 games. By that time, young Alfredo Griffin was Toronto's shortstop.
Things weren't much better for Bailor in 1980 (.236-1-16 in 116 games). He missed nearly a month in June and July after suffering a broken wrist while hit by a pitch in an exhibition game against Toronto's top farm club, Syracuse. That August, Bob made three relief pitching appearances for the Jays, all in games where they were trailing by several runs. The first two outings were scoreless, but he failed to retire a batter in the last and wound up with a 7.71 ERA.
In 2010, Bailor said, "I think the big reason Toronto took me in the expansion draft was because I could play everywhere. I started out playing shortstop with them, but then when they started building the foundation and getting new players – well, then I'd move somewhere else – third base and second, centerfield, all over the place. Well, finally they got good and they traded me."[27] (It actually wasn't until 1983 that the Jays broke above .500, though.)
On December 12, 1980, the New York Mets obtained Bailor for pitcher Roy Lee Jackson. "It was kind of a shock to me," he said in 2010. "I lived in Manhattan and going there as a visiting player – you knew you were going to leave in three days, but coming from Connellsville and then living in New York City was kind of a shock."[28]
In his three seasons with the Mets, Bailor played mostly shortstop and second base, but he also filled in at third base and occasionally in the outfield. He missed the first three weeks of the 1981 season with a rib cage injury, and saw limited action during the remainder of the strike year (.284-0-8 in just 51 games and 95 at-bats). However, he was an "irregular regular" in both 1982 (.277-0-31 in 110 games) and 1983 (.250-1-30 in 118 games). Bailor came up with a number of key late-inning plays while he was a Met. One memorable performance came at Riverfront Stadium in Cincinnati on August 23, 1981. He knocked in the winning run with a sacrifice fly in the tenth inning, then after moving to left field, ended the game with a leaping, over-the shoulder catch of George Foster's long drive.
George Bamberger, who managed the Mets in 1982, loved Bailor. That August Bamberger said, "Who on this club could be having a better year than him? I'd have to say he's the most valuable player on the club at this moment. He's just done so much…. He can do so many things." Teammate Hubie Brooks, then a second-year player, said of his fellow infielder, "A lot of times when I'm not sure of something, I go to him." Bailor's versatility and "heady game" also won him praise from rival managers such as Pittsburgh's Chuck Tanner.[29]
Bailor likes to tell a self-deprecating anecdote about the anonymity of his time in New York. He still has two back covers from the New York Post. The first came after the highly popular Rusty Staub delivered another pinch-hit. The headline read, "Rusty does it again!" Later, when Bailor had a key hit of his own in extra innings, the Post proclaimed, "Miracle at Shea!"[30]
Those were dark years for the Mets, but starting in 1983 (especially with the midseason arrival of Keith Hernandez), one could sense that the club's fortunes were ascending. On December 8, 1983, Mets general manager Frank Cashen made one of his best rebuilding trades. He sent Bailor and lefty reliever Carlos Diaz (who was coming off a very effective season) to the Los Angeles Dodgers. In return, the Mets got another middle infielder named Ross Jones – but the key to the deal was young pitcher Sid Fernandez. It is interesting to observe that Davey Johnson, whom the Mets had named their manager that October, wasn't crazy about the deal at first. In his book Bats, Johnson said, "[Cashen] traded two guys I could have used. . .for a pitcher who wasn't ready to play regularly in the spring. In the end it turned out for the best, but in the short run, it handicapped me."[31]
In 2010 Bailor joked, "I went from New York City to LA – I felt like Jed Clampett going out there. [Tom] Lasorda was good to play for – he let you do your own thing and had a lot of enthusiasm and kept you pumped up all the time."[32] Not long after the trade, Bailor remarked that he didn't like to be called a utilityman. "That makes it sound like I change light bulbs for a living," he said.[33] He had a chance to win the starting shortstop job for the Dodgers, but in spring training 1984, he dislocated his left shoulder diving for a ground ball. He did not come back until early May, went on the DL again in August, and got into just 65 games overall (.275-0-8).
Davey Johnson and Frank Cashen still liked Bailor. In Bats, a chronicle of the 1985 season, Johnson wrote that Cashen got excited because Dodgers GM Al Campanis had said that he was willing to make a deal. Johnson said, "Bailor would be the perfect right-handed bat. What do they want for him?" The asking price was a top prospect, though, and it turned the Mets off from dealing with Campanis.[34] In 1985, Bob started the season on the DL again and landed there once more in June. He went .246-0-7 in 74 games, but he finally got a taste of the postseason as Los Angeles lost the NL Championship Series to the St. Louis Cardinals. He appeared in two games and was hitless in his only plate appearance.
As Bailor was fighting for a job in spring training 1986, his wife, Jamie, delivered their first child, Robert Michael Jr. There was talk that he would be traded to Philadelphia, and Bob said, "It couldn't have come at a worse time."[35] However, the Dodgers made him one of their final two cuts. Toronto then immediately approached him to be a player-coach for Syracuse. However, "Bailor rejected the offer because he wanted to spend time with his baby son and was comfortable with the knowledge that the Dodgers still owed him about $400,000 for 1986. Jays' personnel director Gordon Ash explained, 'Bob's a good baseball man and we've told him he could have a good future in our organization in some capacity.'"[36]
Bailor had begun thinking like a manager as he sat on the bench alongside Tommy Lasorda and helped Dodgers third-base coach Joey Amalfitano.[37] In 1987 he rejoined the Blue Jays organization, managing the Dunedin club in the Florida State League. "There he displayed the grasp of strategy, the leadership skills and the flair for teaching [Blue Jays executive Paul] Beeston had recognized so long before."[38]
He then spent four seasons as Syracuse's skipper. The Chiefs finished first in the International League in 1989 but lost the Governor's Cup playoff finals to the Richmond Braves. Of greater interest that year, though, was how close Bailor came to being manager of the big club. After Jimy Williams was fired in May, the Buffalo News wrote, "The Toronto Blue Jays' brass is said to be divided evenly between interim manager Cito Gaston and Syracuse manager Bob Bailor as the permanent replacement."[39] When Gaston's interim tag was removed, though, it came as a relief to Bailor because the speculation had ended.[40]
Toronto finally did bring the first Blue Jay back to the big leagues in November 1991, naming him first-base coach. When the club won the World Series for the first time in 1992, he said, "I've gone from walking in snow to walking in champagne," (a reference to Toronto's first game ever, played with snow on the Exhibition Stadium field).[41] That winter, the press called him a dark-horse candidate for the opening with the Texas Rangers, but that job went instead to Kevin Kennedy.
In subsequent years, the Toronto press noted that the Blue Jays had groomed Bailor as Gaston's eventual successor. Bob served as first-base coach through 1995; in June of that year, he was still described as a "manager-in-waiting."[42] The Blue Jays sacked all of Gaston's coaches after the season, though, and did not offer Bailor another job in the organization. He was still without a job in baseball in early 1996. He soon retired and didn't look back.
Bob and Jamie Bailor moved to Palm Harbor, Florida, near Tampa, where Bob continues to enjoy fishing and hunting. For several years in the '80s and '90s, he and his brother Jim were commercial hunting guides in Colorado during the off-season. He still has a house in Connellsville, where he lived throughout his playing career. In 2010 he said, "If it were up to me I would probably be in Connellsville fulltime." He also has a hunting cabin in Somerset County, Pennsylvania, which borders Fayette County on the east. When Fayette County inducted him as part of the second class in its Sports Hall of Fame that year, Bailor said, "It's a big thing for me. Being from there and growing up there and playing a lot of sports, this means a lot to me."[43]
December 20, 2011
Sources
Von Benko, George. "Bob Bailor: from Legion to Big Leagues." Uniontown (Pennsylvania) Herald Standard, June 24, 2010. This article formed the basis for Bailor's page on the Fayette County Sports Hall of Fame website (http://www.fayettecountysportshalloffame.com/2010/bailor.html)
McRae, Earl. "Goodbye Connellsville." Part of the collection Requiem for Reggie, and Other Great Sports Stories. Toronto: Chimo Publishing, 1977. Available online at http://news.google.com/newspapers?id=hJAjAAAAIBAJ&sjid=fKEFAAAAIBAJ&pg=3786,3023995&dq=bailor+connellsville&hl=en
Vecchio, Valerie. "Bailor of Connellsville." Syracuse Post-Standard: February 5, 1988: B1, B4.
www.baseball-reference.com
www.retrosheet.org
www.checkoutmycards.com
planeta-beisbol.com (Venezuelan statistics)
---
Born
July 10, 1951 at Connellsville, PA (USA)
If you can help us improve this player's biography, contact us.
http://bioproj.sabr.org/bp_ftp/images5/BailorBob.jpg
600
800
admin
/wp-content/uploads/2020/02/sabr_logo.png
admin
2012-01-12 20:00:21
2022-10-03 10:44:57
Bob Bailor