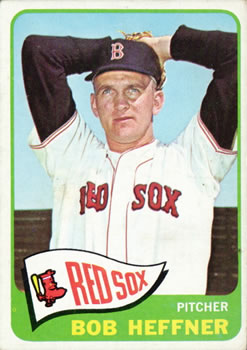 ---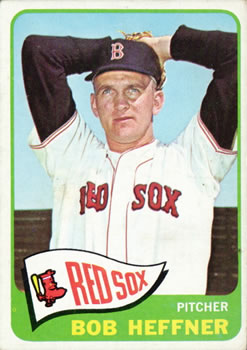 It was very difficult to win games for the 1964 Boston Red Sox. Not a single starting pitcher on the team had a winning record. The team finished in eighth place, with a record of 72-90. There were a few players fans could cheer for. There was 19-year-old Tony Conigliaro who hit 24 homers, and Dick Stuart, who drove in 114 runs, second only to Baltimore's Brooks Robinson (118). Then there was The Monster, Dick Radatz, the team's closer, who worked an astounding 157 innings with an ERA of 2.29 and did post a winning record (16-9), three more wins than any of the starters. Bill Monbouquette was 13-14, with a 4.04 ERA. Earl Wilson was 11-12, 4.49. The other pitcher on the staff who acquitted himself well, all things considered, was tall right-handed Bob Heffner.
Heffner was 6-foot-4 and listed at an even 200 pounds. He was 25 when the season began, his second year in the big leagues. He put up a record of 7-9, with a 4.08 ERA. Heffner worked 158 2/3 innings, appearing in 55 games, 10 as a starter, finishing 21 games.
Robert Frederick Heffner was born in Allentown, Pennsylvania on September 13, 1938 to Margaret (Koch) and Curtis Heffner. Bob was the youngest of their three children at the time of the 1940 census. Curtis Heffner was a wire worker with the Allentown Steel and Wire Company. For most of Bob's childhood, Curtis Heffner worked as a maintenance man at General Electric.1 Bob's uncle Art Heffner also owned a farm which Bob helped work.2
Bob attended the Herbst School and then graduated from Allentown High in 1957. During high school, he was given the nickname Butch by the school's radio broadcaster.3 He was quite an athlete there, an all-state player in basketball both in 1956 and 1957 as a guard (he was an all-American and team captain in the latter year.) He threw a no-hitter in 1956 and two in 1957 and was captain of the baseball team. His American Legion Lenty Post team were Pennsylvania state champions in 1956; his 2-1 two-hitter (with 15 strikeouts) won the September 9 title game.4
On June 12, 1957, he was signed to his first professional contract by Boston Red Sox scout Tommy Thomas.5 The Red Sox placed him with their Class-D team at Corning, New York in the New York/Penn League. Heffner pitched two seasons for the Corning Red Sox. His pro debut was on July 2. He appeared in 18 games (five starts) in 1957 and was 6-3 with 3.81 ERA. He pitched a few more innings in 1958, starting eight of his 10 games. He had a 7-2 record with a 3.31 ERA.
It was Corning again in 1959 (6-5, 3.79), but Heffner also saw duty in Class-A ball pitching for his hometown Allentown Red Sox. Just 20 years old, he excelled at the higher level (3-0, 1.66). It was the second year that Boston had a team in Allentown, the first being in 1958.
During the offseasons, Heffner worked for General Electric in Allentown. On November 9, 1959, Bob married Janet Gangewer. They have enjoyed more than 50 years of marriage.
With the unusual luxury of pitching in his own hometown, the newly married Heffner had an excellent year in 1960. He started 26 of his 30 games and was 16-9 with an ERA of 3.23. The 16 wins tied him for the league lead. He struck out 163 batters (ranking second in the league) and only walked 88. He had four shutouts.
In 1961, he went to spring training with the Boston Red Sox. He pitched for the Triple-A Pacific Coast League's Seattle Rainiers, where he was 3-4 (6.75), apparently not quite ready for the higher level of play. He spent the rest of the season back in Pennsylvania for the Johnstown Red Sox in the Eastern League.6 There he was 4-5 (4.20). In the offseason, he worked as a materials handler for General Electric in Allentown.
In 1962, Heffner was assigned to another year in the Eastern League, with Boston's latest affiliate, the York White Roses. This time he led the league in strikeouts, with 234 in 215 innings (28 starts). On July 24, he struck out 19 Elmira batters and hit a grand slam to boot. He was 13-10 with a 2.68 ERA that ranked him fifth in the league. That winter he played in Puerto Rico for the San Juan Senators, but it was a short stay. He decided he "didn't like the island" and returned stateside.7
He was on the Dallas roster (American Association) and was drafted on November 26 by the Cincinnati Reds for the prescribed $25,000 fee.8 In March 1963, however, "after a few brief tests in exhibition games," he was returned to Dallas, and thus the Red Sox.9 Come April 6, he was back on the Rainiers roster.
He was 4-1 in his first five decisions for Seattle, the one loss being a 1-0 defeat at the hands of San Diego. Then he lost to Tacoma, 3-2, and to Spokane, 2-1 in 12 innings, when a baserunner inherited by a reliever scored to break the tie. He was 5-4, but with an excellent 1.92 ERA for manager Mel Parnell (two of his losses were 1-0 games). He was then summoned to join the Red Sox in Boston to bolster a depleted pitching staff that was down to just eight men. Ike Delock had been released, and Gene Conley was on the DL. They sold Mike Fornieles' contract to Minneapolis. And manager Johnny Pesky knew Heffner from Seattle in 1961.
Heffner's debut was at Fenway Park on June 19, and he pitched a complete-game, 9-2 win against the Detroit Tigers, allowing just seven hits. And, he doubled off the center-field wall in his first at-bat. Carl Yastrzemski homered twice in the game. As it happens, Curt Simmons' father was the foreman of the GE plant in Allentown where Curtis Heffner was then employed, and Heffner was given the day off to travel to Boston and see the first five innings of his son's debut before he had to rush to catch a plane back home.10
That first double notwithstanding, over the course of his 102 plate appearances in the majors, Heffner hit for a .128 average. He hit one home run, a solo shot against Cleveland in 1964.
His next three starts were all creditable ones; though he didn't have another decision, his ERA was 3.29 after four starts and 27 1/3 innings. Pesky was reportedly "amazed at the improvement in Heffner's control."11 Oddly, Heffner's roommates cost him two more wins in June. On the 24th against Cleveland, the Red Sox were leading 5-3, and Jack Lamabe replaced Heffner in the top of the seventh with one out and one man on base. The first Indians batter homered, so Heffner was deprived of a decision, even though the Sox later scored again and won, 7-5. Lamabe and Heffner shared housing in Boston. Heffner's road roomie was Dick Radatz; four days later in New York, Heffner and the Red Sox had a 3-2 lead after 6 ½ innings. Radatz came on in relief, and, like Lamabe, gave up a game-tying homer to the first Yankee he faced.12
Heffner earned himself status as the fifth starter on the ballclub. There was a notable first inning in his June 28 start against the New York Yankees; despite giving up one run, the three outs in the inning were all recorded as a result of grounders hit to Boston first baseman Dick Stuart, with Heffner covering the bag. It was a rare instance of a pitcher recording three putouts in one inning; Washington D.C.'s Evening Star said it had only happened once before, by Red Sox pitcher Jim Bagby Jr. in 1940.13
He skipped one start in early July due to a sore shoulder. Each of his next three starts all resulted in losses, though the third of the three was a 1-0 game in which Heffner worked the first eight innings. By the end of the month, his ERA had climbed to 4.59. He persevered, and by season's end he was 4-9 (4.26). He struck out 77 and walked 36. He had two more complete games to his credit, the best being a 2-0 shutout of the Orioles on September 2. Manager Pesky looked forward to having Heffner work in 1964, noting, "He was only 4-9…but he pitched better than that. We didn't get him any runs."14
In 1964, Heffner got in a full year's work, appearing in 55 games (including 10 as a starter and 21 games finished as a reliever.) His first couple of wins came from being in the right place at the right time, working two-thirds of relief in the 11th inning of the April 28 game against the Orioles and the ninth inning of the May 19 game against the Angels. "I'm kind of embarrassed about that," he said. "I didn't do much to win a ball game."15 Except to be the pitcher of record on the 19th when the Sox came from a 3-0 deficit to score four runs in the bottom of the ninth, after Dalton Jones pinch-hit for him and banged a bases-loaded double to center field.
Though he was 5-1 through the first game on June 10, he lost the second game that same day. He pitched a shutout against the Yankees on August 21, but the losses began to pile up, and he ended the season at 7-9 despite an improved ERA of 4.08. One of his better efforts was working eight innings of three-hit, one-run relief on June 27, but the 4-2 game had already been lost in the first inning before he came in. During August, he put together a 19-inning scoreless streak, which included shutting out the Yankees, 7-0, at Fenway Park. Homers hurt him, though, giving up 20 home runs in 158 2/3 innings. The Red Sox team finished in eighth place, sometimes playing to "crowds" of fewer than 1,000 fans during September home games. Manager Johnny Pesky was replaced, just before the end of the season, by Billy Herman.
Heffner and Radatz were good friends, and in February 1965 Heffner flew to Boston to join Radatz in driving cross-country all the way to Scottsdale, Arizona for spring training. Their families joined them the following week by airplane.16
As it happened, Heffner twisted a knee in spring training. Herman's intent was to use him as a reliever and spot starter, more or less the same role as under Pesky. Heffner was not very effective in April and May, with a 7.71 ERA through May 25 (and neither a win nor a loss). On the 26th, he was optioned to Triple-A Toronto, as the Sox bought up Bob Duliba. In 54 innings for the International League Maple Leafs, he was 2-4 (2.67), good enough that he was recalled on July 4, with Jack Lamabe heading the other direction. A pulled ligament on July 24 cost him two weeks. By the end of the 1965 season, Heffner was 0-2 (7.16). He'd appeared in 27 games, starting only one – and only lasting three innings in that one start.
In October, his contract was sold outright to Toronto. At the end of November, the Cleveland Indians purchased his contract from Toronto in the Rule 5 draft. Russell Schneider of the Plain Dealer was a bit unkind, dubbing Heffner a "shopworn right-hander who couldn't stick with pitching-poor Boston."17 By early April, though, Schneider moderated his tune a bit: "Everything in his history indicates Bob should be a big help, especially as a reliefer, but Heffner has had trouble keeping his pitches down where they belong to be effective. It can't be said that he's having a good spring, but he's shown enough to survive, at least until the final roster cut on June 11."18
He didn't make it that long. On April 9, he was optioned on 24-hour recall to the Portland Beavers in the Pacific Coast League. He was used as a starter in Portland, with 27 starts in 29 appearances, and was a very good 15-8 (2.85), strengthening as the season progressed. On August 31, he was named the team's MVP for the 1966 season.19 He was promptly called up to Cleveland. He appeared in five games, losing his one decision (in his only start), throwing a total of 13 innings with an ERA of 3.46.
On October 17, the New York Mets' Jacksonville farm club purchased his contract from the Indians.20
In late February 1967, Heffner announced his retirement from baseball, and it was reported that he was going to go into business in Allentown.21 The deal with the Mets had been a conditional deal, and with his retirement, his rights reverted to Cleveland.22
On May 9, readers of the Seattle Daily Times learned that the Pacific Coast League's Seattle Angels had obtained Heffner. It was the opportunity to return to Seattle that helped lure him back into baseball.23 It took him a month or so to get into playing condition, but he was added to the roster on June 7.
There was one game that really stood out that year. Heffner was pitching a no-hitter against visiting Tacoma, and had one out in the top of the ninth. Seattle had a 3-0 lead. Heffner walked the second batter he faced that inning, and the next batter reached on an error. Manager Chuck Tanner decided to replace Heffner, to the understandable displeasure of Sicks Stadium fans. The reliever who was brought in walked the next batter, loading the bases, and then gave up a three-run double which tied the game. Seattle lost it in the 13th. On the season Heffner was 7-6 (3.53) for Seattle.
Heffner worked out with the big-league California Angels in the spring of 1968, but was assigned to Seattle again on April 1. On April 27, he was called up to the majors for what proved to be the last time. He pitched in seven games, all in relief and all in May, without a decision but with a very good 2.25 earned run average. Because of illness in the family, he had to leave the team on May 23. Apparently his wife had become quite ill. Three weeks later, the San Diego Union said the team had not heard from him. Heffner's baseball career was over.
After baseball, Heffner did not actually go into business for himself. He worked for a beer company in Allentown, the Banko Beverage Company owned by Frank Banko. He worked in sales calling on distributors and bars. Heffner worked for Banko Beverage for almost 30 years, ultimately retiring from the company. "It was family-owned — a real good family. The daughter took it over and she's still running it."24
Since that time, he's been enjoying life. "The only thing else I do, is I love hunting. I go down and hunt on my uncle's farm. It's private property. I do down there and deer hunt. I just like to be out in the fresh air. I get a deer now and again but I don't think I've shot any in the last 10 years."25
Bob is no relation to Don Heffner, who managed at Reading in 1956 and continued managing and coaching well into the 1960s. Don was a California Angels coach in 1968. Bob says he ran into him once, but the two are not related.
Last revised: January 9, 2018
Acknowledgments
This biography was reviewed by Sam Gazdziak and fact-checked by Alan Cohen.
Sources
In addition to the sources noted in this biography, the author also accessed Heffner's player file and player questionnaire from the National Baseball Hall of Fame, the Encyclopedia of Minor League Baseball, Retrosheet.org, Baseball-Reference.com, and the SABR Minor Leagues Database, accessed online at Baseball-Reference.com.
Notes
Born
September 13, 1938 at Allentown, PA (USA)
If you can help us improve this player's biography, contact us.
https://sabr.org/sites/default/files/HeffnerBob.jpg
600
800
admin
/wp-content/uploads/2020/02/sabr_logo.png
admin
2018-01-09 02:46:53
2020-04-09 14:40:27
Bob Heffner