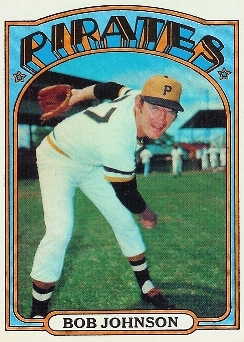 ---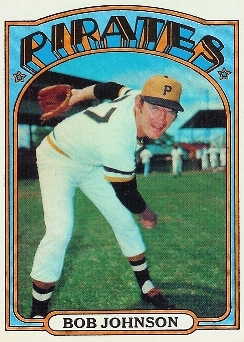 Those fans who don't remember Bob Johnson as a member of the 1969 Mets can certainly be excused. Johnson, 26, pitched in all of two September games that season—notching one save in the team's 100th win of the year and allowing no runs—before being rendered ineligible for postseason play. Still, those brief Mets appearances represented a significant pit stop in what turned out to be a fascinating career for the journeyman right-hander.
Robert Dale Johnson was born in Aurora, Illinois, on April 25, 1943. He attended Bradley University and pitched there for two years before signing with the Mets in 1964. As a green rookie he pitched 37 times for 172 innings—both highs for his minor league career—for Auburn in the New York-Penn League that year. The 6-foot-4, 220-pound Johnson was a hard thrower who racked up plenty of strikeouts in the minors, but he did not show appreciable results … and he nearly lost his leg. In 1967, while pitching for the Mets' Williamsport farm team in the Eastern League, Johnson suffered a badly broken leg in a terrifying motorcycle accident.
"I was going along pretty good when the bike skidded on about three feet of gravel on the road," Johnson told The Sporting News. "My left leg was mangled."1 How badly? Two doctors recommended amputation of at least part of the limb.
Fortunately, a third doctor believed that the injured leg could be saved. The decision—and the operation—was a turning point in Johnson's life and saved his career. It also left him with a resolution. Johnson promised himself that he would never drive another motorcycle for the duration of his professional career.
Fully recovered in 1969, he had a breakout season, going 13-4 with a 1.48 ERA at Double-A Memphis. He was moved up to Triple-A Tidewater, pitching mostly in relief, before being promoted to New York in September.
Johnson's career as a Met would not last long. After the 1969 season, the Mets traded him, along with a young outfielder-third baseman named Amos Otis, to the Kansas City Royals for veteran third baseman Joe Foy. After Foy muddled through an unproductive season in New York, the Mets dumped him on the lowly Washington Senators. In the meantime, Otis became a five-time All-Star with Kansas City. Through no fault of his own, Johnson had been involved in one of the most one-sided trades in franchise history. The inclusion of the promising Johnson—as if a center fielder who'd reach 2,000 hits and claim three Gold Gloves for a five-time division champ wasn't enough—made the deal even worse in the eyes of the Mets.
The Royals benefited directly from Johnson's promise in 1970. Johnson finished second to Bert Blyleven in The Sporting News' Rookie Pitcher of the Year voting. Johnson displayed a live arm, striking out 206 batters. His high strikeout total was the most of any American League right-hander, surpassing even Hall of Famer Jim Palmer. Lefties Sam McDowell of Cleveland and Mickey Lolich of Detroit were the only AL pitchers with more K's in 1970. Johnson was also durable, completing 10 starts and logging 214 innings.
Johnson's performance caught the eye of Joe Brown, the astute general manager of the Pittsburgh Pirates, who was not deceived by his misleading 8-13 won-loss record for the Royals, a 97-loss team in just their second year of existence. Captivated by the tall right-hander who threw better than 90 miles an hour, possessed an above-average breaking ball, and exhibited the versatility to start or relieve, Brown targeted Johnson in wintertime conversations with the Royals.
As he talked trade during the offseason of 1970-71, Brown insisted that the Royals include Johnson as part of a package for touted shortstop Freddie Patek. The Pirates gave up Patek, catcher Jerry May, and right-hander Bruce Dal Canton for Johnson, shortstop Jackie Hernandez, and catcher Jim Campanis.
Pitching mostly out of the back end of Pittsburgh's rotation, Johnson endured a disappointing first year as a Pirate. He finished the 1971 regular season with an unspectacular earned run average of 3.45 and a middling record of 9-10. Several major league scouts noted that Johnson was trying to finesse opposing hitters, in contrast to the power-pitching style he had shown with the Royals. As one scout told sportswriter Dick Young, "You can look at [Johnson's] face and tell he can't finesse anybody."2
Thankfully, the Pirates' ascent to the National League East title gave Johnson a chance for redemption in the postseason. With the National League Championship Series tied at a game apiece, the Pirates prepared to host the San Francisco Giants in Game Three. Moments before game time, scheduled starter Nellie Briles told manager Danny Murtaugh that his injured groin would prevent him from pitching. Thinking quickly, Murtaugh decided to tap the shoulder of Johnson.
Game Three provided the stage for Johnson's most impressive work as a member of the Pirates. On short notice, he pitched brilliantly. He overcame several rough spots, including a key situation in the second inning. Willie McCovey and Bobby Bonds reached on back-to-back singles with no one out. Johnson responded by fanning Dick Dietz, retiring Dirty Al Gallagher on a groundout, and striking out Chris Speier.
Buttressed by a Bob Robertson home run, Johnson nursed a 1-0 lead into the top of the sixth inning. A throwing error by Richie Hebner produced a tainted run for the Giants, but Johnson prevented further damage by wading through the middle of San Francisco's formidable lineup, which included Willie Mays, McCovey, and Bonds.
In the top of the eighth inning, Johnson encountered another critical situation. With two out and two runners on, he faced Dietz, a dangerous right-handed hitter with power. Johnson ran the count to two balls and no strikes, prompting a visit from pitching coach Don Osborn. "Listen, you big ape," Osborn told Johnson bluntly, according to a report in The Sporting News. "I don't have an SOB in the bullpen that's got the stuff you got out here today, so get this guy out."3 Johnson responded to Osborn's diatribe by retiring Dietz on a harmless groundball, ending the threat.
In the bottom of the eighth inning, Johnson left the game for a pinch hitter. Two batters later, Richie Hebner lofted a home run into the right-field stands at Three Rivers Stadium. Dave Giusti replaced the departed Johnson in the ninth, preserving the 2-1 win for the talented right-hander. After the game, Johnson attributed his success to his readiness to fill in as a starter. "I was prepared mentally to start the game," Johnson told the Associated Press. "I knew Briles had a bad leg and you never know what can happen.4
Johnson started and lost Game Two of the World Series against Baltimore. He later came on in relief in the sixth inning of Game Six in a one-run game with two on and no one out. He retired three straight batters to quell the threat. He batted in the top of the seventh and came out to pitch the bottom half. He got two outs but put two men on before being replaced by Dave Giusti, who allowed a game-tying hit to Davey Johnson. The Pirates lost the game to even the Series, but the Bucs won the world championship the next day.
Now the owner of a World Series ring, Johnson followed up by posting one of his best seasons in 1972, forging an earned run average of 2.96 as a long reliever and spot starter. He came on in Game Two of the NLCS in the first inning after Bob Moose was yanked after allowing hits to the first five Cincinnati Reds. Johnson threw five innings of one-hit ball, though Cincinnati held on to win, 5-3. Johnson appeared once more in the NLCS, though the Pirates lost on a Moose wild pitch in ninth inning of deciding Game Five.
Johnson returned to mediocrity in 1973, pitching almost exclusively in relief. He appeared in a career-high 50 games and chalked up his worst ERA to that point: 3.62. After the season, the Bucs traded him to the Cleveland Indians for an obscure minor league outfielder, Burnel "Bill" Flowers. Once a prized acquisition, Johnson had seen his Pirates career come to an end after three seasons, two of them mostly disappointing.
Injuries played a part in hurting Johnson's career. So did an off-the-field obstacle. Later in his career, Johnson announced publicly that he had struggled with a severe drinking problem. Johnson said he had begun drinking with the Royals in 1970, and only increased his alcohol habit during his three-year stay with the Pirates. "It was affecting my behavior. I was saying things I shouldn't have been saying. I was hung over in the clubhouse most of the time," Johnson revealed in a 1977 interview.5 In May of 1974, Johnson's heavy drinking led to an episode of erratic behavior aboard the Indians' team flight from Detroit to Dallas. Johnson became angered when the flight's departure was delayed. He also argued with stewardesses about a mix-up in seating assignments. "I was snockered," Johnson admitted in the '77 interview.6 Johnson abruptly walked off the plane during a stopover in Indianapolis. The Indians fined him a reported $500. They waived him later that season.
In October 1975, Johnson vowed to never again to take another drink. Two years later, after failed attempts to make the rosters of the Texas Rangers and New York Yankees and an aborted return to the Royals, he attempted a comeback with the Atlanta Braves. Johnson pitched briefly—and unsuccessfully—for Atlanta. "I knew that it was time for me to call it quits," Johnson told Sports Collectors Digest in 1997. "I didn't just want to hang on."7
For Johnson, a career that had begun with so much promise ended with a lifetime record of just 28-34, with two shutouts, 12 saves, and 692 1/3 innings pitched in 183 career games (76 starts). The highlights of his career had come early—as a member of two world championship teams, the'69 Mets and the '71 Pirates. In between those seasons he had his career year as a rookie for a second-year expansion team that finished 33 games out of first place.
Out of the major leagues since 1977, Johnson has owned and operated a construction company, while staying active in the game as an American Legion coach and umpire in southern Oregon. "I am staying in baseball at a lower level, but I am still in baseball," Johnson told Sports Collectors Digest in 1997. "I really love the game."8
A resident of Cave Junction, Oregon, Johnson still dabbles in coaching but has continued to maintain a low profile in his retirement. Somehow that seems like a fitting legacy for one of the least known—but most promising—pitchers on the 1969 Miracle Mets.
Last revised: March 27, 2019
An earlier version of this biography appeared in SABR's "The Miracle Has Landed: The Amazin' Story of how the 1969 Mets Shocked The World" (Maple Street Press, 2009), edited by Matthew Silverman and Ken Samelson.
Sources
In addition to the sources cited in the Notes, the author also consulted:
Markusen, Bruce. The Team That Changed Baseballs (Yardley, Pennsylvania: Westholme, 2006).
Notes
1 Charlie Feeney, "Bucs' Johnson Parks His Motorcycle," The Sporting News, February 20, 1971.
2 Dick Young, "Young Ideas," The Sporting News, October 23, 1971.
3 Dick Young, "Hebner's Homer Switched Off Boo Birds," New York Daily News, October 6, 1971.
4 Associated Press, "Bringing in 'Dud' Pays Off for Bucs," New Orleans Times-Picayune, October 6, 1971: 29.
5 Phil Pepe, "Bob Johnson… Back from the Bottle to Baseball," New York Daily News, April 4, 1977).
6 Ibid.
7 Chuck Greenwood, "Johnson Helped Fuel Bucs to '71 Crown," Sports Collectors Digest, April 18, 1997.
8 Ibid.
Born
April 25, 1943 at Aurora, IL (USA)
If you can help us improve this player's biography, contact us.
http://bioproj.sabr.org/bp_ftp/images4/JohnsonBob2.jpg
600
800
admin
/wp-content/uploads/2020/02/sabr_logo.png
admin
2012-01-04 20:38:02
2021-09-24 08:14:50
Bob Johnson