---
In 1965, Giants second baseman Hal Lanier and his father, Max, manager of the Class A Lexington Giants, discussed one of Max's new players. Hal asked, Max answered:
"The guy can hit, huh?"
"A ton."
"Can he run?"
"He doesn't run, he flies."
"Has he got an arm?"
"Like a cannon."
"Has he got power?"
"He can hit the ball a mile."1
They were talking about Bobby Bonds, who was in his first year of professional baseball. Max had pitched in the National League for 14 years and later served the Giants as a scout before becoming a minor-league manager. Many had and would continue to evaluate Bobby's talents similarly. Bonds possessed all the abilities that make a great ballplayer.
Born March 15, 1946, in Riverside, California, Bobby Lee Bonds was best known for his rare combination of speed and power. He stole 30 or more bases and hit 30 or more home runs in the same season (30-30 club) five times. Until then, the feat had only been accomplished four times in baseball history. He just missed becoming the first member of the 40-40 club in 1973, when he stole 43 bases and hit 39 home runs. Bobby and his son, Barry, are the only players who hit more than 300 home runs and stole more than 400 bases in a career.
Bonds played in the major leagues for 14 seasons, from 1968 through 1981. He batted and threw right-handed. Ron Fimrite of Sports Illustrated wrote, "At slightly over 6'1″ and weighing 195 pounds, with a rock-hard torso and sprinter's speed, (Bonds) seems to have a surplus of physical assets."2
Bobby's best seasons were his first seven, during which he played for the San Francisco Giants. The next seven would be spent with seven different teams. Although those included several more productive seasons, his career became marred by injuries, salary squabbles, alcoholism, and unfulfilled expectations.
Bobby's parents were Robert and Elizabeth.3 He had two older brothers, Robert, Jr. and David, and an older sister, Rosie. Each was an excellent athlete.
Robert, Jr. was a standout football and basketball player at Riverside Polytechnic High School. He went on to play college football at San Jose State and was drafted by the St. Louis Cardinals of the NFL and the Kansas City Chiefs of the AFL. But Robert's best sport was track. In 1960, he won state championships in the 120-yard high hurdles and the 180-yard low hurdles. He became the first person in the history of the California state track meet to run the high hurdles in under 14 seconds.4 David was a fine high school football player. But his career ended when he broke his collarbone in a car accident.5 Rosie was a world-class hurdler. She held the U.S. record in the 80-meter hurdles and made the Olympic team in 1964.6
Despite the successes of his siblings, Bobby's best-known relative is his son, Barry. Barry holds the major league record for career home runs, home runs in a single season, and career walks. He also holds the National League record for career runs scored. He won the NL Most Valuable Player Award seven times, more times than any other player. As a result, Barry is considered one of the greatest players of all time. However, his career was tarnished by implications of steroid use, so as of 2019, he has not been elected to the Hall of Fame.
Bobby spent his childhood riding bikes, swimming, and playing baseball with his friends. He also worked for whatever money he got: He caddied at a local golf course, helped at his father's construction site and picked up cans and bottles for the deposits. About his youth, Bonds said, "I wouldn't want to change my childhood for anybody else's."7
It wasn't long before Bobby's athletic ability stood out. His Little League coach said, "When he was 12, he averaged a homer a game for me. He was stronger than anyone, faster than anyone, more powerful than anyone."8
While at Riverside Polytechnic High School, Bonds not only excelled at baseball, but also football and track. In football, he once scored six touchdowns in a game. In track, he ran the 100-yard dash in 9.5 seconds and became the state long-jump champion by jumping 25 feet, 3 inches — 1 foot, 3 inches short of the national record.9
One day Riverside had a baseball game and a track meet. Bonds was playing centerfield in the baseball game. When it was time for the 100-yard dash and the long jump, the baseball game was interrupted. Bobby climbed over the center field fence and hurried to the track.10
Bobby's friend Dickie Jackson said, "He had his baseball uniform on and no time to warm up — and he ran the hundred in 9.8 seconds in his baseball cleats. Then he climbed back over the fence, played a few innings, returned to the track, and broad jumped 24 feet, 11 inches. That was in baseball cleats, too. I swear to God that happened. He was that good."11
Unfortunately, Bonds began drinking alcohol before he reached high school. He even drank before sporting events. Before his long jump of 25 feet, 3 inches, he drank a can of beer under the bleachers.12
Bonds grew up with former player and manager, Dusty Baker. Baker's father, Johnnie, was a family friend. "He used to do the same thing before he ran the 100", said Johnnie Baker. "Whenever Bobby went behind the bleachers, you knew what he was doing. I had to talk to Bobby a million times about drinking when he was in school. He would always say, 'Mr. Baker, I don't do this and Mr. Baker I don't do that.'"13
Barely 17-years-old and still in high school, Bonds married Patricia Howard in 1963. Howard and Bonds had been next-door neighbors since her family moved to Riverside three years earlier.14 They had three sons, Barry, Rick, and Bobby, Jr. , who played professional baseball for 11 years, all in the minor leagues.
In 1964, Bobby graduated from high school and later that summer, he signed with the San Francisco Giants.
In 1965, Bonds started at the Class A level playing for Lexington (North Carolina) of the Western Carolinas League. He led the league in runs scored, tied for second in home runs, and finished fourth in batting average. Even so, Bonds was the victim of racist taunts that he'd never experienced growing up. As a result, he nearly quit baseball, but Max Lanier talked him out of it. Bonds was relieved when, late in the season, he was reassigned to Fresno of the California League.15
Bonds spent all of the 1966 season playing for Fresno. He finished in the top ten in runs scored, home runs, and stolen bases. In 1967, he moved up to the Giants' Double A team in Waterbury, Connecticut of the Eastern League. He finished second in the league in RBIs and third in home runs.
Bonds was disappointed he didn't make the Giants opening day roster in 1968. He started the season with Phoenix of the Triple A Pacific Coast League. In 60 games, he batted .370 with an OPS of 1.049. The hitting spree convinced Giants management that Bobby was ready for the majors. He was promoted to San Francisco on June 25, 1968. In his first major-league game, Bonds hit a grand slam. It was the first time a player had done that since 1898.
Bonds had a solid rookie year in 1968, and he continued to develop in 1969 when he hit 32 home runs and stole 45 bases, while being caught only four times. He led the NL with 120 runs scored. On the negative side, Bonds set a major-league record by striking out 187 times.
In 1970, Bonds had one of his best years, achieving career highs of 134 runs scored, 200 hits, 36 doubles, 10 triples, 48 stolen bases, and a batting average of .302. He also eclipsed his strikeout mark of the previous year, whiffing 189 times. This record for futility would hold for 34 years. Bonds is the only player to get 200 or more hits and strikeout more than 160 times in the same season.
Bonds would strikeout a lot during his career. Every season but one in which he had more than 600 plate appearances, he finished in the top three in his league in strikeouts. When he retired, Bonds had struck out more times (1,757) than anyone except Reggie Jackson and Willie Stargell.
In 1971, Bonds became an all-star for the first time and won his first Gold Glove as the best right fielder in the NL. His offensive numbers were similar to 1970, as again, he scored the second-most runs in the NL (110). He stole fewer bases (26), but hit more home runs (33) and drove in more runs (102). The 1971 season also marked the only post-season play for Bonds, as the Giants won the NL West with a 90-72 record. They were knocked out of the League Championship Series, 3 games to 1, by the Pittsburgh Pirates.
In 1972, Bonds regressed, as his OPS dropped almost 100 points, to .772. Nevertheless, he scored 118 runs and stole 44 bases while being caught only six times.
Bonds said the sub-par season was, in part, because Willie Mays was traded to the Mets on May 11. Bonds idolized Mays. They were so close, Mays became the unofficial godfather of Bobby's son, Barry. "When Willie left, half of me left," Bonds said. "I just went through the motions after that. I had no desire, no determination. It was one of the worst things I could've done — allowing myself to feel that way."16
Bonds snapped out of it in 1973. At the midpoint of the season, his batting average, on-base percentage, and slugging percentage were .313, .407, and .585, respectively. He had 98 hits, 21 home runs, 48 walks, 54 RBIs and 24 stolen bases. He was named MVP of the All-Star game in which he hit a home run and stretched a single into a double.
After the game, Sparky Anderson, manager of the NL All-Stars, said, "As of today, Bobby Bonds is the best ballplayer in America." Oakland A's third baseman Sal Bando, said, "He's the most dynamic hitter I've ever seen."17
At season's end, Bonds led the NL in runs scored and total bases and was fourth in stolen bases. He drove in 96 runs despite batting leadoff 139 times. It was the fifth consecutive season in which Bonds finished either first or second in the NL in runs scored. He hit 39 home runs, slugged .530 (fifth in the NL) and had an OPS of .900 (seventh in the NL) — all career highs. He also won his second Gold Glove. To top it off, he was voted Sporting News NL Player of the Year.
Yet, after accomplishing so much, some thought he could be even better. Bobby's manager Charlie Fox said, "I don't think he's reached more than 80 or 90 percent of his potential."18
Although 1973 was a great year professionally, it was a bad one personally. On February 16, Bobby's wife filed for divorce. She later withdrew the action and she and Bobby reconciled.19
On August 12, Bobby went to his brother's house for a picnic. His wife stayed home. Bonds later said of the picnic, "We drank beer. A lot of beer. Too much beer, I guess. I should have stayed overnight at my brother's, but I told my wife I'd be home. I drove home when I shouldn't have. I almost made it: I drove 60 miles and a mile away from my house, I had a wreck. I was wrong."20 He was jailed for drunk driving and paid a $360 fine.21
On November 29, Bobby was riding in a car with his brother, Robert. Robert was pulled over for speeding and got into an argument with the police officer. Foolishly, Bobby entered the disagreement. Both men were arrested, Bobby for interfering. "I've got problems," Bonds said. "Everybody has problems. But I'm no troublemaker. I'm no drunk. I went 27 years without getting into any kind of trouble. Nobody in our family ever got into trouble. Then it hit all at once."22
Especially considering Bobby's great 1973 season, 1974 was disappointing. He scored fewer runs, hit fewer doubles and homers, had fewer RBIs, a lower batting average, slugging percentage and OPS than in any season since his rookie year. On the positive side, he stole 41 bases, drew a career-high 95 walks, and won his third Gold Glove.
After the season, Bonds met Giants owner, Horace Stoneham, at Stoneham's office. The two talked about the past year and a possible new contract for the next year. As the discussion continued, Bonds and Stoneham began to argue, their voices becoming louder and louder. After Bonds left, Stoneham still seethed. "He's finished," Stoneham said, "He'll never play another game for me."23
Soon after, Stoneham dangled Bonds on the trade market. The New York Yankees offered Bobby Murcer. When Stoneham told front office people about the possible trade, they begged him not to go through with it. But he ignored their advice. On October 22, 1974, the trade was finalized.
Besides the argument with Stoneham, there may have been another reason for the trade. "The Giants were certain (Bobby's) career would end prematurely because of the drinking," said Glenn Dickey, a reporter for the San Francisco Chronicle.24
Most thought the Yankees got the better of the deal. That winter, the Yankees also signed free-agent pitcher Catfish Hunter so the team's hopes were high. On the cover of March 8, 1975 edition of The Sporting News, Bonds and Hunter appeared over the caption, "Bobby Bonds, Catfish Hunter — A Yankee Year?"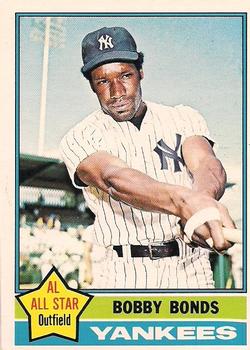 At the end of June, Bobby's batting average was only .236, but he had hit 17 home runs, stolen 15 bases, and had an OPS of .824. Although his statistics were below what the Yankees expected, the team was playing well. On June 25, the Yankees were 40-29, 1 ½ games ahead of the Red Sox for first place in the AL East.
While Bonds hit better in July, August, and September, the Yankees played worse. During those months, Bonds batted .298, hit 15 home runs, stole 15 bases, and had an OPS of .936. But the Yankees lost 22 of their next 32 games after June 25. By July 28, their record had slipped to 50-51 and they were 11 games out of first place. The Yankees finished a disappointing 83-77, 12 games behind the first-place Red Sox.
Bobby's season was hampered after he tore cartilage in his knee on June 7 while making a game-saving, diving catch.25 Even though he played most of the season on only one good leg,26 he finished with 32 home runs, 30 stolen bases, and for the first time, was a starter in the All-Star Game.
In a shocking move, on December 11, 1975, the Yankees traded Bonds to the California Angels for pitcher Ed Figueroa and center fielder Mickey Rivers.
"We didn't win last year," said Yankees general manager, Gabe Paul. "I'm not blaming Bobby Bonds for that. He played hurt, and many guys won't play hurt. He did a hell of a job. But we had to do something. You have to shoot craps a little, and you're always taking a risk."27
"Maybe it makes sense," said Bonds, "but not to me." Nevertheless, Bonds was happy to be back in California and wanted to play the remainder of his career with Angels. "I hate to move," said Bonds.28
In 1976, an injury again stymied Bonds. He missed the first nine games of the season after he chipped a bone in his right hand diving into home plate during a spring training game.29 After he returned, he hit well for more than a month. On May 22, he was batting .354 with an OPS of .984. He had hit six home runs and stolen 11 bases.
One month later, though, his batting average and OPS had dropped to .278 and .760, respectively. Over the intervening 30 games, Bonds had hit only .205 with an OPS of .539.
On July 14, Bonds said, "(The hand) needs an operation. I've embarrassed myself for half a season and I don't like the idea of making a fool of myself in front of half a million fans."30 Bobby's season ended on August 9 when he underwent successful surgery.31
Before the 1977 season, the Angels signed Don Baylor, Bobby Grich, and Joe Rudi to contracts worth a total of $5.2 million. Both Grich and Rudi had been all-stars and Gold Glove winners multiple times and Baylor was on the verge of winning a Most Valuable Player Award. With Bonds, Nolan Ryan, and Frank Tanana already on the team, the Angels were expected to have a great season.32
Bonds had an excellent year, as he scored 103 runs, hit 37 home runs, stole 41 bases, and drove in a career-high 115 runs, the most ever by an Angels player. In a poll of managers, Bonds was voted the best baserunner in the AL.33 He finished 16th in the voting for AL Most Valuable Player.
But Grich played only 52 games, Rudi played only 64, and Baylor had a mediocre season. The Angels finished a disappointing 74-88.
After the season, an agent with whom Bonds consulted said Bonds would play the last year of his contract at $178,000, become a free agent, and pursue a five-year deal for $700,000 per year. Therefore, the Angels were convinced they would not be able to re-sign him.34 So, on December 5, 1977, The Angels traded Bonds with Thad Bosely and Rich Dotson to the Chicago White Sox for Brian Downing, Dave Frost, and Chris Knapp.
Bonds was shocked and hurt. He said, "I gave the Angels what they wanted. I thought it would be great to finish my career in Anaheim. I was going to look for a house in the Anaheim area next month and move back to Southern California."35
Over the winter, Bonds again had problems with the law. On February 21, he was arrested for drunk driving after causing a two-car accident. As a result, Bonds was sentenced to three years on probation.36
Because White Sox owner Bill Veeck had a history of acquiring players in the last year of their contract and not re-signing them, Bonds assumed he'd play only one year with the White Sox, then return to Anaheim. Bonds said, "There is a good chance I will come back to the Angels if I can talk to (Angels general manager) Buzzy Bavasi this time. I don't know what's going to happen with Bill Veeck."37
Bonds found out quickly. On May 16, 1978, the White Sox were 9-20 and Bonds had hit only two home runs. That day, he was traded to the Texas Rangers for Rusty Torres and Claudell Washington.
In August, when Bonds heard rumors that Texas might trade him to Cleveland, he said, "I'll retire before I go to Cleveland." Just the previous month, he had signed a five-year contract with Texas. But, the contract did not contain a no-trade clause. "If I'd have had any indication they were going to trade me, I'd never have signed it," Bonds said. "One thing is certain: I won't go to Cleveland and I won't play for (team president) Gabe (Paul)" (Paul had traded Bonds from the Yankees).38
In 130 games for Texas, Bonds led the team in runs scored, home runs, and OPS. For the season, he hit 31 home runs and stole 43 bases. It was the fifth and last 30-30 season of his career. Texas's record with Bonds was 71-60. Their record for the entire year was 87-75. Although it was their second-best record since the franchise (as the Washington Senators) began in 1961, it was poorer than the year before.
October 3, 1978, Bonds was traded to the Indians with Len Barker for Larvell Blanks and Jim Kern. Bonds said, "I will never play for Gabe Paul. I've met with Gabe Paul and Eddie Robinson and made it clear I will not change my mind. The Indians will have to trade me or I'll retire."39
But, Bonds did change his mind and played for the Indians in 1979. He said, "I have nothing against Cleveland. I'm just sick and tired of being traded. I love baseball, but my family comes first. I never said I wouldn't play in Cleveland, I just said I didn't want to."40
"(Texas owner Brad) Corbett wanted me to sign a seven-year deal," said Bonds. "That was too long. But, I believed him when he said he'd never trade me. I wanted to build a home there and he told me to go ahead. So I started it and then bang, he traded me."41
"I don't know what I'm going to do at the end of this season. I have an open mind. If I like Cleveland, I'll stay. Of course, I'll want some changes in my contract. It was my salary demands that got me traded around."42
Even with this realization, Bonds continued down the same path. He asked the Indians to increase his salary from $440,000 to $650,000.43 After a week of meetings, Bonds said, "We are miles apart. We don't have to talk anymore."44 Just before the All-Star break, Bonds announced he would demand to be traded.
"Bobby was the victim of some very poor advice," said Gabe Paul. "(Bobby's agent) Rod Wright is a nice man, but he is so naïve it isn't funny. He had stars in his eyes."45
In his one year with Cleveland, Bonds batted .275, hit 25 home runs, and drove in 85 runs. He stole 34 bases but was caught stealing a league-leading 23 times. On May 2, he hit his 300th career home run and became the first player to amass 300 home runs and 400 stolen bases. At that time, the only other player to have more than 300 of each was Willie Mays.46
In accordance with his demand, Bonds was traded to the St. Louis Cardinals on December 7, 1979 for John Denny and Jerry Mumphrey.
Just after the 1980 season began, the injury bug bit Bonds again. He was hit on the wrist by a pitch on April 17 and later aggravated it sliding into second base.47 The wrist bothered Bonds sporadically until he finally went on the disabled list July 20. At that point, he was batting .212 and had hit only five home runs.
Bonds came back on August 12, but he began to fall out of favor with manager Whitey Herzog. Herzog felt Bonds wasn't working hard enough to stay in condition and didn't take enough batting practice. After he returned, he started only two games. Bonds said, "I didn't take batting practice because the hand hurt. I knew he wasn't going to use me other than as a pinch-runner."48
The Cardinals finished in fourth place in the NL East with a record of 74-88, 17 games out of first place.
Back in the spring, Rick Hummel of The Sporting News wrote, "Bonds has been looked on as a messiah wherever he has gone, but when his team didn't win a pennant, he was looked on as an albatross."49 It had happened again in St. Louis and so after the season, the Cardinals offered Bonds in trades, but found no takers. They released him three days before Christmas.50
On April 7, 1981, the Rangers signed Bonds to a minor league contract. He played for their Triple A team and the Rangers eventually called him up. But, on the day he was to join them, he woke up with a stiff neck and wasn't able to report.
Bobby's contract was purchased by the Chicago Cubs on June 4, 1981. That day, an hour after he got to Three Rivers Stadium, he stumbled chasing a fly ball and broke a finger on his right hand. When he returned on August 10 (the players had been on strike from June 12 through August 8), Bonds played every game but two between then and September 27. On August 22 he was hitting .333, but he hit only .174 thereafter.51 The Cubs released him on October 23, 1981.
On May 18, 1982, Bonds signed with the Yankees. He played 28 games for their Triple A team, struck out 29 times, and batted .179. The Yankees released him on June 21. He never played professional baseball again.
Until 1976, Bonds most often batted leadoff. For a leadoff hitter, his speed was prototypical, but his power was not. When he retired, he held the record for most career lead-off home runs with 35.
Bonds led his league in power-speed number nine times in the 11 years from 1969 through 1979. Power-speed number is a rating developed by Bill James which uses home runs and stolen bases to quantify how well a player combined power and speed. Bonds ranks fifth all-time in career power-speed number. The players ahead of him — his son, Barry Bonds, Rickey Henderson, Willie Mays, and Alex Rodriguez — all had Hall-of-Fame-quality careers.
When Bonds retired, he was one of 21 players who had scored and driven in 1,000 or more runs and have not been inducted into the Hall of Fame. A few of the names on that list are Vada Pinson, Gil Hodges, Ken Boyer, Dick Allen, and Reggie Smith — outstanding players who were a step below being worthy of baseball's highest honor.
Although Bonds had an excellent career, his legacy suffers because managers, executives, and writers thought he should have achieved more with his talent. That talent and the fact that Mays and Bonds were teammates led writers to label Bobby "the next Willie Mays." The comparison set expectations so high it was nearly impossible for Bonds attain them.
Bonds coached for the Indians from 1984 through 1987. After he was fired, Bonds finally recognized drinking was ruining his life and joined Alcoholics Anonymous. He had been sober for over four years when he returned to baseball as a coach for the Giants52 under his friend and former neighbor Dusty Baker — a move that united Bobby and Barry from 1993 through 1996.
A cigarette smoker most of his life53, Bonds died of complications from lung cancer and a brain tumor on August 23, 2003 at the age of 57.
Acknowledgments
This biography was reviewed by Joel Barnhart and Chris Rainey, and fact-checked by Alan Cohen.
Sources
In addition to the sources cited in the Notes, the author also relied on Baseball-Reference.com and Baseball-Almanac.com.
Notes
1 "Ron Fimrite, "Getting it All Together," Sports Illustrated, April 8, 1974. https://www.si.com/vault/1974/04/08/628485/getting-it-all-together, accessed January 10, 2019.
2 Fimrite, "Getting it All Together".
3 Jeff Pearlman, Love Me, Hate Me Barry Bonds and the Making of an Antihero, (New York: HarperCollins, 2006), 17.
4 Eric Paul-Johnson, "Obituary: Robert Bonds, Multisport Standout In a Family of Athletes," The Press Enterprise, March 19, 2014. https://www.pe.com/2014/03/19/obituary-robert-bonds-multi-sport-standout-in-family-of-athletes/
5 Pearlman, Love Me, Hate Me Barry Bonds and the Making of an Antihero, 17.
6 Bob Stevens, "Brown and Bonds Boast Family Tree Bulging With Stars," The Sporting News, March 19, 1966: 13.
7 Jeff Pearlman, Love Me, Hate Me Barry Bonds and the Making of an Antihero, (New York: HarperCollins, 2006), 17.
8 Pearlman, Love Me, Hate Me Barry Bonds and the Making of an Antihero, 17.
9 Pearlman, Love Me, Hate Me Barry Bonds and the Making of an Antihero, 19.
10 Pearlman, Love Me, Hate Me Barry Bonds and the Making of an Antihero, 18.
11 Pearlman, Love Me, Hate Me Barry Bonds and the Making of an Antihero, 19.
12 Pearlman, Love Me, Hate Me Barry Bonds and the Making of an Antihero, 19.
13 Pearlman, Love Me, Hate Me Barry Bonds and the Making of an Antihero, 19.
14 Pearlman, Love Me, Hate Me Barry Bonds and the Making of an Antihero, 20.
15 Pearlman, Love Me, Hate Me Barry Bonds and the Making of an Antihero, 22.
16 Fimrite, "Getting it All Together". https://www.si.com/vault/1974/04/08/628485/getting-it-all-together
17Ron Fimrite, "They Still Invest in Bonds," Sports Illustrated, September 7, 1981. https://www.si.com/vault/1981/09/07/825905/they-still-invest-in-bonds-despite-his-reputation-as-a-risky-commodity-and-after-sliding-from-a-major-league-to-an-aaa-rating-much-traveled-bobby-bonds-is-yielding-dividends-for-the-cubs, accessed January 24, 2019.
18 Fimrite, "Getting it All Together".
19 Pearlman, Love Me, Hate Me Barry Bonds and the Making of an Antihero, 31.
20 Phil Pepe, "Bonds Sets Sights on 40 Homers, 50 Steals," The Sporting News, November 16, 1974: 49.
21 Pearlman, Love Me, Hate Me Barry Bonds and the Making of an Antihero, 31.
22 Fimrite, "Getting it All Together".
23Milton Richman, "Why Giants traded Volatile Bonds For Murcer," The Daily Independent Journal (San Rafael, Marin, California), December 12, 1974: 41
24 Pearlman, Love Me, Hate Me Barry Bonds and the Making of an Antihero, 32.
25 Phil Pepe, "Sparky Saves Doc, Yanks Rip Chi, 4-1, For 8 In Row," The Daily News, (New York, New York), June 9, 1975: C22.
26 Phil Pepe, "Yanks Stick to Logic for Bonds Deal," The Sporting News, February 14, 1976: 45.
27 Dick Miller, "Angels Dynamite Package: Bonds, Melton," The Sporting News, February 21, 1976: 43.
28 Melvin Durslag, "Yankee System Befuddles Bonds," The Sporting News, January 17, 1976: 47.
29 Ron Rapoport, "Bonds Out for Three Weeks," The Los Angeles Times, April 8, 1976: 24.
30 John Stellman, "Broken Hand Robs Bonds of Power," Santa Ana Register, July 15, 1976: 46.
31 "Bonds Has Surgery," The Times Standard (Eureka, California), August 10, 1976: 12.
32 Dick Miller, "'Bonanza or Bust' Will Decide Angel Gamble," The Sporting News, March 5, 1977: 3.
33 Dick Miller, "Angels Get a Cost-Free Tip: Unload Light-Hitting Chalk," The Sporting News, October 29, 1977: 29.
34 Dick Miller, "Bonds Predicts His Return To Angels," The Sporting News, January 21, 1978: 54.
35 "Trade Upsets Bobby Bonds," Progress Bulletin (Pomona, California), December 7, 1977: 39.
36 "A. L. flashes," The Sporting News, August 5, 1978: 27.
37 Dick Miller, "Bonds Predicts His Return To Angels," The Sporting News, January 21, 1978: 54.
38 Randy Galloway, "I'll Retire Before I Join Indians, Bonds Vows," The Sporting News, September 23, 1978: 8.
39 Bob Sudyk, "Indians Invest in Bonds, However…," The Sporting News, October 21, 1978: 24.
40 Bob Sudyk, "Bonds Taking Stock of Cleveland Offers," The Sporting News, February 3, 1979: 39.
41 Bob Sudyk, "Bonds Hopes Cleveland Will Be Shangri-La," The Sporting News, March 31, 1979: 47.
42 Sudyk, "Bonds Hopes Cleveland Will Be Shangri-La."
43 Bob Sudyk, "Bonds Says He'll Tell Indians To Deal Him Off," The Sporting News, August 4, 1979: 20.
44 Bob Sudyk, "Bonds Says He'll Tell Indians To Deal Him Off," The Sporting News, August 4, 1979: 12.
45 Burt Graff, "Bad Advice Hastened Bonds Exit," The Sporting News, December 22, 1979: 61.
46 Ron Fimrite, "They Still Invest in Bonds", Sports Illustrated, September 7, 1981.
47 Rick Hummel, "Hindsight Doesn't Help Oberkfell," The Sporting News, May 31, 1980: 31.
48Rick Hummel, "Bonds Confident Despite Redbird Release," The Sporting News, January 10, 1981: 35.
49 Rick Hummel, "Bonds Sends Redbird Stock Skyrocketing," The Sporting News, April 12, 1980: 34.
50 Rick Hummel, "Bonds Confident Despite Redbird Release," The Sporting News, January 10, 1981:35.
51Joe Goddard, "Name of the Game For the Cubs: Pain," The Sporting News, June 20, 1981: 27.
52 Pearlman, Love Me, Hate Me Barry Bonds and the Making of an Antihero, 143.
53 Pearlman, Love Me, Hate Me Barry Bonds and the Making of an Antihero, 20.
Born
March 15, 1946 at Riverside, CA (USA)
Died
August 23, 2003 at San Carlos, CA (USA)
If you can help us improve this player's biography, contact us.
https://sabr.org/sites/default/files/BondsBobby.jpg
600
800
admin
/wp-content/uploads/2020/02/sabr_logo.png
admin
2019-08-12 16:51:23
2021-07-25 20:15:14
Bobby Bonds