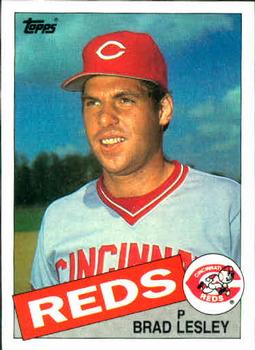 ---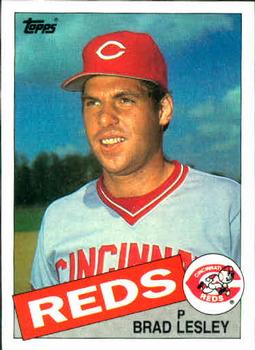 Reliever Brad Lesley was big — 6-feet-6 and 230 pounds — and hyper-intense on the field. His good-natured screaming and stomping got him nicknamed "The Animal." Lesley's self-motivational antics, size, and power pitching drew many comparisons, namely with Mark Fidrych, Al "The Mad Hungarian" Hrabosky, Goose Gossage, and Dick "The Monster" Radatz. Yet as Lesley rightly insisted, "I'm not Fidrych or Hrabosky or anybody else."1
Lesley spent just bits of four seasons in the majors from 1982 through 1985. His over-the-top personality then made him a big fan attraction in Japan, where he pitched in 1986 and 1987. It also led to a career in TV and movies.
Bradley Jay Lesley was born on September 11, 1958, in Turlock, California, a small city in the central part of the state, a few hours' drive southeast of San Francisco. Brad's mother, June (née Lotz) moved there in 1951 to raise her two older sons, Joseph West and Henry Gilliam. She was 39 when she gave birth to Brad, whose father was a man named Lee Lesley.2 However, the elder Lesley was not around as young Brad grew up.3 As June's 2015 obituary noted, she faced many challenges as a single mother and sole provider. Employed in various local businesses (including a café, hotel, and hospital), she frequently worked overtime and extra shifts.4
As a youth, Lesley was a fan of the San Francisco Giants when the team's stars were Willie Mays and Willie McCovey. He remembered chasing them for autographs at Candlestick Park, forming the fan-friendly approach that he maintained for life — he remained a Little Leaguer at heart.5
Yet he was also a rascal when younger. "I used to beat up all the neighborhood kids," Lesley said in 1982. "I was always in trouble at school. I was weak in attendance and weak in attitude. I was a rough and rugged boy."6
Lesley attended Central Catholic High School, a private school in Turlock, before transferring to Turlock High School.7 Thanks to his size, he was a defensive lineman and linebacker in football. As one might expect, he also played basketball, but he later joked that his position was "fouler."8 Clearly, his future was in baseball. He became the second of four major-leaguers produced by Turlock High, following the good-fielding shortstop Frank Duffy and preceding Steve Soderstrom and Dan Reichert. Duffy and Lesley both became members of the Turlock High Hall of Fame in 1997.
The Bulldogs' baseball coach, Ezio "Atch" Pedretti, served as a father figure to the teenaged Lesley. Pedretti's successor, Mark de la Motte, said, "Pedretti patted him on the back and kicked him in the rear. . . exactly what he needed at that time." Already yelling and fist-pumping were part of Lesley's on-field demeanor.9
After graduating from high school in 1976, Lesley went to Merced Junior College (now Merced College), about 25 miles southeast of his hometown. He was drafted for the first time in January 1977, in the seventh round by the Minnesota Twins. Lesley stayed at Merced and became the Blue Devils' number-one pitcher that spring, posting a 7-2 record.10
Lesley also starred in American Legion ball. In July 1977, he led Turlock to victory in the third annual Humboldt Eagles Invitational Tournament, a four-day, five-team event in the northern California city of Eureka. On Friday, July 1, he threw a complete game against the Eagles, striking out 15 and scattering five hits while walking just one. The Humboldt coach said, "Lesley intimidated our hitters and it showed."11 Just two days later, Lesley took the mound again and fired nine shutout innings against the Southern Humboldt 76ers, striking out 11.12
The Cincinnati Reds selected Lesley in the first round of the January 1978 draft. Again he decided to stay in college, and he had an excellent second season for Merced: 13-1 with a 0.84 ERA.13 His 135 strikeouts that season remain a school record. He was named Most Valuable Player in the Central Valley Conference.
Because Lesley had not signed after being drafted previously, he was eligible for the secondary phase of the June 1978 draft. Again Cincinnati took him in the first round, and this time he signed, getting a bonus of $48,000.14
Lesley's first two seasons in the minors, as a starter, were undistinguished. He posted a total record of 8-11 with a 4.80 ERA. He was switched to the bullpen in 1980, and didn't like it at first, viewing it as a demotion. The adjustment was tough for him.15 Yet after the move, he showed sharp improvement: 4-2, 2.01 in 37 games for Tampa in the Florida State League. Lesley said he had too much idle time as a starter — he found he had to pitch every day to be sharp.16
The Sporting News ran a feature article about Lesley for the first time in June 1981, comparing him to Goose Gossage. His manager at Cedar Rapids in the Midwest League, Randy Davidson, said, "He can be overpowering when he has his good fastball and slider. He comes out with fire in his eyes and he really wants the ball." Davidson also noted Lesley's flaky side and how he kept teammates loose with his clowning.17
After two-plus seasons in Class A ball, Lesley reached Double-A for the first time that year. He followed by going to spring training with the Reds in 1982, after his third winter of working as a lumberjack in Yosemite National Park. In Tampa, he entertained his teammates by eating four live frogs on a dare (he also enjoyed eating spiders and other critters).18
That spring, Lesley was dubbed "The Animal." He told author Robert Fitts the story in his own words.
Johnny Bench gave it to me. Towards the end of his career, they played JB a lot at first base. Well one day when JB was at first, they hit a weak ground ball to the right of Bench and I went to cover first base. I was a very excitable player. . . I screamed, "Give me the f***ing ball, JB!" His eyes popped out of his head, the ball kicked off of his glove, and he booted the play! When the reporters asked him about it after the game, he said, "The kid looked like a crazed animal coming at me!" So, the name was born. Whether you like it or not, when a Hall of Famer gives you a nickname, it sticks. It's a good name for a closer. And I think it exemplified the way I played, so I took it as a compliment.19
Reds teammates Rafael Landestoy and César Cedeño received credit for making the label stick.20
Lesley didn't make the Reds out of camp, but he climbed another level, to Triple-A Indianapolis. Before one game, the free spirit was listening to music on headphones while shagging balls in the outfield. Indians manager George Scherger — noted for discipline — asked Lesley what the hell he was doing and chewed him out.21 Nonetheless, the big righty remained the mainstay of the Indy bullpen. He was leading the American Association in saves with 14 when he got his first call to the majors in late July. Reliever Tom Hume was sidelined after surgery for torn cartilage in his right knee.22
Over the remainder of the 1982 season, Lesley appeared 28 times in relief for Cincinnati, finishing 19 games and earning four saves. He posted a 2.58 ERA, giving up earned runs in only five of his outings. It was a dismal year for the Reds, who lost 101 games. As of 2017, it was the only season in the club's long history with triple-digit losses. Yet Lesley provided an energy boost and enjoyed himself thoroughly. "They let me pitch and yell and scream and have a good time," he recalled 30 years later.23
The Animal made great copy for sportswriters. Peter Alfano of the New York Times wrote, "Lesley rants and raves and convulses after every pitch. He lowers his arms to his sides and thrusts them upward in a violent motion. His face becomes contorted as he lets out a primeval scream. He storms around the mound, setting off minor earth tremors."24 Bob Fallstrom of the Decatur Herald and Review said, "He stalks around the mound, hops like an enraged bear, yells at the batter running to first base, helps the umpire give the 'out' call."25
Lesley's unbridled enthusiasm made him a physical danger to his own team. "You better not get in his way or you'll get run over," said coach Ted Kluszewski, a notably big man himself. That article added, "[Lesley] thunders around steamrolling everyone in his path with his happy high fives, 'handshakes' and pulverizing wallops on the back."26 Reds equipment manager Bernie Stowe talked about how fired up The Animal got after getting his first big-league save on August 5. Being first in line to shake hands would have been a big mistake; even down the line, Stowe could hardly move his fingers afterward. Catcher Dave Van Gorder, who knew Lesley well from handling him in Indianapolis, said that a limp wrist was the way to go.27
Manager Russ Nixon said that he liked guys with a little showmanship. He thought it was good for the game — if the player produced.28 It was also noteworthy that Nixon compared Lesley to his old batterymate Dick Radatz, whom the catcher had seen in Radatz's prime with the Boston Red Sox from 1962-64. The Monster was known for thrusting his fists into the air after closing out a game — but what Nixon saw in common with Lesley was good control.29
Even the usually reserved Nolan Ryan got caught up in the fervor. A YouTube clip shows Ryan, then with the Houston Astros, striking out Reds outfielder Duane Walker in a game near the season's end. Ryan then proceeded to do his best Animal impersonation as Lesley himself looked on and smiled from the Cincinnati dugout. He later rated Ryan's performance "not bad, for a future Hall of Famer."30
Lesley was clearly in Cincinnati's plans for the 1983 season, but he had a poor spring and was sent back down to Indianapolis. He was shocked and infuriated upon getting the news from Russ Nixon, but he later admitted that he had taken a spot on the big club's roster for granted. Nixon told Lesley that if he pitched well at Triple-A, he'd be back, and indeed the Reds recalled him in early May.31
Lesley pitched well in five games for the Reds that month but was bothered by a sore shoulder, suffered after he slipped and fell while pitching in Chicago.32 He was returned to Indianapolis on June 6.33 Soon thereafter, he went on the minor-league disabled list, which prompted him to file a grievance. He contended that because he was injured when he was sent down, he should have been on Cincinnati's DL, and he sought major-league pay and service time for the relevant period.34 Lesley won his case in the off-season, but in retrospect, he thought it hurt his position with the club, especially because he was a rookie.35
Going into the 1984 season, Vern Rapp had replaced Nixon as manager. Lesley welcomed the change, saying, "They're going to let me be me."36 Again, however, he was not with Cincinnati to start the season. In late April, he was called up after a respiratory infection disabled Bill Scherrer. He got his last two big-league saves in his first two outings but was plagued by wildness in his next two. After Scherrer returned, Lesley went back to the Reds' new top farm team, Wichita.37
With the Aeros, the Animal was as unrestrained as ever. After nailing down a save on May 29, he nearly took off Dave Van Gorder's head with a congratulatory slap. In the locker room after the game, Van Gorder held ice packs to both sides of his head.38
Lesley's good work for Wichita led Cincinnati to recall him in mid-July, replacing the ineffective Scherrer. He got into 12 more games for the Reds over the next month but was not in good form, so the Reds sent him down once more to Triple-A. He was optioned to Vancouver of the Pacific Coast League, the top affiliate of the Milwaukee Brewers, although he remained property of the Reds organization.39 That November, though, Cincinnati proceeded to sell Lesley's contract to the Brewers.
After pitching winter ball in Puerto Rico for the Santurce Cangrejeros, Lesley spent nearly all the 1985 season with Vancouver. He had a good year: 3-5, 2.24 with 17 saves in 48 games. The Brewers called him up after rosters expanded in September, and he got into his last five big-league games. Two poor outings sandwiched three good ones, and the net result was a 9.95 ERA in 6 1/3 innings pitched.
He did get his lone victory in the majors in his final appearance. It was an extra-inning affair at Boston's Fenway Park. Summoned to get the last out in the 11th with runners at the corners, he flushed a 6-3 Milwaukee lead, but the Brewers scored two in the top of the 12th. Lesley then gave up a solo homer to Mike Greenwell to start the bottom of the 12th, whereupon manager George Bamberger yanked him. Bob Gibson (the Caucasian non-Hall of Famer) and Bob McClure got the final three outs.40
Thus, Lesley's big-league career totals were a 1-3 won-lost record and a 3.86 ERA in 72 1/3 innings pitched across 54 games. He struck out 46 and walked 29.
The Animal then embarked on the highly entertaining next stage of his career. Milwaukee sold his contract to the Hankyu Braves of Japan's Pacific League. He was one of the two gaijin (foreigners) allotted to the club, along with Greg "Boomer" Wells.41 Lesley told Rob Fitts how he felt at first about crossing the Pacific:
When I went over there, I was a little apprehensive. I didn't speak the language. I didn't eat the food. It was going to be an eye-opener. I thought to myself, "Thank God baseball is baseball." After about two months, I realized that the food was great, the people were wonderful, and it was easy to live there, but the baseball was ass-backwards!"42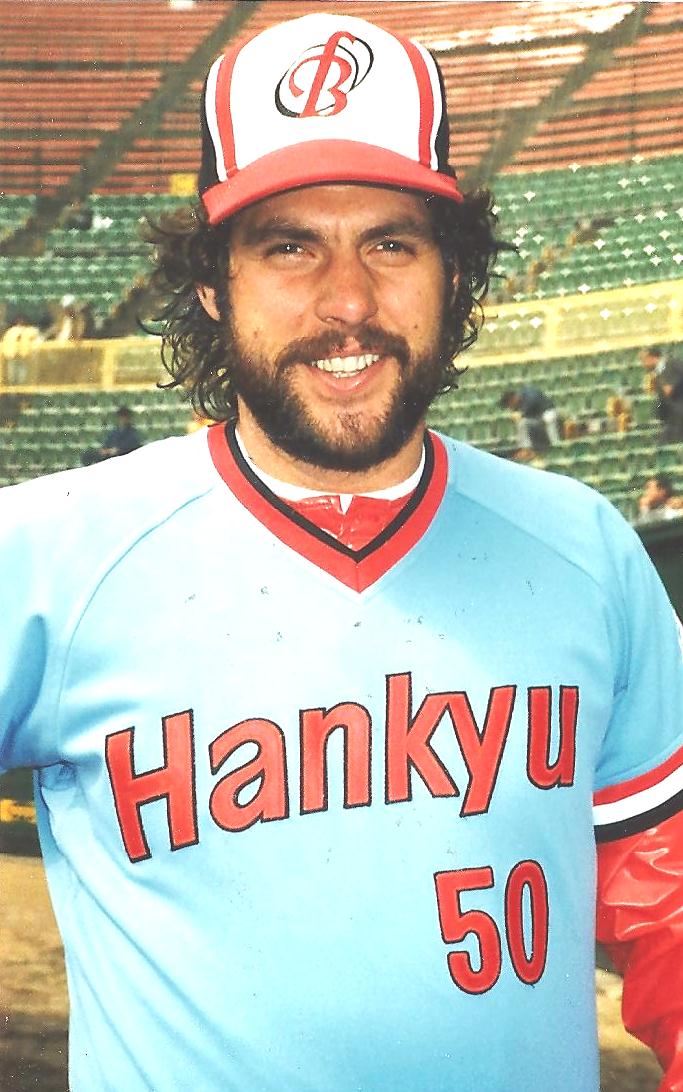 He meant that the Japanese approach to the game — use of pitchers, emphasis on practice, reliance on sacrifice bunts, general risk aversion, and lack of "killer instinct" — was diametrically opposed to what he knew. "No hard slides into second base, no brushing back the hitters," he'd previously noted. But he didn't tone down his intensity at all.43 He played air guitar in the outfield before games. He put reporters in headlocks. He made sumo-wrestler gestures after strikeouts. He kissed broken bats after sawing hitters off. It was all a big hit with the fans.44
By this time, Lesley was also sporting longer hair and a beard — something he was not free to do in Cincinnati, which had a policy against facial hair from 1967 through 1999.45 He also had ANIMAL on the back of his jersey (using nicknames this way is not uncommon in Japan).46 Hankyu marketed him heavily, with an Animal yelling contest and a night in which they let fans who put on long hair and a beard in for free. What made it all the more positive was Lesley's performance as closer, a role that was new to Japanese ball. It took a while for him to be used properly, in his view, but he was 5-3 with 19 saves in 42 games. He was also the winning pitcher in the second 1986 All-Star game.47
Gaijin ballplayers in Japan have enjoyed very mixed success. Those who've done well typically went with the flow and embraced local culture and customs. Lesley was one of those, also making a strong effort to learn the language. He made a video, "The Champion Animal," sung in Japanese. He also got his first movie role, as the American hero in a samurai story called The Animal Goes to Japan. He killed 12 people in the film and got the girl in the end. Soon after, Lesley was asked about a possible return to the majors. He didn't rule it out but saw no reason to come back unless he got a great deal, since he was so immersed in life in Japan.48
The Animal's second season with the Braves was much less successful. Likely because of arm problems, he pitched a mere 17 2/3 innings in 18 games. He saved five, while posting a 2-2 record with a 4.08 ERA. Hankyu still wanted to renew his contract (at the same amount) for the 1988 season, but Lesley didn't want to do it.49
Instead, he joined the cast of the game show Takeshi's Castle, starring comedian-turned-actor — and later director — Takeshi "Beat" Kitano. The show's stock in trade was broad physical humor, and Lesley (as himself, Animaru Resuri) played it to the hilt. A typical game featuring him was "Sumo Rings," in which Lesley would hurl contestants around, charge, and make noise. As the "Takeshi's Castle Wiki" website puts it, "Animal is the craziest, most energetic guard of them all. He scares contestants, humiliates losers, and can't stand cheats or cockiness; but he can have a soft spot for the ladies. Upon beating a contestant he'll usually let out a big shout."50
Kitano's representatives originally said that they'd match Lesley's baseball salary for two years, but he told Rob Fitts that after two years he couldn't afford to get back into baseball — he was acting and doing commentary, while also teaching weightlifting at Hosei University. After Takeshi's Castle's four-year run ended, the door to Hollywood opened for Lesley thanks to the 1992 movie Mr. Baseball, starring Tom Selleck and set in Japan. In addition to his small speaking role, he helped with technical advice (director Fred Schepisi, an Australian, knew nothing about baseball). He also contributed an anecdote about Japanese baseball curfews to the script.51
Lesley had another role in a baseball movie, 1994's Little Big League, in which he played ill-tempered reliever John "Blackout" Gatling. Allegedly, NBA superstar Michael Jordan personally invited Lesley to be part of his movie Space Jam (1996). However, Lesley is not listed in the cast and is hard to spot because most of the baseball scenes were cut.52
A handful of other U.S. credits followed in subsequent years. According to imdb.com, Lesley's last movie role came in Brother (2000), directed by old friend Takeshi Kitano. He also appeared in an episode of the TV series Son of the Beach in 2001. However, he spent much of that year working on a Sandra Bullock murder mystery called Fool Proof (eventually released in 2002 as Murder by Numbers).53 He also said that he had a role in another baseball film, Mr. 3000 with Bernie Mac (2004).54 Here too, though, Lesley is not listed in the cast.
While living in Japan (which he did for seven years), Lesley married a Japanese woman named Chiho. They had one son, a boy named Luke who was born in 1997.55 Chiho Lesley filed for divorce in August 2006.56
After returning to the U.S., Lesley renewed his involvement with baseball. In 1997, he became pitching coach of the Mission Viejo Vigilantes, a newly relocated club in the independent Western Baseball League. He also became interim manager that year when skipper Buck Rodgers had to leave the club after his mother was killed and his father was seriously injured in a car accident.57 Lesley resigned at the end of that season, however, after Rodgers said he wanted a greater hand in working with the pitchers.58
Lesley's website, the now-defunct animalsan.com, shined a light on his business ventures and personal life. Among other things, he was partners in a Seattle Mariners fantasy camp outfit with a businessman named Dave Henderson.59 He also gave private pitching lessons.60 In addition, he worked for his childhood favorites, the San Francisco Giants, as a youth pitching instructor, giving clinics across the U.S.61 In late 2009, he became involved with a new project bringing high-level baseball instruction to Nicaragua. The International Baseball Academy of Central America (IBACA) had Reggie Smith and Dave Stewart on its board as well as Lesley.62
The musical side of Lesley's personality remained visible in his great love of Southern rock, especially the Marshall Tucker Band. He first came to know the group in 1979 while pitching for Greensboro in the Western Carolinas League.63 He remained friends with them over the years, even serving as guest singer on occasion. A video clip from 2009 shows that he had some genuine vocal ability — he could modulate his powerful shout.
Lesley spent the last seven months of his life in a nursing home while receiving dialysis for chronic kidney disease. In his last night on earth, he was rushed to the hospital in Marina Del Rey, California.64 He died at 4:42 AM on April 28, 2013. Although initial reports cited his kidney ailment as the cause of death, his death certificate revealed that it was a heart attack. The Animal was just 54 years old.
Brad Lesley summed up his life and feelings nicely in 1997. "Every door I've walked through in my life has been a direct result of my success in baseball. I can never repay baseball enough for the doors it's opened for me. I've been truly blessed."65
Acknowledgments
Special thanks to SABR member Rob Fitts for providing a transcript of his telephone interview with Brad Lesley, which formed the basis for the Lesley chapter in Rob's book Remembering Japanese Baseball. It contains a wealth of Animal anecdotes, which go beyond the scope of this article.
This biography was reviewed by Jan Finkel and fact-checked by Chris Rainey.
Sources
Online
YouTube.com
imdb.com
Turlock High School Hall of Fame (www.turlockfootball.com/halloffame.html)
Merced College Baseball records (www.mccd.edu/athletics/mens/baseball/statistics-records-pitching.html)
Notes
1 Bob Fallstrom, "'The Animal' resembles a 'Mad Hungarian Bird,'" Decatur (Illinois) Herald and Review, March 19, 1983, 17.
2 "June Lesley," Modesto Bee, June 9, 2015. Brad Lesley death certificate.
3 Brian Vanderbeek, "Brad Lesley, former major league pitcher from Turlock, dies at 54 of kidney failure," Modesto Bee, April 29, 2013.
4 "June Lesley."
5 Darrell Proctor, "Brad 'The Animal' Lesley brings change to Reds," Franklin (Indiana) Daily Journal, March 22, 1983, 6.
6 Peter Alfano, "Primal Therapy on the Mound," New York Times, September 7, 1982.
7 Vanderbeek, "Brad Lesley, former major league pitcher from Turlock, dies."
8 Alfano, "Primal Therapy on the Mound." "Insiders Say," The Sporting News, June 13, 1983, 12.
9 Vanderbeek, "Brad Lesley, former major league pitcher from Turlock, dies."
10 Derived from Lesley's total record at Merced JC, which was 20-3 with a 1.40 ERA. Mark Dukes, "Brad Lesley: Shades of Goose!", The Sporting News, June 27, 1981, 45.
11 "Turlock handles Eagles 9-2 in Tourney opener," Eureka (California) Times Standard, July 2, 1977, 9.
12 "Turlock's 3-1 mark nets Legion championship," Eureka Times Standard, July 5, 1977, 14.
13 "Class A Leagues," The Sporting News, July 15, 1978, 52.
14 Vanderbeek, "Brad Lesley, former major league pitcher from Turlock, dies."
15 Alfano, "Primal Therapy on the Mound."
16 Dukes, "Brad Lesley: Shades of Goose!"
17 Ibid.
18 Alfano, "Primal Therapy on the Mound."
19 Robert Fitts, Remembering Japanese Baseball, Carbondale, Illinois: Southern University Press (2005), 165.
20 Earl Lawson, "'The Animal' Gives the Reds Much Relief," The Sporting News, August 23, 1982, 32.
21 "'Animal' Lesley chewing up league," Indianapolis Star, September 9, 1982, 32. Bob Rathgeber, "George Scherger: A Manager's 'Friday,'" Cincinnati Enquirer, May 8, 1985, 52.
22 "American Association," The Sporting News, August 2, 1982, 40. Earl Lawson, "Hume Out; Nixon Chastises Hurlers," The Sporting News, August 9, 1982, 22.
23 "Former major league pitcher Lesley dies," Chicago Tribune, April 29, 2013. This article attributes the quote to a 2012 article in the Cincinnati Enquirer, probably Tom Groeschen, "Age against the machine," May 20, 2012, C1.
24 Alfano, "Primal Therapy on the Mound."
25 Fallstrom, "'The Animal' resembles a 'Mad Hungarian Bird.'"
26 "'Animal' Lesley chewing up league."
27 Lawson, "'The Animal' Gives the Reds Much Relief."
28 Ibid.
29 "'Animal' Lesley chewing up league."
30 "Reds' Lesley can be bear on mound," Louisville Courier-Journal, March 11, 1983, 35.
31 Earl Lawson, "Reds' Pen Takes In an Animal," The Sporting News, May 23, 1983, 21.
32 Earl Lawson, "Cedeno Suspended; Files a Grievance," The Sporting News, June 6, 1983, 30. Robert Fitts with Brad Lesley, telephone interview, circa 2004 (hereafter Fitts-Lesley interview).
33 Earl Lawson, "Nixon Can't Brake a Rerun for Reds," The Sporting News, June 20, 1983, 26.
34 "Relief or Grief?", The Sporting News, July 25, 1983, 49. Indianapolis activated Lesley shortly after this article was published, but he appeared in just 13 games overall for the Indians in 1983.
35 Fitts-Lesley interview.
36 "'The Animal' Returns to Reds," The Sporting News, March 12, 1984, 52.
37 Earl Lawson, "Pitchers Rebound, Pace Reds' Surge," The Sporting News, May 14, 1984, 21.
38 "Saves Can Be Dangerous," The Sporting News, June 18, 1984, 33.
39 Reds Send 'Animal' to Triple-A Vancouver," Cincinnati Enquirer, August 12, 1984, 39.
40 The official scorer would have been justified in awarding either Gibson or McClure the win under Rule 10.17(c), but that rule is rarely invoked.
41 Wayne Graczyk, "Antics of 'Animal' hard to forget more than 25 years later," Japan Times, May 5, 2013.
42 Fitts, Remembering Japanese Baseball, 162.
43 Fitts, Remembering Japanese Baseball, 162-163. "Lesley, Former Reds Pitcher, Discovers a New Life in Japan," Los Angeles Times, February 15, 1987.
44 Jason Coskrey, "Former Hankyu hurler 'Animal' Lesley dead at 54," Japan Times, May 1, 2013. Graczyk, "Antics of 'Animal' hard to forget more than 25 years later."
45 "Reds Drop Hair Policy," New York Times, February 16, 1999. Lesley wore a mustache at times in the minors, as baseball cards show.
46 Coskrey, "Former Hankyu hurler 'Animal' Lesley dead at 54."
47 Fitts, Remembering Japanese Baseball, 164.
48 "Lesley, Former Reds Pitcher, Discovers a New Life in Japan."
49 Fitts, Remembering Japanese Baseball, 167.
50 Takeshi's Castle would later be shown in the US on the cable network Spike TV, which aimed primarily at a young male audience. It was retitled Most Extreme Elimination Challenge, later shortened to MXC.
51 Fitts, Remembering Japanese Baseball, 164.
52 Mike Barnes, "Relief Pitcher Turned Actor Brad Lesley Dies at 54," Hollywood Reporter, April 29, 2013. Steve Kresal, "Pitching In: Lesley's Stint as Vigilantes' Interim Manager Has Been an Eye-Opener," Los Angeles Times, July 12, 1997.
53 Bob Sherwin and Bud Withers, "All roads lead to Japan," Seattle Times, July 14, 2001.
54 Fitts-Lesley interview.
55 Kresal, "Pitching In."
56 "Chiho Lesley vs. Bradley Lesley," UniCourt.com.
57 Kresal, "Pitching In."
58 Mike Terry, "Vigilantes Clean House for Second Season," Los Angeles Times, May 23, 1998. The Vigilantes disbanded after the end of the 1998 season.
59 Fitts, Remembering Japanese Baseball, 167. Sherwin and Withers, "All roads lead to Japan."
60 Vanderbeek, "Brad Lesley, former major league pitcher from Turlock, dies."
61 Brad Lesley, "Brad 'The Animal' Lesley Guest Blog: Baseball & Marshall Tucker," Swampland.com, June 6, 2009 (http://swampland.com/articles/view/title:brad_the_animal_lesley_guest_blog_baseball_marshall_tucker)
62 Jesse Sánchez, "Academy planned for Nicaragua," MLB.com, December 17, 2009. Tim Rogers, "Baseball academy adds big names to lineup," Tico Times, January 20, 2011.
63 "Brad 'The Animal' Lesley Guest Blog."
64 Barnes, "Relief Pitcher Turned Actor Brad Lesley Dies at 54."
65 Kresal, "Pitching In."
Born
September 11, 1958 at Turlock, CA (USA)
Died
April 28, 2013 at Marina del Rey, CA (USA)
If you can help us improve this player's biography, contact us.
https://sabr.org/sites/default/files/LesleyBrad.jpg
600
800
admin
/wp-content/uploads/2020/02/sabr_logo.png
admin
2018-02-01 16:04:24
2020-04-09 14:40:24
Brad Lesley