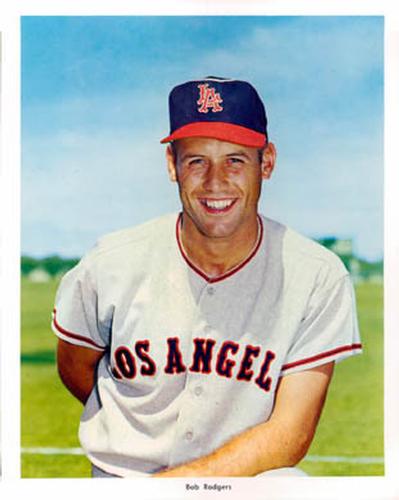 ---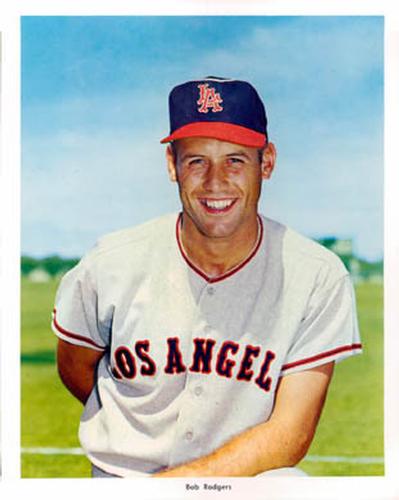 Millions of Californians were not born there but chose the Golden State as the epicenter of their career and family lives. Two of them, London's Bob Hope and Tacoma's Bing Crosby, won fame and glory in Hollywood with a series of "Road" movies. The subject of this article, however, is a baseball personality whose life has followed a unique road from the heartland of America to the state of California.
Even as a rookie with the 1961 Los Angeles Angels, Buck Rodgers demonstrated leadership qualities and the ability to motivate his teammates. After injuries prevented him from reaching his full potential as a player, Rodgers was frequently mentioned as a possible Angels manager. After a coaching and managing odyssey that took him to Minnesota, San Francisco, Milwaukee, and Montreal, he achieved that goal. Rodgers described himself as "a teacher, a motivator, someone who's fair but who will never take fairness for weakness."1
His openness, honesty, and willingness to communicate made him a popular figure with the fans and the media despite periodic clashes with some of his players and general managers. The road that Rodgers traveled, however, was not always a safe one, and on more than one occasion, it proved calamitous for the Rodgers family.
Rex and Winifred Rodgers of Delaware County, Ohio welcomed a son, Robert Leroy, on August 16, 1938. A naturally gifted athlete who was nicknamed Buck, Rodgers won letters in basketball and track in addition to baseball at Prospect High School, where he pitched six no-hitters. He also played American Legion baseball in nearby Marion, Ohio.2 Converted to a catcher at Ohio Wesleyan University, he was studying towards a liberal arts degree when, in 1956, he signed as a free agent with the Detroit Tigers. Rodgers soon found himself caught in a logjam of catchers, including Dick Brown, Mike Roarke, and rising star Bill Freehan. The Tigers deemed him expendable, and he was selected by the Los Angeles Angels in the 1960 expansion draft. Years later, Rodgers credited Angels' owner Gene Autry with "[saving him] from having to find a real job."3 Meanwhile, Rodgers had married his high school sweetheart, the former Judy Long, on January 18, 1958.
Rodgers, a 6-foot-2, 195-pound switch hitter, played for Walker Cooper at Dallas-Ft. Worth, where he was honored by Look magazine as the American Association's top catcher of 1961. A scouting report describes him as having "excellent speed for a catcher, good accurate arm, line drive power, [and a] fine handler of pitchers."4 That September, the Angels brought him up, where he batted .321 in 16 games, including a grand slam off the Indians' Barry Latman.
After watching that performance, manager Bill Rigney lauded Rodgers as "an imaginative catcher who can go on to become one of the game's best."5 Meanwhile, Rodgers was learning from Rigney that "the competitive edge lay in guile, cunning, and courage to make the right moves at the right time."6 Cerebral and bumptious, Rigney was constantly challenged by both his young catcher and his shortstop Jim Fregosi. In reference to Rodgers and Fregosi, Rigney noted that "you wouldn't have had to look very far" in predicting future big-league managers on the team." 7
A country image fused with urban charm served Buck Rodgers well in Tinseltown: "Rodgers was a tall man, broad shoulders, blessed with bright eyes and a movie star's face. He wore cowboy boots, well cut sports coats, and open collared shirts…he had chewed tobacco all of his adult life, yet always took care to use whitening drops on his teeth to combat the inevitable staining. Playgirl magazine even featured Rodgers in an article on baseball's sexiest men." 8
The season of 1962 was a banner year for both the fledgling Angels and Rodgers: Rodgers disappointed nobody in the Angels' home opener when he drove in five runs in a 12-5 victory over the Minnesota Twins.9 A month later, on May 5, he caught Bo Belinsky's no-hitter at Chavez Ravine. After sweeping the Washington Senators in a July 4 doubleheader, the Angels led the American League, in this, their sophomore season. On August 28, Rodgers hit one of three consecutive fourth-inning home runs as part of 10-5 decimation at Kansas City, and went on to hit .440 during a two-week span in September. Although the Angels finished the season in a third-place tie with Detroit, their young catcher shattered the record for games caught by a rookie with 150 while turning a club-record 14 double plays.10 He displayed marksmanship with his bat, leading the Angels with eight sacrifice flies and 34 doubles while tying Albie Pearson with six triples. Rodgers finished second to Tom Tresh as Rookie of the Year.
The 1962 offseason marked the first of several in which Rodgers' name was suggested by the Angels in trades. One winter, rumors had him going to Chicago, the next winter he was headed for Baltimore, and the third time, he and Bob Lee were to be packaged to Minnesota for Jimmie Hall and Earl Battey. Rodgers was candid in telling sportswriter Ross Newhan, "[I]f I worried every time I heard my name involved in a trade, I'd be a nervous wreck." General manager Fred Haney routinely tried to ease Rodgers' apprehensions by declaring that his catcher was "not for sale."11
A finger injury curtailed Rodgers' effectiveness in 1963, but he continued to show flashes of brilliance.12 In 1964, he tied his record of 14 double plays, and batted .387 during the club's 18-game-winning streak, along the way touching Dick Radatz for an inside-the-park home run. An ankle injury among other ailments limited Rodgers to a .209 average and 32 RBIs in 1965. After a stellar defensive season in 1966, Rodgers was developing a reputation as one of the better callers of pitches in the game. He complimented pitchers George Brunet and Marcelino Lopez on "never having better control of [their] breaking stuff" in spring training 1967.13 Of course, there was no love lost with pitchers who ignored Rodgers' advice — he once called Dean Chance "the dumbest I've caught." As the vice president of Pacific Bus Lines, Rodgers was only too pleased to offer Dean Chance a one-way ticket to Minnesota when traded to the Twins. Chance "shook him off" and rode Greyhound. 14
Another injury in 1967, a lingering blood infection, limited Rodgers to six home runs with 41 RBIs in 139 games.15 Having recovered by August 18, he caught Jack Hamilton the night Red Sox outfielder Tony Conigliaro was beaned. Rodgers compared the horrific incident to "taking a bat to a pumpkin."16 By the end of the decade, Rodgers moved his family, including daughters Lori, Lisa, and twins Jan and Jill, from his home state of Ohio to Yorba Linda, California.
After Rigney was fired in 1969, the Angels released Rodgers. In 1970, he followed Rigney to Minnesota as one of his coaches (Dean Chance had since been traded to Cleveland). Sandwiched around another Rigney coaching assignment in San Francisco were two managerial
postings in the Angels' organization: Salinas in 1975 and El Paso in 1977. By then, the name "Buck Rodgers" was synonymous with "Angels' manager of the future" — but it would prove a circuitous route for Rodgers' return to Anaheim.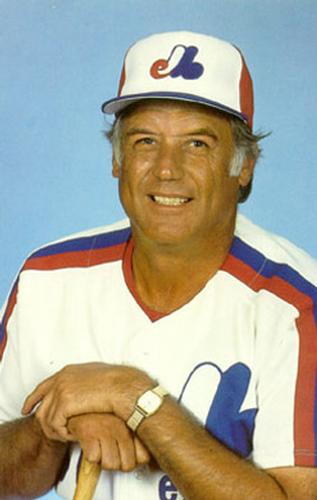 After the Milwaukee Brewers hired Angels general manager Harry Dalton, other Angels personnel moved to new positions with the Brewers in 1978, among them Milwaukee's new third-base coach Buck Rodgers. Two years later, he was promoted to replace the ailing George Bamberger as manager. Rodgers won a division title in 1981 but a slow start in 1982 could not save his job. After a successful campaign managing Indianapolis in 1984, he was hired to manage the Montreal Expos beginning in 1985. During most of his tenure in Montreal, he kept the Expos in contention despite operating on a shoestring budget. The apex of his career occurred in 1987, when his club won 91 games and he was honored as Manager of the Year. Falling out of favor with a new regime in Montreal, he accepted his release early in the 1991 season.
Meanwhile, the Angels were imploding under manager Doug Rader. Was it time for a change? General manager Whitey Herzog thought so and brought Rodgers back to Anaheim. The Angels did not improve in the standings under Rodgers, finishing in last place in 1991 despite a .500 record. Off the field, Rodgers endured the fright of his life on May 21, 1992, when the Angels' team bus crashed into a ravine alongside the New Jersey Turnpike. Rodgers recalled the incident a few years later: "I saw a big tree limb coming and I ducked. Fortunately I missed it because it would have taken my head off. Then I got hit in the right side of the head…. My right ribs were hit by the trees that crashed into the right side of the bus and I had a crushed elbow."17
After a long convalescence — he also had a broken leg — Rodgers returned to the Angels' dugout on August 28. Piloted in his absence by interim managers John Wathan and Marcel Lachemann, the Angels ended the 1992 season with a losing record. The following year, the Halos won only 71 games in 1993, and after butting heads with new general manager Bill Bavasi, Rodgers knew the team had to contend in 1994 in order for him to keep his job. The team did not, and after calling Angels president Rich Brown a "cancer," he was fired from his final managing position.18
Rodgers went to work for his friend Jim Fregosi as a West Coast scout for the Philadelphia Phillies.19 In 1997, he was hired as the manager and director of baseball operations the Mission Viejo Vigilantes, a team that represented Orange County in the independent Western Baseball League. But Rodgers' 1997 season ended suddenly in June when his family was rocked by another highway tragedy: His mother Winifred was killed and his father was seriously injured in a car accident in Ohio. 20 Rex Rodgers died from injury-related illness six months later.21 After returning to Mission Viejo in 1998, Rodgers was able to retire that year when he was awarded an insurance settlement of approximately $1 million from the 1992 bus accident. 22
After many years in Yorba Linda, Buck and Judy Rodgers moved to the seaside village of Corona Del Mar, where they reside, 20 miles from Angel Stadium. He remains active in the community, conducting golf tournaments and other charitable events with Mike Witt and other Angel alumni. In the half-century he has spent here, Buck Rodgers has represented Southern California well. Those who have followed his career closely would agree with his family in recognizing him as "a man, a gentleman, and a baseball manager — in that order." 23
Last revised: June 28, 2018
Sources
In addition to the sources cited in the Notes, the author consulted Baseball-Reference.com, and Goodale, George, and Irv Kaze. Los Angeles Angels 1965 Yearbook (Los Angeles: Petersen Publishing Company, 1965).
Notes
1 Les Expos, Nos Amours, English ed., produced by Brian Schecter (Montreal: TV Labatt, 1989).
2 Los Angeles Angels 1962 Year Book (Los Angeles: Los Angeles Angels, 1962), 19.
3 Daniel Okrent, Nine Innings: The Anatomy of a Baseball Game (New York: Ticknor & Fields, 1985), 6.
4 Angels 1962 Year Book, 19.
5 Los Angeles Angels 1963 Year Book (Los Angeles: Los Angeles Angels, 1963), 23.
6 Okrent, 115.
7 Ibid., 6.
8 Ibid., 5.
9 Angels 1963 Year Book, 3.
10 Ibid., 23.
11 Ross Newhan, "Rodgers Wrecks 'For Sale' Tag — He's Avenging Angel With a Bat," The Sporting News, May 28, 1966: 17.
12 Braven Dyer, "Rig Raids Bullpen for Seraph Starters," The Sporting News, June 1, 1963: 23.
13 Ross Newhan, "'Dean Dumbest Pitcher I've Caught' Says Rodgers," The Sporting News, April 8, 1967: 12.
14 Ibid.
15 Ibid.
16 Danny Gallagher, Angels' Halo Haunted: Baseball Tragedies Revisited (Toronto: Scoop Press, 1998), 26.
17 Gallagher, 16.
18 Rev Halofan, "Top 100 Angels: Bob Rodgers #46" on Halos Heaven, http://www.halosheaven.com/2009/1/11/716939/top-100-angelsbob-rodgers; Accessed May 24, 2010.
19 Gallagher, 25.
20 "Mother of Vigilantes' Rodgers Dies in Crash," Los Angeles Times. http://articles.latimes.com/1997-06-08/sports/sp-1491_1_ohio-state-highway-patrol; accessed May 24, 2010.
21 "Rex Rodgers" in Social Security Death Index: retrieved June 7, 2009.
22 Gallagher, 24.
23 Les Expos, Nos Amours.
Born
August 16, 1938 at Delaware, OH (USA)
If you can help us improve this player's biography, contact us.
https://sabr.org/sites/default/files/RodgersBuck-LAA.jpg
600
800
admin
/wp-content/uploads/2020/02/sabr_logo.png
admin
2012-01-04 19:53:52
2021-10-06 19:38:10
Buck Rodgers