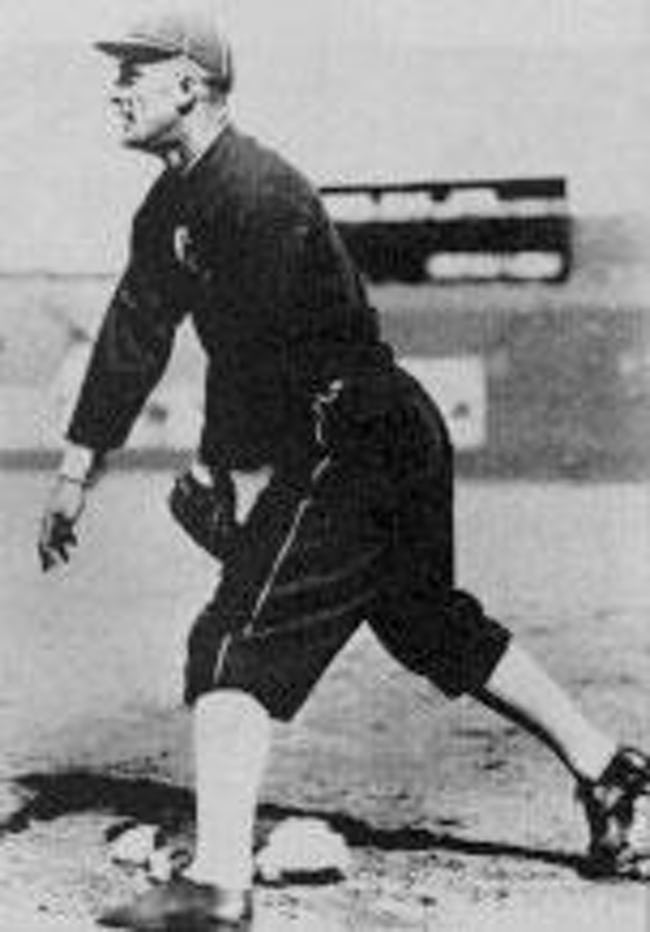 ---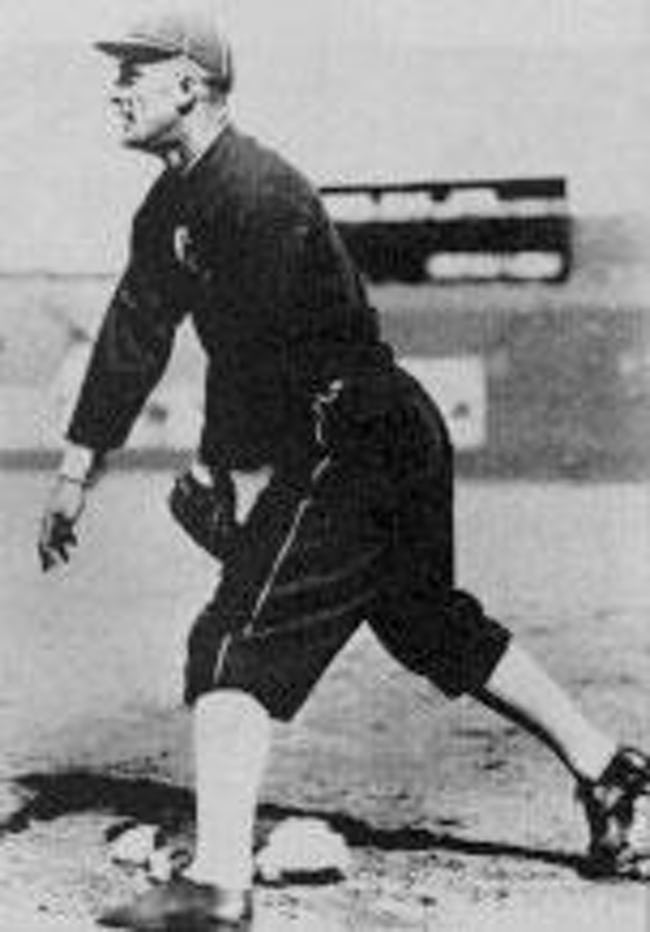 Bunny Brief started his professional career in 1910 as a 17-year-old playing in his hometown of Traverse City, Michigan. The first-year Resorters finished second in the Class D West Michigan League. Brief gave notice that he was a hitter to be reckoned with by leading the league with 10 triples. During his 19-year career, Brief led his league in home runs eight times. He also took the slugging title (for players with 200 or more at-bats) on seven occasions. His finest season came in 1921 with the Kansas City Blues in the American Association. He batted .361 with 42 home runs, scored 166 runs and drove in 191.1
Brief was born Anthony John Greszkowski on July 3, 1892, in Big Rapids, Michigan.2 His parents, John and Mary (Sandusky) Greszkowski, were born in Germany of Polish descent. They emigrated first to Canada and then to the United States in late 1877. The couple had six children. Their first child, John, was born in Canada, the other children (three boys and two girls) were born in Michigan. The elder John was a laborer, but the 1900 census lists him as an invalid. The family was provided for by sons John and Levi, who worked as laborers while the younger children attended school. Brief's father died in 1907.
When it was decided to change the name to Brief is unknown. It was done during Bunny's childhood so the baseball stories that a manager told him to "make it brief"3 when he signed a contract is pure fantasy. As for the nickname of Bunny, it is a corruption of his childhood nickname of Bunty. The alteration was blamed on sportswriters, but Brief accepted the nickname happily. At some point the middle name of Vincent replaced John, another switch that made no difference to Brief.
Brief grew up in Traverse City. He attended a Catholic school, Immaculate Conception, before going to Traverse City Central for three years of high school. He grew to be 6-feet tall and in his prime he weighed 185 pounds. The West Michigan League was a four-team league. Brief played catcher4 for the Resorters. In 1911 the league expanded and changed its name to the Michigan State League, retaining its Class D status. Traverse City finished fourth out of six teams. Brief smacked 10 home runs and slugged .500 to lead the circuit while playing a variety of positions. He was invited to spring training with the St. Louis Browns in 1912. As a rural 18-year-old, he was nervous about the travel and passed up the opportunity.
Brief played for Traverse City again in 1912, this time as a nearly full-time outfielder. He led the league in homers and slugging again for the second-place finishers. The Browns held Brief's rights and persuaded him to join the team in September. The "bashfulness" that had held him back was gone and he was ready to join the majors.5 He reached St. Louis on September 21 and was put into the doubleheader against the Phillies on the 22nd. He pinch-hit and grounded out in the opener. In the nightcap he went 1-for-4 while playing left field.
Manager George Stovall opted to give Brief a good tryout in the remaining games. He played both ends of four consecutive doubleheaders with the White Sox, seeing playing time in left field and at first base. His biggest moments came in the September 25 twin bill when he went 4-for-5, with a double and scored 4 runs. He also walked twice and was hit by a pitch. The performance raised Brief's batting average to .438 with a 1.050 OPS. He closed out the campaign on October 6 at .310.
Stovall kept Brief in town for the postseason series with the Cardinals. The Brown lost four of the seven games, but Brief made a favorable impression. Unlike most of the late call-ups, he saw plenty of action and was voted a full player's share. Brief's hitting excited fans and writers alike and they looked forward to the 1913 season.
The Browns held spring training in Waco, Texas, in 1913. Early on, Stovall announced his intention of turning Brief into a first baseman. Brief got plenty of attention in practice and practical experience in the preseason games. When the season began, he was Stovall's backup. Used as a pinch-hitter, he had one start in April and closed out the month hitless.
Stovall got into a heated argument on May 3 and was ejected and then suspended. Brief took over at first and mounted a hitting streak from May 7 to May 22. He went 20-for-57 and raised his average to .294. Writers did not notice any drop-off in defense for the team.6 When Stovall returned, he split time with Brief and used the youngster in left field. Brief's hitting nosedived and by early August he was batting just over .200. On August 25 he was traded to the Kansas City Blues along with Mack Allison, Pete Compton, and a bundle of cash for Tillie Walker.
Brief's hitting woes continued with Kansas City. In 37 games he batted .242 and showed very little power. After working the offseason as a salesman, Brief returned to the Blues in 1914. Bill Armour took over as manager and inserted Brief at first base. He responded with a tremendous season as the Blues moved up one place in the standings and played .500 ball. Brief played in 169 games, batted .318, and poked 51 doubles and 16 triples to go with his 12 home runs.
Late in the season Brief bettered the consecutive-game hit record set in 1911 by Otis Clymer. Brief's streak ended at 30 in mid-September. A few days later the Chicago White Sox announced they had drafted Brief. They were excited by his bat and his 35 stolen bases.7 In December the White Sox appointed Pants Rowland as manager. In one of his early remarks he mentioned that Jack Fournier would be shifted to the outfield. This slip of the tongue revealed that the White Sox thought Brief was ready for permanent duty at first base.8
The White Sox trained in California and took on PCL teams for their exhibitions. Brief's fielding was top-notch while he displayed his power in the smaller ballparks. His emergence left Jack Fournier without a position. Branch Rickey was reported to be after Fournier for the Browns. The season opened with Chicago taking on the Browns in St. Louis on April 14.
Brief started at first base and batted sixth despite a nasty case of boils. The game was tied 3-3 after nine innings. In the 11th frame Brief sent a tremendous blast into the left-field seats. The Browns tied it in the bottom of the inning. In the 13th, Brief singled to start a three-run rally and cement the White Sox win. Besides his two hits he had 24 putouts and two assists.9
On May 24, Brief hit another homer that caught owner Charles Comiskey's attention. The blast against the Yankees landed in the left-field seats in Chicago. It was reported that when Comiskey built the park "he did not think anyone would ever hit the ball over the left field fence."10
Brief held onto the starting job until June 7. His average was just .213 and the White Sox needed more offense. Fournier took over at first and later in the season the White Sox added Joe Jackson to further boost their numbers. On July 22, Brief was sold to Salt Lake City of the Pacific Coast League.
The right-handed hitter found his stroke again in the West. Maybe it was because he delayed his trip to Utah long enough to marry Rhea Martin in Traverse City on July 26. She was the only daughter of a well-known physician/banker in Traverse City. Their honeymoon was the train ride across country to set up housekeeping in Salt Lake City.
In 82 games with the Bees, Brief batted .363. He was one point behind Harry Heilmann of San Francisco, although both were short on at-bats to claim the title. Brief launched eight home runs and slugged a team best .524. His bat joined Joe Gedeon and Buddy Ryan to form a potent lineup. Pitching ace Lefty Williams led the league in wins and strikeouts to help the Bees to a second-place finish.
Brief returned to the Bees in 1916. Finners Quinlan (.313) and Buddy Ryan (.310) in the outfield and Brief at first base paced the offense. The trio spent much of the year batting 3-4-5 in the lineup. Brief led the league with a league record 33 home runs, batted .314 (.000316 behind Duke Kenworthy), and led the league with a slugging percentage of .517. None of the batting heroics could make up for the loss of Williams's 33 wins in 1915 and the team dropped to third place. Brief had a financially rewarding year as the fans started to throw money when he hit a home run. He collected a nice silver bonus with his blasts.
Negotiations for a contract in 1917 dragged on until manager Bill Bernhard suspended Brief on March 6. Business manager Jack Cook told the press that Brief was "getting the top salary in the Pacific Coast League and almost as much as a major leaguer."11 Brief was conflicted. His wife was ill and surgery was a possibility. He was working as an automobile salesman for his father-in-law and had an offer from an independent team in Beloit, Wisconsin. Newspapers announced on March 13 that Brief had signed for $2,500.
Rhea took a turn for the worse and had to undergo further surgery. Brief sent word to the Bees that he would not be able to report until May 1. When May began, Brief sent another telegram saying he would be leaving as soon as Mrs. Brief was recovered. The Bees had heard enough, they sent Brief to the Pittsburgh Pirates on a 30-day trial.12
Brief joined the Pirates in Chicago and started at first base on May 6. He singled and scored a run in the 3-2 loss. Manager Jimmy Callahan gave him 21 consecutive starts. Brief poked two home runs and drove in eight runs, but his batting average was .224. Forty-three-year old Honus Wagner returned to the field at first base. A few days later he shifted to third base and Brief returned for a dozen starts at first. The Pirates dropped seven of those games and Callahan was soon fired.
A deal was made to send Brief to the Louisville Colonels in the American Association. He took over first base for them at the end of June. Brief's batting numbers were down for the Colonels. He hit. 288 with only one homer in 48 games. On the field he drew praise for his defense. Against Minneapolis in July he "handled fourteen chances without the semblance of a wobble. Some of his putouts bordered on the phenomenal and received applause."13
The Colonels cut their losses and sold Brief to the league rival Kansas City Blues in the offseason. In March, the Blues assigned infielder Joe Wagner to Louisville to complete the deal. Recovered from her medical issues, Rhea accompanied Bunny to spring training in Wichita, Kansas. Because of the World War the 1918 season would end early. The Blues were in first place when the league suspended operation on July 21. Brief blasted four home runs, which tied him for fourth in the league.
He weighed offers for a defense job and could choose between Allegheny Steel in the Pittsburgh area or the shipyards around Duluth, Minnesota. He opted to head east, but played only one game with the Steels. His wife was miserable about the trip and the locale. Brief quickly changed his mind and headed for Duluth. He became one of many professional ballplayers in the Twin Ports-Mesaba League. He joined the Riverside Cubs team, which required the players to work for McDougall-Duluth Shipbuilding. Newspapers poked fun at Brief as both a riveter and a painter. What job he actually held is uncertain, but on Sundays and holidays he played baseball.
Brief became a jack-of-all-trades in the league. He pitched for Riverside and played first base. In an all-star game he played second base. The season ended with a 10-0 win over Hibbing in the championship series. Brief launched a home run to support Rip Hagerman's pitching. Brief left the shipyards soon after the season ended and headed to Kansas City. He served as a clerk in the cattle yards and awaited the next spring.
From 1919 to 1924 Brief was a mainstay of the Blues' offense. He posted impressive stat lines every season in the hitter's paradise in the Midwest. He averaged 44.5 doubles, 11 triples and 27 home runs a year with the Blues. His batting average over his tenure was .340. He provided offense from the right side and most of his statistics were matched from the left side by outfielder Wilbur Good. When the Blues took the pennant in 1923, Good batted .350 with 66 extra-base hits. Brief was at .359 with 91 extra-base knocks.
The Blues were up and down during Brief's tenure, winning the pennant only in 1923. The teams got a reputation as fence-busters. Brief helped cement the image with his 35-inch, 39-ounce lumber. During these years Brief "was to the minors what Babe Ruth was to majors — a hitter without a peer."14 The Blues players "never bothered to do much training and they kept horrible hours, but they loved baseball. And they could hit."15 In 1958 Brief was named as the first baseman on the all-time Blues team.16
Brief played first base for the Blues until young Dud Branom developed into a force at the plate. In the midst of the 1923 season, Branom took over at first and Brief moved to left field. Before the 1925 season, Brief was traded to Milwaukee for outfielder Beauty McGowan. The move rejuvenated Brief's power. He launched 37 home runs to lead the league, slugged a league-leading .652 and drove in 175 for the seventh-place Brewers.
Milwaukee climbed up to third place in 1926. Outfielders Lance Richbourg and Fred Schulte both matured into powerful forces at the plate. The outfield trio (including Brief) slammed 200 extra-base hits. Each man had over 200 hits and they batted a cumulative .348. Brief led in home runs, but it would be his last slugging championship.
Now 34, Brief started to slow down. Some scribes dropped "Bunny" and started to call him "Old Bunions" instead. The Brewers remained a first-division ballclub, but time was running out for Brief. In January 1929 he was sold to Nashville in the Southern Association. Brief earned $5,000 in 1927 but took a cut to $3,500 in 1928. He was unable to come to terms with the Volunteers. He retired from baseball with one item still on his bucket list. He had never stolen home.17
Brief owned a gasoline station in Traverse City and retired to that business. In 1929 he played for the Traverse City Independents. He operated the station until 1936, when he was invited by Harold "Zip" Morgan to become an instructor in a baseball program in Milwaukee. His work there led to a position as manager of the Wausau (Wisconsin) Lumberjacks in the Class D Northern League in 1938.
Brief managed the Jacks for only one season. He mentioned that he was disillusioned by the emphasis some opposing managers placed upon winning over developing young players. He returned to the baseball school in Milwaukee. He eventually became the supervisor of the recreation department's baseball program. He did apply for the managing job of the Brewers but did not get the position.
Rhea had suffered physical problems early in the marriage but made a recovery. In 1920 the couple welcomed their only child, Barbara. She gave birth to a grandson before she died in 1951. Brief worked as a baseball instructor into 1961 despite some health issues and abdominal surgery in 1960. He retired in 1962 when he was battling cancer. He died at home on February 11, 1963. Rhea had the body returned to Traverse City, where he was buried in the Oakwood Cemetery.
Acknowledgments
This biography was reviewed by Len Levin and fact-checked by Warren Corbett.
Notes
1 Lloyd Johnson and Miles Wolff, eds., The Encyclopedia of Minor League Baseball (Durham: Baseball America Inc., 1993), 154.
2 Early paperwork on Brief, like his draft registration in 1918, listed his birthplace as Big Rapids, Michigan. On his Hall of Fame questionnaire he listed Big Rapids. After his death his wife did one that listed "Remus, Mich near Big Rapids." The two towns are in the same county but are 24 miles apart. It was also reported on occasion that his original name was Bordetzki. One writer even suggested he was born "Briefaloski."
3 Shavenau Glick, "Down in Front," Berkeley (California) Daily Gazette, January 20, 1943: 10.
4 Ray Webster, "Brownies Are Real Youngbloods of A.L.," St. Louis Star and Times, August 2, 1912: 8.
5 Clarence F. Lloyd, "Stovall to Cut Down Squad for Drafting Season," St Louis Post-Dispatch, September 10, 1912: 7.
6 Gus Klemme, "Brief Helping Browns," St. Louis Star and Times, May 14, 1913: 11.
7 "Sox Sign New Infielders," The Dispatch (Moline, Illinois), September 18, 1914: 10.
8 Sam Weller, "Rowland to Tribune: 'Fans Will See Fight,'" Chicago Tribune, December 19, 1914: 8.
9 James Crusinberry, "White Sox Open Season with Victory in 13 Rounds," Chicago Tribune, April 15, 1915: 12.
10 Sporting Life, June 19, 1915: 9.
11 "Bunny Brief Has Been Suspended," Ogden (Utah) Standard, March 6, 1917: 2.
12 "Bunny Brief Leaves," Ogden Standard, May 5, 1917: 1.
13 Tom W. Cooke, "Diamond Sparks," Louisville Courier-Journal, July 13, 1917: 6.
14 Chester L. Smith, "Etiquette Book Tells Proper Behavior on Bowling Lanes," Pittsburgh Press, February 28, 1963: 46.
15 Ibid.
16 "Bunny Brief Is Dead, Teacher of Baseball," Milwaukee Journal Sentinel, February 11, 1963: 32.
17 "Bunny Brief Ambitious to Pilfer Home," Wisconsin State Journal (Madison), December 31, 1928: 23.
Born
July 3, 1892 at Remus, MI (USA)
Died
February 11, 1963 at Milwaukee, WI (USA)
If you can help us improve this player's biography, contact us.
https://sabr.org/sites/default/files/BriefBunny.jpg
600
800
admin
/wp-content/uploads/2020/02/sabr_logo.png
admin
2018-05-08 11:42:55
2020-04-09 14:40:20
Bunny Brief