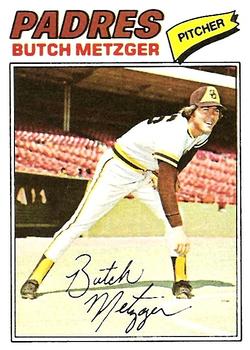 ---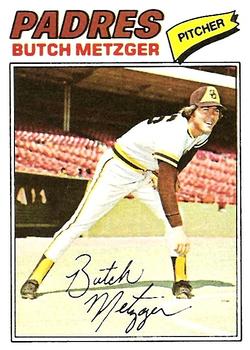 In the long history of the Rookie of the Year Award, Butch Metzger gained the dubious distinction as the recipient with the fewest innings played over a major-league career. This was a bizarre idea to teammates and coaches alike, who once projected a far more productive path for the righthander. In 1976, Metzger tied Hooks Wiltse's 72-year-old major league record by winning the first 12 decisions of his career. He also established a rookie pitching record with 77 appearances. But as sportswriter Phil Collier rightly projected in October 1976, "the heavy duty took its toll."1 In 1977, after coming within two appearances and eight innings of the career marks he established the previous season, Metzger never approached those numbers again. He finished a five-year career with a record of 18-9, 3.74, in 293⅓ innings pitched. He was out of Organized Baseball altogether after the 1980 season.
Clarence Edward "Butch" Metzger was born on May 23, 1952, the youngest of three children of Martin Louis and Leona Mae (Lintner) Metzger, in Lafayette, Indiana, 60 miles northwest of Indianapolis., Butch's grandfather Dora Martin, bolted the family farm near Indianapolis in 1890 and moved to the Southwest where, in 1906, he married Eliza Bell Martin in Fort Worth, Texas. A mother of two from two prior marriages, Eliza bore at least seven additional children with Dora. Around 1910 the family moved to Eliza's native state of Alabama before relocating to southwest Indiana. In a strange irony, Dora found work with the local police department before running afoul of the law and eventually serving time in prison in the 1930s. He retired to Alabama after his release.
Butch's father Martin, Dora and Eliza's middle child, married Alabama native Marie Louise Tidwell in 1940. They had two daughters before the union dissolved in divorce. After serving in the US Marine Corps during World War II, Martin returned to his native Indiana, where he married Leona Mae Lintner. Of their three children, only two survived childhood. Around the mid- to late-1950s the family moved to Sacramento, California, where Butch (nicknamed by his sister Elizabeth) eventually became a standout athlete for the Southside American Legion and the John F. Kennedy High School Cougars (he also played high school football). Possessing a naturally rising 90-mph fastball, Metzger attracted major league attention while earning All-City honors in 1969 and 1970.
In 1970, Metzger was selected by the San Francisco Giants in the second round of the June amateur draft. After signing a $27,000 bonus, the 18-year-old righthander was assigned to the Great Falls (Montana) Giants in the Pioneer (Rookie) League. A middling 4.17 ERA in the offensively charged circuit produced few wins for Metzger. He tied for the league lead in losses with nine, and endured the misfortune of pitching for the club with the fewest runs scored throughout the short season. Despite these setbacks, he finished among the league leaders in strikeouts (92) and innings pitched (82).
In 1971, Metzger was promoted to the Class-A Decatur (Illinois) Commodores in the Midwest League. The move proved overly challenging—a 6.49 ERA with 48 walks and 16 homers in just 68 innings—and he was quickly returned to the Rookie League. Despite this setback, Metzger's blazing fastball continued to impress Giants management, especially following his 12-strikeout performance against the Idaho Falls Angels in August.
Metzger could bring the hard heat when he pitched, but his subsequent advance through the minors was built largely upon his being able to finally master his control. In 1972, while splitting the season between Decatur and a late-season call-up with the Class-AA Amarillo (Texas) Giants, Metzger nearly halved his walks per nine innings from the preceding year. He highlighted his Texas League season with a a two-hit, 14-strikeout blanking of the San Antonio Brewers on August 19.
Returned to Amarillo at the start of the 1973 season, Metzger threw five complete games in his first six starts in route to a 10-3, 2.75 ERA record over 17 appearances, all starts. Another late-season promotion, this time to AAA Phoenix in the Pacific Coast League, yielded far less success: 2-5 and a 4.63 ERA, in 72 innings. Despite this latest setback, Metzger was selected among the Giants' September call-ups, but he did not make an appearance.
A jump from Class-AA to the Giants was not out of the question for Metzger as the 1974 season opened. During the preceding season, the club's pennant hopes were foiled due to the team's 3.79 ERA—the worst mark among any winning team in the circuit. To remedy this, the Giants would add no fewer than seven new faces to its staff during the 1974 season. Metzger's chances of making the club out of spring training appeared promising before he was sidelined with the flu in March. The lost time proved crucial when, days before the start of the season, he was among the Giants' last cuts.
Metzger returned to Phoenix, where he encountered the same Triple-A challenges of the preceding year: a record of 6-8, 6.22 ERA, in his first 18 appearances. His season turned on a four-hit win against the Sacramento Solons on July 9.
"I changed a couple of things," Metzger said. "I cut down on my windup, and I think that helped my control…I also opened up my left foot a few inches, and that kept me from throwing across my body…and helped me keep the ball down."2
He also credited his development of a "slurve," a cross between a curve and a slider, after a 1-0 shutout against the first place Albuquerque Dukes a month later. "[I]f [the slurve is] breaking right," Metzger explained, "it should catch the outside corner. [But i]f I hang it, our third baseman has a heart attack."3 His second-half rebound afforded Metzger another September call-up after finishing the season with league leading marks in starts (28), innings pitched (204) and strikeouts (148) while also placing among the leaders with 12 wins and nine complete games.
On September 8, 1974, Metzger made his major-league debut at Atlanta-Fulton County Stadium in relief of Giants starter Ron Bryant. Entering the fifth inning against the Braves with the bases loaded and no outs in a 3-3 tie, Metzger surrendered an unearned run (charged to Bryant) before escaping the frame without further damage. In the next inning, he yielded a single and an intentional walk before retiring the side. Metzger was lifted for a pinch-hitter in the seventh.
Having been used almost exclusively as a starter in the minors, Metzger adjusted well to his nine additional relief appearances before the season ended. In San Francisco's Candlestick Park on September 21, he captured his first major league win after entering the 10th inning of a 6-6 tie with the Cincinnati Reds. After a leadoff walk to future Hall of Famer Tony Perez, Metzger retired the side and, two outs later, benefitted from a game winning two-run homer by first baseman Ed Goodson. Despite yielding a large number of walks, Metzger finished with a record of 1-0, 3.55 ERA, over 12⅔ innings while also earning rave reviews from Giants manager Wes Westrum.
It therefore came as quite a shock to the skipper when, on December 6, Metzger was sent to the San Diego Padres with veteran infielder Tito Fuentes for 24-year-old switch-hitter Derrel Thomas. While Fuentes' acquisition was intended to shore up the Padres' porous defense, Metzger was merely the fifth of seven pitchers the club would acquire or promote throughout the off-season. The rookies were Metzger, Mike Dupree, Bob Owchinko, Rick Sawyer, and Dave Wehrmeister. Newly-acquired pitchers were Ken Reynolds and, Tom Griffin, With nine additional pitchers on the roster who either exceeded rookie limits or made their major league debut during the 1975 season, there was no room for Metzger. Like the preceding year, he was among the Padres' final cuts of spring training
The Padres assigned Metzger to the Triple-A Hawaii Islanders in the PCL, where they began grooming him as a reliever: his first eight appearances of the season were out of the the bullpen. But in June, after making just two starts, Metzger was inexplicably moved into the rotation on a permanent basis. The decision proved beneficial when the righty notched two shutouts in rapid succession followed by a six-game winning streak, a surge that helped the Islanders to a circuit-best 88 wins. Recalled by the Padres in September, he made four relief appearances, including a forgettable outing against the Los Angeles Dodgers on September 24, during a 14-0 rout. For Metzger, a far more memorable event occurred two days earlier against the Dodgers when he earned his second major league win after escaping an 11th inning, one-out, bases-loaded jam.
The Padres were seemingly hell-bent on ensuring that Metzger would not be a starter—his preferred usage— and shoved the righthander back into the bullpen during 1976 spring training. Equally hellbent on avoiding becoming one of the club's last cuts again, Metzger added a change-up to his existing repertoire that allowed him to perform brilliantly in Cactus League play: one run and no walks over his first 10 innings. On April 8, one day before the start of the regular season, the Padres traded veteran Danny Frisella to the St. Louis Cardinals and appointed Metzger as the closer. He quickly collected three wins and four saves without yielding an earned run over his first 20⅔ innings (13 appearances). Through May 31, Metzger chalked up four wins and six saves. He and lefthander Randy Jones, who was en route to the NL Cy Young Award, accounted for 20 of the club's 24 wins. Two months later, Padres manager John McNamara gushed, "He's been consistently outstanding—I hate to think where we would be without him."4
The veteran skipper continued plugging Metzger into games, including a remarkable 17 of the club's 28 August contests. On August 8, while picking up his 10th win of the season, Metzger tied the major league record set by Wiltse, the turn-of-the-century New York Giants' lefthander, by winning the first 12 decisions of his career. Three weeks later, the streak came to an end when Metzger surrendered a ninth inning three-run homer to Montreal Expos first baseman Earl Williams. The only other downside to the season occurred when Metzger's possessions were stolen from a New York hotel.
Williams' home run proved to be the end to Metzger's brilliant rookie campaign.5 After a late season appearance when his fastball was clocked at a mere 78 mph, Metzger yielded 33 hits in 22⅔ innings with a 7.94 ERA over his last 17 appearances. Despite several warnings from pitching coach Roger Craig about arm fatigue, Metzger refused to sit.
"There was nothing wrong with me physically except that I was dead tired," he confessed after the season.6 On October 2, while collecting his 16th (and last) save of the season and a league-best 62nd games finished, Metzger shattered the rookie pitching record of 76 appearances established two years earlier by former Padres right-hander Larry Hardy. (Metzger held the record for six years until Seattle Mariners lefthander Ed Vande Berg took the mound 78 times.)
In October, The Sporting News chose Metzger as the NL's Rookie Pitcher of the Year, a selection based on its annual poll of circuit players. Two months later, in the only instance that has ever resulted in a tie for NL balloting by the Baseball Writers Association of America, Metzger was selected as the circuit's Rookie of the Year alongside Reds right-hander Pat Zachry. The first Padre ever so selected, through 2016 Metzger has since been joined by catcher Benito Santiago, in 1987.
Shortly after the season ended, the Padres were barraged with trade queries for Metzger from a variety of clubs, with especially aggressive interest coming from the Pittsburgh Pirates and Texas Rangers. Instead on December 14, in a move that surprised many observers, the Padres signed free agent and future Hall of Fame closer Rollie Fingers. Upon learning of the acquisition, Metzger shrugged, "Rollie's a great pitcher. I admire him…Who are the [Padres] going to go to in a tight situation? That's what I'm probably going to find out…I might even end up as trade bait."7
This latter speculation proved nearly prophetic when rumors immediately surfaced of a Padres-Cardinals swap that would send Metzger to St. Louis for speedy outfielder Bake McBride. But the Padres had concerns about Randy Jones' healthy return following offseason surgery. Seeing that they might need Metzger in the rotation to replace him, the Padres held back from pulling the trigger on the trade.
The Cardinals' pursuit of Metzger, which had remained constant throughout the rest of the offseason, gained further traction after the right-hander struggled through the 1977 Cactus League season: a yield of 27 hits and 20 earned runs in 15⅔ innings. These difficulties continued into the regular season, including a very brief outing on April 23 in the only start of his major league career. Then he allowed just one earned run in his first seven appearances in May before the wheels came off on the 17th, when he surrendered homers to three consecutive batters during a 23-6 loss to the Chicago Cubs. Within hours of the rout Metzger was traded to the Cardinals for pitcher John D'Acquisto and utility infielder Pat Scanlon.8
Metzger's move east proved successful when, over a three-week span beginning July 25, the righty garnered three wins and six saves in 10 appearances. "I finally got my live, high fastball going again," he happily explained.9 Baseball returned to being fun for Metzger, as was evident when he and teammate Rick Bosetti, both of whom having earned solid reputations as clubhouse pranksters, staged Metzger's on-field "assassination" during a rain delay.10 Despite the horrid start to the season, Metzger finished the year with a respectable record of 4-2, 3.59, over 75 appearances (115⅓ innings).
But during the offseason, in a series of moves resembling the Padres' shuffles after the 1974 season, the Cardinals reported to their 1978 spring training with several new pitchers. The crowded field afforded Metzger, who was now sporting a full beard, little opportunity. Placed on waivers, he was selected by the New York Mets where he was united with Zachry, his co-Rookie of the Year honoree, who had joined the club the previous season and who also sported a full beard—they "look like an ad for Smith Bros. cough drops," The Sporting News cracked.11
But the similarities ended there as Zachry's season-long 3.33 ERA was nearly half that of Metzger's over a shorter period. On May 27 Metzger, following a scoreless seventh-inning stint against the Houston Astros, benefitted from a rare four-run rally from the punch-less Mets to capture his only win of the season. It also proved to be the last win of his major league career.
On July 4, after Metzger had made nine additional appearances, the club sold him to the Philadelphia Phillies. He was immediately assigned to the Triple-A Oklahoma City 89ers in the American Association. After a promising start, Metzger struggled to a record of 3-7, 4.50 ERA, in68 innings, the only note of measure coming outside the ballpark when he and a teammate, armed solely with baseball bats, were forced to protect themselves from knife-wielding assailants.
In 1979, Metzger went to Clearwater, Florida, as a non-roster invitee of the Phillies, but did not make the cut. He spent a portion of the year pitching for the Triple-A Caracas (Venezuela) Metropolitanos in the Inter-American League before concluding his professional career in 1980 with the International League's Richmond Braves.
Metzger retired to Sacramento where he took a job painting warehouses before launching a 23-year career as a firefighter (an apt pursuit for a former closer). In 1987, after two failed marriages, Metzger married Cynthia Rose Henninger. The union produced two children. Despite childrearing and the responsibilities of his new profession, baseball remained in Metzger's blood. Through 1995 he pitched for several semi-pro clubs in Sacramento and was briefly aligned with former Giants teammate Jim Barr.
Metzger's continued exploits earned induction into the Sacramento Men's Senior Baseball League in 2007, an honor that was followed six years later by induction into the Hall of Fame for the La Salle Club, a non-profit organization that, since 1939, has raised money for high school baseball in Sacramento.12 In 2006, he became a full-time scout for the Texas Rangers, covering regions of Northern California and Northern Nevada. He continued to hold this position at least as late as 2014.
Last revised: November 6, 2017
Sources
In addition to the sources cited in the notes, the author consulted Ancestry.com and Baseball-Reference.com. The author wishes to thank Kristy Underwood, a Metzger family historian and distant cousin of the ballplayer, for her valuable assistance. Further thanks are extended to SABR members Bill Mortell for assistance and David H. Lippman for his review and edit.
This biography was fact-checked by Alan Cohen.
Notes
Born
May 23, 1952 at Lafayette, IN (USA)
If you can help us improve this player's biography, contact us.
https://sabr.org/sites/default/files/MetzgerButch.jpg
600
800
admin
/wp-content/uploads/2020/02/sabr_logo.png
admin
2017-11-06 17:56:51
2020-04-09 14:40:30
Butch Metzger