---
Romeo had Juliet, Anthony had Cleopatra, and the borough of Brooklyn had their Dodgers. Theirs was a love affair that included the likes of Duke, Campy, Pee Wee, Newk and Jackie. But the name of only one of the Boys of Summer was translated into Brooklynese. The 5'10", 165-pound right hander, with the large number 17 inscribed on his arch back was born Carl Daniel Erskine. But between the years of 1948 and 1959, he was simply known as "Oisk."
The Erskine clan had traveled to the New World from Scotland, originally settling in Virginia. Toward the end of the nineteenth century, the family would relocate west to Boone, Indiana. Eventually they would establish their roots in Anderson, Indiana, known as the glass blowing capital of the world. This would change when spark plug giant Delco-Remy settled in the area. Anderson would later be known as the birthplace of Carl Daniel Erskine. Mr. and Mrs. Matt Erskine gave birth to their third son on December 13, 1926.
Carl Erskine would become known for his big overhand curve during his playing career. His father Matt would first teach him how to throw one. The elder's curve was the "old fashion barnyard" variety, different from the one "Oisk" employed while pitching in the National League. His father threw his side arm, which would cause it to break flat, or with no break at all, just sideways.
Sensing the need to improve upon his son's breaking ball, Matt Erskine purchased a book on pitching. Carl recalled one day in the family's living room with his father. The elder Erskine held the book in his left hand and the ball in his right. While following the instructions, he accidentally released the ball sending it across the room, crashing through the glass of his mother's cupboard, destroying a bunch of her dishes. Later, his father would admit that it was the best break he ever got on a ball.
As he got older, Erskine would wander onto local diamonds to play. He participated in sandlot, in the park league and American Legion ball. Charles Cummings was his high school coach and asked young Carl to play on the school team. At first, during his freshman year he threw batting practice to the varsity squad. The freshman's talent became obvious, and by mid-term, he became a regular fixture on the varsity team for the next four years.
"Oisk" reached the big leagues in 1948, the year after the color barrier was broken. While on the Dodgers, he would be one of the first Caucasians to have African-American teammates. Although the Dodger organization was applauded for knocking down the door, Carl had been introduced to racial integration long before the major leagues integrated.
Erskine noted in Kahn's classic The Boys of Summer, "around 1930 there was a lynching 30 miles north of Anderson in a town called Marion. The day after it happened, Dad drove me up and showed me where it was. Two Negroes had been taken out of the jail and hung in the jail yard. I can still see that naked branch. There had been a scramble. People had made off with things as souvenirs. But there was a piece of rope. I saw a lynching rope before I was 10."
When he became older, one of his childhood friends was an African-American. "One Negro boy grew up in my neighborhood, Johnny Wilson. We played grade school basketball together; he made All-State in high school and went onto the Harlem Globetrotters. He's a high school coach today. Jumpin' Johnny Wilson ate maybe as many meals at my home as he did at his own. With a background like that, the Robinson experience simply was no problem. It was really beautiful in a way."
Before he reached Brooklyn, Carl was thrust into another situation that would prepare him to play on an integrated team. While playing in Cienfugos, Cuba, in 1946, Erskine played with major leaguers Danny Gardella, Solly Hemus and Chuck Connors. Together, they played on a team managed by Negro League legend Martin Dihigo. While in Cuba, he struck up a long time friendship with fellow pitcher Max Manning, who would never play in the big leagues — not because of talent but because of the color of his skin. Manning would enjoy a career with the Newark Eagles of the Negro Leagues until 1949.
Manning would share the story in John Holway's Black Diamonds: Life in the Negro Leagues from the Men Who Lived It. "Gene Benson was a slap hitter, used to hit me pretty good. Carl pitched against him and could always get him out." Max asked, "What do you throw Benson?" Erskine responded, "I throw a straight change." Carl would teach him the pitch, and it became part of Manning's repertoire. That season was the start of a friendship. When Manning was inducted into the Glassboro College Hall of Fame; Erskine sent a beautiful letter of commendation. When Erskine joined the Brooklyn club in 1948, he credited his experience of playing with Manning as great training for playing on the integrated Dodger ball club.
An example of Carl's attitude toward race occurred in 1948 at Ebbets Field when Erskine came out of the Dodger clubhouse and chatted with Rachel Robinson and Jackie Jr. The players and their families passed through a protected chained fence in area, where the fans could get a glimpse of the ballplayers as they came out. The next day, Jackie approached Carl; "I want to thank you for what you did yesterday." He continued, "You know, you stopped out there in front of all those fans and talked with Rachel and little Jack." Erskine was taken back, "Hey Jackie, you can congratulate me on a well-pitched game, but not for that."
When Erskine distinguished himself as a standout pitcher in high school, the Dodgers were the first team to show any interest. Carl never recognized himself as a player with extraordinary ability, although he always realized that he wanted to be a ball player. The nearest scout to Anderson, Indiana, was Stanley Feezle, who owned a sporting goods business in Indianapolis and was sent by the Dodgers to scout him.
In 1945, after graduating from high school, Carl was drafted into the United States Navy. After finishing boot camp, he was stationed at the Boston Navy Yard. In 1946, after the baseball season started, the Hoosier native approached the Recreation Officer about joining the local Navy team. Erskine told him that he had pitched both high school and semi-pro back at Indiana. The officer asked him how much he weighed, to which Carl replied 165 pounds. The officer informed him that he already had enough pitchers. Erskine would play for a semi-pro team on Sundays.
In 1948, a fan started to yell from the Ebbets Field stands to get his attention. It was a rule that players were not allowed to fraternize with the fans. This one was very persistent, so Carl walked over to the fan. The man stuck out his hand, "Shake hands with the dumbest so 'so and so' in the world. I'm the 'Rec' officer that wouldn't let you pitch for the U.S. Navy. With guys like me, I'm surprised that we won the war."
While stationed in Boston, Erskine worked out with the Boston Braves, who were managed by Billy Southworth. John Quinn, the team's general manager, wanted to sign Carl at the age of 19. but Carl was loyal to the Dodger organization. The young sailor discouraged and stalled the Braves, saying he was still a minor. Quinn informed him that was not a problem, since the All-Star Game was to be played in Boston that year and he would arrange for his parents to come as guests, enabling Carl to sign with his dad. Sensing the situation's urgency, Erskine quickly got in contact with Stan Freezle. As it worked out, nothing would change. His parents would still come to Boston; the only difference was that they would be guests of the Brooklyn Dodgers. Before the All-Star Game, Mr. and Mrs. Erskine and Carl were sitting in the big parlor of the Hotel Kenmore and who walks over, puffing on a big cigar? None other than Branch Rickey!
"I understand that the Boston team is after you, young man. I don't know what they've offered and I really don't care," Rickey said. "The Boston club has never been able to sign someone that we are interested in or wanted. And I want you, young man. Just how much should you get to sign with Brooklyn?" Carl replied, "Boston has offered $2,500. Would $3,000 be all right."
Rickey waited, and three sets of eyes sought his response. "Carl, we won't give you $3,000. We're going to give you a bonus of $3,500. What do you think of that?"
Many players of that era would be surprised by Rickey's generosity, especially those who played for him previously. It was rare for a player to receive money as a signing bonus back in those days. A normal bonus for signing was a set of "Grand Slam Louisville Slugger" golf clubs or maybe a car if one were a hot prospect. While finishing up his service obligations, Carl was under contract with the Dodgers.
When Carl was discharged from the Navy in 1946, Baseball Commissioner A.B. "Happy" Chandler declared him a free agent, because the Dodgers had violated Chandler's directive that teams were not allowed to sign a player while in the military. A bidding war began. Being a frugal person, Rickey protested and asked whether he could get the $3,500 back. This request was refused. Four other teams vied for his services. The Red Sox offered him $10,000, and the Phillies upped the ante to $11,000. The other interested teams were the Braves and Pirates. Erskine telephoned Stan Freezle and informed the scout that he would sign with Dodgers for $5,000.
Ten years later on May 12, 1956, after pitching his second no-hitter, which was broadcast on the nationally televised "Game of the Week," Carl was interviewed by Hall of Fame pitcher Dizzy Dean.
"Who signed you?" Dean asked.
"Branch Rickey," Carl replied.
"Cheapest man who ever lived, I played for him at St. Louis. He paid peanuts, about two bags a week," Ol' Dizzy remarked.
Erskine confessed that he actually received two bonuses from the old Mahatma. This caused Dizzy to turn towards the camera, "Folks this here young man deserves to be in the Hall of Fame. Not because he pitched two no-hitters but because he got two bonuses out of Branch Rickey!"
Carl eventually learned that Rickey was prepared to go as high as $30,000!
Erskine toiled in the minor leagues between the years of 1946-50. Moreover, Carl would marry the former Betsy Palmer on October 5, 1947. They would go on to raise four children, whose names are Danny, Gary, Susan, and Jimmy. He spent his first two seasons with Danville of the "Three-I League," which got its name because its teams hailed from Illinois, Iowa or Indiana. Carl pitched in nine games his first year. He struck out 52 batters in 50 innings, finishing with a record of 3-3 and an ERA of 2.16. In 1947, he pitched the entire year at Danville with a record of 19-9, 2.34 ERA and 191 strikeouts appearing in a league-best 233 innings. Erskine then went on to win two more in the playoffs. That year, John Onslow (who eventually managed for the White Sox), an opposing minor league manager, informed Carl that he was tipping off his curve ball. The next three years he would split duty between the majors and minors, spending parts of 1948 and 1949 at Fort Worth pitching AA and 1950 at AAA in Montreal.
After a successful season at AA Fort Worth of the Texas League, he was called up and saw his first action against the Pittsburgh Pirates. He came into his first game in relief for the veteran Hugh Casey. Erskine would recall in a 1990 interview some valuable advice that Casey would give to a young pitcher. "Son, there are guys in this league who hit .340 every year. They hit all pitchers and they are going to hit you. My advice is to really bear down on the guys ahead of these good guys in the lineup. Keep the 'weak sisters' off of the bases. Then when Musial and Mize get their hits, you don't get hurt." Casey also added, "Keep your fastball in good spots and your curveball down and away. Kid, you'll win some games." Then he added, "There are some things in this league that you can't change. You can't change the weather, you can't pick the park you are pitching in and you can't change who is umpiring behind the plate." Carl credits the veteran pitcher's advice for helping a young pitcher not be intimidated.
Carl relieved Casey in the bottom of the seventh inning with the Pirates ahead 5-3.  Erskine promptly walked opposing pitcher Bob Chesnes, then got Stan Rojek to fly out to right.  After walking Johnny Hopp, he faced Ralph Kiner, the National League's reigning home run leader. Erskine induced him to line a hard liner out to left field. George "Shotgun" Shuba made a sensational catch and doubled up Hopp at first base. The rookie pitcher would be lifted for a pinch hitter, and the Dodgers would score 2 runs to win 7-6 to give Carl his first victory.
Several years later, Carl would run into George at a Dodgers old-timers gathering. He spotted Shuba.
"George, did I ever thank you for the great shoestring catch you made on Kiner's drive that helped me win my first game?"
"Oh yeah, I remember that play," Shuba recalled. "I trapped the ball."
Carl made his first start August 5, 1948. After one pitch Erskine felt a sharp, hot stab in the back of his shoulder. At the time he did not realize it, but he had pulled a muscle. It was an injury that would haunt him for the rest of his career. In the game, Gene Hermanski hit three successive home runs to offset six Brooklyn errors, as the Dodgers would go on to beat the Cubs by a score of 6-4. The win would move the Dodgers into second place and earn the young pitcher his third win.
Erskine recalled that back then a rookie pitcher did not go into the trainer's room. A young pitcher would never complain about his pain, but just go about his normal routine. On the second day, he would loosen up, then rest on the third day. On the fourth, he would pitch again. It was August 9, 1948, and he took the ball against the Philadelphia Phillies at Ebbets Field. By the sixth inning, his arm hurt so bad that he had a stomach ache. Little did he know that he was pitching with a muscle tear. During the game, he spoke to his manager Burt Shotten. He finally confessed about his arm pain. Shotten was surprised. "Son you are pitching a shutout. Just go right ahead. You are doing fine." It was apparent that Shotten either did not believe or care about Erskine's shoulder. The young pitcher would go on to win 2-1 and raise his record to 4-0.
He was matched up with the Phillies again on August 17, and took a shutout into the eighth inning. "Oisk" would go on to complete the game, winning 10-1. His record was now 5-0. After that point, he went 1-3. Erskine ended his half season in the majors with a 6-3 record, not to mention a very damaged arm.
When he went to spring training in 1949, he could hardly throw. The Dodgers sent him packing to Fort Worth. During those days, it was not a rehab assignment. A player was sent down because of his poor performance. Management in those days did not coddle players, especially pitchers. Erskine explained his determination and reasoning. "In all fairness, I didn't say much at the time. It was so competitive in those days. The Dodgers had 26 farm teams and almost 800 players were under contract. They had an army of young arms throwing down in their farm system. If you faltered, it was potentially career threatening. They would ship you off to the minor leagues like they did to me for the first couple of years."
He went to Fort Worth to work out his problems but with no guarantee of coming back up to the big leagues. Management put their best players on the field and exiled the others. They were on a slightly higher plane than the common laborer. Each punched an invisible time clock and earned his promotion. The sunshine of Fort Worth must have agreed with Carl. He ended up that year's stint in the minors with 10 victories. Erskine would go on to a record of 8-1 with the parent club, as the Dodgers would win the pennant by one game. In the World Series, Carl pitched a shutout inning in Game Four and gave up three runs in Game Five. It would be a game that the Yankees would win 10-6 and the series by 4-1.
For the third year in a row, Erskine returned to spring training with the Dodgers but was tormented by the same pain as the year before. Carl's high school coach saw him on television and noticed that his delivery had changed. Erskine informed his former coach of the tenderness in his shoulder. The coach explained that he was probably overcompensating. Carl returned to the to the minors again in 1950. But this time he headed north. Carl was on his way to Montreal, Canada, Brooklyn's AAA minor league team.
Back then, pitch counts did not exist. During the mid-1950s, coaching staffs and managers were non-pitchers; pitching coaches were often former catchers. It has been said that the game of baseball is 70% pitching, yet the game's managers usually came from every position except pitcher!
In Montreal Erskine met Dr. Charles Le Tourneau, the head of the Veterans Hospital in the city. The doctor studied the young pitcher's arm motion, analyzed which muscles were affected, and put him on a weight program. Carl continued to pitch regularly and won 10 games. During Erskine's stint up north, Branch Rickey paid a visit to see his pitcher's progress. Carl allowed only one run in three games. This was enough for Rickey to order Erskine's return to Brooklyn.
Carl spent his career pitching with this injury, with the pain a constant presence. As he explained, the game was pretty simple to understand during those years, "When they gave you the ball, you pitched. You had to be productive or you didn't stay. That's the way it was for everybody." He confessed that he never wanted to be known as a sore arm pitcher.
After spending the first part of the year in Montreal, Erskine returned to the parent club for the 1950 season. The Dodgers would finish second with a record of 89-65, two games behind the Philadelphia Phillies, known affectionately as the "Whiz Kids." The Philadelphia club did not clinch the pennant until October 1. Dick Sisler hit a three-run homer in the tenth inning as Robin Roberts defeated Don Newcombe.
Carl started and finished a season with the Brooklyn Dodgers for the first time in 1951. His record was 16-12. Carl pitched a two-hitter against the Braves on June 17. The Dodgers swept the Giants in a double-header August 8, taking the first game with the help of solid relief work by Erskine. The sweep gave the Dodgers an 11-1/2 game lead, the greatest lead in Brooklyn's history. A week later on August 17 Carl pitched a three-hitter against the Braves. Behind the 16th victory of Erskine on September 20, Brooklyn's magic number was reduced to five games.
After that, however, the Giants came back to force the Dodgers to a best-of-three playoff. The playoff series ended with one of the greatest walk-off homers in the history of the game — "the shot heard around the world!" The story is cemented into the annals of the game, but Carl's non-participation was important in the outcome of baseball history. Geoffrey C. Ward and Ken Burns recount in their book, Baseball — An Illustrated History, "The score was still 4-2, Dodgers, but two Giants were on base and as the injured [Don] Mueller was being carried from the field and Clint Hartung trotted out to take his place on third, Dodger manager Charlie Dressen considered who might the best replacement for the battered Newcombe. Carl Erskine and Ralph Branca had both been warming up in the bullpen. But Erskine wasn't having his best breaking ball that afternoon. So it fell to Branca to save the day and the pennant for Brooklyn."
When Dressen called down to the bullpen, Sukeforth's exact words that influenced the Dodger manager's choice were, "They're both ready . . . however Erskine is bouncing his overhand curve." The next was the beginning to a moment that has been engrained into the historical annals of baseball history. Ralph Branca walked to the mound at the Polo Grounds and served up Bobby Thomson's "shot heard around the world!" The timeless, screaming words of Russ Hodges echoed through millions of radios. "The Giants win he pennant, the Giants win the pennant!"
Whenever Carl is asked what his best pitch was, he always replies, "The curveball I bounced in the Polo Grounds bullpen in 1951."
The Brooklyn Dodgers would win the 1952 National League pennant over the New Giants by 4½ games. Carl would contribute a 14-6 record. The highlight of his regular season was his first no-hitter. If he had not walked relief pitcher Willard Ramsdell in the third inning, it would have been a perfect game.
On June 19 the Chicago Cubs were in town to face the Dodgers at Ebbets Field. It was a heavy, overcast day and rain was said to be imminent. Minutes before the game Vin Scully, the young Dodger announcer, came over and sat down next to Carl, who wondered out loud, "I wonder what the little pill has in store for me today?"
That day, Brooklyn scored quickly off of Warren Hacker, who was replaced by Willard "The Knuck" Ramsdell. Since it seemed that it would rain at any time, it was Carl's job to get the Cubs out quickly and get five innings in so the game could go into the books. Ramsdell, a notoriously weak hitter, stepped into the batter's box. For some unknown reason, Carl pitched Willard carefully and threw four successive balls to walk him.
Then the skies opened and the rains came, causing the players to retreat to the clubhouse. It was the Dodger pastime during times like that to play cards. Bridge was their game of choice. They played for 40 minutes. Carl had just made a four-heart hand, when word came out that the game was on again. Erskine changed into a dry uniform. He went on to complete the game, winning 5-0 in route to pitching a no-hitter.
Carl joined the prestigious club of pitchers who had thrown a no-hitter and Ramsdell was awarded the "Star of the Game" on Happy Felton's post-game show. Felton would pick a star from each team to appear on his show, and since Ramsdell was the only Cubs base runner he represented the visiting club.
The no-hitter was special since it was pitched around a 40-minute rain delay. It also received coverage at an unusual place in the newspaper. The next day, Carl got a phone call from bridge expert Charles Goren. Goren had read about Erskine's bridge hand during the rain delay. Mr. Goren wanted to recreate Carl's four-heart hand. The Dodger pitcher related the difficulty of describing the bridge hand: "Although I could recall with quite certainty, every pitch, every pitch I threw that day, but I couldn't remember my bridge hand." The bridge expert created one himself and printed it in the paper.
The Dodgers went on to the World Series that year and again faced the New York Yankees. Carl matched up with Vic Raschi in the second game October 2 and lost 7-1. He returned to pitch Game Five against Ewell Blackwell. In The Boys of Summer, in a conversation with Kahn, Erskine said, "I had first class stuff, not much pain. The curve was sharp. We go into the fifth inning ahead by four runs. Do you remember the date? It was October 5. That was my fifth wedding anniversary. My control slips. A walk. Some hits. Mize rips me. I am behind 5-4 and here comes Dressen," Erskine related.
"I'm thinking, oh no. I got good stuff. I look at Dressen coming closer and I think, the numbers are against me. October 5, my fifth wedding anniversary, the fifth inning and I have just given the Yankees five runs. Five must be my unlucky number. Charlie says to give him the ball," the pitcher continued. "You weren't allowed to talk when he came out. He was afraid you might argue with him into leaving you in, and you had to wait on the mound for the next pitcher, so you wish him luck. Now Charlie has the ball. I'm through. The five runs have done me in. Suddenly Dressen says, 'Isn't this your anniversary? Are you gonna take Betty out and celebrate tonight?'"
Carl described the situation. "I can't believe it. There's 70,000 people watching, as many as in all of Anderson, Indiana, and he's asking what I'm doing that night! I tell him yes, I was planning to take Betty someplace quiet." To which Dressen replies, "Well, then see if you can get this game over before it gets dark!" Dressen handed the ball back and Carl proceeded to get the next 19 batters out. The Dodgers won in eleven innings. Carl took his wife out to dinner and they celebrated his first World Series victory.
While the Dodgers went up 3 games to 2, they would drop the next two and lose the 1952 series to the Yankees by 4 games to 3.
Although the 1953 Dodgers missed Don Newcombe, who was inducted into the Army on February 26, 1952, they were said to be "player for player" one of the strongest teams ever to take the field. Together they combined for 208 home runs, including Duke Snider's 42, Roy Campanella's 41 and Gil Hodges' 31. The team also batted .285 and scored 955 runs, while winning 105 games. Carl Furillo led the majors with a .344 batting average; Jackie Robinson, now 34, spent half of his time in left field, as the rookie Junior Gilliam settled in at second base. Robinson contributed with an average of .329 and 95 RBI. Carl would win twenty games for the only time in his career.
This would prove to be Erskine' s finest season, so it is appropriate that the season would include some of his finer performances. On May 17, he would toss a 10-0 one-hitter, a sixth inning bunt single by Gus Bell, against the Reds. Then August 11, he defeated the Giants with a two-hitter, 4-0. One month later, he would defeat the Braves 5-2, as the Dodgers would clinch the pennant earlier than any team to that time. They would finish 105-49, thirteen games ahead of the Braves. The Fall Classic would once again pit them against their nemesis, the New York Yankees.
As in the previous year, Erskine performed poorly against the Yankees. Carl gave up four first inning runs and lost to Allie Reynolds. Erskine then came back and pitched in the third game October 2, 1953 and set a record with 14 strikeouts in a World Series game. Ten years later Sandy Koufax, another Dodger, would break it. Carl described the end of the game in The Boys of Summer. "John Mize was some hitter, but he had a pretty good mouth too. All afternoon I could hear him yelling at the Yankee hitters. 'What are you doing, being suckers for that miserable bush curve?' Mize came in as a pinch hitter in the ninth and I get two strikes, wham! John Mize ironically becomes the strikeout that breaks the record." After Mize, he walked Irv Noren. Then Joe Collins stepped in. Erskine remembers forgetting the record and concentrating on the distance down the right field line; a home run was only 297 feet. Collins was a strong left-handed hitter but Carl had struck him out four times that afternoon. With one swing of the bat, he could redeem himself. A homer would score two and win the game. Collins would go from goat to hero. The Dodger pitcher realized this.
"That's in my head," said Erskine. "What I didn't know is over on the Yankee bench, Mize and the others have been kidding Collins. They tell him the World Series goat record for strikeouts is five. One more and his name goes into the record book forever." Collins stepped up to the plate with a totally different mind set. He choked up on the bat, holding it like a glorified fly swatter. "I get two strikes on him real fast. Still I have this fear of the short porch in right. The last pitch I throw is a curve and it's a dandy. It snaps off and it's about ankle high. So help me, he swings straight down. He beats it into the ground and gets enough of the ball to nub it back to me. I get my record. Think of the two minds of the long ball and Collins scared to death of striking out. He doesn't get to hit the long ball and I don't get to strike him out." Carl won the gamem 3-2. Unfortunately, the Dodger would lose two out of the next three and the series 4-2.
Don Newcombe rejoined the pitching staff in 1954, after two years of Army service. Carl would win 18 games for a Dodger team that would 92 and finish five games behind the New York Giants.
The "wait 'til next year!" promises made every year by the Dodger faithful would be put to an end in 1955. Erskine would contribute only eleven victories that year. The dependable right-hander was, once again, bothered by arm troubles.
Erskine won in twelve innings against the Milwaukee Braves May 2, for his fourth consecutive win. Five days later, he outdueled Robin Roberts to beat the Phillies 6-3. During the 1955 World Series, he started the fourth game that year but lasted only three innings. The Dodgers went on to win, 8-4, abd defeated the Yankees 4 games to 3, winning their only championship in Brooklyn and ending the yearly chant of their fans of "wait 'til next year"
The 1956 season represented Carl's last solid season with the Dodgers. Erskine finished the season at 13-11 as the Dodgers barely beat out the Braves by one game and lost to their yearly nemesis, the Yankees, 4 games to 3.
This was the year that he would pitch his second no-hitter, this time against the New York Giants. The morning of his second no-hitter, Tom Sheehan, who was the Giants' chief scout was quoted as saying, "The Dodgers are over the hill." Sheehan went on to claim that Jackie and Campy were too old and Erskine could not win with the garbage that he threw.
The May 12, 1956, article stung more than the Carl's severe arm problems. Coincidentally, he was scheduled to pitch against the Giants at Ebbets Field that day. The Dodgers led 1-0 after six innings. In the seventh, the "over the hill" Dodgers managed to score two times. Each team traded goose eggs in the eighth. Then in the top of the ninth, with two out, Alvin Dark hit a one-hopper back to the pitcher's mound. Erskine fielded it and tossed it to first. The game was Carl's second no-hitter.
Jackie Robinson ran over to the Giant dugout, located Sheehan, pulled the clipping out of his back pocket, waved it in his face, and shouted, "How do you like that garbage?"[fn]That the Dodgers were furious over Sheehan's comments is interesting and understandable. More interesting and less understandable is that they bothered to take him seriously. Sheehan didn't have a particularly good track record. A pitcher, he had been 4-9 with a 4.15 ERA on the 1915 Athletics and 1-16 with a 3.69 ERA on the 1916 Athletics, two of the worst teams in the history of the game. Out of the game for four years, he resurfaced with the pennant-winning Yankees of 1921, going 1-0 with a subpar 5.45 ERA. He came back in 1924, contributing a hard-luck 9-11 slate despite a 3.23 ERA with a Reds team that finished 83-70. He divided his time in 1925 with the Reds (a lucky 1-0 mark with an ERA of 8.07) and the World Champion Pirates (1-1 and 2.68 ERA). The Pirates of 1926 finished third at 84-69, with no help from Sheehan's marks of 0-2 and 6.68. Sheehan's career numbers were 17-39 with a 4.00 ERA and more walks than strikeouts. Getting his chance to manage in 1960, Sheehan took over a Giants team that was 33-25 under Bill Rigney. Under Sheehan the Giants — with Willie Mays and Orlando Cepeda having fairly typical years, Sam Jones going 18-14, Mike McCormick leading the league in ERA at 2.70 while finishing 15-12, and Jack Sanford contributing a league-best six shutouts along with a deceptive 12-14 record — finished 46-50 with 2 ties.[/fn]
Carl would also partake in another record in 1956. Dale Long would set a record by hitting eight home runs in eight games. The eighth would be at Erskine's expense. That fall, he appeared in the World Series, starting two games but pitching only five innings and being charged with one loss.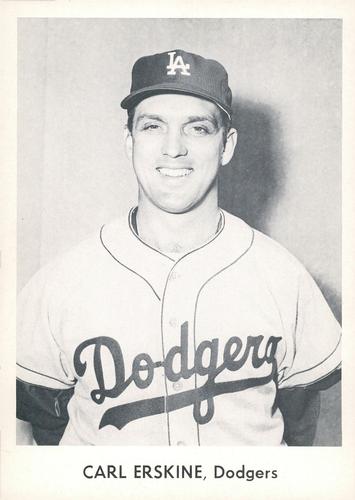 Carl's career was slowly winding down and the next year would be the last year that the Dodgers would play at Ebbets Field. In 1958, they would join the New York Giants on a pilgrimage to the West Coast. Carl spent one and one half years in California. He was the starting pitcher in the first major league game played in Los Angeles before nearly 80,000 fans and got credit for the win.
Erskine would retire during the 1959 season. He would finish with a 122-78 record, throw 14 career shutouts and appear in eleven games during five World Series.
After his playing career, Erskine became a successful businessman. He became a licensed agent for United Life Insurance Company from 1960 to 1975. Erskine served as the chairman of the Indiana Bankers Association from 1991 and 1992. He is currently the Vice-Chairman of the Board of STAR Financial Bank, Indianapolis; he served as the organization's president from 1982 to 1993. Carl could not shake the itch for baseball, however, and went on to coach at Anderson College for twelve seasons, earning four conference championships.
The greatest example of the compassion of Carl Erskine can be seen through his relationship with his fourth child. Jimmy was born with Down Syndrome. Ralph Branca explains it best; "A lot of people thought that he should be in an institution. But Carl and Betty wanted to bring him up themselves." Because of Jimmy, Carl is very active in the Special Olympics. In the classic The Boys of Summer, Roger Kahn asked, "What do you think, your life would have been if you hadn't been a pitcher?" To which Carl replied, "I don't know. It's like asking what my life would be without Jimmy. Poorer. Different. Who knows?"
Carl Erskine holds honorary degrees from Anderson University and Marian College. He was the recipient of the National Jaycees Ten Outstanding Young Men of America Award in 1956, a charter member of the Fellowship of Christian Athletes, the National and Indiana representative for the Special Olympics, a trustee for Anderson University and St. Johns Medical Center.
In an interview for www.thediamondangle.com, Carl admits it was pretty special to play professional baseball knowing that he made it past hundreds of talented players while enjoying a career that lasted 14 years. He goes on to thank the many fans who "watched us win six pennants in my twelve big league years and who still write, also young people who write and ask about the Brooklyn years."
Last revised: July 1, 2011
Sources
Alexander, Charles. Our Game: An American Baseball History. Markham, Ontario: Henry Holt and Company, 1991.
Brooklyn Dodgers Yearbook for 1957.
Erskine, Carl. Tales from the Dodger Dugout. Champaign, Illinois: Sports Publishing Inc., 2000.
Holway, John B. Black Diamonds: Life in the Negro Leagues from the Men Who Lived It. Westport, Connecticut: Meckler Books, 1989.
Kahn, Roger. The Boys of Summer. New York: Harper & Row, 1972.
Riley, James A. The Biographical Encyclopedia of the Negro Leagues. New York: Carroll & Graf Publishers Inc., 1994.
Sargent, Jim. "Carl Erskine: Ace Right-Hander for the Boys of Summer." The National Pastime #25 (Cleveland: SABR, 2005), 66-73.
Ward, Geoffrey C., and Ken Burns. Baseball: An Illustrated History. New York: Alfred A. Knopf, 1994.
Online

https://www.thediamondangle.com/archive/mar02/erskine.html
https://www.cmgww.com/baseball/erskine/community.html, "Carl Erskine-The Boys of Summer".
https://www.baseball-reference.com/e/ersica01.shtml – Carl Erskine
https://www.baseballlibrary.com/baseballlibrary/ballplayers/E/Erskine_Carl.stm – Carl Erskine.
Born
December 13, 1926 at Anderson, IN (USA)
If you can help us improve this player's biography, contact us.
http://dev.sabr.org/wp-content/uploads/2012/01/ErskineCarl-1952Topps.jpg
600
800
admin
/wp-content/uploads/2020/02/sabr_logo.png
admin
2012-01-04 20:03:23
2021-09-26 14:47:54
Carl Erskine