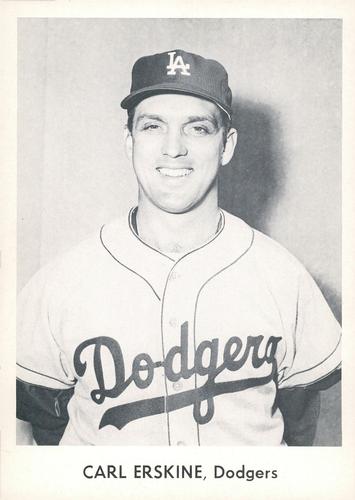 June 14, 1959: Carl Erskine hangs 'em up with Dodgers
---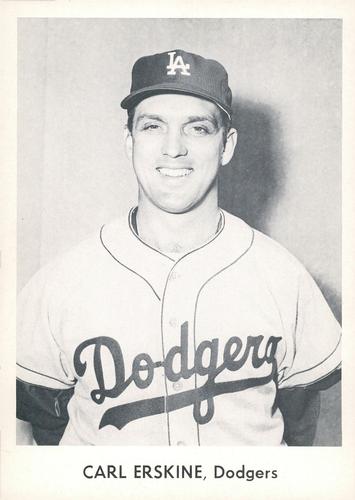 By 1959, after the Dodgers had been spirited off to Los Angeles, as far removed from Brooklyn as the expanse of the continental United States would allow, some of Roger Kahn's 1955 World Series-winning "Boys of Summer" were still in Dodger blue.1 Gil Hodges, Duke Snider, and Jim Gilliam were everyday position players, and Don Zimmer was also seeing a lot of playing time.2 Outfielders Sandy Amoros, 39, and Carl Furillo, 37, made cameo appearances. Roy Campanella, 36, had been set to make the move west with the team to for the 1958 season, but suffered a devastating career-ending injury in an automobile accident that January. Jackie Robinson had retired after the 1956 season. Pee Wee Reese had become a Dodgers coach.3
Among the pitchers from 1955, Johnny Podres was still only 26 years old and plugging away as a starter. Sandy Koufax, a 19-year-old spot starter in 1955, was becoming a rotation stalwart on his way to the Hall of Fame, and Roger Craig, another spot starter in 1955, was promoted from the minors in June 1959 and started 29 games.4 Clem Labine was still a steady bullpen presence.
Yet another one of the 1955 "Boys," starting pitcher Carl Erskine — "Oisk" to the Ebbets Field faithful who continued to pine for their beloved but departed Bums — was hanging on at age 32. From his debut in late July 1948 through 1956, the next-to-last Brooklyn season, Erskine had won 118 games in a Dodgers uniform. He started and won the Dodgers' first-ever game in Los Angeles in 1958. He had managed a 4-4 record in nine starts that year, but by 1959 was only a lingering shadow of the pitcher who had won in double digits from 1951 through 1956 and started seven World Series games during that span.5
Manager Walter Alston gave Erskine a home start against the San Francisco Giants in the Dodgers' 11th game of the 1959 season, his first appearance of the year. He had lasted only four innings, failing to retire any of the first three hitters in the fifth, and absorbed a 6-3 loss. The results were even more disappointing month later in his next start, against Cincinnati and his old Brooklyn teammate Don Newcombe, a 20-game winner for Kahn's "Boys," on May 20.
These less-than-stellar outings fueled speculation that Erskine might be jettisoned to make room for younger pitchers advancing through the Dodger system. But "if that is the way it is to break, he will have no regrets, no recriminations," a writer summarized after talking with Erskine. For his part, Erskine said, "Sentiment can't enter into this game. They've gone a long way with me, have been very patient, and have given me every chance in the world."6
Three weeks after Erskine's second start, the Dodgers pulled into Pittsburgh for a four-game series with the Pirates opening Friday night, June 12. Los Angeles was 30-27 and in third place in the still-eight-team National League, four games behind the Milwaukee Braves. The resurgent Pirates, losers of 92 games as recently as 1957, were just a half-game behind the Dodgers in fourth place. Los Angeles got some breathing room with a 9-6 win on Friday night, as Erskine notched his first save since July 24, 1955, with a 12-pitch ninth inning against the middle of Pittsburgh's batting order.
Los Angeles lost on Saturday and the first game of the Sunday, June 14, doubleheader. The Dodgers had now dropped behind the Pirates in the standings, but Alston showed confidence in his veteran by giving Erskine the ball. Pittsburgh's bucolic ballpark, Forbes Field, marking its 50th anniversary in 1959, held a warm memory for Erskine. On July 25, 1948, in the first game of a twin bill, he had pitched an adventurous seventh inning against Pittsburgh in his first major-league appearance, getting the pitcher-of-record win as Brooklyn erupted for four runs in the eighth to turn a two-run deficit into a two-run lead as Paul Minner and Erv Palica held the fort, 7-6.7
Now, 11 years later, Erskine was back on the Forbes Field mound trying to forget about his 6.35 earned-run average and use what remained of diminished skills to help the Dodgers avoid a three-game skid. Los Angeles got a single from Wally Moon in the first inning, but Pirates starter Vern Law struck out Snider to end a scoreless half-inning. Things looked promising when Erskine struck out the Pittsburgh leadoff hitter, Bill Virdon, but the Pirates feasted on his next 16 pitches. He gave up a tag-team cycle to Dick Groat (single), Danny Kravitz (double), Dick Stuart (home run) and former "Boys" teammate Don Hoak (triple), wrapped around a fly ball out by Bob Skinner and another single by Bill Mazeroski. Four runs were in by the time there were two outs, and Alston summoned Gene Snyder from the bullpen to get the last one — Roman Mejias on a groundball to third base.
Snyder went another three innings and Art Fowler and Koufax finished up with two each. Pittsburgh scored only one run against them — Stuart's second home run, leading off the fifth inning against Fowler. But Law limited Los Angeles to single tallies in the third and fifth innings to cruise, 5-2.8
The Dodgers limped back to Los Angeles in fifth place, 4½ games off the lead, to start a series against first-place Milwaukee the next night. They began rehabilitation of their season with a 4-0 win behind future Hall of Famer Don Drysdale.9
But it was without Erskine. The classy veteran saved the club the angst of debating demotion or release when he requested placement on the voluntary retirement list as soon as the team returned home. "I decided it would be the best for me personally, as well as for the ballclub," he said. "You know, the first day I joined the Dodgers I pitched against Pittsburgh and won. Now Sunday's game against Pittsburgh is probably my last. I felt I gave my arm plenty of time to come around, but it just wouldn't respond."10
The Dodgers made Erskine a special-assignments pitching coach, which included some major-league batting practice, for the rest of the 1959 season.11 He then went into life insurance, banking, college coaching at Anderson (Indiana) College (now University), and charitable fundraising, focusing on help for individuals like his fourth son, Jimmy, born with Down syndrome.12
The 1959 Dodgers rallied convincingly after their so-so start. Beginning with the shutout win against Milwaukee on June 15, and with Craig winning 11 games along the way, they went 55-38 to wear down and catch the Braves on the last day of the regular season, then took the first two games of a scheduled best-of-three playoff series to win the National League pennant.13
Advancing to the World Series, Los Angeles was shut out by the Chicago White Sox 11-0 in Game One at Comiskey Park on October 1; they lost another shutout, 1-0, at home on October 6 in Game Five. But when they scored, they won, taking Games Two, Three, Four, and Six, to win the Series, four games to two.
And although he hadn't been on their roster since June, the Dodgers honored Erskine, forever one of the "Boys of Summer," with his second World Series championship ring.14
Sources
In addition to the sources cited in the Notes, I used the Baseball-Reference.com and Retrosheet.org. websites for player, team, and season logs, and reviewed the following box scores for this game:
baseball-reference.com/boxes/PIT/PIT195906142.shtml
retrosheet.org/boxesetc/1959/B06142PIT1959.htm
Notes
1 Roger Kahn, "The Boys of Summer" (New York: Harper & Row, 1971).
2 Snider, however, was now playing right field. Rookie Don Demeter was in center field.
3 Harry Cronin, "From Immy Circle to Coach's Box." New York Daily News, March 22, 1959: 33.
4 Erskine recalled in an interview for the SABR Oral History Project that Roger Craig replaced him on the roster. E. Walter Langford, "Carl Erskine," SABR Oral History Project, May 8, 1987, oralhistory.sabr.org/interviews/erskine-carl-1987/.
5 Erskine pitched two career no-hitters, both at Ebbets Field — against the Chicago Cubs on June 19, 1952, and against the New York Giants on May 12, 1956. He struck out 14 New York Yankees, also at Ebbets Field, on October 2, 1953, in Game Three of the 1953 World Series, winning 3-2.
6 Harold Rosenthal, Herald Tribune News Service, "No-Hitter Erskine near Finish Line," Edmonton (Alberta) Journal, May 6, 1959: 8.
7 Veteran Pittsburgh baseball writer Les Biederman summed it up in a sidebar to his game story: "Carl Erskine, in his first major league game, got credit for the opener, but he'll never win a luckier one. He walked two men [including the opposing pitcher to open the inning], had two line drives caught, and one drive was turned into a double play starting in the outfield." Pittsburgh Press, July 26, 1948: 16.
8 The Pirates were winning despite the absence of their emerging superstar, Roberto Clemente. He went on the disabled list on May 25 with a right (throwing arm) elbow injury that had continued to worsen. He was hitting .257 when he went on the disabled list. His first start after reinstatement from the list was July 9; he played regularly the rest of the season. Over 70 games after returning, Clemente hit .316 with 18 extra-base hits and 36 RBIs. He finished the season at .296.
9 Drysdale had joined the Dodgers as a 19-year-old in 1956, missing the "Boys" season. He was 5-5 in 12 starts in 1956.
10 Jim Galbraith, "Erskine Retires from Game," Pasadena (California) Independent, June 16, 1959: 17.
11 Erskine recalled pitching batting practice to Maury Wills when Wills was promoted to the majors in 1959. Langford/Erskine, SABR Oral History.
12 Bob Hurte, "Carl Erskine," SABR Baseball Biography Project, sabr.org/bioproj/person/2af3b16d.
13 Greg Erion, "Dodgers Win First Game of 1959 NL Playoff behind Larry Sherry's Strong Relief," SABR Baseball Games Project, sabr.org/gamesproj/game/september-28-1959-braves-lose-first-game-1959-tie-breaker-playoff-dodgers. That game was played in Milwaukee. The Dodgers won 6-5 in 12 innings the next night back in Los Angeles on a walk-off single by Furillo, playing his 15th season in a Dodgers uniform.
14 Joseph Dynlacht, "Humming a Few Bars with 'Oisk,' aka Carl Erskine," Sports Collectors Digest, posted May 2, 2013, sportscollectorsdigest.com/humming-a-few-bars-with-oisk-aka-carl-erskine/.
Additional Stats
Pittsburgh Pirates 5
Los Angeles Dodgers 2
Game 2, DH
---
Forbes Field
Pittsburgh, PA
Box Score + PBP:
Corrections? Additions?
If you can help us improve this game story, contact us.
Tags
https://sabr.org/sites/default/files/ErskineCarl-1959.jpg
600
800
admin
/wp-content/uploads/2020/02/sabr_logo.png
admin
2019-08-21 16:30:04
2020-04-17 10:22:34
June 14, 1959: Carl Erskine hangs 'em up with Dodgers