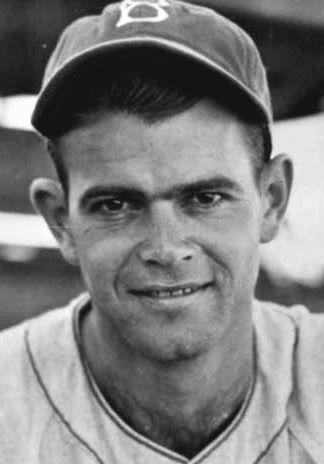 ---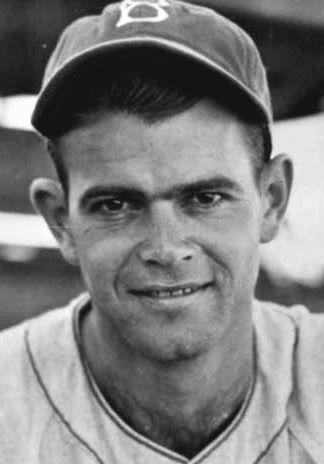 Pitcher Chet Kehn (pronounced keen) appeared in just three games for the Brooklyn Dodgers in April and May 1942. He got no decisions and posted a 7.04 ERA. Yet he holds a distinctive position in baseball annals, being one of just 10 big leaguers to hit 1.000 in a career of more than one at-bat.1 His debut with Brooklyn on April 30, 1942, lasted only four innings — but at the plate he walked and then singled twice. Those proved to be the 19-year-old's only plate appearances in the majors, though he played on in the minors through 1950.
Chester Lawrence Kehn Jr. was the only son of teenagers Chester L. and Lula A. (Kirkland) Kehn. He was born in San Diego on October 30, 1921. His father had left school by age 16 to work as a ranch hand. In the coming years he would hold many jobs, including delivery driver for a gas plant and electrician for the San Diego Gas & Electric company.
Kehn Sr. loved baseball. He conferred his passion and knowledge on Chet, who later listed his father as the biggest influence on his career.2 Kehn claimed they played ball even before the little boy could stand. "When I could first set up my dad used to pitch to me."3 Not surprisingly, Chet was a catcher in his early days on the sandlots.
Young Kehn learned his baseball on the sun-drenched ballfields of San Diego. Right-handed all the way, he found himself teamed with lefty Al Olson at San Diego High School. The pair dominated teams in the area and led the school to its seventh Southern Division title of the California Interscholastic Federation in 1937.4 They played American Legion ball together that summer.
Kehn burst onto the national baseball scene when he led his San Diego Legion team to the national championship in the summer of 1938. By that time Olson, who went on to a lengthy career in the Pacific Coast League, was too old for Legion ball. That left Kehn as the undisputed ace of the staff. Post 6 captured the state flag and went on to regional competition, where Kehn threw a two-hit shutout against Ogden, Utah, and struck out 17.5 The team moved on to the Western sectional in North Dakota, where Kehn led his team to a 7-5 victory over Okemah, Oklahoma.6
San Diego earned the right to face Detroit in a best-of-three semifinal series. Detroit was led by the strong pitching of Hal Newhouser. In Game One, Newhouser tossed a three-hitter and ran his scoreless streak to 65 innings with a 4-0 win.7 San Diego won the next match, setting up a rematch between Chet and Newhouser. Kehn led his team to the title in the third game with a 2-1 victory.8
The win sent Post 6 to Spartanburg, South Carolina, and a best-of-five versus the hometown team. The first game was called because of darkness. Spartanburg took the next and San Diego the third. Kehn's bat sparked a San Diego victory in Game 4. He had two singles, a double, and two RBIs in the 10-2 win.9 Kehn closed out the series the next day with a 4-1 win. He struck out 10 and allowed four hits. He was opposed by Charles Cudd, who pitched Class D ball after World War II.
Thomas G. Downey originally scouted Kehn for Brooklyn, and Howie Haak signed the young pitcher not long after his 17th birthday.10 The Dodgers paid him $5,000, a hefty bonus for the time.11
Brooklyn originally assigned Kehn to the Pine Bluff Judges in the Class C Cotton States League.12 In mid-April he was shifted to the Dayton Wings in the Class C Middle Atlantic League. He was touted by Dodgers President Larry MacPhail as "one of the three best prospects in the organization."13
Kehn's best pitch was his curveball. He had developed strong fingers by constantly squeezing sponge balls. His right wrist could snap the ball because he had used a rowing machine to develop strength. He used a three-quarters delivery to righties and came over the top to lefties.14 Early in his career he had quite a fastball but a bout with a dead arm diminished his speed.
The Wings held spring training in Paducah, Kentucky, in 1939. Kehn saw his first action playing third base in a game in Owensboro, Kentucky. He had two hits. His first regular-season action came on May 3 at Springfield, Ohio. He tossed three scoreless innings of relief in an 8-5 loss. Proving his versatility, he played shortstop the next day and then left field.15
The youngster made an immediate impression on fans, teammates and the writers. He had "a burning love for baseball and … plenty of confidence in his ability. He also has a grand sense of humor which makes him very popular."16 His confidence could be misconstrued at times. One writer even labeled him the "pop-off guy" because of his propensity to highlight his talents in any conversation. But the same writer was quick to mention that he could back up his bravado and that he had "guts."17
Kehn was used primarily as a relief pitcher in his first season. He made 28 appearances with a 3-4 record and a 5.82 ERA. He also made 19 appearances in the field, posting a .205 batting average. That winter he returned to California and played in a winter league for a team called the Brooklyn Juniors. His toughest opposition came from pitcher Ray Hathaway, a Wings teammate.
In 1940 the Wings held spring training in Macon, Georgia. Ted McGrew, the Dodgers' head scout, touted Kehn as a definite talent who needed "seasoning to make him a big-league performer."18 Kehn got his first start on the hill on May 7 in Canton against the Terriers. His control was far from sharp — he walked nine — yet his pitch mix kept Canton bats quiet. He allowed only five hits and coaxed numerous groundballs (Dayton had 20 assists and turned three double plays) in an 11-inning, 2-0 win.19
One of Kehn's favorite performances came on June 2 against the Akron Yankees, when he earned the victory in both ends of a doubleheader. He tossed a scoreless 14th inning in the opener, then saw his teammates win the game in the home half. In the nightcap he went six innings in relief, allowing a single run. Wally Westlake won it with a double in the bottom of the 10th.20 The story of that day grew like a fisherman talking about his catch (or the one that got away). Kehn told one writer that he had hurled 16 innings of relief rather than seven.21
On July 22, 1940, Kehn's contract was sold to Class A Elmira for $4,000.22 At the time of the sale, he had a 9-6 record and a team best 1.299 WHIP. Elmira had just lost pitcher Ed Head to Brooklyn and looked to Kehn as a replacement for its pennant drive. But the Eastern League hitters were not intimidated by Kehn and he struggled to a 2-5 record.
Kehn was promoted to Montreal in the International League for the 1941 season. He teamed with Head to form the backbone of the Royals pitching staff. Head won 18 and led the team in strikeouts. Kehn won 16 and led the squad with a 3.26 ERA and a 1.30 WHIP. He also met lifelong friend Alex Kampouris that year.
The Royals finished second in the regular season and faced Buffalo in the first round of the playoffs. Kehn had been suffering with a sore back and had to leave Game Two in the second inning. He was hospitalized for treatment in Montreal and his future was in question.
The Royals took the series four games to three and moved on to face the first-place Newark Bears. Kehn left the hospital in time to face the Bears in Game Four. He "threw a seven-hitter at the Bears and emerged with a 5-2 victory as 10,064 cheered his every move," wrote a Montreal journalist.23 He started Game Seven, but lasted only into the second inning. The Royals rallied for a 4-3 win.
The victory earned the Royals a place in the Junior World Series versus the Columbus Cardinals. The series was a slugfest that went six games. Because of the back problems, Kehn was used only in relief and picked up the 9-6 win in Game Three.
Game Six could clinch the title for Columbus, but the Royals were nursing an 8-5 lead in the ninth when Kehn was brought in with two men on base and one out. He coaxed a fly ball to center field by Hugh Poland, but Jake Powell dropped the ball, making the score 8-6.24
Now Kehn faced the Cardinals' leading hitter, Harry Walker. Walker was batting .357 in the series and had hit two home runs. In an epic battle, Walker fouled off seven straight pitches with the count 2-and-2. On the 12th offering, Walker sent a Kehn curve "flying over the fence."25 Columbus won the game, 9-8, and thus the series. Kehn finished 1-1 with a 12.60 ERA. In keeping with his tendency to exaggerate, he later claimed that it was 16 or 17 pitches to Walker.26
The Brooklyn press corps was impressed with Kehn when the Dodgers assembled in Havana, Cuba, in the spring of 1942. Under orders from the team, Kehn had not played winter ball. Instead he honed his golf and bowling skills to maintain conditioning. Scout McGrew proclaimed that Kehn's curveball was better than that of veteran AL star Tommy Bridges.27 Kehn cemented his place on the Opening Day roster with a six-inning stint versus the Cincinnati Reds on March 22. "The slender cocky stripling from San Diego … shut out the Reds without a hit," a sportswriter noted. "It was 18 up and 18 down."28
Kehn was assigned number 34 and added to the bullpen staff. In 1980 he told a writer his first appearance was "in the Polo Grounds. … I was going to face Mel Ott. … The bullpen was about 400 feet away and as a kid 18 walking that far to the pitcher's mound with 50,000 fans booing, I was scared."29 The story ends with Pete Reiser making a running catch to save the day. It's a tremendous tale, but none of it is true. He never even played in the Polo Grounds or faced the Giants. Kehn could spin very believable whoppers and was fond of doing it.
Kehn's first major-league appearance was a start in Cincinnati on April 30 in front of about 2,600 fans. He was matched against Reds veteran Paul Derringer. Kehn surrendered a run in the first before settling down to retire the next eight batters. In the fourth he surrendered a single and then a home run to Frank McCormick to put Cincy ahead, 3-0.
Kehn had walked in his first at bat; he led off the fifth with a single. He scored on Reiser's single, which helped open the floodgates against Derringer and reliever Gene Thompson. Kehn came up a second time with two outs and the bases loaded. He again delivered a base hit and drove home a run. The inning ended with the Dodgers ahead 6-3.
Kehn took the hill for the fifth inning and promptly surrendered a home run to Ray Lamanno and then a single to his pitching opponent, Thompson. He lost the chance for a win when manager Leo Durocher went to the bullpen. Three relievers then issued four walks, hit a batter, and surrendered a single, leading to a Reds' 8-6 lead. Dolph Camilli rescued the Dodgers with two home runs for an 11-8 victory.
The game proved to be Kehn's only start in the majors. On May 2 he pitched in relief in a loss in Pittsburgh. On May 12 he tossed a scoreless inning against the Reds at Ebbets Field. Between those appearances he was involved in an incident on May 3 in a game with the Cardinals. Umpire Ziggy Sears expelled both managers and four Dodgers, including Kehn, who was fined $25 by the league office for profanity.30
Kehn and two others were sent to Montreal on May 22. He made his first start for the Royals on May 24 and lost 4-0 to Buffalo. He tossed 10 complete games and posted an 8-8 record as the Royals finished second. A one-hitter versus Toronto was his best performance. Kehn's outstanding hitting continued north of the border. In late June he was batting .400. A month later he was at .355. He closed out the season with a .268 average.
The Royals lost to Syracuse in the playoffs. Kehn did not fare well in his appearances but gave no excuse, simply saying, "I didn't have my stuff and I couldn't get the ball in there."31 He returned to California for the winter. In March he sent word to the Dodgers that a draft notice was imminent. He joined the Army Air Corps on March 30 and served 34 months before his discharge on January 20, 1946.
Kehn spent 18 months stateside. In the spring of 1945, he was stationed in Utah and played some semipro baseball in the Salt Lake City area.32 In June his unit was shipped out to the Pacific Theater. He was a crew chief on a B-17 bomber and earned two battle stars. He mentioned on his Hall of Fame questionnaire that there was a crash landing in a bomber but gave no details.
Kehn was stationed in Honolulu, then the Marianas, Iwo Jima, and Saipan. When the fighting halted, there was time to play ball; his unit included Sid Hudson, Tex Hughson, and Mike McCormick.33 After being discharged as a private first class, he prepared for spring training. He mentioned to reporters that he had injured his arm in the service.
Kehn spent 1946 with the Montreal Royals and watched Jackie Robinson make the first steps toward integrating baseball. Robinson led the league with a .349 average and the Royals captured 100 games to claim first place. Kehn made 11 starts and 23 relief appearances on his way to a 12-7 record, which tied him for second in wins on the staff.
Montreal defeated Newark and Syracuse to capture the league title, and in his second Junior World Series (this time against the Louisville Colonels), Kehn fared much better. He won Game One despite some struggles early, picked up a win in relief in Game Four, and then sparkled in relief in Game Five. The Royals took the crown in six games.
Kehn returned to Montreal in 1947, again as a swingman, posting a 9-9 record. The Royals finished second but were swept by Syracuse in the first round of the IL playoffs.
Kehn spent the next two seasons as player-manager of the Santa Barbara Dodgers in the Class C California League. His squad finished third in 1948. Kehn struggled on the hill but still won 10 games despite posting a team-worst 5.32 ERA. His hitting was another story. He occasionally played the infield and batted .368 with a career-high eight doubles and his only professional home run. On June 8 versus Stockton he drove in four runs on a double and two singles while playing second base.34 Santa Barbara captured the league flag with wins over Fresno and Stockton in the playoffs.
Kehn played winter ball and then welcomed a new crop of players for Santa Barbara. Now 27 years old, he suddenly performed as if he were a teenager again. He spun two shutouts in early May; by early June he led the league's hurlers with a 7-1 mark.35 Santa Barbara finished out of the playoffs, but Kehn posted a 16-10 record and batted .304 in a career-high 112 at-bats.
Brooklyn executives asked Kehn to join the Hollywood Stars for their run to the Pacific Coast League pennant. He made two scoreless relief appearances and worked as bullpen coach as the Stars captured the league title. He played briefly with the Stars in 1950 but spent most of the year on assignment for Branch Rickey, who was now with Pittsburgh. Chet's job was to coach and manage on an interim basis. He was also pressed into service on the mound. He made stops in Elmira, Pueblo, Colorado, and St. Paul.36
Kehn left baseball after the 1950 season and went into the insurance business in California. He had married Joan Marie Koppell on August 1, 1946, in White Plains, New York.37 The couple had two daughters, Candice and Barbara. Kehn honed his golf game and entered various amateur contests that pitted him against future pros Billy Casper and Gene Littler.38 He and Joan divorced, and Chet moved back to the New York area.
He held several jobs in subsequent years, including lumber-yard foreman, bartender, and club manager. Notably, he served as batting-practice pitcher for the Dodgers for their last three seasons in Brooklyn (1955-57). "I'd pitch 40 minutes, take a shower and go home," he told a newsman.39 In 1955 he was voted a cash award out of the Dodgers' winning World Series share.40
Chet befriended a former Broadway actress named Susan Johnson. He helped her through a difficult period in her life and when he suffered a heart attack, she realized how much she cared for him. She said, "What the hell. Let's go for it." The couple married a short time later.41 Susan had suffered a severe head injury and was advised not to have children. Nevertheless, the couple welcomed one daughter, Corianne, in 1965.
The family moved back to California the next year and Kehn went to work for Handyman hardware stores. He served as a store manager near their Santa Rosa home. He continued his connection with the company when they moved to the Citrus Heights area near Sacramento. From there he took over at a store near San Diego.
Kehn had managed Dick Williams in 1948 at Santa Barbara. In 1984 Williams was managing the San Diego Padres and Kehn went to the game against Pittsburgh on April 5. He suffered a massive heart attack while at the game and died.42 He was buried in Mount Hope Cemetery in San Diego. He never fulfilled his ambition to pitch in the World Series, but his baseball memories (both real and embellished) lasted a lifetime.
Acknowledgments
Unless otherwise noted, team records come from the First Edition of The Encyclopedia of Minor League Baseball.
This biography was reviewed by Rory Costello and Len Levin and fact-checked by Alan Cohen.
Notes
1 Eight other men have posted the same 2-for-2: Frank O'Connor (1893), Mike Hopkins (1902), Doc Tonkin (1907), Hal Deviney (1920), Fred Schemanske (1923), Steve Biras (1944), Jason Roach (2003), and Esteban Yan (2000 and 2003). The major-league record of 3-for-3 for a career belongs to John Paciorek (1963).
2 Ancestry.com. Last accessed August 16, 2019.
3 Harold Boian, "Kehn, Meyer, Making Wings Colorful Ball Club," Dayton (Ohio) Daily News, May 13, 1939: 6.
4 "San Diego Tops Excelsior to Nab Prep Diamond Title," Los Angeles Times, June 6, 1937: 13.
5 "San Diego in Legion Final," San Francisco Examiner, August 14, 1938: 39.
6 "San Diego Legion Team Takes Title," San Francisco Examiner, August 22, 1938: 18.
7 "Junior Teams Meet Today in Semi-Final Tilt," Santa Cruz (California) Evening News, August 26, 1938: 11.
8 "San Diego Juniors Defeat Detroit, 2-1," Los Angeles Times, August 30, 1938: 29.
9 "San Diego Nine Routs Rivals," Los Angeles Times, September 4, 1948: 23.
10 Atlee Horner, "Brooklyn Mates Recalled," Sacramento Bee, October 10, 1980: 23.
11 Ibid.
12 Harold Boian, "Wings Still Trying to Play Their First Game," Dayton Daily News, April 19, 1939: 21.
13 "Highly-Touted Rookie Pitcher to Join Wings," Dayton Herald, April 19, 1939: 16.
14 Hy Turkin, "Kehn Dodger Sensation; Has Great Curve Ball," New York Daily News, April 2, 1941: 221.
15 Harold Boian, "Reds Back on Top, Wings Take Opener," Dayton Daily News, May 7, 1939: 37.
16 Harold Boian, "Chet Kehn Has Great Confidence in Himself," Dayton Daily News, May 14, 1939: 39.
17 Bob Frame, "Chet Kehn, Tops in Self-Praise, Certain to Make Wings' Squad," Dayton Journal Herald, March 17, 1940: 14.
18 Bob Frame, "Wings to Train Squad at Macon Base," Dayton Journal Herald, January 21, 1940: 12.
19 "Terriers Defeated in 11th Frame, 2-0," Akron Beacon-Journal, May 8, 1940: 22.
20 "Wings Take Overtime Double Bill from Yanks," Dayton Herald, June 3, 1940: 14.
21 Turkin.
22 "Chet Kehn Sold to Elmira Club for $4,000; Reports at Once," Dayton Herald, July 23, 1940: 11.
23 Harold McNamara, "Kehn Comes Back from Sick List to Stop Bears in Saturday Game," Montreal Gazette, September 22, 1941: 16.
24 Owen Griffith, "Columbus Victor on 5-Run Ninth, Walker's Homer Capping 9-8 Win," Montreal Gazette, October 6, 1941: 1, 20.
25 Bob Bailey, History of the Junior World Series (Lanham, Maryland: Scarecrow Press, 2004), 177-184.
26 Dana Mozley, "Kehn, Ex-Dodger, Enters Ike Golf," New York Daily News, July 27, 1955: 64.
27 "Kehn's Curve Likely to Prove Equalizer," Brooklyn Daily Eagle, February 25, 1942: 15.
28 Tommy Holmes, "Wyatt Faces Stiff Conditioning Grind," Brooklyn Daily Eagle, March 23, 1942: 11.
29 Horner.
30 "Durocher, Dodgers Are Fined by Frick," Montreal Gazette, May 5, 1942: 16.
31 Dink Carroll, "Playing the Field," Montreal Gazette, September 17, 1942: 16.
32 John Mooney, "Sports Mirror," Salt Lake Telegram, March 5, 1946: 12.
33 Gary Bedingfield, Baseball in Wartime blog. baseballinwartime.com/player_biographies/kehn_chet.htm. Last accessed August 20, 2019.
34 "Box Scores," Bakersfield Californian, June 9, 1948: 24.
35 "Quinn Leads Cal League Hitters with .367 Mark," Oxnard (California) Press Courier, June 10, 1949: 11.
36 Horner.
37 "Mrs. Burnham to Wed," Journal News (White Plains, New York), July 30, 1946: 5.
38 "Casper Bags Medal in Border Play," Los Angeles Times, July 9, 1951: 63.
39 Horner.
40 "Thirty Dodgers Get $9,768.21," Palm Beach Post (West Palm Beach, Florida), October 7, 1955: 18.
41 Pierre Bowman, "A Hard Knock Life That's Coming Up Roses," Honolulu Star Bulletin, October 4, 1984: B-1, B-9, B-10.
42 Bowman.
Born
October 30, 1921 at San Diego, CA (USA)
Died
April 5, 1984 at San Diego, CA (USA)
If you can help us improve this player's biography, contact us.
https://sabr.org/sites/default/files/Kehn%20Chet.jpg
600
800
admin
/wp-content/uploads/2020/02/sabr_logo.png
admin
2019-10-22 12:17:46
2020-04-09 14:37:29
Chet Kehn