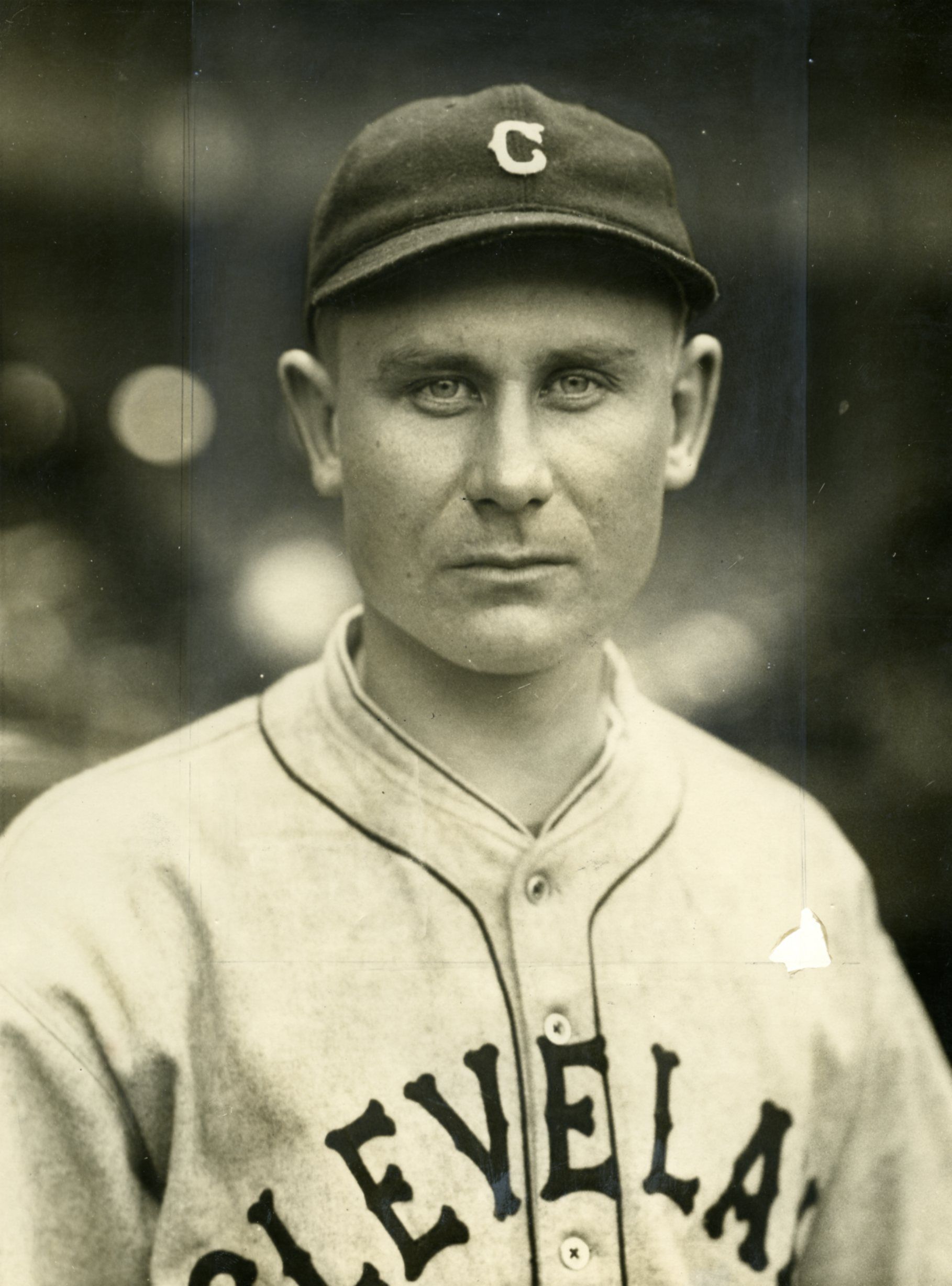 ---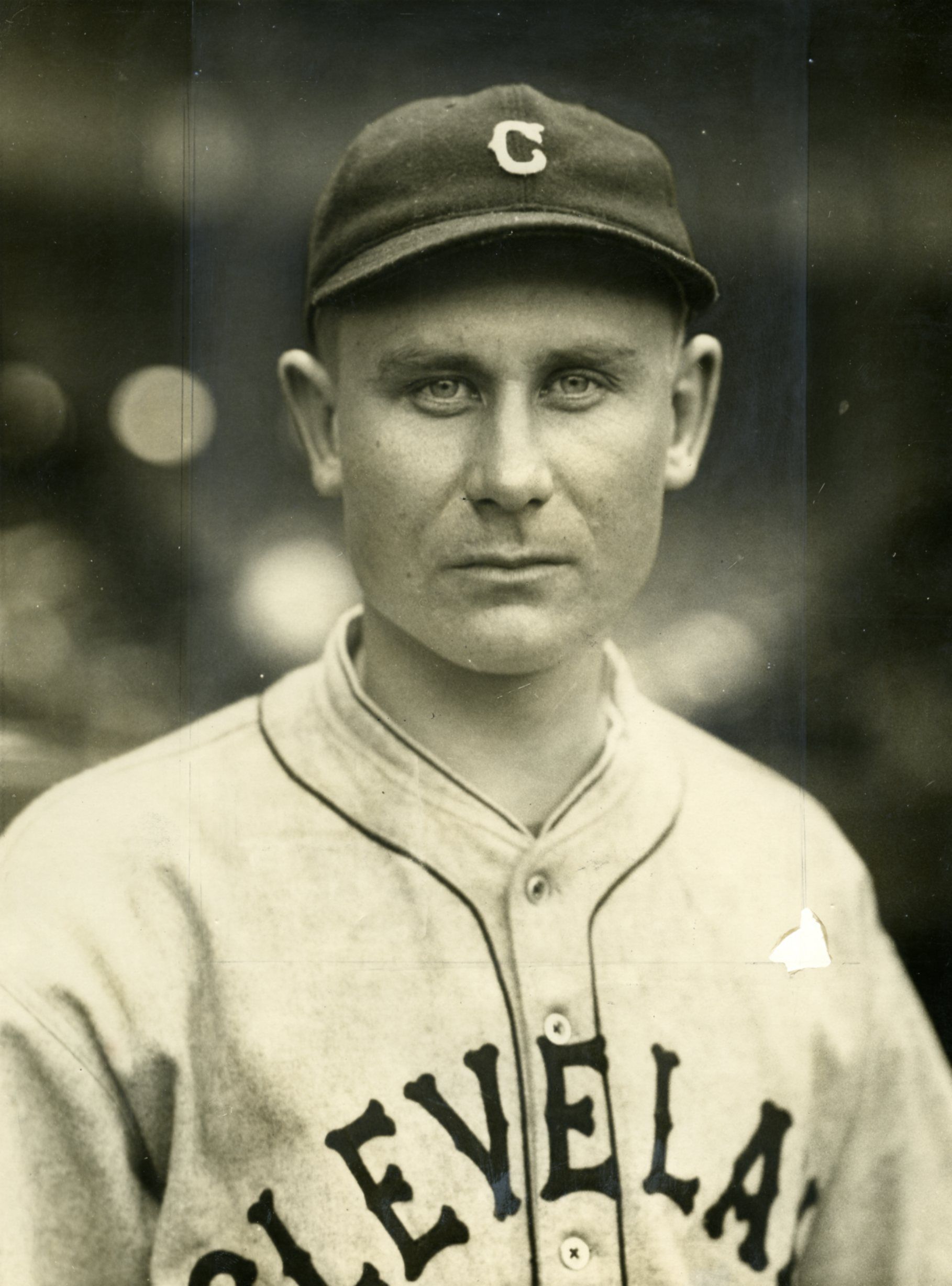 Our younger readers might not realize there was a time when the baseball owners intentionally scheduled doubleheaders and fans could see two games for the price of one. More amazing to 21st century fans is that in those doubleheaders both starting pitchers might toss complete games. On rare occasions a pitcher might even start and finish both games. Hall of Famer Joe McGinnity gained fame in 1903 when he pitched complete game victories in each end of doubleheaders on August 1, August 8, and August 31.1
Twenty-seven National League pitchers joined McGinnity and tossed two complete-game wins in a double bill. Nine American League hurlers also turned the trick. The last man to accomplish the feat was Cleveland rookie Emil "Dutch" Levsen, who defeated the Boston Red Sox, 6-1 and 5-1, on August 28, 1926.
The Indians were trying to hang on in the pennant race (Yankees were up by 8.5 games) when Levsen took the mound on August 28. The 28-year old rookie had a good fastball and an even better curve. He had struggled in August and lost his last four starts by surrendering a total of 21 runs. The BoSox were in last place and presented a line-up with only one .300 hitter, Baby Doll Jacobson.
If Levsen had fielded his position better, he might have had a shutout in the opener. In the second inning he was slow to cover first on a grounder to first baseman George Burns. After an infield hit, he was hesitant on fielding a bunt which went for a hit that loaded the sacks. A sacrifice fly brought in Boston's only run.2
Between games, Burns ribbed Levsen and supposedly said, "Pitch the second game, Emil, and I'll buy you the best hat in town."3 Dutch asked manager Tris Speaker if he could start the second game. George Uhle was slated for duty that day, but Speaker accepted Levsen's offer to go in the second game.4 Levsen nearly duplicated the first game, allowing four hits and a run. This time he walked two (only one walk in the opener) without any strikeouts. He avoided any fielding gaffes and contributed an RBI single. The Yankees lost to Detroit, drawing the Tribe to within seven.
Years later Levsen reflected upon his achievement. He said, "My theory is this. Any professional in any sport should have one lucky afternoon and I had it. My control was almost perfect and I had excellent support from my teammates. The fact I did not strike out anyone proves that."5
Emil Henry Levsen was born on April 29, 1898, on the family farm in Wyoming, Iowa, about 40 miles east of Cedar Rapids. His father, Peter C. Levsen, was born in Schleswig Holstein, Germany, and emigrated to America. By 1876 he was farming in Iowa. In 1890 he married Louisa Helen Rick. The couple had four children; Emil was the third child and second son.
The children attended school in Wyoming. Education was important to the family and the children all completed high school. Levsen learned his baseball on the farm and in the schoolyard. His older brother Paul was a good athlete and pitched for the town team in the summers. Emil played on the town teaming starting when he was 16. He played third base and batted eighth.
Emil played baseball for Wyoming High. Getting a team together was a bit of a challenge with only five boys in his grade, but they managed, His older sister Hettie graduated from Grinnell College and Emil made the 150-mile trek west to Ames to attend Iowa State University (aka Iowa Agricultural College). The Cyclones scheduled 15-20 games against Iowa colleges and state universities in Kansas, Missouri and Nebraska. Levsen played shortstop 1917-1919. The highlight of his 1918 season was a grand-slam home run versus Coe College on May 9. He missed two months of class time in the fall of 1918 when he served in the Army.
The 1919 team won the Missouri Valley Conference championship by sweeping a doubleheader from Kansas University on the final day of the season. The Cyclones won the opener, 4-0. The nightcap was tied, 4-4, when Levsen came to the plate and launched a walk-off, two-run homer. Earlier in the season he had saved the Cyclones from a loss to Notre Dame by hitting a three-run homer to tie the game, 5-5, in the ninth. It was called after 13 innings still tied.
Levsen graduated with a degree in animal husbandry. He joined his brother in a cattle business and, in the summers, played baseball for a variety of teams. In 1921 he played for a team in Monticello, Iowa. He first took the mound with them, no doubt with some direction from his brother Paul. Soon he was in demand as a pitcher and found that he could get $20 a game as a hurler, but only 5 or 10 as a shortstop.6 He gained quite a reputation as a pitcher in a very short time.
In 1923 he had a tryout with Rockford in the III League. He was hoping to make the roster as a third baseman and supposedly never discussed pitching with them. When they declined to sign him, he joined the town team in Maquoketa, near his home in Wyoming.
In his first three starts he fanned 39 while walking only two and not allowing a run.7 He threw an overhand curve that had a quick break. At 6 feet and 180 pounds, he had plenty of power in his right arm to snap off pitches. He closed out his time with Maquoketa on June 17 by tossing fourteen innings against the Dubuque Studebakers before hitting the game-winning home run. A few days later he signed with the Cedar Rapid Bunnies in the Class D Mississippi Valley League.
Levsen won his first two starts and when league stats were published on July 14 he was hitting .353 and had a 5-1 record.8 He had off-days, once walking 10 Marshalltown batters, but his teammates bailed him out with 26 runs. His won-loss record climbed to 10-2 when the Cleveland Indians paid Cedar Rapids $3000 for his services after the season.9 In his next start Levsen threw an 18-inning four-hitter and won, 2-1.10 He closed out the season 19-4 and led all pitchers in All-Star voting.11 The Bunnies finished in third place.
Levsen joined the Indians and debuted in Detroit on September 28, 1923. The Tigers had unloaded on four Cleveland pitchers for 17 runs. Levsen tossed the final two innings, allowing one hit. He grounded to third in his only plate appearance. In the field he had three assists including tossing out Ty Cobb to end the eighth. He made two more scoreless appearances, including his debut in Cleveland on October 6. He stayed in shape that winter by playing basketball as he had the previous couple of winters.
Tris Speaker brought 18 pitchers to camp in 1924. Eight veterans were likely to retain their spots, leaving two slots to be filled. Levsen handled his early assignments well, but on March 27 he was bombarded by the Dodgers. Unable to control his curve, he walked five and allowed five hits in three innings. Despite the poor showing he made the opening day roster. He suffered his first defeat on May 7. As the third Tribe pitcher in a wild contest, he allowed the Browns four runs in the fifth inning to cement their 10-8 win. In June he was farmed out to Terre Haute in the III League.
The Tots welcomed Levsen, who paired with lefty Jake Miller to give the pitching corps a strong one-two punch. Levsen started slowly and dropped five of his first six decisions. In July and August, he blossomed and finished at 14-8 for the first-place squad. Miller finished at 16-8 and was named first team all-III League. Levsen earned second team honors.12 He was recalled by Cleveland and beat the St. Louis Browns, 12-1, on September 27 in his only appearance.
With the snow flying and spring camp still a month away, writer Henry P. Edwards pronounced Levsen a certainty to make the 1925 roster.13 Dutch joined the first contingent in Lakeland, Florida, and was soon showing off his new side-arm delivery for coach Harry Mathews. By mid-March Edwards was back-tracking on his comments. Levsen had been bombed in pre-season appearances and was complaining of pain in his arm.
While in Florida, Levsen had his elbow examined by doctors. He was cleared to pitch and joined the team when they went north. By early May he still was unable to take the mound in game action and was one of a trio of players sent to see Bonesetter Reese in Youngstown, Ohio.14 Reese found no permanent damage in Levsen's elbow.
On May 30, Tribe pitching was hammered for 22 runs by the Tigers in a doubleheader. Levsen was given his first opportunity of the year. Walking three and surrendering two hits, he was charged with four runs in the nightcap. A few days later he packed his bags for Rochester in the International League.
He debuted with Rochester on June 8 in a 3-2 loss to Providence. Cleveland later sent pitcher Carl Yowell to Rochester and manager George Stallings used a five-man rotation for the remainder of the season. Levsen tossed a shutout against Syracuse on July 27 in his best appearance. Rochester finished in third place after a strong second-half performance. Levsen closed out the year 14-9. He had overcome the elbow troubles and was ready for a return to the majors.
Early in spring training, Levsen was given light duty. Manager Speaker hoped to avoid any issues with the elbow. The decision was made for Levsen to switch from side-arm to the overhand delivery he had used prior to 1924. He passed his first test on March 18 when he tossed three innings against the Giants. He looked better in his second outing when he tossed five shutout innings at the Braves.
Levsen continued to pitch well in the spring and cemented his spot in the rotation. Ace George Uhle pitched every fifth day. With off-days and rainouts, the rest of the staff filled in as needed. Levsen did not make his first start until April 24. He responded with 11innings in a battle with Earl Whitehill of Detroit. Despite allowing 14 hits, Levsen won, 4-3, on a Luke Sewell single. His next outing came on April 29 when the White Sox drove him from the game after five innings in a 7-3 loss.
In May and June, he took his regular turn in the rotation with mixed results. His best game was a two-hitter versus the Yankees, but he lost, 2-1. Heading into the July heat, his record stood at 6-7. As the summer heated up, so did Levsen. He had five consecutive complete game wins including back-to-back shutouts on the road over the Senators and Athletics. The Indians pulled into second place behind the Yankees but were never able to catch them.
Levsen made six starts after his August 28 doubleheader double-win feat. He had two no decisions, two wins and two losses in that order. He closed out the season with a 16-13 record. He was second to Uhle in wins, innings pitched and strikeouts. When the season ended he returned to Iowa and married Marjorie Jeanne Bowers French on October 14. The couple had a daughter, Betty Jeanne. Marjorie would pass away in 1943.
In early February, Levsen left his bride and boarded the train with new manager Jack McCallister and others for a visit to Hot Springs, Arkansas. It was hoped that the warm baths would help prepare Levsen's arm for another successful season. He rounded into shape nicely and McCallister proclaimed he would pitch on the same schedule as Uhle. He split his first two decisions and had an ERA of 2.70. His next two starts came against the Browns, who hammered him for 10 runs in just four innings. His ERA rose into the fives and he lost his spot in the rotation.
His season took an odd twist on June 29. He started the first game of a doubleheader against the White Sox but was yanked in the first inning after two walks and two singles plated two runs. He was brought back in the second game in relief and pitched one and two-thirds innings of scoreless ball. On July 4 he faced the White Sox again and twirled a two-hit shutout. It proved to be his last victory in the majors. The shutout was followed by three starts; each of them worse than the previous one.
Experiencing arm trouble, this time in the shoulder, Levsen was sent to Dr. Knight in Rochester for treatment. He spent a week there before rejoining the Tribe.15 Levsen tossed 10 more innings before being shut down for the remainder of the season. In December he contacted scout Cy Slapnicka, who had an office in Cedar Rapids, Iowa, and told him the arm was responding to an exercise program and that he would be ready to go in the spring.
The arm may not have hurt, but Levsen was missing velocity and the sharp break on his curve. His work in the pre-season was spotty. Manager Roger Peckinpaugh took him north but did not send him into action until May 25. Five days later he took the loss to the Tigers when he surrendered a twelfth-inning run. In June he finally got a start in a 3-2 loss to Washington. Levsen left the game tied at 2-2, a miraculous feat since he walked nine and gave up six hits. His next two starts were losses to the White Sox, which closed the book on his major league won-loss mark at 21-26.
Levsen was sent to the bullpen where he mopped up in four July losses. The August 3 Plain Dealer announced he was optioned to New Orleans in the Southern Association. With the Pelicans he pitched 60 innings and posted a 2-4 record. He was placed on the voluntarily retired list in February 1929.
Levsen's playing days were over but not his involvement with baseball. He became the district director for American Legion Junior baseball. In 1934 he was appointed the head of Iowa's Legion program. During his tenure the program grew to 200 teams and 4,000 players. He held the job though 1939.
Following the 1928 season, his father-in-law had purchased the Springville Creamery in Springville, Iowa, which lies between Cedar Rapids and Wyoming. Levsen took over the management of the popular ice cream facility and eventually became the owner. He sold the Creamery in 1945 and entered the insurance business. He eventually became a marketing specialist for the United States Agriculture Department.
Levsen had an office in Cedar Rapids but was transferred to Cincinnati in the mid-1950s. There he met Maurine Christian. The couple got married on October 22, 1955. In 1959 Levsen was transferred to Minneapolis by the Agriculture Department. He died in Minneapolis of heart disease on March 12, 1972. His body was returned to Wyoming, Iowa, and placed in the local cemetery. Maurine died in 1974 and her remains were also interred in the Wyoming Cemetery.
Acknowledgments
This biography was reviewed by Norman Macht and fact-checked by David Kritzler.
Thanks to Michael Green in the Athletic Communications Department at Iowa State for discussing the Cyclone teams during Levsen's time.
Notes
1 http://www.baseball-almanac.com/feats/feats24.shtml Accessed September 29, 2018.
2 Henry P. Edwards, "Levsen Delivers Iron Man Stunt," Cleveland Plain Dealer, August 29, 1926: 24.
3 Mary Craig, "Dutch Levsen's Historic Feat and Meteoric Downfall," https://www.beyondtheboxscore.com/2017/6/3/15733542/dutch-levsen-indians-doubleheader-red-sox-american-history-1920s Accessed September 29, 2018. She was quoting Burns from the August 1986 Baseball Digest.
4 "Levsen Worthy Head of Baseball Program," Globe-Gazette (Mason City, Iowa), May 3, 1937: 7.
5 Joe Hennessey, "Levsen's Twin Bill Feat Unlikely of Repeat," Minneapolis Star, June 25, 1966: 12.
6 Henry P. Edwards, "Discovers Pitching Pays Better than Infielding," Cleveland Plain Dealer, February 3, 1924: 37.
7 "Local Semi-pro Baseball Stars of Past and Present," Quad-City Times (Davenport, Iowa), June 10, 1923: 27.
8 "Waterloo Second in Fielding and Last in Batting," The Courier (Waterloo, Iowa), July 14, 1923: 12.
9 "Levsen Gobbled up by Cleveland Club," The Daily Times (Davenport), August 4, 1923: 11.
10 "Cedar Rapids in 18-inning Victory Over Islanders, 2-1," Iowa City Press-Citizen, August 7, 1923: 11.
11 "Levsen and Jackson Draw Most Votes," Des Moines Register, September 9, 1923: 26.
12 "Picks Three-I Teams," The Pantagraph (Bloomington, Illinois), September 20, 1924: 10.
13 Henry P. Edwards, "Down the Sport Trail," Cleveland Plain Dealer, February 9, 1925: 16.
14 Stuart M. Bell, "Edwards to Return to Redskins Line-up; Macks Sure of Top," Cleveland Plain Dealer, May 11, 1925: 18.
15 Henry P. Edwards, "Indians to Load up with Rookies," Cleveland Plain Dealer, August 1, 1927: 16.
Born
April 29, 1898 at Wyoming, IA (USA)
Died
March 12, 1972 at St. Louis Park, MN (USA)
If you can help us improve this player's biography, contact us.
https://sabr.org/sites/default/files/LevsenDutch.jpeg
600
800
admin
/wp-content/uploads/2020/02/sabr_logo.png
admin
2018-11-20 12:37:16
2020-04-09 14:38:39
Dutch Levsen