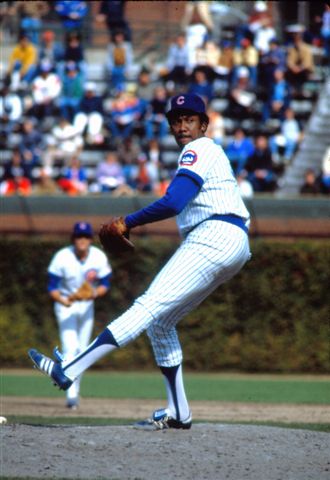 ---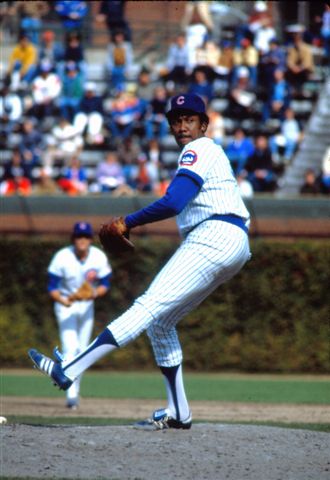 Ferguson Arthur Jenkins, Jr. was a dominant right-handed pitcher known for strikeouts, eleventh (through 2013) on the all-time leader list with 3,192. He is the only pitcher to have more than 3,000 strikeouts with less than 1,000 walks (997). While he pitched for the Philadelphia Phillies, Texas Rangers and Boston Red Sox, he is best known for his tenure with the Chicago Cubs from 1966-1973. In 1982-1983, he finished his career in a return stint with the Cubs.
Although many baseball records declare that he was born in 1943, Jenkins maintains that he was born on December 13, 1942. One of only two Hall of Famers to be born in Canada, he hails from Chatham, Ontario and is the only child of Ferguson Jenkins, Sr. and his wife Delores. The elder Ferguson, a chef, was descended from immigrants from the Bahamas. Delores' ancestors were slaves who escaped the southern United States via the Underground Railroad. His mother was tall at five feet ten inches, and Fergie grew to be six feet five inches tall.
During his school years, his natural athletic ability began to emerge. He tried several sports and excelled at most of them. In his years at Chatham Vocational High School, Ferguson chose to compete in track, hockey, and basketball, lettering five times. His mother objected to hockey after he got fourteen stitches in his head.
Fergie gained a love for sports from his parents who were also good athletes. His mother was an excellent bowler, and his father played semipro baseball with the Black Panthers, an all-black team. Ferguson, Sr. might have competed at the professional level had he played after Jackie Robinson broke the color barrier.
Ferguson played bantam baseball when he was a teenager. His long arms and lanky legs made him a perfect first baseman. He also honed his pitching by playing a boyhood game. Terry's Coal Yard was across the street from his house. Jenkins and his friends used to pick up pieces of coal or rocks and try to hit an ice chute when the rubber flap opened. The exercise involved both accuracy and timing, but wasn't exactly appreciated by the owner, who called Ferguson, Sr. to complain.
When Ferguson and his buddies were not aiming at the ice chute, they took aim at passing boxcars – not to hit them, but to time their throws so their rocks would pass between the cars or enter open boxcars. When a teammate hurt his arm and couldn't pitch, Fergie volunteered to fill in. While he was not dominant that day, Jenkins began to gain confidence in his ability to play, buoyed by his hours of rock-throwing practice.
During those years, Fergie was encouraged to work on pitching by Gene Dziadura, who had played shortstop in the Cubs' minor league system. Dziadura was a scout for the Philadelphia Phillies who recognized raw talent in Fergie. Their training sessions continued until Jenkins graduated from high school and was signed by the Phillies in 1962.
Fergie's minor league tour took him to Miami, Chattanooga, Buffalo, and Little Rock. In the winter of 1963-64, he played winter ball in Nicaragua. In 1965, he married Anne Katherine (Kathy) Silas and was called up late that season to play for the Phillies. He appeared in seven games, winning two and losing one. On April 21, 1966, after appearing in only one game that season, Jenkins was traded to the Chicago Cubs with Adolfo Phillips and John Herrnstein for Bob Buhl and Larry Jackson. The Baseball Trade Register by Joseph L. Reichler lists this trade as the fourth best in Cubs history.
Nineteen sixty-seven marked the beginning of Jenkins' best years as a big league pitcher. After spending the previous winter playing in the Dominican Republic and touring with the Harlem Globetrotters, he was chosen for his first All-Star Game. Jenkins was only twenty-four, and says he was totally pumped that evening in Anaheim. He struck out six players (Mickey Mantle, Jim Fregosi, Tony Oliva, Harmon Killebrew, Tony Conigliaro, and Rod Carew) in three innings of work. Lacking the ultimate experience of pitching in a World Series, Jenkins believes that performance was one of his greatest. Later that year, he beat the Reds 4-1 for his 20th win in his last start of the season. That began a streak of six consecutive 20 win seasons, equaling Mordecai Brown's Cub record that had stood for over six decades.
Jenkins believes in a pitcher's right to bat. "Pitching is only one of your baseball abilities," he says. "Pitchers should know how to run the bases, how to slide, how to move runners over." He believes the pitcher on the mound should treat the opposing pitcher at the bat with respect. "When you go up to the plate, you become a batter. All you're doing is just changing positions. If you just stand there, you're a weak sister. But if you swing the bat, you're a dangerous part of the lineup." Not coincidentally, he was an excellent hitting pitcher. In his first appearance for the Cubs he hit a home run. In 1971, he drove in 20 of his own runs, assuring five or six wins for himself, he estimates. That season Jenkins also hit a career-high seven doubles, one triple, and six home runs. His lifetime batting average was .165, and he hit 13 home runs.
Ferguson's banner year was 1971 when he won the National League Cy Young Award and appeared once again in the All-Star Game. He went 24-13 and had an ERA of 2.77. A significant accomplishment that year was striking out 263 batters while walking only 37. He was miserly with walks and believes that the pitcher's job is to get the batter out, not walk him. "I tell youngsters to make the batter do half the work. Throw strikes. If the batter takes them, he'll strike out. If you don't throw strikes and give up a walk, you get angry with yourself, your catcher is disappointed, your manager is mad, and the pitching coach is unhappy. In today's baseball, the guys by far don't throw enough strikes." Not being afraid to throw strikes at Wrigley Field can lead to a lot of home runs. Fergie is number one on the Cubs all-time list for home runs allowed with 271 in 2,673-2/3 innings.
The Cubs had great hopes of winning the pennant in the years Jenkins played under Leo Durocher, particularly in 1969. On September 9th of that year, the Cubs experienced what some called a bad omen. They had been hot, but their four-man pitching rotation was burning out. That night, a black cat wandered onto the field when the Cubs and Mets played at Shea Stadium. It walked around Ron Santo, who was on deck. The animal then approached the dugout and reportedly hissed at Leo Durocher. Ferguson lost that game to Tom Seaver, and the Cubs continued to spiral downward. It turned out to be the year of the Miracle Mets.
Fergie made one last All Star appearance in 1972. By that time he had made several appearances on the leader boards. He was the National League leader in starts in 1968, 1969, and 1971. In addition, he led the National League in complete games in 1967, 1970 and 1971 and topped the league in strikeouts in 1969 with 273. During the six-season period from 1967 to 1972 when he won at least 20 games each season, Jenkins was the Major League leader in wins and strikeouts. Defensively, Fergie was superb. In four seasons (1968, 1976, 1981, and 1983) he had a 1.000 fielding percentage.
Seven seasons with the Cubs ended in 1973. Fergie had a poor year and suffered a sore knee and tendonitis in his shoulder. The years of continuous work were wearing on him. Rumors swirled, suggesting he was over the hill at age thirty. The Cubs traded him to the Texas Rangers the following season. He won a career-high 25 games in 1974 and was voted Comeback Player of the Year. Jenkins tied with Catfish Hunter for the most wins in the American League in 1974. He spent two seasons in Texas before being traded to the Boston Red Sox.
His two seasons in Boston were not as good, his record hovering around the .500 mark. In 1978 Jenkins fared better when he returned to the Rangers and posted an 18-8 record. He pitched with Texas for four seasons before returning to the Chicago Cubs in 1982. Fergie returned to the bullpen in Chicago before he retired in 1983 after nineteen major league seasons.
He still paces the Cubs team records in strikeouts (2,038) and games started (347), and is the fourth pitcher in history to win more than 100 games in each league. Three did it before him: Cy Young, Jim Bunning, and Gaylord Perry. Since Jenkins reached that milestone, Nolan Ryan and Dennis Martinez have also joined that exclusive club.
Some think of Ferguson Jenkins as baseball's most unlucky pitcher. He never made the postseason because he never played for a first place team. He joined Boston one year after they reached the World Series. The year after he retired, the Cubs finished in first place. During his career, Fergie lost thirteen outings 1-0 despite pitching complete games.
In 1980 Fergie hit the headlines, but not because of his pitching performance. While he admits to occasional drug use at that time-something he regrets-he claims he was innocent when drugs were found in his luggage during a road trip to Toronto. He found the incident humiliating and although the case against him was ultimately dismissed, he says, "It was about two years before (my father) believed me when I told him I didn't do it." Baseball wasn't immediately convinced either. Commissioner Bowie Kuhn suspended Fergie for twenty games, fined him $10,000, and ordered him to take part in Major League Baseball's drug education program.
The title of his latest autobiography, The Game Is Easy, Life Is Hard, is an indication that Jenkins has endured numerous personal struggles. He was very close to his mother, who was blind, and she died of cancer in 1970. Fergie now supports charities for those two ailments. His first marriage ended in divorce. In 1988, he married Mary-Anne Miller, a softball player, and moved to a ranch near Guthrie, Oklahoma. At that time, Fergie was working as pitching coach for the Texas Rangers' Class AAA team. Sadly, Mary-Anne died as the result of an automobile accident. In the fall of 1992 Fergie planned to accept a coaching position with the Cincinnati Reds farm team in Chattanooga, Tennessee. Tragically, his fiance committed suicide, taking Ferguson's three-year-old daughter with her. They both died of carbon monoxide poisoning.
"I learned early on that life is fleeting. I buried a mother when she was young, fifty-two. I buried a wife when she was very young, only thirty-two. I buried a daughter when she was only three. I buried a close friend of mine who was in her thirties. I buried my dad who was eighty-nine. In my life I've been a part of many funerals. At one point I told a reporter I should be in a rubber room."
Rather than ending up in an asylum, Ferguson took his grief and turned it into good works. He supports many charities and takes part in numerous charity events in the United States and his native Canada. In 2000 he registered his charity foundation, The Fergie Jenkins Foundation. On a happy personal note, Ferguson married Lydia Farrington in 1993.
In 1987 Ferguson Jenkins was elected into the Canadian Baseball Hall of Fame. Induction into the National Baseball Hall of Fame in Cooperstown, New York came in 1991, and he was named honorary pitching coach for the 1995 National League All-Stars. SABR voted him one of the top 100 baseball players of the twentieth century in 1999.
In his book, The Game Is Easy, Life Is Hard, Fergie says, "There are two things in (this) sport. Either you win or you lose. Life is like that, too. How you get through it depends on how strong your faith is."
Last revised: April 19, 2021 (zp)
Sources
Chicago Cubs Information Guide, Cubs Media Relations Department, 2002.
Enright, Jim. Baseball's Great Teams, Chicago Cubs. New York: Rutledge Books, 1975.
Jenkins, Ferguson, Jr. Personal interview. August 8, 2003.
Reichler, Joseph L. The Baseball Trade Register. New York: Collier Books, 1984.
Turcotte, Dorothy. The Game Is Easy, Life Is Hard: The Story of Ferguson Jenkins, Jr. Grimsby, Ontario: The Fergie Jenkins Foundation, 2002.
www.fergiejenkinsfoundation.org
www.baseball-almanac.com
www.baseball-reference.com
Born
December 13, 1942 at Chatham, ON (CAN)
If you can help us improve this player's biography, contact us.
https://sabr.org/sites/default/files/images/Jenkins%20Fergie%20135.2005_act_NBL_0.jpg
600
800
admin
/wp-content/uploads/2020/02/sabr_logo.png
admin
2012-01-04 20:31:20
2021-04-19 11:02:32
Fergie Jenkins