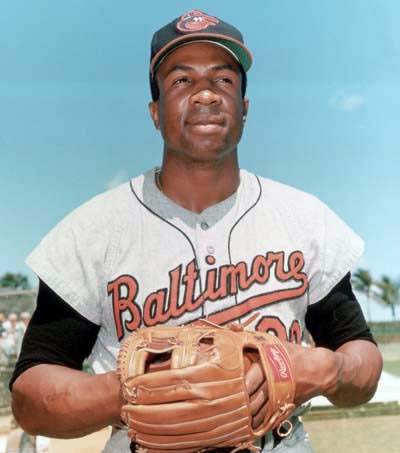 ---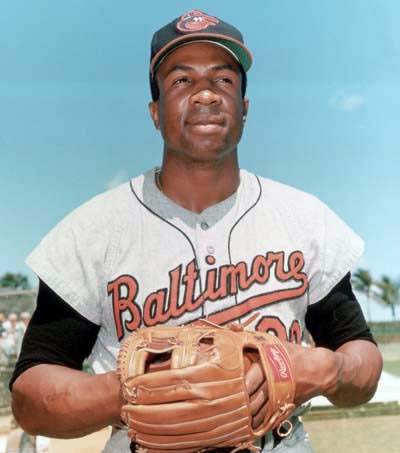 Frank Robinson would not want to be remembered as a racial pioneer. He would prefer to be immortalized as a baseball player who conducted his craft to the best of his ability in the field and at the plate. Robinson knew from a young age that he would face his share of obstacles in life. Rather than allow them to define him, he channeled his frustrations to improve his playing abilities and develop his character as a leader of men. Robinson earned the respect of teammates, opponents, and spectators alike. Jim Palmer described him as "the best player I ever saw"; to Duane Kuiper, he was "the best manager I ever played for"; Jim Kaat, who surrendered Robinson's 400th home run in 1967, recalled that "if you got him out with a pitch, he'd eventually hit that pitch, so you had to constantly change your pattern with him"; and finally, as Orioles historian Ted Patterson remembered, "the Orioles rarely lost with [Robinson] out there"1
The youngest of Ruth Shaw's 10 children, Frank Robinson entered the world on August 31, 1935, in a Beaumont, Texas, hospital. Though named after his father, he saw little of the elder Frank Robinson. After young Frank's parents divorced in his infancy, his mother moved the family to California. The family settled first in Alameda, then in West Oakland. From his absentee father, Robinson received a sense of determination that would shape his career. When he told Frank's brothers that Frank "will never make a big-league baseball player," the future outfielder became determined to prove his father wrong.2
Robinson was raised in ethnically diverse tenement dwellings.3 Though he never felt deprived, he later lamented that "all got along [but] few got ahead."4 The most direct ticket from West Oakland to the American Dream was by staying out of trouble, which for Robinson meant sports. He spent virtually every spare moment of his childhood playing baseball, football, or basketball. It was a competitive atmosphere that also developed Vada Pinson, Curt Flood, and basketball legend Bill Russell.
In 1949 Robinson met George Powles, a legendary local baseball and basketball coach. Although just turning 14, Robinson earned a spot on Powles' American Legion team, the Bill Erwin Post 237. Through Powles' instruction on "how to think baseball," Robinson overcame his shyness with an instilled sense of confidence. In 1950 he contributed to the local championship with a clutch triple only days after his 15th birthday. After graduating from McClymonds High School in 1953, Robinson was signed to a $3,500 contract by Cincinnati Reds superscout Bobby Mattick.
Robinson began his professional career as a 17-year-old at Class C Ogden (Utah), where he first experienced institutionalized racism. In a state where "the Mormon religion insisted that Negroes were inferior human beings," no restaurant or movie house allowed black patronage.5 After driving in 83 runs in 72 games and batting .348 for Ogden, Robinson was promoted to Tulsa (Oklahoma) in 1954 before accepting a reassignment to Single-A Columbia. Although life in the capital of South Carolina was segregated, Robinson remembered it to have been "much better than in Ogden."6 Road trips in the Deep South offered racial jeering on the field and trying travel conditions away from the ballpark. He hit .336 with 25 home runs for Columbia in 1954, not enough to avoid a return to the city in 1955. A shoulder injury slowed his progress (.263 in 80 games), but he recovered and earned a promotion to Cincinnati in 1956.
In 1956 the Redlegs awoke from 11 consecutive losing seasons by clobbering the opposition with 221 home runs en route to a sterling 91-63 record. Leading the way with 38 was Robinson, the rookie left fielder. At age 20, Robinson also drove in 83 runs while batting .290, earning a ticket to the All-Star Game and the Rookie of the Year Award. Shaking off the sophomore jinx, he improved his batting average to .322 in 1957. In 1958 he slipped to .269 but in 1959 he drove in 125 runs with 36 homers while batting .311 in 1959.
As Earl Weaver described years later, "Nobody had more guts at the plate than Frank. … He actually curled his upper body and head over the plate and dared pitchers to hit him."7 National League pitchers, particularly Don Drysdale, were only too glad to oblige. In 10 years with Cincinnati, Robinson was hit by a pitch 118 times. On the other hand, his slides into bases were "deliberately vicious" and he often spiked infielders to break up the double play.8 One notorious incident occurred on August 15, 1960. Tagged out by Milwaukee's Eddie Mathews, Robinson slid hard into third base, prompting a gruesome fistfight between the future Hall of Famers.9
By 1961 Robinson had moved to right field. It was a surprising season as the Reds propelled themselves to a National League championship. Robinson produced typical offensive numbers for him, batting .323 while hitting 37 home runs and driving in 124 runs. For his efforts, he was named the National League Most Valuable Player. It was a monumental year for Robinson off the field as well, as he met Barbara Ann Cole on a road trip to Los Angeles in August. Two months later, on October 28, 1961, the two were married. Robinson improved on his numbers in 1962, hitting a career-high .342 as he belted an eye-catching 51 doubles and drove in 136 runs with 39 homers.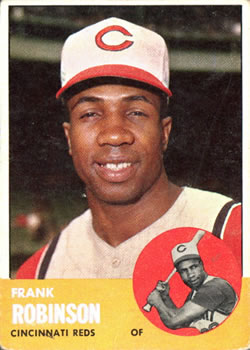 Robinson rounded out his decade as Cincinnati's franchise player in 1965 with 33 home runs to match his 33 doubles and 113 runs batted in, good for a respectable batting average of .296. Despite Robinson's record as the best run-producer in Cincinnati's history, owner Bill DeWitt perceived him as "a fading talent increasingly hobbled by leg injuries."10 In addition, a 1961 incident at a Cincinnati diner resonated only too clearly in DeWitt's memory. When taunted by a short-order cook, Robinson brandished a .25 caliber Baretta in his direction; unbeknownst to Robinson, two policemen witnessed the altercation from across the street and promptly arrested the outfielder.11 In words he would come to regret, Dewitt described Robinson as "an old 30."12 On December 9, 1965, Robinson was traded to the Orioles for pitchers Milt Pappas and Jack Baldschun, and outfielder Dick Simpson.
"My mind went blank when the trade was announced," recalled Robinson. "But when I thought about it, I changed my thinking. … I did not feel I had anything to prove, yet I wanted to prove to Bill DeWitt that I was not done at age 30."13 Any misgivings about the trade dissipated when one Baltimore player, a white man from Little Rock, Arkansas, welcomed their new teammate to the ballclub. "Frank," exclaimed Brooks Robinson, "you're exactly what we need." Dave McNally later described his initial impression to John Eisenberg: "As good as Frank was, it was how hard he played that really made an impact. …The intensity the man had was just incredible." The Orioles had a lot of talent, but to manager Hank Bauer, "Robinson was "the missing cog" who "helped the young players just by talking to them." 14
The Robinson family, which now included son Kevin and daughter Nichelle, received a rude welcome to Baltimore on a house-hunting trip early in the season. A university professor had been enthusiastic to sublet his house until he met Barbara. As she recounted years later, "He must have thought I was Mrs. Brooks Robinson." After days of discouragement, the Robinsons finally rented a home — "grimy and infested with bugs, its floors covered with dog [mess]." Frank was not without a sense of humor on the racial situation. When a reporter could not distinguish him from Brooks, he chided, "Can't you see we wear different numbers?"15
Although the Orioles steamrolled to win 12 of their first 15 games, they found themselves in second place behind the surprising Cleveland Indians. When the Tribe visited Baltimore in early May, they split the first two games before the Orioles won the opener of a Sunday doubleheader. In the second game of that May 8 twin bill, Robinson rose to the occasion. His opponent was Cleveland's Luis Tiant, fresh off three consecutive shutouts. Battling a chronic shoulder injury, Robinson kept his arms high and swung his bat on a first-pitch fastball, crushing the ball 540 feet, it was the only fair ball ever hit out of Memorial Stadium. A crowd of 49,516 serenaded Robinson with an ovation; as he later told Al Silverman, "I felt I was at home." The Orioles won the contest, 8-3, and had tied the Indians for first place. Moe Drabowsky described the homer as "the big one in the season" as "it galvanized the whole team."16
Harmony nearly bred calamity as Robinson averted drowning at a private party in August. Perhaps as a byproduct of institutionalized racism in Oakland to which he was oblivious, Robinson never learned to swim. When the director of a local funeral home invited the Orioles team to his suburban home, many players delighted at throwing each other in the swimming pool. Despite Robinson's protest that he did not swim, his teammates insisted that "you're going in anyway." To them it appeared unfathomable that a gifted athlete like Robinson did not swim. They learned quickly as they watched their fearless leader slouch to the deep end with barely enough air in his lungs to cry for help. Even so, his teammates did not believe he was drowning — the Orioles were, after all, a team of practical jokers. Only when Andy Etchebarren dove in to save Robinson were his teammates convinced. Etchebarren required the help of two attendants to elevate Robinson from the water; coughing water, Robinson required "a little bit of work." Characteristically, after five minutes of lying on the deck, he picked himself up unscathed.17
Robinson finished his magnificent Triple Crown season with 49 home runs, 122 runs batted in, and a .316 batting average as the Orioles cruised to the American League pennant. Arriving in Los Angeles for the World Series, the Orioles were greeted by an unwelcoming billboard proclaiming "Would you believe … four straight?" For Robinson and his teammates, it was the latest in a series of opportunities to prove the opposition wrong.18 They did so by sweeping the Dodgers, with Robinson hitting home runs in the first and fourth games. Already the World Series Most Valuable Player, Robinson also won the Hickok Belt and the American League Most Valuable Player Award for 1966.
Still, his uncompromising style of play continued. On June 27, 1967, it cost Robinson dearly. Trying to break up a double play against Chicago, he collided with Al Weis. After banging his head against the infielder's knee, Robinson was diagnosed with a concussion and prolonged double vision. Although he missed only 32 games and recovered to hit .311, Robinson claimed the injury stunted his career: "I don't know how much I left at second base. … I haven't been the same hitter since." Injuries continued to hamper Robinson's progress in 1968, and he began to consider his life after baseball. Two years earlier, he had told Edgar Munzel of the Chicago Herald Examiner that "if I play seven or eight more years, then I think I'd have sufficient baseball knowledge to step directly into managing. While still an active player, Robinson accepted his first managerial assignment in 1968 as he piloted the Santurce Crabbers of the Puerto Rican Winter League. It was the encouragement of his new manager in Baltimore, Earl Weaver, that pushed Robinson's plans into action.19
As the Orioles were poised for greatness in 1969, their catalyst was once again Frank Robinson. Proving himself as a comeback player, he batted .308 while driving in 100 runs and hitting 32 homers, including 12 in April. Off the field Robinson developed a way to perpetuate team chemistry while keeping his teammates relaxed. Capitalizing on the television success of Laugh-In, Robinson established a clubhouse kangaroo court, proclaiming himself "da Judge." Wearing a robe and a mop for a wig, Robinson levied fines for "crimes" such as missing the team bus, missing the cutoff man, or wearing running shoes in public. As writer Ted Patterson remembered, only Robinson could have got away with saying "Stand up, Earl. Oh, you are standing." The Orioles donated the proceeds of the 1969 kangaroo court fines to Cincinnati catcher Pat Corrales, whose wife had died that summer giving birth to her fourth child.20
Despite 109 regular-season wins and Robinson's home run in the fifth game, Baltimore lost the 1969 World Series to the Miracle New York Mets. In 1970 Robinson hit .306 with 25 home runs and 78 RBIs. On June 25 in Boston, he again demonstrated his all-around abilities. After trailing the Red Sox, 7-0, in Fenway Park, the Orioles tied the score in the ninth inning. As Peter Gammons chronicled in the Boston Globe, "Frank made a game-saving catch in the 13th, robbing Reggie Smith of a home run with the bases loaded. But he cracked a rib on the fence railing and couldn't swing the bat properly. Without tipping off the Red Sox fielders in the top of the 14th, he crossed up everybody by laying down a bunt with a runner on third and beating it out, driving in a run. He couldn't swing a bat so he found another way to win."21 The next night in Washington, he hit two grand slams in a single game.
When Curt Blefary's Yankees were visiting Baltimore that year, he remarked that his former teammates could be overtaken because "they don't have a big red S on their shirts." The next day, Robinson swarmed Blefary around the batting cage with Mike Cuellar, Paul Blair, and Moe Drabowsky — all wearing Superman shirts. When the season ended, the Yankees found themselves 15 games behind the Orioles. Already winners of 108 regular-season games, the Orioles quickly disposed of the Cincinnati Reds in five games in the World Series.
Robinson had another fine year in 1971, which included three personal achievements. On July 8 he connected for a home run off Washington's Horacio Pina for his 2,500th hit. A week later at the All-Star Game in Detroit, Robinson hit a two-run blast off Dock Ellis to put the American League ahead, 4-3 and earned the Most Valuable Player Award for the game. Finally, on September 13, he touched Detroit's Fred Scherman for his 500th career home run. Ellis and his Pittsburgh teammates defeated the Orioles in a thrilling seven-game World Series. Robinson hit two home runs, giving him a total of eight in four World Series.
After he had led Baltimore to four pennants in six years, Robinson's tenure with the Orioles came to a sudden and surprising end. With Don Baylor waiting in the wings, the Orioles found Robinson and his $130,000 salary expendable. The 36-year-old was sent to the Los Angeles Dodgers in a six-player deal on December 2. He hit 19 home runs and batted .251 in his only season hitting in the challenging Dodger Stadium.
After less than a year in LA, Robinson was dealt again, this time just down the road to the California Angels. Harry Dalton, who had acquired Robinson from the Reds in 1965, was now the general manager of the Angels and wanted Frank's leadership and bat.
Robinson came through, leading the Angels with 30 home runs and 97 runs batted in. However, he clashed repeatedly with manager Bobby Winkles. As batboy Robert Goldman remembered, the former head coach at Arizona State University experienced difficulty persuading Robinson to "buy into his program." Nolan Ryan agreed that Robinson and Winkles were "not a good match. … We were in a rebuilding mode and at that point in Frank's career, he would have been better someplace else competing for a pennant."22 By this point Robinson had made it clear that he wanted to manage a big-league team someday, and he had his own ideas about how it should be done. The close relationship he had with Harry Dalton fueled speculation that he might get the job. Robinson hit 20 home runs for the Angels in 1974, a season in which Winkles was fired in June and Robinson himself, now 38 years old, was sold to the Indians on waivers in early September.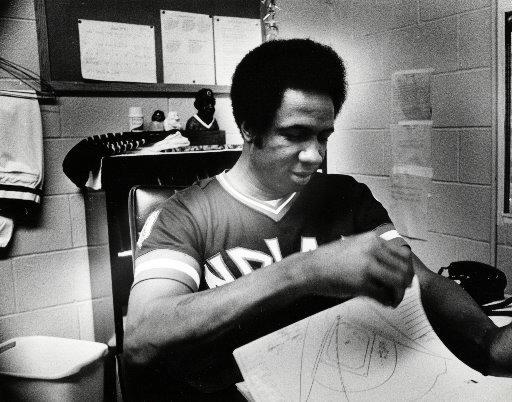 After a September collapse following a surprise run at the pennant in 1974, Cleveland manager Ken Aspromonte was fired. On October 3, general manager Phil Seghi announced to more than 100 reporters the selection of Frank Robinson as Aspromonte's replacement. He would be, famously, the first African-American manager in major-league history. He had managed in Puerto Rico for a few years, and his eventual ascension to big-league skipper was considered inevitable.
Robinson stressed the importance of physical conditioning, a quality that did not endear him to all his players. "I'm nobody's slave," exclaimed Gaylord Perry in defiance. Robinson made another enemy in John Ellis when he fined the Indians' catcher $100 for missing the hit-and-run signal. Rico Carty grieved that "he wants [us] to play exactly like he used to 60." The skipper was disinterested in earning the friendship of his players.23
Though relegated to the bench as a designated hitter, Robinson's bat and ageing legs were not fully amortized, as he proved on April 8, 1975. Using himself as a pinch hitter in his first game as manager, he fell behind the count 0-2 before grooving a George Medich fastball into the left-field bleachers. The Indians drew 56,715 to Municipal Stadium on Opening Day, but to Robinson, something made one spectator different from any other:
"I was very proud that [Rachel Robinson] would make the trip over there. … I hoped and wished that Jackie could have been there. The next best thing was having her there. … because it kept me focused." On October 15, 1972, Jackie Robinson had told a sellout crowd before a World Series game in Cincinnati that he hoped to see a black manager in the imminent future. Although Number 42 died nine days later, his namesake was carrying his legacy. Robinson's Indians ended the 1975 season with a respectable record of 79-80, in fourth place behind the Boston Red Sox. With Perry and Ellis traded to the Texas Rangers, the Indians broke the .500 mark in 1976. After having just 185 at bats over the two seasons, Robinson chose after the season to retire as a player.
After a slow start in 1977, however, Robinson was fired as the Indians' manager. He resurfaced as a coach for the Angels before returning to the Orioles organization in 1978. Beginning the season as Earl Weaver's outfield coach, Robinson was reassigned in May to replace Ken Boyer as manager of the Rochester Red Wings. He returned to Baltimore in 1979, coaching for two years before accepting an offer in 1981 to manage the struggling San Francisco Giants.
The Giants had posted seven losing records in the previous nine seasons, had a divided team, and struggled with poor attendance. In a season marred by a midseason strike, the Giants under Robinson's stewardship posted a winning record of 56-55 in 1981. They were even better in 1982, the year of Robinson's induction into the Baseball Hall of Fame. Despite being outscored by their opponents, a lineup featuring Joe Morgan, Reggie Smith, Darrell Evans, and Jack Clark kept the Giants in the pennant race until the final weekend of the season. Despite winning 20 of 27 September contests, the Giants had to settle for third place. However, their fans derived some satisfaction when Joe Morgan homered to knock the Dodgers out of the pennant race before a packed house in the season finale. After dealing Morgan and losing Smith to free agency, San Francisco regressed to a pedestrian 79-83 in 1983. With the club mired in the division cellar with a 42-64 record the next July, Robinson was fired for the second time.
Robinson spent three seasons as an Orioles coach before ascending to the front office in October 1987. On April 9, 1988, after the Orioles opened their season with a six-game losing streak, Robinson returned to the dugout as Baltimore's manager, succeeding Cal Ripken Sr. The Orioles lost another 15 before earning their first victory of the season. After an abysmal record of 54-107, the Orioles rose meteorically in 1989 to finish 87-75, good for second place behind the Toronto Blue Jays. Robinson was named American League Manager of the Year by the baseball writers. The Orioles' young players disappointed in 1990 as they won only 76 games while losing 85. After winning only 13 of their first 37 in 1991, Robinson returned to the front office.
Although he had had three opportunities as manager, he had always taken over lowly franchises and produced winning teams within two seasons. Robinson's greatest challenge as a manager presented itself in 2002 when he was hired to run the Montreal Expos. Despite a lack of ownership (Major League Baseball had taken over ownership of the team), he kept the Expos in the pennant race in both 2002 and 2003, winning 83 games each year. Finishing in last place (67-95) in 2004, the Expos became the Washington Nationals and finished 81-81 in 2005. After a disappointing 71-91 campaign in 2006, Robinson retired from baseball altogether.
Frank Robinson accomplished as much in baseball as anyone ever had: Rookie of the Year; MVP of each league; MVP of the World Series; MVP of the All-Star game; Gold Glove winner; Manager of the Year; Triple Crown winner; and a recipient of the Presidential Medal of Freedom. He was also one of the smartest and toughest players of his time, and one of its most renowned leaders. He earned the respect and admiration of his teammates wherever he traveled, and this was most evident during his time in Baltimore, when he led his team to four World Series in his six years.
Postscript
Frank Robinson died at the age of 83 on February 7, 2019.

An earlier version of this article appeared in SABR's "Pitching, Defense, and Three-Run Homers: The 1970 Baltimore Orioles" (University of Nebraska Press, 2012), edited by Mark Armour and Malcolm Allen.
Notes
Born
August 31, 1935 at Beaumont, TX (USA)
Died
February 7, 2019 at Los Angeles, CA (USA)
If you can help us improve this player's biography, contact us.
https://sabr.org/sites/default/files/RobinsonFrank-MLB.jpg
600
800
admin
/wp-content/uploads/2020/02/sabr_logo.png
admin
2012-01-04 20:41:07
2022-04-04 13:52:36
Frank Robinson