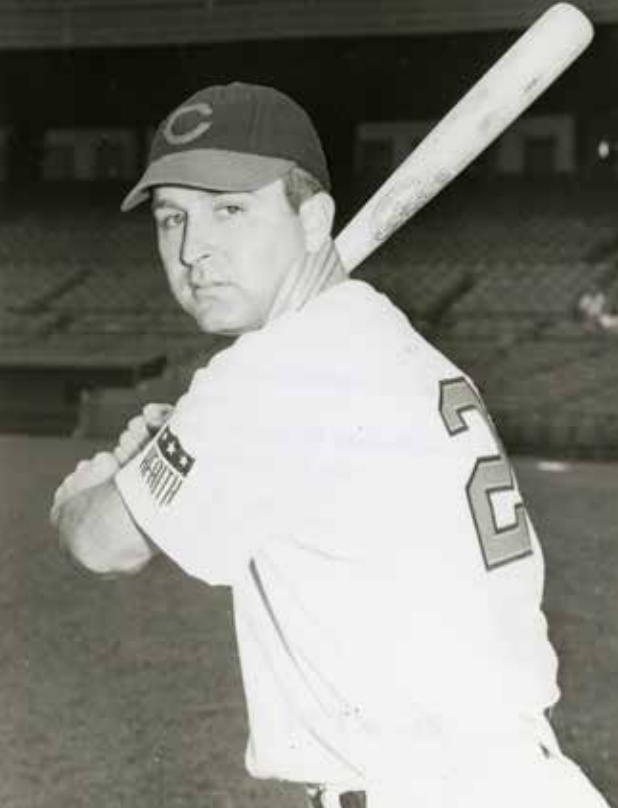 ---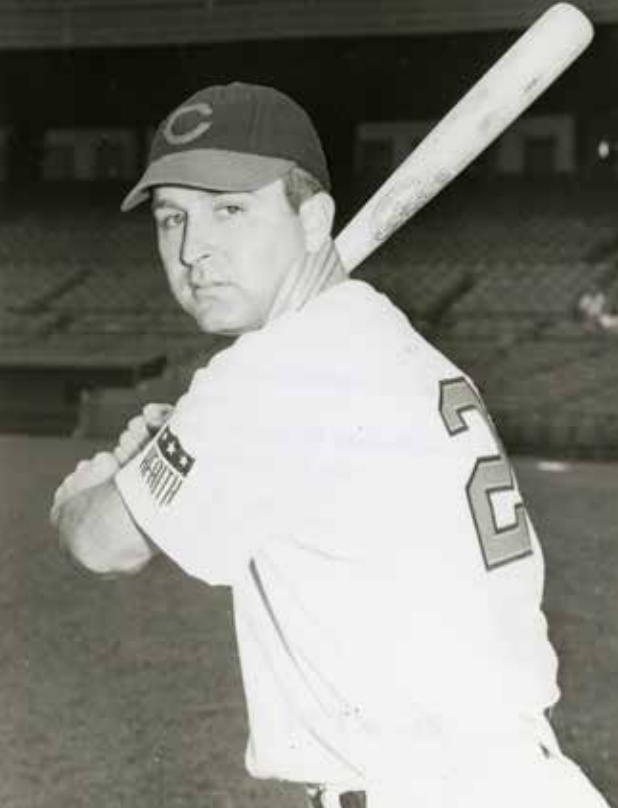 Though a renowned power hitter in 12 seasons in the Pacific Coast League and a bit player in a handful of films at midcentury, Frankie Kelleher's top billing as a slugger and a star is perhaps dubiously enshrined in a one-night performance he sparked on a hot Los Angeles Sunday afternoon in 1953, a scene seemingly ripped out of a James Ellroy novel or inspiring the brawl in the first film of The Naked Gun franchise.
On August 2 of that year, Kelleher's Hollywood Stars found themselves pitted against the crosstown PCL rivals Los Angeles Angels at Gilmore Field, the Stars' home ballpark, in the closing doubleheader of an eight-game series that had already featured several close games and flared tempers. Kelleher's heroics in the previous two games — a ninth-inning single to win the Friday contest and an eighth-inning home run to seal a Saturday night victory — may have marked him for retribution.
Kelleher was a quiet, dignified man, by all accounts, a fan favorite and a paragon among his teammates. He didn't argue with umpires, didn't quarrel with opponents, and had never been ejected from a game to that point in an 18-year professional career. His sheer size (6-feet-1, 200 pounds) and the heft in his bat — eight seasons with 20-plus home runs, including a 40-homer season in 1950 — was enough to ward off most challengers.
Having tripled and scored on a close squeeze play earlier in the first Sunday game, Kelleher was still giving the Angels fits, especially the LA starting pitcher Joe Hatten. The three-bagger was Kelleher's sixth consecutive hit off Hatten, formerly of the Brooklyn Dodgers and Chicago Cubs, and the left-hander's patience had reached an end. When the Stars outfielder came to the plate in the sixth, Hatten chucked his first two pitches high and tight, brushing Kelleher back. The southpaw's third offering finally found Kelleher's back, and something inside the slugger snapped.
The umpire behind the plate that day, Cece Carlucci, a longtime PCL official, said it shocked him to see the mild-mannered Kelleher take the hit, drop his bat and go after Hatten. "He'd never been in trouble, never disputed a call," Carlucci remembered in a 2007 interview with the Los Angeles Times. "So I went over to pick up the ball and I see him running toward Hatten. And, I'll tell you, he threw a haymaker. He knocked Hatten right off the god-darn mound."1
Bob Usher, an Angels outfielder, recalled the moment a tad differently. Kelleher didn't rush at Hatten, Usher said in an interview at the 2010 PCL reunion. "Frank walked to the mound," Usher said. "Normally they charge today, but he walked to the mound and started beating up on Joe Hatten and that emptied the [benches]."2 Usher's version of the story is repeated in the August 12, 1953, edition of The Sporting News, which reported "(Kelleher) laid down his bat and calmly walked to the mound, where he started swinging on Hatten," under the terse subheadline "A Hit Batsman, a 60-foot Stroll and BANG!"3
Hatten, himself a 6-foot, 180-pounder who also typically didn't throw in for fistfights, managed to return a few blows and there was some pushing and shoving among the rest of the assembled players. When the row broke up, Carlucci thumbed Kelleher but not — to the chagrin of Stars manager Bobby Bragan — the offending Hatten. Ted Beard, a one-time Pittsburgh Pirate and journeyman farmhand, came in to run for Kelleher and it appeared the fracas had been brought to a cooling simmer, even as Beard promptly stole second base. But when Beard decided to swipe third on the next pitch, all hell broke loose. Out by a considerable length, Beard leapt, spikes first, at Angels third baseman Moe Franklin, planting his feet into the infielder's chest and arms. Before the dust in that tiff settled, both benches had sailed out of the dugouts and fights had broken out all over the turf at Gilmore Field.
Kelleher returned to the diamond to aid his teammates in what had suddenly become a riot. In two photos taking up a half-page in the Times sports section the next morning, Kelleher is shown with his back to the camera and his left arm sweeping forward to maul an Angels player. The headline over the caption reads, "Kayo Kelleher."4 For the better part of half an hour, the Stars and Angels waged a pitched battle in front of 10,000 fans (the Times wryly added a thankful note that "audience participation" was avoided in the meltdown) as the outmanned umpiring crew vainly tried to put a lid on the fisticuffs. "It was probably the biggest fight in baseball history — the biggest I remember, anyway," Carlucci said, "I've never seen that many guys fighting. Everybody was flinging."5 Finally, legendary Los Angeles Police Chief William H. Parker, watching the game on TV, mobilized more than 50 officers to converge on Gilmore Field to restore order. After 90 minutes, officers finally managed to separate the factions. All those players not involved with the game on the field were ordered from it and somehow, play continued under armed guard until the Stars won out, 4-1. Amazingly, the second game of the twin bill also took place and the Angels saved some face with a 5-3 triumph. The Stars, meanwhile, went on to win their second straight PCL championship.
Kelleher, who finished the 1953 season with a .329 average, 15 homers, and 65 RBIs, was fined $100 for his role in the melee, the sentence aggravated by his returning to the field after his ejection. PCL President Clarence "Pants" Rowland, who had a box-seat view to the carnage, said, "Fights don't belong in baseball."6 The brawl was an outlier in the otherwise sterling and steady PCL career of Kelleher, a man whom teammates nicknamed "Mousey," given his diffidence and general good nature.7
Kelleher retired after the 1954 season at the age of 38, a career .284 hitter in the PCL, with 234 homers and 876 RBIs. He was inducted into the PCL Hall of Fame in 2004, a quarter-century after his death in 1979 at age 62.8 His two brief stints in the majors — 38 games with the Cincinnati Reds in 1942 and another nine games in mid-1943 — saw him hit .167 with 3 homers, 3 doubles, a triple, and 12 runs driven in.
The grandson of German, Austrian, and Irish immigrants, Francis Eugene Kelleher was born on August 22, 1916, in San Francisco to William Francis and Mary C. (Kleinhans) Kelleher. In 1920, the Kellehers were living with Mary's parents, Jacob J. and Mary C. Kleinhans, and her six sisters in Crockett, California, just northeast of San Francisco. William Kelleher was working as a clerk in a warehouse and Mary Kelleher was a bookkeeper in a bank. William eventually ended up in the sheet-metal shop of the California and Hawaiian Sugar Co., headquartered in Crockett, where his father-in-law was employed as an engineer.
Frankie Kelleher attended John Swett High School in Crockett, and St. Mary's College in Moraga, California, alma mater of Hall of Famers Hank O'Day and Harry Hooper, and, with Hooper, another of the Red Sox' "Million-Dollar Outfield," Duffy Lewis. During his sophomore season at St. Mary's, in 1936, Kelleher abruptly left the school, a find of New York Yankees scout Joe Devine, reportedly a distant cousin.9 The Yankees sent Kelleher to Akron of the Class-C Middle Atlantic League. But Devine's efforts in securing the services of what Akron Beacon-Journal sportswriter Lincoln Hackim called "one of the most highly publicized recruits of the year" were marred by a dispute with St. Mary's athletic director and Knute Rockne disciple, Edward "Slip" Madigan, who complained to Commissioner Kenesaw Mountain Landis that the Yankees should have allowed Kelleher to complete the term.10
Madigan's protest met with unsympathetic ears in the commissioner's office and Kelleher joined the Akron team with Hackim noting Devine as saying Kelleher was one of the best prospects he'd signed, and one who could play any position in the infield. Akron manager Nick Allen slotted Kelleher at short and in the youngster's May 27, 1936, debut, he singled and homered, en route to marks of .348, 17 homers, and 61 RBIs in 56 games.
But in the panoply of emerging Yankee deities, Kelleher, though turning in strong numbers, became lost in the shuffle. Still, he had earned a promotion to the Yankees' top farm club, the Newark Bears of the International League, where he played parts of six seasons. In 1937, Kelleher was a regular backup and sometime starter at third base on an Oscar Vitt-managed team that finished 109-43 — one of the best minor-league seasons in history.
Playing in Newark alongside Joe Gordon, Tommy Henrich, Charlie Keller, Spud Chandler, Babe Dahlgren, and Willard Hershberger, Kelleher hit .306 with 11 home runs and 48 RBIs in 92 games.
In 1938, after a brief stint with the Kansas City Blues in the American Association, Kelleher had his first brush with the PCL, playing 18 games with the Oakland Oaks before returning to Newark to play 77 games, hitting .282 with 12 homers while playing the outfield, third base, and first.
In the middle of the 1938 season, on July 12, Kelleher married Frances Amy Woodward. The couple would have two daughters and a son.
Kelleher spent all of 1939 with Newark, but played in just over half of the team's games, batting .278 with 12 homers, mostly at third base while Tommy Holmes, Wally Judnich, and Buster Mills patrolled the outfield.
With so much talent on his Newark teams, Kelleher found himself in a constant state of flux. With the exceptions of pitching, catching, and playing first, Kelleher had stints at every position on the field for the Bears.11
Returning to the PCL in 1940, Kelleher played 68 games with Jack Lelivelt's Seattle Rainiers, hitting .281 with seven home runs.
Back east with Newark in 1941, the 24-year-old Kelleher had a breakout season, finally settling into a job as the Bears' everyday left fielder, playing in 151 games and hitting .274 with an International League-leading 37 homers, 125 RBIs, and 106 runs scored. The Bears continued to be a formidable force, winning 100 games for manager Johnny Neun.
On July 16, 1942, Kelleher's Newark contract was purchased by the Cincinnati Reds, who also received Joe Abreu and Jim Turner as consideration from the Yankees. George Weiss, vice president for the Yankees and general manager of the Newark Bears, said that in consultation with Yankees manager Joe McCarthy, McCarthy was wary of the right-handed Kelleher's potential in the Bronx, relative to the short porch at Newark. "He didn't like the prospect of Kelleher's long outs in Yankee Stadium," Weiss told Shirley Povich in 1943.12
The Sporting News of July 23, 1942, was fairly teeming with the news of Kelleher's sale to Cincinnati. Michael F. Gaven wrote of Kelleher's significant impact on New Jersey fans: "Kelleher doesn't have that sparkling personality that breeds hero worship, yet the dyed-in-the-wool fans admired him as a hard and loyal worker, and he had become somewhat of an institution."13
Kelleher debuted for the Reds on July 18, 1942, the 25-year-old rookie hitting cleanup and patrolling left at Crosley Field against the visiting New York Giants. One of just 76 players (as of 2017) who batted cleanup in their major-league debuts, Kelleher went 0-for-4 in the 3-1 Giants win.14 The next afternoon, backing Johnny Vander Meer in the second game of a doubleheader against the Giants, Kelleher notched his first big-league hit, an RBI single to left off Ace Adams to score Frank McCormick and tie the game at 3-3 in the bottom of the eighth. New York won the game in the ninth, but the rookie's clutch drive earned him a starting spot in the next two games as the Reds traveled to Brooklyn.
Tom Swope, writing under the headline "Reds Bring Up More Reinforcements in Third-Place Battle," in the July 23, 1942, issue of The Sporting News, noted that Cincinnati manager Bill McKechnie called a team meeting on a train the night of the July 19 loss to the Giants, formally introducing Kelleher and Eric Tipton, who had also been purchased from the Yankees by way of the Kansas City Blues. The Reds were on their way to Brooklyn and McKechnie and the Cincinnati brass were concerned that the team, just two seasons removed from a World Series championship, seemed to be adrift as World War II raged.
The investment in Kelleher and Tipton, Swope noted, intended to belay some of the anxiety over wartime baseball: "In obtaining Kelleher and Tipton, the Redleg bosses bought the men they and their scouts believe to be the best hitting outfield prospects in the AA leagues, and in obtaining them they made a big gamble that there will be a National League season in 1943. If they had reason to believe the majors will shut up shop next year, as often is prophesied, for the duration of the war, they would not be laying out the heavy dough they did for men of military age in getting Kelleher and Tipton." Swope's piece is also accompanied by a jump headline reading: "Reds Feel They Landed Killer in Kelleher."15
But after McKechnie's train pep talk en route to the East Coast, though the Reds livened up a bit, Kelleher scudded along against Brooklyn, New York, Philadelphia, and Boston, turning in an 0-for-15 road trip. He next picked up a hit against the St. Louis Cardinals at home on August 4. Kelleher proved the hero of a marathon contest on August 8, lashing a pinch-hit walk-off RBI single to beat Lon Warneke and the Cubs at Crosley Field, 2-1 in the bottom of the 12th inning.
As the summer waned, Kelleher's average hovered around the .150 mark until September 6, when he went 2-for-4 against Mort Cooper and the Cardinals, hitting his first big-league home run in the bottom of the second — the only Reds runs in a 10-2 defeat. Including the performance against the Cardinals ace, Kelleher went 8-for-24 for the rest of the season, hitting two more home runs, a double, and a triple, and driving in six runs to bring his season average to .182.
Kelleher spent most of the 1943 season with the Syracuse Chiefs of the International League, hitting .245 with 11 home runs and 57 RBIs. He had a brief call-up to Cincinnati, appearing in nine games between May 2 and June 14, mostly as a pinch-hitter. He failed to collect a hit in any of the games, walked twice, and scored a run. As a player, he would not see the majors again, completing his big-league career with an average of .167, 3 home runs, and 12 RBIs.
On May 10, 1944, Kelleher was optioned to the Hollywood Stars, where he regained some of the early promise he had shown. In 130 games, Kelleher led the PCL with 29 homers and 121 RBIs and missed out on the league's Triple Crown by thousandths of a percentage point in batting average, hitting .32854 to .32886 for Les Scarsella of Oakland. Kelleher was hitting .339 and had a 14-point lead on Scarsella as late as August 20.16
Appearing poised for a return to Cincinnati, Kelleher was recalled by the Reds in September 1944, but finished out the season in Hollywood, earning the Helms Athletic Foundation's recognition as the Stars' most valuable player in a ceremony on September 10.17
In February 1945, Kelleher was inducted into the US Army and reported to Hamilton Field, near San Francisco, as part of the Army Medical Corps.18 He missed the entire 1945 season and the beginning of 1946 before returning to the Stars, picking up where he left off in the power department with 18 homers and 54 RBIs and a .286 average in 91 games.
Kelleher's years between 1947 and 1951 were among the most productive for a minor-league hitter in history. In 750 games in those five seasons, he notched 143 homers, and 519 RBIs. He also scored 463 runs and hit .281. His .333 average in 1948 marked his highest average since his first season as a pro with Akron in 1936, and 1950 was his 40-homer season for the Stars.
Those 40 homers Kelleher hit in 1950 marked the second and final time a Hollywood Star's home-run total had shined so bright. Gus Zernial hit 40 in 1948 and given the rather cavernous expanses of Gilmore Field — 335 feet down the left-field line and 385 to the gap — 40 was a prize number.In a 1993 piece for Sports Illustrated, John Schulian, who grew up watching PCL baseball at its apex in LA, said the ballyard Kelleher called home for 10 seasons could seem quaint in its old-school ambiance, but daunting in proportion: "At Gilmore the long ball was a much tougher proposition. In the park's 19-year history, Kelleher and Zernial were the only Stars with 40-homer seasons, and just three players — Luke Easter and two singles-hitting surprises, Lou Stringer and Bill Gray — were able to clear its towering centerfield wall, 400 feet away. But talk of those wide-open spaces … shouldn't fool you; Gilmore was really as cozy and intimate as a ballpark could be. It was built entirely of wood — no concrete, no girders — and when CBS's TV City went up next door in the early '50s, the ballpark's anachronistic charm was magnified."19
At about the same time he was hitting his longest power stretch, Kelleher launched a new venture in his Hollywood career: that of an extra in a trio of films that came out between 1949 and 1950. Two of the films, The Stratton Story (1949) and Kill the Umpire (1950), featured baseball as central themes.
The Stratton Story, starring James Stewart and June Allyson, is a biopic taking Chicago White Sox pitcher Monty Stratton, whose career was cut short when his leg was amputated following a hunting accident, as its subject. In the film, Kelleher, uncredited, takes the role of a Stratton teammate on the White Sox. He is clearly visible onscreen during two dugout scenes, the first when he's framed on the bench behind Stratton (played by Stewart) and pitching coach Barney Wile (played by Frank Morgan of The Wizard of Oz fame) at the 31-minute, 54-second mark, just after Joe DiMaggio, in archive footage, is seen slamming a home run. A few moments later, at 33:30, after Stratton comes into the game and surrenders a hit to Bill Dickey (playing himself), Kelleher is seen sitting beside Wile as the latter mutters, "Omaha" — where Stratton will be designated after a rough outing against the Yankees.20
In a case of art portending life, Kelleher appears briefly in the slapstick comedy Kill the Umpire as a shortstop for a Texas League team. The climactic scene features William Bendix, playing the lead role of Bill "Two Call" Johnson, Kelleher's character makes a throw home to nab an opponent whom Johnson calls out. The call, though correct, leads to a riot. Kelleher is visible between Bendix and Jeff York (playing the role of Panhandle Jones, a gambler attempting to fix the game) at about 60:45. He's visible again a few moments later when Panhandle Jones takes a bat to Johnson's head.21
The third film in Kelleher's acting credits, Three Little Words (1950), is a Fred Astaire/Red Skelton vehicle that tells the story of the songwriting duo Bert Kalmar (played by Astaire) and Harry Ruby (Skelton). Kelleher has two short speaking bits, both saying the same thing. At the 59:03 mark, Harry — hoping to draw inspiration for a new song from big-league baseball at the Washington Senators' spring-training camp — is upended while taking a throw at second base. Kelleher is the first man entering screen right to Ruby's aid, asking, "Are you all right, Harry?" and helping Ruby to his feet. Two scenes and about 30 seconds later, Kelleher and three other Senators, along with Ruby, are catching fly balls. Kelleher makes a catch behind his back and Ruby says he wants to give the trick a try, with the fly promptly smacking him in the head. Once again, Kelleher helps Skelton to his feet, asking, "Are you all right?"22
With the exception of 1953, Kelleher's last three years in professional baseball were a marked downturn from his earlier career, marred by age and injury. In 1952 and 1954, he hit a combined .242 with 21 homers. But he had one last surge of offensive power in 1953, the year of the Stars-Angels brawl, when he played 109 games and hit .329 with 15 home runs, 22 doubles, and 65 RBIs.
After retiring in 1954 at the age of 37, Kelleher made his home in Culver City, California, and took a position as sports director with the 7-Up Youth Foundation, sponsoring and fostering sports teams for children in the greater Los Angeles area.23 His number 7 was ultimately retired by the Stars.24
Kelleher died in Stockton, California, on April 13, 1979, of a heart attack. In his last years, he worked as a self-employed tool distributor.25
This biography originally appeared in "From Spring Training to Screen Test: Baseball Players Turned Actors" (SABR, 2018), edited by Rob Edelman and Bill Nowlin.
Photo Caption
Frank Kelleher, stalwart minor leaguer who appeared in a trio of films: The Stratton Story; Kill the Umpire; and Three Little Words.
Sources
In addition to the sources cited in the Notes, the author also consulted:
O'Neal, Bill. The Pacific Coast League: 1903-1988 (Austin, Texas: Eakin Press, 1990).
Notes
1 Jerry Crowe, "Umpire Needed Help to Break Up Pitched Battle," Los Angeles Times, June 11, 2007. articles.latimes.com/2007/jun/11/sports/sp-crowe11.
2 "Remembering a Good Brawl." Baseball Past and Present. August 30, 2010. baseballpastandpresent.com/2010/08/30/remembering-a-good-brawl/.
3 John B. Old, "Casualties and Fines Heavy in Free-For-All at Hollywood," The Sporting News, August 12, 1953.
4 Paul J. Zingg and Mark D. Medeiros, Runs, Hits, and an Era: The Pacific Coast League, 1903-1958 (Urbana, Illinois: University of Illinois Press, 1994),134-136.
5 Crowe.
6 Old.
7 John Schulian, "Of stars and Angels," Sports Illustrated. June 21, 1993. si.com/vault/1993/06/21/128782/of-stars-and-angels-once-upon-a-time-tinseltown-was-a-heavely-place-to-watch-minor-league-baseball.
8 Pacific Coast League Hall of Fame website. milb.com/content/page.jsp?sid=l112&ymd=20110610&content_id=20287736&vkey=league3.
9 J.G. Preston, "They Batted Cleanup in Their First Major League Game," The J.G. Preston Experience. April 17, 2015. prestonjg.wordpress.com/page/7/.
10 Lincoln Hackim, "Akron Lands Francis Kelleher," Akron Beacon Journal. June 4, 1936.
11Bill Dougherty, "Bears' Star Joins Cincinnati Today," Newark Evening News, July 17, 1942.
12 "Why Yankees Sold Kelleher," in Kelleher's Hall of Fame player file, dated February 4, 1943.
13Michael F. Gaven, "Newark Loses a Bear With Bat in Kelleher, Sold to Cincinnati," The Sporting News, July 23, 1942: 3.
14 Preston.
15 Tom Swope, "Reds Bring Up More Reinforcements in Third-Place Battle," The Sporting News, July 23, 1942: 1, 2.
16 Unidentified newspaper clippings dated August 31, 1944, and January 15, 1945, from Kelleher's player file at the National Baseball Hall of Fame.
17 Unidentified newspaper clipping dated September 14, 1944, from Kelleher's player file at the National Baseball Hall of Fame.
18 Unidentified newspaper clipping dated February 22, 1945, from Kelleher's player file at the National Baseball Hall of Fame.
19 Schulian.
20The Stratton Story. Dir. Sam Wood. Metro-Goldwyn-Mayer, 1949.
21Kill the Umpire. Dir. Lloyd Bacon. Columbia, 1950.
22Three Little Words. Dir. Richard Thorpe. Metro-Goldwyn-Mayer, 1950.
23 Unidentified newspaper clipping dated July 31, 1957, from Kelleher's player file at the National Baseball Hall of Fame.
24 Schulian.
25 Bill Lee, The Baseball Necrology (Jefferson, North Carolina: McFarland & Company, Inc., 2009), 211.
Born
August 22, 1916 at San Francisco, CA (USA)
Died
April 13, 1979 at Stockton, CA (USA)
If you can help us improve this player's biography, contact us.
https://sabr.org/sites/default/files/Screen%20Shot%202018-12-04%20at%201.18.28%20PM.png
600
800
admin
/wp-content/uploads/2020/02/sabr_logo.png
admin
2017-12-04 13:16:57
2020-04-09 14:40:28
Frankie Kelleher