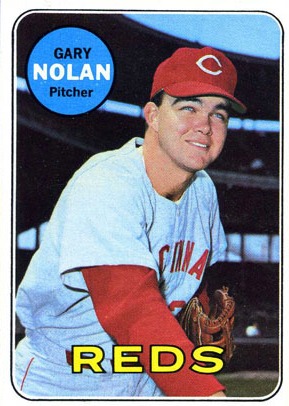 ---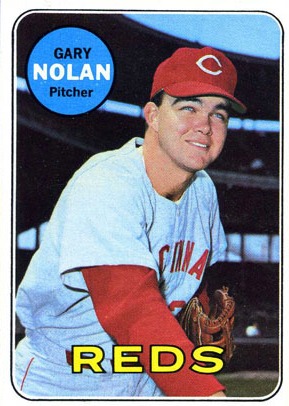 Eighteen-year-old Cincinnati Reds pitcher Gary Nolan, in his first major-league start, defeated the Houston Astros 7-3 at Cincinnati's Crosley Field on April 15, 1967. In the first inning he faced four batters, and struck out Sonny Jackson, Jim Landis, and Jimmy Wynn en route to a 7-3 victory. Later in the season, on June 7, during a scoreless game, and two runners on in the sixth inning against the San Francisco Giants, Nolan used his fireball pitches to strike out Willie Mays, Willie McCovey, and Jim Ray Hart. At game's end he had struck out Mays four times. "Nobody's ever done that to me before," Mays said.1 By the end of his stellar first major-league season Nolan had set modern-day records for a pitcher who began the season at the age of 18 or younger with a 14-8 won-lost record, a 2.58 earned-run average, four shutouts, and 206 strikeouts in 226⅔ innings.
The Reds had expected Nolan to succeed. And Nolan knew he would succeed. A Northern Californian, he was born on May 27, 1948, in Herlong, California, on the border with Nevada. Later the family moved to Oroville, an old Gold Rush town in the foothills of the Sierra Nevada. At the age of 10, Gary sat next to his father, Ray, a switchman for the Union Pacific railroad, listening to Russ Hodges broadcast a San Francisco Giants game. Ray did not care for baseball, but it was obvious that Gary planned to play major-league baseball. In high school he became such a good pitcher that baseball scouts, sometimes 25 of them, drove to Oroville to see the new boy wonder.
Nolan was the Reds' number one choice (13th pick overall) in the 1966 amateur draft, and the team sent its top negotiator, Jim McLaughlin, to Oroville to cut a deal with Gary's father. Ray said, "Talk to Gary. He's a grown man."2 Gary negotiated his own deal and signed for $40,000.
The Reds assigned Nolan to their Sioux Falls, South Dakota, short-season Northern League club for his first professional season in 1966. There he fulfilled his predicted success, pitching in 12 games and going 7-3 with a 1.82 ERA. His fastball was overpowering. In 104 innings he struck out 163. Above all, he had that best gift of all: control. He walked only 30 batters. The next season, 1967, Nolan was in the Reds' pitching rotation at the age of 18, and he proceeded to have several exemplary seasons as a starter with the Reds before being undone by arm problems.
At 6-feet 3-inches and weighing 190 pounds, the handsome Nolan was an immediate favorite of Reds fans, especially the young women. But, alas for them, Gary had married high-school sweetheart Carole Widener in February 1965. He became a father at 17. The family grew to six with Gary Jr., Tim, Mark, and Kathy.
Hopes were high for another strong year for Nolan in 1968, but at spring training dark clouds began forming. Nolan strained his shoulder and walked off the mound after throwing two pitches in the second inning of his first start in an exhibition game. It was a cold, blustery day, and Nolan apparently had extended himself too fast, too soon for a first outing.
Nolan was shocked when he heard general manager Bob Howsam observe, "We just may send him to the minors to get in shape."3 No mention of the pain Nolan was suffering, just the implication that he was out of shape and just a kid who didn't know about pain.
A week later Nolan was indeed in the minor leagues, with Tampa in the Class A Florida State League. His sore arm remained as he attempted to pitch five innings in two games. Tampa manager George Scherger called the Reds' home office to report that Gary was completely demoralized. Ironically, it was after his great game against the Giants the previous season that Giants pitching coach Larry Jansen remarked, "With his motion he's sure to hurt his arm."4
The Reds, however, needed pitching help, still had visions of Nolan's strong 1967 season, and recalled him from Tampa in mid-May. On May 31 he pitched five innings in an exhibition game, and five days later lasted only five minutes pitching batting practice. "I wouldn't say I'm disgusted," Nolan remarked. "The word is impatient. Either that or I'm fouled up."5
Despite the sore arm, Nolan continued to pitch. He rebounded with a seven-game winning streak and finished the season at 9-4, with a team-leading 2.40 ERA. His best game was a 5-0 shutout over San Francisco at Candlestick Park on June 29; he helped himself with his only major-league home run, a three-run shot with two outs in the seventh inning off Ray Sadecki. Unfortunately for Nolan, his sore-arm problems would plague him throughout a career that ended before his reached his 30th birthday.
The Reds' Opening Day pitcher in 1969, Nolan struck out 12 Dodgers but lost 3-2. In his next start, at Atlanta, he pulled a muscle in his right forearm while delivering a pitch to Henry Aaron in the sixth inning. He was the winning pitcher, but the injury eventually cost him three months of major-league action.
Those three months with the Reds' minor-league club in Indianapolis turned out to be a blessing for Nolan. Under the tutelage of Indianapolis manager Vern Rapp and Reds minor-league instructor Scott Breeden, he developed an outstanding off-speed pitch. After his recall by the Reds in early August 1969, Nolan finished the season with seven games won in twelve starts, helped by his new changeup pitch.
Under manager Dave Bristol, the Reds of the late 1960s were competitive but couldn't make it to the top. In an interview, Nolan recalled, "With guys like Johnny Bench, Tony Perez, and Pete Rose we obviously had the talent. Injuries and bad breaks kept us from winning consistently. We all knew there would be a change of managers after 1969."6
The new manager was the unknown Sparky Anderson, under whom the team had immediate success in the 1970s with Nolan an important cog in what became the Big Red Machine. Meanwhile, his family, now with two children, moved back to Oroville, where he worked hard physically to get a good start for 1970.
In 1970 Nolan posted his best won-lost record ever, winning 18 games and losing only 7 with 181 strikeouts and a 3.27 ERA, helping the Reds to the NL pennant. He pitched even better than his record indicates. In one stretch during eight starts between July 16 and August 15 he allowed no more than three runs in any one contest, but had only four wins. During the second half of the season in twenty starts, Nolan was 10-3 with a 2.65 ERA.
On September 16 Nolan beat the Houston Astros in a 3-2 game, clinching a tie for the NL West crown. At Pittsburgh in Game One of the NLCS, he pitched nine innings of shutout ball. The Reds didn't score until a three-run tenth inning, but Nolan still won the contest and reliever Clay Carroll got the save. The Reds won the NL pennant in a three-game sweep.
Along with the entire Reds team, Nolan did not perform as well in the World Series, won by the Baltimore Orioles in five games. After being staked to a 3-0 lead, he lost Game One to Jim Palmer, allowing four runs on three home runs in 6⅔ innings and was relieved in Game Four in the third inning with the Reds behind 3-2. The Reds rallied to win the game 6-5 on the back of Lee May's three-run homer in the eighth inning.
After a disappointing 12-15 record (but with a slightly better ERA of 3.16 and a career-best nine complete games) in 1971, Nolan posted 13 victories before the 1972 All-Star Game. Selected for the NL team, he was withdrawn from the team when Reds manager Sparky Anderson called NL All-Star team manager Danny Murtaugh without telling Nolan. Suffering from neck and shoulder pains, Nolan went on the disabled list. When he returned to the team, he finished the season with a 15-5 record and a 1.99 ERA, leading the league in winning percentage (.750), his ERA just behind Steve Carlton's league-best 1.97. Nolan pitched six strong innings during Game Three of the NLCS. He left with a 2-1 lead, but the Pirates scored twice in the late innings to come back and win the game. However, Cincinnati took the next two games to win the NL pennant. Then once again, the home run "bug" bit Nolan during Game One of the World Series as Oakland's catcher Gene Tenace connected off him twice for a 3-2 Athletics' win in Cincinnati. After having trouble getting loose the day before, Nolan was scratched as the starter by Anderson for Game Five. Nolan then started Game Six, but was relieved by Ross Grimsley with two outs in the fifth inning just after Oakland hit three consecutive deep drives to the outfield with one of them going for a double to tie the score. The Reds eventually won this game, 8-1, but then they dropped Game Seven the next afternoon.
Nolan appeared only twice for the Reds in 1973 and missed the entire 1974 season after the surgical removal of a calcium spur from his right shoulder by Dr. Frank Jobe, who told him, "I have no idea how you pitched in that sort of pain. You must have been in agony."7 Someone believed him. Jobe was also seeing Dodgers pitcher Tommy John and had a long-shot idea. He replaced John's damaged ligament with a ligament taken from another part of his body. Tommy John did pitch again, and "Tommy John surgery" would save countless pitchers' careers.
Nolan recalled, "The hardest part was that many people, including some of my teammates, didn't think there was anything the matter with me. That was one of the reasons I moved out of Cincinnati and sold our home after the 1972 season. Back in Oroville, people didn't doubt my word."8 Manager Anderson, for one, had told him constantly, "Pitchers have to throw in pain. Bob Gibson says every pitch he's ever thrown cut through him like a knife. You gotta pitch with pain, kid."9
Nolan reported back to Indianapolis near the end of the 1974 season, hurled six innings in two games, and found that his pain had disappeared. For the remainder of his career, his great off-speed pitch compensated for the loss of velocity on his fastball. He never lost his excellent control.
After the 1974 season, Nolan went to the Instructional League and pitched 45 innings, which helped build up his shoulder so that he was ready to try the big leagues again. He returned to the Reds in 1975 in good form with a new attitude. He had inwardly turned to God as a practicing Christian, and developed a sense of humor and new philosophy that reflected the inner turmoil he had survived.
On May 3 Nolan beat the Atlanta Braves, 6-1, in a complete game, his first regular-season victory in 31 months. For the year he was 15-9 with a 3.16 ERA. He zipped through the season, walking only 29 batters, and led the club in innings pitched with 210⅔. With his on-the-road roommate Don Gullett, Nolan spent many days going over the other club's hitters, a probing that helped both pitchers.
The following year Nolan had another fine season while posting a 15-9 record and 3.46 ERA, in 239⅓ innings. The Reds again won the NL pennant in 1975, defeating the Pittsburgh Pirates in a three-game sweep of the NLCS. Nolan was the starting pitcher for Game Three, pitching the first six innings and allowing two runs and five hits with five strikeouts. He struck out Willie Stargell twice, and with two runners on base in the fifth inning got pinch-hitter Ed Kirkpatrick on a harmless popup and then struck out pitcher John Candelaria. "You're pitching your ass off," Pete Rose shouted happily.10 After his stint, the Reds came back from a 2-1 Pittsburgh lead to win the game, scoring two runs in the tenth inning for a 5-3 victory. Relief pitcher Rawly Eastwick got the win.
The 1975 World Series against the Boston Red Sox is long remembered for Game Six when Boston's Carlton Fisk "waved" his 12th-inning drive for the game-winning home run that struck the left-field foul pole. Nolan started that game and left after two innings with the Red Sox ahead 3-0. His start in Game Three had been better; he gave up one run in four innings, but had to leave with a stiff neck. (The Reds won the game, 6-5 in ten innings.)
After the season Nolan received the Hutch Award, voted by major-league broadcasters and players to a player who had overcome major adversity. The award was named in honor of the late Fred Hutchinson, manager of the Reds from 1959 to 1964 when he died of cancer. Nolan brought his family back to Ohio and purchased a new home.
He duplicated his 15-9 record in 1976 and finally got his first World Series victory, beating the New York Yankees in the last game of a four-game Reds sweep.. Nolan held the Yankees to two runs in 6⅔ innings to earn the 7-2 victory.
While sipping his victory champagne, Nolan told reporter Hal McCoy of the Dayton Daily News, "We've got an underrated pitching staff, no Tom Seaver or Cy Young, but we get the job done. This was my first World Series victory and I'm glad I got it in the house that Ruth built. I didn't set the world on fire out there but I got them out. Some day when I'm telling my grandson about tonight, I might stretch things a bit." While Nolan was with the team and healthy, the Reds won NL West titles in 1970, 1972, 1973, 1975, and 1976 to go with world championships in 1975 and 1976.
Nolan's arm problems returned with a vengeance in 1977, and he was traded to the California Angels on June 15 for minor league pitcher Craig Hendrickson. With the Angels he made only five appearances, compiled a 0-3 record, and was placed once more on the disabled list. He was released by the Angels in January 1978. He recalled, "I saw Dr. Frank Jobe while out [in California], but I pretty much knew I was done. All of a sudden my career was over."11
Nolan found a second career as a blackjack dealer at the Las Vegas Golden Nugget in 1978. In 1989 he became executive casino host at the Mirage, where he left any interest in baseball behind him. He wanted nothing to do with the Reds, never wore his championship rings, and even snubbed the team when he was elected to the Reds Hall of Fame in 1983.
Cincinnati sportswriter John Erardi went to Las Vegas in 1986 to interview Nolan. When asked if his memories with the Reds were fond ones, Nolan answered that he did enjoy pitching and the relationships he formed with his teammates and the people of Cincinnati. Then he added, "The Reds organization left a bad taste in my mouth by not believing my arm was hurt and thinking it was probably in my head. I know they did and they know I did."12
Nolan continued, "I was blessed. I played in the big leagues, I was fortunate. But I have learned to separate my baseball life and my life in Las Vegas. Most people in the casino probably don't even know I played ball."13
Nolan was visiting Cincinnati in 2006 and decided to visit the Reds Hall of Fame and Museum. The building was closed because it was a Monday, but museum curator Chris Eckes was there, welcomed Nolan, and guided him through the building to the Hall of Fame room with Nolan's HOF plaque. The result was a new relationship with the Reds organization and Nolan's subsequent return to several Reds Hall of Fame annual induction ceremonies.
Over his ten-year career, Nolan was 110-70 with a stellar 3.08 ERA. He struck out 1,039 batters and gave up only 413 walks in 1,674⅔ innings pitched. With his time lost to arm injuries, his career was more like six years.
As of 2012 Nolan resided in Oroville, where a sign on the highway proclaims it the hometown of Gary Nolan. Also, as part of the Feather River Recreation and Park District, Oroville is home to the Gary Nolan Baseball Complex. Nolan has kept his hand in the game by coaching and preparing the Oroville High School pitchers for college ball.
Last revised: May 1, 2012
This biography is included in the book "The Great Eight: The 1975 Cincinnati Reds" (University of Nebraska Press, 2014), edited by Mark Armour. For more information, or to purchase the book from University of Nebraska Press, click here.
Sources
Richard D. Miller, "Gary Lynn Nolan," in David L. Porter, ed., Biographical Dictionary of American Sports: Baseball. (Westport, Connecticut: Greenwood Press, 2000).
Notes
Born
May 27, 1948 at Herlong, CA (USA)
If you can help us improve this player's biography, contact us.
http://bioproj.sabr.org/bp_ftp/images4/NolanGary.jpg
600
800
admin
/wp-content/uploads/2020/02/sabr_logo.png
admin
2012-01-04 20:45:12
2012-01-04 20:45:12
Gary Nolan