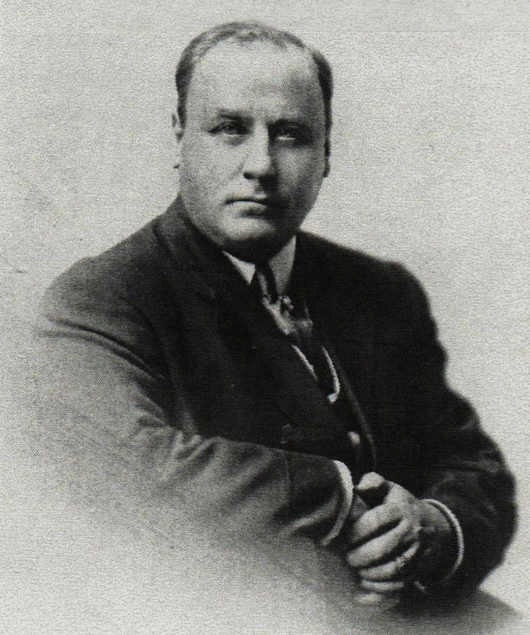 ---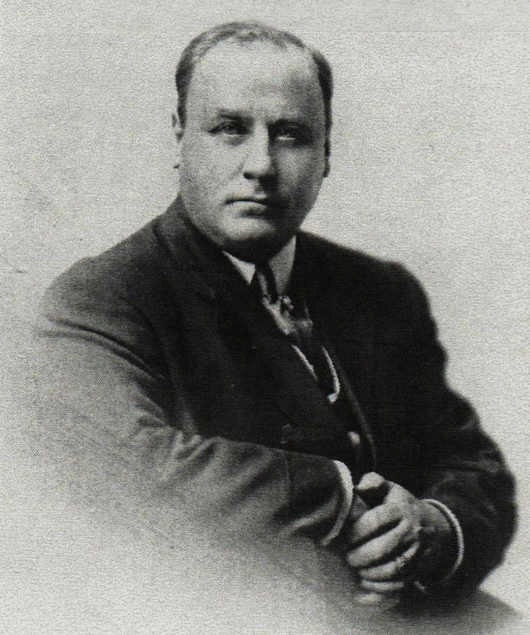 Overshadowed on the diamond by the antics and accomplishments of his younger brother Patsy, George Tebeau was little more than a journeyman outfielder-first baseman in the late 19th century. The lasting impression that he made on the game came only after his playing days were behind him. For almost two decades, George was arguably the most powerful force in minor-league baseball, first as a pennant-winning manager, and thereafter as a multiteam club owner. His was also the hand that guided the formation of American Association, the premier Midwest minor-league circuit for more than 50 years. Along the way, Tebeau estranged local fan bases, was frequently at odds with fellow club owners, and periodically in hot water with major- and minor-league presidents, as well as the National Commission. But through it all, he flourished, and by the time of his unexpected death in early 1923, Tebeau was long a wealthy man and much respected in baseball circles.
George Tebeau1 rose from humble origins. Raised in a hardscrabble neighborhood in north St. Louis, he was one of six children2 born to laborer Louis Tebeau (1817-1888), a Mound City native of French Catholic descent, and his wife, Louise (née Powry,3 1822-1906), a Maryland woman with German forbears. Although he matured into a polished, articulate, and well-read adult, next to nothing is known of George's early life or education. By the time he was 19, Tebeau was employed as a clerk by a local lumber yard, with his leisure time consumed with organizing and playing for the Peach Pies, Shamrocks, and other St. Louis amateur baseball nines. Playing comrades and competitors included his brother Patsy, cousin Al Tebeau (a career minor leaguer), and future major-league teammates Jack O'Connor, Bill Joyce, Perry Werden, Billy Alvord, and Billy Hassamaer. Of these youngsters, the righty batting and throwing George Tebeau, a versatile pitcher-position player, "was accounted to be the best."4
In the mid-1880s, George and Patsy Tebeau moved west, hoping to improve their fortunes in mining-prosperous Colorado. And as before, they spent their spare time playing ball, with George becoming the pitching mainstay of the Leavenworth Reds, a crack Denver semipro club. In August 1885 two outstanding, albeit losing, hurling performances against the Denver Bears of the independent Colorado State League signaled that George was ready for the professional ranks. But sadly, Tebeau's arm had been damaged by pitching in cool, high-altitude weather by the time Denver signed him. Switched to the outfield, he performed admirably with the bat, batting .330 in 21 late-season games with the Bears. His fielding (37 errors and a club-worst .713 fielding average) was another matter.5
Life-remaining ties to Denver were forged in early 1886. That March, George signed with the Denver Mountain Lions of the newly formed minor Western League. Two months later, he married Amelia Leichsenring, the daughter of club treasurer Edward C. Leichsenring, one of Denver's leading citizens. In time the couple would have three children: Austin (born 1887), Robert (1891), and Louise (1898). In his first full season as a pro, Tebeau played well for the Mountain Lions, batting .317. At season's end, he was signed by the Cincinnati Reds of the major-league American Association.6
On April 16 , 1887, George Tebeau started his big-league career with a bang, literally. In his very first at-bat, he tagged Cleveland Blues right-hander George Pechiney for a home run.7 He later added another base hit and played an errorless center field in the Reds' 16-6 triumph. Four days later, manager Gus Schmelz started Tebeau in the pitcher's box. The 21 hits he surrendered in a complete-game 16-6 drubbing by Baltimore ended that experiment; Tebeau never pitched for Cincinnati again.8 But resplendent in an always-immaculate ivory-colored uniform, he cut an impressive figure in the outfield, and soon the local press and fans were calling him White Wings. The meaning of this nickname has long been debated, but the most persuasive explanation seems that of a Tebeau contemporary, Cincinnati sportswriter Ren Mulford Jr. In a syndicated column in March 1887, Mulford stated that the moniker stemmed from "the peculiar way in which [Tebeau] holds his arms akimbo while walking on and off the field."9 More important than acquiring a singular nickname, Tebeau turned in a solid freshman campaign, batting .296 in 85 contests for the second-place (81-54) Reds.
The character traits that would personify George Tebeau became manifest during the ensuing two seasons. He alienated teammates with a blunt, unsympathetic leadership approach during stints as Reds captain; furiously upbraided umpires on adverse decisions; and quarreled with club boss Aaron Stern about money, regularly threatening to abandon baseball for business opportunities in Denver. For a time, however, Tebeau's saving grace was his appearance: He just looked like a ballplayer. Decades later, veteran sports scribe John B. Foster recalled the 5-foot-9, 175-pound Tebeau as "almost perfectly built … standing erect as a West Pointer, proportioned like an Apollo. He was an athlete long to be remembered when one saw him tear across a field in his spotless white uniform. … He was the acme of neatness and cleanliness … and appeared on a ball field as if he had walked out of a tableau."10 Unfortunately, this paragon proved weak with the stick. Batting averages of .229 (1888) and .252 (1889) drew the displeasure of the hometown press, the Cincinnati Commercial opining: "Before the [1889] season is over, the backers of the Cincinnati club may deem it advisable to secure a new outfielder. George Tebeau is a failure."11
During spring camp in 1890, the Reds, now a member of the National League, released Tebeau.12 In time, a new American Association franchise in Toledo emerged as the winning bidder for Tebeau's services. As he had as a Reds rookie, Tebeau acquitted himself well on Opening Day, going 2-for-5 with a triple in an 8-3 win over Columbus. But as the season wore on, George clashed with manager Charlie Morton and club brass. In mid-September Tebeau was fined $100 for "insubordination." He then refused to take the field for a game against St. Louis, and drew an indefinite suspension with a fine amounting to all salary due and owing (about $150).13 His days in Toledo were over.
Approaching age 30 and with his major-league career seemingly behind him, Tebeau signed on as player-captain of the Denver Mountaineers of the minor-league Western Association.14 Here, the Toledo situation pretty much repeated itself. Tebeau butted heads with club owner-manager W.L. Van Horn and was relieved of captain's duty; was subsequently installed as Mountaineers manager when a band of local businessmen bought Van Horn out; and was himself discharged two months later by the club's new board of directors.15 Tebeau spent the next summer as an outfielder-first baseman for the Portland Webfeet of the Pacific Northwest League, before returning to Denver. Once home, he organized a state semipro baseball league and managed its Denver entry in 1893.16 That fall Tebeau threw himself into an unsuccessful effort to land Denver a franchise in a newly reconstituted Western League.17 Thereafter, he sponsored, coached, and played halfback for a Denver amateur football team.18
In early 1894 "much discontent" attended the unexpected signing of 33-year-old George Tebeau by his former Cincinnati mentor Gus Schmelz, now the manager of the National League Washington Senators.19 But Tebeau proved "the worst disappointment of the Washington players."20 Amid the supercharged offense of the 1894 campaign, he batted a tepid .225 in 61 games, and was released in mid-July. Fortunately for George, two circumstances in Cleveland prolonged his stay in the bigs: (1) a timely injury suffered by Spiders center fielder Jimmy McAleer and (2) management of the club by his brother Patsy. While not as tempestuous as Patsy – few major leaguers were – George was a genuine tough customer and a good fit with the rowdy, raucous Cleveland Spiders. He quickly vindicated his brother's confidence, going 4-for-6 (with a double and triple) and making a "great running catch" in center field in his Cleveland debut, a 20-10 trouncing of Philadelphia.21 In his first 10 games in a Spiders uniform, George registered 20 base hits and fielded "brilliantly."22 He finished the season with a .313/.411/.427 slash line in 40 games for Cleveland, but was not believed to figure in future club plans.23
During the offseason, George again endeavored to place a Denver club in Organized Baseball but his efforts were rebuffed, this time by the Western Association.24 Against expectations, he then re-signed with Cleveland.25 George was off to an excellent start as an outfield-first base fill-in when personal tragedy struck. His oldest child, 8-year-old Austin, was stricken with meningitis and died on June 14.26 After the funeral, Tebeau returned to the lineup to complete an excellent .326/.413/.408 campaign in 92 games played, his finest as a major leaguer. But for reasons undiscovered by the writer, George saw no action in the postseason Temple Cup, won by Cleveland in five games over the pennant-winning Baltimore Orioles.
Tebeau rejoined the Cleveland fold in 1896, but not as a Spiders player. Rather, he accepted assignment to the post of player-manager of the Fort Wayne Farmers of a new minor circuit, the Interstate League. The suitably-named Farmers were indeed a farm team, wholly owned by the Robison brothers, the Spiders' owners.27 With the move to Fort Wayne, the major-league career of George Tebeau came to its end. In 628 games spread over six seasons, he had posted a .269 batting average, with 441 runs scored, 311 RBIs, and 228 stolen bases. He had been no more than an average outfield defender (.900 FA in 570 games), but better in limited time at first base (.968 in 56 games). In the end, the judgment of John B. Foster seems apt: "As a ballplayer, George gave great promise but never quite arrived."28
As a minor-league manager, club owner, and league organizer, George would prove far more capable. He had Fort Wayne playing excellent (70-36) ball on the field but the club proved a disappointment at the gate. In mid-September, the Robisons withdrew sponsorship of the Fort Wayne franchise, which folded shortly thereafter.29 Tebeau, meanwhile, returned to Cleveland but did not take the diamond for the Spiders. He spent the next three seasons as the team captain-everyday first baseman and sometime manager for the Columbus Senators of the Western League.30 Although he would make a handful of playing appearances thereafter, a solid .296 BA in 125 games in 1899 effectively brought Tebeau's playing career to a close.31 In some 650 games, he was a lifetime .297 minor league hitter.32
In 1900 Tebeau's tenure as a baseball executive began in earnest. That year he was finally able to place a Denver franchise in a recognized minor-league circuit, the latest incarnation of the Western League.33 New WL President Thomas J. Hickey had spent the 1899 season as head of the now-expired Western Association, and would soon prove an important Tebeau collaborator. For the time being, however, Tebeau's partner in the new Denver Grizzlies club was D.C. Packard, a local real-estate and insurance broker. Managed by co-owner Tebeau himself, the 61-44 Grizzlies captured the WL flag, reeling in an estimated $10,000 to $12,000 profit in the process.34 The other five WL clubs reportedly ended the season in the black, as well.35 But the visionary Tebeau saw little long-term future in the league's backwater venues. Rather, he proposed WL expansion into the larger cities of the Midwest, particularly those, like Kansas City, Minneapolis, and Indianapolis, abandoned by the American League on its way to claiming major-league status.
Acting under the ostensible direction of league President Hickey, the Western League jettisoned the likes of Sioux City and Pueblo for the 1901 season, expanding the circuit to include clubs in Kansas City, Minneapolis, and St. Paul. Leaving the Denver Grizzlies to Packard, Tebeau took control of the Kansas City Blues and managed his new nine to another WL pennant. Nevertheless, Tebeau remained dissatisfied. He wanted a larger stage. To that end and in the face of widespread opposition from the baseball establishment and house organs like Sporting Life and The Sporting News, Tebeau fashioned a new, independent (or outlaw) minor-league organization to which he gave a familiar name: the American Association. The league would include clubs in such one-time major-league cities as Indianapolis, Louisville, Kansas City, Columbus, Milwaukee, and Toledo, plus the Minneapolis-St. Paul tandem. The reliable Thomas J. Hickey would assume the post of league president.
Although he did not occupy the league president's chair, it was no secret that Tebeau was the real force in the new circuit. Kansas City newsman Doc Shively sneeringly branded Hickey "merely a figurehead, a man Friday" servant of Tebeau,36 while Sporting Life grudgingly conceded that "when it comes to scheming and hustling, no one in the profession has anything on George Tebeau."37 And Tebeau was scheming large, bankrolling the AA clubs in both Louisville and Kansas City. The latter would be in head-to-head competition with a new Western League club placed in Kansas City, and reside at the epicenter of a fierce two-year battle between Tebeau's old league and his new one.38 Given their respective population bases, the triumph of the American Association was inevitable. By 1903 the AA had been officially recognized by baseball powers-that-be and was widely seen as the premier minor league.
But that was not enough for George Tebeau. He was soon busy trying to establish an AA beachhead in Chicago, much to the displeasure of major-league magnates in general and AL President Ban Johnson in particular. Simultaneously, a proposal by Tebeau to merge the American Association and the Eastern League into a sort of super minor-league circuit unnerved minor-league club owners nationwide. In the end, neither venture succeeded, but Tebeau remained undaunted. A court ruling compelled the Western League to recognize a Tebeau ownership interest in the Denver franchise, which he then consolidated by buying out erstwhile partner Packard.39 An alliance struck with Thomas F. Burns, the equally ambitious and hardnosed owner of the Colorado Springs Millionaires, then afforded Tebeau effective control of the entire Western League.40 As the 1904 season began, the extent of Tebeau's influence over minor-league baseball was reflected in The Official Directory of Base Ball Leagues, published weekly in Sporting Life. Tebeau was identified as chairman of Board of Arbitration for the National Association of Professional Baseball Leagues, the overseer of minor-league affairs; president of the American Association clubs in Louisville and Kansas City; and a member of the board of directors of the Western League (while Tebeau factotum R.H. Burke was listed as president of the WL Denver Grizzlies). At 1904 season's end, the Denver Post understandably anointed Tebeau "the kingpin of all minor league baseball in this country."41
Comeuppance awaited. In January 1905 the National Commission, the ruling tribunal of all Organized Baseball, rebuked chairman Tebeau and his arbitration board for rulings deemed not in compliance with directives of the commission. In the face of a commission threat of refusal to have any further interaction with the minor leagues absent compliance, the board capitulated.42 Thereafter and with the connivance of Ban Johnson, a majority of arbitration-board seats shifted to the smaller minor leagues, resulting in the ouster of Tebeau and Eastern League board member Howard Griffith, another Johnson nemesis. Tebeau took these events personally, bitterly [if somewhat ironically], accusing Johnson of "attempting to become the czar of base ball."43 But in the unstable circumstances of the day, sentiments shifted as needs dictated, and within months Tebeau and Johnson reconciled.44
Notwithstanding setbacks on baseball's political front, the game was making Tebeau a wealthy man. In mid-1907 Pittsburgh sportswriter A.R. Cratty cited him as "an example of small league prosperity." No longer the trim Adonis of his playing days, Tebeau had grown "fat, rotund, with fine clothes, a Panama hat, and an air of influence."45 The following year, he added to his bank account by selling the Denver club to J.F. Gunthorpe, a Nebraska newspaper proprietor. But George retained ownership of the ballpark (Broadway Park) that the Grizzlies played in, and remained on the Western League board of directors, as well.46 A year later he unloaded half of his American Association holdings, selling the Louisville club to William F. Grayson Jr., a stockbroker and son of a lumberyard tycoon. Sale price estimates ranged from $50,000 to $100,000.47 In addition, Tebeau owned Kansas City property desired by railroad interests (who were given a $265,000 purchase option), and he had "also made a lot" from the ownership of automobile dealerships.48 By 1910, George Tebeau was "one of the wealthiest men in baseball,"49 often reputed in newsprint to be a millionaire.50
Tebeau's fortune took some hits in the ensuing years. Hours after the final game of the 1912 season, the Kansas City ballpark was consumed by fire "incendiary in nature." The club owner's $20,000 loss was only partially covered by insurance, necessitating a rebuilding of the edifice substantially via his own checkbook.51 The following year, an expensive divorce – George and wife Amelia had been living in separate quarters for years – put another dent in his finances.52 And by now he also had a mistress to maintain, one Mary St. John, a Chicagoan some 20 years his junior. She was mansion-ensconced in Riverside, a pricy Windy City enclave. But the real blow to Tebeau's finances was dealt by the Federal League. Unlike his AA brethren, Tebeau alone had to contend with direct intracity competition (courtesy of the Kansas City Packers) from the upstart major league. Never popular with Kansas City fans to begin with, attendance at the games of Tebeau's Blues plummeted, going from 185,950 in 1912 (the season before the minor-league Federal League entered Kansas City) to 56,219 in 1915. Mercifully for Tebeau, the Federal League expired after the 1915 campaign.
"Two years of strife with the Federal League have put a fearful crimp in George Tebeau's bankroll," declared Sporting Life. But he took pride in his repulse of the Feds "without assistance from elsewhere."53 Still, the club owner remained unpopular with Kansas City baseball fans, and soon encountered pressure from AA President Hickey and others to sell the Blues to someone more palatable to the locals. A proud man, Tebeau resisted for a time. But after a dismal 1917 season on the field (66-86, seventh place) and at the turnstiles (85,106, seventh in AA attendance), he sold the Blues to a consortium of Kansas City businessmen.54 The purchase price was not reported in the press, but was doubtless less than the $150,000 he had been offered for the franchise previously. Tebeau then withdrew to the Chicago abode that he shared with now-wife Mary.
Early in 1918 it was reported that Tebeau had made an unsuccessful $85,000 offer for the American Association club in Indianapolis.55 The rebuff turned out just as well for him, as United States participation in World War I would shutter the league that July for the duration of the hostilities. By then George was also mourning the loss of brother Patsy, a suicide in May. After a bizarre March 1919 incident at the Tebeau residence in Chicago had led to a brief institutionalization of Mary Tebeau,56 George removed his wife to Denver. That fall he endeavored to place a new Denver franchise in the revived Western League, but was spurned by other WL club owners "fearful of his pocketbook, power, and voice."57 When turned down a second time the following year, Tebeau responded in predictable fashion: he formed his own independent minor league for the 1921 season, a circuit dubbed the Midwest League. With Tebeau himself at the helm of the Denver Bronchos, the new league also fielded clubs in Sterling (Colorado), Scottsbluff (Nebraska), and Casper, Laramie, and Greybull (Wyoming).58 Unhappily for George, the circuit did not survive its inaugural campaign, with Tebeau left responsible for making good most Midwest League debts.
Denver was readmitted to the Western League for the 1922 season, but was headed by a syndicate of local businessmen rather than the unwanted Tebeau.59 And when the new Denver club did not play its games at the Tebeau-owned Broadway Park, George filed a $71,500 breach-of-contract lawsuit against the club principals.60 That litigation was still pending in early 1923 when George was admitted to Denver's St. Luke Hospital for treatment of diabetes. During his stay, doctors decided to remove a large carbuncle from George's neck. Operating table complications ensued and he did not survive the surgery, dying on February 4, 1923.61 He was 61. Following funeral services, interment was at Crown Hill Cemetery in the Denver suburb of Wheat Ridge. Survivors included second wife Mary, children Robert and Louise Tebeau Hay, and sister Sarah Tebeau Sutherland, as well as ex-wife Amelia. Although he had suffered late-life financial reverses, George Tebeau still left a substantial $110,000 estate.62
Like other baseball pioneers, the memory of George Tebeau receded over time. But in 2006, a handsome granite headstone was erected over his previously unadorned grave.63 The inscription is fitting, if slightly overstated: George Tebeau, Father of Colorado Baseball.
Sources
Sources for the biographical info provided herein include the George Tebeau file at the Giamatti Research Center, National Baseball Hall of Fame and Museum, Cooperstown, New York; US Census reports; Tebeau family tree info posted on Ancestry.com; and certain of the newspaper articles cited below. Unless otherwise noted, stats have been taken from Baseball-Reference and The Encyclopedia of Minor League Baseball, Lloyd Johnson and Miles Wolff, eds. (Durham, North Carolina: Baseball America, Inc., 2d ed. 1997).
Notes
Born
December 26, 1861 at St. Louis, MO (USA)
Died
February 4, 1923 at Denver, CO (USA)
If you can help us improve this player's biography, contact us.
http://sabr.org/sites/default/files/TebeauGeorge.png
600
800
admin
/wp-content/uploads/2020/02/sabr_logo.png
admin
2016-08-10 18:30:32
2016-08-10 18:30:32
George Tebeau