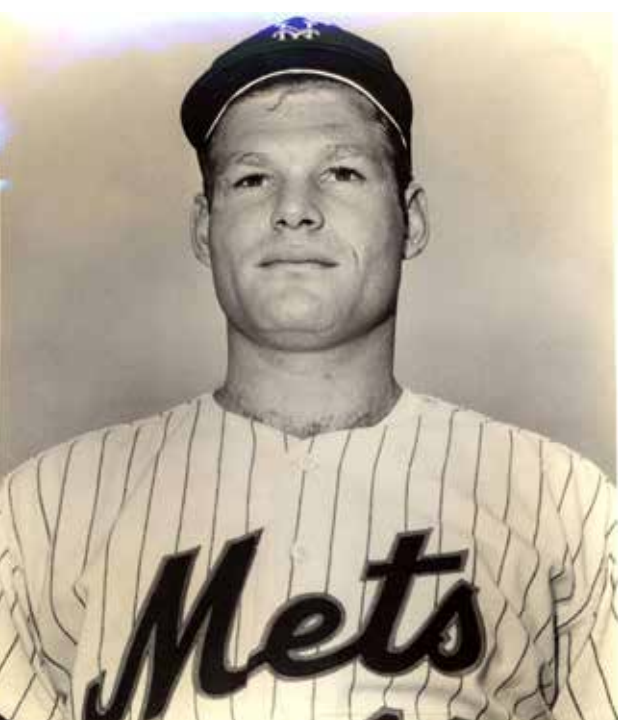 ---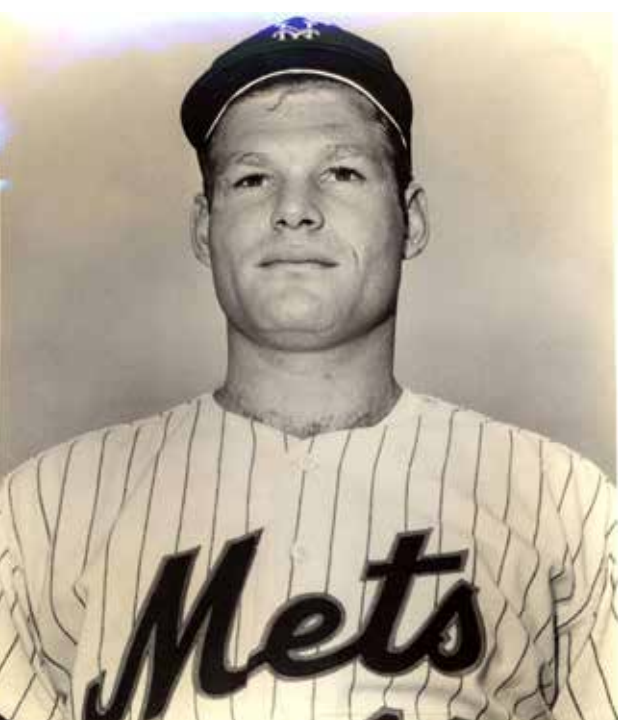 Across the decades, various New York Yankee, New York Giant, and Brooklyn Dodger baseball names have acted on-screen. Babe Ruth, for one, appeared in silent-era features; played himself in The Pride of the Yankees (1942), the Lou Gehrig biopic; and starred in various short subjects. Gehrig was toplined in Rawhide (1938), a B-Western. Jackie Robinson played himself in The Jackie Robinson Story (1950), as did John McGraw in Right Off the Bat (1915), One Touch of Nature (1917), and several short subjects; Muggsy even was cast as the title character in Detective Swift (1914), a crime tale. The list goes on and on …
But if you want to cite a New York Met in the movies, the first name that pops into mind is neither Seaver nor Strawberry nor Gooden. It is Greg Goossen, the 1960s catcher-first sacker, he of the .202 batting average in his four Mets seasons. Granted, Goossen did not only play in the Big Apple: He was an original Seattle Pilot, remaining with the franchise when it became the Milwaukee Brewers, and briefly was a Washington Senator. But it was as a New York Metropolitan that he is best recalled.
Gregory Bryant Goossen was born on December 14, 1945, in Los Angeles. His father, Elliott "Al" Goossen, was a Los Angeles Police Department detective-turned-private investigator; he and his wife, Anna Mae, had eight sons and two daughters. Greg starred in baseball and football at Notre Dame High School in Sherman Oaks, from which he graduated in 1964. The 6-foot-1, 210-pounder lettered for four years in baseball, hitting an even .500 during his junior year and .447 as a senior. On the gridiron, he played linebacker and center and, on six occasions, he earned All-Catholic League and All-CIF (California Interscholastic Federation) honors in both sports. A host of major colleges recruited him, including UCLA, USC, Stanford, Colorado, Utah, and Arizona State; reportedly, he even earned a football scholarship from USC. But Goossen, who was scouted by Ben Wade of the Dodgers, chose to sign with the Los Angeles nine for "a 'sizable' bonus in five figures."1
Goossen, who batted and threw right-handed, caught that summer for the 1964 rookie Pioneer League Pocatello Chiefs, compiling solid numbers (29 games; 121 at-bats; 40 hits; 8 home runs, 34 RBIs, a .331 batting average). His statistics fell after he was promoted to the Class-A St. Petersburg Saints in the Florida State League (35 games; 114 at-bats; 23 hits; 2 home runs; 18 RBIs, a .202 batting average); he also played for the Arizona Instructional League Dodgers, hitting .182 in 31 games with 16 hits, two of which were homers, and 10 RBIs in 88 at-bats.
Then in 1965, the Dodgers invited Goossen to spring training. "It was amazing," he recalled in 1991. "My first major-league locker room and I look around and who's standing next to me? Sandy Koufax and Don Drysdale and Tommy Davis and all those guys. It was pretty spectacular."2 One reason for his sharing space with the stars was that Goossen was so highly touted. "Big fellow, likes to play. Hits well and with power. Major League potential," was how he was described in the March 1965 issue of Baseball Digest.3 But his Dodgers career was short-lived. A foreshadowing of Goossen's future came on February 15, when the Los Angeles Times announced that a "prominent cast of Los Angeles major and minor league players will face the USC baseball team today at 2:30 on Bovard Field." Goossen was listed as the team's backstop, and the item concluded with the following: "Scheduled to pitch for the Trojans are lefthanders Larry Fisher and John Herbst and righthander Tom Seaver."4
On April 9 Tom Terrific's future employer acquired Goossen for $8,000 in the waiver draft, which allowed the more ineffectual franchises — a term that certainly applied to the New York Mets — to purchase players after their initial bush-league seasons. The youngster showed promise during the 1965 campaign, playing for the Auburn Mets in the Class-A New York-Penn League. Appearing in 109 games, Goossen hit a solid .305 (115 hits in 377 at-bats) with 24 home runs and 84 RBIs. The 19-year-old capped off the season by making his major-league debut. The date was September 3, the Mets were battling the St. Louis Cardinals, and Goossen had two hits in four at-bats; his first, a single, came in his initial plate appearance. Then, on September 25, his first major-league homer helped the Mets beat the Philadelphia Phillies, 4-1, in the second game of a twin bill.5 All told, he appeared in 11 games, going 9-for-31 with 2 RBIs. His batting average was .290.
As the 1965 season came to a close, the Mets announced that a slew of young players would comprise the team's nucleus during the coming campaign. "Perhaps the brightest prospect aside from (Tug) McGraw and (Dick) Selma is Goossen," reported the Washington Post. "…'I would say that Goossen is the most advanced of our young players who served in the minors this year,' said Eddie Stanky, in charge of player procurement. 'He could conceivably catch 125 games for the Mets next year.'"6
Stanky's prognostication was wishful thinking as Goossen's primary team in 1966 was the Triple-A International League Jacksonville Suns. In 128 games, he hit .243 (97 hits in 400 at-bats) with 25 home runs and 64 RBIs. But he also made it into 13 Mets games, hitting .188 (6 hits in 32 at-bats) with one home run and five RBIs. (Various sources list Goossen as having been behind the plate for the major-league debut on September 11 of 19-year-old Nolan Ryan. One example: In his New York Times obituary, it is reported that, "As a Met, he caught Nolan Ryan's first big-league game in 1966."7 But this is incorrect. On that date the Braves beat the Mets, 8-3. Dennis Ribant started for the New York nine and was relieved by Selma, Ryan, and Bill Hepler. Jerry Grote was the starting backstop; John Stephenson pinch-hit and took over for Grote behind the plate. Goossen is not to be found in the box score.8) Then in 1967, Goossen split the season between the Mets (37 games, 69 at-bats, 11 hits, no home runs, 3 RBIs, a .159 batting average) and the Suns (70 games, 235 at-bats, 55 hits, 11 home runs, 37 RBIs, a .234 batting average).
Despite these numbers, the Mets still regarded Goossen for his hitting prowess. But they were questioning his ability behind the plate. The story goes that a scout once remarked, "Goossen's a hell of a hitter." "Yeah," chimed in another talent evaluator. "But what kind of catcher is he?" The response: "He's a hell of a hitter."9 So the team's hierarchy decided to expand his fielding repertoire and mentor him at first base, and he was dispatched to the Florida Instructional League to learn the position. That May manager Gil Hodges declared, "Greg has been swinging the bat real good. So we're going to use him at first for the next few days. He certainly has been adequate as a fielding first baseman."10 Yet the 1968 campaign for Goossen was a virtual repeat of the previous season, only with a bit of a demotion. He made two minor-league stops: Jacksonville (32 games, 116 at-bats, 25 hits, 9 home runs, 30 RBIs, a .216 batting average); and the Double-A Texas League Memphis Blues (10 games, 38 at-bats, 8 hits, 1 home run, 4 RBIs, a .211 batting average). In 38 games with the big club, he hit .208 (22 hits in 106 at-bats) with no homers and six RBIs. His one highlight came on May 31, when St. Louis Cardinals pitcher Larry Jaster was on his way to a perfect game. But with two outs in the bottom of the eighth, Goossen broke up the no-no with a line single to left.11
Hodges' praise aside, the 1968 campaign would be the last for Goossen as a Met. On February 5, 1969, he was traded (along with an unspecified amount of cash) to the newly christened Seattle Pilots for a player to be named later. (On July 14 the Pilots completed the deal by sending outfielder Jim Gosger to the Mets.) Had Goossen remained in New York, he might have been a part of the "Miracle Mets" nine that copped the World Series. But this was not to be. Observed Rich Tosches in a 1991 Los Angeles Times profile, "Goossen was always on the fringe, always one break away from becoming a permanent fixture in the (Mets) lineup."12
By this time, Goossen's catching days were behind him; he was strictly a first baseman, but added left field to his résumé for the remainder of his career. And he still was unable to remain on a big-league roster for an entire season. In 1969 he yet again split time between the majors and minors. He began the season with the Triple-A Pacific Coast League Vancouver Mounties (104 games, 363 at-bats, 108 hits, 18 home runs, 57 RBIs, a .298 batting average) and was called up by the Pilots on July 25 to replace Mike Hegan, who was off to complete his military service. Platooning at first base with Don Mincher, Goossen put up impressive numbers in 52 games: 43 hits in 139 at-bats with a whopping 10 home runs — by far the most he belted in any one big-league campaign — 24 RBIs, and a .309 batting average. Additionally, he put in time with the Pilots' Arizona Instructional League affiliate.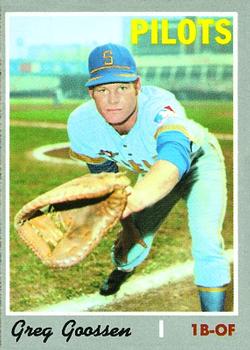 Goossen embraced his one season in Seattle. In 2009, he appeared at a 40-year reunion for the Pilots, telling his fellow celebrants, "I was happy to be with the Seattle Pilots. I was happy to play in the major leagues. I would've played here my whole career." To which Tommy Davis, another ex-Pilot (who also played for the Dodgers and Mets) quipped, "You did!"13 Even more significantly, Goossen was a featured character in Ball Four, Jim Bouton's iconic memoir-diary. Much of Ball Four deals with the Pilots' lone major-league season before the franchise was purchased by a Milwaukee car dealer named Bud Selig, who abandoned the Pacific Northwest and re-christened the franchise the Milwaukee Brewers. Bouton reported that, in a spring-training game against the Cleveland Indians, Goossen was "the designated pinch-hitter under the experimental rule that allows one player to come to bat all the time during the game without playing the field. 'Are they trying to tell me something about my hands?' Goossen went around saying. 'Are they trying to tell me something about my glove?' And after that he became the first Seattle Pilot to say, 'Play me or trade me.'"14
In mid-March Goossen was one of a half-dozen or so ballplayers dispatched to the minor-league camp. Bouton observed, "The only one I was really interested in was Greg Goossen, whom I'd come to like, mainly because he had the ability to laugh at himself." Upon his return to the majors, Bouton described Goossen as "a burly guy with kinky blond hair and looks like a bouncer in an English pub. He is also a flake." Referring to his liquor intake, Bouton wrote that Goossen told catcher Jim Pagliaroni, "I found I can't play if I feel good. I've got to have a little bit of a hangover to get the best out of me." Then in August, according to Bouton, the team was riding a bus "from the airport to the Shoreham Hotel in Washington (and) we passed a huge government building that had a bronze plaque on the front announcing it had been 'erected in 1929.' And Greg Goossen said, 'That's quite an erection.'" But in the most celebrated (and oft-quoted) Goossen reference, Bouton cited the ballplayer's first big-league skipper. "Greg Goossen was doing his Casey Stengel imitation," he recalled, "and he remembered the best thing the old man ever said about him. 'We got a kid here named Goossen, 20 years old, and in 10 years, he's got a chance to be 30.'"15
Despite his 1969 stats, Goossen yet again spent the following campaign as a big leaguer and busher. He started the 1970 season as the Brewers' starting first sacker, but after appearing in 21 games (12 hits in 47 at-bats, with one home run, three RBIs, and a .255 batting average), he was sent down to the Pacific Coast League Portland Beavers (77 games, 281 at-bats, 84 hits, 20 home runs, 69 RBIs, and a .299 batting average). Then on July 14, Goossen was purchased by the Washington Senators. He made it into another 21 games in DC, with eight hits, no home runs, a single RBI, and a .222 batting average in 36 at-bats. And on November 3 the Senators traded him along with left fielder Gene Martin and pitcher Jeff Terpko to the Philadelphia Phillies for Curt Flood (whose landmark lawsuit against MLB involving players' bargaining rights with management was pending) and a player to be named later; the following April the Phillies returned Terpko to Washington to complete the transaction. But Goossen had seen his last days as a big leaguer. He spent the 1971 campaign playing with three Pacific Coast League nines: the Eugene Emeralds (affiliated with the Phillies); Tacoma Cubs (Chicago Cubs); and Salt Lake City Angels (California Angels). The following season, he played for the Union Laguna Algodoneros in the Mexican League. And then he was out of professional baseball.
During his career, Goossen appeared in 705 minor-league games. In 2,376 at-bats, he had 653 hits, 130 of which were home runs; he drove in 454 runs and compiled a .275 batting average. (If only these were his big-league stats!) In his four seasons with the Mets, Goossen never played in more than 38 games during any one campaign. He made 99 appearances total, with 48 hits in 238 at bats for the aforementioned .202 average, hitting but two dingers and driving in all of 16 runs. Add on his totals with Seattle-Milwaukee (73 games, 186 at-bats, 55 hits, 11 home runs, 27 RBIs, a .296 batting average) and Washington, and his major-league numbers are undistinguished: six seasons, 193 games, 460 at-bats, 111 hits, 13 homers, 44 RBIs, and a .241 batting average.
Goossen's final major-league game came on October 1, 1970. The Senators took on the Baltimore Orioles that day, and he was hitless in one at-bat. He was just 24 years old: an age when innumerable ballplayers are first breaking into the big time. Despite his relative youth, Goossen by then had played on around two dozen separate major, minor, and Mexican League nines. "Either everyone wanted me or everyone wanted to get rid of me," he recalled in 1996. "I could never figure out which." Perhaps he provided his own answer when he observed, "I can't play if I feel good. I've got to have a little bit of a hangover to get the best out of me."16 Rich Tosches, writing in the Los Angeles Times, noted that Goossen "brought an attitude that placed more importance on having fun than on playing baseball. Common among the players of that era was a desire to play some baseball and visit some bars. 'There were so many good times, I can't remember many of them,' (Goossen) said."17
So how was Greg Goossen going to spend his life post-baseball? He was employed by his father's detective agency and worked at a number of other jobs, from telephone marketing to selling office supplies to hawking ladies' footwear. "I had been playing ball in Shea Stadium and Dodger Stadium, the dream of my entire life," he recalled years later. "And suddenly I'm in Van Nuys selling women's shoes. It was more than a shock."18 Eventually, however, Goossen found his calling first as a boxing trainer and then in the film industry. He linked up with brothers Dan and Joe Goossen, who operated Ten Goose Professional Boxing, a Southern California-based gym. Then in 1988, Joe Goossen suggested that Greg take a meeting with Academy Award-winning actor Gene Hackman, who was researching Split Decisions (1988), a boxing tale. The pair became fast friends, and Hackman hired Goossen to work as his stand-in; the actor insisted that it be stipulated in all his contracts that Goossen be well compensated. Of his stand-in work, the ex-ballplayer observed, "I've had to stay on the same spot for three straight hours. But it never gets boring. Every day I think how lucky I am to be with Gene Hackman."19
Goossen also began appearing in bit parts in a variety of films. In The Package, Loose Cannons, Class Action, Unforgiven, The Firm, Geronimo: An American Legend, Wyatt Earp, The Quick and the Dead, Waterworld, Get Shorty, Midnight in the Garden of Good and Evil, The Replacements, Heist, The Royal Tenenbaums, and Behind Enemy Lines, all released between 1989 and 2001, Goossen's characters respectively were: "Soldier in Provost Marshal's Office"; "Marsh Policeman"; "Bartender at Rosatti's"; "Fighter"; "Vietnam Veteran"; "Schoonover Gang"; "Friend of Bullwacker"; "Young Herod's Man"; "Sawzall Smoker"; "Duke, Man at the Ivy"; "Prison Cell Lunatic"; "Drunk #2"; "Officer #1"; "Gypsy Cab Driver"; and "CIA Spook."20
Any bit of dialogue assigned to Goossen never could be confused with a Shakespearean soliloquy. In The Chamber, Hackman's character, a jailed white supremacist, is about to be executed. Goossen plays a fellow inmate. "See you soon, Sam," is his one line, as Hackman heads for the gas chamber. (Bo Jackson — another ballplayer, albeit one with a higher profile than Greg Goossen — appears in a supporting role as a prison guard.) And in 2009, Goossen was an interviewee in the documentary Seattle Pilots: Short Flight Into History, which charts the team's all-too-brief existence.
Of his post-major-league career, Goossen observed, "It was tough, but I made the transition from baseball. There were some bad years, but I always had a great family to help me, to encourage me. And now, with acting, I find the same feeling I had as a baseball player, the same heart-pounding feeling of nervousness, the same adrenaline rush. I'm not sure why, but I just didn't get that feeling selling ladies' shoes."21
Baseball was not completely absent from Goossen's life. He frequently was found cheering on his nephews at their ballgames; in 2014, one of them, Josh Goossen-Brown, was selected by the Chicago White Sox in the 31st round of the free-agent draft. However, three years earlier — on February 26, 2011 — Goossen was slated to be inducted into the Notre Dame High School Hall of Fame. After failing to show up for a photo shoot, his daughter Erin Hyder was dispatched to his Sherman Oaks home and discovered that he had died. Goossen was 65 years old; the cause of his death remained unspecified, but he reportedly was felled by a heart attack. He was divorced, and was survived by three daughters (Tracey Woodside and Kimberly Goossen in addition to Erin) and four grandchildren.
A memorial service was held in St. Francis de Sales Church in Sherman Oaks, and his body was donated to the UCLA medical school. However, upon his death, Pete Rose, who also was a Goossen pal, declared, "He was a fun guy to be around, so upbeat. I told Dan (Goossen), with the following Greg's got, we might have to hold the service at the Rose Bowl."22
This biography originally appeared in "From Spring Training to Screen Test: Baseball Players Turned Actors" (SABR, 2018), edited by Rob Edelman and Bill Nowlin.
Photo Caption
Greg Goossen, whose post-baseball career included working as both Hollywood bit player and stand-in for Gene Hackman.
Notes
1 Frank Finch, "'FEED YOU GOOD': Dodgers' Bonus Baby Goossen Likes Life as Varsity Member," Los Angeles Times, March 7, 1965: H4.
2 Rich Tosches, "Finding Ring He Could Not Win as a Met," Los Angeles Times, July 20, 1991: VYC 16.
3 metsmerizedonline.com/2012/05/old-time-mets-greg-goossen.html/.
4 "Trojans Face Dodger Stars," Los Angeles Times, February 15, 1965: B6.
5"Goossen Paces Mets to Split," New York Times, September 26, 1965: C4.
6 "Mets to Go With Youth Next Year," Washington Post, September 14, 1965: B2.
7 Douglas Martin, "Greg Goossen, 65, a Ballplayer Who Was in on the Joke," New York Times, March 6, 2011: 26.
8 baseball-reference.com/boxes/NYN/NYN196609110.shtml.
9 Franz Lidz, "Double Duty Former Mets Catcher Greg Goossen Has a Second Career as Gene Hackman's Stand-In," Sports Illustrated, October 28, 1996.
10 "Hodges Gives Goossen 1st Chance," Chicago Tribune, May 15, 1968: D5.
11 "Jaster Perfect to 8th, Wins 2-0," Boston Globe, June 1, 1968: 18.
12 Tosches.
13 Larry Stone, "Former Seattle Pilot, 'Ball Four' Character Greg Goossen Dies," Seattle Times, February 28, 2011.
14 Jim Bouton, Ball Four: My Life and Hard Times Throwing the Knuckleball in the Big Leagues (New York, Cleveland: World Publishing Company, 1970), 36.
15 Bouton, 57, 274, 284, 290.
16 Lidz.
17 Tosches.
18 Ibid.
19 Lidz.
20 https://imdb.com/name/nm0329659/?ref_=fn_al_nm_1.
21 Tosches.
22Anthony McCarron, "Greg Goossen, Former Mets Catcher, Boxing Trainer, Private Detective and Actor, Dead at Age 65," New York Daily News, March 1, 2011.
Born
December 14, 1945 at Los Angeles, CA (USA)
Died
February 26, 2011 at Sherman Oaks, CA (USA)
If you can help us improve this player's biography, contact us.
https://sabr.org/sites/default/files/Screen%20Shot%202018-12-04%20at%2012.10.16%20PM.png
600
800
admin
/wp-content/uploads/2020/02/sabr_logo.png
admin
2017-12-04 12:10:07
2020-04-09 14:40:29
Greg Goossen