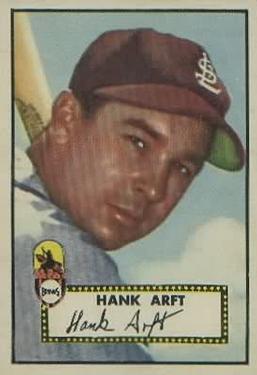 ---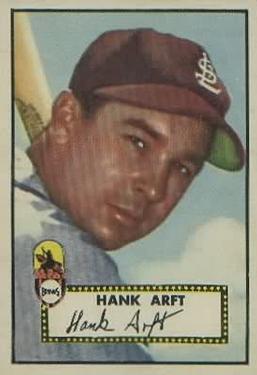 On July 27, 1948, Hank "Bow Wow" Arft's major-league career began for the St. Louis Browns against the New York Yankees at Sportsman's Park. He was called up to St. Louis from the Toledo Mud Hens at the end of July. Arft tripled and homered in his first major-league game and batted .400 in his first 19 games. He started his career with a 12-game hitting streak and reached base in his first 23 games. The Detroit Tigers brought Arft's on-base streak to an end on August 20 at Briggs Stadium. With an on-base percentage of .454, 30 hits, 2 home runs, and 19 RBIs, it was quite a way to start a promising baseball career.
Henry Irven Arft was born on January 28, 1922, in Manchester, Missouri. His father, Henry Fread Arft, was from Germany. His mother, Clara (Wirth), was born in Missouri. They owned a farm in Bonhomme, Missouri, in what is today a suburb of St. Louis. Hank was the fifth of six children, four older brothers and a younger sister.
In 1940, at the age of 18, Hank was signed by the Browns as an amateur free agent. At 5-feet-10 and listed at 190 pounds, he was not a tall target for infielders. Still, the left-hander was considered to have a good glove around first base. Assigned to Paragould Browns of the Class D Northeast Arkansas League, he batted .298 and finished second in the league with 18 home runs. He made 21 errors in 121 games, far fewer than the 39 errors made by the league leader at the position. Moving up to the St. Joseph Autos (Class C Michigan State League) in 1941, he batted.303 and had 13 home runs in 115 games. Before heading off to World War II in 1942, he played in 92 games for the Springfield Browns of the Class B Illinois-Indiana-Iowa League and batted .256 with 12 home runs.
Arft enlisted in the Navy after the 1942 season.1 On January 5, 1945, his ship, the destroyer escort Goss, was attacked by Japanese kamikaze pilots off the Philippines. The Goss was credited with shooting down two of the planes. The ship also took part in the ceremony on September 2, 1945, in Tokyo Bay at which Japan formally surrendered.2
Arft played in 77 games for Springfield in 1946. In 1947 he led the Three-I League with a .366 batting average and hit 17 home runs. In 1946 and '47 the young Navy veteran also contributed his pitching skills in seven games, with a 2-0 record in 39 innings. Promoted to the Browns' top farm club, Triple-A Toledo, for 1948, Arft earned accolades from Ray Gillespie of The Sporting News, who wrote, "… [H]e should be a star next summer. In fact, if his baseball career hadn't been interrupted by two and one-half years in the service, Henry would be a member of the Browns today."3
Arft's two homers on May 24 helped the Mud Hens snap a nine-game losing streak against the St. Paul Saints. The second home run, in the eighth inning with a runner on base, led to a 6-5 win. On July 26 Browns general manager Bill DeWitt Sr. brought up Arft to be his new first sacker.
On July 27 at Sportsman's Park, the seventh-place Browns took the field with a record of 32-53, 19½ games behind the first-place Boston Red Sox and Philadelphia Athletics. Arft made his major-league debut, playing first and batting seventh. He recalled, "We were playing the Yankees and the first time up I flied out to Joe DiMaggio. The next time up I struck out, but my third time at bat I hit a triple to drive in two runs off Tommy Byrne. My last time up I hit a home run off Frank Hiller! We shut out New York 4-0. That was a great feeling."4 The next day "cheers of 'Arft, Arft' were bestowed upon Hank the nickname he will embrace forever – that of 'Bow Wow.'5
"Arft is going to give the Browns a tremendous lift with that heavy bat he swings," said Browns manager Zack Taylor6
During Arft's 23-game on-base streak, the Browns went 11-12. But he cooled off quickly. In his next 46 games Arft batted .176, with three home runs, and 19 RBIs, the same number as during his streak but in twice as many games. He finished the season finished with a .238 batting average, 5 home runs, and 38 RBIs. The Browns finished the season in sixth place, 37 games behind the pennant-winning Cleveland Indians.
Before Arft headed to 1949 spring training in Burbank, California, he and Ruth Schrader were married on February 5. During camp three left-handed batters competed with Arft for the first-base job. L.A. McMaster of The Sporting News said, "Arft showed he could put enough behind his left-handed swing to reach the roof in the right field pavilion in St. Louis occasionally, although his .238 batting average didn't cause the fans to parade around Grand and Dodier in his honor."7 In the offseason the Browns had acquired a major-league veteran, power-hitting Jack Graham, from the San Diego Padres of the Pacific Coast League. Also in the mix were Jerry McCarthy and minor leaguer Joe Lutz. Graham won the job; Arft came east with the team as a pinch hitter. He played in six games with one double, before being sent to Baltimore of the International League.
Graham could not reach a deal with GM DeWitt in 1950 and was sold back to San Diego of the PCL, opening a chance for Arft to return as a regular for the Browns despite a .224 batting average for Baltimore. Manager Taylor considered him a better fielder than Graham. Arft had 16 hits and batted .372 in the exhibition season. During the season he and rookie Don Lenhardt shared first base.
In a 5-2 loss on April 25, Arft homered in the eighth inning against Detroit pitcher Virgil Trucks, who at the time had a one-hit shutout. "No more high balls for me: That's why I'm an improved player this year!" he said. "I used to be a sucker for that high pitch. But this spring I concentrated on my hitting out in Browns California training camp and I believe I'm on the right track at last."8
After losing 12 of 15 at Sportsman's Park, the Browns headed to Washington for three games with the Senators in two days. On June 1, Arft's singles in the top of the 12th helped lead to the winning run. The next day he went 5-for-5 with a triple, two doubles, and three RBIs as the Browns won the first game of a doubleheader. In the first inning of the second game, Arft singled for his seventh straight hit, giving him 32 hits in his first 100 at-bats of the season. Facing the Senators 11 days later in St. Louis, Arft continued his hot hitting against Washington with a 4-for-4 effort. (Between the two series, the Browns lost games to the Red Sox at Fenway Park by scores of 20-4 and 29-4.) The Browns ended the season in seventh place at 58-96, 40 games behind the champion Yankees. A broken middle finger midway through the year limited Arft to 98 games, though he hit for a career-high .268 batting average.
Talk of the Browns moving to Baltimore cropped up during the summer of 1950. " 'On to Baltimore' Fever Hits DeWitt Brothers," said a headline in The Sporting News.9 Bill DeWitt Sr. cautioned, "While we don't want to move the Browns' franchise out of St. Louis, we may be forced to do so unless fan interest here picks up."10
The 1951 season started with two losses to the Chicago White Sox. The attendance at the home opener, a 17-3 rout, was 5,660. Two nights later, 1,079 saw the Browns go down to defeat 13-5. The next day at the Indians' home opener in front of 48,316 fans, Arft broke up a 4-0 shutout by Bob Feller with a ninth-inning pinch-hit home run. This was Arft's first appearance of the season. Joe Lutz had won the first-base job out of spring training. During the first 13 games of the season, Lutz started nine games and batted .156, opening the first-base job for Arft on May 5. Over the next 26 games Arft batted.276 with 2 homers and 11 RBIs. Looking for more power, the Browns purchased Dale Long on waivers from the Pirates on June 1. Long took his try at first base, starting 26 games with almost the same results (.248, 2 home runs, 11 RBIs) before being optioned to San Francisco of the PCL.
Everything changed on July 5 when the DeWitts sold the Browns to Bill Veeck, former owner of the Cleveland Indians. "The drinks were on the house at the Browns' twi-night twin-bill July 6, after Bill Veeck took over," The Sporting News reported. "During the second game, the club passed out bottles of Coca-Cola and Falstaff beer to the 10,392 fans, with the new president pitching in and helping vendors distribute the free drinks. An inning later, the crowd was invited to stand and drink a toast to the success of the Browns and Veeck."11
After taking over the Browns, Veeck dropped 11 of the 25 players from the July 5 roster. On July 31 he completed eight more deals that involved players left over from the DeWitt regime, bringing the total to 19 players moved since he bought the team. "Veeck always needed money for basic expenses. He tried to convince Cleveland's Hank Greenberg, a close friend, to buy first baseman Hank Arft, but the Indians already had Luke Easter at the position," a sportswriter disclosed years later. "In his final plea, Veeck's teletype jammed and printed 'ARFARFARFARFARF.' Greenberg wired back. 'I CAN'T STOP LAUGHING. KEEP THAT DOG IN ST. LOUIS.''12 Adding another left-handed first baseman to compete with, the Browns traded for Dodgers minor leaguer Ben Taylor. Batting cleanup in his first big-league game, Taylor debuted with a home run.
Arft participated in two of Veeck's most memorable games. In the second game of an August 19, 1951, doubleheader against the Tigers, he played first base in the game in which 3-foot-7 Eddie Gaedel was sent to bat by the Browns as a pinch-hitter. Gaedel walked on four pitches from Bob Cain.
Five days later, on August 24, Arft manned first base again for the game trumpeted as "Grandstand Manager Night," in which fans, using placards, made the decision on various strategic plays. As a promotion, the event was far from a success: Only 3,925 people witnessed the game.
"Who else except a Brownie could say that they played ball with a midget or played in a game that the fans managed? The Brownie fans were the best … although Veeck should have owned a circus instead of a ballclub," Arft said years later.13 Arft finished 1951 with a career-high seven home runs (two as a pinch hitter), 90 hits, and 42 RBIs, with a batting average of .261. The Browns finished in last place with a 52-102 record.
Rogers Hornsby replaced Taylor as manager and the search continued for a new first baseman for 1952. Dick Kryhoski from Detroit, and the White Sox' Gordon Goldsberry were obtained in offseason trades. Hollywood Stars outfielder, George Schmees, a Rule 5 draftee, was also in the competition. After starting the season sharing the position with Kryhoski (.211, 0 HR) and Goldsberry (.191, 0 HR). Arft (.143, 0 HR) suffered a concussion during batting practice on May 24. X-rays showed no fracture, but he missed the next two weeks. When the club doctors released him to return to play, Arft was sold to the Portland Beavers of the PCL on June 7, ending his major-league career. He finished professional baseball with three seasons in Portland.
After what started as a promising career, sportswriter Bob Broeg commented, Arft was a "routine, nondescript major leaguer."14 Playing in 300 major-league games for his hometown team, Arft had a career batting average of .253, with 118 RBIs and 13 home runs, two of which were off future Hall of Famers, Feller and Bob Lemon.
After retiring from baseball in 1953, Arft joined his wife and brother-in-law as a co-owner of Schrader Funeral Home in the St. Louis suburb of Ballwin. He was a member of the Major League Baseball Players Alumni Association, the St. Louis Browns Historical Society, the Missouri Funeral Directors Association, VFW Post 6274, American Legion Post 208, the Escort Sailors Association, Bonhomme Lodge 45 AF&AM, Scottish Rite, Moolah Temple Shrine, West County Kiwanis, the West County Chamber of Commerce, the Professional Car Society and St. John United Church of Christ in Manchester. In 1999, Hank and Ruth were chosen to serve as Mr. and Mrs. Ballwin Days.15
Hank Arft died on December 14, 2002, of cancer at the age of 80. He is buried in St. John Cemetery, Manchester. He was survived by Ruth and his daughter, Peggy Arft Goethe.
Notes
Born
January 28, 1922 at Manchester, MO (USA)
Died
December 14, 2002 at St. Louis, MO (USA)
If you can help us improve this player's biography, contact us.
https://sabr.org/sites/default/files/ArftHank.jpg
600
800
admin
/wp-content/uploads/2020/02/sabr_logo.png
admin
2017-08-29 10:59:25
2020-04-09 14:40:32
Hank Arft