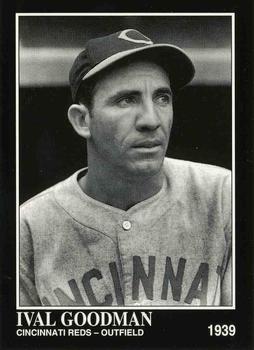 ---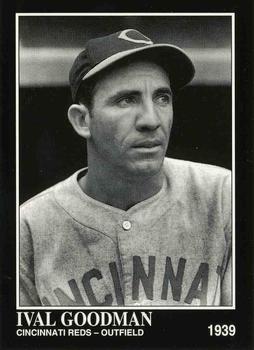 The Cincinnati Reds won consecutive pennants in 1939 and 1940 and a World Series championship the latter year thanks in no small part to the stellar play of their little-remembered right fielder, Ival Richard Goodman. Outstanding in the field as well as at bat, he typically hit third a lineup that also featured 1940 National League MVP Frank McCormick and future Hall of Famer Ernie Lombardi. In 1939 he batted a career-high .323 and was named a starter for the National League in the All-Star Game for the second year in a row.
Although known more as a gap hitter than for his power, the lefty swinger nevertheless blasted 30 home runs in 1938, breaking the Reds' home-run mark by 11, a record that stood until 1948 when Hank Sauer hit 35 round-trippers for the Reds.1 Called "Ole Mate" or "Mate" by his teammates because his morning greeting was always "Hiya, Mate," he was liked and respected by all for doing his job quietly and effectively, with little need for fanfare.2
Ival Goodman was born on July 23, 1908, in Northview, Missouri, near Springfield, to William Thomas Andrew Goodman and Eva Ethel (Yoakum) Goodman. The couple had five children, four of whom lived to adulthood; Ival was the only boy. His family moved to Poteau, in eastern Oklahoma, when Ival was a toddler. In high school Goodman excelled in football, basketball, and track, where he ran the 100-yard dash in 10 seconds flat. His high school did not field a baseball team, so he played for the town team. He drew several college scholarship offers but upon graduation opted to go to work for an electric company and continue to play baseball, his first love, for his town team.3
At age 20 Goodman attracted the notice of a bird-dog scout who wanted to sign him to a professional contract with the Shawnee (Oklahoma) Robins of the Class C Western Association. He hesitated to sign because he had been advancing in his job and his parents were out of town, but after considering it overnight, he did sign on the dotted line.4
The year was 1930 and Goodman appeared in 42 games for Shawnee, batting .275 in 160 at-bats. By his own assessment he was "terrible" both at the plate and in the field and he wondered "how I ever managed to stick."5 But he was undoubtedly better than he thought because he returned to the Western Association in 1931, this time with the Fort Smith (Arkansas) Twins and in 123 games raised his average to .309 with 24 doubles, 11 triples, and 12 home runs.
Goodman continued his tour of the league the next season, spending 1932 with the Bartlesville (Oklahoma) Bronchos, where he put together a banner year, batting .320 and leading the league in home runs (22), triples (23), and runs batted in (120). The Cincinnati Reds had an option to purchase him for a modest sum, but opted to buy Johnny Rizzo instead.6 Goodman also attracted the attention of Charley Barrett, however, who signed him for the St. Louis Cardinals organization, saying, "Goodman has everything it takes to make a great a ballplayer — a fine arm, speed, and hitting power. He was the best-looking outfielder I saw in the minor leagues last season."7
At the end of the Western Association season, the Cardinals sent their new property all the way up to the Columbus Red Birds of the American Association, one step from the major leagues. There Goodman continued to sting the ball, batting .333 with six extra-base hits in 42 at-bats.
For 1933 the Cardinals assigned Goodman to another of their top farm clubs, the Rochester Red Wings of the International League. After a slow start in which he hit .266 in 22 games, he was sent down to the Houston Buffaloes of the Texas League for further seasoning. Although the Buffs won the regular-season pennant, Goodman never got fully untracked and batted .258 in 411 at-bats.
A solid spring training earned Goodman a spot back with Rochester for the 1934 season, and he again began banging the ball all over the lot. For the year he hit .331 with 31 doubles, 11 triples, 19 home runs, and 108 runs batted in.
The parent Cardinals were coming off a World Series victory and had a loaded farm system, so after the season sold Goodman to the Cincinnati Reds, who were anything but loaded after finishing 1934 in the National League cellar for the fourth year in a row.
The Reds acquired Goodman to provide some punch to their lineup from right field, where Adam Comorosky had hit only .258 with no home runs the previous year. Sure enough, then 26 years old, Goodman made his big-league debut on Opening Day for the 1935 season in Cincinnati's Crosley Field, batting sixth in the lineup against the Pittsburgh Pirates. In his first major-league at-bat, he singled to center field off future Hall of Famer Waite Hoyt to drive in Chick Hafey from second base. For the day he went 2-for-4, adding another single, in a game the Reds lost 12-6.
Goodman continued to hit well for the opening week of the season, punctuated on April 21 when he homered and tripled to drive in four runs against the Chicago Cubs in Wrigley Field in an 8-4, 12-inning Reds victory. The big day raised Goodman's average to .346 while the home run, against Charlie Root, was the first of his career. On May 24 Goodman achieved another historic first, playing in the first night game in major-league history. Ival played right field, batted third, and drove in the game's first run on a groundout as the Reds defeated the Phillies 2-1 in a brisk hour and 35 minutes.8
Goodman soon hit a slump but settled in the high .200s for much of the year and remained a fixture in right field. He finished his rookie campaign with a .269 average in 148 games and 637 plate appearances. He led the team in runs batted in with 72 and, more impressively, led the league in triples with 18 as the Reds escaped the cellar and climbed to sixth place in the standings.9
For the first six weeks of the 1936 season it appeared that Goodman was going to fall prey to the sophomore jinx; as late as May 29 he was hitting only .206. He apparently had forsaken his tendency to pull the ball by trying to hit to all fields, but after a visit with manager Charlie Dressen he managed to recapture his natural swing.10 His average steadily climbed, peaking at .299 in early September before he finished at .284 in 136 games. He again led the league in triples, this time with 14, and improved his home-run production to 17 with 71 runs batted in.
After the season Dressen revealed his high regard for his right fielder. He said, "Every manager I talked to wanted to get Goodman, but I didn't pay much attention to their offers. He's one of my best ballplayers."11
Goodman's batting average dipped slightly to .273 in 1937 as the Reds slipped back to the National League basement after their fifth-place finish the year before. Still, he was a bright spot in the lineup, leading the team in doubles, triples, total bases, slugging percentage, and stolen bases.12 His 12 triples tied for third most in the league.
Goodman was 29 years old at the start of the 1938 season and at the peak of his career as his performance showed. He was in right field for Johnny Vander Meer's consecutive no-hitters in June.13 For the first half of the season, Goodman hit well above .300 and went into the All-Star break with a lusty .336 average along with a league-leading 20 home runs. For his efforts he was voted the starting right fielder for the National League for the All-Star Game, played July 6 in Crosley Field, his home park.14
National League manager Bill Terry slotted Goodman third in the order, where he went 0-for-3, reaching on a hit-by-pitch in the sixth inning and stealing second base as the Nationals won, 4-1, due in large part to four errors by the American League. Goodman also contributed to the win with his glove. With the American League threatening in the ninth, he made a fine catch against the wall on a long drive by Lou Gehrig to help preserve the lead.15
By July 26, Goodman had 26 round-trippers, but he hit only four more the rest of the year and none after September 4. He finished the year with a strong .292 batting average and 92 runs batted in as the Reds jumped all the way to fourth place with an 82-68 record, just six games behind the pennant-winning Chicago Cubs. His .533 slugging average was fourth highest in the National League as were his 303 total bases. His team-leading 30 home runs were second most in the league, following Mel Ott.16
The Reds completed their ascension to the top of the National League in 1939, recording 97 wins and winning the pennant by 4½ games over the St. Louis Cardinals. A 12-game winning streak in May thrust the Reds into the lead and there they remained the rest of the year while fighting off the Cardinals. The Reds were aided in no small part by Goodman, who batted a career-high .323 for the season, and, although his home run production dropped to seven, he drove in 84 runs from his third spot in the batting order in in 470 at-bats with 37 doubles and 16 triples, second most in the league behind Billy Herman. His slugging percentage was .515, the fifth consecutive year he had led the Reds in that offensive category.17
On April 28 with the Reds down 6-4 in the bottom of the ninth Goodman propelled the Reds into first place with a dramatic walk-off three-run home run off Bill Lee of the Cubs. Although Goodman continued to hit for a high average, in contrast to his power surge in 1938, he did not hit another home run for four months.
Years later Harry "Gunboat" Gumbert, who pitched for 15 years in the National League with the New York Giants and three other teams, recalled how "[n]o matter what I'd do, [Goodman] hit me like he owned me." Chicago seemed to have better luck with him, so Gumbert asked Cubs pitcher Larry French how they pitched to Ival. French told a disbelieving Gumbert to throw him high curves, which turned out to work as Goodman was prone to pop them up. If Gumbert threw him a fastball, however, "it sounded like Big Bertha was going off."18
Goodman was hitting .325 at the All-Star break and was again selected to start in right field for the National League in the All-Star Game, held July 11 at Yankee Stadium in New York. He was one of five Reds starters, including catcher Ernie Lombardi, second baseman Lonnie Frey, first baseman Frank McCormick, and pitcher Paul Derringer, and of seven Reds altogether named to the team.19
In the top of the third, Frey drove in Arky Vaughan with a one-out double down the right-field line for the game's first run. After an intentional walk to Goodman to load the bases, Yankees starter Red Ruffing got out of the jam by retiring McCormick on a called strike three and Lombardi on a popup to second baseman Joe Gordon.
Misfortune struck Goodman in the bottom of the fourth as the American League took the lead with two runs off Bill Lee. With two outs and runners on first and second, Yankees outfielder George Selkirk hit a sinking line drive to right. Goodman raced over and dived for the ball, just missing it. In doing so, he injured his left (nonthrowing) shoulder. He managed to finish the inning, although in obvious pain.
He came out of the game after the half-inning with what was feared was a broken collarbone. However, X-rays taken at St. Elizabeth's Hospital revealed a dislocated shoulder20 which knocked Goodman out of the Reds lineup for almost a month. Although some speculated that the injury diminished Goodman's power, he had only four home runs at the All-Star break and his power had demonstrably tailed off at the end of the 1938 season.
Goodman was still a very productive hitter after he returned to the Reds lineup in August, but rather than pull the ball, he began driving it to left field more.21 His defensive play in right field also drew notice. The Sporting News remarked how, although playing Crosley's Field's tough right-field sun field, Goodman seldom lost track of a fly ball, while it was not unusual for visiting right fielders to lose one ball a series.22
On August 26, in the first game of a doubleheader against the Dodgers in Brooklyn, Goodman participated in the first major-league game to be televised. With Red Barber doing the broadcasting honors, about 400 households within 50 miles of Brooklyn who were lucky enough to own television sets were able to watch the game.23 Batting third, Goodman went 0-for-3 with a sacrifice fly and a run batted in a 5-2 Reds victory.
Goodman displayed his defensive prowess in the Reds' pennant-clinching win over the Cardinals in Cincinnati on September 28. With Cincinnati ahead 4-3 in the top of the seventh, with one out Joe Medwick smashed a long drive that caromed off the scoreboard in center field. The ball eluded Harry Craft in center but Goodman raced over from right to grab it and then threw a strike to Bill Werber at third to nail Medwick trying to stretch the hit into a triple for the second out of the inning. The next three batters reached base but failed to score as the Reds won 5-3 to clinch their first pennant since 1919.
The Reds faced the powerful and heavily favored New York Yankees in the 1939 World Series. The Yankees had won 106 games and had swept to their fourth consecutive American League pennant by 17 games. The series opened in Yankee Stadium and pitted the Reds' 25-game winner Paul Derringer against Red Ruffing, who had gone 21-7 for the Yankees. In the fourth inning Goodman scored the first run of the Series by drawing a walk, stealing second, and scoring on Frank McCormick's base hit.
Then, in the bottom of the ninth with the scored tied, 1-1, Charlie Keller led off the inning with a long fly to right-center field that fell between Craft in center and Goodman in right. The consensus seemed to be that Goodman could have made the catch but was probably bothered by the afternoon shadows at Yankee Stadium.24 In any event the ball dropped and Keller made it to third with a triple. Reds manager Bill McKechnie ordered Derringer to intentionally walk Joe DiMaggio and pitch to Bill Dickey. But Dickey singled to center to drive in Keller and secure a 2-1 Yankees victory.25
Afterward Derringer, who had given up only four hits, was visibly upset in the Reds clubhouse.26 According to teammate Werber, when he spotted Goodman, Derringer said, "If you got no guts get out of here. That was the most gutless effort I've ever seen." The normally docile Goodman responded by walking up and throwing a right hand at Derringer's jaw. Teammates immediately separated the two and manager McKechnie ordered the clubhouse doors shut to keep the media from reporting about the incident. Again according to Werber, Derringer and Goodman later shook hands and remained good friends.27
Another outfield misplay by Goodman led to even more dire consequences in Game Four. The Yankees had won Games Two and Three to threaten to sweep the Series, but a gritty performance by Derringer had the Reds in the lead, 4-2, as the Yankees batted in the top of the ninth in Crosley Field. McKechnie had summoned Bucky Walters, who had won 27 games that year, to protect the lead, but the Yankees rallied to tie the score, helped in part by a botched double-play ball.
The Reds failed to score in their ninth, sending the game to extra innings. In the 10th Yankees shortstop Frankie Crosetti led off with a walk and was sacrificed to second by Red Rolfe. Reds shortstop Billy Myers fumbled Keller's grounder for an error, putting runners on first and third. DiMaggio then singled sharply to right to score Crosetti. Goodman, however, let the ball go through him as Keller tore around the bases and smashed into Ernie Lombardi at the plate, knocking the ball loose and momentarily stunning the Reds catcher, who had been inadvertently kneed in the groin. DiMaggio, running all the way, seized on the opportunity to score as well, beating Lombardi's belated lunge.28
Now down 7-4, Goodman and Frank McCormick led off the bottom of the 10th with singles, but Yankees reliever Johnny Murphy retired the next three batters and the Yankees had their fourth World Series championship in a row. Goodman's defensive issues overshadowed the fact that he had hit .333 for the Series with five hits in 15 at-bats.
After the season Goodman married Harriette Louis Cook of Cincinnati. The couple would have three children, Carol Ann, Janet, and Ival Jr.
The Reds returned their team virtually intact for 1940 and Goodman assured that they got off to a good start, blasting an eighth-inning Crosley Field home run off Lee of the Cubs on Opening Day to secure a 2-1 victory. Cincinnati never looked back and breezed to the pennant by 12 games, winning 100 contests in the process.29 They did so in spite of a surprising offensive downturn by Goodman, who hit .258 in 136 games, a drop of 65 batting points from 1939.
In the World Series, Cincinnati faced the Detroit Tigers, who had dethroned the Yankees in a tight three-team race with New York and the Cleveland Indians. The Reds prevailed in seven games to win their first World Series championship in 21 years as Goodman hit .276 for the Series, driving in five runs with several timely hits. His most important offensive contributions were his first-inning double off Dizzy Trout in Game Four that drove in Mike McCormick from first for the first run of the game and his deep sacrifice fly in the fourth inning that drove home Bill Werber in a crucial 4-1 Reds victory that even the Series two games apiece.30
The Reds slipped to third place in 1941 and the year was largely a forgettable one for Goodman. A hernia injury limited him to just 42 games in which he batted .268 with a home run and 12 runs batted in. According to manager McKechnie, the fact that Goodman was lost to the Reds for so much of the season was a big reason for the team's decline.31 The 33-year-old Goodman also struggled with injuries in 1942, appearing in 87 games, including 32 as a pinch-hitter. He hit .243 in 226 at-bats with no homers and 15 runs batted in as Cincinnati finished in fourth place with a 76-76 record.
After the season in November the Reds decided to part ways with Goodman and sold him to the Chicago Cubs.32 He again battled injuries early in the season and didn't make his Cubs debut until May 16 and then only as a pinch-hitter. But in late June he began to hit well enough to appear regularly in left field, punctuated by three games beginning July 18 in which he went 7-for-12. That began a 10-game hitting streak that lifted his season average to .340. He finished the 1943 season with a .319 batting average and 45 runs batted in in 225 at-bats in 80 games.
That performance was enough for the Cubs to have the 35-year-old return for 1944. He still had the legs to play some center field during that wartime season and was hitting .262 in 141 at-bats when he injured himself on August 23 crashing into a wall chasing a fly ball against the St. Louis Cardinals in Sportsman's Park.33 The injury ended his season and his major-league career, just past his 36th birthday.
The Cubs still had plans for Goodman after 1944 and signed him to be player-manager in 1945 for their farm team in Portsmouth, Virginia, in the Class B Piedmont League. The club finished fourth in a six-team league with a 67-69 record. Goodman inserted himself into 83 games and batted .305 in 223 at-bats.
In 1946 Goodman was a midseason managerial replacement for the Dayton Indians in the Class D Ohio State League, where he ended his playing career, hitting .354 mostly as a pinch-hitter. He was back with Dayton as strictly a manager in 1947 as the team finished sixth in an eight-team league. For 1948, he signed to manage the Davenport (Iowa) Pirates in the Class B Three-I League, but he didn't have much to work with and the team finished in the basement, 40 games out of first place.
Goodman later scouted part-time for the Cubs while working as a salesman for the Rinaldi Chemical Company. His wife, Harriette, died on Christmas Day 1960 and he later married Rose Lantz Ferkins.
In 1972 the Reds had Goodman, as a member of Cincinnati's last championship team, throw out the first pitch for Game Six of the World Series.34
Ival Goodman died on November 27, 1984, in Jewish Hospital in Cincinnati of what was described as an intestinal disorder.35 He was 76 years old.
For his major-league career, Goodman compiled a.281 batting average and a.445 slugging percentage, which suggests the important role he played in the Reds lineup in the late 1930s. He hit almost as many triples (85) as home runs (95), 30 of the latter hit in 1938. His next highest home-run total was 17 in 1936.
Goodman was effective at getting on base with a lifetime .352 OBP and three times led the league in hit-by-pitches.36 He also had a remarkable record on Opening Days, setting a Reds mark by going 13-for-31 for a .419 average from 1935 to 1940 and in 1942.37
The quiet, affable Goodman was a major factor in the Reds' rise to prominence in the National League in the late 1930s and early 1940s. The Reds have long recognized his contribution, electing him to their Hall of Fame in 1959 in only their second class, 20 years after the team's run to the 1939 pennant.
Acknowledgments
This biography was reviewed by Bill Lamb and Len Levin and fact-checked by David Kritzler.
Notes
1 The previous record was 19, set by Harry Heilmann in 1930.
2 Bill Werber and C. Paul Rogers III, Memories of a Ballplayer: Bill Werber and Baseball in the 1930s (Cleveland: SABR Publications, 2001), 188.
3 Cifford Bloodgood, "A Good Man Is Goodman," Baseball Magazine, August 1936: 401.
4 Bloodgood.
5 Bloodgood.
6 "Ival Goodman Quiet, Efficient Performer," Brooklyn Eagle, February 11, 1940.
7 Cincinnati Baseball Club News Release dated January 1, 1935, and located in the Ival Goodman clippings file, National Baseball Library, Cooperstown, New York.
8 The first night game was scheduled to take place May 23 but was postponed 24 hours by rain. Donald Honig, The Cincinnati Reds — An Illustrated History (New York: Simon & Schuster, 1992), 99-100; David Pietrusza, Lights On! The Wild Century-Long Saga of Night Baseball (Lanham, Maryland: Scarecrow Press, 1997), 109-17.
9 Goodman also stole 14 bases, which tied for fourth most in the National League.
10 Bloodgood, 401.
11 The Old Scout, "Ival Goodman Justifies His Boss's Opinion," unidentified clipping dated December 24, 1936, in the Ival Goodman clippings file, National Baseball Library,
12 He was second on the Reds in home runs with 12 and third in runs batted in with 55.
13 James W. Johnson, Double No-Hit: Johnny Vander Meer's Historic Night Under the Lights (Lincoln: University of Nebraska Press, 2012); Pietrusza, 119-33.
14 The voting for 1938 was by the league managers. David Vincent, Lyle Spatz, and David W. Smith, The Mid-Summer Classic: The Complete History of the All-Star Game (Lincoln: University of Nebraska Press, 2001), 35.
15 Tom Swope, "A Good Man in Right Is Cincinnati's Ival Goodman," The Sporting News, June 15, 1939.
16 Goodman was no doubt aided by the fact that before the season the Reds moved their fences in about 10 feet, making Crosley Field much more hitter-friendly.
17 Only Frank Robinson and George Foster have matched that streak with the Reds. Greg Rhodes and Mark Stang, The Reds in Black & White (Cincinnati: Road West Publishing, 1999), 95.
18 Rick Van Blair, Dugout to Foxhole: Interviews with Baseball Players Whose Careers Were Affected by World War II (Jefferson, North Carolina: McFarland & Company, 1994), 76.
19 Pitchers Bucky Walters and Johnny Vander Meer were also named to the team but did not appear in the game.
20 Vincent, Spatz, and Smith, 40.
21 Lee Allen, The Cincinnati Reds (Kent, Ohio: Kent State University Press, 2006), 270 (originally published by G.P. Putnam's Sons, 1948); Swope.
22 Swope.
23 Talmage Boston, 1939: Baseball's Pivotal Year (Fort Worth: The Summit Group, 1994), 100-103; Lawrence S. Katz, Baseball in 1939: The Watershed Season of the National Pastime (Jefferson, North Carolina: McFarland & Company, 1995), 114-16.
24 Allen, 272-73.
25 McKechnie drew considerable criticism for not walking Dickey as well to set up a force at home. Katz, 62-63.
26 Richard Tofel, The 1939 New York Yankees: A Legend in the Making (Chicago: Ivan R. Dee, 2004), 198.
27 Werber and Rogers, 44-45.
28 Allen, 274-75; Katz, 63-64; Mitchell Conrad Stinson, Deacon Bill McKechnie — A Baseball Biography (Jefferson, North Carolina: McFarland & Company, 2012), 176-77.
29 The Brooklyn Dodgers hung close to the Reds until the All-Star break, but thereafter the Reds gradually pulled away. Brian Mulligan, The 1940 Cincinnati Reds (Jefferson, North Carolina: McFarland & Company, 2005), 104-06.
30 Mulligan, 154-55.
31 "Goodman Good Man Until Legs Ran Out," unidentified clipping dated November 19, 1942, from the Ival Goodman clippings file, National Baseball Library.
32 "Goodman Good Man."
33 Obituary, The Sporting News, December 10, 1984.
34 Unidentified clipping dated November 4, 1972, from the Ival Goodman clippings file, National Baseball Library.
35 Bill Lee, The Baseball Necrology (Jefferson, North Carolina: McFarland & Company, 2003), 153-54. His passing in Jewish Hospital was somewhat ironic since during his career many assumed that Goodman was Jewish because of his dark complexion features and the fact that Goodman is often a Jewish surname. According to contemporary sources, he was, however, of English and Irish ancestry with a trace of Native American. Bloodgood; Swope.
36 He led in 1936 with 9 HBP, in 1938 with 15 and in 1939 with 7.
Born
July 23, 1908 at Northview, MO (USA)
Died
November 25, 1984 at Cincinnati, OH (USA)
If you can help us improve this player's biography, contact us.
https://sabr.org/sites/default/files/GoodmanIval.jpg
600
800
admin
/wp-content/uploads/2020/02/sabr_logo.png
admin
2020-04-10 00:00:43
2020-06-23 18:05:20
Ival Goodman