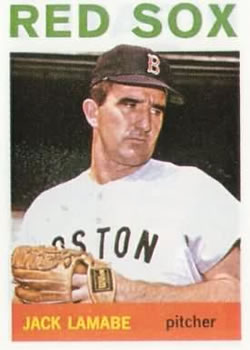 ---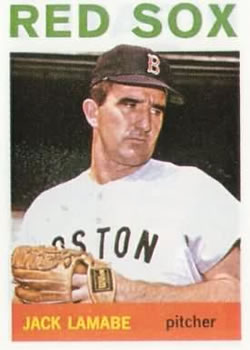 From 1962 through 1968, right-hander Jack Lamabe pitched for seven different teams: the Pirates, Red Sox, Astros, White Sox, Mets, Cardinals, and Cubs. He won a world championship with the 1967 St. Louis Cardinals, helping them get through an August that was particularly challenging due to the loss of ace pitcher Bob Gibson to a broken leg. The Cards were the third team he had worked for in 1967.
All told, his big-league record was 33-41 with a 4.24 earned run average.
John Alexander "Jack" Lamabe was born in Farmingdale on Long Island, New York, on October 3, 1936. His parents were Susan (O'Rourke) Lamabe and John McVean Lamabe. He was an only child. Both parents were immigrants, John from "Canada French" (per the 1940 U.S. census) and Susie O'Rourke from Northern Ireland. John worked as a foreman in a concrete pipe works. Lamabe, who earned the nickname "Tomatoes" when with the Red Sox due to his florid facial complexion,1 attended the Farmingdale schools and graduated from Farmingdale High School in 1954, where he captained both the basketball and football teams, and played baseball as well. He earned four letters in baseball, and three each in football and basketball. He was twice named All-Scholastic in baseball. Lamabe also played for the Massapequa Senior Kiwanis team. He then attended the University of Vermont for two years, where he played baseball and basketball.
On the recommendation of his college coach (and Phillies scout), Ralph LaPointe, Lamabe was signed as a free agent by the Philadelphia Phillies on June 26, 1956.2 They assigned him to the Class-B Carolina League where he played for the Wilson Tobs in what remained of the 1956 season, with a 3-7 record but a very good 2.75 ERA. He was called up in early September but saw no duty, though he said be benefitted from daily instruction from pitching coach Whitlow Wyatt.3 And he could look back and take pride in being a teammate for a while with Richie Ashburn, Robin Roberts, and Curt Simmons.4
Lamabe's tenure with the Phillies didn't last long. On October 22, 1956, Commissioner Ford Frick circulated a letter to all major- and minor-league clubs informing one and all that he had voided the contract between the Phillies and Lamabe "on the grounds that Mr. Lamabe was ineligible to sign such contract and, consequently must be considered a Free Agent."5 The commissioner's ruling was based on the "college rule" at that time, which had been intended to protect colleges from professional baseball clubs raiding them to entice players away. Phillies GM Roy Hamey said, "[Commissioner Ford] Frick was within his rights in declaring Lamabe a free agent."6 He had no quarrel with Frick and admitted that the Phillies had not gone through the proper formalities, perhaps due to carelessness or misguided belief.
Lamabe had submitted evidence that he was no longer enrolled in college, having departed the University of Vermont "on the basis of scholastic deficiency."7 The commissioner ruled that any club could bid for his services as of November 5.
Jack worked over the winter with the Farmingdale Post Office. Some 13 major-league clubs reportedly bid on Lamabe's services. He signed with the Pittsburgh Pirates, the signing credited to scout Ed McCarrick, on January 27, 1957.8 The Pirates called him "the outstanding young pitching prospect in the East."9 Despite the competition, Lamabe signed a "non-bonus" contract, which allowed the team to farm him out for seasoning. He explained, "I thought Pittsburgh would be my best opportunity because they're a young club and they're going places."10
He knew he needed time to develop in the minor leagues, and he got off to a very good start pitching in 1957 for the Lincoln (Nebraska) Chiefs in the Class-A Western League. In 28 games, he was 13-7 with a 3.18 ERA. That winter he pitched in Mexico, for the Poza Rica Oilers of the Veracruz League.
His 1958 season didn't go as well. He was promoted to Triple-A and pitched for the Salt Lake City Bees (Pacific Coast League) but suffered an elbow injury in late April and was reported with a sore arm in late May, left behind when the Bees went on a road trip.11 He was 4-1 as of July 20, but he finished the season 5-7 (6.70), starting in 12 games and relieving in nine others. He only worked a total of 86 innings, down from 167 the year before. "I hurt my arm so bad I couldn't throw my curve for two years."12
Lamabe signed up with the U.S. Marine Corps Reserve while in college; he served a six-month active duty stint in 1958.
Though briefly with Denver (0-1 in four appearances) at the start of the 1959 season, he spent most of the year in the Single-A South Atlantic League pitching for Columbus/Gastonia (the franchise moved to Gastonia on July 6). While the team had a winning record (just barely at 70-69), Lamabe did not. His record was 5-15 (3.95), almost evenly split between starts (14) and relief appearances (15).
His 1960 season saw him appear in two games for Columbus, Ohio, without a record, but he spent most of the season in Single A again, pitching for the Savannah Pirates (Gastonia was no longer in the South Atlantic League and Pittsburgh had switched affiliation.) He started in 25 of his 29 appearances, and posted a 15-10 record with a 3.57 ERA and 16 complete games. He struck out 143 batters in 191 1/3 innings, a dramatic increase in the number of Ks. Savannah won the league championship that year, with Lamabe winning Game Two of the first playoff round by holding Columbia to one run in 12 innings, with his home run in the top of the 12th winning the game for Savannah. Four days later he shut out Knoxville, 2-0, in the opener of the championship series.
It was back to Triple A for the full 1961 season, pitching in the International League for the Columbus Jets, but he worked almost exclusively in relief (33 of his 36 games) for manager Larry Shepard. He only worked a total of 78 innings; his record was 3-4 with a very good 2.88 ERA. Columbus finished first in the standings, but lost out in the playoffs.
During the offseason, Lamabe pursued college course work at the University of Pittsburgh and worked at Springfield College in Massachusetts as assistant freshman football coach.13
Lamabe was invited to spring training and made the Pirates staff in 1962, his debut coming on April 17 in the team's sixth game of the season. At Chicago's Wrigley Field, starter Tom Sturdivant surrendered five runs in the bottom of the first inning. When it was his turn to bat in the second, he was removed for a pinch-hitter. Lamabe pitched the second through fifth innings, giving up two scattered singles, while the Pirates scored four runs. His first at-bat came with one out in the fourth with a runner on second. He struck out.
When Lamabe gave up a single and a walk in the bottom of the sixth, manager Danny Murtaugh brought in Earl Francis; neither inherited runner scored. The Pirates took the lead in the eighth and won, 10-6.
Two days later, he threw the final four innings of a game against the Phillies at Connie Mack Stadium, allowing just one run and earning the save in a 6-3 Pirates victory.
After his first 17 appearances, he had neither a win nor a loss but had an excellent 2.06 earned run average. His first decision came on June 15 against the visiting Milwaukee Braves. He had entered the game after seven full innings, the score Braves 8, Pirates 2. Lamabe induced two groundouts and struck out the third batter. In the bottom of the eighth, and much to the delight of the Forbes Field faithful, Roberto Clemente hit a grand slam. A walk and a single put the tying runs on base with two outs, so Murtaugh pinch-hit for Lamabe and Pirates batters hit three consecutive singles, Pittsburgh taking a 9-8 lead. Roy Face induced two infield popups and a groundout, and Lamabe got the win.
He got his second win in Chicago on August 12, working two innings in relief as his teammates pulled ahead of the Cubs.
Coming into a tie game on September 18 to work the top of the 10th against Cincinnati, he gave up a couple of singles and a walk, and bore his first defeat.
Lamabe appeared in 46 games for the 1962 Pirates, working 78 innings. He struck out 56 and walked 40, had a 3-1 record and a 2.88 ERA. It was an excellent first season.
The Boston Red Sox thought so, too, and on November 20 they traded Jim Pagliaroni and Don Schwall to the Pirates for slugger Dick Stuart and Lamabe. It was mostly a Stuart-for-Schwall deal, in both cases the acquiring teams hoping that down seasons in 1962 could be reversed in years to come. Both did significantly improve, with Schwall shaving more than a full run off his ERA and Stuart becoming the A.L. RBI champ. And Lamabe pitched very well for the Red Sox, too, appearing in 65 games in 1963, with a 7-4 record and an ERA of 3.15 in 151 1/3 innings.
The Boston press hadn't been expecting much of Lamabe, with Larry Claflin basically confessing he was unaware of Lamabe's work when calling him "a pitcher named Jack Lamabe" is his initial news story of the trade.14 Later, though, Claflin quoted Boston GM Mike Higgins saying, "We never considered him a toss-in. In fact, we had our eyes on him for a long time."15 That Stuart and Lamabe were paired in the deal was interesting, Stuart said, in that five years earlier during spring training in Fort Myers, Lamabe had introduced Stuart to Lois Morano, an airline stewardess Lamabe had known, who became Stuart's wife.16 On the road, Stuart and Lamabe had been roommates on the Pirates.17
New Red Sox manager Johnny Pesky had seen Lamabe pitch when Lamabe was in the PCL. Lamabe, who again spent the winter at Springfield working on his degree in physical education, hoped to be a starter in baseball, and a football coach after his playing days were done.18
Lamabe's first four decisions in 1963 were all wins, and all games in which he worked multiple innings in relief. His first loss didn't come until July 1 in Yankee Stadium, where he worked 4 2/3 innings but gave up three runs and lost, 7-5. As a long reliever, there wasn't a single decision in his 7-4 record in which he pitched only one inning or less. In midseason, Pesky had said Lamabe was a target of the trade with the Pirates: "He's a competitor – fights you all the way. He didn't come cheaply. I felt at the time that we gave a lot to get him. I still think so. But I wouldn't trade him back. He'd pitch every day if you asked him." Pesky added, "Lamabe will never get the recognition he deserves on this club because of [Dick] Radatz. But I don't think he particularly cares. He acts to me like a fellow who gets his satisfaction from seeing his ball club win."19
Just as Elroy Face (and Diomedes Olivo) had overshadowed Lamabe's relief work in 1962 with the Pirates, so had Dick Radatz overshadowed Lamabe with the BoSox in 1963: Radatz was 15-6 (as a reliever!) and had a 1.97 ERA. Boston sportswriter Joe Cashman said that had Radatz been in the other league, he probably would have been considered the best reliever in the league.20 Radatz himself said, "Jack held the fort in the middle innings, which permitted me to pick up all those victories and saves."21
Bill Monbouquette was a 20-game winner and yet the Red Sox finished in seventh place. Lamabe had six saves on the season. At the Boston Baseball Writers Dinner in January 1964, Lamabe was honored as the "Unsung Hero" of the '63 Sox.22 Harold Kaese of the Boston Globe wrote that acquiring Lamabe "helped make the deal for Stuart a masterpiece for Mike Higgins."23
There was understandably offseason interest from a number of teams in trading for Lamabe. Johnny Pesky contemplated converting Lamabe to a starter. Lamabe had said he preferred starting, but would do whatever Pesky asked of him.24 And when the season began, there was Lamabe starting the second game of the '64 season. He threw a complete-game 4-1 win over the Chicago White Sox. He beat Baltimore, 3-1, in his second start. By mid-June, however, his ERA climbed over 4.00 and by mid-July, it was over 5.00 and he was 8-8. For the next month, he worked out of the bullpen before returning to the starter's role in late August. When the season was done, the Red Sox finished in eighth place, and Lamabe had a disappointing record of 9-13 (5.89). He had started 25 games and relieved in 14. Lamabe had no idea why he had lost his effectiveness: "I don't know what has gone wrong," he said at the end of September. "I think I'm throwing the same as always – and just as hard – but everyone has been hitting me better. I thought going back to the bullpen might straighten me out, but that hasn't seemed to help."25 One Boston writer said, "The more Pesky relied on him, the worse Lamabe became."26
Billy Herman was the Red Sox manager in 1965. His intent from the start was to return Lamabe to the bullpen. Lamabe never got going. By the end of May, he had a 12.51 ERA. There was a bright spot on June 13, when he received his degree from Springfield College.27 But by June 23, his last game for the Red Sox, his pitching record was 0-3 (8.17). Shoulder trouble brought an end to his work with Boston. On July 4, his contract was sold to Toronto (International League). "I don't blame them for sending me down. I told Billy Herman he was doing the right thing. I wasn't helping him at the time."28
Lamabe turned things around in Triple A, and was 10-3 (1.95) with the Maple Leafs, and had won another two games in the playoffs before, on September 14, he was dealt to the Houston Astros for pitcher Darrell "Bucky" Brandon. (For his work with Toronto, Lamabe was named to the I.L. All-Star team.) Lamabe lost both of his starts for Houston, appearing in a third game in a relief role. In the three games, he had worked 12 2/3 innings with a 4.26 ERA.
They were his only games for the Astros. On December 1, he was part of a four-player trade to the Chicago White Sox. While working toward his master's degree, he coached Springfield College's junior varsity basketball team during the winters of 1965-66 and 1966-67.29
After seven relief appearances for the 1966 White Sox, and a 5.28 ERA to that point in the season, Lamabe was given a start in the second game of the Memorial Day doubleheader against the visiting Red Sox. He threw the best game of his career, a one-hit shutout, as Chicago beat Boston, 11-0. (The one hit was an eighth-inning single to center by Joe Foy. John Buzhardt had shut out Boston, 1-0, in the first game.) Four days later, Lamabe shut out the Senators when they came to Comiskey, 8-0, a three-hitter. They were the first two shutouts of his career. He threw one more, in 1967.
His scoreless-innings streak was snapped at 24. As the season progressed, he won some and lost some. At the end of the year, Lamabe was 7-9 (3.93) with a year split evenly between starts (17) and relief appearances (17).
Lamabe married Janet Berta in Westwood, New Jersey, on July 11, 1966. The two had met at Springfield College. They later had two children, John and Jennifer.
Lamabe switched teams again in 1967, and earned himself a World Championship ring. He began the season with a win for the White Sox with an inning of relief work on April 13. He relieved in two other games for Chicago, but on April 26 was sent to the New York Mets for cash in excess of the $20,000 waiver price and a player to be named later.30
In 16 appearances for the Mets (a late May groin pull cost him two weeks), he was 0-3 with a respectable 3.98 ERA, but then the Mets dealt him to the St. Louis Cardinals on July 16 for a player to be named later. (The day after the World Series ended, Al Jackson was the player named.) Ace starter Bob Gibson had broken his leg on July 15, and the Cardinals were desperate for more pitching. "[Lamabe] used to kill us when he was with the Mets," said manager Red Schoendienst.31 St. Louis was in first place at the time, by four games, so it was quite a rise for Lamabe – from a last-place team to the first-place team. (A Garry Brown column in early October subtitled "What A Lucky Guy!" gives some good flavor on Lamabe's good fortune.)32
Lamabe lost his first two decisions with the Cards, and saw his ERA balloon to 4.44 by the end of July, then he came through with a big month in August, which included a hold, a save, and three wins. One of the wins was a 3-2 victory after seven innings of relief on August 12. He capped the month with a shutout of the Mets on August 28. Tied for first place as late as July 24, the Cardinals were up by 11 games as of August 28. Lamabe had helped bring some needed stability to the Cardinals staff. In his nine August outings, he had not even allowed one earned run in 25 innings of work.
In his time with the Cardinals, he was 3-4 (2.83). After winning the pennant, the Cardinals faced the Red Sox in the 1967 World Series. Lamabe pitched in three of the games. He worked the final inning and a third of Game Two, touched for two singles but no runs. In Game Five, he came on in the top of the ninth with Boston leading, 1-0, the bases loaded and nobody out. A single into right field by Elston Howard scored two inherited runners, but he recorded three outs before any more damage was done. In Game Six, Lamabe was asked to preserve a 4-4 tie in the bottom of the seventh. After one out, Dalton Jones singled and then Joe Foy doubled him in. Joe Hoerner replaced Lamabe, but Mike Andrews singled in Foy. Four Cardinals pitchers worked in that half-inning, and Boston scored four runs. Lamabe bore the 8-4 loss that sent the Series to Game Seven. The team was pretty dejected afterward, but Bob Gibson lightened their spirits. As the team bus drove past an automobile junkyard, Gibson reminded everyone how the Series MVP was going to get a new car. He told Orlando Cepeda and Tim McCarver (underperformers in the Series) that the junk cars in the lot were for the Most Unvaluable Players. "There's one there for you, too, Lamabe. But I'm not mad at you because you lost today. In fact, you really got me off the hook. If we had won the Series today, [Lou] Brock would have gotten the new car for being Series MVP. Well, I'm pitching tomorrow, and my wife has been nagging me for a new car. So I guess I'm going to have to go out there and win one for her!"33
Bob Gibson had come back from his broken leg, and he won three games, including the final Game Seven. Lamabe had his ring and was voted a full share of the World Series earnings.
By the end of the month, he was back at Springfield College coaching JV basketball and wrapping up his Master's degree.
When he reported to St. Petersburg for spring training 1968, Lamabe was said to be 20 pounds overweight.34 On April 4, he was cut from the Cardinals' roster. The team was said to be trying to arrange a trade. After a complete-game win for the Tulsa Oilers in the early going, Lamabe was traded on April 22 as part of a four-player deal with the Chicago Cubs. Back in the majors, he pitched in 42 games for the Cubs, all in relief. He was 3-2, 4.30. It was his last season in the big leagues. On October 16, he was optioned to Tacoma (Pacific Coast League).
Jack Lamabe as a big-league batter was no great shakes. In fact, he was a good argument for the DH – his career batting average was .096, 15 hits in 172 plate appearances. Among his hits were two doubles and one home run – a three-run homer off the Yankees' Bill Stafford which boosted the score of the August 14, 1963, game from 11-5 in Boston's favor to 14-5. The three runs he drove in were half of his career total of six. He had a .135 on-base percentage. He had a fielding percentage of .970 (five errors in 167 chances).
Lamabe opened the 1969 season pitching for Tacoma, but was traded on June 11 to the Montreal Expos. The Expos had him report to their affiliate in Vancouver. His combined PCL stats for Tacoma and Vancouver were 8-4 (3.71). He pitched for the Expos as a non-roster invitee in spring training 1970, envisioned as a pitching instructor who could help with their Buffalo affiliate, and wound up being hired to serve as a pitching coach in the team's minor-league system.35
In 1974, he became head baseball coach at Jacksonville University in Florida. It was a losing program, and an underfunded one, but by 1976 he had taken the Dolphins to within one game of the College World Series.36
In 1979, after five years at Jacksonville, Lamabe became Louisiana State University's first fulltime baseball coach. The Tigers had been 12-34 in 1978; under Lamabe they posted a 33-18 record and went all the way to the Southeastern Conference finals before succumbing to Florida. That October, he was one of four coaches for a college all-star baseball team that played in international competition in Havana. Lamabe served at LSU from 1979 through the 1983 season and made his permanent home in Baton Rouge, where he lived with his wife Janet and their two children.37 He was active with Babe Ruth Baseball in Baton Rouge.
There were ups and downs; in 1981, the team finished 23-30. They started strong in 1982, but wound up 26-25.
It was announced in early April 1983 that he had resigned his position, effective at the end of June. Lamabe said he was fired.38 He went into the insurance business, but by December 1985 was named pitching coach for Beaumont, the San Diego Padres affiliate in the Texas League. He worked for a number of years as a roving pitching instructor and evaluator in the Padres' minor-league system — and picked up some more championship rings. He'd gotten a National League championship ring in 1984 while in the Padres system. He was pitching coach in 1986 for Las Vegas when they won the PCL championship, and in 1987 won one with Spokane.39 In 1992, he became pitching coach of the Padres' Charleston (South Carolina) Rainbows. In 1993, it was Visalia and in 1994, Asheville, where he worked through 1997, sandwiched around 1996 with New Haven. In 1999, he returned to Asheville again, a Colorado Rockies affiliate at the time. By the start of the twenty-first century, he was minor-league pitching consultant for the Padres.
Jack Lamabe died peacefully at his Baton Rouge home on December 21, 2007.
Acknowledgments
This biography was reviewed by Norman Macht and fact-checked by Rob Wood.
Sources
In addition to the sources noted in this biography, the author also accessed Lamabe's player questionnaire from the National Baseball Hall of Fame, the Encyclopedia of Minor League Baseball, Retrosheet.org, and Baseball-Reference.com. Thanks to Rod Nelson of SABR's Scouts Committee.
Notes
Born
October 3, 1936 at Farmingdale, NY (USA)
Died
December 21, 2007 at Baton Rouge, LA (USA)
If you can help us improve this player's biography, contact us.
https://sabr.org/sites/default/files/LamabeJack.jpg
600
800
admin
/wp-content/uploads/2020/02/sabr_logo.png
admin
2017-12-27 17:42:25
2020-04-09 14:40:28
Jack Lamabe