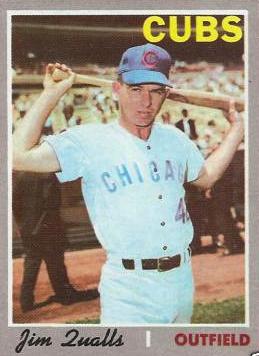 ---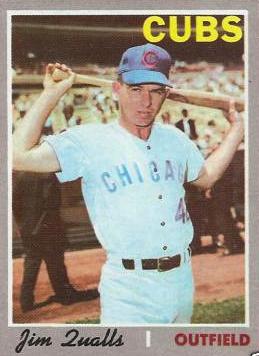 It's called "The Imperfect Game." On July 9, 1969, Mets ace Tom Seaver retired the first 25 Chicago Cubs to face him at Shea Stadium. Then a 22-year-old rookie utilityman named Jimmy Qualls stroked a clean base hit. Seaver came close several times more but never got a no-hitter until he was traded to Cincinnati. No Met threw one until 43 years later — and still the name of Jimmy Qualls can make Mets fans gnash their teeth in vexation.
"Who the **** is Jimmy Qualls?" New Yorkers barked that day. The question remains apt, for he remains known almost solely for this one at-bat. An infielder by trade, Qualls saw nearly all his big-league action in center field for the Cubs in '69. He had brief stints with the Expos in 1970 and the White Sox in 1972, followed by parts of two seasons in Japan. The Californian had about the same build as Bud Harrelson, a slight 5'10" and 158 pounds. A slap hitter, he had good speed and was a sound fielder (if not a Gold Glover). Qualls got as far as he did on his most pleasing quality: hustle.
James Robert Qualls was born on October 9, 1946, in Exeter, California, a farm town in the fertile San Joaquin Valley. (Tom Seaver, two years older, grew up about 50 miles northwest in Fresno.) The Qualls family could have stepped right out of John Steinbeck's The Grapes of Wrath — parents Robert and Ruth moved west from Oklahoma. Even today, Jim's speech bears a marked easygoing country flavor. He recalls that his father was "just a general common farm laborer. I remember dragging a cotton bag through the fields myself when I was a kid. There were orange groves, peaches, plums, and grapes."
Jim, who had an older sister and a younger brother, recalls how he got involved in baseball. "Growing up in the country," he observes, "there was nothing to do. We'd walk miles to get a game going." Qualls attended Woodlake — "about 80% Hispanic" — and Redwood High Schools in the town of Visalia, which has had a long association with pro ball. Jim grew up with future Atlanta Braves shortstop Marty Perez, who was born in Visalia five months after him. He also remembers babysitting for the family of future Reds and Brewers pitcher Ron Robinson, who was born in Exeter in 1962. Robert Qualls worked for Ron's grandfather, and Ron's father Leo was a successful coach at Woodlake for over 40 years.
Qualls graduated from Tulare Western High School in 1964.1 "My senior year, my folks moved to Oregon. They found me a place on a farm with another family." Although he was an All-Conference guard in basketball, baseball was his primary sport. A pitcher as well as infielder, he was team captain for two years and also played American Legion ball.
Qualls attracted scouts from four big-league organizations: the Twins, Angels, Yankees, and Cubs. "He had grown up a Yankee fan and dreamed of playing pro ball in the Bronx, but an adult friend advised him at age 17, 'Why sign with a winner? Sign with a downtrodden club, and make it to the big leagues quicker.'"2
So he went with the Cubs, who had finished seventh in the National League in 1963 and were on their way to eighth in '64. On June 6, 1964, Gene Handley, Chicago's longtime supervisor of West Coast scouting, signed him for a $5,000 bonus. "Back in them days," Qualls recalls, "it was either a bonus or education money, which would have been about $8,000. Well, I didn't care that much about school, so I took the cash. I could have gone to Cal Poly or junior college and played basketball, though."
Along with Handley's son Jack, Qualls reported to the Treasure Valley (Idaho) Cubs in the Pioneer League, where he had one homer, 14 RBIs, and a .277 average in 37 games. Rookie ball brought a notable change in Jimmy's game. In 1969 he recalled, "Right after I went into pro ball I suffered a fractured jaw when I was batting righthanded against a righthander. Right then I decided to become a switch-hitter. You can see the ball from a righthander better from the left side. And besides, you're closer to first base."3
In 1965, Qualls advanced to Quincy (Illinois) in the Class A Midwest League. Playing shortstop as well as second base, he went .266-3-28 in 106 games, also stealing 26 bases. Two comparable seasons with Lodi in the California League (also Class A) then followed. Qualls played just 74 games in 1966 (.263-0-10), as he left for Army service in July. He returned for 100 games in '67 (.269-3-37).
From 1967 through 1971, he made his home in Lodi, along with his first wife, whom he had met in Quincy and married in '66. "I had a friend with a grape vineyard. He let us put up a trailer there for free."
The second baseman then climbed another rung to the Texas League (Double A) in 1968. In 74 games for San Antonio, he went .248-3-27, earning another promotion to Triple A (.244-1-8 in 35 games with Tacoma in the Pacific Coast League).
At spring training in 1969, "the Cubs had been giving Qualls his first try in the outfield after primarily playing him at second base for most of his professional career, but with the lack of depth in the infield, [manager Leo] Durocher wanted him to spend practice time at second as well. Leo envisioned. . .Qualls as a quality defensive man in the late innings at several positions."4 As it turned out, the only spots Qualls played for Chicago that year were center (35 games, including 26 starts) and second (only four appearances, with two starts). He was not deemed proficient enough at shortstop to back up Don Kessinger.5
Qualls enjoyed a strong camp with both bat and glove and made the Chicago roster for Opening Day. His big-league debut came on April 10 against the Phillies at Wrigley Field. He pinch-ran for Willie Smith, stayed in to play center, and later singled off Barry Lersch in his first at-bat.
In mid-April, the Cubs sent the rookie back to Tacoma for nearly two months (.318-2-26 in 40 games). He went there from temporary duty at his National Guard post in Stockton, California. "This was not seen as a demotion by anyone except Qualls, as Durocher and others with the Cubs foresaw the speedy young man having a future in the outfield and they wanted him to continue honing his skills in the minors for the interim."6
Adolfo Phillips, the Cubs' center fielder for the past three seasons, had suffered a broken hand in spring training. After the cast came off, the Panamanian started slowly and landed in Durocher's doghouse, as he had in 1968 as well. Phillips was traded to Montreal on June 11. Don Young (who shared a Topps rookie card that year with Qualls and pitcher Alec Distaso) became the regular; Qualls, recalled earlier in the week, was also in the mix.
In mid-June, Qualls served another two weeks in the National Guard, which caused an amusing mix-up. The telegram the Cubs sent to notify the NL office somehow got crossed with one that Leo Durocher sent to his Hollywood crony, Dean Martin, upon the wedding of Dino's daughter.7
Just before Qualls left for the service, on June 13, he enjoyed one of his highlights. At Crosley Field in Cincinnati, his double sparked a game-winning six-run rally in the 10th inning. After Paul Popovich singled, Reds catcher Pat Corrales had the plate blocked — but "'I flipped right over him,' explained Qualls. 'I missed the plate a body length and started scrambling back. Corrales was also scrambling back from the opposite end — but I touched the plate first.'"8 Reds manager Dave Bristol was ejected after arguing over the play. Today Qualls thinks that the Chicago reporters put Durocher on the spot after the game and helped keep him in the club's plans.
However, his best day in the majors came shortly after his return, on July 2. At Montreal's old Jarry Park, he went 3 for 4, with a double and triple off Bill Stoneman, plus another double against Gary Waslewski. He has no memory of that day, though — "it's probably in my old scrapbooks, but I don't really look at those no more."
Six days later, the Cubs were in Shea Stadium for a three-game series. Don Young lost the opener with two ninth-inning misplays. Durocher and in particular third baseman Ron Santo had caustic remarks for Young; the next night Qualls was in the lineup.
In front of 59,083 fans — the biggest baseball crowd that Shea would ever host — Tom Seaver was overpowering. He mowed through the Chicago order, although Santo did hit two deep fly balls that Tommie Agee hauled in. Seaver threw out Randy Hundley on an attempted bunt to open the ninth. Then Qualls (who had also hit the ball hard previously) stepped up. Batting left against the righty, he swung at the first pitch — a sinker that didn't sink.9
The ball was outside, and Qualls took it the other way. Some accounts describe the hit as a "looper" or "flare" — which suggests that it was a cheapie. It was nothing of the sort, simply a clean sharp single, as Mets announcer Bob Murphy described it:
"And it's hit hard to left field. . .It's going to be a base hit. . .A base hit by Jimmy Qualls and it breaks up the perfect game. . .Now the applause for Tom Seaver. . .Eight and one-third innings of perfect baseball by Seaver."10
Years later, right fielder Ron Swoboda had this remark for author Peter Golenbock:
"It was a base hit. There was no way it wasn't. And it was a shame. You ask, How much worse is a one-hitter? It's the difference between being a virgin and not."11
Qualls recalls, "When I got to first base, I was never booed so bad in my life. We got back to Chicago and I got all this hate mail. You could tell by the handwriting it was just kids, little Mets fans: 'You bum, don't show up in New York.' I don't get any letters like that anymore."12
Qualls has mused about the possibility that he and "Tom Terrific" could do autograph sessions together, but since the Imperfect Game, the two met only once before Seaver died in 2020. It came less than a week later as the Mets visited Wrigley Field. The pair crossed paths while running in the outfield, and as Qualls tells it, Seaver said, "'You little (bum), you cost me a million dollars!' We both laughed and kept running."13 Although Qualls gets together every few years or so with his old Cubs teammates for card shows, he still hadn't seen Seaver. Any merchandise that bears both autographs has been signed separately. "I saw a [co-signed] ball turn up on the Internet, and I said, 'I ain't doin' that crap no more!'"
Qualls platooned with Young for several weeks in July and August. Leo Durocher paid him a rather backhanded compliment at the time. "He's not a great ballplayer. He doesn't have a strong arm and he's not a topflight outfielder. But Jimmy can run and he tries. He's trying all the time. And he also thinks out there, because he's always alert. At the plate he won't give you the long ball either. But he's a smart hitter. He goes with the pitch. He's all right with me. I like the way the kid plays."14
On August 22 at Wrigley against the Astros, Qualls slammed into the ivy-covered brick wall as he made a catch. He hurt his thumb and also dislocated his right shoulder. Although he did not come out of the game, that was his last appearance of the season. He went on the disabled list (final stats: .250-0-9 in 43 games) and the Cubs called up John Hairston.
"All I remember is Billy Williams fell over me as I hit the wall. I couldn't raise my arm after the game. I got a couple of cortisone shots, but Leo had found Oscar Gamble, his next Willie Mays. Leo didn't really like me — I was a quiet guy, not his style. I thought things were hunky-dory, but I'd have been better off with somebody like Chuck Tanner, who gave me a chance in '72. Chuck was a good manager."
In 1970, Chicago had many contenders for the center field job but started by pressing Jim Hickman into the spot he'd played semi-regularly at most. Cleo James, a 29-year-old Rule V draftee from the Dodgers, also made the team. Qualls opened the season with Tacoma (.100-0-1 in nine games), but on April 22, he was traded to the Expos for Garry Jestadt. He went 1 for 9 in nine games for Montreal with a single RBI.
In late May, Montreal then sent Jim down to the Buffalo Bisons of the International League "for further development" (as The Sporting News put it). He played in just 67 games at Triple-A (.281-3-22). After ongoing Army reserve duty in July, he got into a dispute over money with the team and manager Clyde McCullough, a crusty old-school type. The odd situation arose because the ailing Bisons franchise moved to Manitoba in June, becoming the Winnipeg Whips. The Whips played a patchwork touring schedule that included some "home" games in Jarry Park.
"Qualls contended that, since he was maintaining his family in Winnipeg, he was entitled to road meal expenses in Montreal." He left the club for a few days, talked it out with Montreal GM Jim Fanning, but then McCullough levied a fine in the name of discipline. Qualls responded that he would not come back if he was fined, and McCullough ended the conversation. So in early August, Qualls took himself, family, and trailer back home to Lodi, drawing growls from McCullough.15 16
"It was all about money. Steve Shea and I were the two guys who took our families and rented apartments. All the other guys were in hotels. Montreal was plumb across the country. But McCullough wouldn't even talk to Jim Fanning. He took things in his own hands, said, 'I ain't doin' it.' So I told him to stick it.'
"Gene Mauch [then Expos manager] and Jim Fanning called me that winter. They fined me a pretty good fine for leaving, about $1600. But they told me I'd have to play myself off the club that spring. What happened was I got about three at-bats. Mauch had his guys from Philadelphia, Gary Sutherland and Bobby Wine."
On March 31, 1971, Montreal traded Qualls to Cincinnati for Stan Swanson (resulting in an airbrushed solid-red cap on his Topps baseball card). He spent the '71 season playing second base with Indianapolis in the American Association (.253-5-33 in 94 games). Then on December 14, the Reds dealt him to the White Sox for Pat Jacquez.
Qualls got his last taste of big-league ball in 1972. The "hustling outfielder with grit" was a minor-league invitee17 but won a job in camp. The White Sox used him sparingly, though, as he went 0 for 10 in 11 games from April 15 to May 28. He appeared just once in the field, starting in center. On May 29, Chicago sent Qualls down to Tucson in the PCL. He hit well in 12 games (.405-0-8) but in June his career took a new turn.
Still just 25, Qualls received an offer to play ball in Japan. Tsuneo "Cappy" Harada, an influential Japanese-American baseball man, had been his general manager in Lodi and knew that the Japanese leagues were looking for players. Qualls also recalls talking with Cubs coach Jim Marshall, who had played in Japan in the '60s. White Sox general manager Roland Hemond then arranged the deal, selling Jim's contract to the Kintetsu Buffaloes of the Pacific League.
Playing second base for Kintetsu, Qualls hit 9 homers and drove in 48 (both career highs) while hitting .292 in 81 games. Returning to the Osaka-based club in 1973, he earned the princely salary of $30,769.18 He did not fare as well, though (.208-6-23 in 81 games). "I got in a slump and stayed in a slump. I made the decision to go back home. The family didn't want to go back after the first year anyway. We had the kids in a missionary school, and they had to travel a long way.
"I liked it all right. We traveled all over, and you packed all your own stuff. I always had an interpreter with me, Jyun Hirota [a Hawaiian veteran of the Japanese leagues]. He was my roommate the first year.
"The game was basically the same, but one thing they always did was play to score the first run, bunting in the first inning. I liked the food, especially the beef and the mayonnaise. The manager, Mr. [Yoshiyuki] Iwamoto — we called him Kantoku, the boss — he and his wife were real good to me. I remember one time he asked me to play right field in Hiroshima, though, and I said, 'No way, not a white guy, not there. There were bottles coming out of the stands!'
After he returned to the U.S., the White Sox gave Qualls a chance with the Iowa Oaks, which had become their Triple-A club in '73. He did not make the final cut, though, and so he retired. "It didn't work out, mostly my fault. I coulda stuck around, but I talked about it with the family and they said just come home."
Qualls moved from Lodi to the Quincy, Illinois area in 1971. He has remained ever since in the nearby village of Sutter. "On my way to spring training, I bought a little farm. I sold it about four, five years after. Then I had a feed business for about 14 years, a little one-horse outfit, but that got too hard to keep going. I was road commissioner for a couple of terms here, worked in farm service for a couple of years. I've been with my second wife for about 20 years, one stepson along with two kids of my own."
Jim's 1970 Topps baseball card noted that his hobby was raising livestock, and he still enjoys breeding game chickens. "Not for fights — I used to go over to Missouri, but they made it illegal there, put felonies on it [in 1998]. I don't want no felonies on me! I do it just to keep the breeds alive."
Qualls has not been involved in coaching or anything else baseball-related since retiring. "I used to go to Chicago for games, but I about froze to death one Opening Day. I went to Kansas City too when my friend Tony Muser was manager there." Qualls is also friends with another major-leaguer from his part of Illinois. Josh Rabe, born in 1978, grew up in Mendon, midway between Sutter and Quincy. Rabe played 38 games with Minnesota in 2006-07.
Qualls is one of the thousand or so retired major-leaguers who are not drawing a pension. Thus he also has worked at factory jobs such as welding for the insurance. In fact, it was an interview with Qualls that brought the pension issue to the attention of journalist Douglas Gladstone, who then wrote a book on the subject, A Bitter Cup of Coffee. Ever since, Gladstone has been on a crusade.
Looking back on his career, Qualls offers a mild chuckle. "There's not much to it. Being a major-leaguer has helped me in a few places, like the plant I'm at now. The boss is a big fan. But I don't use it as a crutch — never have. I was very fortunate. I'm tickled to death that I had a chance."
Thanks to Jim Qualls for sharing his memories (telephone interview, November 2, 2008).
Notes
1 Bryson, Mike. "Valley Player Does Damage." Fresno Bee, July 10, 1969: 24.
2 Feldmann, Doug. Miracle Collapse: The 1969 Chicago Cubs. Lincoln: University of Nebraska Press, 2006: 25.
3 Munzel, op. cit.
4 Feldmann, op. cit., loc. cit.
5 Feldmann, op. cit.: 61.
6 Feldmann, op. cit.: 86.
7 Feldmann, op. cit.: 25-26.
8 "Quick Flip by Jim Qualls Gives Cubs Win Over Reds." Washington Court House (Ohio) Record-Herald, June 14, 1970: 20.
9 Seaver, Tom, with Dick Schaap. The Perfect Game: Tom Seaver and the Mets. New York: E.P. Dutton and Co., 1970.
10 New York Mets website, http://newyork.mets.mlb.com/content/printer_friendly/nym/y2004/m08/d04/c818742.jsp
11 Golenbock, Peter. Amazin'. New York: St. Martin's Press, 2002: 228.
12 Capozzi, Joe. "Catching up with Jimmy Qualls: Cubs rookie OF broke up Seaver's gem." Palm Beach Post, April 27, 2008.
13 Ibid.
14 Munzel, Edgar. "Super-Sub? Cubs Have One in Versatile Qualls." The Sporting News, August 9, 1969: 17.
15 "Qualls Quits Whips." The Sporting News, August 22, 1970: 38.
16 "Whips Lose Two and Add One." Winnipeg Free Press, August 4, 1970: 23.
17 Holtzman, Jerome. "Qualls to Bid for Chisox Berth." The Sporting News, February 5, 1972: 36.
18 Sowato, Don. "Baseball Becomes Top Japanese Sports Game." Associated Press, May 20, 1973.
Sources
Topps baseball cards: 1970 #192, 1971 #731.
www.retrosheet.org
baseballprofessor.com
Holtzman, Jerome. "Qualls Earning Spurs as Cubs' Key Sub". The Sporting News, July 26, 1969: 18.
Photo Credit
The Topps Company
Born
October 9, 1946 at Exeter, CA (USA)
If you can help us improve this player's biography, contact us.
http://bioproj.sabr.org/bp_ftp/images2/QuallsJim.jpg
600
800
admin
/wp-content/uploads/2020/02/sabr_logo.png
admin
2012-01-04 20:37:55
2021-08-13 07:38:28
Jim Qualls