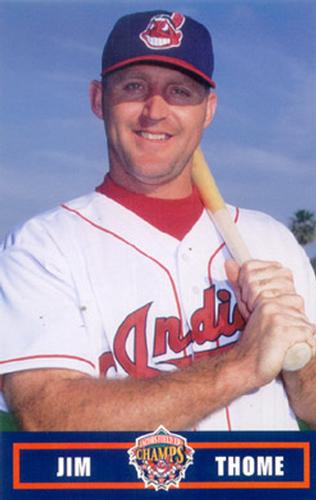 ---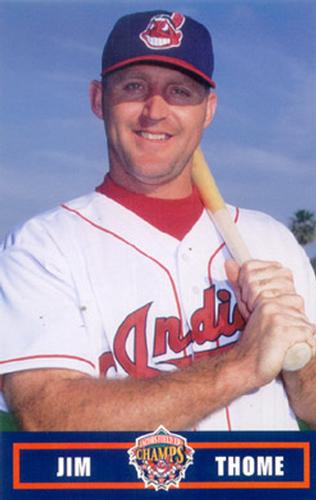 All right up there, drop down the ladder from your clubhouse. A new member is joining you. Henry, show him the secret handshake. Willie, educate him on the secret password. Babe, don't hog all those s'mores. Junior, slide over a bit. Gentlemen, please welcome Jim Thome to the 600 Home Run Club.
It may seem a bit of tomfoolery to think of an actual tree house hosting some of the greats of the game of baseball. But on August 15, 2011, that is exactly the scene one might envision. Minnesota Twins slugger Jim Thome joined that elite group when he hit home runs 599 and 600 against the Detroit Tigers at Comerica Park. He became the eighth player to achieve the monumental feat, and he became the first to hit numbers 599 and 600 in the same game.
Thome stepped to the plate in the in the top of the sixth inning, with Jason Kubel on first base and no one out, and homered to break a 3-3 tie. In the seventh inning, he connected for a three-run homer off pitcher Dan Schlereth. The ball sailed over the left-field wall for number 600. Detroit left fielder Delmon Young, who had been traded to the Tigers from Minnesota earlier that day, leapt in vain to catch the baseball. "If Delmon would have caught that, I might have went out there and kicked his butt," said Twins manager Rod Gardenhire.1
As Thome rounded third base and headed to home, his teammates were there to greet him. Detroit baseball fans, a knowledgeable bunch, recognized a historic moment when it presented itself, stood, and showered Thome with thunderous applause. "I wasn't really aware of it. I knew he was close to 600, but I didn't know if that was going to be the one," said Schlereth. "I'm not exactly happy about it, but he's a great player, and I'm a huge fan of his. He did a great thing tonight, and … I felt kind of awkward, I didn't know whether to clap or what."2
Said Thome, "It's an unbelievable night. You dream about it, but when it happens it's kind of surreal. You envision, is it ever going to happen? You don't know. At 40 years old, approaching 41, you don't know. I never tried to take it for granted."3 It was fitting that Thome hit the historic blast against the Tigers, as he had hit more home runs against Detroit (66) than any other club in his 22-year career.
Thome reached the 600-home-run plateau in 8,167 at-bats. Only the Babe was faster; it took the Bambino 6,821 at-bats. "It's an honor and a privilege to welcome another member to the 600-home-run club, especially someone like Jim Thome, who is not just a great baseball player, but a great person as well," said Ken Griffey Jr. "I offer Jim my heartfelt congratulations."4
James Howard Thome was born on August 27, 1970, in Peoria, Illinois, one of Chuck and Joyce Thome's five children. Chuck Thome worked as a foreman at Caterpillar Industries Inc. There was baseball lineage in the Thome family. Chuck played fast-pitch softball on teams sponsored by Caterpillar. His sister Carolyn played fast-pitch as well and was inducted into the National Softball Hall of Fame in 1966. Jim's grandfather, Chuck Sr., played baseball in the minor leagues. Thome paid tribute to his grandfather by wearing his socks pulled all the way up. He noted, "My dad told me that my grandfather hit a home run off Bob Feller when Feller was barnstorming through the Midwest one year."5
The story that is often told of Thome as a young boy is how he idolized Chicago Cubs slugger Dave Kingman. On one visit to Wrigley Field with his father, young Jim sought out Kingman for an autograph. But his attempts were unsuccessful. Not to be deterred, he bounded into the Cubs dugout. Thome was returned to Chuck Thome via a delivery from Cubs catcher Barry Foote.
Thome was a two-sport star at Limestone High School in Bartonville, a Peoria suburb, garnering All-State recognition in both basketball and baseball. After high school Thome enrolled at Illinois Central College, where he excelled in both sports. The National Junior College Athletic Association named him an All-American in baseball. Cleveland scout Tom Couston remembered Thome hitting ropes all over the field. "There were a bunch of scouts there, but they'd all come to see another player," Couston said. "Thome was playing shortstop, and he went 1-for-4 or maybe it was 0-for-4. But every ball he hit was a rocket. His swing was so quick and powerful that I was surprised he didn't kill somebody. "6
Couston asked the coach for permission to speak to Thome. "First of all, he sent over the wrong kid," said Couston. "I told him I don't want you, I want the shortstop. When Thome came over, I didn't want any of the other scouts to see me talking to him. So we're standing back-to-back. Jimmy kept calling me sir and turning around to talk to me and I kept saying 'Don't look at me, keep looking into the distance.' He probably thought I was a wacko. I asked him, 'If we draft you, will you sign?'"7 Thome said he would.
Cleveland selected Thome in the 13th round of the June 1989 free-agent draft. He was assigned to the Indians rookie-level Gulf Coast League team, where he struggled, with little power. The following year Thome established a relationship that would serve him through his career and beyond. At the end of spring training, he was not assigned to a minor-league team, and stayed in extended spring training waiting for one of the Class A short-season teams to begin its schedule. Charlie Manuel, Cleveland's big-league hitting coach, was named manager of the Indians' Triple-A affiliate in Colorado Springs for 1990. Manuel took note of how hard Thome hit the baseball, and worked with him on his swing. A relationship was formed and then strengthened from 1991 to 1993, when Thome spent parts of all three years playing for teams Manuel managed.
From 1991 through 1993, Thome spent the beginning of each season at the minor-league level, but he made his way to the big-league club during each year. He made his major-league debut on September 4, 1991, at the Hubert H. Humphrey Metrodome in Minneapolis. Thome played third base and went 2-for-4 at the plate, with an RBI and a run scored.
Thome demonstrated a high aptitude for hitting. Except for his initial year in 1989, he hit well over .300 in each year in the minors. In Charlotte in 1993, under Manuel's tutelage, Thome smacked 25 home runs and drove in 102 runs while batting .332. Thome, like Manuel, was a left-handed hitter. Manuel noted that Thome was unable to pull the ball to right field. One day in the clubhouse, some players were watching the movie The Natural. "In the movie, Robert Redford would point the bat out in front of him and then bring it back," said Manuel. "I thought that might work for Thome. He was so tense at the plate that he'd bow his back. This way, he could point the bat out in front of him, take a deep breath and bring it back."8 Manuel also had Thome open up his stance so he could pull the ball more to right field.
When the 1994 season began, Cleveland was in a new ballpark, Jacobs Field. Thome started at third base, but mostly only against right-handed starters. The players strike halted the season on August 12, with Cleveland one game behind Chicago in the American League Central Division. Expectations were high in 1995. Thome had hit .304, with 18 homers and 43 RBIs against right-handed pitching in 1994. Overall, he batted .268 with 20 homers and 52 RBIs.
The 1995 season offered little resistance for Cleveland. With a lineup including Albert Belle, Manny Ramirez, Kenny Lofton, Paul Sorrento, Eddie Murray, and Thome, the Indians decimated their opponents. They led the league in batting (.291) and ERA (3.83). They clinched their division on September 8, 1995. Thome caught the final out to send the Indians to the postseason for the first time since 1954.
Cleveland swept through Boston in the Division Series and toppled Seattle in the ALCS in six games. But in the World Series the Indians lost to Atlanta in six games. Thome had four homers and 10 RBIs in the postseason.
The Indians won the division title again in 1996 with little trouble. Thome's 38 homers and 116 RBIs were second on the team to Belle's 48 and 148. Thome walked 123 times, and had an on-base percentage of .450. He was named the third baseman on The Sporting News AL All-Star Team in both 1995 and 1996. "He's a natural-born hitter," said Sandy Alomar. "He's gotten better since he's been in the big leagues, and I think he can continue to improve."9 In 1996 the Indians were eliminated in four games by Baltimore in the ALDS.
First baseman Paul Sorrento left Cleveland after the 1995 season. The Indians signed Julio Franco to replace him. As it turned out, eight different players started at first base in 1996. It was a situation that general manager John Hart addressed in the offseason, acquiring third baseman Matt Williams from San Francisco, and moving Thome across the diamond to first base for 1997. "When you get a Matt Williams, that's two pretty good corner guys who can hit the ball," said Thome.10
Other changes were made. Belle left the club through free agency, and Lofton was traded to Atlanta for David Justice and Marquis Grissom. The 1997 Indians were a much different club than in 1995, but they won their second pennant in three years and reached the World Series. Thome was selected to his first All-Star Game, the first of three straight. He led the team in home runs with 40 and finished second to Williams in RBIs with 102. Thome led the league in walks with 120. But the Tribe fell short, losing to the Florida Marlins in seven games in the Fall Classic.
Over the next few years the Indians returned to the playoffs, but were not able to get back to the Series as they were defeated in the ALDS (1999 and 2001) and the ALCS (1998). Meanwhile Thome became the face of the franchise. He was a dependable, hard-working, blue-collar type of ballplayer whom fans cheered for, referring to him as a "throwback." In 1998 Thome hit 30 homers and drove in 85 runs. Pretty good numbers considering he missed five weeks of play after breaking a bone in his left hand at Tampa on August 7. After the 1998 season, Thome tied the knot with Andrea Pacione on November 7 in Chicago. Pacione was a newscaster at a local TV station. They had two children, Landon and Lila.
Over the next four seasons (1999-2002), Thome averaged 42 home runs and 114 RBIs each year. He hit the longest home run in Indians history on July 3, 1999. He hammered a 3-and-1 fastball from Kansas City Royals pitcher Don Wengert an estimated 511 feet. The ball hit a pillar to the right of the bleachers in center field and ricocheted through an iron fence and on to Eagle Avenue behind the park. "I don't think I've ever seen a ball hit that far," said manager Mike Hargrove.11
Thome broke the single-season home-run mark of 50 set by Belle in 1995 when he smacked 52 in 2002. From June 25 through July 3, Thome hit a home run in seven straight games. He missed tying the major-league record of eight games, shared by Dale Long, Don Mattingly, and Ken Griffey Jr. "It was a nice run," said Thome. "Streaks always come to an end. They're fun while they last."12
But perhaps the most important achievement for Thome in 2002 was receiving the Roberto Clemente Award. The award is given to the major-league who "best exemplifies the game of baseball, sportsmanship, community involvement, and the individual's contribution to his team." Thome was the second Cleveland Indian (Andre Thornton was honored in 1979) to be so honored. "My father and brother told me when I was young what kind of player Roberto Clemente was," said Thome. "They told me he was the best player who ever lived. But I really didn't know what kind of man he was."13 Thome helped raise more than $200,000 for the Children's Hospital in Peoria, and another $200,000 with the United Way.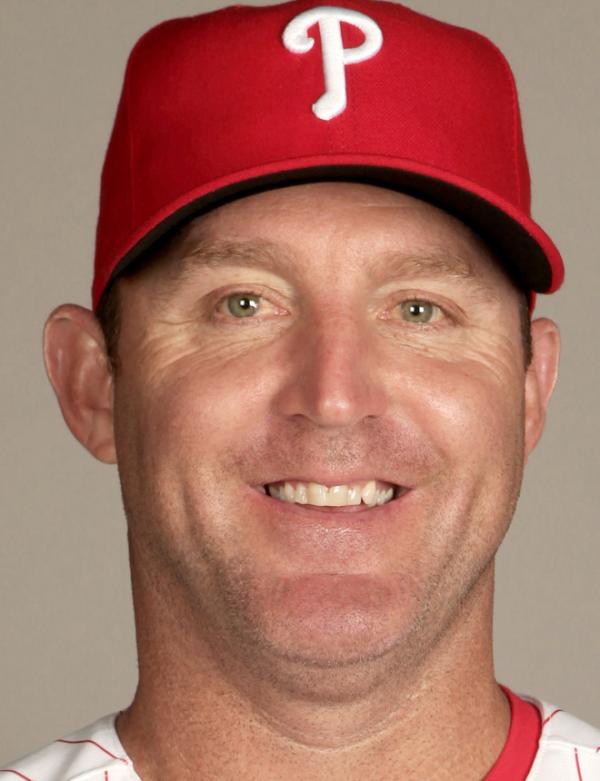 Thome was at the apex of his career. A 32-year-old free agent after the 2002 season, he was looking for long-term security for himself and his family. That offer came from the Philadelphia Phillies, who signed the left-handed slugger to a six-year deal worth $85 million. Thome may have inked a big contract, but it did not change his personality one iota. He made an immediate impression on Phillies manager Larry Bowa in spring training. "Jim Thome hasn't missed a road trip," said Bowa. "I've given him the option. He says: 'I like to ride the bus. I get to bond with my players.' I've never heard that in my life."14
Bowa had to like what he saw of his new first baseman on the diamond. Thome clubbed 47 home runs to lead the senior circuit in 2003 and his 131 RBIs were third in the league. He provided dependable glove work, fielding at a .997 clip, his highest fielding percentage in the majors. His home-run total came up one short of the franchise record. (Mike Schmidt cracked 48 homers in 1980) But the Phillies could not catch the Braves.
Thome's mother, Joyce Thome, died of lung cancer on January 5, 2005. "In a lot of different ways, she was my best friend," said Thome. "My mom was the really go-to lady in our family. She was the rock. She was the foundation. We all kind of fed off what she did."15
On the baseball front, Bowa was replaced by Charlie Manuel. But the Thome-Manuel reunion was short-lived. Thome suffered through elbow and back injuries, limiting him to 59 games in 2005. With the emergence of Ryan Howard, who won Rookie of the Year honors that season, the Phillies traded Thome and cash to the Chicago White Sox for outfielder Aaron Rowand and pitcher Gio Gonzalez.
The White Sox were world champions in 2005, and both Jim and Andrea though it was divine intervention on his mother's behalf that brought him back home. Chicago had a team with good power, including Paul Konerko, Jermaine Dye, and Joe Crede. Now they were adding Thome to the lineup as their designated hitter. "The DH role should help him stay healthy," said White Sox manager Ozzie Guillen. "We want to save him from the wear and tear on the field. We feel confident he can be the hitter he's always been."16
In essence, Thome was replacing Frank Thomas, the White Sox' all-time home run leader. The Big Hurt was a free agent and like Thome had battled injuries in 2005. Thomas signed a deal with Oakland over the winter. "I knew (general manager Kenny Williams) was going to go out and get us a bat," said first baseman Konerko. "I had no idea it'd be someone the caliber of Jim Thome. That clinched it. It showed me that not only were we trying to stay on top, but we were also trying to get better. From what I've seen so far this spring he's going to hit 30, 35 home runs by accident."17
Maybe Konerko should have given up his day job to become a full-time prophet, and then some. Thome clubbed 42 home runs, drove in 109 runs, totaled 107 walks and batted .288 in 2006. It was the ninth time in a run of 11 seasons that Thome posted at least 30 homers, 100 RBIs, and 100 walks. The two seasons in which he did not exceed these numbers were cut short by injury. He was named Comeback Player of the Year by The Sporting News and Major League Baseball.
On September 16, 2007, Chicago was hosting the Anaheim Angels. The score was tied, 7-7, in the bottom of the ninth inning. The White Sox' Darin Erstad led off the inning with a single to right field against his former team. Thome stepped to the plate and hit a home run to left-center field off Angels reliever Dustin Moseley. Not only did the blast give the White Sox a win, but it was the 500th career home run for Thome, in his 2,000th big-league game. He became the 23rd player to reach the 500-HR plateau, and the first to do it in walk-off fashion. "Just can't believe it, I really can't," said Thome. "I never would have imagined doing that as a walk-off. It's hard to explain what's going through me right now. What a great day. It's hard to hit home runs when people want you to."18
Three days later Thome and his father made the 14-hour drive from Peoria to Cooperstown to deliver the home-run ball to the National Baseball Hall of Fame. For Thome, it was the first time he would see the entire shrine, as his only visit up to that day had been for exhibition games.
After falling shy of making the postseason, the White Sox returned in 2008, winning the AL Central Division by one game over Minnesota. But they were eliminated in the Division Series, losing in four games to Tampa Bay. On August 31, 2009, Thome was dealt to the Los Angeles Dodgers. Back in the NL, with no DH, Thome was employed solely as a pinch-hitter.
A free agent after the 2009 season, Thome signed with the Minnesota Twins on January 26, 2010. He was used as a designated hitter and pinch-hitter for Ron Gardenhire's club. Even in limited duty, Thome hit 25 home runs, drove in 59 runs, and batted .283. The Twins won the AL Central, but were swept in the Division Series by the New York Yankees. Thome was traded back to Cleveland on August 25, 2011, for a player to be named later. The move was in part symbolic, as Thome had just hit his 600th home run 10 days earlier. But the Tribe's DH, Travis Hafner, was out for the season and Thome filled the void. In the last home game of the season on September 25, 2011, the Indians inserted Thome at third base for one play, as he bade farewell to the fans upon his exit.
Thome signed with Philadelphia in 2012, reuniting him again with Manuel. He was used mostly as a pinch-hitter and as a designated hitter in interleague games. On June 17, 2012, at the Rogers Centre in Toronto, Thome hit his fourth home run of the season. With that blast, Thome became only the fourth major leaguer to hit 100 home runs with three different clubs. (Alex Rodriguez, Reggie Jackson, and Darrell Evans preceded him) Thome hit 337 homers for the Indians, 134 for the White Sox, and 101 for the Phillies.
Not long after that, Thome was on the move again, traded to the Baltimore Orioles on June 30 for two minor leaguers. The Orioles won the wild card game over Texas, but lost in the ALDS to the Yankees in five games.
Even though he would not officially retire for two more seasons, Thome's playing days had come to an end. In a career that spanned 22 years, he hit 612 home runs and had 1,699 RBIs, 451 doubles, 1,747 walks, a batting average of .276, and a slugging percentage of .554. Through the 2017 season, Thome ranked eighth all-time in home runs and seventh in walks.
On August 2, 2014, the Cleveland Indians dedicated a statue to their all-time home-run hitter. The pose is of Thome with his bat extended out in front, just as Charlie Manuel made him bat over 20 years before. "How do you ever imagine, when you play this game, getting an opportunity to have an organization put a statue up for you?" Thome said. "I'm a little lost for words. It's much bigger than all of us. What's going to be cool is that it will stay. I mean like now, in the snow. I always look up at Bob Feller's statue and No. 1 you appreciate the player, but the fact that it's up all year and people can come see it. If you were their favorite player, maybe they pass on a memory to a kid, it's humbling."19 Before the unveiling ceremony, Thome signed a one-day contract with Cleveland, so that he could retire as an Indian.
As of 2016 Thome was a special assistant to Chicago White Sox general manager Rick Hahn. Someday he would like to manage on the big-league level. In 2017, Thome joined the MLB Network as a studio analyst, in addition to his duties with the White Sox. Jim Thome was elected to the Baseball Hall of Fame in 2018, becoming only the second player in Indians history, after Bob Feller, to be elected on his first year of eligibility.
In 2012 Steve Aschburner wrote a biography of Harmon Killebrew, for which Thome wrote the foreword. Thome wrote of his career parallels with Killebrew: their pursuit of 500 home runs, the need to practice hitting home runs in batting practice. Thome ended the foreword by detailing the "living legends" he encountered on his journey in the major leagues. "All those guys, they came back and gave their time to the game. It's important that guys today appreciate that. You're talking about the living legends."20
Include yourself in the mix, Jim. Indeed you are a living legend.
Last revised: January 24, 2018
This biography was published in "1995 Cleveland Indians: The Sleeping Giant Awakes" (SABR, 2019), edited by Joseph Wancho.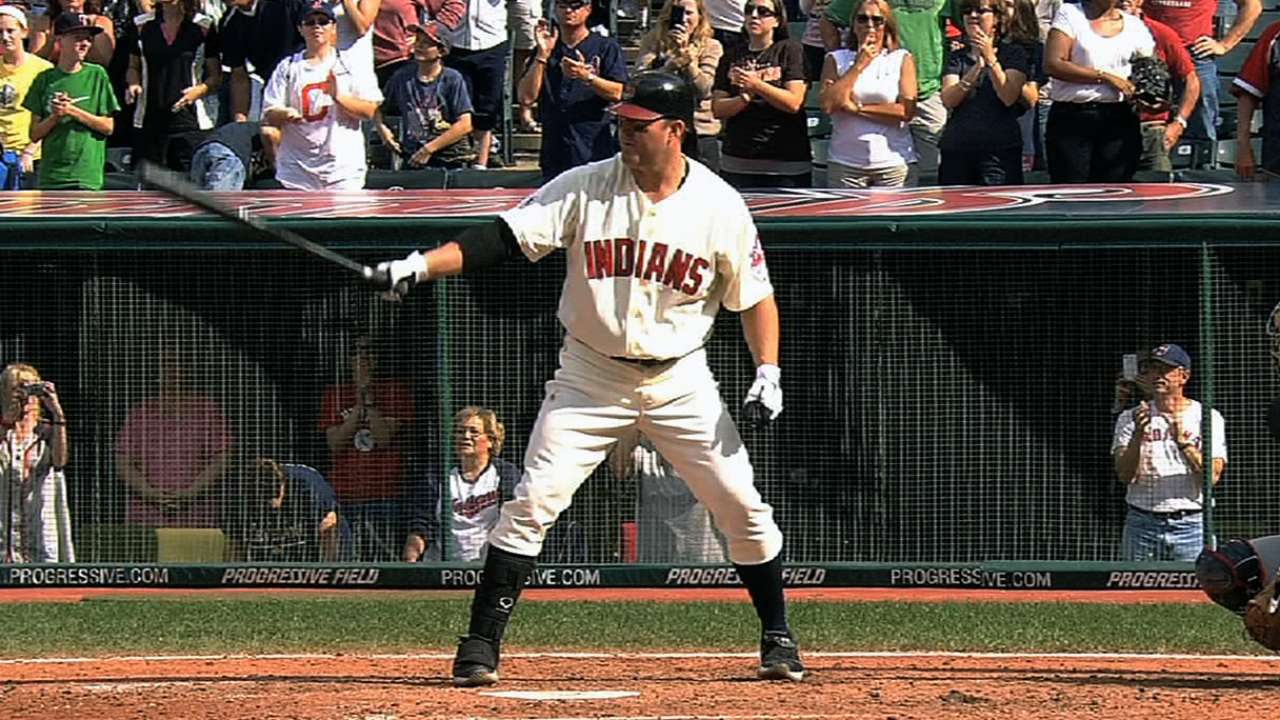 Notes
Born
August 27, 1970 at Peoria, IL (USA)
If you can help us improve this player's biography, contact us.
https://sabr.org/sites/default/files/ThomeJim2.jpg
600
800
admin
/wp-content/uploads/2020/02/sabr_logo.png
admin
2017-11-22 14:54:39
2020-04-09 14:40:29
Jim Thome