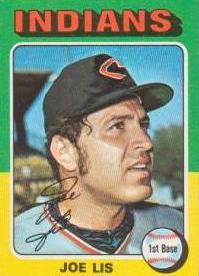 ---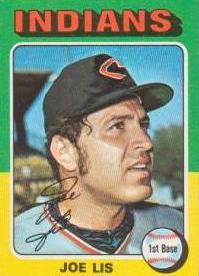 In 1964 the Philadelphia Phillies found themselves mired in the throes of one of the greatest collapses known to our national pastime. Many fans blamed manager Gene Mauch for over-using starting pitchers Jim Bunning and Chris Short down the stretch. Others blamed the loss of Frank Thomas to injury. In addition, there were rumors of dissension on the club. Earlier that summer, the Phillies signed a young slugger named Joe Lis, who had just completed an outstanding baseball career at Somerville High School in New Jersey. Unfortunately, the signing did not benefit the Phillies until several years after the collapse.
Joe was born to Henry and Anna Lis on August 15, 1946, at Somerset Hospital in Somerville, New Jersey. The Lis family lived in the nearby blue-collar town of Manville, home of the Johns-Manville Corporation, a leading manufacturer of asbestos products. Young Joe lived there for the first ten years of his life. It was on the diamonds of Manville that he was introduced to baseball.
When Joe turned 11, the family moved to Hillsborough Township, where he played in the local American Legion and Tri-State Leagues. At the age of 16, while playing for a team in White House, New Jersey, he became the youngest player to lead the Tri-State League in home runs and batting.
Hillsborough did not have its own high school, so township students went to Somerville High School. Lis became a three-sport star at the school. Joe led the Somerville Pioneers to the New Jersey Group Three championships in both baseball and basketball. He batted .571 with 17 home runs his senior year. After graduation, John "Jocko" Collins signed the slugging shortstop for the Philadelphia Phillies on June 19, 1964.
Lis played 58 games between Bakersfield of the California League and Miami of the Florida State League during 1964, hitting .188 and .193, with his sole home run and all 10 RBIs coming in Miami. He played the entire 1965 season at Miami, hitting .242 with 5 homers and 57 RBIs. Joe led all third basemen with a .951 fielding percentage, and was selected to play in the league's All-Star game.
A return to Bakersfield in 1966 was a turning point in Lis's career. Joe started to display power numbers. He clouted 16 round trippers and 21 doubles while driving in 62 runs. He topped off his successful season by marrying his sweetheart, the former Sue Ziocek, on November 19. Lis returned to the team for 1967. He enjoyed a breakout year, leading the league with 33 homers and 90 runs batted in, earning a spot on the All-Star team.
Although Lis seemed on his way, he toiled for two more seasons at the minor league level before making his major league debut. His next stop was the Tidewater Tides of the Carolina League (Single-A) for the 1968 season. Lis belted 32 home runs with 94 runs batted in. He was selected to the All-Star team as a third baseman. Although the Phillies had signed him as a shortstop out of high school, he now played mostly at third base with some at second and left field. The Phillies told their young slugger not to worry where he played. Their concern was to get his bat in the lineup. The Philadelphia brass was focused on Joe's development. Team president Bob Carpenter was impressed with Lis's potential. "You know, I may be prejudiced but I think Joe can be better than the Cubs third baseman, Ron Santo." After the season, Joe and Sue had their first child, Joseph Anthony Lis Jr., born on November 3, 1968.
The following season, Lis made the jump to the Eugene Emeralds of the Pacific Coast League (Triple A). He played in 106 games, hit 12 homers and drove in 59 runs. Unfortunately, his assault on the league's pitching was cut short by wrist and hamstring injuries.
If 1969 represented an unfilled promise, his second year satisfied it. During 1970, Joe blasted 36 homers to lead the league while pushing across 107 runs. Lis's 36 homers were the most in the PCL since 1965, and his RBI total was one behind league leader Winston Llenas. Many credited his newfound ability to hit the curve ball. The fans of Eugene voted Lis as the "most popular" player that season. They gave him a portable color television, golf balls, clothing, radio and a record player as appreciation. During the season, Sue Lis gave birth to James Eugene on June 24. The team's fan favorite departed from Oregon after the season's finale for Philadelphia on September 3.
After toiling for six seasons in the minor leagues, Joe pinch-hit on September 5 and got his first start the next day. He singled his first time at bat. Two days later he hit his first homer during a 6-3 loss to the Cardinals. Frank Lucchesi, his new manager, presented him with the ball and predicted, "This is the first of many for you, Joe." Lis played in 13 games, batted 37 times while collecting 7 hits with a homer to finish with a .189 average. Allen Lewis of the Philadelphia Inquirer quoted Joe, "That's always been my dream. A lot of people have asked me why it's taken so long for me to get here, but all I can say is the Phillies always have treated me great. They didn't feel I was ready before and maybe they were right."
The 24-year-old Lis planned to play winter ball until calcium deposits were discovered in his elbow. Then an irregular heartbeat was discovered during a routine physical examination. Joe traveled to Georgetown University Medical Center, where he underwent a thorough examination.
Later that December, the rookie received a telephone call from a doctor at Georgetown: "Let me be the first to congratulate you, we're giving you a medical okay. You can play baseball again." Frank Lucchesi, who planned for Lis to battle for one of the outfield jobs in 1971, was especially thankful. "This boy has worked very hard. Things didn't come easy for him. He's a credit to anyone. Everything about his makeup is first class. No manager plays favorites but if you have compassion for someone you root for him in a quiet way."
Lis saw others get opportunities for playing time. Other players tried by the Phillies in the outfield that season included rookie Willie Montanez, Don Money (normally an infielder) and Roger Freed, a young slugger acquired from Baltimore for Grant Jackson. Still, Joe continued to maintain a positive attitude. Although Lis faced formidable competition, general manager John Quinn still thought Lis could have a prominent place with the Phillies. "If we can get his [Freed's] bat to go along with Deron Johnson, Tim McCarver, Larry Hisle and Joe Lis we'll be much better off offensively."
Regrettably, Joe was the odd man out. He only had 16 at bats after July 1, ending the 1971 campaign with 6 homers and 10 runs batted in while batting 123 times. Lis observed, "I've learned a lot about people in this game. I've found out about people who are with you when you're up, people who are with you when you're down. You learn a lot about life playing baseball." Lis also admitted that it was tough watching someone else play. "I never had to go through this before; I hope I never do again. But I don't have any ill feelings against anybody. I don't want to be one of those guys who say, 'Play me or trade me.' As far as I'm concerned, Philly is my home. I know everybody by his first name. They know me. They know my wife."
Once again, Joe Lis became the odd man out in left field. He began the 1972 season with the Eugene Emeralds of the PCL. Before his call-up, he continued to entertain the Emerald faithful with home runs. On June 17 he became the first player to hit three homers in one game at Civic Stadium, which the Emeralds moved to in 1969. Joe finished the game with seven RBIs. It seemed that when he hit one, the team generally won. Such was the case with eleven of his fourteen homers through May 19. Joe was a huge fan favorite again. The Emeralds won more often than not. The team improved upon their poor showing in 1971 by finishing in first place with a record of 79-69.
Lis spent the majority of the year in Eugene as an outfielder before his call-up to Philadelphia. The Phillies management made preparations for Lis's return to the majors. First, they ordered Andy Seminick, the Eugene manager, to switch John Vukovich from third to second base, then move Mike Schmidt from second to third, and Joe from the outfield to first. The ultimate goal was to get Lis's bat into the Philadelphia lineup. Now, the stage was set for Joe to play first base for the Phillies. Lis and Bill Robinson were called up in late June. At the time, Robinson was leading the PCL with 66 RBIs including 20 home runs. Joe was batting .338 with 58 RBIs. He was leading the league with 26 homers and was on a pace to break Tony Lazzeri's 1925 PCL record of 60 home runs.
With Philadelphia, Lis played 30 games at first base and 14 in the outfield with some pinch-hitting mixed in. Joe appeared in three more games than he did in 1971. He finished the season in Philadelphia with 6 homers, 18 runs batted in and a .243 average. His lack of playing time bought him a ticket out of the City of Brotherly Love. On November 30, the Phillies swapped him along with Ken Reynolds and Ken Sanders to the Twins for Cesar Tovar.
Although the Phillies could not decide where to play the 26-year-old, the Twins played Joe at first base. Although Lis's defense was questionable, his new team was determined to find a place for his bat. Minnesota already had a legend playing first base in Harmon Killebrew, but his career was winding down, and he finished his career with the Kansas City Royals in 1975.
Many baseball people noted that Joe played defense with his bat, but in Minnesota he was Killebrew's defensive caddy. Lis's minor league career always suggested a potential for power but also demonstrated a talent for humor. For example, when Joe came to bat at Metropolitan Stadium, the organist played Judy Garland's "The Trolley Song." When asked why, Joe dead panned, "Well, there is the line that goes, 'Clang, clang goes the bell.' The guys tell me that is a similar sound they hear when the ball hits my glove, 'Clank, clank goes the ball.'" Another time that his teammates made fun of his defense occurred when his team needed to take a trip by bus. Because of rush hour traffic, there were many sudden stops. One stop caused a briefcase on the overhead rack to slide and collide with other luggage. After this happened two or three times, Ken Sanders yelled out, "Lis, I thought we told you not to put your glove up there." Nevertheless, Joe liked the American League because of the nice people he met, people like umpire Bill Kunkel. Lis recalled one incident in particular. When he entered one game as a defensive replacement, Kunkel said, "It's good to see you, Joe; because when I see you, I know the game is almost over."
When Harmon Killebrew suffered a knee injury on June 25, 1973, Joe became a full-time player for the first time in his career. He responded by batting at a .270 clip over the next three weeks to raise his average from .169 to .230. During this span, he had 4 doubles, a triple, and 4 homers while knocking in 12 runs. There were rumblings that he was replacing the future Hall of Famer. Joe's tactful response was "No one replaces Harmon Killebrew. You don't replace a man like him, a superstar." Still, Lis believed that if he played regularly, he might hit 20 to 25 homers but not 40 to 45 like Killebrew. "When I was in high school, I was a home run hitter and batted right-handed, so it was natural for me to have Killebrew for a hero. Even during my minor league career and when I was with Philadelphia in the National League, I admired him. But since coming to the Twins, well, I've learned what a great man he is."
Joe almost did not meet his baseball idol. Lis was cut on the last day of spring training. But fortunately for Joe the Twins traded Jim Perry to Detroit the following day to open a spot on the roster and he was recalled. "Every player wants to be a regular, but who could object to playing behind a guy who is destined for Cooperstown?" He finished his first season in Minnesota by batting .245, with 9 homers and 25 RBIs.
Lis returned to Minnesota for the 1974 season but batted a paltry .195 with no home runs. The Twins sold him to the Cleveland Indians on June 5 for cash. Lis played most first base, filling in briefly at third when Buddy Bell hurt his knee. Wherever Joe went to play, his teammates loved ribbing him, but Joe seemed to enjoy it. Cleveland was no exception. When his new teammates pointed out his weight, Lis explained that he was not too heavy, just too short for his weight. Joe Lis was not the only new addition to the Indians family; on November 19, 1974, Sue and Joe's wedding anniversary, Rebecca Sue (Becky) Lis was born. Becky became an outstanding softball player and earned a full scholarship to Southern Illinois University.
Joe was now the father of three children, but he still had some little boy inside of him. He confessed that all he ever wanted to be was a baseball player. For instance, Joe loves to tell the story of buying two dollars' worth of bubble gum cards just to get new ones. He will admit that he still seeks autographs from today's baseball greats. "When we played the Dodgers in spring training, I asked for an autographed ball. They all thought it was for someone else, but it was for me."
Once again, Joe did not start the 1975 season on the major-league roster. Instead, he started at Oklahoma City of the American Association. Lis had regressed from being a power-hitting prospect to a major league platoon player to be given a shot to earn a roster spot. Joe had another good year in the high minors. Playing for John "Red" Davis, Lis batted .274, with 18 homers and 69 runs batted in while appearing in 130 games. Then on September 4, three days after getting called up, he drove in four runs with a three-run homer and a sacrifice fly as the Indians won for the fifth time in six games. His 1975 totals for the Indians were 2 homers and 8 RBIs with a .308 average in 9 games. That year, star Boog Powell, in his last full season, played ahead of him and belted 27 homers while anchoring first base.
Because of his finish the previous year, Joe was looking forward to the 1976 season. Once again, he had proven his ability to hit Triple A pitching and thought his September call-up was an indication of his ability to hit major league pitching. This time the bump in the road this year was not a player blocking his way but a possible work stoppage. Marty Brennaman, the respected Hall of Fame announcer of the Cincinnati Reds, had said: "I'm afraid there is going to be a strike this year. The players are banded together stronger than ever. I know one thing, baseball commissioner Bowie Kuhn has said there will be no spring training until a contract is signed."
There was no progress two weeks before preseason. Believing the players had the upper hand, the owners felt no obligation to open their facilities. The gates were locked on March 1. Buddy Bell and Joe Lis showed up early. Each had his own reason: for the first spring in quite a while Bell did not have any nagging injuries, and Joe wanted to get an early jump on winning a job. The closing of camp delivered a severe blow to Joe. As a journeyman player, he could not afford to be in Tucson at his own expense, but he couldn't afford to leave either. He was 29, married with three kids. Lis had been playing professional baseball for 12 years but still needed 10 days in the big leagues to qualify for a pension. Fortunately for the veteran player, the work stoppage lasted only 17 days, March 1-17. Unfortunately, Lis began another season playing in the minors. This time, the team was the Toledo Mud Hens, the Indians' new Triple A affiliate. At midseason, Lis created a little good-natured controversy. One day, in Memphis before a June game with the Memphis Blues, he took infield practice while wearing a chest protector. His teammates joined in, as second baseman Dave Oliver wore a facemask and shortstop Tom McMillan was attired in shin guards. The players accessorized their uniforms in response to an apparent double play grounder that bounced over Dave Oliver's head. This added fuel to the ongoing debate concerning the condition of Blues Stadium in Memphis.
"They can build the best bar [the Stadium Club in left field] but they don't give a damn about the infield. No wonder they lead the league in errors," Lis noted.
Memphis general manager Denny McLain responded, "Joe says this field is bad. I guess he knows. He's been in a lot of minor league parks. Professional people shouldn't act like that, especially in the field. If they can't play on our field, they should work a little harder to get out of this league."
As hard as Joe worked, he was passed over for the June call-up. Instead, the Indians decided to promote Orlando Gonzalez. At the time, Joe was batting .359, with 14 homers and 46 RBIs.
So that summer, Joe made another minor league All-Star team, leading International League vote getters. The All-Star team played the Houston Astros on August 18. Shortly after, on August 23, Lis tied and then broke the Toledo home run record by hitting his 28th and his 29th homers of the year. George Kalafatis set the previous record in 1970. He also broke Kalafatis's RBI record. Due to waiver rules, Lis finished the Mud Hens' season before being promoted to Cleveland. There was special meaning to his call-up. Joe finally qualified for a major league pension. If he wanted to, Joe could start collecting at age 45. "As far as I'm concerned, it is worth a quarter of a million dollars at least." To emphasize the importance he added, "I'll tell you, when September 10th rolls around, my head won't be any bigger, but my chest will be swelled a lot!" Joe did it while playing the Baltimore Orioles. Orioles broadcaster Chuck Thompson presented him with a bottle of champagne.
Joe embarked upon a second career during the 1976 off-season. Although he was not a superstar, Lis became a sought-after speaker on the post-season banquet circle. His style reminded fans of Joe Garagiola. In fact, Garagiola poked fun at his fellow journeyman: "Joe Lis is so slow that when he runs to first base you don't clock him with a stopwatch, you clock him with a calendar. His speed is like mine was, deceptive. He's really going a lot slower then you think he is."
Lis spoke at local American Legions, Kiwanis banquets, and so forth during the winter. His travels took him to places such as Cleveland, Akron, Ashtabula, Youngstown and other cities around Ohio. Joe soon realized the perils of the banquet circuit. "I have to be careful about eating all the fattening foods that they serve. I have to watch my playing weight. But the problem there is that I don't know what my playing weight is. I never play."
Joseph Anthony Lis changed major league organizations again at the end of 1976. Lis was taken in the American League expansion draft by the brand new Seattle Mariners with the 46th pick in November of 1976. While he began the year in Seattle, he returned to Toledo in May. Although Lis was the league's MVP the previous year, it took some time for him to get going. He started out with only one hit in his first 24 at-bats before going on a 13-for-38 run, raising his average to .226. Seattle proved to be the last whistle stop of his eight-year major league tour. Joe played in only nine games with Seattle that season. He finished with a .231 average, no homers and a solitary run batted in.
Joe had hoped to become a part of the Mariner organization at any capacity in 1978. He ended up traveling to the Far East, spending a season with the Kintetsu Buffaloes. The Buffaloes, in 1959, had been the first team to sign an American ballplayer, when they inked Glenn Mickens and Ron Bottler. Mickens had played briefly with the Brooklyn Dodgers.
The Kintetsu squad finished in second place with a record of 71 victories, 46 losses and 13 ties. Lis had a disappointing season. He hit only .206, with 6 homers in 95 games. "I had a terrible year physically, but it was twice as bad mentally." He was convinced that the Japanese manager intentionally embarrassed him. For example, on five occasions he lifted him for a pinch hitter with the bases loaded.
Joe hung around the 1978 winter meetings to search for a job. The Detroit Tigers signed him and placed him in Evansville, the team's Triple-A affiliate as a player-coach. Joe replaced Boots Day, a veteran of six seasons in the majors who moved up to the parent club as a batting practice pitcher. Joe started the season off by hitting .395 with 2 homers for the Evansville Triplets during their first 10 games.
Lis finally retired from professional ball in 1981 after toiling for seventeen seasons. Joe tried several occupations to support his family. Still, he could never stray far from his love for baseball. All he ever wanted to be was a big league player. As a rookie when he learned that his picture was on a Topps bubble gum card, he wrote a letter of thanks to the company and asked for 25 copies, COD. Topps sent a note that they were for free. "I get that kid feeling every time that I think about it," he recalled.
One day, he decided to set up space in his Indiana garage to teach his oldest son the mechanics of hitting. It started with Joe's hanging a big canvas tarp at one end of his garage, and then placing a batting tee at the other side. Joe Jr. hit off the tee or from his father's soft tosses into the canvas. Joe Jr. played Triple A baseball with Buffalo and Syracuse before his retirement in 1996.
Lis's garage eventually became the hitting school for the neighborhood kids. He needed to move it to a bigger garage, then to a barn until he had to buy space in a warehouse. His new enterprise officially became the "Joe Lis Batting School." The school grew to 160 students with another 100 on a waiting list. Joe operated the school from October to April.
Joe explained that they train six kids on the hour as they circle around to various batting stations. There is also an area for fielding and throwing. Lis does not teach any particular style but admits that Ted Williams his baseball hero when he was growing up, is a strong influence. Whatever Ted preached was gospel to Joe. Like Williams, Joe does not subscribe to hitting gurus Charlie Lau and Walt Hriniak, who preached letting the top hand go from the swing. Williams thought that this style set baseball back 50 years.
Since Joe was around outstanding hitters like Harmon Killebrew, Tony Oliva, Rod Carew and Deron Johnson, he took note not of how they were different but of how they were alike. At his school, Joe claims to see over 1,400,000 batted balls a year. The school has established a reputation. Scouts are able to identify certain hitters as students of the Joe Lis School of Hitting. "I tell my students that a line drive in the Little League is a line drive in the big leagues but a home run in Little League isn't a home run in the big league!" Of course, it means a little more coming from someone who knows about hitting home runs at either level.
Joe Lis died on October 17th, 2010 at 64 years old after a courageous battle with prostrate cancer.
Sources
The Baseball Index (www.baseballindex.org)
SABR's on-line Encyclopedia
Baseball-Reference.com
Newspaper Clipping File from the Hall of Fame
Bruce Kuklick, To Everything A Season, Princeton University Press, Princeton, NJ, 1991
ProQuest Historical Newspapers – New York Times, Washington Post, Chicago Tribune (1969-76)
Allen Lewis, "Lis Lights Up Phils Plan to Add Punch," Philadelphia Inquirer, November 7, 1970.
"An American Dream: The Joe Lis Story," Tri-City Herald, Richland, Washington, April 4, 1971.
Frank Dolson, "Phillies' Lineup A Lis-less Effort," Philadelphia Inquirer, October 1, 1971.
"Lis Likes to Laugh, But He's Pain to Pitchers," The Sporting News, August 4, 1973
Modesto Bee and News-Herald, Modesto, CA, June 5, 1967
Daily Times, Salisbury, MD, March 10, 1969
Bridgeport Post, Bridgeport, CT, "Joe Lis, Phillies Rookie, Recalls 7 Years in Minors," April 4, 1971
Delaware County Daily Times, Chester, PA, July 1, 1972, "Lis Breaks Slump, But Cards Prevail"
Pacific Stars and Stripes, October 2, 1972, "Heart Check For Phillie"
News Journal, Mansfield, OH, March 23, 1975, "Lis Battling for Baseball Life with Indians"
Charleston Gazette, August 4, 1976, "Hot-Hitting Lis Still Waiting for Chance But Life Not Easy"
Times Recorder (Zaneville, OH), August 8, 1976, "Lis Hopes for Recall By Indians"
Telephone conversation with Joe Lis on November 4, 2007
Born
August 15, 1946 at Somerville, NJ (USA)
Died
October 17, 2010 at Evansville, IN (USA)
If you can help us improve this player's biography, contact us.
http://bioproj.sabr.org/bp_ftp/images/LisJoe1975.jpg
600
800
admin
/wp-content/uploads/2020/02/sabr_logo.png
admin
2012-01-04 20:33:47
2012-01-04 20:33:47
Joe Lis