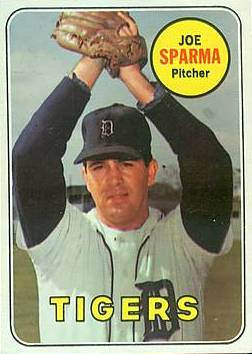 ---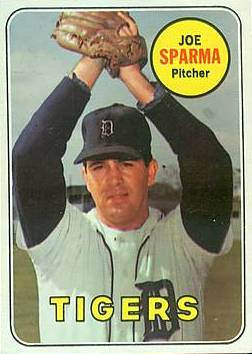 Once a promising right-hander blessed with a blazing fastball and hard overhand curve, Joe Sparma seemed destined to become a mainstay of the Detroit Tigers' starting rotation when he joined the team in 1964. Though he showed flashes of brilliance over his seven-year career, a frustrating lack of control and a perceived inability to remain focused kept him from achieving greater success.
A few too many uninspired starts led to a bitter conflict with Tigers manager Mayo Smith during the 1968 season. Yet Sparma seized a timely opportunity for a brilliant outing—and the most important of his career—when he pitched an exciting complete-game victory over the New York Yankees to clinch the Tigers' first pennant in 23 years. Sparma's continued inability to throw strikes and struggles with Smith in 1969 led to a postseason trade to the Montreal Expos. By June, Montreal sent Sparma to the minor leagues. By 1971, he was out of baseball.
Joseph Blase Sparma was born in Massillon, Ohio, February 4, 1942. As a youngster, he played sandlot ball in Canton and Massillon in the Ohio Amateur Baseball Congress. He gained the attention of Tigers scouts as a pitcher at Massillon High School, where he was also an All-State quarterback. Instead of entertaining baseball contract offers, Sparma opted to be a two-sport athlete at Ohio State University.
Legendary OSU football coach Woody Hayes platooned Sparma and two other players at quarterback in 1961 and 1962. Though he didn't have the chance to fully bloom under Hayes, who favored the running game, Sparma led the Buckeyes in passing both years. He also threw for 200 yards and tossed two touchdowns in OSU's 50–20 win over archrival Michigan in 1961. It was persistently rumored that Hayes recruited Sparma to keep him from playing for a rival Big Ten team.
Sparma was more successful as a starting pitcher for the Buckeyes in 1962 and 1963, compiling a cumulative 11–8 record and 3.16 ERA. He had 102 strikeouts in 1962 and turned down a bonus offer from the Milwaukee Braves so he could return to OSU for his junior year. Sparma struck out 93 batters in 1963 and threw a no-hitter against Michigan on May 18. He ended his collegiate career as OSU's all-time strikeout leader with 195.
Disappointed by a lack of playing time under Hayes, Sparma left OSU and signed as an amateur free agent with the Tigers in 1963, earning a $20,000 bonus. He was assigned to Class AA Knoxville in the South Atlantic League, where he pitched 17 innings over six games before being assigned to Class A Duluth-Superior in the Northern League. Sparma went 2–4 in eight games, striking out 58 in 43 innings. He also threw a five-hit shutout over Bismarck-Mandan to help the Dukes win the 1963 Northern League championship.
While assessing prospects during the winter 1963 Florida Instructional League, Tigers manager Charlie Dressen was especially impressed with Sparma's fastball and overhand curve.
Sparma began the 1964 season with Knoxville, compiling a 2–4 record in seven games before the Tigers called him up in May. He made his major league debut in Washington on May 20, allowing an unearned run in two-thirds of an inning of relief in a 10–3 loss to the Senators. Consecutive wins over New York, Washington, and Boston—the middle outing a 10-strikeout, one-walk, 3–0 complete-game win July 5 over Washington in Detroit—prompted Dressen to marvel at Sparma's rapid success.
"There's nothing freaky about his delivery," Dressen said. "Sparma has speed and gets it over. He has all the pitches to win."
The quick success did not last. Sparma struggled with his command and didn't get another win until mid-August. In 21 mound appearances, 11 of them starts, he went 5–6 with a 3.00 ERA, striking out 71 and walking 45 in 84 innings.
After honing his skills that winter pitching for Mayaguez in the Puerto Rican League, Sparma developed into one of the Tigers' top hurlers in 1965, losing consecutive games only once while compiling a 13–8 record and 3.18 ERA in 30 games (28 starts). He also exhibited improved control, striking out 127 and walking 75 in 167 innings. In the tradition of former Tigers pitcher Frank Lary, the media dubbed Sparma a "Yankee Killer" as he won five of his first six career decisions against New York.
Sparma got off to a bad start during spring training in 1966 when he injured the index finger on his pitching hand while closing a car door. That season he failed to complete a single game, finishing 2–7 with a 5.30 ERA in 29 appearances, only 13 of them starts. Sparma's recurrent control problems prompted interim Tigers manager Bob Swift to remark, "The son of a bitch looks like he never threw a baseball in his life."
Sparma pitched effectively in the winter 1966 Puerto Rican League and entered 1967 with renewed hope and a new pitching coach in Johnny Sain. During a visit to Puerto Rico, Sain suggested that Sparma add a slider to his repertoire. He continued developing the pitch in early 1967 while working out at a Detroit-area high school gym with Tigers catcher Bill Freehan. The Tigers also suggested that Sparma abandon his elaborate windup and decrease the amount of time between pitches (Sparma was known as one the league's dawdlers). He also arrived for spring training weighing 192 pounds, 10 pounds less than in 1966. Sparma, listed at 6 feet, had difficulty controlling his weight and was a chain smoker throughout his career, which some believed had a detrimental effect on his pitching performance.
Sparma's best season turned out to be 1967. The Tigers won his first seven starts, in which he collected four wins—two of them shutouts. Freehan remarked that Sparma was suddenly "thinking like a pitcher, not like a guy throwing through a brick wall." Sparma pitched confidently under Sain's tutelage during the season's first half, stating, "You know you're going to come back in the regular rotation. You don't get tense [for fear of] losing your job."
Tigers vice president and former catcher Rick Ferrell also remarked on Sparma's early-season dominance. "I don't believe anybody is faster in our league," Ferrell said. "[Cleveland Indians pitcher] Sam McDowell is as fast when he's right, but Joe can stay with anybody." By July, Tigers manager Mayo Smith moved Sparma from fifth to first in the starting rotation. A small amount of controversy ensued when Baltimore Orioles manager Hank Bauer did not select Sparma (then 9–1) for the All-Star team. "We knew in spring training that Joe would pitch better," Smith said. "When he has his control, he's as tough as they come."
Sparma didn't have as strong a second half and the Tigers fell a game short of winning the 1967 American League pennant. But he still finished 16–9 with a 3.76 ERA and tied for second in the league with five shutouts (all at home). He struck out 153 and walked 85 in 217.2 innings.
Sparma chose to forgo winter ball in 1967 to work as a manufacturer's representative selling machine parts, plastic, and rubber to automotive accounts. The Tigers expected Sparma to be a frontline starter in 1968. But he performed poorly in the season's first half, going 7–8 with a 4.01 ERA in 20 starts.
"Skipping winter ball seemed to retard Sparma's progress as a pitcher," said George Cantor, Tigers beat writer for the Detroit Free Press from 1966 to 1969. "He was like a kid who forgot all the math he learned over summer vacation. The Tigers loved his arm. He threw hard and was hard to hit. But he was always fighting to control his pitches. The coaches were frustrated with Joe, but I'm sure he was frustrated with himself, too."
After allowing five hits and three runs in an inning-plus against Oakland on July 17, Smith took Sparma out of the game. But "take him out" went only so far. "I can't start him, and he's too wild to pitch relief," Smith said after one exasperating outing. "What am I supposed to do—take him out and shoot him?" Sparma brooded endlessly when placed in a long relief role. The lack of communication with Smith made their relationship tense.
Things quickly unraveled during a start on August 14 in Cleveland. Sparma struggled against the Indians, allowing two singles and two walks in the first three innings. Although the Tigers had a 1–0 lead in the third, Smith had left-hander Mickey Lolich throwing in the bullpen. As Lolich warmed up, Sparma seemed to lose his concentration while preparing for the worst. After allowing a single and walk in the fourth, Smith yanked Sparma from the game. Visibly angered, Sparma threw his glove in the dugout and headed straight for the clubhouse. Lolich allowed just three singles the rest of the game and the Tigers won 3–0.
On the flight to Boston following the game, Sparma remained furious. He sat next to Detroit Free Press columnist Joe Falls and openly criticized Smith. Sparma said he felt "humiliated" and that he wasn't being treated like a man or a member of the team. "I don't know if I can play for that man anymore," Sparma said. "Even Woody Hayes didn't treat me like that." Smith was unapologetic. "I have to think of the other 24 players, too. I can't be thinking of one man," he said.
In two more starts—each with eight days' rest—Sparma failed to make it past the sixth inning and was in the depths of Smith's doghouse. He wandered aimlessly about the clubhouse and went 15 days without pitching. Trade rumors circulated. But on September 17, Sparma got a surprise start just five minutes before game time.
The Tigers' magic number was one, and right-hander Earl Wilson was scheduled to start against the Yankees at Tiger Stadium. A win would give the Tigers their first pennant since 1945. But Wilson hurt his shoulder warming up, forcing Smith to call on Sparma to pitch. With little time to spare, Sparma quickly took to the mound, much to the dismay of the 46,512 fans who booed as his name was announced.
Sparma allowed two singles in the first but the Tigers erased the threat with a double play. Afterward, Sparma was practically untouchable. He set down 19 of the next 21 batters; the only two who reached base were thrown out trying to steal second. Sparma was consistently ahead in the count and pitching with conviction. The fans got behind him and cheered thunderously when he singled to center to give the Tigers a 1–0 lead in the fifth. He received a standing ovation when he came to bat in the eighth.
Anticipation rose to a fever pitch when Sparma attempted to shut down the Yankees in the ninth. New York scored the tying run with two out, but Mickey Mantle struck out to end the inning. In one of its customary last-licks rallies that season, Detroit won the game 2–1 in the bottom on the ninth on a two-out single by Don Wert. The pennant-clinching win touched off a wild celebration that hadn't been seen in Detroit for more than two decades.
Sparma was highly emotional in the jubilant Tigers clubhouse, giving thanks to his wife, Connie, for her support that season. "I didn't have time to get nervous" about making the start, Sparma said. "All I could think of was all the trouble I've been in this year and how much pain it has caused my wife and my family. [The game] was beautiful, not for me, but for Connie. She's put up with an awful lot from me."
In 34 games (31 starts), Sparma went 10–10 with a 3.70 ERA, striking out 110 and walking 77 in 182.1 innings. His only World Series appearance came in relief of starter Denny McLain in Game 4 against St. Louis. In one-third of an inning, Sparma allowed two runs and two hits in a 10–1 loss.
The hard feelings between Smith and Sparma carried over into the 1969 season, as did Sparma's wildness. In 23 appearances (16 starts), Sparma went 6–8 with a 4.76 ERA. His control seemed to disappear altogether as he struck out 41 and walked 77 in 92.2 innings.
A rare bright spot for Sparma that season came against Seattle in a nationally televised game on May 31. In his first start in more than a month, Sparma missed the plate on eight consecutive pitches before getting a strike across in the first inning. But the Tigers retired the Seattle Pilots on an attempted steal and a double-play groundout. Sparma was erratic through eight innings, walking seven and striking out eight, but he had not allowed a hit. Only four pitches had been hit out of the infield.
"Joe [was] struggling," catcher Bill Freehan recalled. "I was constantly getting on him, chewing him out, trying to get him mad so he'd keep his concentration.…He was in trouble all the time, but he kept getting guys out." After retiring the first batter in the ninth, Don Mincher hit a 2–0 pitch to deep right-center for a double, ending Sparma's only serious bid for a no-hitter. The Pilots had just one hit in the 3–2 loss.
In early August, the Tigers fired pitching coach Johnny Sain, leaving Sparma with little support among the Tigers coaches. During the 1969 World Series, the Tigers attempted to trade Sparma to Pittsburgh for reserve outfielder Carl Taylor, but the deal fell through. On December 3, 1969, the Tigers dealt Sparma to the Montreal Expos for pitcher Jerry Robertson. The Expos sought to acquire Sparma after receiving an enthusiastic report from a scout who watched him pitch a game that winter in Puerto Rico.
After the trade was announced, Sparma did not hesitate to criticize Smith. "Mayo has no idea how to put a pitching staff together," Sparma said. "We might have blown two or three pennants in a row."
Impressed with Sparma's spring training performance, Expos manager Gene Mauch named him the 1970 opening day starter. Mauch hoped a fresh start with a new team might restore Sparma's confidence. "Joe Sparma will never master the strike zone," Mauch said in early April. "But he's a threat to shut you out every time."
Sparma showed good control in his first two starts, but his wildness crept back. He also had problems making accurate throws to first on pickoff attempts. On April 29 against San Diego, he tried to walk a Padre intentionally but his pitch sailed over the catcher's head, scoring a run. The next inning, Sparma's errant pitch broke the jaw of Padres catcher Bob Barton. Later, after losing four of his first five starts, Mauch put Sparma in the bullpen. "It would be different if I had established pitchers, but I've got to go with guys who are winning," Mauch said.
Sparma's most humiliating performance came in what was to be his final major league game. Appearing in relief May 12 against the New York Mets, Sparma threw just five strikes in 28 pitches. Most were over catcher John Bateman's head or in the dirt. The inning ended only when a wild pitch bounced off the backstop and returned to Bateman for a play at the plate. Shortly thereafter, Montreal optioned Sparma to Class AAA Buffalo. He ended the major league season 0–4 with a 7.06 ERA in nine games (six starts). He struck out 23 and walked 25 in 29.1 innings.
On June 11, the Buffalo franchise was transferred to Winnipeg. But the team's home ballpark was not yet ready for play, so the Winnipeg Whips played 23 consecutive road games while wearing Buffalo Bisons uniforms. Sparma's weight dropped to 180, but it didn't help his pitching. He ended the International League season 3–13 with an 8.22 ERA in 24 games (23 starts). He struck out 76 and walked 92 in 116 innings, and was tied for the league lead with 19 wild pitches. "We were a Triple A expansion club," Sparma said of his Winnipeg experience. "It's like one of the guys said—'We're a team of fringe ball players that nobody else wants.'"
Sparma returned to the Detroit area that September to manage a suburban health club. At age 28, he considered retirement. The Expos tried to trade him that winter, but there were no takers. In February 1971, Montreal sold Sparma to Class AAA Toledo, the Tigers' top farm club. The Mud Hens gave Sparma an opportunity to reestablish himself, but he never regained his control. In an April 17 start against Richmond, Sparma walked the first five batters he faced in the second inning. Over one stretch, he missed the plate with 15 straight pitches.
Sparma's baseball career ended when Toledo released him that August. He was 2–5 with a 5.88 ERA. Despite having a sound arm and pitching a one-hitter, he walked 70 batters in 57 innings. "I really feel sorry for [Sparma]," said Mud Hens General Manager Charlie Senger. "He worked his head off, but just couldn't help us."
Looking back, some of Sparma's teammates also wondered about his lack of control. "You couldn't even play catch with the guy," recalled former teammate John Hiller. "He never knew where the ball was going to wind up. It was all mental with him. When he was on, he had better stuff than Nolan Ryan. He just never figured out how to harness it."
After leaving the game, Sparma returned to Ohio and entered a management training program. By the 1980s, he became vice president of sales and marketing at Buckeye Steel in Worthington.
In May 1986, Sparma suffered a heart attack and was treated at a Columbus hospital. Always a clubhouse favorite, Sparma received a call from former Tigers pitcher Earl Wilson, which lifted his spirits immensely. But Sparma died at age 44 May 14, 1986, from complications following triple-bypass surgery. He was buried at Resurrection Cemetery in Worthington.
Following in his father's footsteps, Blase Sparma pitched for Ohio State 1989–1991 and was a member of the Buckeyes' 1991 Big Ten championship team. The Atlanta Braves selected Blase in the third-round (77th pick overall) in the 1991 draft, but he never advanced to the majors.
Joe Sparma ended his major league career with a 52–52 record and 3.94 ERA. Although he left baseball without having reached his full potential, he will remain a fixture in Detroit sports history for winning the game that clinched the 1968 American League pennant.
Sources
Cantor, George. The Tigers of '68: Baseball's Last Real Champions. Dallas: Taylor, 1997, pp. 95–97, 150–153, 214.
Detroit Tigers 1968 Press Guide.
Freehan, Bill, Behind the Mask: An Inside Baseball Diary. Cleveland: World Publishing Company, 1970, p. 86–89, 190.
Official Baseball Guide for 1971. St. Louis: The Sporting News, 1971, pp. 409 and 418.
"AABC Picks Joe Sparma as its Graduate of Year." The Sporting News, March 23, 1968.
Blackman, Ted. "Expos' McGinn Gaining Poise." The Sporting News, May 30, 1970.
Blackman, Ted. "Red Hair, Strong Arm—Morton Ticket to Montreal," The Sporting News, May 23, 1970.
Blackman, Ted. "Rusty Sees Expos Soaring Over .500." The Sporting News, December 5, 1970.
Blackman, Ted. "Sagging Expos Find Raymond a Great Relief." The Sporting News, May 16, 1970.
Blackman, Ted. "Stoney, Sparma Revive Sinking Expos." The Sporting News, April 25, 1970.
Blackman, Ted. "Wow! Expos' Scout Elated over Sparma." The Sporting News, December 20, 1969.
"Class A Highlights." The Sporting News, September 7, 1963.
Doerschuk, Steve. "Old Friends Who Don't Meet Anymore." The Sporting News, April 29, 1985.
Falls, Joe. "How Important Are Sports?" The Sporting News, September 7, 1968.
Falls, Joe. "Trim Sparma Set to Retire?" Detroit Free Press, September 16, 1970.
Feeney, Charley. "Pirates Thank Tigers for Reluctance to Deal." The Sporting News, October 10, 1970.
"International League." The Sporting News, July 4, 1970.
"International League." The Sporting News, May 8, 1971.
"International League." The Sporting News, August 7, 1971.
Marks, Cliff. "Cripples Team Falls to OSU Power, 50–20." The Michigan Daily, November 25, 1961.
Middlemas, Larry. "Time for Laughs—Look at False Forecasts." The Sporting News, January 9, 1971.
Mintline, Doug. ".198 Hitter (Wert), Lost Soul (Sparma) Ignite Celebration." The Flint Journal, September 18, 1968.
"Obituaries." The Sporting News, May 26, 1986.
Otte, Dick. "Brawny Blockers Boost Bucks' Title Bid." The Sporting News, October 6, 1962.
Smith, Corinne. "Pressure and Tension of Pennant Tough on Tigers' Wives." The Detroit News, September 30, 1968.
Spoelstra, Watson. "Aguirre and Sparma Wake Dozing Tigers." The Sporting News, July 8, 1964.
Spoelstra, Watson. "Bengals Beam, Rivals Frown Over Gladding's UFO Pitches." The Sporting News, May 27, 1967.
Spoelstra, Watson. "Cash, Finding Norm at Plate, Now Seeks Gold Glove Crown." The Sporting News, March 19, 1966.
Spoelstra, Watson. "Don't-Spare-the-Horses Style Improves Sparma's Hurling." The Sporting News, March 25, 1967.
Spoelstra, Watson. "Hefty Sparma Diets to Win His Battle of the Bulge." The Sporting News, December 16, 1967.
Spoelstra, Watson. "Joe Niekro, Robertson, Buttress Tigers on Hill." The Sporting News, December 20, 1969.
Spoelstra, Watson. "Joe Sparma." The Sporting News, July 15, 1967.
Spoelstra, Watson. "McAuliffe Horsepower Revives Motor City Model." The Sporting News, July 25, 1964.
Spoelstra, Watson. "Pilot Dressen Gets Eyeful in Peek at Bengal Comers." The Sporting News, November 16, 1963.
Spoelstra, Watson. "Sparma Beefs to Writer—Raps Mayo's Strategy." The Sporting News, August 31, 1968.
Spoelstra, Watson. "Sparma Charm for Tigers: When Joe Starts, They Win." The Sporting News, May 27, 1967.
Spoelstra, Watson. "Sparma Regains Old Yankee-Killer Rep—Bengals Lick Chops." The Sporting News, June 17, 1967.
Spoelstra, Watson. "Sparma Shutout Star in Batters' Paradise." The Sporting News, September 23, 1967.
Spoelstra, Watson. "Sparma to Bolster His Comeback Try with a New Slider." The Sporting News, February 18, 1967.
Waldmeir, Pete. "In the Midst of a Hullabaloo, Sparma is an Island of Emotion." Detroit News, September 18, 1968.
www.baseball-reference.com
www.ohiostatebuckeyes.com
www.retrosheet.org
Samoray, Jeff. Interview with George Cantor, July 8, 2007.
Shook, Rich. "Joe Sparma," unpublished essay.
WJR-AM. Taped radio broadcast of New York Yankees at Detroit Tigers, September 17, 1968.
Note
This article originally appeared in the book Sock It To 'Em Tigers–The Incredible Story of the 1968 Detroit Tigers, published by Maple Street Press in 2008.
Photo Credit
The Topps Company
Born
February 4, 1942 at Massillon, OH (USA)
Died
May 14, 1986 at Columbus, OH (USA)
If you can help us improve this player's biography, contact us.
http://bioproj.sabr.org/bp_ftp/images3/SparmaJoe.jpg
600
800
admin
/wp-content/uploads/2020/02/sabr_logo.png
admin
2012-01-04 20:04:10
2012-01-04 20:04:10
Joe Sparma