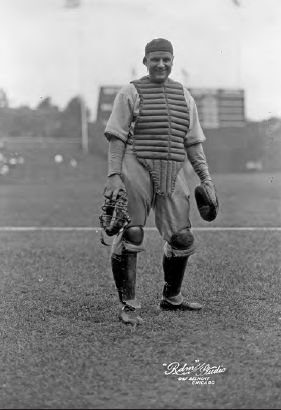 ---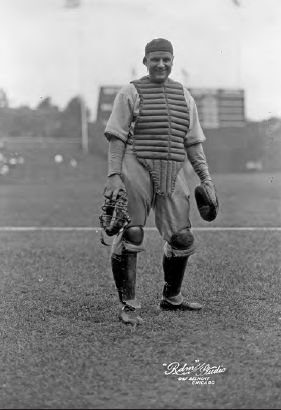 A backup catcher in all of his five years in the Major Leagues, Johnny Schulte found greater success as a coach under manager Joe McCarthy. Schulte was a Yankees coach during almost all of McCarthy's tenure with the team. After McCarthy left the Yankees in the middle of the 1946 season, Schulte stayed on with the Yankees until the end of the 1948 season, coaching under managers Bill Dickey, Johnny Neun, and Bucky Harris. In 1949 he rejoined McCarthy, who was then managing the Boston Red Sox. When McCarthy retired in 1950, Schulte also left the game. A year later he turned up in Cleveland, where he worked as a scout for more than a decade before retiring for good in 1963.
John Clement Schulte was born on September 8, 1896 in Fredericktown, Missouri, a town in the foothills of the Ozarks about seventy-five miles south of St. Louis. Schulte's parents were Michael Charles Schulte, a bank clerk, and the former Amelia Rosar. John was one of seven children, three girls and four boys. He was the third child and the second son.
Schulte began playing baseball in grade school and competed in the citywide St. Louis Post-Dispatch tournament in 1912, at the age of fifteen. He signed his first professional baseball contract in 1915, with the Oklahoma City Senators of the Class D Western Association. Schulte, an eighteen-year-old outfielder, batted .167 in twenty-eight games. In 1916 he played for three teams, Newport News of the Class C Virginia League, and Wheeling and Terre Haute of the Class B Central League. Overall he batted .202 in eighty-two games.
Schulte served in the Navy during World War I, playing baseball at the Great Lakes Naval Training Station. He missed the 1917 and 1918 seasons, but when he returned to baseball in 1919, he seemed to have found his batting eye. With the Terre Haute Browns of the Three-I League, Schulte hit .304 In 102 games, mostly as an outfielder.
With Terre Haute again the next season, Schulte played in 131 games and batted .278. In 1921, he moved up to the Mobile (Alabama) Bears of the Class A Southern Association, where he was switched from the outfield to catcher, his position for the rest of his baseball career. Schulte had the best season of his career in 1922, leading the Southern Association in batting (.357), home runs (12), and slugging (.597)for the pennant-winning Bears.
After the season the St. Louis Browns purchased Schulte's contract. He made his Major League debut on Opening Day 1923, as a late-inning substitute at first base. The next day he pinch-hit, drew a walk, and scored. After a month, in which he appeared in seven games, Schulte was sent to the San Antonio Bears of the Class A Texas League, where he stayed the rest of the season, hitting .269 in fifty-nine games and showing none of the power he had displayed the year before in Mobile.
The five-foot-eleven, 190-pound Schulte spent the next three seasons (1924 through 1926) at the Class Double-A level, at the time, the minor league's highest classification. Playing in the American Association in 1924–1925, and in the International League in 1926, he regained his batting ability and played strong defense. He began the 1927 season in the International League, but made it back to the majors, with the St. Louis Cardinals, on May 29. Schulte was 3-for-5 in his National League debut, with four runs batted in as the Cardinals defeated Cincinnati, 11–3. The next day he was 2-for-3 with a walk. Just over a week later, on June 8, Schulte smacked his first Major League home run, a two-run shot off Hal Goldsmith of the Boston Braves.
Schulte remained with the Cardinals for the rest of the 1927 season. He hit .288 in 208 plate appearances, with an impressive on-base percentage of .456. He hit nine home runs and had thirty-two RBIs. However, the Cardinals had a surplus of catchers and traded Schulte after the season to the Philadelphia Phillies. He appeared in sixty-five games for the Phillies in 1928, many of them as a pinch-hitter, and batted .248.
On January 17, 1928, Schulte married twenty-year-old Gladys Moran of St. Louis, a professional singer. The marriage lasted until Schulte's death more than fifty years later.
The Phillies sold Schulte to the Columbus (Ohio) Senators of the American Association in January 1929, but before he could play for Columbus, the Chicago Cubs purchased his contract. As a reserve catcher and pinch-hitter on the pennant-winning team managed by Joe McCarthy, Schulte hit .261 in thirty-one games. He had no appearances in the World Series, which the Cubs lost to the Philadelphia Athletics in five games.
Schulte didn't play in the 1930 season but returned to baseball in 1931 with the Los Angeles Angels of the Pacific Coast League, where he served as a catcher and pinch-hitter, appearing in 101 games and hitting .283. The Browns picked him up in the off-season, but he was released in early August after playing in just fifteen games. A few days later he signed with the Boston Braves, but played in just ten games for them. Schulte was one of a select group of players that hit a home run in his last Major League at bat; it came off Freddie Fitzsimmons of the New York Giants on September 20, 1932, in the Polo Grounds. He finished with a career Major League batting average of .262 in 374 at-bats.
Schulte caught on as a coach on Charlie Grimm's Cubs staff in 1933. In 1934 Joe McCarthy, in his fourth year as manager of the Yankees, recalled how well Schulte handled the pitchers on the 1929 Cubs and hired Schulte as the Yankees' bullpen coach and pitching instructor. Schulte spent the next fifteen seasons in the Bronx, coaching on seven pennant winners, six of which won the World Series.
In addition to his coaching duties, Schulte occasionally worked as a scout for the Yankees. In 1936 he persuaded Yankees chief scout Paul Krichell to sign a skinny young shortstop who had been passed over by the Brooklyn Dodgers and the New York Giants. The kid was Phil Rizzuto, and though Krichell originally wasn't impressed, he agreed to send him to the Yankees lowest minor league club if Schulte would pay Rizzuto's $20 train fare from New York City to Bassett, Virginia.
Six years later, in 1942, Schulte spotted an awkward-looking, wild-swinging seventeen-year old catcher playing in an American Legion game in St. Louis. The catcher, Yogi Berra, blasted two home runs and Schulte got the Yankees to sign him, for $500.
When Whitey Ford first tried out for the Yankees in 1946, he did so as a potential first baseman. As with Rizzuto, the head scout was not impressed and was ready to send the eighteen-year-old home. But when Ford told Schulte that he could pitch, Schulte grabbed his catcher's mitt and said, in classic Missouri fashion: "Show me." Ford showed him, and the Yankees signed the left-hander, who went on to win more games than any other Yankee pitcher.
Schulte died on June 28, 1978, in St. Louis at the age of eighty-one, and was survived by his wife and his son, John Jr. He is buried in St. Louis's Calvary Cemetery.
This biography is included in the book "Bridging Two Dynasties: The 1947 New York Yankees" (University of Nebraska Press, 2013), edited by Lyle Spatz. For more information, or to purchase the book from University of Nebraska Press, click here.
Sources
Bob Broeg, "Schulte: One of Baseball's Top Scouts" (obituary) St. Louis Post-Dispatch, July 1, 1978.
"Cubs Get Ed Baecht For 7 Players, Cash," New York Times, November 7, 1930.
Bob Broeg, "Schulte: 1 of Baseball's Top Scouts" (obituary) St. Louis Post-Dispatch, July 1, 1978.
"Phils Release Ring Outright, Sell J. Schulte to Columbus," New York Times, January 6, 1929.
Robert L. Burns, "Eagle Eye Johnny Schulte" (obituary), St. Louis Globe-Democrat, July 4, 1978.
Walter E. Orthwein, "Whatever Happened to Johnny Schulte," St. Louis Post-Dispatch, January 1978.
Neil Russo, "John Schulte Recalls Happy Years as Scout," St. Louis Post-Dispatch, January 15, 1961.
Newyorkyankees.com
wikipedia.com
Born
September 8, 1896 at Fredericktown, MO (USA)
Died
June 28, 1978 at St. Louis, MO (USA)
If you can help us improve this player's biography, contact us.
http://sabr.org/sites/default/files/JohnnySchulte.JPG
600
800
admin
/wp-content/uploads/2020/02/sabr_logo.png
admin
2012-01-04 20:39:08
2012-01-04 20:39:08
Johnny Schulte