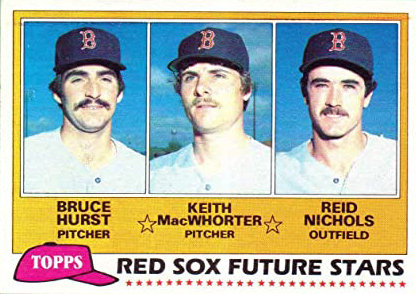 ---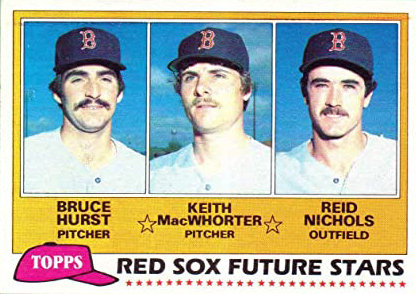 Keith MacWhorter was a right-handed pitcher for the Boston Red Sox who appeared in 14 games during the 1980 season. He was perhaps handicapped by a limited sinking fastball-slider pitching arsenal.
A native New Englander, MacWhorter was born on December 30, 1955, in Worcester, Massachusetts, and spent most of his youth in Rhode Island. In a January 2020 interview, he outlined his family background: "My father Paul was a paper salesman. He happened to be in Worcester on a one-year job when I was born. We moved to Mount Pleasant, in Providence, Rhode Island, and then we moved to North Providence when I was about 6. He worked for the same company all his life, from 16 to 63. It was Carter Rice; it ended up being Hammermill Paper. My mother Gloria raised us. She became a nurse when she was in her late thirties. She helped put us through school, with a second job working 4 to 9. She was a night nurse at Rhode Island College."1
Keith had older (Paul Jr.) and younger (Brian) brothers, and a younger sister, Brenda. He went to public schools in North Providence, attended LaSalle Academy, and graduated from North Providence High School. At LaSalle, he said, "I was cut from the freshman and the JV team. I ended up transferring to North Providence High School. I sat out my junior year, because you can't play when you transfer. I played one year of high school baseball. Then I went off to Bryant College and played three years there."2
Keith matriculated to Bryant College in Smithfield, Rhode Island, and pitched for the Bulldogs while pursuing a degree in criminal justice. He earned the degree eventually, but professional baseball became his priority after his junior year. Bryant was a Division III school and didn't have a strong baseball program, but scout Buzz Bowers of the Los Angeles Dodgers saw him play and was impressed. "I guess I was doing well enough to get noticed," he says more than 40 years later. In June 1976, 20-year-old MacWhorter was selected by Los Angeles in the 15th round of the amateur draft, and assigned to the Class-A Midwest League Danville (Illinois) Dodgers.
As a New Englander and Red Sox fan, MacWhorter would have preferred to have been picked by Boston, but the Sox seem to have had him a little lower on their draft board. He said, "I grew up in North Providence so pretty much everybody was [a Sox fan]. There were some Yankee fans, only because the Red Sox weren't that good. Front-runners. . . I was a little disappointed when I got drafted by the Dodgers. I just didn't want to play anywhere except Boston. You just grow up with that."
For the last-place South Division Danville Dodgers, MacWhorter started 13 games in 1976 and went 1-7, with a high 5.35 ERA (compared to the team ERA of 4.27). He struck out 51 and walked 52. He later admitted that perhaps he had not been as ready as he could have been, explaining that the parent Dodgers organization of his day really didn't provide the kind of guidance that their investment in a prospect might warrant. "When I signed, I was young. I had a hard fastball, but I was wild. The [Danville] team was going nowhere, everyone was playing for himself and didn't care, and I fell right in."3    
Near the end of spring training the following year he was released by the Dodgers. He was apparently called into a room at Dodgertown in Vero Beach, and told, "I'm sorry, but you just don't have any major league potential."4 That was that. "There wasn't anything I could do about it," he later told Peter Gammons. After a little more than five months on the sidelines, the Red Sox signed him as a free agent on September 12.
The story behind the story of his release was a little different from what MacWhorter put out to the press. "[Danville had] played a three-week road trip and came back for what I think was a Sunday afternoon game. One game at home before the end of the season. I was supposed to pitch, and I was looking forward to it. The bus got in at 2 in the morning, because of the crazy bus trips we had to take. The guys drowned the field with the sprinklers, just like they did in Bull Durham. I swear that that scene came from this. They didn't want to play, so they drowned the field. They'd been three weeks on the bus; the guys were playing every day. They were exhausted. We didn't play the game.
"They brought me to spring training, but on essentially the last day [VP of Minor League Operations] Bill Schweppe called me in and said, 'Hey, we know that you were involved in this and we're releasing you.' I had to take the hit for [the field soaking of the previous September]. I didn't have anything to do with it. I don't really know who did it, because I left. I was due to pitch. I went home to get a couple of hours [rest]. Basically, I got blamed for it. Anyway, I had to come home and play in an amateur league for a year."
When released by the Dodgers, he returned to Bryant for the summer of 1977. He says, "I pitched in a one-year league called the Rhode Island Industrial in Providence, and a Red Sox scout saw me. I was lucky. I got the second chance."5 The Boston Herald wrote that MacWhorter had been "dug out of the Providence sandlots by Sox scout Lefty Lefebvre."6 Lefebvre had been following him for a long time. MacWhorter expressed his appreciation in the 2020 interview. "He was scouting me all the way through. He's the only one who was. The Red Sox … the Dodgers picked me before them."
Being released by the Dodgers made MacWhorter a free agent. "I don't know whether Lefty set [the Red Sox tryout] up or not, but I got a phone call from somebody over at Pawtucket to come over to McCoy to try out. Richie Gedman and I both tried out at McCoy Stadium in front of Johnny Podres and Joe Morgan. I went over and pitched to Richie. He and I threw for 20 minutes and then he hit for a while and next thing you know, we're with the Red Sox. They signed us both." They are the only two players born in Worcester who went on to play for the Red Sox.
In 1978, MacWhorter pitched Class-A ball again, this time in the Florida State League for the Winter Haven Red Sox. He dramatically upgraded his 1976 stats, posting an 11-6 record with a 2.19 ERA. He started 12 games and relieved in 21 others, working 115 innings. His strikeouts-to-walks ratio (109-44) also improved considerably.
In December, the Seattle Mariners selected him in the minor-league draft, but come April 1979 he was wearing the uniform of the Bristol Red Sox in the Double-A Eastern League. This occurred more than 40 years ago, and would probably never happen today, but at the time it was reported that "the Red Sox made a little deal with Seattle to prevent losing him (Seattle drafted him, then sold him back at the end offspring training.")7 What consideration Seattle received in return is not clear. Perhaps the transfer embodied a "good ol' boys" era — "You scratch my back and I'll scratch yours," MacWhorter speculates. "The way I understand it, they made a deal with Seattle that I'd go there for spring training and then get sent back at the end of whatever the timeframe. I forget exactly how it worked, but that's exactly what happened to me and the way it was explained to me after I got back. They apologized for putting me through it."
In any event, he was back in the Red Sox farm system and pitched well for Bristol in 1979. Mixing 17 starts with 20 relief appearances, he went 11-10 with a 3.09 ERA. In October, the Red Sox added him to their major-league roster to protect him in the minor-league draft.
The following spring, MacWhorter was initially ticketed for Triple-A Pawtucket, but both he and left-hander Bruce Hurst made positive impressions on Boston manager Don Zimmer. He remained something of a long shot to make the team, and on April 2 he was assigned to minor-league camp — in part because the Red Sox still had options on him, but had none left for pitching prospect Allen Ripley.
MacWhorter won his first couple games at Pawtucket, and on May 9 the Red Sox called him up, placing infielder Stan Papi on waivers to clear the necessary roster space. MacWhorter got his first taste of the majors the very next day. His was not the sort of debut that anyone would want, but MacWhorter's work was marginally better than that of the starting pitcher he relieved — future Hall of Famer Dennis Eckersley.
On Saturday afternoon May 10, 1980, the Sox faced the Kansas City Royals at Fenway Park, having lost four of their five previous games to drop to 12-13 on the still-young season. Eckersley started but gave up three quick first-inning runs. When a two-out walk to Frank White loaded the bases, Manager Zimmer turned to MacWhorter, beckoning him in from the bullpen where he had been hurriedly warming up. The first batter he faced, U L Washington, lined a single into center field, driving in two runs. He then got Willie Wilson to ground out. All five KC runs were charged to Eckersley.
To begin the second, MacWhorter hit Hal McRae, who immediately stole second base, advanced to third on a groundout, and then scored on the only base hit that MacWhorter allowed in the inning, a single to left by Willie Aikens. A three-run homer by Dwight Evans brought Boston back into contention at 6-3. But the first four batters MacWhorter faced in the top of the third all reached via a double to left, a bunt single back to the mound, another double to left (by Washington) driving in two, and Wilson's single to left scoring Washington. Zimmer then called on Steve Renko to take over the pitching, but Wilson — MacWhorter's responsibility — scored before the inning was done. In his 1 1/3 innings, MacWhorter had given up five runs, good for an initial ERA of 33.75. The loss in the 13-8 game, however, was assigned to Eckersley.
After his debut, MacWhorter was level-headed. "I can't complain about the way I felt," he said. "I threw strikes, some good and some bad. They've got good hitters, they're gonna hit the ball. That's the way it goes."8 Hal McRae said, "He had trouble getting his breaking stuff over, but he's got a good live arm."9 MacWhorter said he should have pitched a little more inside. "I've learned you've got to come in a little more. They hit a couple of good pitches. Then I pressed a little and pitched the ball away and they hit it. I'm learning."10
Four days later, he got another shot in a Wednesday night game against the Minnesota Twins and was decidedly better. MacWhorter was brought into the game in the bottom of the fifth after starter Bob Stanley had given up six runs. MacWhorter closed out the fifth, and pitched 3 1/3 innings total, allowing just one single. He walked four batters, but permitted no runs and left the game in the top of the eighth, replaced by Tom Burgmeier, who got credit for the 7-6 victory when the Red Sox won with a bases-loaded walk by Jim Dwyer in the bottom of the ninth.
MacWhorter's first major-league decision was a May 17 loss in Cleveland, where he was victimized by an unearned run. Brought in to pitch the 10th inning in a 3-3 game, his first batter reached on an error by first baseman Carl Yastrzemski, advanced to second on a sacrifice, to third on a groundout, and scored the game-winner on a two-out single to center field.
In all, MacWhorter appeared in five Sox games in May and three in June. On June 20, Boston activated ace reliever Bill Campbell and called up right-hander Win Remmerswaal from the minors. To make the necessary roster space, the club sold infielder Jack Brohamer to Cleveland and optioned our subject to Pawtucket. Of MacWhorter, who had only been used in relief, Zimmer said: "It's difficult for any pitcher to last very long in the majors with just two pitches, unless one of them is a fastball like Nolan Ryan's. MacWhorter made it from Class AA to the majors with two pitches. But he's more suited to starting than middle relief."11
MacWhorter pitched well once back in Pawtucket. A Springfield (MA) Union story on July 12 placed his record at 4-1 with a 1.99 earned run average since returning to Triple A.12 By the end of the seventh-place (62-77) PawSox season, MacWhorter's log stood at 7-6, with a solid 2.56 ERA, and earned him a promotion back to Boston.
Upon his return, the right-hander relieved in Red Sox games on September 7, 11, 14, and 23, allowing just two earned runs in 11 innings work. His final two appearances of the year were both starts. On September 29, he started the second game of a home doubleheader against Baltimore and took a 4-3 loss, being charged with all four Orioles runs in 6 2/3 innings. A sixth-inning two-run homer by Eddie Murray over the left-field screen proved the difference.
Don Zimmer was relieved of his position with five games left in the 1980 season, replaced by interim manager Johnny Pesky. On the very last day of the season, Pesky gave MacWhorter his second start. He allowed one run in the top of the first, and another in the fourth, while the Red Sox got one back in the bottom of the sixth. With the Blue Jays ahead, 2-1, Pesky let MacWhorter begin the ninth inning, where a single, sacrifice, intentional walk, and another base-hit loaded the bases. Then Ernie Whitt singled to center, driving in a pair and chasing MacWhorter. Given meager offensive support, MacWhorter was saddled with the 4-1 defeat. Although he could not have known it at the time, Keith MacWhorter's tenure as a major-leaguer was now over. In 14 appearances, he posted a career 0-3 record with a 5.53 ERA. He struck out 21 and walked 18, while surrendering 46 hits, including three home runs, in 42 1/3 innings.
In November, incoming Boston pitching coach Lee Stange said, "What I saw of Keith MacWhorter I thought looked pretty good. He may need something to change speeds, because he's pretty much fastball-slider, but he was working on a curveball at the end of the year, and that may help."13Thereafter, a hopeful MacWhorter persevered. After pitching for Magallanes in Venezuelan winter ball, he spent all of the next three seasons in Pawtucket. He got off to a very slow start with the PawSox in 1981 and was 1-5 in the early going, then turned it around and finished a more-respectable 7-10 (4.43). He apparently considered himself the Jekyll and Hyde of the Pawtucket staff. "I haven't been consistent," he said. "I'll have one good game, then a terrible one."14 All but five of his 28 appearances were starts.
After the 1981 season, MacWhorter was outrighted to Pawtucket. He got off to another slow start (2-5) the following year, but again turned things around to a degree. Relieving in 23 of his 40 games, he finished with a 6-11 (4.62) record. In 1983 he worked exclusively as a reliever, working in 48 games, closing 31 of them. His final record was 5-6 (5.55).
MacWhorter was frank about not having as full a pitching repertoire as some. "Sinker-slider is what I threw for the most part. Mix in a curveball. I had trouble with the changeup. I didn't develop it until the last year that I was playing and by then I had lost a little bit off my fastball." He did express appreciation for the pitching coaches who worked with him. "I worked with the best. Mike Roarke for many moons. I had the best A ball manager: Rac Slider, a true disciplinarian, born to mature the early-drafted. I also welcomed being under the tutelage of Joe Morgan, the best manager to ever own the third-base coach's box."
MacWhorter became a free agent after the 1983 season and signed a Triple-A contract with the Cleveland Indians in January 1984.15 He was recommended by former big-league catcher Doc Edwards, who was to manage the International League Maine Guides in 1984. "MacWhorter has a major league fastball," Edwards said. "That's why I recommended him."16 MacWhorter appeared in only three games, pitching a total of 4 1/3 innings, and registered no decisions. On May 13, 1984, the Boston Herald reported that MacWhorter was "recently released" by the Guides.17 MacWhorter's professional career had reached its end.
His Maine tour was only a brief stint, and probably predestined in a way. "Cleveland brought 23 pitchers to camp and they only kept 10 in the majors and 10 in the minor-league team. They got rid of three people. I was there because Doc Edwards liked me. I never got to pitch in spring training. I just threw on the side. I kind of knew that somewhere along the line, somebody's getting caught up in the numbers game." As it happened, the timing was not bad. Keith's wife Cheryl was seven or eight months pregnant. Their daughter Kerri was born a month later in June.
Regarding life after baseball, MacWhorter says, "I was ready to go at that time. I was ready to move on with my life. I didn't take it too badly. I came back here to Rhode Island. I was living in East Providence. I decided that it was time to get a job. The Syracuse Chiefs kind of wanted me to come over there from Maine and maybe see what I could do there, but I said, 'No. It's time.' I came back and I got a job in the insurance and financial services business, and I've been doing it ever since. It started out mostly selling life insurance but the second year I got there the 401(k) law was passed, and I got involved in that from day one. It was good timing. I sold a lot of retirement plans to companies. Subsequently, after people retired I have them as personal clients now. I get to work for myself primarily. I've had my own company since 1990: DMW Associates. My first partner passed away and I did it for a few years alone. I have a new partner now that I've had for about 15 years. Paul Rankowitz. We've been doing well. We're like semi-retired."
Had it helped him in sales that he had a professional baseball resume? In part, yes, he says, but he was known in the community for other things as well. "Some of my biggest clients were from North Providence. I was able to establish myself. 'Kid's from the neighborhood. He's legitimate. Straight shooter.' They kind of knew me. I used to work for the police department in the off-seasons, as a public relations officer. They let me go and give speeches to the schools. The rest of the time I was working in the Crime Prevention Department, learning how to use computers and stuff like that. It was one of those political jobs. I went to see the mayor and he saw that I had a degree in criminal justice. He said to go over and see the chief of police and he'll find something for you to do. This was the old days. I met a lot of people. It was good. I had a pretty good reputation in the town. I got started that way, with three or four good clients from North Providence and then I just kind of spread it from there. It worked out. I never wanted to kill myself. I just wanted to have a good, balanced life and I can safely say so far it's worked out pretty good."
That college degree in criminal justice ultimately paid off — though it had taken him extra years to get it, as he had to complete course work when his baseball schedule afforded him the necessary time. He finished his academic requirements in late 1979, and when the graduation ceremony was held the following spring, he was a member of the Boston Red Sox. "When they read my name, the dean of admissions — Roy Nelson — got up and said, 'He can't be here. He's in the bullpen at Fenway.'"
Keith had two children with his first wife. Daughter Kerri is a pharmacist His son Cory was born in October 1986 while the Red Sox were in the World Series. He also has two grandsons — Cole, age 2 1/2 at the start of 2020, and Chase, 6 months old. Looking back, he summed up: "It was a short amount of time that I got to play, but it was worth it. The best part was spring training. I got to go to three big-league camps. I had a locker next to Ted Williams for all three. That was interesting. I'm still friendly with some of the guys. It made such a difference to be playing for Boston and for being from around here."
MacWhorter's father Paul is still living, turning 90 in 2020. The two of them went to a baseball card show in Mansfield just two days before the January interview. Other Red Sox players at the show were Bill Lee and Chico Walker. Keith is invited to do Autograph Alley signings at Fenway Park from time to time. "It was fun to see Chico," he said. "I see him every once in a while. I had dinner with Bobby Ojeda a couple of years ago in New York. Triple A is where you get the closest to people. You always remember your minor-league people. Even the guys like Wade Boggs. I was talking to him at the reunion last year. He said the same thing — you remember the guys better from the minors, because that's when you didn't have anything."
Last revised: April 9, 2020
Acknowledgments
This biography was reviewed by Bill Lamb and Norman Macht and fact-checked by Kevin Larkin.
Sources
In addition to the sources cited in the Notes, the author also consulted Baseball-Reference.com, Retrosheet.org, and the Encyclopedia of Minor League Baseball. Thanks to Rod Nelson and the Boston Red Sox. Fact-checked by Kevin Larkin.
Notes
1 Author interview with Keith MacWhorter, January 22, 2020.
2 January 2020 interview. Unless otherwise indicated, all direct quotations from MacWhorther come from this interview.
3 Peter Gammons, "He's Happy for 2d Chance," Boston Globe, March 28, 1980: 56.
4 Gammons.
5 Gammons.
6 Kevin Dupont, "MacWhorter's Dream Becomes A Nightmare," Boston Herald, March 18, 1980: 23.
7 Gammons, "He's Happy for 2d Chance."
8 Kevin Dupont, "Rays Unravel Sox, 13-8," Boston Herald, May 11, 1980: 37.
9 Steve Harris, "Rader Reliving His Years with the Giants," Boston Herald, May 11, 1980: 41.
10 Larry Whiteside, "Eckersley Ailing, Sox Looks Sick, 13-8," Boston Globe, May 11, 1980: 75.
11 Larry Whiteside, "Brohamer Ends Up in Cleveland," Boston Globe, June21, 1980: 26.
12 Garry Brown, "The Morning Line," Springfield (Massachusetts) Union, July 12, 1980: 8.
13 Peter Gammons, "Red Sox Name Stange Coach," Boston Globe, November 8, 1980: 21.
14 "MacWhorter Sharp for Pawtucket," St. Albans (Vermont) Daily Messenger, June 25, 1981: 10.
15 Sometimes it comes down to whether the manager who's there at the time — who picks the last two guys — wants people. Joe Morgan always liked me because I'd always take the ball. I was never going to give him the 'sore arm' thing. And I did well for Tony Torchia when he had me at Bristol. He kept me for that last year [1983]. Then it came down to me and Mark Fidrych. Mark was going to get released at the end of the year, but one of us had to go on the disabled list with a week left in the season. I told them I'd do it, so he didn't have to go out that way. But I was never hurt. It was the only time I was on the disabled list. They had to do something that day." January 2020 interview. Torchia managed the Pawtucket Red Sox in 1983, MacWhorter's last full season.
16 Garry Brown, "The Morning Line," Springfield Union, January 28, 1984: 5.
17 Joe Giuliotti, "Sox Hope They Don't 'Choke' on Rice's Pact," Boston Herald, May 13, 1984: 61.
Born
December 30, 1955 at Worcester, MA (USA)
If you can help us improve this player's biography, contact us.
https://sabr.org/sites/default/files/MacWhorterKeith.jpg
600
800
admin
/wp-content/uploads/2020/02/sabr_logo.png
admin
2012-01-04 19:49:11
2020-06-23 15:23:04
Keith MacWhorter