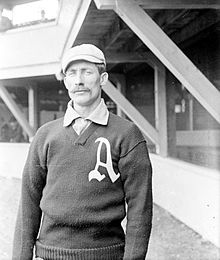 ---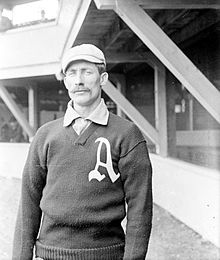 Native Philadelphian Monte Cross played short for the Phillies and Athletics during a particularly successful era in his city's baseball history. After several earlier major-league stops, he manned the position for the slugging, first-division Phillies from 1898 to 1901. Then, jumping to the American League in 1902, Cross helped the Athletics to two pennants over the next five seasons. An "all glove, no bat" shortstop, the highly-strung, combative Cross brought intangible value to the teams he served.
Montford Montgomery Cross was the fifth of nine children born to Thomas and Frances Cross. His father worked as a glassblower and, like his mother, was a New Jersey native. The family lived for some time in the Pittsburgh area, where several of the older children were born. By the time Monte arrived on August 31, 1869, the family resided in Philadelphia. His future teammate, Lave Cross, was not related. But a younger brother, Adrian 'Ad' Cross, played minor-league ball.
As a youngster, he served as a batboy to the pennant-winning 1883 Philadelphia Athletics.1 After graduating from Philadelphia's Central High School, he joined the city's famed Solar Tips ball club.2 His professional debut came in 1889 with Milford of the Delaware State League.3 Cross began the 1890 season in Lancaster, before Lebanon purchased his contract and employed him through 1891. He spent the 1892 season with the Eastern League's Buffalo and New Haven teams. By that September, local sportswriters heralded him as "the brightest and cleverest short stop" in the circuit."4
Baltimore, occupying the National League cellar, acquired him for a late-season tryout. On September 27, 1892, against the visiting New York Giants, Cross made his major-league debut. "He seemed active and quick," a newspaperman observed, "but he made three errors on throws and fumbles, which may have been caused by nervousness."5 In 15 games with the Orioles, he hit .160 and committed nine errors. Baltimore released Cross that offseason.6
In February 1893, he married Nellie Binden, a Philadelphia native. Daughter Roberta and son Howard arrived in the coming years.
Cross signed with Savannah for the 1893 season. He soon ran afoul of southern honor. "Monte and a gentleman of Savannah had a little dispute," a correspondent reported, "and but two licks were passed, Monte was hit, then hit the ground."7 Cross abruptly headed north, played briefly for Buffalo, then was released. He finished the season playing in Troy, New York.
The Western League's Detroit Creams signed Cross for the 1894 season. That summer, when quarreling over pay with owner George Vanderbeck, he "grabbed Van by the necktie and choked him vigorously."8 He then landed in Syracuse. In mid-September, searching for an alternative to struggling shortstop Gene Steere, Pittsburgh manager Connie Mack purchased Cross for a reported $1,000.9 He batted .442 in 13 games with the Pirates. Cross stuck with Pittsburgh for the 1895 season, at last becoming a full-time major leaguer.
Cross stood 5-foot-8, weighed 150 pounds, and batted and threw as a righthander. He possessed a "warwhoop voice" and a moustache that became increasingly distinctive as the Gay Nineties waned.10 Mack considered him "a young man of excellent habits" and Cross's reputation as a non-drinker lasted throughout his career.11 Yet, as his experiences in Savannah and Detroit illustrated, he could "assume a most hostile and ferocious mien" when angered.12 He strode across the diamond with "a natty little bantam cock of a swagger," and was accused "of having only one fault—conceit."13 Yet his self-confidence sometimes flagged, and losing could wound his fighting spirit.14
Sportswriters applauded Cross for going for "everything in sight" and noted "that many of his errors have been made on plays which the average short stop would have carefully avoided."15 His throwing arm earned universal praise. In 1898 fellow shortstop Tommy Corcoran called him the "hardest thrower" of all his National League peers.16 Fans marveled at his leaping ability, and sportswriter Francis Richter considered him "death on flies of any description."17 Cross played deep, and with a slugger like Nap Lajoie at bat, he stationed himself "way back on the grass in short left."18
Yet onlookers also found flaws in his defensive game. "Cross is weak on thrown balls and on grounders to his left, as well as slow ones he has to come in for," a scribe suggested in 1899.19 Four years later, A.J. Flanner, editor of The Sporting News, argued, "All the good shortstops are more or less patient and phlegmatic, except Monte Cross. Ninety per cent of Cross's errors are made on slow-hit balls on which he cannot wait. He rushes in and fumbles."20
As a rookie in 1895, with some refinements to his game yet to come, both his fielding percentage and range factor per nine innings were slightly below the league average for shortstops. At bat, he hit .254 and compiled an OPS+ of 84 (with this retrospectively calculated measure of on-base and slugging percentages, a value of 100 is considered average). Trade rumors surrounded Cross that fall. He told Pittsburgh management he was satisfied "to go to any town in the League but one. That one is St. Louis. I don't think it is fair to make a man work for [Chris] Von der Ahe."21 Despite assurances he would not be sent to the Browns, Mack dealt him, pitcher Bill Hart, and $750 to St. Louis for shortstop Bones Ely in January 1896. "According to Mack," The Sporting News reported after the trade, "Monte is one of the players who are on a tension from the beginning to the close of the season and this in time impairs his effectiveness."22
The once-proud Browns had skidded to a 39-92 record in 1895. Von der Ahe was continually unloading whatever talent the team developed and changing managers several times a season. The 1896 campaign began with ex-newspaperman Harry Diddlebock managing. Arlie Latham took over in May, with an understanding that Cross would be the field captain. The two warred, and Latham benched his rival.23 Within days, Latham was released, and Roger Connor assumed the reins. Connor didn't care for Cross's play.24 On July 1, the Browns released Cross.
Ten days later, Tommy Dowd took over, and "was especially anxious to hold Cross as he knew what a big hole his absence would make in the team."25 Cross, meanwhile, had reached terms with Louisville. With his bags packed, his teammates pleaded with him to stay. Business secretary B.S. Muckenfuss slipped him $25 to offset a recent Von der Ahe fine, then re-signed him.26
St. Louis finished 40-90 in 1896. Cross batted .244 (OPS+ 82), while remaining slightly below the league average in fielding percentage and range factor per nine innings. In 1897 the Browns fell into the 12-team National League cellar, finishing 29-102. But Cross contributed arguably his finest major-league season. He hit .286 (OPS+ 107), and led the league in assists and range factor per nine innings.
On July 30, in a rare win against visiting Louisville, Cross was "the star actor" in a triple play. In the first inning, the Colonels' General Stafford was at second, and Honus Wagner at first. "[Perry] Werden lifted an ugly-looking little twister to left that was apparently good for a single. Stafford ran to third and Wagner to [second]. Cross, by a mighty run and jump, grabbed the ball with one hand." He pivoted and threw to second baseman John Houseman, doubling off Stafford. Houseman then threw to first, retiring Wagner.27
As the Browns' most tradeable commodity, Cross was not long for St. Louis. In November 1897, Von der Ahe sent him in a multi-player deal to Philadelphia. The Phillies had struggled to find a quality shortstop ever since Bob Allen's career was cut short by a beaning in 1894.28
Cross was delighted to play in his native city, but got off to a poor start with the Phillies in 1898. Richter blasted his "awful let-down in batting," while Ernest Lanigan labelled him "a phosphorescent failure as a base runner."29 He also did not exist peacefully with abrasive manager George Stallings. When the team rebelled in mid-June and demanded that ownership dismiss the manager lest they strike, Cross had "not spoken to Mr. Stallings for over a month."30 Stallings was promptly let go, and player-friendly team secretary Bill Shettsline took his place.
Stallings had mostly placed Cross sixth in the batting order, but Shettsline moved him into the eighth spot. Lanigan opined that "Cross cannot bunt."31 He also struggled to make contact. His total of 575 strikeouts over the decade from 1898 to 1907 was unmatched.32 Christy Mathewson later recalled that Cross was particularly vulnerable to "a high fast one."33 As a base stealer, he was known not for his counts, but for his technique. "About the best head-first stealer I know of is Monte Cross," opined Clark Griffith.34
Cross's performance picked up after the managerial change, both at the plate and in the field.35 Philadelphia also rebounded, and finished the 1898 season at 78-71. A rare golden age of Phillies baseball was underway. With Lajoie, Ed Delahanty, Elmer Flick, and Roy Thomas driving the offense, the team finished second in 1899 with a 94-58 mark, then earned third-place finishes in 1900 (75-63) and 1901 (83-57).
Over his four years with the Phillies, Cross remained an erratic but valuable defensive shortstop. Although he led the league's shortstops in errors in three of these seasons, he led his peers in putouts each year, and from 1898 through 1900 his range factor per nine innings was above the league average. He also remained an offensive liability. From 1898 to 1901, Cross hit .230 with an OPS+ of 72.
Cross was also known as "one of the worse umpire-baiters in the profession."36 "Almost as peevish as a sweet little dear cutting its front teeth," he relentlessly argued balls and strikes at the plate, liberally using "baseball 'parlor talk'" as he did so.37 In the field he commonly objected to calls "by throwing the ball violently to the ground or raising his hands in holy horror."38 His antics tired even his defenders, with the Philadelphia Times suggesting, "If Monte Cross would pay more attention to the points of the game and less to putting the crowd on the umpire he would do better work."39
When the American League raided the National League prior to the 1901 season, Connie Mack snared Lajoie and pitchers Chick Fraser, Bill Bernhard, and Wiley Piatt from the Phillies. Shettsline quickly signed his shortstop, bumping Cross's pay from $2,100 to $2,400.40 In May a Philadelphia common pleas court refused to grant an injunction sought by Phillies majority owner John Rogers to stop Lajoie from playing with the Athletics.
That summer, a pennant at last seemed within the Phillies' grasp. But team unity unraveled. "A mild sort of jealousy" developed between well-paid newcomer Hughie Jennings and several veterans, notably Cross.41 In mid-September, "a row on the bench" broke out between the two.42 At the same time, continued AL overtures enticed Cross and his teammates to follow Lajoie and the trio of twirlers. On Saturday, September 14, Cross was among a quartet of Phillies who conspicuously attended an Athletics double-header. Cross and Flick paid a lengthy visit to the Athletics bench.43 As Pittsburgh pulled away with the flag, rumors abounded of Phillies defecting.
After the season, Delahanty and several Phillies jumped to the Washington Senators, while Cross, Flick, and pitcher Bill Duggleby jumped to the Athletics. Cross signed for $3,000 and commented, "If the Philadelphia club had offered us as much money as the American League we would not have jumped, for we think we stood a fair chance of winning the pennant next season."44 To make way for Cross, Mack released his existing shortstop – Bones Ely, who had replaced Cross six years earlier in Pittsburgh.
On April 21, 1902, the Pennsylvania Supreme Court reversed the May 1901 ruling from the common pleas court, upheld the National League's reserve clause, and issued an injunction against Lajoie playing for the Athletics. Given the court's jurisdiction, it could only prevent him from playing for another team in Pennsylvania. A week later, guided by the higher court's ruling, the same common pleas court made this injunction permanent, and extended it to Bernhard and Fraser.45 Noting that Cross was a Philadelphia resident, Rogers said, "We expect him, as a law-abiding citizen, to cease being a contract breaker, and report for duty without further notice or legal process."46
Yet Phillies rookie shortstop Rudy Hulswitt started the season on a tear. As Rogers issued his warning, Shettsline reportedly remarked that "Monte Cross could not break into the Quaker infield with a crowbar."47 The Phillies allowed Cross to quietly slip away.
The Athletics thrilled Philadelphia fighting for the 1902 pennant. But that July, Lanigan reported, "Easily the most unpopular player on the Athletic team is Monte Cross." On the road, Lanigan thought, Cross prospered. But at Columbia Park his recent poor play had "pavilion and bleachers united in hissing him so continuously that it seemed as if steam was escaping." Noting the shortstop's recent spate of umpire-baiting, Lanigan concluded, "One is not sorry to see Cross booed."48
Philadelphia caught fire in mid-August, overtook Chicago, St. Louis, and Boston in the standings, and captured their first flag. At the season's end, Lanigan reported that "Monte's short play the last two months has been the best of his career and so has his behavior on the field" and that he "has become beloved" by Athletics fans.49
Mack valued players who excelled at the strategy central to the era's inside baseball. Cross was such a crafty veteran. "He simply dreamed about signs," a sportswriter recalled.50 With pitchers, he worked out signals – a tug of the belt, for example – for him to sneak over to second base for a pickoff attempt.51 Cross kept a book on hitters' tendencies so that he might shift his location accordingly.52 He signaled outfielders of the pitches his catcher called.53 Every baserunner, Cross believed, should be adept at detecting a pitcher's pickoff move, especially by studying his footwork.54
Cross usually batted seventh or eighth in the Athletics' order. Several times early in the 1904 season – when Cross hit a career-low .189 – Mack placed him in the ninth spot behind the pitcher. In the field, his athleticism diminished. Over his five years with the Athletics, his range per nine innings usually trailed the league average for shortstops, although he again led his peers in putouts in 1902 and 1903.
"Why would I want a new shortstop with Monte Cross in that position?" Mack asked as the 1904 season wound down. "Cross has forgotten more base ball than three-fourths of the players of today know."55 But, beyond their pitching staff, the Athletics were aging, and had faded out of the last two pennant races. Offseason rumors suggested Philadelphia sought Washington's promising 21-year-old shortstop Joe Cassidy. One report suggested Mack offered Cross and a whopping $7,500 for the phenom.56
The superstitious Cross shaved off his mustache prior to the 1905 season, as the rumors swirled.57 No trade occurred and he returned as the Athletics' shortstop. But on Opening Day, trying to bunt against Boston, Cross was hit by a Cy Young pitch that broke a bone in his right hand. Mack put 19-year-old Jack Knight at short. Cross didn't return for almost two months, then alternated for stretches with Knight until early August, when Mack handed the starting role to the veteran. Neither shortstop markedly changed the team's fortunes. In capturing their second pennant, Philadelphia never fell more than 4 ½ games off the pace, nor led by more than 4 ½. As Richter suggested, Mack ultimately valued Cross's "experience and his knowledge of the inside work" in the final drive.58
In the 1905 World Series, the Giants triumphed in five games, shutting out the Athletics in each of their victories. Cross managed three singles, with seven strikeouts, in 17 at-bats. In the field, he fared somewhat better. In Game One, along with third baseman Lave Cross, he earned praise for making "some phenomenal stops and quick throws while on the run."59 After committing an inconsequential error in the next match, he was recognized as one of "the stars of the infield" in Game Three.60 But in the pivotal Game Four, with the Giants leading the series 2-1, his impatience was costly. In the fourth inning, Cross "was so anxious to get a bounder from [Sam] Mertes' bat that he fumbled the ball and juggled with it long enough to let the batter reach first safely."61 Mertes eventually came in to score, accounting for the game's only run.
Cross logged a full season in 1906, as Philadelphia suffered a late-summer swoon and finished a distant fourth. In 1907, second baseman Danny Murphy suffered an ankle injury in early June. Mack plugged Simon Nicholls into the hole, and the rookie impressed both in the field and at bat. When Murphy returned a month later, Mack re-installed Murphy at second, placed Nicholls at short, and utilized Cross's veteran leadership as a base coach.
The Mackmen were in the thick of a tight race and, especially against the up-and-coming Tigers, Cross's competitiveness was on full display. When Detroit visited Philadelphia for a series in early August, Cross prevented the Tigers from taking batting practice before the first game.62 The next day he attempted to best Tigers manager Hughie Jennings's notorious whistle by bringing an "auto horn" to the coaching box. Umpire Tim Hurst confiscated the item.63 In the series finale, he almost came to blows with Detroit pitcher George Mullin.64
Seven weeks later, Detroit returned to the City of Brotherly Love. In the 14th inning of a match between the two squads on September 30, a fracas broke out near the Detroit bench over a controversial call. Wild Bill Donovan decked Cross. Years later, Philadelphia sportswriter James Isaminger recalled that Detroit's Germany Schaefer "had the presence of mind to rush in and say that [Claude] Rossman was the guilty man. The Tigers had a good substitute for Rossman, but not for Donovan, who pitched to the finish and the best the A's could get was a tie."65 Detroit then held off Philadelphia to capture the 1907 pennant.
After the season, Mack and Cross reached an understanding that his major-league days were over, and it would be best to secure a minor-league managerial role for him. Mack ensured that other teams would let the shortstop pass through waivers.66 Cross signed with the American Association's Kansas City Blues as a player-manager. The team failed to progress under his watch and, early into the 1909 season, he was dismissed. He finished the campaign playing in Indianapolis and Baltimore. Cross then served as Scranton's player-manager in the 1910 and 1911 campaigns. The St. Louis Browns signed him as an assistant manager for the 1912 season. The role soon morphed into scouting but, as "he didn't come across with the goods," St. Louis released him that July.67
Cross spent the next several seasons managing and umpiring across multiple leagues. From 1916 through 1921, he coached University of Maine baseball during the spring. Returning home, he organized and led semipro teams during the summer months. As early as 1898, Cross earned income from selling men's clothing at Philadelphia's department stores. For two decades, beginning in 1912, fans could find him at the mammoth Gimbel Brothers building at 9th and Chestnut streets.68
In 1922, Gimbel's built radio studios on the roof of this store and founded station WIP. Beginning in 1923, Cross hosted a dinner-time, half-hour baseball show on the station.69 In 1927 and 1928, as another great Athletics team emerged, Cross provided the "play-by-play description" of WIP's live game broadcasts.70
On June 21, 1934, Monte Cross died of a heart attack in Philadelphia. It was initially reported that he had just returned from the Washington DC wedding of Mack's son. But this was quickly corrected; the ailing Cross had not travelled for some time.71 He was survived by his wife Nellie, daughter Roberta, son Howard, and two grandchildren. Cross was buried in Arlington Cemetery in Drexel Hill, Pennsylvania.
Acknowledgments
This biography was reviewed by Norman Macht and fact-checked by David Kritzler.
Sources
In addition to the sources noted in this biography, the author also accessed Cross's file from the National Baseball Hall of Fame, the Encyclopedia of Minor League Baseball, and the following sites:
chroniclingamerica.loc.gov/newspapers/.
Notes
Full Name
Montford Montgomery Cross
Born
August 31, 1869 at Philadelphia, PA (USA)
Died
June 21, 1934 at Philadelphia, PA (USA)
If you can help us improve this player's biography, contact us.
https://sabr.org/sites/default/files/CrossMonte.jpg
600
800
admin
/wp-content/uploads/2020/02/sabr_logo.png
admin
2017-09-22 12:22:25
2020-04-09 14:40:31
Monte Cross