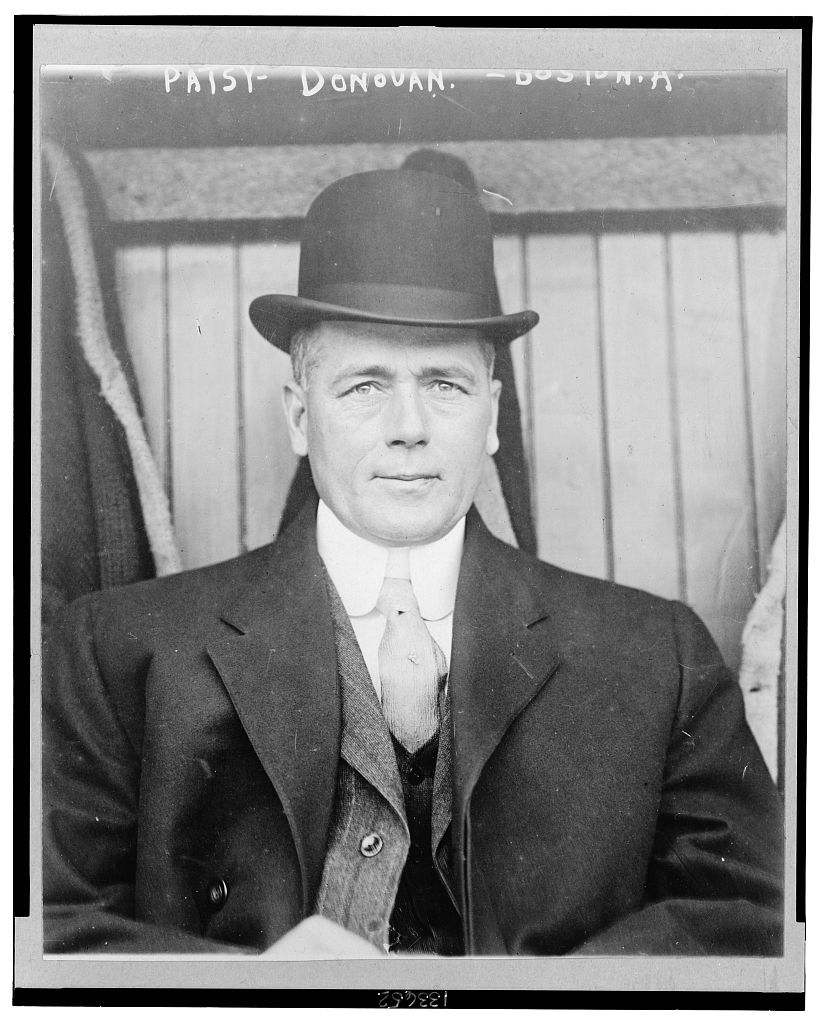 ---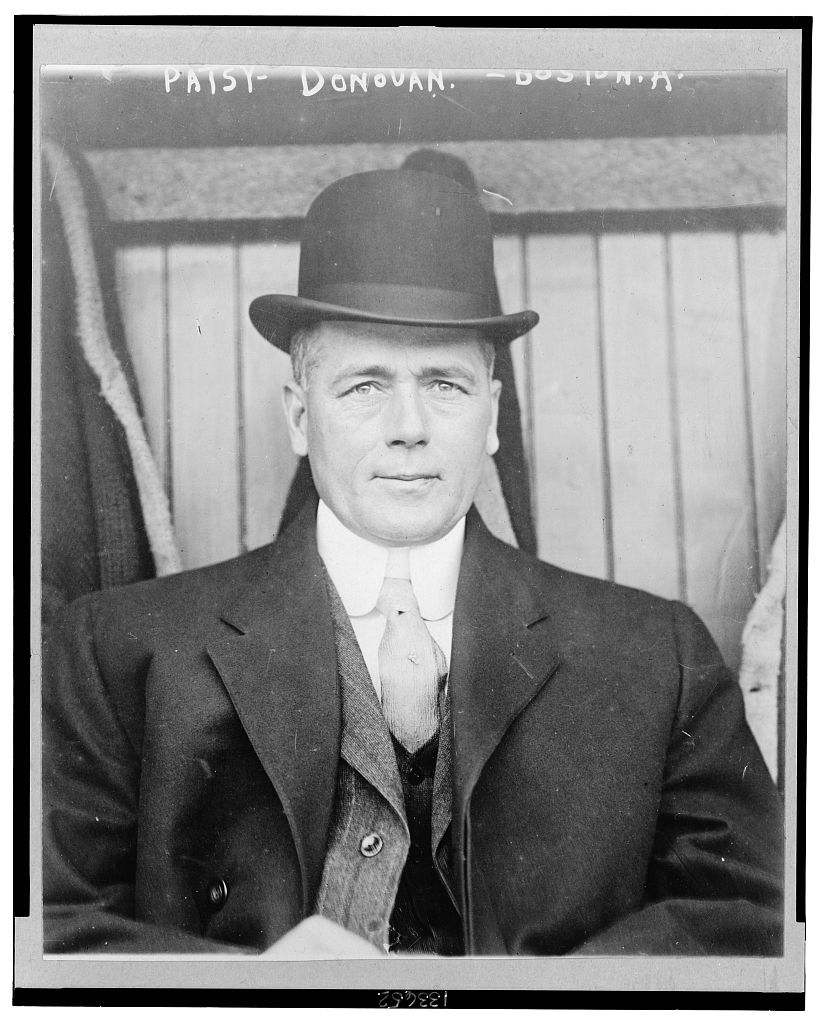 A fleet-footed slap hitter who perennially topped the .300-mark, Patsy Donovan entered the Deadball Era having already established himself as one of the game's most consistent stars. Though his days as a regular player were winding down, Donovan went on to leave an indelible mark on the new century as a much-traveled manager and longtime scout. One sportswriter called him an "excellent judge of the ball player in the raw." Indeed, Donovan's greatest accomplishment may have come in 1914 when he convinced the Boston Red Sox to sign a talented young left-hander named George Ruth.
The second oldest of seven children of Jeremiah and Nora Donovan, Patrick Joseph Donovan was born in County Cork, Ireland, making him one of 10 Deadball Era players born on the Emerald Isle. Most sources list March 16, 1865, as his date of birth, but it appears probable that he later falsified his birth date to make himself appear younger to scouts— — census records from his childhood place his birth in 1863. Patrick immigrated with his family to Lawrence, Massachusetts, when he was only three years old. After completing elementary school, Donovan, like many of the Irish immigrants in his neighborhood, went to work in Lawrence's cotton mills, a career choice that promised little more than long hours and low wages, but he soon escaped that bleak future through baseball.
A gifted athlete, Donovan got his start in professional baseball in 1886 as an outfielder with the Lawrence club of the New England League. From there he gradually ascended the rungs of the minor-league ladder, playing with Salem in 1887 and London, Ontario, of the International Association in 1888-89. In Patsy's first year in London his .359 batting average paced the circuit. Making his big-league debut with the Boston Beaneaters on April 19, 1890, Donovan spent his first two seasons in the majors bouncing around the National League and the American Association with Boston, Brooklyn, Louisville, and Washington. Halfway into the 1892 campaign he was shipped to Pittsburgh, where he spent the next seven seasons patrolling right field and consistently batting around .300.
That wasn't as impressive as it sounds; the NL of the late 1890s offered one of the most offense-friendly environments in baseball history. A scattering of press accounts from the era label Donovan as a "hard hitter," but clearly he wasn't. Standing 5'11" and weighing 175 lbs., Patsy was strictly a singles hitter, connecting for only 16 home runs over his 17-year career and typically posting no more than 30 extra-base hits in a season.
His greatest asset was his speed. Swiping 518 bases in his career, good for (as of 2022) 31st on the all-time list, Donovan placed in the top ten in that category five times and led the NL once. His fleetness afoot, coupled with a strong, accurate throwing arm, made him a fine right fielder. He led NL outfielders with eight double plays in 1901 and 30 assists in 1902.
In a decade that was infamous for rough play and rowdyism, Donovan was most admired for his quiet dignity and work ethic. Recognizing his leadership potential, the Pirates installed him as manager for the 1897 season. But in a theme that would be repeated throughout his managerial career, Patsy was given little to work with and the club slumped to a 60-71 record, good enough only for an eighth-place finish in the 12-team NL. Replaced at season's end, he was reinstated midway through 1899 and piloted Pittsburgh to a 69-58 record. Despite that improvement, Donovan once again was shown the door. Prior to the 1900 campaign, new Pirates owner Barney Dreyfuss installed Fred Clarke as player-manager. Soon after his hiring, Clarke orchestrated Donovan's sale to the St. Louis Cardinals in a move probably designed to cement his authority with his new club.
The Cardinals already had St. Louis native Patsy Tebeau handling the managerial duties, allowing Donovan to concentrate initially on his on-field performance. The new century witnessed the emergence of a new style of play, and Donovan's reliance on speed over brute strength translated well. From 1900 to 1903 he batted over .300 every season while placing even less emphasis on the extra-base hit than he had in the 1890s. In 1900, for example, he connected for only 11 doubles and one triple but batted .316 and led the NL with 45 stolen bases. As a team, however, the Cardinals slumped to a second-division finish, a disappointing result that led to Tebeau's firing and Donovan's installation as manager in 1901.
Under Donovan the club instantaneously improved to a 76-64 record and fourth-place finish. The new manager received much of the credit for the turnaround, earning a reputation for treating his players honestly and fairly. As one writer later noted, Donovan "teaches his men, and then expects them to retain their lessons. He understands his men and shows every confidence in them." But any hope for prolonged success in St. Louis was lost following the 1901 season, when the Cardinals' best players, including Jesse Burkett, Bobby Wallace, Dan McGann, Emmet Heidrick, Jack Powell, Jack Harper, and Willie Sudhoff, jumped to the American League. The mass defection caused Donovan's Cardinals to plummet to 56-78 and a sixth-place finish in 1902. They fell even further the following year, when Patsy's $8,800 salary made him the NL's highest-paid player. St. Louis finished last with a nightmarish 43-94 record, 46½ games out of first place.
Let go by the Cardinals, Donovan spent the rest of the decade managing some of the worst teams of the Deadball Era. After his 1904 Washington Senators managed to win only 38 games (the lowest total in the history of that unfortunate franchise), Donovan took a year off before accepting the manager's job with the Brooklyn Dodgers in 1906. Over three seasons in Brooklyn, Donovan failed to lift the team out of the second division and was let go after a 53-101, seventh-place finish in 1908. "I did as well as could be expected of any manager with the material at hand," he explained to Reds President Garry Herrmann in a November 1908 letter inquiring about a managerial opening with that club. "Before leaving baseball I would like to have the opportunity of handling a club where I would have free rein and financial backing to secure talent."
Donovan got his opportunity when he was appointed manager of the Boston Red Sox prior to the 1910 season. Taking over a young, promising outfit that had finished in third place with 88 wins in 1909, Donovan didn't lift the club into contention during his two-year stewardship and was replaced by Jake Stahl, who led Boston to a World's Championship in his first year. His days as a player having long since passed, Donovan agreed to continue in the Boston organization as a scout. It was in that capacity in 1914 that he made his most important contribution to the success (and later sorrow) of the franchise by convincing owner Joseph Lannin to purchase Babe Ruth, Ben Egan, and Ernie Shore from the minor-league Baltimore Orioles. Donovan never claimed to have discovered Ruth— — the young lefthander was too talented for his exploits to go unnoticed — —but after watching the pitcher belt a grand slam against the Montreal Royals, Patsy immediately rushed back to Boston to recommend Ruth's purchase "at any price."
Saddled with a lifetime .438 winning percentage, Donovan never received another opportunity to manage in the big leagues, but over the next 13 years he accepted several minor-league offers. In 1915-16 he skippered the Buffalo Bisons, which included future major leaguers Charlie Jamieson and Joe Judge, and future big league manager Joe McCarthy, to back-to-back International League pennants. After three years in Buffalo, Donovan went on to manage Syracuse, Newark, Jersey City, Springfield, and Providence without ever finishing higher than fourth. His last managing job came in 1928 when he led Attleboro of the New England League to a second-place finish. In his later years Donovan worked as a scout for the New York Yankees before he finally retired in 1950, ending a 64-year career in Organized Baseball.
Throughout his travels Donovan continued to call Lawrence home. In 1910 he married Teresa Mahoney, and the couple had three sons and one daughter. Though not a particularly successful manager, Donovan cultivated a reputation as a savvy, principled baseball man who aided the careers of many young players. He coached at Phillips Academy in Andover, Massachusetts, where one of his players was future US President George Herbert Walker Bush. In a letter written in 2001 supporting Donovan's nomination for the Hall of Fame, Bush described himself as "an admirer of Patrick J. Donovan" and characterized his old coach as a man "of the highest character."
Donovan died at age 88 (or 90) on Christmas Day, 1953, after a long illness. He was buried in St. Mary's Cemetery in Lawrence.
An earlier version of this biography appeared in SABR's "Deadball Stars of the National League" (Brassey's, 2004), edited by Tom Simon.
Sources
For this biography, the author used a number of contemporary sources, especially those found in the subject's file at the National Baseball Hall of Fame Library.
Born
March 16, 1865 at Queenstown, (Ireland)
Died
December 25, 1953 at Lawrence, MA (USA)
If you can help us improve this player's biography, contact us.
https://sabr.org/sites/default/files/Donovan-Patsy-LOC.jpg
600
800
admin
/wp-content/uploads/2020/02/sabr_logo.png
admin
2012-01-04 20:30:12
2022-02-23 06:12:02
Patsy Donovan