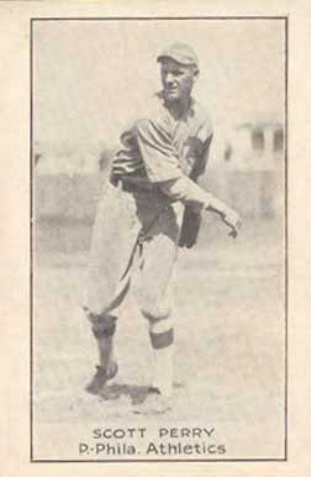 ---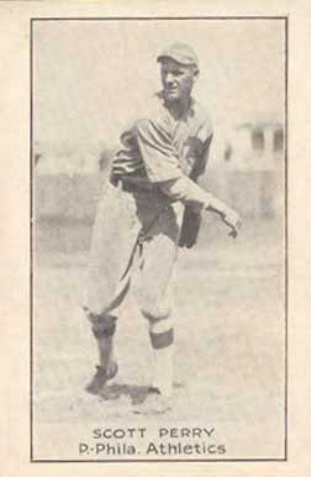 Controversy and contrast defined Scott Perry's brief major-league career. In 1918, his first full season, the Boston Braves and Philadelphia Athletics battled for his services, exposing the increasing inability of Organized Baseball to govern itself in the pre-commissioner era. Philadelphia retained Perry, and he produced a memorable rookie effort, becoming one of only seven pitchers in the twentieth century to win 20 games with a last-place team. But Perry's desire to pitch for the cellar-dwelling Athletics soon waned. In 1920, his final full season, he lost 25 games. Only three pitchers since have tasted as much defeat in a single campaign.
Officially, Herbert Scott Perry was born on April 17, 1891, in Denison, Texas. But later in life he claimed 1892 as his birth year and Corsicana, Texas, as his birthplace.1 He likely had a hard-scrabble youth. By 1900 his mother, Sallie, headed the household, with his father apparently gone from the picture. As a young man, Scott did not speak of his schooling, but claimed to be "a mighty good ditch digger."2
Perry made his professional debut in 1910, pitching for the Western Association's Tulsa Oilers.3 He hoped to stick with the Western League's Wichita Jobbers in 1911, but before the season began, they optioned him to Hastings of the Nebraska League. The Wichita squad relocated to Pueblo in midseason, recalled Perry, and he finished the campaign in Colorado. The team returned to Wichita in 1912, and Perry was a staff workhorse for the next two seasons.
Contemporary accounts described the right-hander as "a tall, rangy youth" and a "big blond Adonis."4 Nicknamed "Rope," he stood 6-feet-1 and weighed "better than 175 pounds without an ounce of surplus flesh on his body."5 Perry became a family man, marrying Beulah, with son Scott Jr. and daughter Marmette soon arriving.
"They just fussed around with me for years," Perry later recalled of his convoluted career path.6 Wichita dealt him to Louisville in June 1914. Perry was back with Colonels for the 1915 season, but clashed with manager Jack Hayden and jumped the team that May. Hayden responded by dealing him to the St. Louis Browns on a trial basis. Perry made his major-league debut on May 13, 1915, starting against the Athletics. He lasted two innings. St. Louis returned Perry to Louisville, which sold him to the Atlanta Crackers.7
Perry prospered in Atlanta, winning 40 games over the next two seasons. After the 1916 Southern Association campaign ended, Atlanta sold him to the Cubs. Per the deal's terms, Chicago put $2,000 on the barrelhead, with a remaining $4,000 due if the recruit lasted through the next Opening Day.8 Perry pitched impressively that September. Chicago reserved him for the coming season.
But during 1917's spring training, new Cubs manager Fred Mitchell concluded that Perry was expendable. On April 10, a day before the season launched, Chicago wired Atlanta manager Charlie Frank that the pitcher was being returned. Perry instead stayed put, and signed on with the American Steel and Wire company team in Joliet.
Frank sold his AWOL pitcher to Cincinnati in another conditional and backloaded deal, with the bulk due if Perry remained with the Reds past June 1.9 He went east, pitched poorly in four games, and was cast back to Atlanta before the larger payment came due. A week later Frank again dealt him, this time to the Boston Braves. The Braves would pay $500 for a 30-day trial, and another $2,000 if Perry was kept past this span. Perry clashed with Braves manager George Stallings and saw no game action. American Steel and Wire sent an offer. Perry jumped on June 17, 1917.
America had entered the World War two months earlier, and in the country's industrial hubs, semipro ball prospered as never before. For Perry and his young family, it provided more stability than bouncing between major-league trials, or along the rails on a minor-league circuit. For $190 a month, he pitched every Sunday for the company team. During the week he supplemented this income by driving a company truck and twirling for other semipro teams.10
Meanwhile, the Crackers sought the entire $2,500 of the deal, asserting no responsibility for Perry's desertion. The Braves claimed the deal nullified, as Perry had bolted only 17 days into the 30-day trial. In August 1917 baseball's National Commission reached a compromise decision: Boston owed Atlanta the $500 trial cost. In rebuffing Atlanta's claim for the additional $2,000, the Commission acknowledged the Braves' purposeful inaction: "The Boston Club did not formally or informally perfect its title to the player beyond the trial term."11
It seemed the affair was settled. But the Commission's chairman, Reds owner Garry Herrmann, sowed the seeds for future controversy with off-the-record, and contradictory, communications. Herrmann "gave the Boston club his promise that it should have prior claim to Perry's services in case that player desired to return to Organized Ball" if the Braves paid the Crackers the remaining $2,000 within 13 days (the remainder of the 30-day trial). Simultaneously, he "authorized" Atlanta "to give employment to or dispose of the player."12 Atlanta reserved Perry for the coming season.
As the 1918 campaign neared, Perry decided to return to Organized Baseball. He approached Atlanta, which signed him.13 Frank enjoyed a close relationship with Athletics manager Connie Mack, and players commonly shuttled between the two teams.14 Catcher Cy Perkins, hoping to stick with Philadelphia after two seasons in Atlanta, recommended Perry to Mack. The managers worked out a deal. Mack offered — and Perry accepted — a $1,800 salary for the season.15 Neither Mack nor Perry was aware of Herrmann's private promises to Boston.
Perry possessed an easy side-arm motion that reminded contemporaries of Jack Powell and Walter Johnson. He effectively mixed and disguised four-seam fastballs, curves, and offspeed pitches. Having conquered wildness over his minor-league apprenticeship, he confidently pitched inside. "It seemed certain that he was knicking or scuffing the ball," noted Hugh Fullerton, admiring his breaking stuff. When all else failed, Perry deviated from his side-arm motion; against Babe Ruth, he employed an underhand delivery.16
The once-proud Athletics had finished in the AL cellar for three consecutive seasons. Mack threw Perry into action, and the newcomer responded with several excellent complete-game efforts as the 1918 season began. In Boston on April 16, Perry lost a 1-0 pitching duel to Carl Mays. Six days later, in Washington, he bested Johnson, 5-1, for Philadelphia's first victory. On April 26 Perry pitched no-hit ball for six innings before eventually losing, 2-1, to Dutch Leonard and Red Sox.
The next day, the Braves filed a claim for Perry with the National Commission. Stallings dubiously asserted that he had been unaware of Perry's whereabouts until his third start. The Commission — consisting of Herrmann, AL President Ban Johnson, and NL President John Tener — was expanded to include minor-league executives John Farrell and Robert Baugh. On June 12 the body voted to award Perry to Boston. Herrmann, Tener, and Farrell formed the majority opinion; Johnson and Baugh dissented.
Johnson promptly advised the Athletics' chief to seek an injunction in court against the Commission's ruling. Mack needed little prodding to take on Stallings; the Braves' brutal bench-jockeying of the Athletics in the 1914 World Series remained fresh in his memory. Dismissing Stallings' offers to accept a lesser player than Perry, Mack received his injunction in a Cleveland common pleas court on June 17.
The affair was one of the 1918 season's lead stories. The Sporting News labeled the Braves' opportunism "a lamentable lack of sportsmanship" while questioning the "surprising lack of sense of logic and justice" in the Commission's ruling.17 Fullerton noted that Mack had "broken the strongest unwritten law in baseball, which is that no owner shall carry any baseball case into a court of law."18 Ernest Lanigan suggested that Perry had become "the Dred Scott of baseball."19 The analogy seemed less apt regarding the pitcher's freedom, and more so in suggesting that baseball's federal government was increasingly incapable of settling differences between individual teams.
Mack held the upper hand. Boston had no contractual claim to Perry, and Organized Baseball did not want its practices exposed. Court follow-ups were kicked down the road as the larger issue of America's involvement in a world war consumed baseball. Tener stated that he regarded the National Commission as irrelevant given Mack's actions, then resigned in early August. Johnson faced revolt in AL ranks as an early end to the 1918 season was effected.
Perry finished the campaign with the most successful season in his uneven career. His 20-19 record enabled Philadelphia to improve its record from 55-98 in 1917 to 52-76 in the shortened 1918 season. Only Johnson, Stan Coveleski, and Mays won more games than Perry. Only Johnson and Coveleski topped his 146 ERA+ (calculated retrospectively). Mack paired pitchers with catchers to form lasting batteries, and for each of Perry's 36 starts, Perkins caught him.20 As Philadelphia sportswriter James Isaminger noted, Perry became a fan favorite: "Every time he walks to the tee it is a signal for a wild demonstration."21
As the season wound down, Johnson helped settle the controversy between the Braves and Athletics. In October Mack paid Boston $2,500, as attorneys asked the court to dissolve the injunction. It was "a nominal sum," Isaminger suggested, as "Perry is worth more than ten times that amount."22
Perry wasn't unaware of his value. After the National Commission awarded him to Boston, Stallings reportedly sent the pitcher an offer for $4,000. Perry shared the offer with Mack, who suggested that better pay was forthcoming. After he won his 20th game, Mack gave him a $500 bonus. In the offseason, Perry sought $4,000 for the coming 1919 season. He settled for a lesser, unspecified amount.23 Mack hoped that 1918's gains signaled light at the end of a painful rebuild. In February 1919 he announced that "I will never again sell another player, although not unwilling to make an advantageous deal. The policy of the Athletics is to acquire strength rather than take it away."24 But a month into the new season, the Mackmen again occupied the cellar. Perry, despite a 2.35 ERA, was 0-6. He grew frustrated with the defensive play behind him, particularly that of second baseman Red Shannon.25 By July 14, with an 18-52 mark, Philadelphia was halfway to another 100-loss finish.
Chicago led the race, with New York and Cleveland a handful of games back. It was a pre-trade-deadline era, and all three teams sought to bolster their staffs for the stretch run. The pitching market's linchpin was Carl Mays, who peevishly deserted the Red Sox on July 13. Indians president James Dunn started negotiations with the Boston Red Sox, but was told to back off by Johnson. The Yankees ignored the AL chieftain and struck a mostly-cash deal for Mays on July 29. Dunn thus turned his focus upon Perry. Boston also inquired, hoping to replace the lost Mays. But the White Sox, with Eddie Cicotte and Lefty Williams starting over half of the squad's games, proved the most aggressive.26
Mack held firm: "They all want Perry but I am not selling to any club now in the fight for the championship."27 "I offered Connie Mack $25,000 in real money for Pitcher Scott Perry," sighed White Sox manager Kid Gleason, "but Mack wouldn't listen to the offer."28 Johnson voided the Mays deal. But the Yankees, using as a model Mack's actions to keep Perry, went to court, and successfully retained Mays. Another fracture appeared in baseball's hierarchy. The Yankees, Red Sox, and White Sox opposed Johnson; the other five AL magnates, including Mack, supported his actions.
Isaminger reported that contending teams directly approached Perry during the 1919 season. Their pitch: If he "eased up" he could earn his release or a trade, "and then 'join a real team and get the money.'"29 Certainly Perry saw that Mays had tested the boundaries of player independence, and been rewarded. Accustomed to jumping, and perhaps believing he could force Mack's hand by doing so, Perry quit the Athletics on August 12. "I can have a better time playing ball around with teams that are trying to win their games, and I guess maybe I can make a living that way, too," he said.30 Perry left behind a 4-17 record with Philadelphia. He also left behind a suspension for violating club training rules. For Perry was also tempted by drink.
With his family in tow, Perry wound up in Franklin, in northwestern Pennsylvania's rough-and-tumble oil country. After Franklin's semipro season ended, he stayed in town, working in the tailoring business. But after news reached him of the Ruth deal struck between Boston and New York, Perry reconsidered: "I don't see anything in the papers about them paying $125,000 for a tailor. Guess I better go to bat and see what I can do about getting some of this coin."31 He settled his differences with Mack, was reinstated by the National Commission, and signed a $5,000 contract to pitch with the Athletics in 1920.
Perry beat the Yankees on Opening Day, 3-1. But from that point, both his season — and Philadelphia's — went downhill. The Athletics again finished last, with a 48-106 mark. Perry finished 11-25. Mack, wrote one Philadelphia reporter, was not always "particularly enthusiastic" about Perry's efforts.32 But he also twirled for the worst hitting and fielding team in the league. Perry achieved an ERA+ of 111, and threw 16 complete games in which he allowed three earned runs or less.
Offseason rumors suggested that Perry might be part of a package deal with either the Yankees or Senators.33 But nothing came of either, and he was back in Philadelphia for the 1921 season. Not until May 2, when he beat Washington, did he produce a quality start. Perry promptly celebrated too much, and Mack suspended him for 10 days. "There is nothing vicious or wrong with him," Isaminger suggested, "but [he] is easily led by friends."34 Upon his return, after a couple of appearances in Cleveland, the Indians offered the Athletics two players and $25,000 for Perry.35 Mack turned the deal down. Perry lost against visiting Boston on June 1. Then he left for Franklin. "I had many chances to trade him and get a lot of money," Mack lamented, "and now he's gone."36
Perry would also have regrets. The National Commission was no more. In its place stood a less accommodating Kenesaw Mountain Landis, who had just set a precedent that Perry could not ignore. In 1920, another Athletics pitcher, Walt Kinney, went over to Franklin. In March 1921, Kinney applied for reinstatement. Landis suspended him for five years.
Franklin baseball was buoyed by gambling interests, and subject to boom and bust.37 It also mostly consisted of a rivalry with nearby Oil City. This "Two-Team League" collapsed in July 1921. Perry signed on with a Hornell, New York, team. Then came stops in Trenton, Erie, and lesser outposts.
Beulah and the children left for California in 1922, not to return.38 Perry was arrested on a larceny charge in 1924.39 Two years later, he came back to Organized Baseball, after Philadelphia dealt his title to Dallas. Perry pitched in a handful of Texas League games late in the 1926 season, a few more in 1927, then was released "because he loved his 'likker' too much, and refused to stay in good condition."40 He finished the 1927 season, and his time in professional baseball, with the Piedmont League's High Point (North Carolina) squad. As late as 1932, for a Kerrville, Texas, team, Perry twirled semipro ball.
After baseball, Perry cooked and washed dishes in Colorado and Missouri. On October 27, 1959, he died from bronchopneumonia. Scott Perry was buried in Woodlawn Cemetery in Independence, Missouri.
This biography is included in "20-Game Losers" (SABR, 2017), edited by Bill Nowlin and Emmet R. Nowlin.
Sources
In addition to the sources noted in this biography, the author also accessed Perry's file from the National Baseball Hall of Fame, and a number of sites such as ancestry.com, baseball-reference.com, chroniclingamerica.loc.gov/newspapers, genealogybank.com, newspapers.com, and retrosheet.com.
Notes
1 Perry's death certificate indicates 1891 and Denison. In the 1900 census, 1892 is listed as his birth year. In his 1917 draft card, he provided both 1892 and Corsicana. In both 1921 and 1957, he wrote to Corsicana newspapers, claiming the city as his birthplace: "Corsicana Boy Is Pitching for Athletics," Corsicana Daily Sun, May 26, 1921; Talmadge Canant, "Comments by Canant," Corsicana Daily Sun, April 24, 1957.
2 "Jobbers to Leave for Their Homes," Wichita Beacon, September 26, 1912.
3 "Tulsa Pitcher Is Sold to the Cubs," Tulsa World, August 27, 1916, mentions Perry being with Tulsa in 1909. But accounts in 1910 papers suggest that he was with the club then. See for example: "Adios, Senators! Adios," Guthrie (Oklahoma) Daily Leader, July 25, 1910. Also box scores in Guthrie Daily Leader, June 8, 1910; Dallas Morning News, July 12, 1910; Topeka Daily Capital, July 16, 1910.
4 "Kaws Scored 1st Win Over Pueblo," Topeka Daily Capital, June 30, 1911; "Jobbers Staged Another Batfest," Wichita Beacon, May 14, 1913.
5 "Despain Beginning to Get Worried by His Hoodoo," Rocky Mountain News (Denver), March 20, 1911.
6 Sid C. Keener, "Athletics' Star Pitcher Covered Considerable Territory Before He Landed," Cleveland Plain Dealer, July 6, 1919.
7 Harry F. Pierce, "Ordered to Report to Louisville Club, Baumgardner Balks," St. Louis Star and Times, May 11, 1915; "Notice for Perry," St. Louis Star and Times, May 15, 1915; Harry F. Pierce, "Rickey Will Recall Pitcher Perry Who Hurled No-Hit Game," St. Louis Star and Times, July 20, 1915.
8 Norman Macht, Connie Mack: The Turbulent & Triumphant Years, 1915-1931 (Lincoln: University of Nebraska Press, 2012), 138.
9 "Notes of the Game," Cincinnati Enquirer, May 21, 1917.
10 Keener, "Athletics' Star Pitcher"; "Semi-Pros and Amateurs," Chicago Examiner, June 19, 1917; "Scott Perry May Win Under Connie Mack," Pittsburgh Press, April 7, 1918.
11 For an overview of this controversy, see Macht, Connie Mack: The Turbulent & Triumphant Years, 139-141. For the ruling's text, see "National Commission Decisions," The Sporting News, August 9, 1917. For contemporary assessments of this decision see James C. Isaminger, "Quaker Fans Whoop Up for Mackmen," The Sporting News, May 9, 1918; "The Astounding Perry Case," The Sporting News, June 20, 1918.
12 August Herrmann, "National Commission's Work," 1918 Reach Official American League Guide, 57-60.
13 Joe Vila, "Big Rumpus Likely Over Perry Case," Philadelphia Inquirer, June 20, 1918.
14 Al Weinfeld, "Crackers Break Just as Spurt Is Expected," The Sporting News, June 21, 1917.
15 Macht, Connie Mack: The Turbulent & Triumphant Years, 141.
16 On Perry's pitching style, see James Crusinberry, "Perry Checks Braves 2-0; Wortman Swats Win in 11th," Chicago Tribune, September 15, 1916; James Crusinberry, "Seventeen Straight to Giants; Tinkers Again Victims, 5-0," Chicago Tribune, September 23, 1916; Jim Nasium [Edgar Wolfe], "Rube Oldring Has Charge of Athletics," Philadelphia Inquirer, April 4, 1918; Ernest J. Lanigan, "Failed to Finish His First Battle," Pittsburgh Press, July 7, 1918; Hugh S. Fullerton, "Yanks Give Local Fans Rare Treat by Manner They Defeat Athletics," New York Evening World, April 29, 1919; Keener, "Athletics' Star Pitcher"; "Perry Does Not Fear Bat of Babe Ruth," Cincinnati Post, March 23, 1920.
17 "The Astounding Perry Case."
18 Hugh Fullerton, "Giants Needed Everything, Including Luck, to Win," New York Evening World, June 18, 1918.
19 Lanigan, "Failed to Finish."
20 On this tendency of Mack's, see Phil Williams, "Philadelphia Athletics Batterymates, 1901-1914," The Inside Game: The Official Newsletter of SABR's Deadball Era Committee, June 2015.
21 James C. Isaminger, "Tener Believes His Stand Is Right One," The Sporting News, July 18, 1918.
22 James C. Isaminger, "For Harmony Sake Mack Gives Up Cash," The Sporting News, October 24, 1918.
23 On salary matters, see "No Huge Sum for Hurler," Pittsburgh Press, April 17, 1919; Macht, Connie Mack: The Turbulent & Triumphant Years, 166; "After Debating with Mack, Scott Perry Signs Contract," Boston Herald, February 7, 1919.
24 James C. Isaminger, "Connie Makes His Annual Promises," The Sporting News, February 27, 1919.
25 James C. Isaminger, "Sentiment Cuts a Figure with Connie," The Sporting News, July 3, 1919; James C. Isaminger, "Connie Nails Yarn by Gotham Scribes," The Sporting News, January 22, 1920.
26 For a recent accounting of the Mays affair, see Steve Steinberg and Lyle Spatz, The Colonel and Hug: The Partnership That Transformed the Yankees (Lincoln: University of Nebraska, 2015), 110-117. For contemporary reports, see Gibby [pseud.], "The Morning Hatchet," Pittsburgh Daily Post, July 30, 1919; "Yankees Get Mays, Pay Heavy Price," St. Louis Post-Dispatch, July 31, 1919; Henry P. Edwards, "Dunn Went to Limit to Get Star Hurler to Strengthen Indians," Cleveland Plain Dealer, December 25, 1919.
27 "White Sox Offer for Scott Perry is Turned Down," Chicago Tribune, July 29, 1919.
28 "Baseball Gossip," Pittsburgh Press, August 8, 1919.
29 James C. Isaminger, "Tampering With His Players Must Stop," The Sporting News, December 11, 1919; James C. Isaminger, "Phillies Give New Sign of Being Alive," The Sporting News, January 15, 1920.
30 " 'We're Through,' Says Perry, Also Speaking for Rogers," Philadelphia Evening Public Ledger, August 14, 1919.
31 "Scott Perry Signs With Philadelphia," Pittsburgh Post-Gazette, January 12, 1920.
32 "A's Home to Play Foes from West," Philadelphia Evening Public Ledger, May 11, 1920.
33 "Huggins After Dugan," New York Times, December 2, 1920; "Rumors Griff Offers Rice and Judge for Mackmen," Washington Post, December 18, 1920.
34 James C. Isaminger, "Macks at Top Form as They Start West," The Sporting News, May 12, 1921.
35 "Cleveland Makes Athletics Good Offer for Perry," Washington Times, May 23, 1921; James C. Isaminger, "A Place in History if Not in Standing," The Sporting News, June 9, 1921.
36 Robert W. Maxwell, "A's Wallop 7 Homers, Make League Record and Win from Tigers," Philadelphia Evening Public Ledger, June 4, 1921.
37 James C. Isaminger, "Not Much to Cheer About From Philly," The Sporting News, August 28, 1919.
38 On Perry's family leaving, see "Scott Perry to Play Next Year with Babcocks," Olean (New York) Times Herald, December 12, 1922. Future census records also support this split.
39 "Scribbled by Scribes," The Sporting News, April 24, 1924.
40 "Athletics Buy Pitchers," Brooklyn Daily Eagle, September 19, 1926, 39; Moulton (Ty) Cobb, "Sporting News," The Eagle (Bryan, Texas), May 23, 1927.
This biography is included in 20-Game Losers (SABR, 2017), edited by Bill Nowlin, Emmet R. Nowlin. To get your free e-book copy or 50% off the paperback edition, click here.
Born
April 17, 1891 at Denison, TX (USA)
Died
October 27, 1959 at Kansas City, MO (USA)
If you can help us improve this player's biography, contact us.
https://sabr.org/sites/default/files/PerryScott.png
600
800
admin
/wp-content/uploads/2020/02/sabr_logo.png
admin
2012-01-04 20:24:47
2012-01-04 20:24:47
Scott Perry