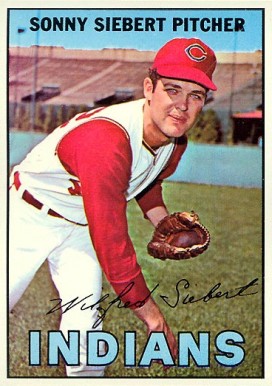 ---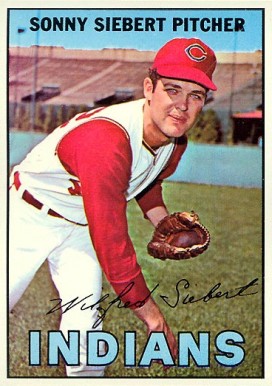 "Swung on, a fly ball to left field! There goes Hinton. He's under it. He has it and the ballgame is over! Sonny Siebert has pitched a no-hitter…..Listen to the crowd." — Cleveland broadcaster Jimmy Dudley, WERE AM /1300, June 10, 1966.
Sonny Siebert and his wife, Carol, had been discussing his recent pitching performances. Even though his record was 4-3, it had been nearly three weeks since he posted a win. "I hadn't been going so good and she was kidding me about being bombed so much," said Sonny. As he departed from their home on June 10, 1966, Cleveland's starting pitcher proposed a deal to Carol. "Promise you'll get off my back and I'll pitch a no-hitter," he sarcastically remarked.
Cleveland jumped out to the early lead over visiting Washington that evening, courtesy of Leon Wagner's first inning homer, a solo shot. That was all of the offensive support Siebert would need on this evening against the Senators. Siebert's words to his bride were prophetic, as he hurled the eleventh no-hitter, a 2-0 victory, in the 66-year history of the Tribe. Only two Senators reached base; Siebert walked to Dick Nen in the fifth inning and Paul Casanova reached on an error by shortstop Chico Salmon in the eighth. Siebert struck out seven Nats, and was the beneficiary of fine plays in the field by third baseman Max Alvis and Salmon. The crowd of 10,469 exited Cleveland Stadium elated about the Indian victory, and about witnessing a piece of baseball history.
Washington's Don Blasingame was impressed by Siebert's work. "I've seen him throw harder but he had good control and good breaking stuff. So, overall, that's as good as I've seen him," said the second baseman. As the bottom of the ninth inning beckoned, catcher Joe Azcue explained his strategy. "Sonny took only five warm-ups. But I didn't say anything to him. I made up my mind to keep my glove extra low so that he would keep his pitches low. I wanted to say something to help him, but I didn't want to do something that might make him more nervous. He was going through enough."
"Tonight I had good stuff," explained Siebert. "More important, I was lucky. I got some breaks-those line drives right at people, and once a long foul down the line. But, I guess you have to have luck to pitch a no-hitter. I just went numb when I got it. It was wonderful, certainly the biggest triumph of my life."
Wilfred Charles Siebert was born January 14, 1937 in St. Mary, Missouri to Mr. and Mrs. Wilfred Siebert. He was their second child after Melba Jean. Sonny was a two-sport star at Bayless High School in St. Louis, excelling in both baseball and basketball. He received an athletic scholarship to the University of Missouri, where he was a three-year letter winner in basketball for the Tigers.
Siebert's father, who worked as a foreman at National Lead Company in St. Louis, had cautioned his son at a young age to stay away from the pitching mound. "Dad never wanted me to pitch," explained Sonny about his father, who at one time looked to be a promising pitcher. "Dad could throw very hard and Rogers Hornsby, who was managing the (St. Louis) Browns, liked him so much he asked him to try out with the club at camp the next spring. But dad threw his arm out before he was to report."
Siebert joined the baseball team at Missouri his junior year. Playing first base for the Tigers in 1958, Siebert led the team in home runs with eight, and helped lead them to the final game of the Collegiate World Series, which they lost to Southern California. He was named first team All-Big 8 and third team All-American.
In 1958, Siebert married Carol Ann Buckner of Mehlville, Missouri. Sonny met Carol through his sister, who worked with Carol at the Government Chart Plant in south St. Louis. They had four children, Sandi, Scott, Steve and Sherri.
After his single season of college baseball, Siebert signed with Cleveland as an amateur free agent in 1958. He signed as an outfielder, but found it boring because there was so little action that came his way. He played sparingly in the lower classes of the Indians chain, splitting his time between Class D Batavia (New York-Pennsylvania League) and Class B Burlington (Carolina League) in 1958. On the final day of spring training in 1959, with Class C Minot of the Northern League, Siebert collided with his shortstop and missed the first two months of the season. Later that summer, he broke his right ankle in a base-running incident, ending his season after just 61 games.
He reported to the Florida Instructional League, but was limited to pitching batting practice after the cast was removed from his ankle. His pitching ability caught the eye of minor league pitching coach, Spud Chandler. The former Yankee great urged Siebert to forgo his trial in the outfield, and concentrate on pitching. "Chandler said he felt I still had a good chance to make the big leagues as a hitter, but he told me I would probably make it a lot faster as a pitcher," recalled Sonny.
At the time Siebert was contemplating a position change, his hometown St. Louis Hawks, of the National Baseball Association, came calling, offering Sonny a tryout on their 1959-60 squad. He attended their training camp, participating in two-a-day workouts for two to three weeks. Even though he favored basketball, he eventually chose to follow the path to the pitching mound. "I had lost some of my ability. And being away from basketball for two years didn't help," he said. "I lost my moves. You lose your edge, too, when you lay off competitive basketball for a long time."
Deciding to switch to pitching in 1960, Siebert made a second climb through the Indians organization, with stops in Burlington, NC; Reading, PA; and Salt Lake City in 1960 and 1961. In 1962, he led Charleston of the Eastern League in wins with a 15-8 record, posting an ERA of 2.91. After enjoying a terrific spring training with the major league club the following year, the Indians still sent Siebert down to the minors. Cleveland had a stable of qualified starters on their roster; Mudcat Grant, Dick Donovan, Barry Latman, Gary Bell, Pedro Ramos and a young Jim Perry. Siebert felt he was being frozen in the minor leagues and reported to Jacksonville of the International League with a chip on his shoulder. Unfortunately for Sonny, it showed in his performance, posting a 4-10 record for the Suns.
Siebert held out the following spring, but the issue was not money. His hope was that he would strike a minor league deal with the Indians, and that he might be traded to another team. He did not want to be tied up with the Indians in a major league contract if he was not going to get the opportunity to pitch at the major league level.
After talking it over with General Manager Gabe Paul, Siebert eventually signed his contract. And it paid off, as he made the Indians club out of spring training in 1962. He started the season coming out of the pen, and then joined the rotation for the final two months of the season. Indians' broadcaster and former pitcher Herb Score liked what he saw of the youngster. "This fellow has a real good fast ball," commented Score. "If he throws it on the inside, it goes up and in. He can really make that ball break up when he throws it on the inside."
The Indians were building one of the best staffs in the majors. Along with Siebert, Luis Tiant, Sam McDowell and Steve Hargan proved to be formidable hurlers for Tribe opponents. Although it was McDowell who garnered much of the attention with his blazing fastball, Siebert was impressing people as well. He had a mastery of all the pitches in his repertoire, and he was mentally tough. "He didn't throw as hard as Sam, but no one did," recalled Indians infielder Vern Fuller. "But, Sonny was a dedicated, well-conditioned athlete. In terms of changing speeds and throwing to spots, he was the best of the four pitchers." McDowell agreed with that assessment. "Sonny is the number one pitcher on the team. He'll give us a good year every year. He is he hardest worker and the most conscientious guy on the ream. I wish I were more like him. Each of us trying to better the other helps us both to be better pitchers," said Sudden Sam.
In five years with Cleveland, Siebert's rookie campaign was the only season that his ERA exceeded 3.00 (3.23). Over five seasons with Cleveland, his ERA was 2.75. He posted consecutive 16-win seasons in 1965 and 1966, which were the only two years in which the Indians offense supported him with more then four runs a game. In 1966, he made his only appearance in the All Star Game, pitching two innings of no-hit ball at Busch Stadium in St. Louis.
The Indians provided little offense to support their tremendous staff. As a team they hit .247 in 1964, bottoming out to .234 in 1968. First baseman Tony Horton led the team in home runs with 14 in 1968, the only player to reach double digits that year for the Tribe.
On May 14, 1968, Siebert looked poised to pitch his second no-hitter at home against Baltimore. He sailed though the first six innings, when with one away in the seventh, Curt Blefary doubled for the only Oriole safety. "I tried to keep the ball away from Blefary. I didn't want to let him jerk one to right, but he went with the pitch," said Siebert. "At that point, I wasn't thinking about a no-hitter-although I was aware I was working on one. I just wanted to win the game and figured I'd need a shutout." The Indians were ahead 1-0 at the time of Blefary's double, ultimately winning the game 2-0.
As good of a pitcher as Siebert was, it was medical problems that curtailed what may have been a great career. He suffered through many injuries, from back spasms to a sore right shoulder to a peculiar dust allergy to an inner ear infection to constant dizzy spells. He pitched through the ailments when he was able, but the effects were apparent. "He would have all these strange injuries," recalled talk show host Pete Franklin. "If there was one little hole in the outfield, Sonny would find it and trip when he was out running sprints. He'd wake up in the morning, stretch, and pull a muscle. But this guy was a helluva pitcher when he was healthy."
Siebert also thought that he was never fairly compensated by the Indians, and often feuded over his contract with Gabe Paul. The Indians were a franchise that watched every penny that was spent. Combined with low attendance and persistent rumors that the team was relocating to Seattle or New Orleans, it was not the best of circumstances to make a living as a ballplayer. "They were tough to deal with," recalled Siebert. "In 1965, I was 16-8 for the Indians and I got a raise from about $8,000 to $10,000. The next year, I was 16-8 again, and they offered me the same contract. I couldn't believe it. I had to hold out into March to get a raise."
On April 19, 1969, Cleveland traded Siebert, along with Azcue and relief pitcher Vicente Romo to Boston for outfielder Ken Harrelson and pitchers Juan Pizarro and Dick Ellsworth. The trade was not received well in either city. Harrelson had a big following in Boston and was named the Sporting News American League Player of the Year in 1968, when he hit 35 home runs and led the league with 109 RBI. Cleveland Plain Dealer sportswriter Hal Lebovitz titled his column "One of Indians' Worst Trades" after the swap.
Complicating matters was Harrelson's reluctance to report to the Indians. The Hawk was fond of Boston and did not want to leave, announcing instead that he would retire from baseball. Siebert and Azcue said they would not return to Cleveland if the trade were nullified. Newly appointed Commissioner Bowie Kuhn froze all the players involved in the deal. He called a meeting of the interested parties to his office, and the matter was eventually resolved.
Despite having a sore right elbow due to a calcium deposit the size of a quarter in his right elbow, Siebert won 14 games for the Red Sox after the trade. Boston Manager Dick Williams moved Siebert to the pen in the latter stages of the season, and he picked up five saves. After off-season surgery to have the deposit scraped away, he was ready for 1970.
Siebert had a fine season, finishing 15-8 with a 3.44 ERA, and staying in the rotation all season. He was even better in 1971, finishing 16-10 as the staff ace for the Red Sox. Of those 16 victories, four came against the World Champion Orioles. His ERA was a miniscule 0.76 against the Birds. He supplied is own offense to back up his fine pitching, smacking six home runs on the year. Four of those came against Baltimore. "He just goes out there and beats us with his arm and bat," said O's skipper Earl Weaver.
Siebert had been a pitcher who relied on his power most times when he toed the rubber in Cleveland. But with the Bosox, he learned how to become a pitcher, and not just a thrower. "Sonny has always had the stuff to be great, only he never knew it before," said Boston pitching coach Harvey Haddix. "With him, it wasn't a question of changing anything, just building up his confidence. He's throwing the ball all the time now whether he's ahead or behind the hitter. Before, he'd start to aim his pitches if he got into a hole. Also, hitters can no longer afford to guess against him. A lot of guys have maybe one or two pitches they can depend on in a clutch. But Sonny has four-the fastball, slider, curve and changeup. He's just as effective with one as the other."
Boston added Luis Tiant to its staff in 1972 and they looked poised to challenge Baltimore as kings of the American League East. Siebert was enjoying another excellent season, going 9-5 with a 2.79 ERA before the All Star break. During the break, Siebert was vacationing with his family at the beach, when he slipped on some rocks and badly sprained his right ankle. The injury was costly, as he could not drive off the rubber, causing the velocity in pitches to drop. He went 3-7 the rest of the season, his ERA rising to 3.80 for the year.
Siebert picked a poor time for his latest injury, as he was engaged in the first pennant race of his life. On September 23, the Red Sox were deadlocked with the Tigers for first place in the division, while the Orioles trailed by 2 ½ games. Boston was hosting Detroit that day, and Siebert took the hill. The tendons in his ankle were so bad, he lasted only a third of an inning, giving up three runs, two of them earned.
Boston Manager Eddie Kasko, as well as the Boston front office, believed that Siebert was not putting forth an honest effort. Siebert fell into Kasko's doghouse, and there he remained. He did not start another game that season, as Boston finished a half game behind the first place Tigers. He remained mainly idle the next year, pitching only two innings during the first month of the year. After repeated pleas to be traded, Siebert got his wish, going to Texas on May 4, 1973. Again the injury bug plagued Siebert. After going 6-6 with a 2.35 ERA, he suffered a shoulder separation and was sidelined for a month. After the season he was again traded, this time to the his hometown Cardinals for Tommy Cruz and cash.
Siebert both started and relieved for the Cards, with one of his more memorable efforts coming out of the pen. On September 11, 1974, St. Louis was locked in a 25-inning affair with New York at Shea Stadium. The game ended at 3:13 AM, with Siebert going the final 2 1/3 innings to pick up his eighth victory. The game lasted seven hours and four minutes, as the Cardinals set a National League record by using 26 players in the marathon game. "I got the ball from the longest National League night game in history," recalls Siebert. "I've been offered money for it, but I would never sell it."
The 1975 season was Siebert's last in the major leagues. He split the year pitching for both San Diego and Oakland. "When I quit playing, I was burned out on baseball," said Siebert.
In retirement, Siebert bought and owned a Baskin-Robins ice cream store and operated several newspaper routes. He also got back into the developmental side of baseball in 1984, working as the pitching instructor for the San Diego organization. He tutored the young arms at every level of the Padres' minor league chain. In 1994 and 1995, he served as the pitching coach for the major league Padres. In 2004, Siebert was elected to the University of Missouri Hall of Fame.
Today, Siebert is retired and living in St. Louis. "I love baseball," he says "I guess I'm like every player, who, when your career is over, looks back and realizes mistakes you made and things you would have done differently. But I felt lucky that I got a chance to play in the big leagues and that I had a pretty long career. I feel fortunate to be one of the few guys who got to play in the big leagues. It really has been a blessing to have the talent to pitch in the major leagues."
Sources
Terry Pluto, The Curse of Rocky Colavito (Simon & Schuster, 1994).
Cleveland Plain Dealer
The Sporting News
Baseball Digest
Sonny Siebert, correspondence, July, 2007.
National Baseball Hall of Fame Archives, Siebert's file.
http://www.baseballlibrary.com/homepage/
http://www.baseball-reference.com/
Born
January 14, 1937 at St. Mary, MO (USA)
If you can help us improve this player's biography, contact us.
http://bioproj.sabr.org/bp_ftp/images5/SiebertSonny.jpg
600
800
admin
/wp-content/uploads/2020/02/sabr_logo.png
admin
2012-01-04 20:35:39
2012-01-04 20:35:39
Sonny Siebert