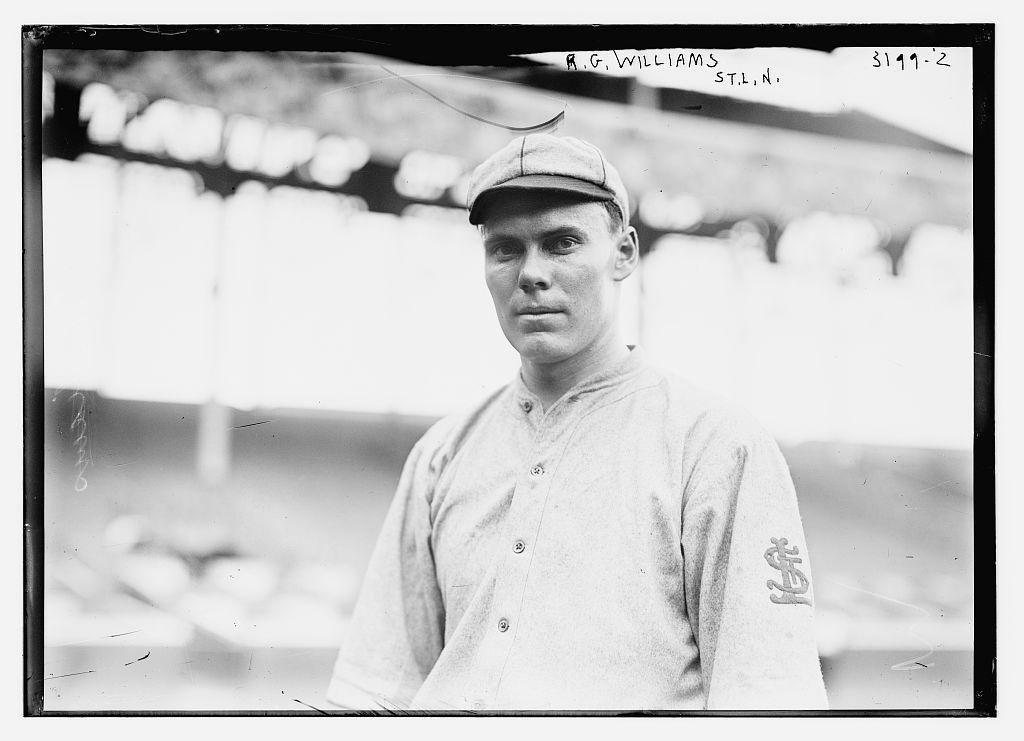 ---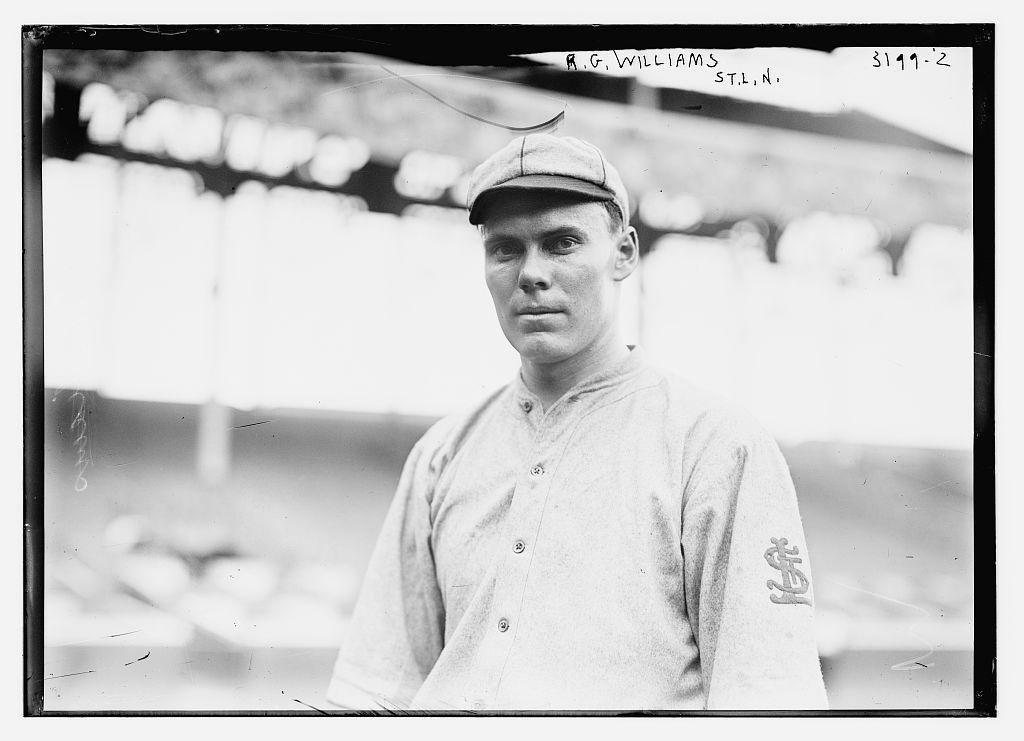 When he debuted with the St. Louis Cardinals in 1914, pitcher Rees "Steamboat" Williams became the first of only 10 men born and raised in the state of Montana to play Major League Baseball.1 In 1916, Williams would lead the National League in games finished. When his playing days were done, Williams retired to the lake country of northern Minnesota where he built two resorts that functioned as summer vacation getaways and fall hunting destinations.
Rees's German mother, Anna Gephardt, immigrated to America by herself at age 16 around 1869.2 Working in New York for a time, by 1874 Anna was a cook attached to Colonel Nelson A. Miles's 5th Infantry in Laredo, Texas. After travelling by boat up the Missouri River to Fort Benton, Anna would call Montana home for the rest of her life.3
While working as an Army cook, Anna met a Welsh soldier named William C. Williams.4 Their union produced three children: Elmer J. Williams, born November 16, 1886, a daughter who died when she was quite young, possibly before Rees Gephardt Williams was born in Cascade, Montana, on January 31, 1892. Anna and William divorced a year or two after Rees was born. William Williams was later killed in a coal mine in Pennsylvania.5
On June 8, 1897 Anna married a cattleman, Frank E. Woodworth, in Helena.6 Woodworth had worked alongside Charlie Russell before the cowboy artist laid down the reins and picked up the brushes. The newlyweds made their home on the Woodworth ranch near Adel, Montana.
In 1910 the Woodworth/Williams family was farming near the Soldier Creek Schoolhouse. Around this time, 18-year-old Rees began playing baseball for a team made up of the neighboring ranches against the Cascade town team. Williams would next pitch for Cascade, making the 16-mile horseback ride twice a day for 35 cents pay, which barely fed his horse.7 One of the most ardent supporters of the Cascade ball team was Montana legend "Stagecoach" Mary Fields, the first African American woman to carry the U.S. Mail. "For each game she prepared buttonhole bouquets of flowers for each player from her own garden, with larger bouquets reserved for home-run hitters. Any man speaking ill of the local team in her presence could expect a bouquet of knuckles in his face."8 In the only known photographs of the Cascade ball team around this time, Fields appears in both, while Williams is absent.
In March of 1912, Rees Williams was at spring camp in Utah with manager George M. Reed's Great Falls (Montana) team, defending champs of the Union Association. Two weeks later, he was one of five pitchers on staff when the Electrics returned north.9 Williams made his professional debut pitching five innings of relief on opening day. He surrendered two runs on two hits, while striking out three.10 Making his first home start on May 23 against Butte, Williams doubled en route to a 5-3 victory, "his slab work was the biggest feature of the game."11 Working mainly in relief, Williams appeared in 41 games (40 on the mound). League officials neglected to keep pitching records, but the author's research shows Williams won at least 14 games. Williams's .966 fielding percentage placed him fourth among pitchers.12 Despite having two of the top three batters in Howard Murphy and Frank Huelsman, Great Falls finished third in the standings behind Missoula and Salt Lake City.13
Back with Great Falls for 1913, Williams was on the opening day roster for new manager Herb H. Hester.14 Williams and catcher Art "Buck" Weaver made up a pre-season battery on April 2 in front of 1,200 fans in Grand Junction, Colorado, against the Chicago White Sox.15 The first appearance of Williams's signature nickname shows up in an Ogden newspaper in early April quoting a letter from manager Hester in the Great Falls Tribune. "'Steamboat' Williams [is] in the pink of condition and [is] working great."16 The Missoulian, however, would claim he was more of a mud-scow than a steamboat.17 At one point the author theorized that the origin of the moniker may have been the result of the young hurler showing up to play ball in Great Falls after hitching a ride on one of the many vessels travelling the downstream stretch of the Missouri River from Cascade. If true, the stunt surely would have resulted in some ribbing from his teammates.
Williams won his first start of 1913.18 He went on to win a total of 18 (with four shutouts) for a staff that included four of the league's top pitchers in Flame Delhi, Bernie Duffy, Williams, and Roswell "Red" "Rube" Hildebrand.19 Williams would be among the top in the league in pitcher's fielding percentage, committing just one error in 31 games.20
On July 3, Williams pitched a game against Harry Trekell and Missoula in which manager Hester was ejected by umpire Ralph Frary for "violent ravings." Hester and his fellow Electrics used "language which should not [be] permitted on the field," as it "hurt[s] the game and cut[s] down on gate receipts."21 It was reported the next day that Williams had been sold to the St. Louis Cardinals for $2,500.22 Salt Lake City manager John McCloskey recommended Williams to Cardinals skipper Miller Huggins.23 Two days later, "piloted by that effective coal-passer, 'Steamboat' Williams," the Electrics "sailed through nine innings of classy baseball and emerged victorious over" the Missoula Highlanders.24 Two weeks after his sale to the Cardinals, Williams was struck by a line drive for the last out of the eighth inning in a game against the Helena Vigilantes that broke a finger on his throwing hand.25 The papers relayed he would be out of the game for a week, but Williams didn't return for 17 days. Pitching in his return against Stoney McGlynn and the league-leading Salt Lake City Skyscrapers, Williams allowed only six hits, but two were home runs that came on grooved first pitch fastballs. The first clout by team captain Frank Huelsman was heralded as the hardest hit ball of the season. The second was a game-winning three-run "zowie!" off the bat of McGlynn that hit the roof of a house beyond the outfield fence.26
Trailing Salt Lake for most of the season, Great Falls won the 1913 Union Association pennant in the final week.27 Great Falls' championship was due at least in part to the deflating total loss of Salt Lake's $4,000 grandstand in what was believed to be arson. The fire started in multiple locations and eye witnesses described seeing two men fleeing the scene shortly before the alarm sounded. The phone lines and electricity in the vicinity had also been tampered with. A man by the name of A. "Sharkey" Fredding was arrested and held without bail on suspicion of having something to do with the blaze. Fredding and an associate had been kicked out of the ball park earlier in the day.28 Coincidentally, the Electrics were in town and had defeated the Skyscrapers earlier in the afternoon to pull to within half a game.29 Steamboat Williams reported to the Cardinals on September 14 with eight games left in the season including two doubleheaders, but failed to make it into a game.30
All indications point to Williams breaking camp from St. Augustine, Florida, with the Cardinals in 1914, but he didn't appear in a game until halfway through the season. Working with catcher Frank Snyder in a July 12 blowout at the hands of the Miracle Braves, Williams pitched the last two innings. The rookie walked four while giving up two runs on two base hits, while also collecting his first career strikeout. It would be another 64 days of riding the pines before Williams got into his second game. In another lopsided loss against the Pittsburgh Pirates, Williams was the fourth pitcher utilized by Huggins. He worked the ninth, surrendering two runs on three hits. Williams worked another single inning on September 19 coughing up a run as the Phillies routed St. Louis, 7-0. Steamboat Williams made his first big league start in the second game of a doubleheader on the second-to-last day of the season against the Cubs. Working with catcher Paddy O'Connor, he pitched five innings, giving up three runs on six hits including a homer to Tommy Leach. Williams struck out in his only at bat of the season, as Hippo Vaughan won his 21st game for the Cubs. The following day, Williams was on the mound for the Cardinals as the 1914 campaign came to a close. Working the final frame, he recorded his only scoreless outing in five attempts.
Williams was lent by the Cardinals to the St. Paul Saints for 1915. Appearing in 27 games for manager Mike Kelley, a close friend of Huggins, Williams went 15-6. He posted a career best 2.18 ERA, which was good for third in the American Association. His best effort of the season came on April 19, as he two-hit Milwaukee and the Sporting Life called him, "a recruit twirler."31 On April 30 Williams hurt his arm. "Reese [sic] 'Steamboat' Williams is out of the game for some time to come. While pitching a game for St. Paul the other day he threw out a ligament and, according to reports, is unable to raise his arm, much less pitch."32 It would be a month and a half before Williams would pitch again, and he lasted just two innings.33 After leading for much of the season, the Saints finished a couple games back of their rivals from downstream, the Minneapolis Millers.
On December 20, 1915, Rees married Percy Augustus "Peg" Fulton at her home at 546 Laurel Avenue in St. Paul. The newlyweds returned to Cascade for the winter.34
Back in camp with the Cardinals in 1916, Sporting Life named Steamboat "one of the pitching finds of the season,"35 as he had "burned up the American Association."36 Prior to opening day, a two column photograph of Williams ran in the Duluth Herald under the headline, "A.A. Recruit Looks Good to Cardinals."37 Steamboat Williams appeared in 36 games with the Cardinals in 1916, and would make the record books leading the National League in games finished with 21. The righty, who stood 5-foot-11 and weighed 170 pounds, won his first big league game pitching three scoreless innings of relief on April 24 against the Reds, his teammates plating four runs in the last two frames. His first big league hit came off Boston's Tom Hughes on May 22. Williams added five complete games, winning two of them, including another game off the Reds on July 5 in which he gave up a single run.
Williams was back with St. Paul in 1917, breaking camp from Beaumont, Texas.38 In an exhibition game on April 7, Williams and the Saints held the Chicago Cubs to four hits for a 2-1 victory.39 Healthy the whole year, Williams enjoyed the best season of his career at age 25. He appeared in 51 games, leading the Saints in wins (22, with at least two shutouts) and innings pitched (265) while posting a 2.82 ERA. St. Paul again finished in second place, this time to Indianapolis.40
Pitching for the Milwaukee Brewers in 1918, newspapermen had fun with the headline, "A Saint now a Brewer."41 Appearing in just 18 games as World War I cut the American Association season short, Williams was 4-10. At the tail end of July, Williams and teammate Joe Riggert joined the Duluth team in the Twin Ports league.42 Working in the steel town and playing ball in the industrial league, Williams pitched for the Maintenance Men against Rip Hagerman and the Furnace Men at Morgan Park in Duluth, striking out eight in defeat.43
Williams and other former major leaguers became quite the Sunday draw in the north country of Minnesota during the war. Local papers used he and fellow MLB veterans Claude Hendrix and Cy Falkenberg to hype games that were a welcome distraction.44 "Reese [sic] (Steamboat) Williams of the Steel Plant league, who will be one of the Duluth twirlers, is owned by the Milwaukee Brewers and is called the 'Iron Man.' This sobriquet was bestowed upon him in 1917 when he pitched sixty-four games for St. Paul. Williams has a heap of 'smoke' and a fast hop."45
1919 saw Williams split time between Milwaukee and the eventual champs in St. Paul. Between the two teams he appeared in 44 games, going 15-18. After toppling the Midwestern competition, the Saints travelled to the west coast to play the Vernon Tigers, champions of the Pacific Coast League.
The best of nine series (same as the World Series at the time) took place on the west coast, as the PCL season finished after that of the AA. The series went the limit. Dan Griner won three games for St. Paul, but Williams's fellow Union Association alum and Montana product, Wheezer Dell, won the deciding game for Vernon.46 Author R. Scott MacKey summed up the series, "Not only did Vernon players taunt and bait umpires and opponents, they started several fist fights as well. At the close of the series, a riot erupted and American Association umpire Jim Murray was beaten by Vernon fans. Eastern writers labeled the Tigers and their fans 'thugs' and 'hoodlums' who damaged the good name of baseball."47
On March 13, 1920, Williams signed back with St. Paul after wintering at his cabin in north Minnesota, logging the land that would eventually become his summer resort and hunting camp, Pine Grove Lodge.48 On June 20, 1920, Williams pitched in the second game of a doubleheader against rival Milwaukee that was witnessed by the largest crowd in Brewers history to date, 14,112.49 From June 26 to July 1, the Saints pitching staff recorded 45 consecutive shutout innings. The 1920 St. Paul Saints are widely regarded as one of the best minor league teams ever assembled. Compiling a record of 115-49 and repeating as American Association champs, they had three pitchers who won more than 20 games, and one who won 19. Williams went 20-6 with a 3.34 ERA over 46 games.
Williams was back with the Saints for his fifth season in 1921, but struggled to a 6-14 record that saw his ERA balloon to 5.17. He pitched some semi-pro games at the close of the season, striking out 10 in as many innings for Milville (Minnesota) against Lake City in late September of 1921.50 Williams later formed half the battery as Young America (Minnesota) shutout St. Cloud for the amateur state title.51
After appearing in four games for the Saints in 1922, Williams "jumped to the outlaw ranks" with Eveleth (Minnesota) of the Mesaba Range league on May 13.52 On August 11 "Steamboat Williams pitched high-class ball all the way, holding Hibbing to six scattered blows and never being in danger."53 September 15 saw Williams pitch Evelteth to the Mesaba Range league title, scattering three hits while shutting out Hibbing who failed to get a runner past first base.54
Williams's major league record of 6-8 is dwarfed by his minor league achievements. He appeared in 305 minor league games, earning at least 116 victories over eight seasons.55
Steamboat Williams was an arm-for-hire in the competitive semi-pro leagues so popular in Minnesota until at least 1924. His last engagement appears to have been with Stillwater in the Friendly Valley league. In 1925, he and wife Peg seem to have settled into the lake life at Pine Grove Lodge on the south shore of Sand Lake near Max, Minnesota.
In 1945 Williams sold Pine Grove Lodge, or lost it in a card game—the story depends on who you talk to—and built Sand Lake Lodge near Deer River, Minnesota.56 While living across the inlet of Sand Lake at his newly built cabin, Rees told Pine Grove's new owner, Roger McDonald (once removed from the card game), that the origin of his nickname came not from the ball field or time spent on the Missouri River, but from his ability to put away a steaming boatload of mashed potatoes at the supper table.57
Peg died May 19, 1972, and her husband followed on June 29, 1979 at age 87. The pair lay buried at Olivet Cemetery in Deer River, Minnesota, under a common headstone depicting the outdoor life they enjoyed so well.
Acknowledgments
This biography was reviewed by Skylar Browning and verified for accuracy by the BioProject fact-checking team.
Notes
Born
January 31, 1892 at Cascade, MT (USA)
Died
June 29, 1979 at Deer River, MN (USA)
If you can help us improve this player's biography, contact us.
https://sabr.org/sites/default/files/WilliamsSteamboat.jpg
600
800
admin
/wp-content/uploads/2020/02/sabr_logo.png
admin
2017-12-27 16:31:10
2020-04-09 14:40:28
Steamboat Williams