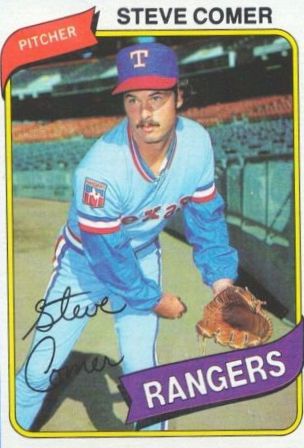 ---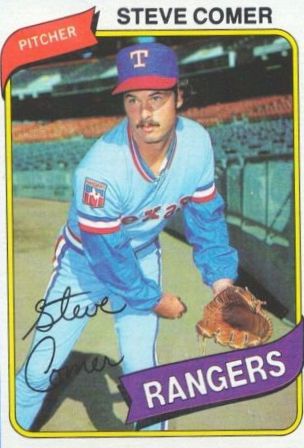 When he was in college, a reporter once dubbed him, "Hard-throwing Steve Comer." But the right-hander's upper 80-mile-per-hour fastball, which is notable for a college pitcher, never got much faster. This fact became a source of humor for some when Steve Comer reached the major leagues. Baseball columnist Peter Gammons once wrote of Comer, "A film crew can outrun his pitches to home plate." Comer didn't need overpowering speed to succeed, however, because his strong pitching sense allowed him to persevere and generate outs—and because of a life lesson he says was instilled by his father and nurtured through his remarkable years playing baseball at the University of Minnesota: "Wait for your opportunity, but then when your opportunity comes, go for it!"
Steven Michael Comer was born on January 13, 1954, into an athletic and competitive household in the Cottagewood neighborhood of Minnetonka, Minnesota. His parents, Ken and Joyce Comer, encouraged sports for their three boys, Joe, John, and Steve, who were all born within three years of each other.
At Minnetonka High School Comer played soccer, baseball, and basketball, excelling best at hoops, despite being 5'6" and weighing barely more than 100 pounds as a sophomore. A year later, following a seven-inch growth spurt, Comer started on the varsity basketball team and the varsity baseball team as a shortstop. His all-conference older brothers were or had been on the baseball squad, too, Joe at shortstop and John at catcher. After graduating, Joe was drafted by the Kansas City Royals but opted for the University of Minnesota to play under legendary Gophers head baseball coach Dick Siebert. John went on to Southwest Minnesota State University, where he set several hitting records.
After his high-school senior season, while playing a final summer under his father for the Minnetonka American Legion team, Comer decided to follow his brothers' footsteps by trying out for Siebert's summer league for college players in the Twin Cities, despite the fact he was too young. At the tryout Comer realized that he was a long shot to make the cut at shortstop because of the depth at that position, so he stepped to the mound and threw a string of strikes that got the coaches' attention. George Thomas, an assistant who became head coach after Siebert, in particular liked what he saw: a pitcher with a good arm, who had immaculate control of his stuff. All three of the Comer brothers were chosen for the Gophers' summer team.
Comer pitched well enough that summer to also catch the eye of Siebert, who strongly encouraged him to attend the University of Minnesota the following fall. But Comer, who had received no other invitations to play college baseball, was entertaining the idea of playing basketball as well as baseball if he was to go to college. He told Siebert that he might try St. Cloud State or Mankato State and play both sports. "It was at that time that [Siebert] really pressed me and said, 'No, you need to come here,'" Comer recalls.
Siebert was persuasive. He also taught Comer how to throw a change-up, which became Comer's primary weapon. In his freshman season, Comer had a 6-1 won-lost record with a 1.47 earned-run average (ERA) and was an integral member of a Gophers squad that rode to the 1973 College World Series on the back of Dave Winfield's 6'6" frame. Comer was the winning pitcher in a 6-2 victory over Georgia Southern that sent the Gophers to the semifinals to face the University of Southern California. Winfield, then a pitcher and outfielder, started that game and went eight innings without giving up a run while holding a seven-run lead. In the ninth, however, Winfield struggled to get the first several batters out. Two relievers and eight runs later, the Gophers were knocked out of the World Series and the Trojans, with Fred Lynn, Roy Smalley, and Rich Dauer, went on to win the championship.
Crediting a set of unlikely and extremely lucky circumstances, Steve Comer humbly acknowledges his record as the winningest pitcher in University of Minnesota baseball history with a 30-8 record earned between 1973 and 1976. In 1973 he pitched in the College World Series with Dave Winfield in left field. In 1975, Comer's junior season, Paul Molitor played behind the young pitcher. Comer won seven games but struggled against Michigan State to end the year with three losses and an ERA well above 4.00, hurting his chances in the major-league draft.
Comer also holds the Gophers record for most career complete games with 25, and he pitched the sixth most innings in Gophers history. Comer remembers with nostalgia his days at Minnesota on a team made up of all Minnesotans, most from the Twin Cities metropolitan area, which had strong unity. Some became friends for life.
"To tell you the truth, a guy that I modeled myself after is the guy that I'm playing golf with tomorrow, Kenny Herbst," says Comer. "He was just a year older than me, but he'd pitch the first game [of a doubleheader] and I'd throw right after him. Just how he pitched, and how he set hitters up—that was a guy that was a role model for me."
After Comer's senior season at Minnesota, in which he won 10 games and brought down his 4.59 ERA from the previous year to 2.64, Comer hoped to be drafted out of college. But he knew that because of the inflated ERA his junior year, major-league teams might pass him over. He was disappointed when he was overlooked in the 1976 draft, but he didn't lose hope.
Comer began working in construction after graduation and was playing on the Chanhassen town team when Dick Siebert got a call from Pete Kramer, a coach at the College of St. Thomas (now St. Thomas University) in St. Paul who was a "bird dog scout" for the Texas Rangers. "Bird dog scouts" are best described as additional sets of eyes for major-league scouts, always looking for an under-the-radar player who might find his way to the big leagues with the right opportunity.
Kramer was working to fill the Rangers' rookie-league roster and needed more young pitchers. Siebert told Kramer about Comer. Then Kramer told Comer that he had a chance to go make the team. "My Dad said, 'Here's your plane ticket; you're going.' Didn't want to have a 'woulda coulda shoulda.' If a door opens, go through it," Comer recalls.
Comer, then 22, heeded his father's words and stepped through every door that opened for him once he made it to Sarasota in the rookie league in 1976. In the next two years he learned how to work ahead in the count, stay away from big innings, and use his off-speed pitches effectively.
In 1977, two years out of college, 23, and playing for the Rangers' Class AA affiliate in Tulsa, Oklahoma, Comer started 14 games and went 7-6. That July, due to some of his own good fortune and the sore arms of pitchers higher in the system, Comer was called up to the Rangers' Class AAA team in Tucson and finished the season with a 4.18 ERA, an accomplishment in the high-scoring Pacific Coast League.
When Comer arrived at spring training in 1978, he was not expected to make the major-league roster, having had only two years in the minors. But, defying expectations once again, he showed off the skills he had been cultivating since his freshman year of college: a great changeup, mature attitude, an ability to mix speeds and locate his fastball precisely, and mental toughness.
"The story that I was told was that I came up there and I threw a pitch to Lee May and he hit it nine miles," Comer says. "Then I came back and threw the same pitch to the next hitter and struck him out. They figured that I wasn't afraid to be there." That kind of mettle, exhibited during spring training, impressed new manager Billy Hunter, and Comer sneaked into the 10th spot on the pitching staff for the 1978 season.
After riding pine for the first four weeks, Comer moved into a relief role and started picking up wins. He frustrated hitters by working the count well and changing speeds to keep batters off balance. In his first major-league start, on July 17, 1978, he threw nine shutout innings against the Baltimore Orioles at Memorial Stadium. Had Baltimore's Mike Flanagan not thrown a gem himself, the game would have been Comer's first win as a starter. Flanagan scattered nine hits in a seven-strikeout performance, hurling all 11 innings. Comer pitched for nine innings, giving up four hits, four walks, and registering seven strikeouts, but the game was tied going into the 11th, when Rangers centerfielder Juan Beniquez ended the scoring drought with a two-run homer to put the game away.
Nevertheless, Comer impressed the Rangers leadership, and when injuries felled starters like Dock Ellis, Comer moved into the rotation halfway through the summer and finished his season with an 11-5 record. His success came as a pleasant surprise to the Rangers.
Comer's most memorable game of his rookie season came on August 23, facing the Minnesota Twins at Met Stadium, coming home to play for the first time in front of friends and family. His grandmother was in the hospital ill with cancer at the time. Steve visited her before the game and turned on the radio so that she could hear the play-by-play. The proud grandma listened as her grandson threw a six-hit shutout to beat the Twins 2-0. Comer recalls, "You always think you're playing for yourself but you just don't know who you affect. . . . It was one of those ones where you look back and say, 'I gave her some pride.'"
The following year, given a bona-fide starting role and the full confidence of his coaches, Comer took up where he left off in his rookie season, moving to 10-6 at the All-Star break. It was at this high point that shoulder problems began to surface. He went on to win seven more games, finishing the 1979 season with a 17-12 record and ERA of 3.68, but he was in pain—an ominous sign for the year ahead.
According to Comer, preparation, anticipation, and execution—not talent, athleticism, or a high-velocity fastball—were the keys to his big-league success. His career lacked gaudy stats, and he never struck out more than seven batters in a game. But when Comer was healthy, his command and his ability to change speeds and to think one step ahead of the hitter placed him in an elite class of Texas Rangers pitchers.
In 1979 Comer had become the fourth Rangers pitcher to reach 17 wins. At the close of the season his stock was high and he was expected to be an important member of a rotation that, when healthy, would have the power to overcome the Rangers' lackluster offense. With better luck, Comer might have grown to become one of the game's top pitchers. But in the same way he credits fate and good fortune for helping him reach the major leagues, he also acknowledges that luck runs both ways.
Comer's durability waned after problems with the mechanics of pitching that began in 1979 led to tendonitis. Pitching more than he ever had before proved to be too much wear and tear on his shoulder. During a forgettable 1980 season, in which he went 2-4, Comer was demoted to Tulsa, where he struggled and then was shut down completely. Then, at this low-point in his career, Comer took note of a detail that enabled him to turn things around.
In the offseason as he walked by a big cement wall, Comer noticed the cast of his shadow made by the morning sun. He stepped through a pitch while watching his shadow and was able to see for the first time that, for as long as he had been throwing, his arm had been moving in a pushing motion. He tried altering his pitch by reaching farther out and then bringing his arm down in a follow through.
Comer credits this discovery as the main reason for his seemingly miraculous comeback in 1981, when new Rangers manager Don Zimmer spoke openly about Comer's minimal chances to return to the roster. In spring training, however, Comer was pitching as if he had barely missed a beat and fought his way back to a relief role on the Rangers' roster.
Comer's first appearance that season came in relief of Jon Matlack on Opening Day at Yankee Stadium, April 9, 1981, before 55,123 fans. Entering the game with the Rangers losing 5-3, Comer gave up one run on a single before Bobby Murcer came to the plate, pinch-hitting for Dennis Werth, and cleared the bases with a grand slam. That would be one of the few bad outings for Comer in the split season of 1981, and he thinks the strike that caused the shortened season gave his arm the rest that it needed. Comer finished the year with an 8-2 record, six saves, and a memorable honor: the Rangers staff and players voted him the Texas Rangers Pitcher of the Year at the 1981 post-season banquet.
That year, Comer drew rave reviews from his manager, Don Zimmer, who called him "another guy who made me look smart" in his autobiography, Zim. Zimmer said that "Comer, as the saying goes, couldn't break a pane of glass with his fastball, but he knew how to pitch: He threw strikes and had a great changeup. The closer I inherited was Jim Kern, but for some reason, he just couldn't get the job done."
In a mid-season game, Zimmer summoned Kern from the bullpen to quell a fire, but Kern walked the bases loaded instead. When Kern went to a 2-0 count on the next hitter, Zimmer had seen enough, and brought in Comer. Comer got the batter to hit a grounder to first that should have ended the inning. However, the first baseman booted it, and the Rangers lost the game. But Comer's coolness under fire impressed Zimmer, and Zimmer gave Kern's closing job to Comer.
Zimmer also saw Comer as "a little crazy, too, which doesn't necessarily hurt in baseball, especially if you're a closer." One day, Comer was standing behind the batter's cage when a ball ricocheted and caught him in the mouth, cracking two of his teeth. That evening, as the Rangers waited for their flight at the airport to begin a road trip, Comer ordered a flaming drink. "When he went to drink it, he spilled it on his face and set his beard on fire," Zimmer reported. "It must have been one of the worst days of his life."
Even so, Zimmer respected Comer's ability. "He may have not been your prototypical closer, but he was good enough for me," Zimmer wrote.
In 1982, Comer's fifth year in Texas, the Rangers came within just two losses away from reaching the century mark, finishing in sixth place, 29 games behind the division-winning California Angels. The Rangers' futility that season may have sparked the beginning of the end of Comer's career. Halfway through the season Comer was walking from the bullpen to the clubhouse when his cleat became caught in a grate, and he broke a bone in his right foot, his push-off foot. Comer was 1-3 at the time, but with a struggling offense even his good performances were resulting in losses. After 21 days on the disabled list, Comer returned to the bullpen and struggled to pitch well, because, he says, he failed to give his foot enough time to heal completely.
Comer was released by the Rangers in 1983 and began a trip around the country that would send him to the Yankees, Mariners, and Phillies. He never threw a regular-season pitch in pinstripes, as the Yankees signed him on January 21, 1983, and released him on March 28. He hooked on with the Seattle Mariners on April 11, but he didn't pitch for their major-league squad either and was released on June 16. On June 22, Philadelphia signed Comer and later called him up from the Pacific Coast League to help the Phillies in the September playoff drive.
Comer recalls those years as hectic and nomadic, and it was hard, he says, for him and his wife, Kathy, to find enough time together. Even though he wasn't on the playoff roster when the Phillies won the National League pennant, he was still considered a member of the team. "That was the year I got released five times, and here I got a National League Championship ring," he recalls ironically. But on December 21, the Phillies let him become a free agent.
Pat Corrales, Comer's manager for one year at Texas, seemed to always have a place on his staff for Comer. Corrales hired Comer to pitch in Cleveland in 1984, and Comer went 4-8 with a 5.68 ERA in his final major-league season. He was signed by the Phillies again in 1985 but did not pitch.
Looking for a pitching coach for his Indians in 1986, Corrales offered Comer the job. Comer was the pitching coach for Cleveland's Class A club in Kinston, North Carolina, at the time and left that position under future major-league manager Mike Hargrove to join Corrales in Cleveland. Comer realized during that 1986 season and the following year, when he coached for the Twins' Class AA Orlando team, that coaching wasn't for him and his wife. Meanwhile, a business that Comer had invested in while playing for the Rangers in 1981 was calling him back to the area where he grew up as a baseball player and a young man.
Comer, who now lives in Excelsior, Minnesota, with Kathy and their three daughters, had his last playing days in an over-35 league with the Shakopee Chiefs in the western suburbs of Minneapolis. But he has passed on the lessons of the game to his daughters, who he says have heard three words more than any others through their childhoods: preparation, anticipation, execution. Just as his father instilled in him an instinctive drive to seize opportunities, Steve Comer encourages a life lesson that rewarded him throughout his career.
Note
A version of this biography appeared in the book Minnesotans in Baseball, edited by Stew Thornley (Nodin, 2009).
Sources
Interview with Steve Comer, August 6, 2007.
Steve Comer file from the Baseball of Hall of Fame archives.
Zim: A Baseball Life by Don Zimmer with Bill Madden, Kingston, New York: Total Sports Publishing, 2001.
"Unheralded Players Deserving Discovery" by Peter Gammons, The Sporting News, March 29, 1980, p. 40
Baseball Reference (http://www.baseball-reference.org).
Retrosheet (http://www.retrosheet.org).
Born
January 13, 1954 at Minneapolis, MN (USA)
If you can help us improve this player's biography, contact us.
http://bioproj.sabr.org/bp_ftp/images4/ComerSteve.jpg
600
800
admin
/wp-content/uploads/2020/02/sabr_logo.png
admin
2012-01-04 20:39:51
2012-01-04 20:39:51
Steve Comer