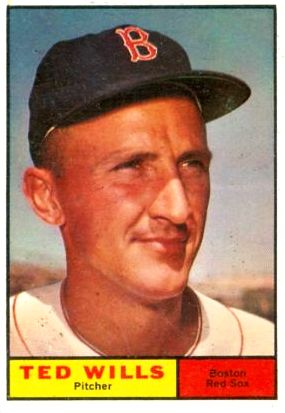 ---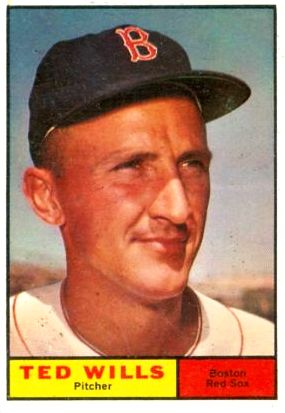 Ted Wills lived in 2009 at the end of a quiet cul-de-sac in a planned community on the outskirts of Clovis, California, near Fresno in the central park of the state. His house overlooks seasonal wetlands protected by the Department of Reclamation, a setting that suggests a lifelong love of hunting and fishing. Wills's cheerful greeting at once put a visitor at ease, a quality that surely served him well in a successful 40-year career as an insurance agent. At 74, his stature still suggested the physique of a former major-league ballplayer whose playing height was listed as 6-feet-2.
Wills left the visitor with the impression that baseball was part of, rather than the highlight of, his life. Having spent portions of five seasons in the majors, Wills was quick to point out that he was not a star, yet he noted with pride that the outfielders who played behind him included the likes of Ted Williams, Carl Yastrzemski, and Frank Robinson. He expressed surprise that despite a relatively brief and undistinguished career that ended in 1965, he still received several requests a month for his autograph on baseballs, cards, programs, and other paraphernalia.
Theodore Carl Wills Jr. was born in Fresno, California, on February 9, 1934, to Theodore Carl and Bertha (Metzler) Wills. His father worked as a mechanic for a local creamery, became active in union affairs, and eventually was elected a member of the Fresno City Council, where he served over 30 years, including eight years as mayor during the 1970s. His long service to the city is reflected in the community center being named after him.
Young Ted's childhood was typical of that of many children growing up in the 1940s. Swim lessons, school plays, the Scouts; each recalls the Andy Hardy movie series from the 1940s reflecting life in small-town America.1 His involvement in Scouting was intense; he received awards for various accomplishments, ranging from knot tying to metal work. Ted's interests were not limited to Scouting. A clipping from his scrapbook noted that young Wills landing three lingcod while angling at Santa Cruz. Fishing and hunting were to become passions in his life.
Wills began playing baseball in a Scout-organized league. He progressed to pitching for Fresno High School, where he became the team's premier starter. Characteristic of young left-handers, Wills was streaky. He could walk as many as 12 batters in a game – and throw a no-hitter. Baseball was not his only sport; as a senior, he was selected to the all-state team for baseball and basketball as well.
After graduating from high school, Wills went to Fresno State University, where he pitched for the Bulldogs. During the summer he pitched in an amateur league in Canada, an experience he repeated the next several summers. More than 50 years later, Wills recalled that one of his proudest achievements occurred while he was playing for Saskatoon of the Western Canadian League. Not only did he post a record of 5-2, he managed to lead the league in hitting with a .336 mark.
His ability to hit stayed with him throughout his major-league career. While most major- league pitchers hit below .200, Wills' career batting average was .250 (11-for-44), all the more impressive because of infrequent playing time. His play in Canada produced another pleasant memory, not fully appreciated at the time. Wills made $1,500 a month, a sharp contrast with the $200-a-month salary he would earn in the minors for the Red Sox.
Wills continued his education, eventually graduating from Fresno State with a degree in merchandising. In 1955, while still in college, he was signed to a contract by Tom Downey, a Red Sox scout, and sent to the Red Sox' farm team at San Jose in the Class C California League. Wills chuckled when recalling the signing "bonus" he received, which consisted of "a pair of spikes and a glove." That same year he married the former Carol L. Smith. They were divorced in 1967.
Managed by future major-league coach Warren "Sheriff" Robinson, the San Jose team in 1955 included future major leaguers Ted Bowsfield, Marlan Coughtry, Don Gile, Eli Grba, and Jim Mahoney. Wills made his professional debut with a two-hit shutout of the Modesto Reds, and finished the season with a 15-8 record. Wills recalled Robinson being a stickler for rules, including one that called for players to wear sports coats regardless of the weather. This seemed ridiculous to Wills as temperatures in San Jose frequently reached into the 90s and higher. His was not a positive relationship with Robinson, who he said often attempted to intimidate minor leaguers. Perhaps because of his college years, Wills was not easily intimidated.
Wills' performance earned him promotion to Albany, New York, in the Class A Eastern League for 1956. Wills' pitching statistics at Albany are odd: a 4-0 record with an astronomical ERA of 8.04. Asked about this, Wills smiled and explained that he was not the only one who had been promoted, that Robinson had been promoted as well – to Albany.
Their shaky relationship culminated one hot day when Wills, with a commanding lead, suggested that someone else ought to have the chance to throw a few innings. This incensed Robinson. Wills, determined to have his way, proceeded to treat the rest of the game like batting practice. He won the game and destroyed his ERA. Robinson had the last word, however. Wills was demoted to Greensboro in the Class B Carolina League. He went on to have a solid season (11-4, 3.20 ERA), putting himself back in the Red Sox' good graces.
Over the next few seasons, Wills pitched well, moving up the ladder. In 1958 he was among the league leaders in ERA, strikeouts, and wins with Chattanooga in the Double-A Southern Association. His teammates on the Lookouts included future Washington Senators Bob Allison and Harmon Killebrew. Normally, Wills would have played with the Memphis Chicks, part of the Red Sox organization. However, they were managed by Robinson and it was felt best that they not be on the same team. Fifty years later, Wills recalled with glee, "I beat him every time I pitched against Memphis." 2 Wills' performance earned him a trip to spring training with the Red Sox in 1959.
Optioned to the Minneapolis Millers before the season started, Wills joined a team managed by Gene Mauch. Wills considered Mauch the best manager he ever played for, a man who could "bring out the best in a player." 3 By the middle of May, Wills was 4-2 with a 1.67 earned-run average, earning the attention of the Red Sox.
The Red Sox were stumbling badly. Ted Williams was off to a horrible start, hitting under .200; Jackie Jensen, 1958's American League Most Valuable Player, was under .250. The pitching staff was hurting and the Sox were headed into last place. On May 18, the Sox recalled Wills. 4
Joining the Red Sox, Wills entered his first game on May 24, 1959, in the seventh inning against the Washington Senators at Fenway Park. 5 The first batter he faced, Julio Becquer, grounded out. Becquer's out was followed by a single, a walk, a double, a sacrifice, and another double before Wills retired Bob Allison on a fly ball, ending a three-run inning for the Senators. Wills pitched the rest of the game without further damage, his sole claim to distinction being a strikeout of future Hall of Famer Harmon Killebrew.
Six days later, Wills started against the Baltimore Orioles and pitched a complete-game, 8-3 win. Subsequently, he was asked by Boston sportswriter Hy Hurwitz if as a left-hander he feared pitching at Fenway Park with its short left-field wall. It was not a casual question. As Eddie Bressoud later recalled in Red Sox Nation, the nature of pitches from left-handers often worked to the advantage of batters who proceeded to hit the ball off the wall. 6 Wills responded to Hurwitz, "The fence didn't hurt Mel Parnell up here," citing Parnell's successful career as a Red Sox left-handed pitcher. 7 Wills pitched well in his next start, against the Chicago White Sox. He went into the eighth inning nursing a 4-2 lead and Mike Fornieles came in to save the game.
It was Wills' last win of the season. He lost his next four, including what turned out to be the finest game of his career, on June 28 against the first-place Cleveland Indians. Opposing Wills was Herb Score, remembered today for a career that was considered destroyed in 1957 by a line drive that hit him in the eye. Although Score's subsequent record seems to indicate he never regained his form, he was actually doing quite well at the time, among the league leaders in wins and strikeouts.
Pitching at Cleveland Stadium, Wills and Score hooked up in a duel that remained scoreless until Indians second baseman Jim Baxes hit a solo home run in the bottom of the seventh. The game ended 1-0. Wills had allowed seven hits; Score two, one of which was a double by Wills. Wills remembered Baxes' shot as "just dropping over the fence." 8
This loss was Wills' fourth straight and it came in the middle of a Red Sox losing streak that cost manager Mike Higgins his job. Billy Jurges took over a team in turmoil. Wills was hammered in his next two starts as the team struggled. After giving up four runs in three innings to the White Sox on July 14, putting his record at two victories and six losses, Wills was sent back to the Millers. Wills recalled that when you were called up, well-wishers surrounded you. When sent down, notification came in the way of a note stuck in your spikes. It was a cold business. With the Red Sox in 1959, Wills finished with that 2-6 and an ERA of 5.27, marks that proved he needed more seasoning.
Wills' stay in the majors in 1959 lasted two months. He recalled a team made up of players past their prime, especially on defense. Wills said the team lacked a desire to win, an observation made at the time by several of his teammates. While critical about the play of others, Wills also recognized his limitations. He said that while his pitches were almost as good as those of the best in the game; he lacked the consistency of players such as Whitey Ford or Sandy Koufax in locating them where he wanted.
No story about the Red Sox in the late 1950s would be complete without mention of Ted Williams; Wills certainly had his memories of Ted. He marveled that Williams could still play at the age of 41. One of Wills' most vivid recollections was of Williams completely taping his legs before each game and playing in pain. By this time, Williams had reduced range in the field; several times, Wills said, he saw balls fall for hits that an average fielder might have caught. In 1959, Williams suffered through the worst year of his career, the only season he hit below .300. Not only were his legs bothering him, he suffered from a neck injury. Despite these disabilities, Wills could readily see why Williams was the greatest hitter of his generation. He gave a vivid illustration of this observation while being interviewed.
Standing in his living room, Wills pointed to a spot approximately 10 feet away. "Most hitters need to decide whether to swing when a pitch reaches that point. The better the hitter, the closer in the pitch can come before that decision has to be made. Williams could decide (and here Wills pointed to a spot a little further out than the length of his arm) at the last second whether to swing. His reflexes were amazing." Despite Williams's poor season he still showed flashes of his tremendous ability. Wills would never see anyone perform like that during his career.
Wills finished the season with the Millers. They won the American Association playoffs and faced the International League champion Havana Cubans in the Junior World Series. Playing in Havana, where Fidel Castro attended five games, and with the stands patrolled by troops with submachine guns, the Millers lost in seven games. Wills threw a crucial seven-hit, 12-strikeout performance in the fifth game when the Millers were down three games to one. Of that series Wills recalled that the combination of hot weather and armed soldiers was not conducive to one's concentration on the game.
Wills opened the 1960 season with the Millers. He fashioned a solid record and by the end of June was 7-2 when he was called up, joining a team that was in last place. The Sox had started the 1960 season seriously handicapped. Jensen had temporarily retired, which severely hampered the offense. His retirement was prompted by a fear of flying. Jensen tried everything to lessen this fear, including hiring a hypnotist, but to no avail. While the hypnotist was unable to cure Jensen, he did entertain the team. In one instance, the hypnotist succeeded in mesmerizing catcher Jim Pagliaroni into thinking he was a chicken. The players went into hysterics as Pagliaroni ran up and down the aisle cackling.
Perhaps just as important as the loss of Jensen was the sudden retirement of catcher Sammy White after he was traded to the Cleveland Indians for Russ Nixon. White's retirement canceled the trade. Acknowledged as one of the premier catchers in the game and a leader on the team, White had been a superb handler of pitchers. His sudden retirement temporarily left the young pitching staff in the hands of rookie catchers who had little major-league experience. 9 With little guidance, many of the pitchers, rookies and veterans alike, faltered. Although the Red Sox eventually obtained Nixon near midseason, he was unable to guide the pitching staff at the same level as White had.
Wills pitched exclusively out of the bullpen. He backed up Mike Fornieles, who pitched in 70 games, all in relief, setting a new American League record for appearances. Fornieles' performance combined with Wills ineffectiveness prevented Wills from pitching more often.
Wills appeared in 15 games, with a 1-1 record and a 7.42 ERA. Most of games he was called in to pitch were games already lost. His best outing of the season came in an extra-inning game against the Detroit Tigers in Boston on August 30. Called in with two outs and the go-ahead run at second in the 11th inning, Wills induced Norm Cash to ground out and end the threat. Wills proceeded to pitch four scoreless innings before the Red Sox scored in the bottom of the 15th to win.
Wills' last game of the season came against the Yankees, a team in the midst of what would be a 15-game winning streak to close out the year. Wills entered a tie game in the top of the ninth and retired Gil McDougald and Tony Kubek before striking out Roger Maris, that season's Most Valuable Player. It was not to be a repeat of the Detroit game, however. In the top of the 10th, hoping to fool Mickey Mantle with a low inside change-up, Wills watched in amazement as Mantle provided all the power in sending the ball over the Green Monster for the eventual game winner.
Wills was in awe of the Yankees. He vividly recollected pitching his first game against them as a rookie at Yankee Stadium. Wills said he lost his composure, called time, walked off the mound and into the restroom, the filled stadium awaiting his return. Composed, he came back on the field and, as he described it, was promptly hammered. 10 While this experience is etched in his mind, the record indicates that Wills' first pitching appearance at Yankee Stadium did not occur as a rookie but in the final weeks of his major-league career, in 1965.
While Wills had little success against players like Mantle, he was particularly effective against Lee Maye of the Milwaukee Braves. Wills said he did not often face batters he owned, but that Maye was at the top of his list. "I must have struck him out most every time I faced him." Wills recalled. Maye personally reminded him of this in a spring training game. A pitch got away from Wills struck Maye in the head. Maye dropped to the ground in agony. Wills instinctively ran toward the plate to let him know it was an accident. While still holding his head, Maye looked up at Wills and said, "@$%$%, Ted, strike me out, but don't hit me in the head!" 11
Several days after Mantle homered; Wills watched another ball sail out of Fenway. Ted Williams had rebounded from his poor 1959 performance, hitting .316 with 29 home runs, remarkable because he was limited to 113 games. Williams made it clear that his last appearance would take place at Boston's final home game. Despite the weather not being conducive to good hitting, Williams indicated to his teammates he was going to hit one out and in the eighth inning he did. Witnessing Williams's last homer was one of Wills' greatest thrills in the majors.
After the season ended, the American League announced that it would expand to 10 teams in 1961. The nucleus of the newly created Los Angeles Angels and Washington Senators was formed by a special draft of players from other American League teams. Fifteen players off each team would be made available to the Angels and Senators. Wills, one of the 15 from the Sox, was passed over in the draft.
The Red Sox' seeming lack of confidence in Wills did not bode well for him as the 1961 season approached. However, during spring training, The Sporting News noted, "Young southpaw Ted Wills was very promising in his preseason work," which proved a positive omen. Wills made the opening day roster.
After their poor finish the previous season, the Red Sox hoped to improve. Jensen rejoined the team, boasting that he had overcome his fear of flying. A trio of promising rookies joined the team: right-hander Don Schwall, second baseman Chuck Schilling, and left-fielder Carl Yastrzemski.
Through June the Sox were better, playing over .500. Wills started out well, not allowing an earned run in seven straight games. During that stretch, his most impressive outing came against the White Sox on April 22. Called on in the bottom of the ninth, Wills retired the side. He pitched a scoreless 10th inning, then Pumpsie Green homered in the 11th. Wills held Chicago in the bottom of the inning, gaining his first win of the season.
By mid-May, Wills' His fortunes changed. He was called on to replace Tom Brewer, who injured his arm while warming up to face Cleveland. After a scoreless first inning, the Indians plated six runs in the second. Thereafter, Wills' his appearances were infrequent and ineffective, including an exhibition game against the Red Sox' Seattle Rainers farm team in which he gave up four runs in four innings.[12]
By the end of June, Wills was optioned to Seattle, where he went 4-4 in 24 games. For the Red Sox, he was 3-2. Although Wills was subsequently called up in September, he did not appear in a game, but did witness Roger Maris's historic 61st home run. The last day of the season saw the Sox playing the Yankees. Wills' roommate, rookie Tracy Stallard, started. Stallard told Wills that if Maris hit No. 61 off him, he would not mind, as it would "get his name in the record book." 13 In the fourth inning Maris did hit his 61st. Stallard was right; he is remembered for throwing the pitch that allowed Maris to break Babe Ruth's single-season home run record.
Before the 1962 season, Red Sox beat writer Hy Hurwitz, writing in The Sporting News, outlined a candid assessment of the challenge Wills faced during spring training. Hurwitz said that Wills — "a very mild-mannered person" — had been in the organization for nine years and that success eluded him because he was "lacking a pitch." Hurwitz wrote that Wills had been working on a new pitch with coach Sal Maglie since the previous spring and that Wills had sent back a copy of his signed contract with a note expressing his determination to make the club. 14 He did make the club and spent the entire year in the majors. He pitched one game for the Red Sox and was sold to the Cincinnati Reds on May 8.
The Red Sox had not finished in the first division while Wills was with the club. The Reds, on the other hand, were the defending National League champions. Wills joined a team with superstars like Frank Robinson and Vada Pinson. He became part of a bullpen staff anchored by veterans Jim Brosnan, Bill Henry, and Johnny Klippstein. Competition for innings was keen and the pressure was greater. Instead of playing for managers like Mike Higgins and Billy Jurges, who were viewed as easygoing, the Reds were driven by Fred Hutchinson.
The difference in attitude between the clubhouses was like night and day. That difference could be traced to Hutchinson, whose will to win was second to none. Stories of Hutchinson's competitiveness and behavior after a loss are legend. Jim O'Toole told of how after a particularly grievous loss, Hutchinson came into the clubhouse and ordered all the players out in 15 minutes or there would be hell to pay. Klippstein remembered giving up a game-ending homer and watching Hutchinson throw a ball through the window of his office.15 Wills described Hutchinson as "a tough old bird," recalling when disgusted with a loss, Hutchinson walked from the ballpark back to the team hotel – in uniform.
Wills relieved and was occasionally pressed into emergency service as a spot starter. He made his first National League start and only his second major-league start in three years on June 16 against the Phillies, pitching into the seventh with a 3-0 lead. Although the Reds ultimately lost, Wills gained praise from Hutchinson, who said, "I couldn't have asked for more from Wills. The most he pitched in one game this season was three innings."16 But Wills was roughed up in his next four starts, and returned to the bullpen.
The Reds had entered the season at a disadvantage. Their regular third baseman, Gene Freese, broke his ankle during spring training. While the Reds actually scored more runs than in their pennant-winning season, the loss of Freese hurt in a tight race, in which the Reds finished 3½ games behind the Giants and Dodgers. For Wills, this was the first major-league season in which he pitched on a pennant contender. For his efforts, Wills received a full share — $1,251.14 – of the bonus the team earned for its third-place finish. He finished 0-2 with three saves and a 5.31 ERA in 61 innings.
After the season, the Reds sent Wills to their San Diego Triple-A team, where he pitched the next two seasons, posting records of 15-10 and 12-7. As spring training began in 1965, Wills was 31 years old and contemplating his future in the game when the Chicago White Sox purchased his contract.
Wills joined another solid bullpen, which included knuckleball-throwing future Hall of Famer Hoyt Wilhelm as well as Eddie Fisher and Bob Locker. Used sparingly, Wills pitched well. The Sporting News described one of his experiences. Called in to pitch against the Yankees, Wills faced Tom Tresh with the Yankees ahead, 12-0. Tresh had hit three home runs and was going for a fourth when he batted against Wills. Tresh described his at-bat:
"Ordinarily I'm not swinging for the fences. But we were 12 runs in front and I already had three in the till. I probably would never be in such a spot again. In other times I faced (Wills) he used a pattern of tossing in an occasional knuckler. I figured he would start out with that pitch this time. Sure enough, there it was. … But ready as I was, all I could do was pop it up foul to the catcher." 17
By the time that quote appeared in The Sporting News, Wills had pitched in his last major-league game. It was a two-inning effort against the Senators on June 12. Wills went 2-0 with a 2.84 ERA for the White Sox in 1965. The White Sox sent him to Jacksonville in the Triple-A International League. Speaking about this years later, Wills said he had the impression that it was to be a temporary demotion and that he would soon be called back up to the majors. While at Jacksonville, however, he fell into a disagreement with manager Grover Resinger about his pitching technique. Despite Wills having done well at Chicago, Resinger wanted to alter his motion.
Their disagreement caused Wills to be transferred to Portland in the Pacific Coast League. While the Dodgers expressed interest in him, being away from his family had become too much of a burden on his home life and would eventually lead to a divorce in 1967. He was also disenchanted with the game, telling The Sporting News that he was "fed up with being pushed around in a business where you are just the pawn of some owner, business or field manager," referring to his experiences with Resinger.18 Wills chose to retire. For his major-league career Wills finished with an 8-11 record, five saves and a 5.46 ERA.
While Wills' family life suffered, he was able to make the switch from ballplayer to businessman with relative ease. He went into the insurance business, serving as an agent for Fidelity Union Life for 20 years before going independent in 1986. He had his own airplane, which he used to great effect in meeting with clients at local airports as "he got them off their home turf which made for an easier sell." Wills credited his education at Fresno State as having more effect on his success than his big-league experiences.
While many players bask in the limelight of their career, Wills talked animatedly not of baseball, but of fishing and hunting. Holding a private pilot's license, he continued to fly regularly to Alaska and Baja California in his own six-passenger plane to pursue these pastimes. Age was no enemy. In 2008 after a hip operation, Wills took off to Alaska, where he caught a 345-pound halibut. Soon after he was off to Baja California, where he fished local waters. 19
Wills has five grown children, each out on their own. In 1969 he married Michelle Pishione, whom he had met on a blind date. He said they enjoyed retirement in Clovis. Wills rejoiced when Fresno State won the College World Series. He kept contact with several friends from the major leagues, including Gus Zernial, a Clovis resident. He scorned today's salaries; his top salary was $7,500 in 1965. He recalled reminiscing with Dick Ellsworth, who told Wills he had to fight to get $12,000 after winning 22 games for the Cubs in 1963.
While he spoke freely about his baseball career and relished playing in the major leagues — "you know, my left fielder was Ted Williams" — he said he keeps those experiences in perspective with the rest of his life.
Sources
Wills, Ted. Interviews by Greg Erion on March 19, July 23, and August 29, 2008.
The Sporting News: May 27 and June 10, 1959; February 28 and June 30, 1962; June 19, 1965; January 29, 1966.
Golenbock, Peter. Red Sox Nation. Chicago: Triumph Books, 2005.
Peary, Danny, ed. We Played the Game: 65 Players Remember Baseball's Greatest Era. New York: Hyperion, 1994.
Photo Credit
The Topps Company
---
Born
February 9, 1934 at Fresno, CA (USA)
If you can help us improve this player's biography, contact us.
http://bioproj.sabr.org/bp_ftp/images4/WillsTed.jpg
600
800
admin
/wp-content/uploads/2020/02/sabr_logo.png
admin
2012-01-04 20:49:32
2012-01-04 20:49:32
Ted Wills