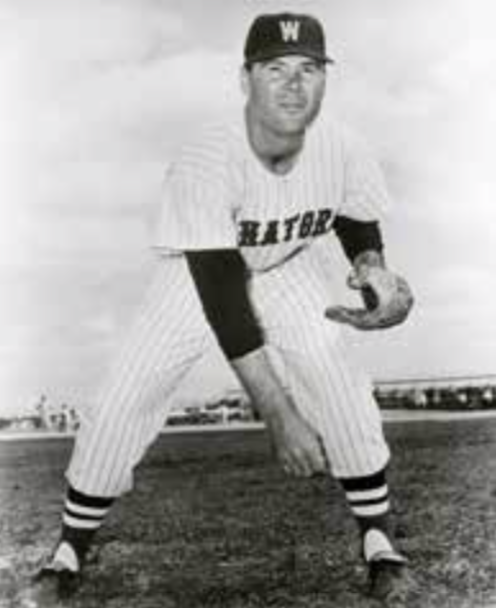 ---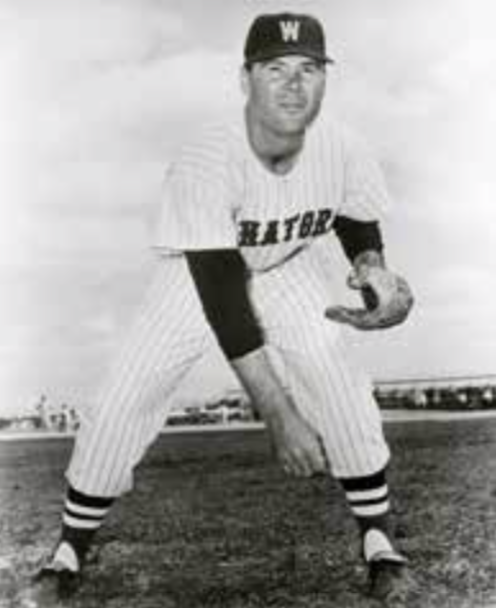 Right-hander Tom Sturdivant pitched 10 years in the major leagues, for seven different teams over both leagues (wearing seven different uniform numbers).
His first team was the New York Yankees, the team that first signed him, and he won Game Four of the 1956 World Series for them, evening the series against the Dodgers at two games apiece. It was his only world championship, though he helped lead the Yankees to another pennant in 1957. Sturdivant finished his career with a 59-51 record, with an earned-run average of 3.74.
Thomas Virgil Sturdivant was born in Gordon, Kansas, on April 28, 1930. Gordon is in Butler County, about 20 miles east-southeast of Wichita. It served as a station on the Atchison, Topeka and Santa Fe Railway.
At the time of the 1940 US census, Tom's family had moved to Oklahoma City. Elbert E. "Pete" Sturdivant (1907-91) worked as a telegraph operator for an oil pipeline company. His wife, Ethel (Moudy) Sturdivant (1905-95), worked as an assistant in a fur repair shop. Tom had an older brother, Bobby Joe (1926-96). The family's ancestry was, Tom reported, "Dutch-English-French-Indian."1
Sturdivant was signed out of Oklahoma City's Capitol Hill High School by legendary New York Yankees scout Tom Greenwade on May 24, 1948.2 Greenwade wasn't as legendary as he would become; later that year he first approached another Oklahoman, Mickey Mantle, and signed him early in 1949. Sturdivant, like Mantle, was seen as an infielder at the time, though he had pitched in American Legion ball; an article in Little Rock's Arkansas Gazette shows him pitching for Bill Mosier's Tires of Oklahoma City against the visiting Little Rock Doughboys, losing 4-2.3 He's seen the following year throwing a 6-0 shutout against the Legion team in Hastings, Nebraska, and hitting an inside-the-park home run with a man on board.4
He was placed with the Quincy (Illinois) Gems in the Class-B Three-I League, where he played third base.5 In 21 games, Sturdivant hit .338. The Yankees moved him to Norfolk, where they had a need. The Norfolk Tars were also a Class-B team (in the Piedmont League); there he hit .241 in 36 games. Early in 1949, Greenwade enthused about his potential to a writer for the Kansas City Star: "What a boy if we can find a position for him. … Great speed and a rifle arm. Used to be a high-school pitcher in Oklahoma City, you know. And one of the greatest. He set some kind of record. More than 100 innings without being scored on. When he wasn't pitching he was playing short. He likes to play the infield. He might, with that arm and speed, make a real outfielder."6
Though he threw right-handed, Sturdivant batted from the left side. He stood an even 6-feet tall and played at 170 pounds. In 1949, he returned to Quincy and played in 109 games, batting .255. He played again at Quincy in 1950, hitting .246 in 68 games. There he also pitched in at least a couple of games.7
In 1951, Sturdivant was one of a couple of dozen Yankees prospects brought — as an infielder — to Arizona for early schooling under Casey Stengel, prior to spring training. As it happens, Sturdivant was called to military service and saw no professional baseball in 1951.
He spent 1951 and much of 1952 in the US Army. While there, he decided that "if he was going to fashion a baseball career, for himself, he would have to turn to pitching."8 He pitched a fair amount in the Army. A "leg injury that slowed him down on the bases" which he had suffered at Quincy was said to have contributed to his decision.9
Tom married Paula Reba Whitten on May 9, 1952; she went by the name Reba. Tom and Reba had two sons, Tommy and Paul.
He was discharged from the Army in time to get into 17 games for the Texas League's Beaumont Roughnecks in 1952; he was 3-3 with a 3.56 ERA. Beaumont was Double-A baseball, and so were the Birmingham Barons (Southern Association), where he pitched a full season in 1953, working in 47 games — all but three as a reliever — and finishing with an earned-run average of 2.98 and a record of 10-7. He struck out 104 batters in 139 innings.
Sturdivant was advanced to Triple A in 1954, pitching for the Kansas City Blues. He started 20 games and relieved in a dozen others, and went 8-9 (3.57). He struck out 133 and walked 59 in 169 innings of work.
Over the winter, Sturdivant "received quite a few tips from his fellow townsman, Allie Reynolds, … and … the Chief said he thought Tom had a chance of making the Yankees as a reliefer."10 Sturdivant said he had first met Reynolds in the fall of 1950, and that Reynolds had given him a few tips.11 Yankees manager Casey Stengel came to appreciate his talent during spring training: "I'm very impressed with his work. He has improved considerably since training started. … We learned that he can be a fighter … and that's what we want with this club."12
In 1955, Sturdivant did indeed make the Yankees out of spring training. He made his major-league debut against the Boston Red Sox, in Boston's home opener, on April 14. It didn't go well. The Red Sox were ahead, 5-2, when Stengel called him in to pitch the bottom of the seventh. The first batter he faced was Boston's starting pitcher, Willard Nixon. Nixon tripled to center field. Sturdivant walked the next batter but then struck out Eddie Joost. Faye Throneberry doubled in Nixon. In the bottom of the eighth, a walk, hit batsman, sacrifice, and a two-run single by Red Sox relief pitcher Ellis Kinder boosted the score to Boston 8, New York 4. Sturdivant had got his feet wet, but most of the damage was done by the opposing pitchers.
Six more relief appearances followed and Sturdivant brought his ERA down to 2.87. Then he got his first decision, a win, in the second game of the May 22 doubleheader against the visiting Baltimore Orioles. It was 3-2 Orioles when Sturdivant took over for Whitey Ford in the top of the seventh. Yogi Berra's two-run homer gave the Yankees the lead. Sturdivant singled (in his second big-league at-bat), and scored. Though he gave up a two-run homer in the top of the ninth, and was replaced, he still earned the win.
They weren't all wins, though. In fact, Sturdivant lost the next time out — and had to wait until 1956 before he booked his second win. He appeared in 33 games in 1955 and finished 1-3 (3.16). His one start resulted in the third loss, giving up just two runs in a 3-1 loss in Kansas City on July 22.
The Yankees lost to the Brooklyn Dodgers in the seven-game 1955 World Series. Sturdivant pitched the final two innings in Game Three and the final inning in Game Four, but both games had seen the Dodgers sufficiently ahead by the time he came in.
Sturdivant joined the Yankees on a post-Series tour of Japan; he and Johnny Kucks combined on a three-hit shutout of the Chunichi Dragons during the seventh game of the visit.
After arriving for spring training in 1956, Sturdivant expressed extra appreciation for the help he had been given by Yankees pitching coach Jim Turner.13
In 1956, Sturdivant both started and relieved, with considerable success. But he didn't appear in a game until May 13. In fact, the Yankees had determined to send him to Denver on waivers when it was time to cut rosters in May, but Detroit's Bucky Harris declined to waive — prompting the Yankees to give their pitcher a closer look.14 Stengel assigned Sturdivant a start against Baltimore on May 13 and he threw seven innings of one-run, two-hit ball before tiring in the eighth and giving up two more runs, losing a game in which his teammates scored only one run. Eleven days later, he had won three games in relief. He got a second start on June 16 in Cleveland and won a complete game, giving up just two hits and one run while striking out 11. When the Indians visited Yankee Stadium on July 13, he shut them out on two hits.
Seventeen of the 32 games in which Sturdivant appeared were starts. He finished the season 16-8 with a 3.30 ERA. Only Whitey Ford (19-6) and Johnny Kucks (18-9) had more wins.
The team earned a return to the 1956 World Series, again facing the Dodgers. In Game Two, a high-scoring 13-8 Brooklyn win, Sturdivant was one of seven Yankees pitchers. He worked two-thirds of an inning in the third, and was charged with one run. He started and won Game Four, evening the Series up at 2-2. Though he walked the first batter in each of the first three innings, gave up a leadoff double in the fourth, saw the first batter reach due to an error in the fifth, and faced a bases-loaded situation with one out in the bottom of the ninth, Sturdivant held steady. He allowed two runs on six hits, a complete-game effort. "Yogi called 'em and I threw 'em," he said after the game, crediting Berra for his pitch-calling and Casey Stengel for his confidence.15
Some had said that Sturdivant didn't have one overpowering pitch, but Ed Rumill quoted Ted Williams: "Maybe he hasn't got a thing. But I notice one thing. He keeps winning." Rumill added his own thoughts: "He has everything. … Tom lacks overpowering pitches, particularly the fast ball that he could throw right by the good hitter in the clutch. But he spots his fast one smartly. He throws a good curve. He has a pitch that breaks like a screwball, in on a right-hander and away from a lefty. The young Yankee throws all the conventional pitches, then he throws them as change-ups. Then when he gets ahead on a hitter, a tricky knuckler comes out of the bag."16
After the game, Sturdivant said, "Five months ago I thought I was gone. Today I'm a winning World Series pitcher. How can you figure it? I'm just numb — absolutely numb."17
His signing scout, Tom Greenwade, who'd signed him as an infielder, was pleased: "Look at him now. If any pitcher ever was a self-made man, he is that."18
As Jack Hand of the Associated Press wrote, "Tom Sturdivant, almost released by the club in May, squared the World Series for the New York Yankees at two games each. … He blew his fast ball and low-breaking curve past the Dodgers in the best pitching job in the series."19
That status was short-lived, overshadowed when Don Larsen threw a perfect game the very next day. When the Yankees also won Game Seven, Tom Sturdivant was a world champion.
One remarkable note regarding that World Series: Whitey Ford, Sturdivant, Larsen, Bob Turley, and Johnny Kucks threw five consecutive complete games, Games Three through Seven.
Casey Stengel had had a little fun with the writers after Game Four, as recounted by Arthur Daley of the New York Times: " 'Try to get rid of him on waivers,' said Ol' Case with a sly leer, 'but Bucky Harris keeps claimin' him. Since I'm stuck with the feller I put him to work pitchin' and he wins — big. That makes me a genius.' Ol' Case stuck out his chest, put a hand to brow in the manner of Rodin's Thinker and hammed it up dreadfully."20
Sturdivant had batted .313 (20-for-64) in 1956, leading all major-league pitchers in hitting. He had five RBIs. After his 10-year career was done, his lifetime batting average was .183, with a total of 10 RBIs.
In 1957, he had an even better regular season, leading the league in winning percentage (16-6, .727 — tied with Dick Donovan of the White Sox), with three more wins than anyone else on the Yankees' pitching staff. He was second in the league in ERA; his 2.54 was just behind that of teammate Bob Shantz (2.45). It was a well-balanced staff that led the Yankees into the World Series yet again. Sturdivant had seven complete games, two of them shutouts. At one point, into the May 24 game, he rode a string of 31 consecutive innings without giving up an earned run.
Sturdivant wasn't a pitcher who hesitated to work inside. There were some harsh words thrown his way in 1956, and on June 9, 1957, in Detroit, after the first two batters in the third inning homered back-to-back, and his next pitch sailed over Ray Boone's head. Boone charged the mound, and Sturdivant gave no quarter, heading toward Boone. Benches cleared, and both were ejected. The pitcher claimed, "It was a high fast one that got away from me."21 Both were assessed $100 fines.
The Milwaukee Braves won the National League pennant in 1957 and faced the Yankees in the World Series. The Yankees started Ford, Shantz, and Larsen, holding back Sturdivant until Game Four. They won Games One and Three. Sturdivant, however, pitching against Warren Spahn, got hammered for four runs in the bottom of the fourth, thanks to home runs by Hank Aaron (to left field on a knuckleball) and Frank Torre (to right). Stengel pinch-hit for him in the top of the fifth. Only Elston Howard's three-run homer in the top of the ninth prevented Sturdivant from bearing the loss. The Braves won it in 10.
The Series went to seven games. Don Larsen started Game Seven, and was knocked out of the box after giving up three runs in 2⅓ innings. Lew Burdette (3-0 in the Series) shut out New York. Sturdivant pitched an uneventful sixth and seventh. They were his last innings in postseason play.
Sturdivant was a holdout in spring training 1958, but seems to have finally signed on the last day of February, for a reported increase of $4,000 and a total salary of $18,000.22 The 1958 season was far from satisfying; he lost one and then won one (both to the Red Sox) in April, but the win was a 12-7 game, with all seven runs earned. He threw 158 pitches in the game, and walked seven. He didn't pitch from April 22 to May 28. After June 12, he was 1-4 with an ERA of 6.00 and banished to the bullpen. The problem was unspecified "arm trouble" and resulted in Stengel leaving Sturdivant (and Don Larsen, for that matter) off the list of Series ligible.23 Alternatively, the AP said Sturdivant was on the disabled list with an injured heel.24 In fact, both bothered him, and his record for the year was 3-6 (4.20) in just 15 appearances. (The Boston Globe later reported that he'd been fooling around in the outfield before a game, and one of his Yankees teammates had stepped on his heel and spiked him badly enough to cost him six weeks — and also cost him a $250 fine for horseplay.)25
At the last minute, both Larsen and Sturdivant were certified as eligible for the 1958 World Series, and they both earned wins in the season-ending doubleheader on September 28. Larsen won Game Three in the Series; Sturdivant did not appear.
He was included in many trade rumors after the season. During the offseason, Sturdivant worked for an oil company in Oklahoma City. He was a holdout again in the spring of 1959, but came around at the last minute. There was talk of him being packaged in a deal with the Washington Senators, but then he threw five innings of two-hit ball in a late-spring game. He started three games and relieved in four others, going 0-2 with a 4.97 ERA. Then on May 26, he was traded to the Kansas City Athletics, with Johnny Kucks and Jerry Lumpe, for Héctor López and Ralph Terry. Just a year and a half earlier, Kucks and Sturdivant had been seen as two of the better prospects in baseball, both just coming into their own.
Stengel was on the mark when he said, "The two pitchers, Kucks and Sturdivant, just couldn't get going for me, and I felt we had to do something. Maybe a change of scenery will do them good."26 It did not. Sturdivant never truly got back what he had had. He was 2-6 (4.65) for Kansas City in the remainder of 1959.
On December 3, the Boston Red Sox traded catcher Pete Daley to the Athletics for Sturdivant. Red Sox skipper Billy Jurges saw Sturdivant as a likely starter: "His trouble is that his arm is weak. He has to start all over again and strengthen it. I've talked to a lot of the men in the league who liked what they saw of him late last season."27
When the Red Sox gathered at Scottsdale for spring training, it was said that Sturdivant looked to be the best-conditioned player in camp.28 He pitched very well during the exhibition season, so well that he was named the starting pitcher for Opening Day in Washington. President Dwight Eisenhower threw out the first pitch; Camilo Pascual pitched a three-hitter for the Senators, and Sturdivant was hit for six runs (five earned) before parting in the fourth inning. By season's end, he had started two more games, and relieved in 37, eating up innings. His record was 3-3 (4.97).
After the season, the Senators franchise moved to Minneapolis/St. Paul and became the Minnesota Twins. A new Senators franchise was founded and in the December 14, 1960, expansion draft, Sturdivant was taken by Washington, the 16th overall pick.
He had a difficult start with the new Senators, going 2-6 with a 4.61 ERA (the team finished 61-100) — but then on June 29 he was dealt to the Pittsburgh Pirates organization, his contract sold to their affiliate, the Columbus Jets. At the same time, the Senators purchased the contract of another right-handed pitcher, Tom Cheney.29
This time, the change of scenery really did seem to help. Arriving in the National League in midseason, Sturdivant was 5-2 for the Pirates with a 2.84 ERA. The two losses were in a 4-3 game and a 2-1 game that lasted 11 innings, the third in a stretch of six consecutive complete games. Sturdivant credited Columbus manager Larry Shepard with helping turn his season around. "One thing he noticed was that I seemed to be flinging or flipping the ball, instead of firing it. Maybe because I'd been hit so hard in the American League I was timid about throwing strikes. But Shepard put me right to work. He threw me in there every fourth game, my arm got stronger, and my confidence returned. I started throwing more knuckleballs for strikes and I started winning."30 In six starts for Columbus, he was 5-1 with a 1.80 earned-run average.  
In 1962, Sturdivant had a solid year with the Pirates, appearing in 49 games (12 starts, 37 as a reliever) and recorded a 3.73 ERA, with a 9-5 record. He holds a minor distinction as the first pitcher who ever lost to the New York Mets (9-1, on April 23).
The knuckleball did become Sturdivant's "money pitch."31 He was quoted as saying he often started slowly: "I don't know what it is. I've always had trouble starting the season. It's just one of those things. Maybe it's the weather — but my knuckleball just won't act right till late in the season."32
The Detroit Tigers had themselves gotten off to a very slow start as a team in 1963; hoping to improve their pitching staff, they acquired Sturdivant from the Pirates on May 4. He'd only pitched 8⅓ innings for the Pirates but had given up six earned runs. He was not at all displeased with the trade. "I asked the Pirates to trade me because I get nervous when I don't pitch."33
After reporting to the Tigers, Sturdivant pitched in 28 games, all in relief, and had a 3.76 ERA (he was 1-2) before having his contract sold (via waivers) to the Kansas City Athletics on July 23. In his second stint with Kansas City, he appeared in 17 games, with a very consistent ERA of 3.74. His record was 1-2.
Sturdivant began the 1964 season with the Athletics, but pitched only 3⅔ innings before he was released on May 2.34 One week later, on May 10, he signed as a free agent with the New York Mets.35 This reunited him with manager Casey Stengel. It was Sturdivant's last year in the major leagues. He wasn't used much; he relieved in 16 games, throwing 28⅔ innings, He had neither a win nor a loss and had an ERA of 5.97. His last game was on June 21. Two days later, the Mets put Sturdivant on waivers for the purpose of giving him his unconditional release.
Even before the season began, Sturdivant had decided he would like to try his hand at politics, to run as a Republican candidate for the Oklahoma State Senate. He had filed on February 28. Allie Reynolds had filed just the day before.36 Sturdivant said that, if elected, he would retire from baseball.37
On July 5, perhaps reflecting an attempt to build up local support, he signed on with the Oklahoma 89ers, the Triple-A affiliate of the Houston Colt .45s. With Oklahoma City, he started 5-0 but finished 6-3 with a 3.89 ERA.
There were three prominent sports figures all running for political office in Oklahoma — Sturdivant, Reynolds, and football coach Bud Wilkinson, but come election on November 3, not one of them was elected.
After retiring as a player, Sturdivant went into the freight and truck leasing business, but he kept up some associations with the game. In 1976, he organized an "Allie Reynolds Appreciation Day" in Oklahoma, hoping in part to boost Reynolds' chances for the Baseball Hall of Fame. In later years he also took part in some baseball fantasy camps.
Tom and his second wife, Elaine, married in 1980. As one might expect, Tom favored the Yankees, and the Sturdivants made sure to subscribe to the television package that enabled them to watch all the games.
Sturdivant worked for RR Trucking, and later became an executive with Rollins Trucking Company in Oklahoma City. "He worked for two or three companies and then we started our own company, King Truck Leasing," Elaine said. "It was really hard work. I worked there a while, but for someone as high-strung as Tom, it maybe wasn't best for husband and wife to work together."38
He was also active civically, on the boards of both Metro Technology Centers and the Integris Hospice of Oklahoma City.
Just before the year, while traveling in Texas, Sturdivant suffered serious misfortune. "Tom had a really bad car accident, and he just wasn't the same afterward. He rolled a pickup five times."39 After being hospitalized in Texas for a few weeks, he was brought back to Oklahoma and underwent a couple of surgeries. He lived another nine-plus years. "It wasn't much of a life for him," Elaine added, but that was the hand fate had dealt.  
As it happens, the Sturdivants' pastor in Oklahoma City was former ballplayer Don Demeter. He remained Elaine's pastor in the year 2017.
On Valentine's Day 2009, Elaine woke and found Tom on the floor. He had suffered some form of seizure. He was rushed to the hospital where, having never woken up, he died two weeks later at Oklahoma City's Integris Southwest Medical Center on February 28, 2009. He was survived by Elaine. His two sons had predeceased him, Paul in 2002 and Tommy in 2006.40
This biography appeared in "Time for Expansion Baseball" (SABR, 2018), edited by Maxwell Kates and Bill Nowlin.
Sources
In addition to the sources noted in this biography, the author also accessed Sturdivant's player questionnaire from the National Baseball Hall of Fame, the Encyclopedia of Minor League Baseball, Retrosheet.org, Baseball-Reference.com, Rod Nelson of SABR's Scouts Committee, and the SABR Minor Leagues Database, accessed online at Baseball-Reference.com.
Notes
1 Tom Sturdivant player questionnaire, National Baseball Hall of Fame.
2 "31 Scouts Sent Five or More to Big Time," The Sporting News, May 24, 1961: 13.
3 "Doughboys Win Two at Oklahoma City," Arkansas Gazette, July 8, 1946: 7.
4 "Oklahomans Win Again," Omaha World-Herald, July 24, 1947: 10.
5 Dan Daniel, "Casey Glad Bucky Blocked Sturdivant's Minor Ticket," The Sporting News, June 27, 1956: 5.
6 Ernest Mehl, "A Scout Keeps His Eye on 'His Boys' in Practice," Kansas City Star, March 28, 1949: 14.
7 SABR's Minor-League Database shows him in one game, 1-0 in nine innings, an apparent six-hit shutout, but the September 8 issue of the Daily Nonpareil of Council Bluffs, Iowa, shows him starting another game, one that Quincy lost.
8 Dan Daniel.
9 Dry, "The Dope Bucket," Daily Illinois State Journal (Springfield, Illinois), April 13, 1955: 14. The injury was a spiking that "ripped my leg," he told Joe Reichler of the Associated Press. See Joe Reichler, "Tom Sturdivant Awoke as Casey's 'Sleeper'; Now Stengel Rests Easy," Richmond (Virginia) Times Dispatch, June 26, 1955: 81.
10 George C. Burton, "Sturdivant Looms as Bullpen Sleeper," Jersey Journal (Jersey City), April 1, 1955: 13.
11 Red Smith, "Yankee Rookie Sees Stadium First Time; Ole' Case Tells a Story," Boston Globe, April 10, 1955: C46.
12 Ibid. Stengel raved more to Joe Reichler midway into the season. See the Joe Reichler article referenced above.
13 George C. Burton, "Sturdivant Likes Life in Big Time," Jersey Journal (Jersey City), March 5, 1956: 11.
14 Dan Daniel.
15 Will Grimsley, "Casey's Confidence, Berra's Calls Won It," Atlanta Constitution, October 8, 1956: 6.
16 Ed Rumill, "Young Tom Sturdivant Masters Brooklyn to Even Up World Series at 2 All," Christian Science Monitor, October 8, 1956: 11.
17 Joe Reichler, Associated Press, "Big Hurling Surprise of Yankees is 'Numb,'" Advocate (Baton Rouge), October 8, 1956: 10.
18 Daniel, "Dodgers Call Knuckler Vital," New York World Telegram Sun, October 8, 1956.
19 Jack Hand, "Sturdivant Evens Series by Foiling Dodgers, 6-2; Mantle, Bauer Homer," Atlanta Constitution, October 8, 1956: 1.
20 Arthur Daley, "How to Become a Full-Fledged Genius," New York Times, October 8, 1956: 32.
21 Louis Effrat, "Yankees Check Tigers on Run Set Up by Attempted Steal with Bases Filled," New York Times, June 10, 1957: 44.
22 John Drebinger, "Yanks Hope to Use McDougald and Kubek as Keystone Pair," New York Times, March 1, 1958: 20.
23 United Press International, "Stengel Leaves Larsen, 2 Others Off Series List," Boston Globe, September 10, 1958: 35.
24 Associated Press, "Larsen Off Series List," New York Times, September 10, 1958: 44.
25 Bob Holbrook, "Daley Becomes A's Regular," Boston Globe, December 4, 1959: 39.
26 John Drebinger, "Yanks Get Lopez, Terry from A's," New York Times, May 27, 1959: 40.
27 Bob Holbrook.
28 Ed Rumill, "Sox New Hurler Has Right Idea," Christian Science Monitor, February 29, 1960: 11.
29 Bob Addie, "Senators Buy Cheney, Sell Tom Sturdivant," Washington Post, June 30, 1961: B1.
30 Ed Rumill, "AL Discard Wins with NL Pirates," Christian Science Monitor, August 31, 1961: 6.
31 Publicity biography, issued prior to the 1963 season, preserved in Sturdivant's player file at the National Baseball Hall of Fame.
32 Ibid.
33 Watson Spoelstra, "Sturdivant Knuckler Perking Up Bengals," The Sporting News, May 18, 1962: 10.
34 United Press International, "A's Sturdivant Given Unconditional Release," Chicago Tribune, May 3, 1964: B2.
35 United Press International, "Mets Sign Sturdivant Released by A's," Chicago Tribune, May 10, 1964: C2.
36 "Sturdivant, Reynolds Pitch Bonnets Into Political Ring," The Sporting News, March 14, 1964.
37 "The Clubhouse," Boston Traveler, August 7, 1964: 36.
38 Author interview with Elaine Sturdivant, June 15, 2017.
39 Ibid.
40 Tom Sturdivant, 78, dies; CAPITOL HILL GRAD PITCHER WON 16 GAMES FOR YANKEES IN '56, '57," The Oklahoman (Oklahoma City), March 1, 2009.
Born
April 28, 1930 at Gordon, KS (USA)
Died
February 28, 2009 at Oklahoma City, OK (USA)
If you can help us improve this player's biography, contact us.
https://sabr.org/sites/default/files/SturdivantTom.jpeg
600
800
admin
/wp-content/uploads/2020/02/sabr_logo.png
admin
2012-01-04 20:31:45
2021-09-26 10:27:17
Tom Sturdivant