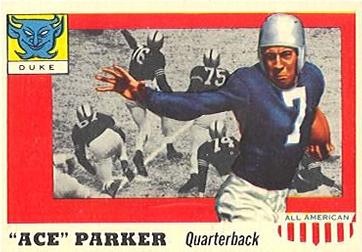 ---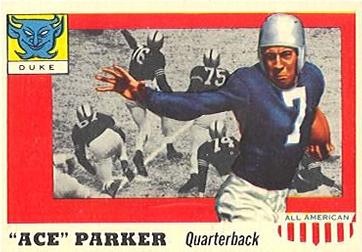 Clarence "Ace" Parker made his major-league debut on April 24, 1937, as a pinch-runner with the Philadelphia Athletics. His first at-bat came on April 30 in Boston against Wes Ferrell. Parker entered the game in the ninth inning to pinch-hit for pitcher Lynn Nelson with the A's down 15-3. Bill Cissell had opened the frame with a single and came home easily when Parker "bastinadoed a Ferrell pitch over the high barrier in left."1 Parker was the 10th major leaguer to homer in his first at-bat and only the third American League player to accomplish the feat.
Parker would play just two seasons in the majors, then spend time in the minors until 1952. Like many of his generation, he spent years in the service during World War II. If his name seems familiar, it is because Parker is in the Football Hall of Fame. He had a seven-season career in professional football, starting in 1937 and ending in 1946.
Clarence McKay Parker was born on May 17, 1912, in Portsmouth, Virginia. His parents were Ernest Risley and Mabel Huntington (McKay) Parker. The couple had a daughter, Elsie, before Clarence joined the family. In the coming years, he was joined by brothers Sanford, James, and Robert, and sisters Marion and Nancy. Ernest Parker worked for the railroads as a master mechanic and foreman in the shops in Norfolk, Virginia.
Clarence attended school in Portsmouth and graduated from Woodrow Wilson High School having lettered in five sports — baseball, basketball, football, golf, and track.2 Parker had a stellar senior season (1932) in football, guiding the Wilson Presidents to a second-place finish in the state. The only blemish on their record was a 7-6 defeat by eventual champion Maury High School of Norfolk. Parker, a tailback in a single-wing formation, was one of four Virginia players named to an All-Southern Football Team.3
Parker stood 5-feet-11 and weighed 170 pounds. After the football season, he took to the hard court as a guard for the Presidents. In the spring, Parker handled field events for the track team, played baseball, and found time to enter the state golf tournament, where he lost on a final playoff hole.4 That summer he played amateur baseball for the Craddock Athletic Club.
According to legend, Parker was considering continuing his sports career while getting an education at Virginia Tech. A Duke University alumnus suggested that he visit Durham. While on the visit, Parker met with Duke football coach Wallace Wade. Wade had made his reputation by leading the University of Alabama to national titles in 1925, 1926, and 1930. Wade supposedly told Parker, "I don't think you could make our ball club here."5
Was Wade employing reverse psychology on the strong-willed Parker? If so, it worked like a charm as Parker enrolled at Duke. College academics forced Parker to cut back on his sports involvement: He limited himself to baseball, basketball, and football. Basketball was dropped after his sophomore year, when he played sparingly as a second-string guard.
Freshmen were not eligible for varsity sports at the time, so Parker had to wait for his sophomore year to show his football talents on the collegiate level. He burst onto the national scene by guiding Duke to a 46-0 victory over VMI on September 29, 1934. A Norfolk sportswriter, William N. Cox, labeled Parker an "Ace" and the nickname stuck.6
The Blue Devils finished the season at 7-2 and in third place in the Southern Conference. Parker was one of five Duke players selected first-team all-conference, according to the Associated Press.7 In 1935 the team went undefeated in the conference and 8-2 overall. The following year they were 7-0 in the conference but lost 15-13 to Tennessee to finish 9-1.8
Many 1930s football offenses ran the single wing (four men in the backfield) before transitioning to the double wing or the wing T. The position of tailback in the single wing was designed for a man who could run, pass, and punt. Most of the time the center would snap the ball directly to the tailback. Parker filled the role perfectly. Over his career the formations were altered and by the time he retired, the quarterback position as we know it now was in wide usage.
Parker set school records (all broken since) with 884 yards rushing in 1935. For his career he totaled 1,856 rushing yards for an average of 5.87 yards per carry. In his career, he scored 21 touchdowns and added extra points to give him 134 total points.9 As the punter, he kicked 16 times against Georgia Tech in 1936. He still holds  one school record from 1936, when he returned a kickoff 105 yards against North Carolina.
Parker piled up accolades for his play, earning all-conference all three seasons. In 1935 he was a second team All-American and in 1936 he was a consensus first-team choice. Ace served as team captain for the 1936 season. On December 12 he was a second-round selection of the Brooklyn Dodgers in the NFL draft.
Former Philadelphia Athletics hurler Jack Coombs was the baseball coach at Duke when Parker arrived. In 1935 Parker patrolled left field for the Blue Devils as they posted a 23-4 record. In 1936 he returned to the outfield and moved into the cleanup spot in the lineup. One of his better games came against Princeton on May 5 when he contributed a double and two singles in a 6-4 win.10 Duke posted an 18-7 record that year.
Coombs had played for Connie Mack, who was still managing the Philadelphia Athletics. Mack was also familiar with Duke second baseman Wayne Ambler and reportedly helped to pay his tuition.11 These relationships created a Blue Devils/Athletics pipeline of sorts. When Parker's Duke teammate Chubby Dean joined the Athletics in 1936, he insisted that Parker come to Philadelphia in the summer of 1936 and work out with the team.
Pleased with what he saw in the visit, Mack made a tentative agreement that Parker would sign with the Athletics when college concluded. That timetable was moved forward by a few months when Parker signed with Mack in early February 1937. Mack added him to the roster heading to Mexico City on February 15 for spring training.12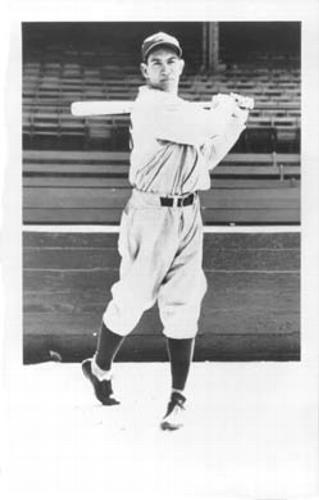 Mack took a large contingent, including his regular roster and a bevy of rookies and prospects, to spring training. Some of the new men, like Parker and 36-year-old catcher Earle Brucker, were destined to make the major-league roster. Others, like outfielder Bill Nicholson and pitcher Al Benton, would spend 1937 in the minors.
Games were played in Mexico City and surrounding towns. Baseball games were not always the primary focus of the fans. One game started in the heat of midday because it had to be concluded in time for the fans to see the local bullfight. Parker put on a show for the fans with two singles, a double, and a home run over the center-field wall.13 Players and fans then proceeded to the bullfighting arena.
Parker played shortstop in the early exhibitions when the veterans were still working into shape. In later games he played a lot of right field plus second base and third base. Mack liked him from the start, saying, "This boy Parker has a great chance. He is big, strong and fast."14 When the A's returned to Philadelphia, they faced the Phillies in the city series. On April 10 the Athletics claimed a 7-0 win thanks to Parker's bases-loaded double.15
Parker debuted on April 24 in Washington. Brucker led off the ninth with a walk and Parker ran for him. He scores on Jack Rothrock's single. The Athletics won, 6-4, to earn a tie for first place. The A's stayed in the pennant chase for a month but on May 24 they began a 10-game losing streak from which they never recovered.
After his home run, Parker struggled at the plate in limited action. In early June he was optioned to the Atlanta Crackers with a .136 batting average. The Crackers center fielder, Mark Mauldin, was out of action and Parker filled the gap for a dozen games. When Mauldin returned, Parker became a utilityman, seeing time at first, third, and left field.
Confusion about Parker arose in Atlanta in September when the Crackers signed a Birmingham, Alabama, teenager named Pinson Dudley Parker. For some inexplicable reason, the Southern League statistics and The Spalding Baseball Guide credited Ace's efforts to that youngster.16
In July the Athletics were hit with the injury bug. Shortstop Skeeter Newsome was beaned in a July 8 exhibition in Brighton, New Jersey. His replacement, Ambler from Duke, broke his jaw in a home-plate collision 10 days later. Mack needed help and turned to the Crackers, who agreed to return Parker to Philadelphia.17 Parker had played 28 games with the Crackers and batted .270 with one home run.
Parker had not played shortstop since early March in Mexico but was now starting for the Athletics. He joined the team in Cleveland and proceeded to go 0-for-14 over the next four games to drop his average to .083. Finally, on July 28 in Shibe Park, his bat showed some life. Facing Whit Wyatt of Cleveland, Parker launched a three-run homer over the left-field barrier in the fourth inning. He added a single against Wyatt later and then closed out his day with an RBI single off Bob Feller in the seventh. He would duplicate the career-best three hits and four RBIs against Boston in mid-August the following year.
Parker played into the second week of August before being sent to the Portsmouth Cubs in the Class B Piedmont League. He had shown decent range as a shortstop with the A's but his glovework (.909 fielding percentage) was lacking. He played in 21 games, mostly at third base, with Portsmouth before returning to the Mackmen. He closed out the season playing second base, mostly as a defensive replacement. He ended the season with a .117 batting average in 94 at-bats.
In October Parker received permission from Mack to play football. He was coaching his hometown Portsmouth Cubs and decided to play on October 31 vs. the Alexandria (Virginia) Celtics. After his appearance, newspapers across the nation were filled with headlines that he would sign a four-game contract with the Brooklyn Dodgers to close out the 1937 NFL season. It was rumored that he would be paid $250 a game. He debuted on November 8 in a 14-10 loss to Philadelphia. A loss to the Chicago Bears followed before Parker put on a show against Pittsburgh on November 21. He accounted for three touchdowns with a 2-yard run, a long punt return, and a scoring pass in the 23-0 win. The fourth game was played on Thanksgiving Day and resulted in a 13-13 tie with the New York Giants.
The press attention to his return to football obscured another major decision in Parker's life. On November 2 he married Kate Storey in Camden, North Carolina. The couple kept the news of the nuptials quiet until an announcement in January 1938.18 The marriage ended in divorce a few years later.
Parker made the cut in 1938 with Philadelphia and started the season with the A's as the utilityman. For the first third of the season, his main duty was to finish games at shortstop after Ambler had been lifted for a pinch-hitter. In June he spelled third baseman Billy Werber for four games, then filled in at second for the next three. Batting just 3-for-26 in that span sent him back to the bench.
On July 10 Parker returned to the lineup and went 6-for-16 to raise his average over .200. He saw plenty of playing time from then until late August, when he was benched. On September 10 it was announced that he had been sent with $20,000 to Baltimore of the International League for pitcher James Reininger.19 Parker's major-league career was over. He played in 94 games and batted .179 while playing five positions. Mack left him in Philadelphia when the team went on the road and Ace now turned his attention to football.
Parker had an excellent season for Brooklyn in 1938 garnering first-team all-league honors from the United Press sportswriters. The Dodgers finished at .500 (4-4-3) and in third place in their division. "Playing for a mediocre team [Parker] accounted for 1118 yards with his running and passing besides doing a neat job of kicking."20 On January 15, 1939, Parker shared quarterbacking duties with Sammy Baugh on a team of all-stars who faced the champion New York Giants. Baugh got the bulk of the press coverage for a 70-yard touchdown pass in the Giants' 13-10 win.
Later in life Parker told a reporter, "I always thought I was a better baseball player than I was a football player. But football seemed to work better for me."21 In the winter of 1938 Parker's football career was shining brightly. In sharp contrast, the Baltimore Orioles sold his contract to the Chattanooga Lookouts of the Class A1 Southern Association on December 22. Joe Engel, president of the Lookouts, remarked, "I don't know what I'll do with him. Probably I will sell or trade him."22
Engel followed up by selling Parker to the Class B Portsmouth Cubs the night before the football all-star game. While he was on top of the football world, he had been dropped three levels in baseball in a four-month span. Parker responded to the baseball demotion with arguably his finest season in 1939. Playing shortstop, he batted .303 and slammed a career-high 16 home runs. Eddie Yount, who had been in Mexico in 1937 with Parker, led Portsmouth and the Piedmont League with a .350 average. The hitting wasn't enough to pull the Cubs out of the second division, however.
Parker's performance turned some heads and he was acquired by the Syracuse Chiefs in the International League. He got off to a torrid start for the Chiefs. But on May 11 he broke his leg on a play at the plate in Toronto. Parker was left to recover in a Toronto hospital as the team moved on to Rochester.23 He was batting .392 at the time.
Parker spent the summer recovering and working himself into shape for football. He was forced to play with a "bulky brace" on his leg that year.24 His Dodgers (8-3) staged a season-long battle with Baugh's Washington Redskins. The two teams split in the regular season but Washington (9-2) took the division by a game. Parker was named the league's Most Valuable Player for his passing (his 10 touchdowns trailed only Baugh's 12), rushing, receiving (he caught only three passes but two went for touchdowns and he averaged over 45 yards a catch), punting, and kicking. (He booted 19 extra points.)
After his MVP season, Parker's bargaining power was at its peak. In February he inked a two-year deal with Brooklyn that was reportedly worth $9,000 a season.25 Parker's baseball rights belonged to Pittsburgh and the Pirates hastily made a deal to return Parker to Portsmouth for the next season. Pittsburgh wanted no part of a player who was not focused 100 percent on baseball. Portsmouth owner Frank Lawrence announced that the team had an agreement with Parker that would release him in mid-August for the football season.26
Parker opened the season playing left field for the Cubs. In his 10th game he broke his right ankle sliding into second base. He was placed in a cast, but it was generally agreed that this injury was not as bad as the break to his left leg the previous year. Nevertheless, he was done with baseball for the year.27
After three months of inactivity, Parker joined the Dodgers for training camp and exhibited a noticeable limp. He was restricted to running and no scrimmaging for nearly a month. In his first exhibition action, he proved to his coaches that the ankle was healed. When the season opened, the Dodgers won their first two contests with Parker playing halfback to lessen the load physically.
The Dodgers quarterbacks struggled in losses to Washington and Green Bay. That necessitated Parker's return to the position. He took the field against the Chicago Cardinals only to be carried off by teammates when he suffered a concussion in the loss. The ever-resilient Parker responded to the adversity and led the team to wins in five of its final six games, but the Dodgers missed the playoffs.
Events much bigger than Parker's injuries ruled the news that winter. After Pearl Harbor, Parker wanted to enlist in the Navy, but doctors found a shoulder injury that disqualified him, at least temporarily. While waiting for a clean bill of health, he married fellow divorcée Thelma Sykes on March 7, 1942. While the couple were on their honeymoon in Florida, word came that the Navy had given him the go-ahead to enlist.
Parker joined the service as a chief specialist in physical training.28 He moved up in rank to ensign in 1943.29 He was stationed in Norfolk and saw duties at the Naval Training Station and the Naval Air Base. His responsibilities included physical conditioning for the men, sports activities, and conducting tours for visiting dignitaries and sportswriters. He played for the Naval Station's baseball team. Over the course of his service, Parker played with Dom DiMaggio, Feller, Fred Hutchinson, Pee Wee Reese, and Phil Rizzuto. The Norfolk base even hosted visiting major-league teams.30
The injury bug followed Ace into the Navy. It was reported in February 1943 that he had again suffered a broken leg and was hospitalized.31 Later in the year he made headlines by announcing that he was through with football. The decision caught the press by surprise and one headline writer even labeled him a "has been."32
Parker's retirement from football proved to be short-lived. When he returned to civilian life, he realized that he missed the game — and likely the paycheck. He signed with the Boston Yanks in early October and worked diligently to get back into game shape. He had gained just a few pounds and now weighed 178 pounds. His arm was sound but after three years out of action he found it a struggle to find his timing at age 33.33
Parker made his return on November 11 in Washington against Baugh's Redskins and suffered a 34-7 defeat. Three more lopsided losses followed. Undeterred, Parker signed with the New York Yankees in 1946 for the inaugural All-America Football Conference campaign. Parker saw time at running back and at quarterback. He scored four rushing touchdowns and led the team with eight scoring passes. The Yankees (10-3-1) played the AAFC championship game against the Cleveland Browns (13-1) on December 22 in Cleveland. Parker completed only 8 of 18 passes in the 14-9 loss. It was his final football appearance.
Parker always liked baseball and rejoined the Portsmouth Cubs for the 1946-48 seasons. He took over as manager in 1948. The team made the playoffs each season but lost in the first round all three years. Parker batted .295 (361-for-1222) in his second go-round with Portsmouth.
In 1949 Parker was hired as player-manager of the Durham Bulls in the Class B Carolina League. The team finished in the second division the first two years but captured the regular-season crown in 1951. The Bulls were defeated in the opening round of the playoffs. The following year, Durham finished second in the regular season and then won the first round of playoffs, but was swept in the finals by the Reidsville Luckies.
Parker turned his attention to his alma mater, becoming an assistant football coach and head baseball coach at Duke. In 1953 his baseball team, led by Al Spangler and Billy Werber Jr., compiled a 22-10 record and reached the College World Series. Duke lost Game One to Texas, 2-1, then eliminated Colorado State before losing 7-6 in 11 innings to Boston College and being eliminated.
Duke moved to the Atlantic Coast Conference in the fall of 1953. Parker would lead his team to three titles in that conference and two more NCAA appearances before he retired. After leaving his college duties, he turned his attention to Thelma and his golf game.
Thelma died in 2009. Parker lived until November 6, 2013. At the time of his death he was 101 years and 173 days old, the oldest living professional football player and the second-oldest major leaguer; Connie Marrero was a year and 22 days older. He was buried beside Thelma in the Olive Branch Cemetery in Portsmouth.
Parker was inducted into the Professional Football Hall of Fame in 1972, the same year he entered the Virginia Sports Hall. He had been enshrined in the College Football Hall of Fame in 1955. Other honors were bestowed upon him by the North Carolina Sports Hall in 1963 and the Duke University Sports Hall in 1975. His final tribute came from the Hampton Roads Sports Hall of Fame in 2008.34
Acknowledgments
Information on All-American status and team records comes from Duke University. Both Baseball-Reference and Football-Reference were used to provide information on his two careers. The Sporting News and Atlanta Constitution were sources for his time with the Crackers in 1937. The Encyclopedia of Minor League Baseball provided playoff information.
This biography was edited by Bill Lamb and Len Levin. It was fact-checked by Kevin Larkin.
Notes
1 "Home Runs by Wes Ferrell and Foxx Rout Macks, 15-5," Philadelphia Inquirer, May 1, 1937: 22.
2 "Wilson Trackmen to Meet Typhoon," Newport News (Virginia) Daily Press, April 15, 1933: 5.
3 "Hampton Boy on All-Southern Football Team," Daily Press, December 20, 1932: 8.
4 "Typhoon Golfers Win Second Team Honors; Bowling 'Individual,'" Daily Press, May 21, 1933: 12.
5 Ken Crippen, "Where Are They Now: Ace Parker," nationalfootballpost.com. Last viewed February 23, 2020.
6 W.N. Cox, "Breaks of the Game," Norfolk Virginian-Pilot, September 30, 1934: 15. Also same paper and column on October 24, 1934: 12. In the latter column, Cox took credit for the nickname.
7 "All-Southern Conference Team," Daily Press, November 27, 1934: 5.
8 Duke Media Guide goduke.com/documents/2019/7/30/2019_Duke_Football_Media_Guide.pdf. Last accessed on February 24, 2020.
9 Steve Wiseman, "'He Could Do It All': Former Blue Devil, Oldest Member of Football Halls of Fame, Dies at 101," Durham (North Carolina) Herald-Sun, November 7, 2013: 1.
10 "Princeton Is Defeated, 6-4, by Duke Nine," Asheville (North Carolina) Citizen-Times, May 6, 1936: 12.
11 Jim Sargent's bio of Ambler on the SABR BioProject site. Last viewed February 24, 2020.
12 James C. Isaminger, "Dixie Football Hero Will Seek Outfield Post," Philadelphia Inquirer, February 5, 1937: 23.
13 James C. Iasminger, "Brucker Tops Attack as A's Triumph, 14-11," Philadelphia Inquirer, March 1, 1937: 19-20.
14 Isaminger, February 5, 1937.
15 "Athletics Rout Phillies, 7-0," Sunday News (Lancaster, Pennsylvania), April 11, 1937: 11.
16 John B. Foster, Spalding's Official Baseball Guide, 1938 (New York: American Sports Publishing Company, 1938), 164, 167. Page 164 shows the name Parker, P. Dudley, but 167 shows the 12 games Ace Parker played in center field. The signing of the younger Parker appeared in a column by Zipp Newman in the Birmingham (Alabama) News on September 1: 13.
17 "Crackers Allowed A's to Recall Ace Parker," Atlanta Constitution, July 21, 1937: 10.
18 "Ace Parker Secretly Married Last Year," Virginian-Pilot, January 9, 1938: 15.
19 James C. Isaminger, "Athletics Purchase Two Minor League Pitchers," Philadelphia Inquirer, September 10, 1938: 18.
20 George Kirksey, "LaSalle Tackle and Eagles' End Rated Amongst Best in Class," Philadelphia Inquirer, December 8, 1938: 25.
21 Wiseman, November 7, 2013.
22 "Lookouts Sell Parker to Portsmouth's Club," Chattanooga Daily Times, January 15, 1939: 10.
23 "Ace Parker Breaks Leg," Windsor (Ontario) Star, May 13, 1940: 21.
24 Ken Crippen, "Where Are They Now."
25 "Ace Parker Signs Two-Year Contract," Brooklyn Eagle, February 5, 1941: 15.
26 "Bucs Return Ace Parker to Portsmouth," Richmond Times-Dispatch, February 13, 1941: 15.
27 "Ace Parker Breaks Ankle as Cubs Beat Asheville, 5-0," Richmond Times-Dispatch, May 4, 1941: 23.
28 "Navy Gives Approval to Grid's Ace Parker," Index-Journal (Greenwood, South Carolina), March 11, 1942: 3.
29 "Service Department," News Leader (Staunton, Virginia), January 13, 1943: 6.
30 Virginian-Pilot pilotonline.com/sports/article_2add0ead-8422-5467-bfc7-cbafc2fdbc12.html. Last viewed on February 26, 2020.
31 "Off the Record," Greensboro (North Carolina) Record, February 26, 1943: 11.
32 "Ace Parker Is Has Been," News Leader, October 25, 1943: 7.
33 George Carens, "Ace Parker All Ready to Go as in Top Season," Boston Traveler, November 10, 1945: 10.
34 Ken Crippen, "Where Are They Now."
Born
May 17, 1912 at Portsmouth, VA (USA)
Died
November 6, 2013 at Portsmouth, VA (USA)
If you can help us improve this player's biography, contact us.
https://sabr.org/sites/default/files/ParkerAce.jpg
600
800
admin
/wp-content/uploads/2020/02/sabr_logo.png
admin
2012-01-04 20:29:21
2020-06-23 17:41:33
Ace Parker