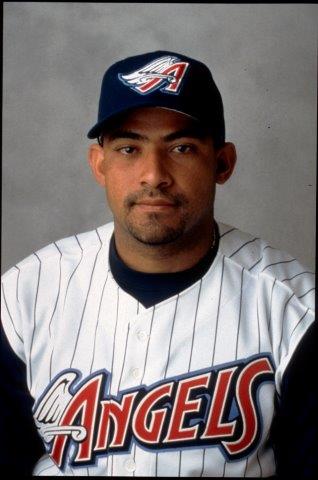 ---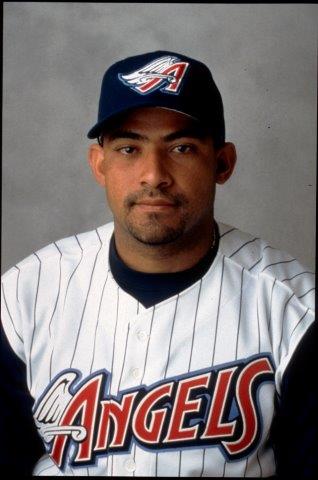 From 1998 to 2010, Bengie Molina was a two-time consecutive Gold Glove Award catcher. Considered one of the slowest baserunners in his era, nevertheless in 2003 Molina was rated the best defensive catcher in the American League by Baseball America. He is the only player in baseball history to hit a home run but not be credited with a run. He played for the Anaheim Angels/Los Angeles Angels of Anaheim, Toronto Blue Jays, San Francisco Giants, and Texas Rangers. Molina closed out his major-league career with two World Series rings. His brothers José and Yadier were also major-league catchers who each have their own pair of World Series rings, unique among a trio of brothers in the record books.
Benjamin José "Bengie" Molina was born on July 20, 1974, Rio Piedras, Puerto Rico, to Benjamin Molina Santana and Gladys Matta Rosado. He was the couple's first-born. They then had two more sons, José and Yadier. Benjamin was employed as a machine operator on an assembly line for Westinghouse. Gladys tended the Molina household and also held a factory job with General Electric.
The Molina family lived in the town of Vega Alta located in the district of Dorado. The municipality has a nickname El pueblo de los nangotaos, the town of squatters. The town got the name in that workers squatted by the rail tracks waiting for trains to take them to the sugarcane fields.
Bengie's earliest recollection of baseball was at age 4 or 5. He remembered being in a dugout watching his father hit a walk-off home run for a semipro team. Benjamin was the inspiration, coach, and mentor to Bengie as well as his brothers to play and love the game of baseball.
At age 6, when he was old enough to play Little League, no team in his home town had an open roster spot. Benjamin stepped in, recruited other youngsters like Bengie who had been overlooked, and formed a squad that gained entry into a neighboring circuit. Bengie's father coached the team and named it Los Pobres (The Poor). The uniform colors were yellow and black, like the Pittsburgh Pirates and Roberto Clemente.
A national hero in Puerto Rico, Clemente was revered for his phenomenal athleticism, social activism, and charitable endeavors. Bengie recalled, "In many houses … including ours, the portraits of two famous men hung in honored spots among the family photos: Jesus, and Roberto Clemente."1
In the winter of 1966, Bengie's father, then a teenager, was taken by Jacinto Camacho, a baseball scout, to a Senadores game at Hiram Bithorn Stadium and was introduced to Clemente. The Hall of Fame player not only talked with Bengie's father in the clubhouse before and after the game but invited the teen to sit with him on the team's bench and continued the conversation during the actual contest. In telling this story about his father, Bengie said, "Nonplayers weren't permitted in the dugout during games. But it was Clemente. Who was going to argue?"2
Growing up, Bengie himself did idolize one particular major leaguer, the Cincinnati Reds' Pete Rose. Bengie favored "Charlie Hustle" because Rose played baseball the way Benjamin Senior was teaching his boys how to play the sport – with all-out effort.
By age 15, Bengie joined the Bayamon Post 48 American Legion team and also continued playing with Los Pobres. During this period the budding ballplayer was involved in no fewer than four organized games a week.
In 1990 the 16-year-old graduated with honors from Maestro Ladi High School in Vega Alta. June 1990 was the first year Puerto Rico became a part of major-league baseball's amateur draft. Until then youngsters on the island were signed as free agents. Bengie commented, "Every ballplayer in Puerto Rico raced a ticking clock. … [T]he youngest … sent to team-run baseball academies … until they were mature … to move onto the farm system. … If you weren't signed by 18 your best hope was … a college team in the States and hope you got noticed there."3
Nine players from his American Legion club, which won the Puerto Rican championship, were picked in that year's draft. Although Bengie had been invited and participated in several major-league tryouts during the year and was a pitcher, outfielder, and infielder, he was not among those selected. One bright spot that summer was that he took his first trip from the island. The Post 48 team journeyed to the mainland for the American Legion National Championship. They won the regionals held in Arkansas and moved onto Oregon to compete against other regional winners. The team got to the championship game but lost. Molina led the tournament in RBIs and stolen bases.
After the tournament, with his father's blessing and with the help of a family friend, the undrafted Molina went to Arizona Western College in Yuma, Arizona. He struggled in adjusting to college and the difference in climate. Although there were Puerto Rican players at the school, he had pangs of homesickness and loneliness. He also had to learn the English language. Nonetheless he persevered. As for baseball, he also had to learn a new key role. The Arizona Western roster had a dearth of shortstops. When one of the players from Puerto Rico informed Matadors coach John Stratton that Molina had played middle infield, Stratton asked the originally slated outfielder if he would switch to shortstop. Molina readily agreed. "He was really skinny," Stratton recalled. "And he was not a slow baserunner. He wasn't a burner, but he was very athletic and a decent runner."4 In addition to shortstop, Bengie was a starting pitcher and a closer with an 85-87-mph fastball and had a good slider. In his first season, out of 14 freshmen, the team voted Molina Rookie of the Year.
In late May 1991, Molina went home to await the amateur draft. He joined Vega Alta Maceteros, a Double-A club in the Puerto Rico Baseball Federation. Its season ran from January to June with playoffs in July. The first week in June the player draft was conducted, but once again he remained undrafted.
Molina returned to Arizona Western. At the end of his second season with the Matadors, Bengie had a .385 batting average and a 2.90 ERA. He had been named All-Conference. The team voted him its MVP.
On June 1, 1992, the major-league amateur draft commenced. Bengie was living, working, and playing semipro baseball in Puerto Rico, and for a third time he was passed over and remained unselected. He chose not to return to Arizona Western that fall. Northern Alabama had made an overture to him but the scholarship offering fell through. Molina was finished playing baseball at the NCAA level.
His personal life took center stage. As a freshman, Bengie had met a young woman, also a freshman, who had sparked his interest. He and Joséfa dated frequently and steadily over the course of two years and in September 1992 Bengie flew to San Luis, Mexico, to see her family and ask her father for permission to marry her. The wedding took place in December 1992.
Bengie and his bride resided in San Luis. He took a job as a migrant field worker picking cauliflower in Yuma from sunrise to sunset. After the harvest, Molina worked at a Jack-in-the-Box fast-food restaurant located in his former college town handling the midnight-to-8 shift. Joséfa worked at the same location reporting for the morning shift and punching out at 2 P.M. In the meantime Bengie would have slept in their car, located in the eatery's parking lot. And the two would then return home together to Mexico to start the same routine all over again the very next day. Any down time Molina had, he did play baseball. But Bengie's father did not approve of this arrangement. Bengie's father was adamant that he should play ball in Puerto Rico. His father's firm belief was that major-league scouts would not look for talent in Mexico.
In March 1993 Bengie took his wife to Puerto Rico and they moved into his parents' home. He got a factory job, played Double-A baseball and attended weekly pro tryouts. By May 1993 he led the circuit in RBIs and was among the top five in home runs and batting average. But in late May he told his wife that his baseball career was over. The years of being passed over swelled his emotions raw. In a symbolic act, Molina took his blue Pony baseball spikes, knotted the shoelaces together, and tossed the pair over some tangled power lines.
Plans were that the couple would return to Yuma. He would take a job as a farm worker and study computers. Fate intervened.
His brother José insisted that Bengie come to his scheduled tryout before two California Angels scouts. Bengie told José it would be a waste of a time. But his brother would not relent and Bengie acquiesced. When José and Bengie arrived that morning at Parcelas Carmen Field in Vega Alta, indeed there were the Angels bird-dog duo and their mother. She had with her a scrapbook of newspaper clippings of Bengie's baseball exploits and she was being quite vocal to the scouts that they should give her oldest son a look. The Puerto Rican scout waved her off. But the American scout told Bengie to return at 3:00 P.M.
That afternoon, wearing Cheo's borrowed spikes, Bengie had a masterful round of batting practice. And then he was handed a catcher's mitt and told to get into a crouch and make some throws to second base. His brothers were catchers. Bengie had never caught before, but without hesitation, he took the glove from the scout got into position and threw.
At session's end, Angels scout Ray Poitevint, who once signed Hall of Famer Eddie Murray, was quite pleased but surprised that Bengie had never played catcher. He questioned Molina about that fact and said, "I can see you come from a baseball family. But I can't sign you to pitch or play third or outfield. You'll never get out of Single A the way you run."5 The scout, who also discovered Dennis Martinez and Teddy Higuera, continued, "But I like your arm and I like your bat."6
Four days later, in May of 1993, the newly signed catching prospect was on a flight to the Angels' minor-league complex in Mesa, Arizona. He had inked the deal on May 23; his bonus check netted less than $800.
After years of waiting for his opportunity to be selected by a major-league club, Bengie would say about this primary deal with the Angels, "I would have signed for nothing."7
On another occasions he said, "I don't care if I had to be a catcher, a ball boy, a water boy. I only wanted to be a part of the Big Show."8
The 18-year-old was assigned to California's Rookie level team, which had the right staff to provide a catching tutorial. He was managed by Bill Lachemann, who accrued six seasons as a minor-league catcher in the Dodgers organization. Molina received direct instructions about the finer techniques of being behind the dish by fellow Puerto Rican and an eight-season big-league catcher, coach Orlando Mercado, and by coach John McNamara, who had spent 14 minor-league seasons, initially with the St. Louis Cardinals farm system as a receiver. In 27 games, Molina batted .263 with 10 RBIs.
Molina was moved up to the Angels' Low-A club for the 1994 season. At Cedar Rapids (Midwest League), the manager, Tom Lawless, used him as a designated hitter. At the plate, Molina had a .281 batting average, 3 home runs, and 16 RBIS in 48 games. On November 25, 1994, his first child, Kyshly, was born at a Bayamon, Puerto Rico, hospital.
The 1995 season was an up-and-down experience for the 20-year-old. Molina was promoted to the Angels' High-A club in Lake Elsinore (California League), where in 27 games he batted .385 with 12 RBIs. He was reassigned to Cedar Rapids, for which he played in 39 games and amassed a .293 batting average with 4 home runs and 17 RBIs. But his prospects of making the big leagues were diminished because Todd Greene, a 24-year old in Triple A, was having a banner year; he hit 40 homers, the most by a minor leaguer in a decade. The Angels saw him as their catcher of the future.
Molina opened the 1996 season with Midland in the Double-A Texas League. In 108 games he hit .274 and clubbed 8 home runs, with 54 RBIs. At season's end, he returned to Puerto Rico as he had been doing to work and play winter ball.
From 1993 to 1995, Molina was the bullpen catcher for Mayaguez. However, in '96 he made the roster as the third-string catcher. He credited the team's backup catcher with making him a better ballplayer: "That winter with Sal Fasano was like graduate school."9
Just a few years older than Molina, Fasano was a Kansas City Royal and had made his major-league debut on April 3, 1996. A journeyman in the big leagues from 1996 to 2008 and then a coach, Fasano was named Double-A Manager of the Year in 2011.
Fasano's teaching skills certainly came forward during that winter of 1996 and forever benefited Molina. The two would sit together in the Mayaguez dugout and Fasano would endlessly pepper Bengie with game scenario questions. Fasano showed Molina how to properly position himself behind the plate to give pitchers a bigger and better target as well as to get better calls from the umpires. "He told me to look confident when I called a pitch so the pitcher felt confident, too." Bengie also noted another lesson: "A good catcher sees all eight teammates, plus the batter and baserunners, as a single entity, an ensemble, and he adjusts to the shifting circumstances."10
"Too many catchers, not enough spots" was how Molina explained his demotion from Double A to Lake Elsinore for the opening of the 1997 season.11 Midland's regular catcher was injured in midseason and the Angels moved Molina into that vacancy.12
After 1998 spring training, Molina, now 23, found himself assigned to Vancouver (Pacific Coast League), the Angels' Triple-A club. Now only one step away from the majors, he batted .293 with 22 RBIs in 49 games and was shocked and dismayed when at midseason he was sent back to Midland. This inexplicable transaction nearly caused Molina to quit baseball. However due to the strenuous intervention of Vancouver teammate Jovino Carvajal, a veteran minor leaguer, coupled with a telephone conversation with his father, Molina reconsidered and reported to the Double-A team. His decision paid off.
On September 21, 1998, at Edison International Field in Anaheim before 33,487, in the top of the ninth inning, Bengie Molina made his major-league debut. He was sent in to replace the purported catcher of the future, Todd Greene. Anaheim lost the game, 9-1, to the Texas Rangers. Molina got his first major-league at-bat on September 27 in a 4-2 road win over the Oakland Athletics. Angels manager Terry Collins sent the 5-foot-11, 190-pound right-handed batter in as a pinch-hitter in the eighth inning. Molina grounded out to third.
Three weeks after the season ended, Bengie and Joséfa's second child, daughter Kelssy, was born in Yuma.
In 1999 Molina came to the Angels camp ranked 11th among the organization's prospects. Yet, for the seventh straight year, he found himself in the minors on opening day, at Triple-A Edmonton (Pacific Coast League), where he batted .286 with 41 RBIs in 65 games. Then one night in August 1999, Edmonton skipper Carney Lansford and first-base coach Leon Durham showed up at Molina's room to tell him to pack his bags – he was headed to The Show.
This time, it was not as a September call-up. Molina played in 31 contests, hit .257, drove in 10 runs, and got his first major-league home run. On August 19, 1999, in the third inning of a 9-2 Angels victory over the Chicago White Sox at Comiskey Park II, Molina smacked the homer off Chicago left-hander James Parque.
Bengie opened 2000 as the Angels starting catcher. Mike Scioscia, a former Dodgers catcher, had replaced Terry Collins as Anaheim's manager. Molina always felt that Collins had never sufficiently appreciated his abilities. Nonetheless, he was now Scioscia's and the Angels' first-string catcher.
With that ringing endorsement, in his first full season in the majors, Molina played in 130 games, the most by an Angels catcher in a decade. He hit .281, clubbed 14 home runs, and drove in 71 runs. At Scioscia's insistence, Molina did not play winter ball in Puerto Rico. He lived in Mexico with his nuclear family that offseason. He accepted a multiyear deal for four years with an option. Having subsisted at the league minimum, Molina took the team's overture, which resulted in $350,000 for 2001 and 2002, $1,425,000 in 2003, $2,025,000 in 2004, and $3,000,000 if the Angels picked up his option.
Although he was the regular catcher in 2001, Molina had some friendly family competition for the spot. His brother José made the team's roster as a backup. Hence the Molinas became the first pair of brothers to catch for the same major-league club since 1887, when Lave and Amos Cross did so for the Louisville Colonels (American Association). The Molinas became the 13th set of brothers to catch in the big leagues. The last grouping occurred in the 1940s when three sets of brothers were receivers, one pair being New York Yankees Hall of Famer Bill Dickey and his brother George, who played with the Red Sox and White Sox. In reflection Molina said, "This was our dream as kids – to play baseball in the majors. We never thought we'd be together on the same team."13
Under Scioscia, the Angels went from pretenders to contenders as they captured the 2002 American League pennant and then topped the San Francisco Giants in their first trip to the World Series. October 27, 2002, was a joyful day for the Molina tribe, as the Angels beat the Giants, 4-1, in Game Seven of the fall classic. Bengie Molina got his first championship ring. His brother José earned a ring, too. And back home on the island, Benjamin Senior, as a once second baseman, was inducted into Puerto Rico's amateur baseball Hall of Fame.
Bengie was named 2002 American League Gold Glove catcher, breaking Ivan Rodriguez's 10-season (1992-2001) winning streak.
In 2003 Molina was having his best offensive year yet but his season was cut short by injury in early September. He batted .281 in 119 games, with 14 home runs and 71 RBIs. He received another Gold Glove.
On June 3, 2003, Molina enjoyed the opportunity to play his first major-league game in Puerto Rico itself; the game was held at Estadio Hiram Bithorn, the same venue where his father had met Clemente. Bengie Molina felt pressure to honor both his family and Puerto Rico. He could hardly have done better, starring in a 15-4 Angels rout of the Montreal Expos before 10,034 fans (including well over 100 who were Molina family and friends). Bengie drove in three runs and tied a personal career high with four hits, including a home run.
The promising year crashed to a halt on September 3, when Molina was severely injured in a 6-5 loss to the Minnesota Twins. With two outs in the bottom of the ninth, he caught a relay throw and had Twins pinch-runner Dustan Mohr out by a few feet. Mohr's only chance to be safe was to throw his shoulder into Molina's mitt and knock the ball out. Mohr had been a high-school linebacker and he hit with full force, fracturing Molina's wrist, popping the baseball loose, and allowing Shannon Stewart to round the bases unimpeded for the winning run. The next day Molina had surgery to repair fractured radius and ulna bones above his left wrist. He was out for the season.
Molina faithfully worked out during the winter, but concentrated solely on his legs as he was directed to refrain from upper-body workouts. He also failed to properly hydrate himself during these specific exercise sessions and as a result he endured hamstring problems that plagued his performance in exhibition games and early regular-season contests. At times he simply had to sit out games.
In 2004 Molina was in the last year of his four-year deal. The Angels held a $3 million option for 2005 that could be bought out for $100,000. Jeff Mathis, a 2001 first-round draft pick, was ranked the number-2 catching prospect by Baseball America and was slotted for Anaheim's Triple-A affiliate and possible promotion to the majors by 2005.
Molina went into self-imposed silence with the media until mid-August, but the Angels pitching staff spoke out in his defense. Closer Troy Percival said, "I can't tell you much about the National League, but in the American League no one stands above him."14 Declared Jarrod Washburn, "I haven't seen all the catchers in baseball, but I think we're very spoiled. … [He] takes a lot of pride in studying … knowing everyone's game and going in with a solid game plan. There's not a lot of whole lot of shaking off [signs] when we're working together.15
Molina was consigned to the disabled list from August 3 with a broken right index finger. His season totals were .276 batting average, 10 home runs, and 54 RBIs in 97 games. And in November 2004 Angels exercised their option on him for the following year.
For the newly branded Los Angeles Angels of Anaheim in 2005, Molina hit a career-best .295 with 15 homers and 69 RBIs in 119 games. But in the offseason the team chose to sever ties. No contract offer was made and the Angels did not offer arbitration by the December 7 deadline; this opened the starting catching job to his brother José or Jeff Mathis.
On February 6, 2006, the Toronto Blue Jays signed Molina, 31, to a one-year, $5 million contract with an option for 2007.
Three days later, Molina lashed out at Angels management: "[T]he way they let me go without a notice, without calling me, that said a lot . … They just threw me like a piece of trash."16 Angels GM Bill Stoneman disputed his accusations. Molina's agent, Alan Nero, said his client had wanted to be an Angel for his full career and "by expressing his feelings made the situation more negative than it is."17
On Opening Day April 4, 2006, before a hometown Rogers Centre crowd of 50,449, Molina homered off Johan Santana as the Jays beat the Minnesota Twins, 6-3. On April 12 at Fenway Park, he homered against David Wells in an 8-4 romp over the Red Sox. In the first inning of the April 22 game in Toronto, Boston southpaw Lenny DiNardo delivered up a home run to Molina as the Jays pecked the Red Sox, 8-1. Despite his offense, Toronto manager John Gibbons platooned Molina and Gregg Zaun as Blue Jays receivers for the remainder of the season. Over 117 games Bengie posted a .284 batting average, with 19 home runs and 57 RBIs. On October 29 he was granted free agency.
In baseball circles Bengie Molina got the nickname Big Money. That December, he signed a three-year deal with the San Francisco Giants for $16 million.
Molina clocked his 100th career home run on September 5, 2007, off the Colorado Rockies' Jorge Julio in a 5-3 win. The mark was overshadowed because in the same contest, fellow Giant Barry Bonds hit his 762nd home run.
Sixteen days later, Molina racked up his 500th career RBI in an extra-inning 9-8 home loss to the Cincinnati Reds. In the pregame ceremony, he was named the 2007 Willie Mac Award winner, named in honor of Hall of Famer Willie McCovey. The award, voted upon by Giants players, coaches, training staff, and fans, goes to on the Giants player who best exemplifies a fighting spirit and competitive desire to win.
In a doubleheader on May 25, 2008, Molina caught 16 innings against Miami in which he went 6-for-7 with four doubles and five RBIs.
On September 26 Molina became the first major-league player to swat a home run and not get credit for a run scored. In the sixth inning against the Los Angeles Dodgers, he hit a long fly ball at AT&T Park as described by Retrosheet.org: "Bengie Molina's fly ball hit a few feet to the left of the 'Splash Hits' sign in right field; Molina held at first while Pablo Sandoval ran from first to third; Giants manager Bruce Bochy had told Emmanuel Burriss to run for Molina if he got on base, so Burriss immediately popped out of the dugout and replaced Molina; then Omar Vizquel said he thought the ball hit the green metal awning along the right-field wall, which is a home run; Bochy saw a baseball with green paint on it and went out to the field to show it to the umpires and asked them to discuss the play; crew chief Tim Welke decided to use the replay system and reversed the call from ball in play to home run; however, he would not allow the Giants to put Molina back in to run out his homer; Bochy protested the game, which became moot because the Giants won the contest; Molina was given credit for a home run and two RBI but no run scored; Burriss ran out the homer and was given credit for the run scored; when he returned to the dugout, Molina greeted him by saying 'Good Swing!'"18
Perhaps ironically, Molina had received his second consecutive Willie Mac Award before the game. He closed out 2008 with a .292 batting average, 16 home runs, and 95 RBIs in 145 games. In 2008 the Molinas lost patriarch Benjamin Senior, 58, to a heart attack on a baseball field in Dorado, Puerto Rico. Bengie and his father had always remained close. On February 14, 2009, Bengie remarried. The 2009 San Francisco Giants finished 88-74 in the middle of the NL West Division. Molina played in 132 games, hit .265, homered 20 times and drove in 80 runs. He led the majors with 11 sacrifice flies. He threw out 23 percent of the runners attempting to steal, tying with his brother Yadier of the Cardinals as second-best in the National League. In assessing Bengie Molina, San Francisco special assistant Felipe Alou said, "He's a manager's dream, a catcher who can catch and bat cleanup. … He's a great two-strike hitter, one of the best in the game."19 In November 2009 Tim Lincecum won his second Cy Young Award. "Bengie's half the reason I'm here," the pitcher said.20
On January 19, 2010, "Big Money" re-signed a one-year deal with the Giants for $4.5 million. Like any team, San Francisco had stretches of losing streaks. Although they were leading in the NL West Division after a series of losses, on June 30 the Giants traded Molina to the Texas Rangers for relief pitcher Chris Ray and minor-leaguer Michael Main. Another factor in swapping the 34-year-old was the noted performance of rookie catcher Buster Posey. Posey was later named National League Rookie of the Year.
Molina made the record books again on July 16, 2010, when he became the first catcher to hit a grand slam and hit for the cycle in the same game. At Fenway Park, against the Boston Red Sox, batting eighth, Molina had four at-bats in which he hit a single, double, his grand slam, and a triple. After hitting the three-bagger, he incurred a leg injury and was taken out for a pinch-runner. In Game Four of the 2010 American League Championship Series, the Rangers were losing to the Yankees, 3-2, in the sixth inning with two outs. Molina hit a three-run home run off left-hander A.J. Burnett. The homer enabled Texas to nab the game and the ALCS, and allowed the Rangers to go to their first World Series. There they faced the San Francisco Giants. Molina became the sixth player to play for the two World Series opponents in the same season. No matter which team won, he was guaranteed a World Series ring. Texas lost in five games. Molina was 2-for-11 (.182), with one RBI.
After the season Molina retired as a player. On December 14, 2012, he became an assistant hitting coach for 2013 with the St. Louis Cardinals, the same franchise for which his youngest brother, Yadier, was the regular catcher. Bengie returned to the Texas Rangers organization for the 2014 season as their first-base coach and catching instructor. In February 2016, Molina continued with baseball as an Angels spring-training guest instructor.
Last revised: August 1, 2018
This biography is included in "Puerto Rico and Baseball: 60 Biographies" (SABR, 2017), edited by Bill Nowlin and Edwin Fernández.
Sources
In addition to the sources cited in the Notes, the author also consulted Molina's player file at the National Baseball Hall of Fame, baseball-almanac.com, and baseball-reference.com.
Notes
1 Bengie Molina with Joan Ryan, Molina: The Story of the Father Who Raised an Unlikely Baseball Dynasty (New York: Simon & Schuster, 2016), 26.
2 Molina with Ryan, 65.
3 Molina with Ryan, 47.
4 https://blogs.mercurynews.com/giants/2010/03/15/giants-catcher-molina-recalls-his-days-as-a-nimble-shortstop/.
5 Molina with Ryan, 94.
6 Ibid.
7 Andrew Baggarly, "Giants' Matt Cain and the Scout Who Signed Him: Special Baseball Relationship a Dying Bond?" East Bay Times, eastbaytimes.com, posted March 29, 2016.
8 Steve Rushin, "These Guys Know Squat," Sports Illustrated, March 14, 2005: 19.
9 Molina with Ryan, 120.
10 Ibid.
11 Molina with Ryan, 122.
12 "Catching's a Family Affair to Molinas," New York Post, August 26, 2002.
13 Mike DiGiovanna, "Squatter's Rights?" Los Angeles Times, March 14, 2004.
14 Ibid.
15 Ibid.
16 Associated Press, "Ex-Angel Molina Has Harsh Words," February 9, 2006.
17 Mike DiGiovanna, "Stoneman Says Molina Was Treated Honorably," Los Angeles Times, February 6, 2006.
18 https://retrosheet.org/boxesetc/2008/B09260SFN2008.htm.
19 Associated Press, "Memory of Father Is Fresh for Giants C Molina," February 24, 2009.
20 Molina with Ryan, 250.
Born
July 20, 1974 at Rio Piedras, (P.R.)
If you can help us improve this player's biography, contact us.
https://sabr.org/sites/default/files/Molina_Bengie_3824-2000_HS_NBL.jpg
600
800
admin
/wp-content/uploads/2020/02/sabr_logo.png
admin
2012-01-04 20:19:11
2012-01-04 20:19:11
Bengie Molina