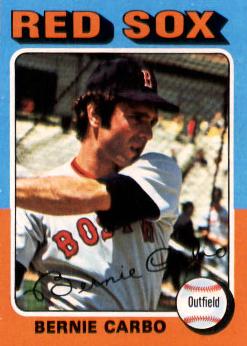 ---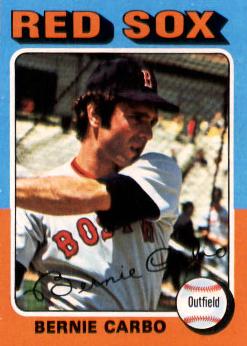 He was one of baseball's freer spirits, whose flakiness could drive management crazy. But Bernie Carbo's biggest legacy is hitting one of the all-time clutch home runs in World Series history, setting the stage for Carlton Fisk's more memorable blast that ended Game Six of the 1975 World Series.
Bernardo Carbo was born on August 5, 1947, in Detroit. His father, Joe, was, in Bernie's words, "an abusive and sadistic alcoholic" and his mother, Carmen, was a coal miner's daughter who lost her father in the mines when she was 7. Bernie had seen his mother try to kill herself at least once. Joe had served in the US Air Force in World War II, worked as a fighter in the circus, and later found work in the steel mills, while Carmen worked on the assembly line for Cadillac.1 Bernie overcame an extremely stressful childhood, including child abuse, sexual molestation by another relative, and neglect. He became an alcoholic at age 16 himself and battled any number of demons throughout his life, as he detailed in his autobiography Saving Bernie Carbo.
During his sandlot days, Carbo developed the opposite-field batting stroke that served him well in later years. He often played pickup games at Edward Hines Park in Nankin Township, a Detroit suburb. Often the teams were short of players and right field had to be left unmanned, any ball hit there was deemed an automatic out. Thus Carbo, perhaps the only left-handed batter, was forced to develop an ability to hit to left field. He described his first Little League hit to Herb Crehan: "First time up I hit a ball that went between the outfielders. I slid into second base, I slid into third base, and then I slid into home plate for a home run."
The major leagues' first amateur free-agent draft was held in June 1965. Rick Monday was the first player selected. The first player drafted by the Cincinnati Reds in the first round was the 17-year-old Carbo, the 16th overall pick in the draft. To demonstrate what an inexact science the baseball draft is, the second-round pick of the Reds was future Hall of Fame catcher Johnny Bench.
Carbo was slow to justify his selection as the first-round pick. His temper, combined with his failure to take the game seriously enough, retarded his progress, while Bench took the fast track to the majors, making his debut in 1967. Carbo's teammates labeled him "The Idiot," a title that would have probably made him feel right at home on the 2004 Red Sox. In 1965 at Tampa (Class A Florida State League), Carbo hit a mere .218 with no homers and only 19 RBIs. The following year, he demonstrated some pop in his bat at Peninsula (Class A Carolina League) with 15 homers, 57 RBIs, and a .269 batting average.
In 1967 at Knoxville (Double-A Southern League), Carbo's average took a tailspin to .201 with just two homers and 27 RBIs. At Asheville (also the Southern League) the next year, Carbo was now known as "The Clown," but it was at this stop in the minors that he began to put it together. Carbo became the rehabilitation project of his manager, Sparky Anderson, who moved him from third base to the outfield. Under Anderson's tutelage, Carbo's numbers improved to a .281 batting average, 20 homers, and 66 RBIs.
The next year in Triple-A Indianapolis, Carbo played for Vern Rapp. He hit .359 with 21 home runs and 76 RBIs and was named Minor League Player of the Year by The Sporting News. He earned a call-up to the Reds, and made his major-league debut on September 2. In an 8-2 loss to the Chicago Cubs at Crosley Field, Carbo pinch-hit for pitcher Dennis Ribant in the sixth inning against Ferguson Jenkins and was called out on strikes. He had two more plate appearances the remainder of the season as a pinch-hitter, going hitless, and one appearance as a pinch-runner.
Carbo and manager Sparky Anderson were both promoted to the Reds in 1970. Anderson platooned Carbo with the right-handed-hitting Hal McRae in left field. Carbo was the starter on Opening Day, April 6, 1970, against the Montreal Expos at Crosley Field, hitting seventh in the batting order. After grounding out in his first plate appearance, Carbo homered off Joe Sparma for his first major-league hit in the fourth inning. He later walked and singled in a 5-1 Reds victory. Carbo jokingly described the home run to Herb Crehan as "the longest home run in baseball history. I hit it out of the park onto Route I-95. It landed in a truck and they found it in Florida, 1,300 miles away."
On April 21, 1970, Carbo had his first multi-homer game, swatting a pair against the Atlanta Braves. On July 27 he drove in five runs against the Cardinals, a career high in a game. He went on to enjoy a stellar rookie year for the Reds, hitting what would prove to be full-season career highs in all of the three major offensive statistics, batting .310 with an on-base percentage of .454, and slugging 21 homers while driving in 63 runs in 125 games. He was named The Sporting News National League Rookie of the Year but finished second in the BBWAA's Rookie of the Year ballot to Montreal pitcher Carl Morton, who was 18-11 for the last-place Expos.
The 1970 Reds, led by rookie manager Anderson, won 70 of their first 100 games on the way to winning the National League West title. In a three-game sweep of the Pirates in the NLCS, Carbo appeared in two games, going hitless in six at-bats. In a five-game World Series won by the Baltimore Orioles, Carbo extended his hitless skein, going 0-for-8 in four games. He did, however, manage to involve himself in a Game One controversy. In the sixth inning, with the score tied 3-3, the Reds' Ty Cline hit a chopper in front of the plate. Plate umpire Ken Burkhart had moved directly in front of home plate to call the ball fair as Carbo slid home, trying to score from third as catcher Elrod Hendricks attempted to tag him. Burkhart was spun to the ground, placing him with his back to the play as Hendricks tagged Carbo with an empty glove (the ball was in his bare hand). Burkhart incorrectly called Carbo out and left the score tied in a game that the Orioles would win 4-3.
After Carbo had begun to pay dividends in 1970 to the Reds for their first-round draft investment in him, he slipped in 1971. His batting average fell to .219 with 5 home runs and 20 RBIs in 106 games. He had held out for more money in spring training. Drug use began to take its toll on his body. "I was a drug addict and alcoholic for 28 years," Carbo told The Sporting News' Andy Clendennen in a 2001 interview. "I started drinking when I was about 16 or 17, started on marijuana when I was 21, did cocaine when I was 22 or 23, and got into crystal meth, Dexedrines, Benzedrines, Darvons, codeine. There wasn't much that I didn't do." A holdout again in spring training 1972, Carbo was traded to the St. Louis Cardinals for outfielder/first baseman Joe Hague on May 19 after hitting only .143 in 19 games. Carbo spent the balance of the 1972 and 1973 seasons with the Cardinals, hitting .258 in 99 games in 1972 and improving to .286 in 111 games in 1973.
On October 26, 1973, Carbo was again traded, this time to the Boston Red Sox along with pitcher Rick Wise, for Reggie Smith and Ken Tatum. Carbo had an awkward introduction to his new owner, Thomas Yawkey. As reported by Herb Crehan, "[r]ight after I joined the team I walked into the clubhouse and there was an older gentleman straightening things up. I gave him $20 and asked him to get me a cheeseburger and some french fries. When the clubhouse kid delivered the food, he asked me if I knew who I gave the $20 to I told him I didn't." It was Yawkey. Carbo appeared in 117 games in 1974 for a Red Sox squad that enjoyed a seven game lead in late August only to fade to third place at the end, seven games back of the division-winning Orioles. He hit .249 with a dozen round-trippers and 61 RBIs, serving as both an outfielder and designated hitter. After his mediocre 1974 season, Carbo became the first Red Sox player to file for salary arbitration against owner Yawkey and subsequently the first to lose.
During his first season in Boston, Carbo quickly became a favorite of both the fans and the press. His gift of gab made him the Kevin Millar of his time with the media. Scipio Spinks, a former Cardinals teammate, sent Carbo a stuffed gorilla dressed in a Cardinals uniform which Carbo traveled with and named "Mighty Joe Young."
During the magical 1975 season, Carbo was a key bench contributor for the Red Sox. He appeared in 107 games during the regular season, playing the outfield in 85 games and serving as the DH in 13. Although he hit only .257, he amassed an on-base percentage of .409, drawing 83 walks. (Bill James, in the New Bill James Historical Baseball Abstract, lists Carbo as 19th lifetime on the list of the highest rates of walks per 1,000 plate appearances.) He hit 15 home runs and drove in 50 runs. He had two-homer games in each of the first three months of the season, including a one-man show in the leadoff spot on May 18 when he went 3-for-4, banging out two homers and driving in all four runs in a 4-2 win over the Kansas City Royals at Fenway. On April 27 he homered off Lerrin LaGrow and Tom Walker in a 5-4 loss to the Detroit Tigers. On June 10 he took Ferguson Jenkins deep twice in an 8-3 loss to the Texas Rangers.
While doing the job off the bench, Carbo continued to contribute to his developing reputation for eccentric and sometimes oblivious behavior in Boston. During the June 26 game at Fenway Park, Carbo crashed into the right-field wall while taking a homer away from the Yankees' Chris Chambliss, in the process dislodging a chaw of tobacco in his mouth. Carbo is reported to have held up the game for 10 minutes while he searched for the missing chaw and then popped the same into his mouth upon discovering it on the warning track.
With Carl Yastrzemski, Fred Lynn, and Dwight Evans manning the outfield, and Juan Beniquez in the DH spot for all three games of the Red Sox' sweep of the three-time defending champion Oakland A's, Carbo failed to get up off the bench during the ALCS. His first postseason appearance came in Game Two of the World Series at Fenway Park. Pinch-hitting for Dick Drago, Carbo lined to left field in the ninth inning of a 3-2 loss that knotted the Series at a game apiece.
Carbo was again used in a pinch-hitting role in Game Three at Cincinnati's Riverfront Stadium and this time he delivered the first of his record-tying two pinch-hit homers in the same World Series. In the seventh inning Carbo hit for Reggie Cleveland. His solo shot narrowed the Reds' lead to 5-3 and set the stage for Dwight Evans' game-tying homer in the ninth. The Red Sox lost, 6-5, in 10 innings on a Joe Morgan single scoring Cesar Geronimo. Geronimo had advanced aided by the controversial no-interference call made by plate umpire Larry Barnett on Ed Armbrister.
Game Six was, of course, the game that turned this series into one for the ages. With the Red Sox trailing 6-3 and facing elimination in the bottom of the eighth inning, Fred Lynn singled and took second on a walk to Rico Petrocelli. Right-hander Rawly Eastwick entered the game in relief of Pedro Borbon. Eastwick struck out Dwight Evans and got Rick Burleson to line out to left. Carbo was sent up to hit for Roger Moret. Sparky Anderson, a stickler for playing the percentages, failed to bring in the left-handed Will McEnaney, suspecting that Red Sox manager Darrell Johnson would counter with the right-handed bat of Juan Beniquez. With two strikes on him, Carbo was fooled by what Peter Gammons reported as a "fastball that befuddled Bernardo as if it were the Pythagorean theorem." Carbo believed that the pitch was a slider, coming in a spot in the count where he expected the fastball. Carbo barely managed to get a piece of the ball, fouling it off in what was later described by Carlton Fisk as possibly "the worst swing in the history of baseball."
Carbo related to Peter Golenbock what happened next: "I stepped out of the box. I figured, 'He's going to be thinking I'm going to be looking slider, so instead I'm going to be looking fastball.' Eastwick got the fastball up and away, where I was looking. I knew I would be swinging. I wasn't going to be taking. I knew I would commit myself to where it would be difficult to stop my swing. I got the pitch, and I hit it. When I started running to first base, I didn't know if the ball was going to go out of the park, because I knew that center field was a long ways. I figured it might be off the wall, and I ran to first and started for second, and I could see Geronimo turn his back, and that's when I knew the ball was gone. The game was tied."
"Bernie," Bill Lee waxed eloquently in Gammons' book Beyond the Sixth Game, "is the only man I know who turned fall into summer with one wave of his magic wand."
After striking out in the 10th inning of Game Six, having gone into the field for the first time in the Series, Carbo was awarded a start in left in Game Seven. Hitting in his customary 1975 leadoff position in the batting order, Carbo doubled in the first off Don Gullett. In the third he drew a base on balls and scored the first Red Sox run on a single to right by Yastrzemski in a three-run third, the only runs the Sox would muster in a 4-3 Series clincher for the Reds. In the fourth Carbo grounded out to second. In the sixth he made his final Series appearance as he grounded out to first base and was replaced in the field by Rick Miller in the seventh. Carbo concluded a Series in which he hit .429 (3-for-7 with two big pinch-hit home runs). Carbo's sixth-game heroic blast was commemorated by the Red Sox at their November 10, 2004, Hall of Fame induction as a memorable moment in Red Sox history.
The 1976 Red Sox got off to a start that was inconsistent with their status as defending American League champions. The team lost 10 in a row from April 29 to May 11. Things got so bad that a practicing witch from Salem named Laurie Cabot appeared at Fenway Park with two goals in mind: getting Carbo out of a slump and stopping the Red Sox' losing streak. "I unhexed Bernie Carbo's bat to end a 10-game losing streak," she said, as reported by Bill Nowlin and Jim Prime in their book Blood Feud. On June 2 the team's record stood at 19-23. After an 0-for-4 night against the Yankees, Carbo and his.236 average (13-for-55 in 17 games) were traded to the Milwaukee Brewers for pitcher Tom Murphy and outfielder/DH Bobby Darwin. He spent the rest of the 1976 season with the Brewers, hitting .235 over the full season.
Carbo's former minor-league manager Don Zimmer (Knoxville) took over the Red Sox during the 1976 season and was instrumental in getting Carbo included in a December 6, 1976, trade back to the Red Sox along with former Red Sox fan favorite George Scott in exchange for Cecil Cooper. Carbo became a member of the "Crunch Bunch," a loaded 1977 Red Sox offensive lineup that hit a then-team-record 213 home runs (the 2003 club is the current record-holder with 238). Five players hit more than 25 homers. Butch Hobson, who hit mostly in the seventh and eighth spots in the lineup, swatted 30. The club hit 33 homers over one 10-game stretch and 16 in three games against the Yankees.
They hit eight homers against Toronto on July 4, setting a Red Sox record for most homers in a game that still stood in 2014 and a major-league-record seven solo shots, and hit five or more homers in a game eight times. Carbo contributed 15 of the team's then-record total and hit .289 with a .409 OBP in 86 games. Three of his homers came in pinch-hitting roles, further solidifying his reputation in the clutch. One came in the July 4 home-run derby. A two-run pinch-hit homer off the Angels' Dyar Miller tied up an August 10 game won by the Red Sox. His third pinch-hit homer came at the end of the season against the Orioles. Carbo also homered in consecutive at-bats on June 18 against the Yankees' Mike Torrez in a 10-4 Red Sox win that is better known for a dugout brawl between Reggie Jackson and Billy Martin broadcast on NBC television.
Carbo's ability to come in cold off the bench and deliver a key hit, and his ability to do so without thinking too much about the game situation, served him well. Bill Lee, in Peter Golenbock's Red Sox Nation, shared the following memory: "I remember in the Hall of Fame game at Cooperstown, Bernie was out behind the fence sleeping … during the game because it didn't mean anything and he was getting some rest. Don Zimmer got really mad at him and tried to show him up. He woke him up and had him bat, figuring he'd do bad. Bernie walked up, hit a home run, ran around the bases, and went back to sleep. Managers hated that."
Bill Nowlin and Jim Prime, in Tales From the Red Sox Dugout, describe an interview Carbo gave after hitting a grand slam off Mariners lefty Mike Kekich. Upon being asked about the grand slam, he said he had not been aware that the bases had been loaded. When served with a follow-up question asking him the last time he had homered off a left-hander, Carbo thought that the reporters had been playing with him. "Now I know you're pulling my leg, because he was a right-handed pitcher. Zimmer would never let me hit against a left-hander with the bases loaded," he declared.
Carbo was a member of an informal fraternity of fun-loving players, called the Buffalo Heads, who annoyed Zimmer, and also included Lee, Rick Wise, Ferguson Jenkins, and Jim Willoughby. The name had arisen from Jenkins' unflattering nickname for Zimmer. In 1978 Carbo's recurring pattern of arriving late to the ballpark, behavior often triggered by a slump and the resulting lack of playing time, according to Zimmer, was the reason he was sold to the Cleveland Indians on June 15. Carbo hit .261 in 17 games for Boston in his final 1978 stint in a Red Sox uniform. His sale to the Indians precipitated a one-day walkout by friend Bill Lee. Upon returning the following day, Lee was fined $500 by general manager Haywood Sullivan. Lee's response? "Fine me fifteen hundred and give me the weekend off."
Carbo hit .287 in 60 games with the Indians in 1978. On March 10, 1979, he signed as a free agent with the Cardinals, returning to the National League for the balance of his career. He batted .281 in 64 at-bats over 52 games for the Cards in 1979. His major-league career came to a close in 1980, when he played in 14 games with the Cardinals and seven with the Pittsburgh Pirates. Carbo finished his 12-year major-league career with a .264 average and a .387 OBP with 96 homers and 358 RBIs.
After his playing career, Carbo went to cosmetology school and operated a hair salon in Detroit for eight years. However, his longstanding substance-abuse problems led to a downward spiral that got so bad, as he related to Doug Hornig in The Boys of October, that he began to deal as well as consume the controlled substances. He reportedly hit bottom in 1993 after his mother had committed suicide, his father died, and his marriage dissolved. His ex-teammates and fellow Buffalo Heads Lee and Jenkins helped him find the Baseball Assistance Team (BAT), an organization that helps needy former players and was instrumental in getting Carbo into recovery from his addictions. In 1980 he began a baseball school for high school, college, and pro players. He formed the Diamond Club Ministry, in which he traveled around the country speaking to primarily young adults about religion, baseball, and the dangers of substance abuse. He has also served as a substitute teacher. He remarried and has one son from his second marriage and three grown daughters from his first marriage.
Carbo was the field manager of the Pensacola Pelicans of the Independent Central Baseball League from 2003 to 2005. As manager, Carbo's record was 150-103. In 2006 he left the Pelicans to work full time for Diamond Club Ministry. In 2013 Carbo wrote Saving Bernie Carbo with Dr. Peter Hantzis. The book tells many stories of Carbo's baseball career, his struggles with alcohol and drug addiction, and the Christianity he found later in life.
A version of this biography appeared in "'75: The Red Sox Team That Saved Baseball" (Rounder Books, 2005; SABR, 2015), edited by Bill Nowlin and Cecilia Tan.
Sources
Adelman, Tom, The Long Ball (Boston: Little, Brown and Company, 2003).
Boston Red Sox 1976 Yearbook.
Boston Red Sox 1976 Press-TV-Radio Guide.
Boston Red Sox 2005 Media Guide.
Carbo, Bernie, and Dr. Peter Hantzis, Saving Bernie Carbo (Fort Pierce, Florida: Diamond Club Publishing and FBD Publications, 2013).
Clendennen, Andy, "Where Have You Gone, Bernie Carbo?" The Sporting News, October 26, 2001.
Complete Baseball Record Book, 2004 edition (St. Louis: The Sporting News, 2004).
Crehan, Herb, Red Sox Heroes of Yesterday (Cambridge, Massachusetts: Rounder Books, 2005).
Gammons, Peter, Beyond the Sixth Game (Boston: Houghton Mifflin Company, 1985).
Golenbock, Peter, Red Sox Nation (Chicago: Triumph Books, 2005).
Hornig, Doug, The Boys of October (Chicago: Contemporary Books, 2003).
James, Bill, The New Bill James Historical Baseball Abstract (New York: The Free Press, 2001).
Nowlin, Bill and Jim Prime, Blood Feud (Cambridge, Massachusetts: Rounder Books, 2005).
Prime, Jim, with Bill Nowlin, Tales From the Red Sox Dugout (Champaign, Illinois: Sports Publishing Inc., 2001).
Smith, Curt, Our House (Chicago: Masters Press, 1999).
Stout, Glenn, and Richard A. Johnson, Red Sox Century (Boston: Houghton Mifflin Company, 2000).
Thorn, John et al., Total Baseball, Sixth Edition (Kingston, New York: Total Sports, 1999).
Zimmer, Don, Zim (Chicago: Contemporary Books, 2001).
Notes
1 Bernie Carbo and Dr. Peter Hantzis, Saving Bernie Carbo (Fort Pierce, Florida: Diamond Club Publishing and FBD Publications, 2013).
Born
August 5, 1947 at Detroit, MI (USA)
If you can help us improve this player's biography, contact us.
http://bioproj.sabr.org/bp_ftp/images4/CarboBernie.jpg
600
800
admin
/wp-content/uploads/2020/02/sabr_logo.png
admin
2012-01-04 20:33:03
2012-01-04 20:33:03
Bernie Carbo