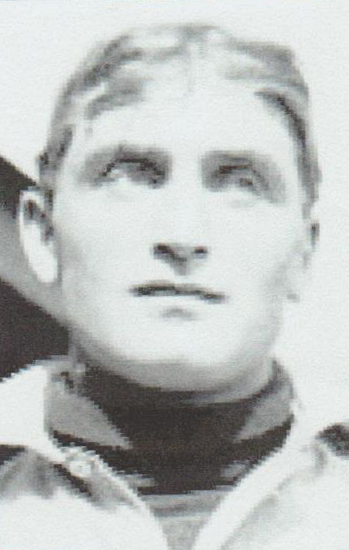 ---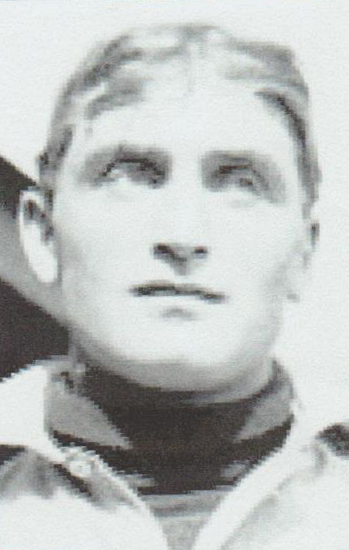 The baseball fortunes of hard-throwing right-hander Frank Pfeffer turned on a single event: an offseason trade in the winter of 1905. The transaction dispatched Pfeffer from a Chicago Cubs club poised on the brink of National League domination to the sad-sack Boston Beaneaters, arguably the worst NL team of the Deadball Era. Worse yet for Pfeffer, Boston was a penal colony for pitchers, with old school player-manager Fred Tenney using up young arms at a relentless pace. Pfeffer began his Hub tenure by losing 23 games, becoming one of four 20-game losers on the 1906 Beaneaters staff. The following year, he snapped a tendon in his pitching arm. Thereafter, Pfeffer continued pitching but was never the same. His big-league career was over before he turned 30. Still, Pfeffer's zest for the game remained undiminished. He soldiered on in the minor leagues, mostly as an outfielder-first baseman, through 1914, and then went on to play semipro, industrial, and town-league ball into middle age. After he finally hung up the glove, Pfeffer stayed a close follower of the game until his death in late 1954.
Francis Xavier Pfeffer was born on March 31, 1882, in Champaign, Illinois, a downstate farming community and home to the University of Illinois. He was the eighth of 12 children born to farmer William Pfeffer (1842-1910) and his wife, Mary (née Jochim, 1842-1924), both Indiana natives of German Catholic descent.1 Frank attended local schools through graduation from St. Mary High School and worked on the Pfeffer family farms thereafter.2 Like his older brothers, he was a large young man (modern baseball references list Pfeffer as 6-feet-1/185 pounds; contemporary newspaper reports make him a bit heavier3) and athletically inclined. As a teenager, he played on a town baseball team that also had Bill, George, and Joe Pfeffer in the lineup.4 But football was Frank's best sport, and likely the cause of his matriculation to the University of Illinois in September 1902. Upon arrival, the 20-year-old freshman was promptly installed at right tackle for a Fighting Illini eleven that posted a 10-2-1 record that fall.
University athletic director George Huff was also the baseball coach,5 and he made a practice of recruiting Illini football players for his nines. During various seasons from 1902 through 1906, the university baseball team featured gridiron standouts Carl Lundgren (halfback), Jake Stahl (tackle), Fred Beebe (punter/end), Claude Rothgeb (fullback), Jim Cook (end), and Ray Demmitt (guard), all of whom later played major-league baseball.6 Always a strong batsman, Pfeffer joined the Illini baseball team as an outfielder-first baseman. But once staff aces Lundgren and Cy Falkenberg were lost to graduation, Coach Huff was on the lookout for pitching. Previously untested in the box, Pfeffer opened eyes during the summer 1903 recess, turning in a strong performance (that included fanning Honus Wagner twice) in an exhibition game against the defending National League champion Pittsburgh Pirates played in Champaign.7
Although armed with little more than imposing size and a blazing fastball, Frank was converted into a pitcher for the spring 1904 season. Overmatched college batsmen barely touched him. After striking out eight of the nine University of Minnesota hitters he faced in a debut relief appearance, Pfeffer was given a start against Wisconsin. He struck out seven in a 5-4 win. Thereafter, Frank fanned 16, 12, and 12 in three wins over the University of Chicago; struck out 14 in a shutout of Northwestern; and aided his own cause in a 7-1 beating of Michigan by hitting a home run. But he pitched his collegiate masterpiece against Notre Dame on June 4, 1904. Matched against Fighting Irish ace (and future Chicago Cubs teammate) Ed Reulbach, Frank threw a three-hitter with 15 strikeouts, prevailing 1-0. When the season was done, Pfeffer's log stood at 15-2, and Illinois (24-4 overall) was the 1904 Big Nine Conference champion.
Like many collegians, Frank played semipro baseball during the summer, hurling for clubs in Havana and Streator, Illinois. Pitching for the nine fielded by the Illinois State Hospital at Kankakee (where he actually held a legitimate summer job as a physician's assistant8), Pfeffer struck out 29 batters in a 15-inning game against the Union Giants, a crack colored nine from Chicago.9 When word of this and/or other Pfeffer feats reached the University of Illinois athletic board, Frank was suspended from school "for violation of the summer baseball rule."10 His college days now behind him, Pfeffer entertained offers from major-league clubs, eventually signing with the Chicago Cubs11 (much to the disappointment of former Fighting Illini teammate Jake Stahl, recently installed as manager of the American League Washington Nationals).12
Pfeffer had signed wisely. Unlike most major-league managers of his day, Chicago skipper Frank Selee had no prejudice against college players. To the contrary, he prized their general intelligence and polish. Rather, Pfeffer's problem was one of numbers. Selee had overstocked the Cubs roster with pitching talent. Frank made the team, but had to compete for pitching assignments with future Hall of Famer Three Finger Brown and Deadball Era stalwarts Jake Weimer, Bob Wicker, Carl Lundgren, and Buttons Briggs. Then in May, Ed Reulbach joined the club. All six of these hurlers would log more innings for the 1905 Chicago Cubs than Pfeffer. Still, Frank was given ample opportunity in the early going to show his stuff.
On April 15, 1905, Pfeffer made his major-league debut, against the St. Louis Cardinals. He pitched well, turning in a six-hit complete game with seven strikeouts, but dropped a 2-1 decision. Nine days later, Pfeffer notched his first win, a 2-1 victory over Pittsburgh. In the interim, the Cincinnati Post reported that "Pfeffer, the Illinois recruit on the Cubs roster, is called Big Jeff."13 This is the first instance discovered by the writer of that nickname appearing in newsprint, and provides a good jumping-off point for brief discussion of how Pfeffer has been identified.
In order to conform to the listings of Baseball-Reference, Retrosheet, and other modern reference works, this bio has been captioned Big Jeff Pfeffer. But not without misgiving. The authenticity of the moniker is not in question. But its provenance is uncertain. An excellent profile of Pfeffer's younger, more accomplished brother Jeff (Edward Joseph) Pfeffer 14 asserts that "Frank earned the moniker Big Jeff … from bearing a striking resemblance to heavyweight boxing champ Jim Jeffries."15 This is a plausible explanation, but lacks support in the historical record. No trace of a connection between Jim Jeffries and the Pfeffer nickname has been found in contemporary reportage.16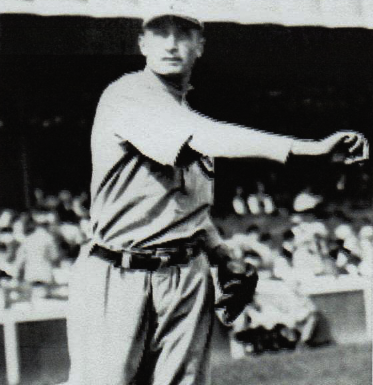 A November 1915 profile of Jeff Pfeffer provides an alternate derivation: Jeff "inherits his nickname … from an elder brother. Many will remember the Pfeffer who was once with the Cubs. … This particular representative of the Pfeffer family was christened Frank, but everybody, for reasons best known to themselves, insisted on calling him Jeff."17 Perhaps more important than a murky source, the Jeff and/or Big Jeff appellation only appeared in newsprint on occasion. For the most part, Deadball Era sports reports called our subject Frank Pfeffer. Most noteworthy of all, in the writer's opinion, is the fact that Pfeffer himself never used the Jeff/Big Jeff nickname. Throughout his life he invariably gave/signed his name as Frank Pfeffer.18 And that is what he will be called in this biography, its title notwithstanding.
For the first three months of the 1905 season, Pfeffer got a decent amount of work as a spot starter and reliever. But in late June, Frank Selee's delicate health obliged him to relinquish the manager's post. He was succeeded by first baseman Frank Chance. The Peerless Leader had no bias against college players, having been one himself, and he liked Pfeffer personally. But Chance preferred using other members of the Cubs' deep staff, and Pfeffer's workload shrank markedly. Given the club's surge in NL standings under its new skipper, Chance's pitching preferences afford little basis for criticism. The Cubs posted a 56-33 (.629) record under his command and finished a strong second to the pennant-winning New York Giants. For his part, Frank Pfeffer went 4-4, with a 2.50 ERA in 101 innings spread over 15 appearances – respectable numbers, particularly for a rookie, but the least impressive stats of the seven hurlers who saw significant action for Chicago that season.
Over the winter Chance moved boldly, as a second-place finish was not good enough. Renovations to the pitching staff included the unloading of Jake Weimer and Buttons Briggs, with Bob Wicker soon to leave the club as well. Young Frank Pfeffer was also expendable. A December trade sent him and light-hitting batterymate Jack O'Neill to Boston in exchange for catcher Pat Moran, an astute handler of pitching talent. The personnel changes, particularly in the pitching staff, worked brilliantly for Chance. The 1906 Cubs won 116 games, setting a modern major-league winning percentage record (.763) that stands to this day. Pfeffer, meanwhile, had been consigned to the National League darkness.
The Boston Beaneaters had been a seventh-place finisher in 1905, distinguished only by major-league baseball's first pitching staff with four 20-game losers (Irv Young, 20-21; Vic Willis, 12-29; Chick Fraser, 14-21; and Kaiser Wilhelm, 3-23). This unfortunate quartet also shouldered almost 95 percent of the innings pitched for Boston that season (1,296⅔ of 1,383 total innings, with second-liners handling a mere 86⅓ innings). Beaneaters player-manager Fred Tenney, a former Brown University man, was hardly a Neanderthal, but his handling of pitching arms was unenlightened, even by Deadball Era standards.19 Holdover Young plus newcomers Frank Pfeffer, Vive Lindaman, and Gus Dorner would form the staff getting the Tenney treatment in 1906.
While the NL champion Cubs were winning a record 116 games, the Boston Beaneaters got even worse, finishing dead last (49-102) in the league standings and at the bottom of virtually every offensive statistical category. As in the season before, manager Tenney overworked his rotation, with the four starters accumulating over 90 percent of the innings pitched by the Boston staff.20 Having set the standard with four 20-game losers in 1905, the 1906 Beaneaters became the second and last (as of 2016) major-league club to reach that ignominious benchmark, with Young (16-25), Pfeffer (13-22), Lindaman (12-23), and Dorner (8-25) doing the honors. The campaign, however, was not without some bright spots for Pfeffer, including a late-season 1-0 victory over the Cubs. Overall, he posted a respectable 2.95 ERA in 302⅓ innings pitched, and led the Boston staff in strikeouts (158) and opponent batting average (.246), while tying Young for the club lead with four whitewashes. In the estimation of Hub sportswriter Jacob Morse, "Pfeffer [was], by all odds, the steadiest and most serviceable of Boston's pitchers."21 He also played 14 games in the outfield, posting a competent fielding average (.955) but hitting only .196, with one home run and 11 RBIs for the season.
Over the winter, new club owner George Dovey jettisoned manager Tenney, replacing him with former Baltimore Orioles star Joe Kelley. Frank Pfeffer, for one, did not lament the change. Later, he pointedly criticized his former skipper: "Tenney didn't show up very well last season and he didn't get out a winning team," said Frank, adding, implausibly, "We had the material for a world beating team, but there was something lacking."22 Pfeffer started the 1907 season in stunning fashion. After splitting his first two decisions, he produced his transcendent major-league performance on May 8. Using "a world of steam and puzzling curves,"23 he fired a 6-0 no-hitter at the Cincinnati Reds, reportedly the first no-hitter ever thrown at Boston's South End Grounds II.24 With that gem and manager Kelley tempering his workload, Pfeffer's future looked on the upswing. But in mid-June, calamity struck. During the sixth inning of a game in Chicago, Pfeffer tore a tendon his pitching arm.25 He spent the next 10 weeks on the sidelines. Frank came back in August but he was not the same pitcher, throwing mostly off-speed stuff with indifferent results. Finally, in mid-September Kelley shut Pfeffer down for good, leaving him with a final mark of 6-8, with a 3.00 ERA in 144 innings pitched for the season.
Although he was only 25 years old, Pfeffer's career was now in jeopardy. Concerned, he paid a November visit to master trainer Bonesetter Reese who, following muscle manipulation, confidently declared that "Jeff's mighty right arm will be as sound as a dollar when spring rolls around."26 Sadly, Reese could not have been more wrong. Fearing the effects of cold weather on Pfeffer's fragile wing, manager Kelley held him out of the early going. But when the arm was finally tested in June, Pfeffer showed nothing, being hit hard in four ineffectual relief appearances. Boston thereupon placed him on waivers.27 Unclaimed by any major-league team, Pfeffer was optioned to the Baltimore Orioles of the Eastern League. Curiously, the Orioles were not seeking pitching help. Rather, Baltimore wanted to audition Pfeffer, "a hard hitter who covers the outfield in a credible manner," for the right fielder's job.28 Placed in the everyday lineup, the big man did not disappoint. In 58 games, he batted a team-leading .301 and "played an important part in landing the [EL] pennant" for the Orioles.29
As a result of this performance and amid reports that Pfeffer's throwing arm was on the mend, Boston exercised its option and reclaimed him for the 1909 season.30 Frank's personal life was also looking up. On December 29 he and Martha Osborne were married at St. Cecilia's Church, Boston. The couple made their home in the Dorchester neighborhood and their only child, son Herbert John Pfeffer, would be born there in October 1912.
Before the winter was out, Pfeffer's hopes for a major-league return were dashed. Boston and Baltimore worked out an arrangement that returned Frank to the Orioles for the 1909 season.31 Pfeffer was now used primarily as a pitcher, and his return engagement with Baltimore was not a successful one. His work was no better than mediocre and on June 16 the Orioles released him.32 Subsequently signed by Eastern League rival Toronto, Pfeffer was again rejuvenated by a change of scenery. He commenced his tenure with the Maple Leafs with a winning streak that included a 7-0 blanking of Baltimore on July 27. By the time of the September minor-league player draft, Frank Pfeffer seemed a valuable commodity and was taken by the Chicago Cubs, his original big-league employer.33 Soon thereafter, Pfeffer assumed a central role in a brief but nasty contretemps involving the Chicago club owner, the widely disliked Charles Murphy.
With the three-time defending champion Cubs slipping behind Pittsburgh in the 1909 NL pennant chase, Murphy attempted to expedite Pfeffer's arrival in Chicago, then set for the late-September close of the Eastern League season. To that end, he had the club secretary transmit a wire to Pfeffer that unsubtly suggested that the pitcher abandon Toronto and join the Cubs immediately. The wire (which apparently never reached Pfeffer) soon fell into the hands of Toronto club boss James J. McCaffrey. Proceedings instituted by McCaffrey before the National Commission, Organized Baseball's three-member ruling body, culminated in a ruling against Murphy and the imposition of a $500 fine. Defiant, Murphy refused to remit payment and publicly denounced Commission members in incendiary terms. The Commission then brought Murphy up short, giving him 72 hours to pay the fine, or else Murphy and the Chicago Cubs would "lose the protection of the National Agreement."34 Murphy quickly paid. In the meantime, Pfeffer completed a 14-10 Eastern League pitching record split between Baltimore and Toronto.
Pfeffer made the 1910 Chicago roster but saw little game action, his outings being confined to relief work in the few hopelessly lost games that the pennant-bound (104-50) Cubs suffered that season. The campaign's personal highlight came on August 30, when emergency right fielder Pfeffer delivered the late-game two-RBI single that propelled the Cubs to a 3-1 win over Philadelphia. But for the most part, Frank's "thankless job" was pitching the Cubs' daily batting practice.35 With the pennant safely in hand, manager Chance finally gave Frank an October start and he eked out a rain-shortened 3-2 victory over Cincinnati. It was his only decision of the season. Pfeffer was eligible for the 1910 World Series, but, apart from pitching batting practice, he did not stir from the bench as the Cubs were beaten in five games by the Philadelphia A's.
In February 1911, the Cubs traded Pfeffer and minor leaguer Scotty Ingerton to Boston in exchange for infielder Dave Shean.36 Boston sportswriter A.H.C. Mitchell speculated that Pfeffer had been acquired more for his usefulness as an outfield reserve and pinch-hitter than for whatever was left in his pitching arm.37 But Frank surprised, getting off to a 4-0 start in spot-start duty for the Braves (as the Boston team was now called).38 But with the club headed for a familiar last-place finish, Pfeffer had no future with Boston. In August the Braves tried to option him to New Orleans of the Class A Southern Association as part of a deal to acquire pitching prospect Otto Hess. Pfeffer's tenure with the Braves was prolonged only when New Orleans manager Charley Frank refused to part with Hess before the Southern Association season ended.39 Pfeffer finished the season with a respectable 7-5 record (on a woeful Boston 44-107 ballclub), but his ERA was a bloated 4.73, and enemy batsmen had posted a robust .301 batting average against him. Not yet 30 years old, Frank Pfeffer had seen his major-league career reach its end.
In 113 major-league games, Pfeffer had gone 31-39 (.443), with a 3.30 ERA in 695⅔ innings pitched. He threw six shutouts, and his strikeouts (317) near equaled his walks/HBP total (320). Pfeffer had also made modest contributions to his teams' fortunes with the bat, posting a .204 lifetime batting average in 323 at-bats, with 18 extra-base hits and 28 RBIs. Still, it was largely a case of what might have been – had an early-career trade to the dismal Boston Beaneaters and a crippling arm injury not derailed the promise of his college days.
While finished as a major leaguer, Pfeffer still had years of playing baseball left in him. Signed by Boston for the 1912 season, he attended Braves spring camp until given his unconditional release in mid-April.40 Temporarily at loose ends, Frank took the reins of the Dorchester entry in the Boston city league in early June, but that circuit soon folded.41 He then signed with the Lowell (Massachusetts) Grays of the Class B New England League. Used judiciously as a pitcher, Frank went 11-4 and led circuit hurlers in winning percentage (.733).42 A free agent at season's end, Pfeffer rejected overtures from the faraway Pacific Coast League, preferring to stay close to home, where he supported his family largely through the ownership/management of Dorchester rental properties.43 For 1913, he signed as a pitcher-outfielder with another New England League club, the Lynn (Massachusetts) Shoemakers, managed by Frank's old Boston pitching staff mate Pat Flaherty.44 Cut in late July, Pfeffer finished the season with a league rival, the Worcester Busters. For the season, he batted .267 in 51 games.45
The following year, Pfeffer assumed the post of player-manager for the Pawtucket (Rhode Island) Tigers of the Colonial League, a newly minted Class C circuit.46 The assignment was convenient for Frank, now the proprietor of a hotel in nearby Providence. But it brought his career in Organized Baseball to an end on a sour note. The short-lived Colonial League quickly gathered an unsavory reputation, widely suspected of being run as a syndicate underwritten by the outlaw Federal League. And the new circuit discharged club managers at a brisk pace.47 In early July, an argument between Pawtucket manager Pfeffer and Alexander Bannwart, Colonial League vice president and provocateur-in-chief, degenerated into an on-field fistfight. Immediately thereafter, Pfeffer was suspended indefinitely by the league.48 Although not officially blacklisted, Pfeffer never played in Organized Baseball thereafter. But that did not keep him off semipro, industrial, and town-league diamonds in the ensuing years. Indeed, as late as 1936 (when he was 54 years old), Frank was seeking a pitching tryout from an amateur nine in Dorchester.49 He also became an avid bowler.50
After he sold the hotel in Providence, Pfeffer returned to Dorchester, where he resumed working in real estate. During World War II he served as a timekeeper at the Boston Navy Yard. In 1947 his wife, Martha, died. Soon thereafter, Frank moved back home to Champaign to reside with family.51 In time he developed heart disease, and in December 1954, Frank was admitted to Kankakee State Hospital, the same facility that he had worked at and pitched for some 50 years earlier. He died there on December 19, 1954.52 Francis Xavier (Big Jeff) Pfeffer was 72. Following a Funeral Mass at Holy Cross Church in Champaign, his remains were interred at nearby St. Mary Cemetery. Survivors included his son, Herbert; grandson, Herbert Jr.; sister Emma Pfeffer Dolan; and brothers George, Joseph, William, and Edward (Jeff) Pfeffer.
Sources
Sources for the biographical info recited herein include the Big Jeff Pfeffer file maintained at the Giamatti Research Center, National Baseball Hall of Fame and Museum, Cooperstown, New York; US Census data and Pfeffer family posts accessed via Ancestry.com; and certain of the newspaper articles cited below. Unless otherwise noted, stats have been taken from Baseball-Reference.
Notes
Born
March 31, 1882 at Champaign, IL (USA)
Died
December 19, 1954 at Kankakee, IL (USA)
If you can help us improve this player's biography, contact us.
http://sabr.org/sites/default/files/PfefferJeffBig.jpg
600
800
admin
/wp-content/uploads/2020/02/sabr_logo.png
admin
2016-12-22 13:31:05
2022-05-05 05:44:05
Big Jeff Pfeffer